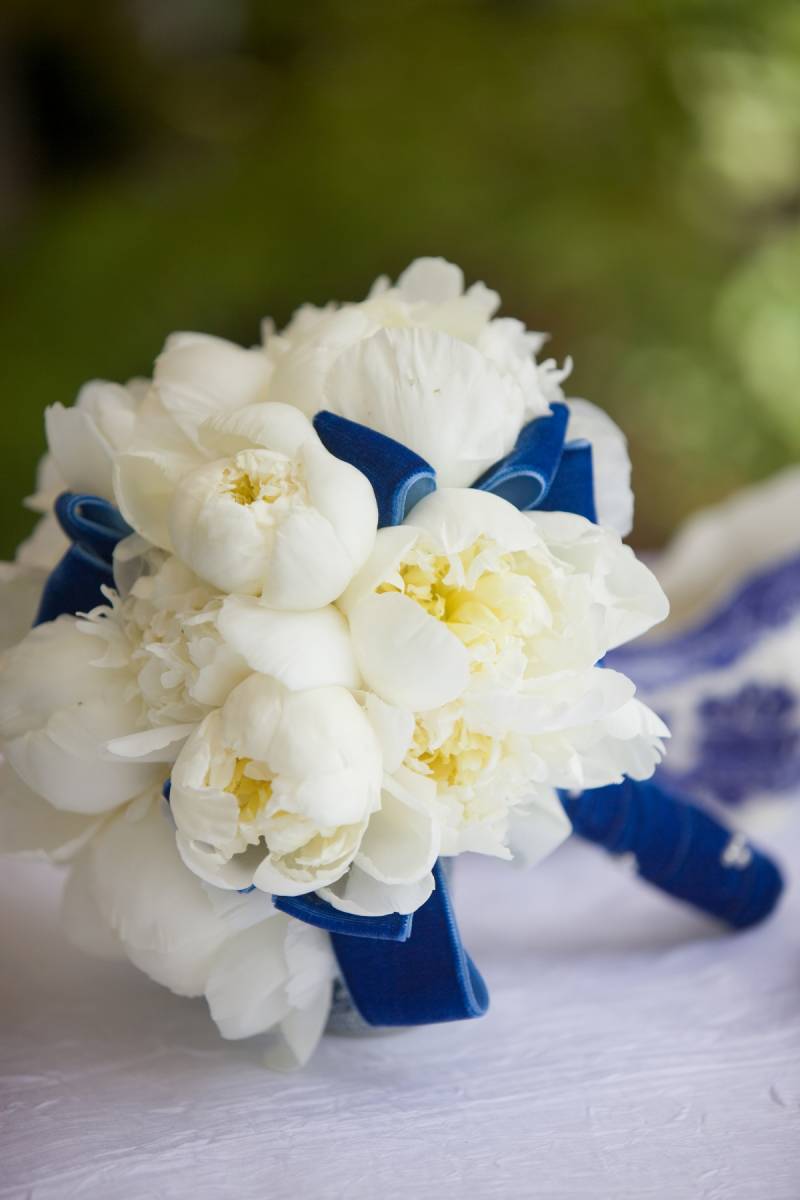 Pulitzer Prize winner Mary Oliver eloquently describes these luscious blossoms as "pools of lace, white and pink" in her poem simply called, "Peonies", and goes on to declare them "wild and perfect for the moment." An apt description of this sensuous flower, which often casts a heady fragrance that enhances its stunning beauty.
Dreamy clouds of white 'Duchesse de Nemours' peonies are interlaced with blue velvet Limoges ribbon by Midori and embellished with dainty pearls. Designer Yvonne Chapman captured an Old World romance in this elegant bouquet.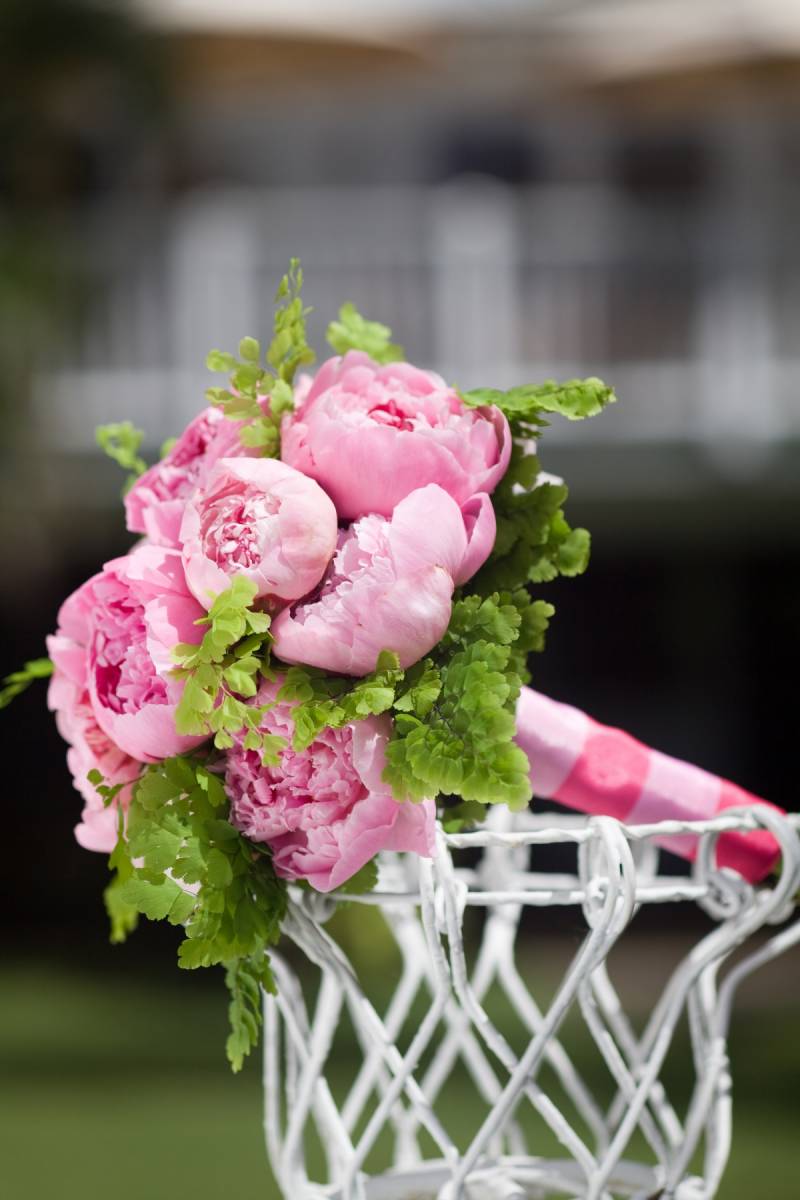 Channel the carefree summer days at the beach with a bouquet of 'Sarah Bernhardt' peonies in playful sorbet pink. Yvonne Chapman cleverly contained the precious blooms with a striped Promenade Midori ribbon. Puffs of maidenhair fern add a final sweet touch.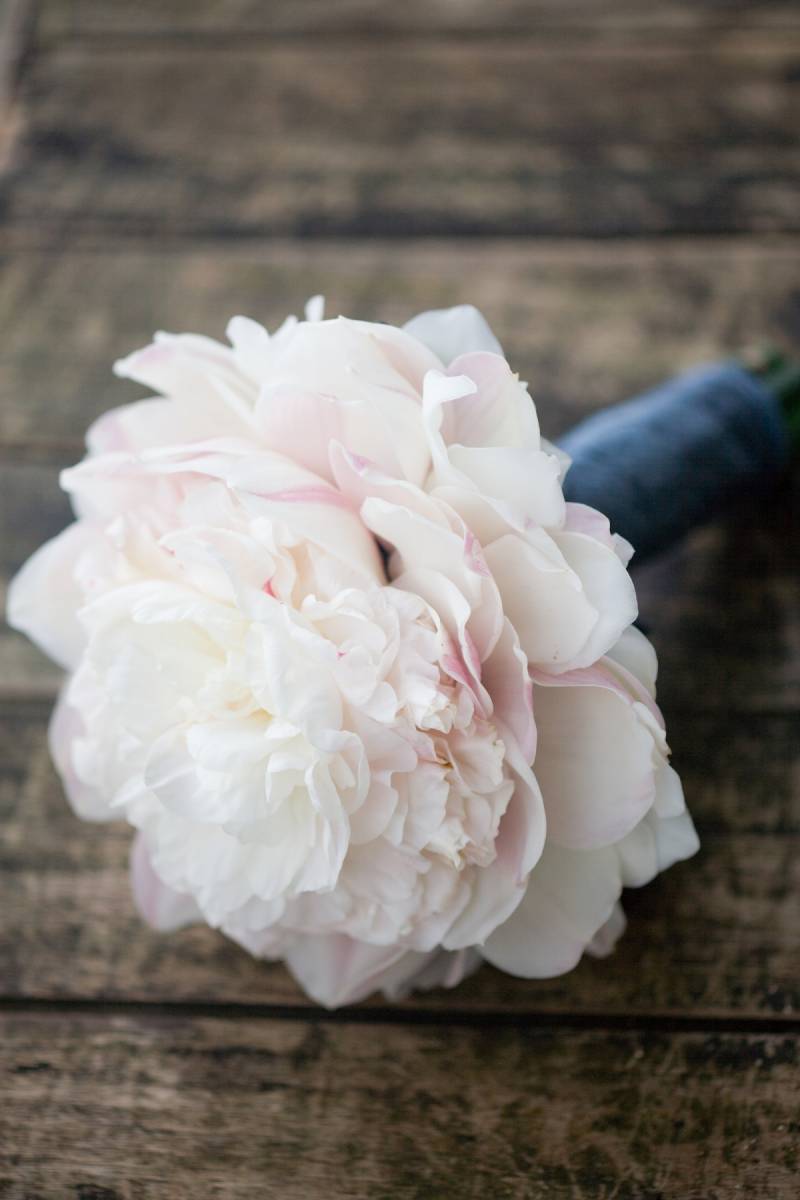 A single 'Duchesse de Nemours' peony has creamy-white petals with a buttery yellow tint at its base. Fong Tagawa designed this enchanting bouquet with the peony taking center stage encircled by dozens of cymbidium orchid blossoms. The difference in the pale petals is nearly imperceptible with the exception of the orchid's slight blush of pink.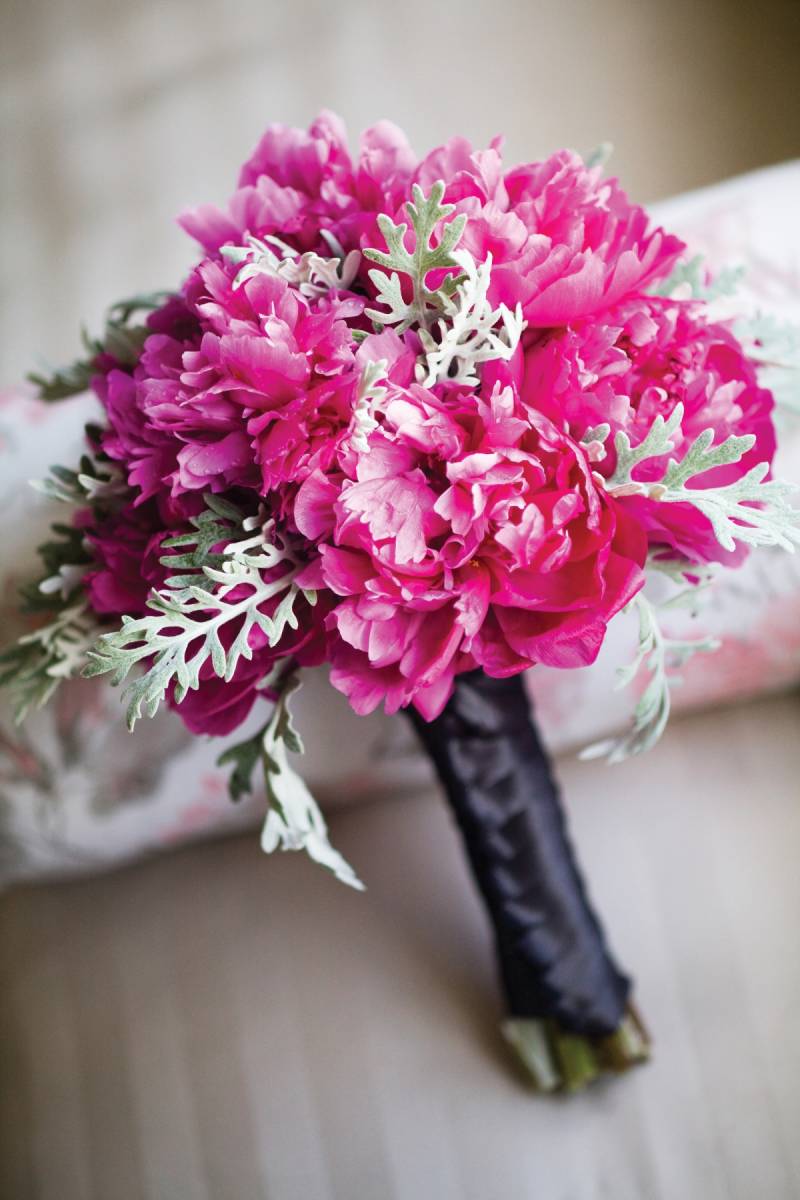 Light filters in through a window of the Bayer Estate, illuminating a graceful bouquet of 'Red Charm' peonies tucked with silvery Dusty Miller. Florist Fong Tagawa created the gorgeous handle by weaving dupioni silk ribbon in a deep shade of pewter, a striking contrast to the hot pink flowers.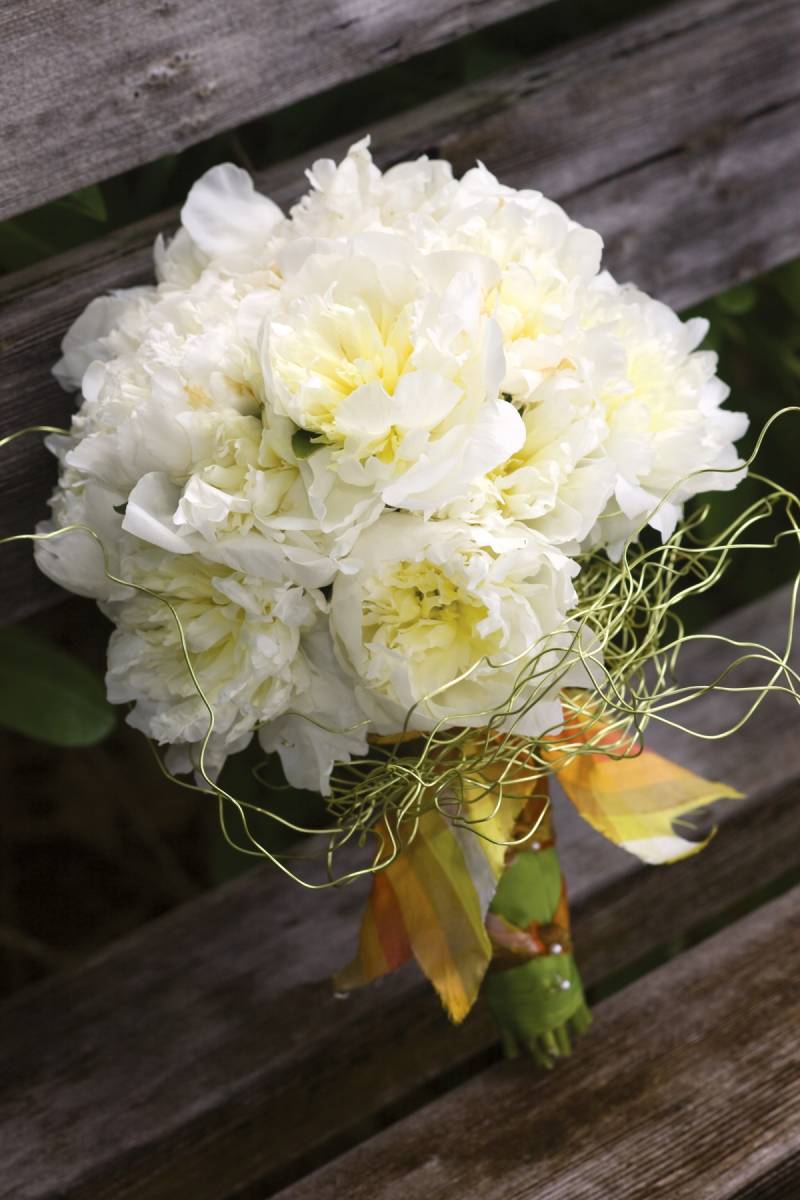 Debbie Hemingway created this eye-catching bouquet of magnificent 'Duchesse de Nemours' peonies. The luxurious nature of the flowers is uniquely juxtaposed with a nest of shiny, lime green wire. The stems are neatly tied in a summery silk plaid ribbon that highlights the yellow centers of the petals.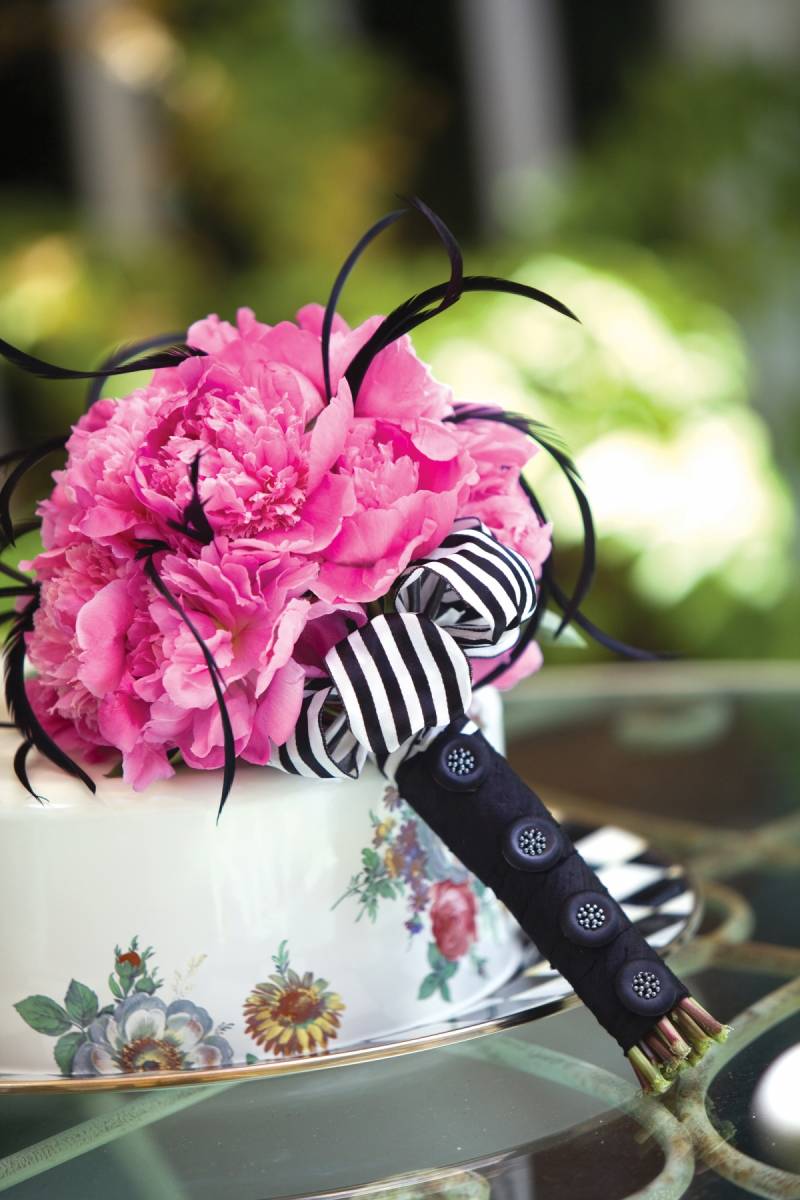 The flamboyant cotton candy pink of these 'Dr. Alexander Fleming' peonies warrants a bit of whimsy added by jet black plumes of goose biots. Floral designer Debbie Hemingway hand tied the bouquet in black dupioni silk, then added prim buttons and a striped ascot ribbon for a charming British touch.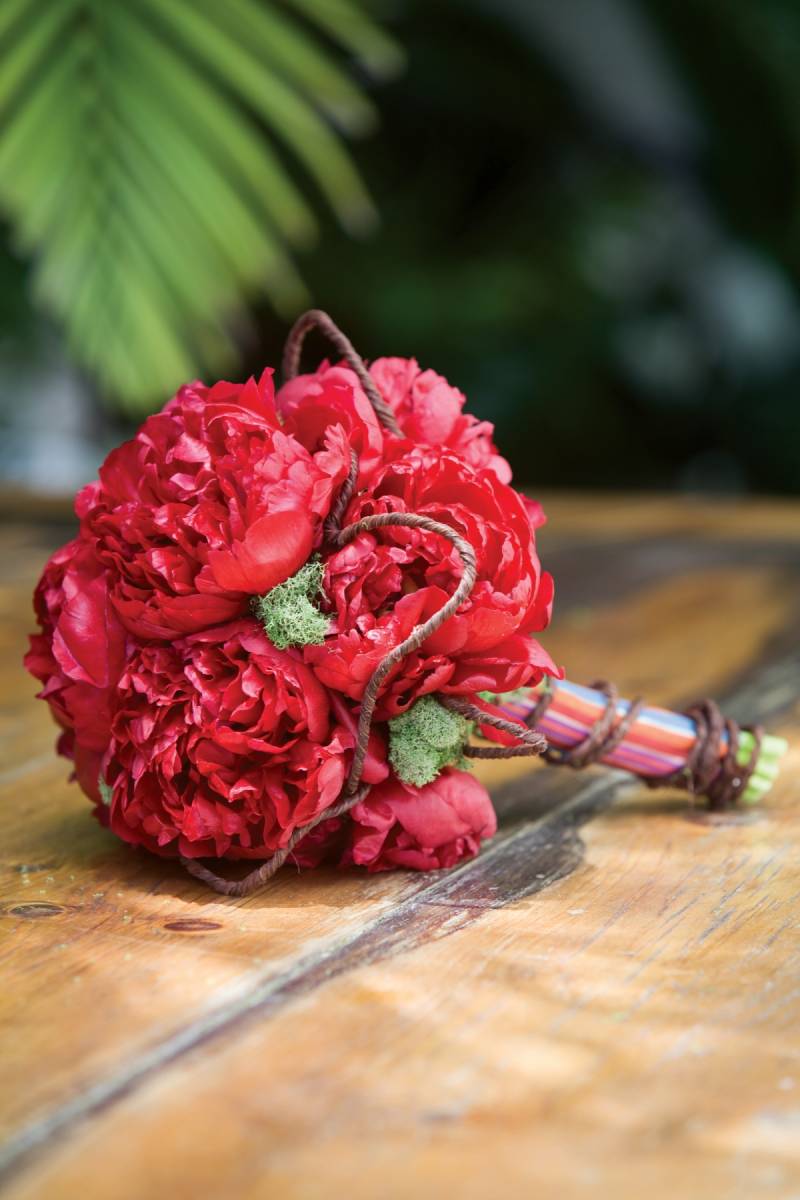 Peonies bloom from late spring to early summer for about two weeks, with the 'Red Charm' making its grand entrance in the early season. It's dramatic, ruby blossoms are characterized by a ruffled center. Designer Yvonne Chapman employed rustic wire and reindeer moss to contrast with the colorful flowers and Midori's brightly striped ribbon.