Teresa Sena designed this splendid bouquet of white Ohara roses, stephanotis and Dutch hydrangea punctuated with olive sprigs and fragrant Australian rosemary. Graceful stems of white nigella lend an organic, playful quality to the artful composition.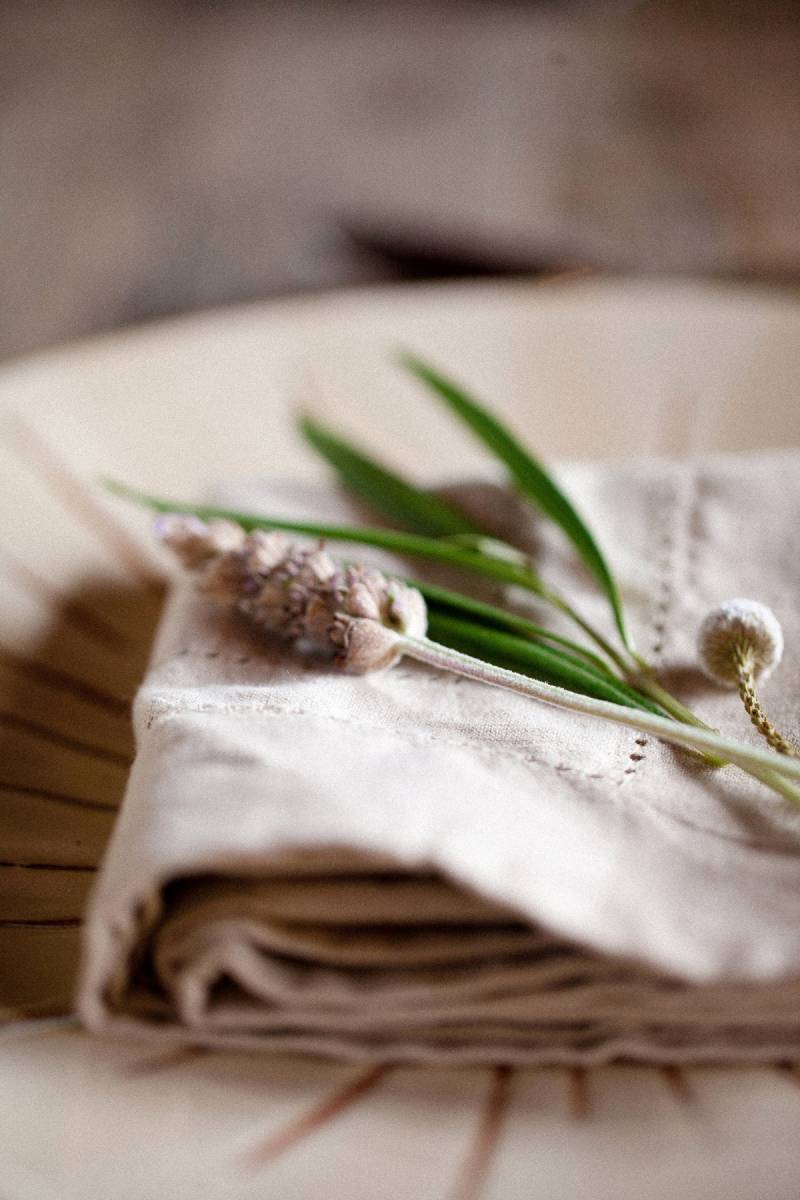 A single olive branch and lavender sprig mark each setting.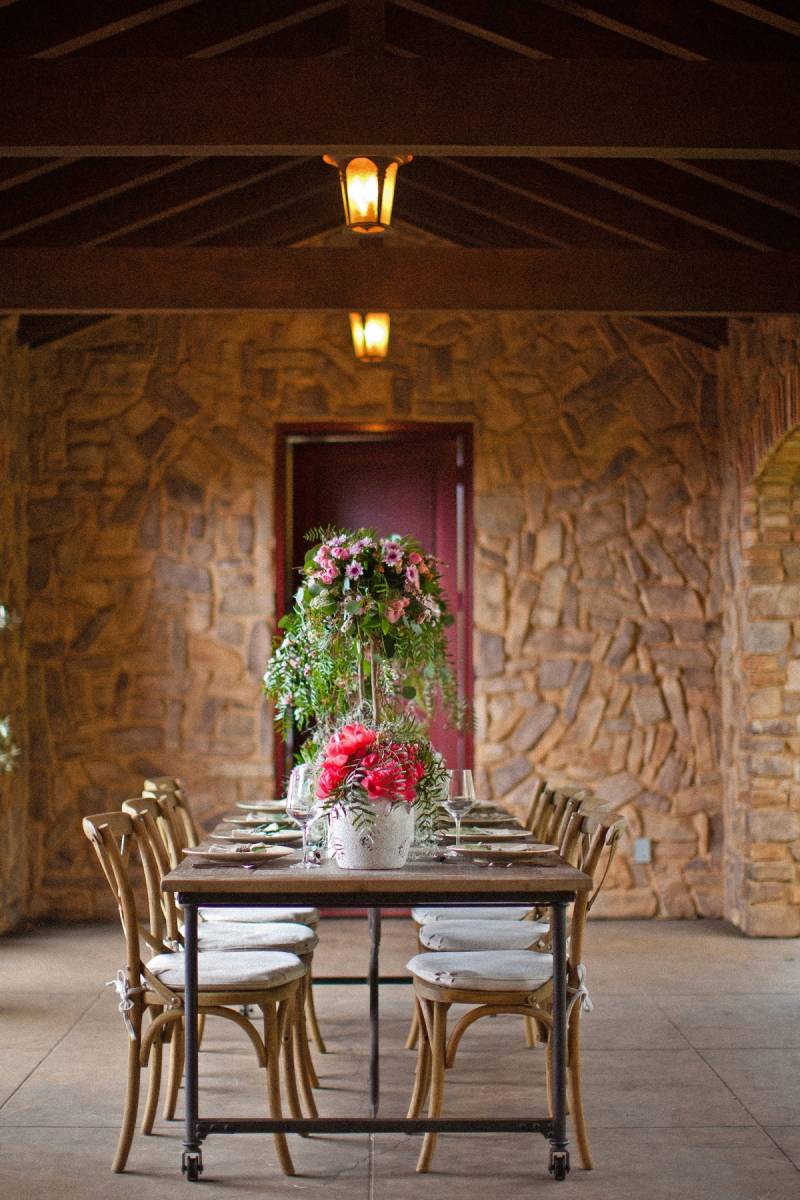 The unpretentious scene of Tuscan indulgence is marked by a long reclaimed wood farm table adorned with earthen dinnerware in natural sand tones, accented with a single olive branch and a sprig of lavender. Hammered silver flatware adds a touch of rustic elegance, while graceful floral arrangements by florist Fong Tagawa of Floral Inspirations take center stage. Inspired by the abundance of natural foliage that characterizes Battersby's property, Fong created organic topiaries placed in weather worn planters, luxurious and at once uncontrived for this unique bucolic setting. White-washed ceramic pots are filled with vivid coral peonies and pepper tree leaves to offset the taller arrangements. Weaving romantic pastel florals and foliage into elaborate topiaries, Fong selected delicate camellia leaves, brunia, silver bell pods, silver dollar eucalyptus, myrtle and evergreen for a woodsy base. A gentle touch of pepper tree foliage, Dusty Miller and Pele's hair (also known as Spanish moss) adds texture; while blush garden spray roses, Alstroemeria and chrysanthemum pompoms punctuate the topiary.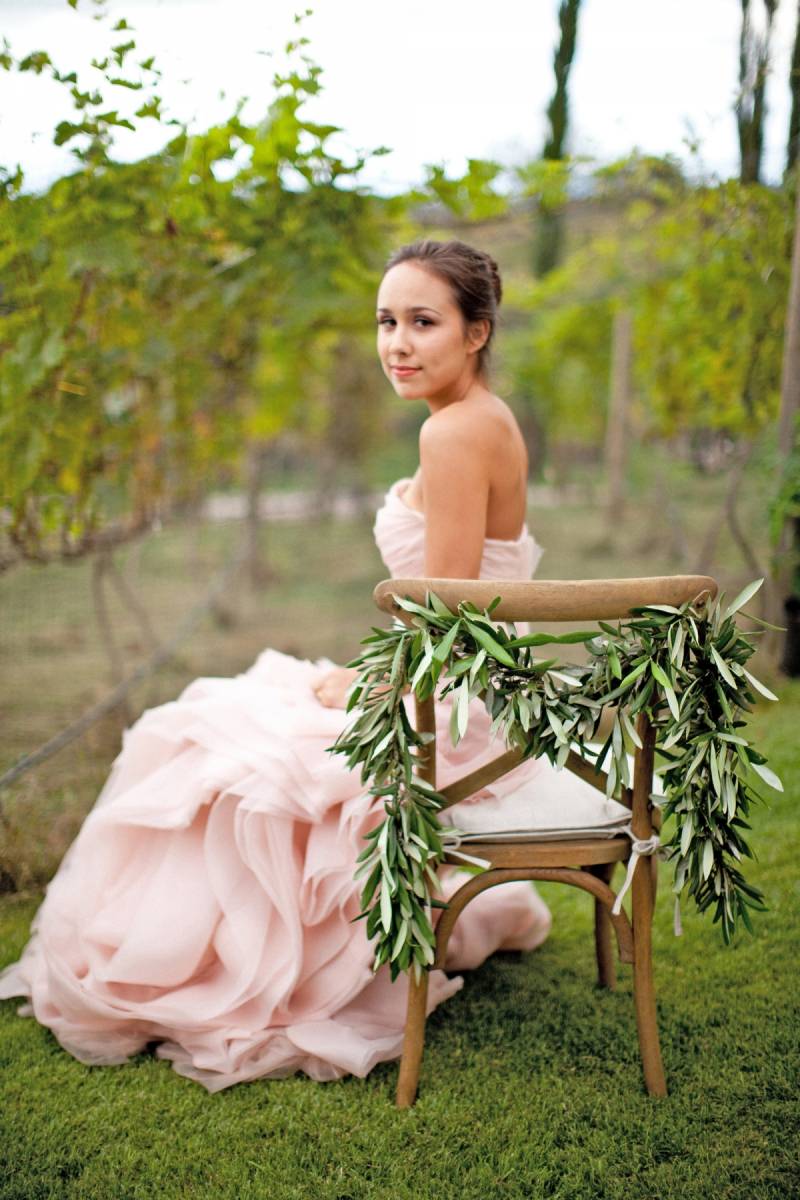 A blush gown from the WHITE by Vera Wang collection creates a striking silhouette against the vineyards. A cinematic view of Maui's coastline awaits just beyond the flourishing vines.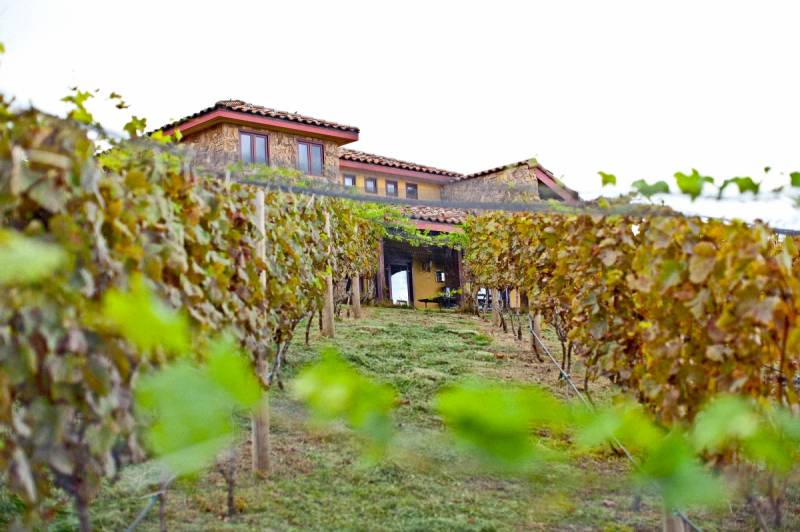 Down a winding tree-lined road in Kula, Maui sits a Tuscan-inspired villa in earthy shades of terra-cotta and tawny yellow. The 20-acre olive farm provided an exceptional setting for an exquisite bouquet shoot. Alan Battersby, a successful hotelier and consummate host, warmly welcomes visitors to his guest bungalow, the romantic sounds of Italian opera and savory aromas of homemade pasta wafting from the kitchen. At an elevation of 2200 feet, the expansive Calasa Gulch Olive Tree Farm boasts incredible views of the island from above the clouds, enveloping Battersby's beloved olive trees and grapevines in the cool Upcountry mist. Inspired by a deep rooted passion for his Italian culture and the life of pleasure it extols, Battersby seamlessly recreated his childhood dream-scape in the verdant mountains of Maui. It is here that friends and family can gather over wine and cheese, taking in the tropical landscape of Maui's island paradise amid ripening olives and grapes. The effortless pastoral setting lends itself to a lifestyle of the same—the notion that the gathering of loved ones and the enjoyment of simple pleasures is paramount.
A Tuscan villa graces the olive tree farm in Upcountry Kula, offering a spectacular ocean view from its mountain perch.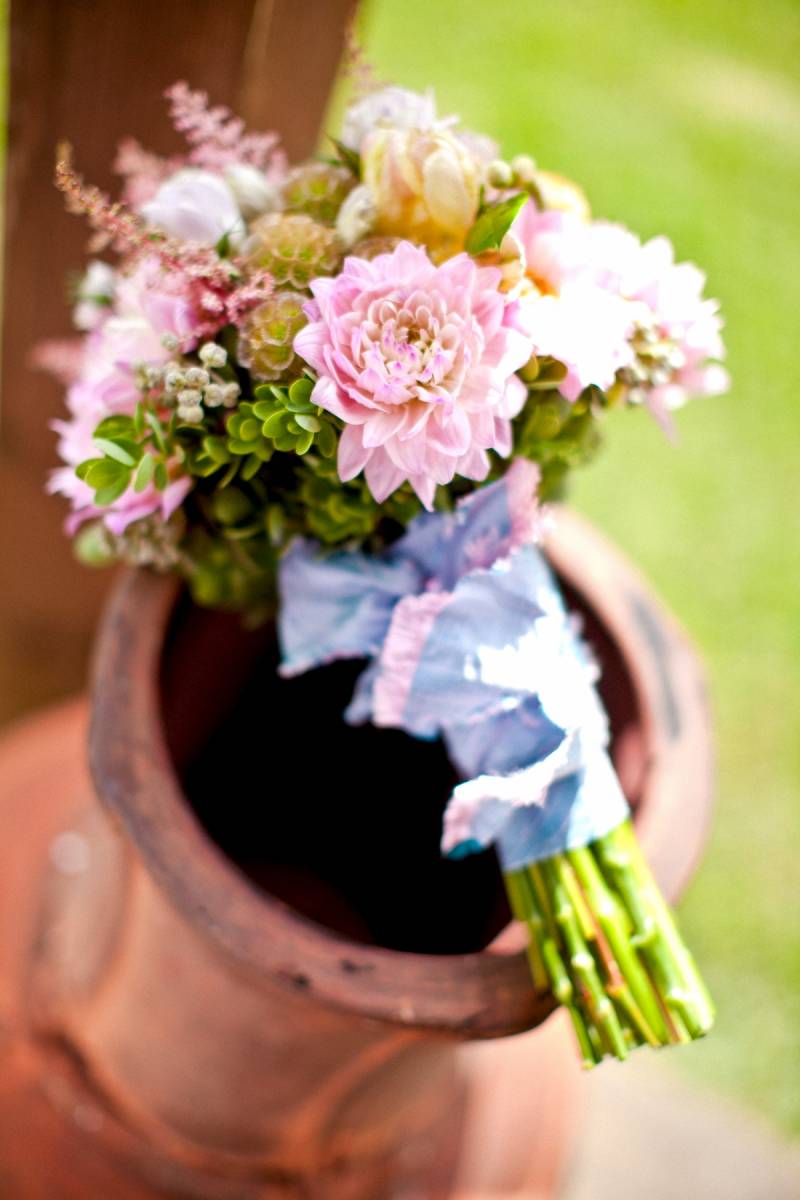 Inspired by an earthy palette of soft and utterly feminine blooms, Fong Tagawa of Floral Inspirations, Mandy Grace of Mandy Grace Floral & Event Design and Teresa Sena of Teresa Sena Designs composed six brilliant wedding bouquets tied with Midori dupioni silk ribbon that echoed the sentiment of nature's bounty.
Teresa Sena's hand-tied bouquet is a mix of butter yellow parrot tulips, lavender lisianthus, baby pink dahlias, scabiosa pods and astilbe with native lehua and akia foliage.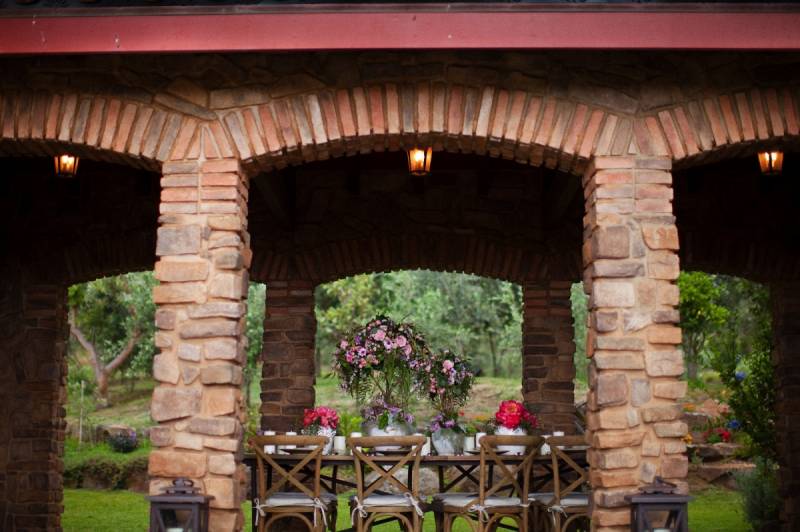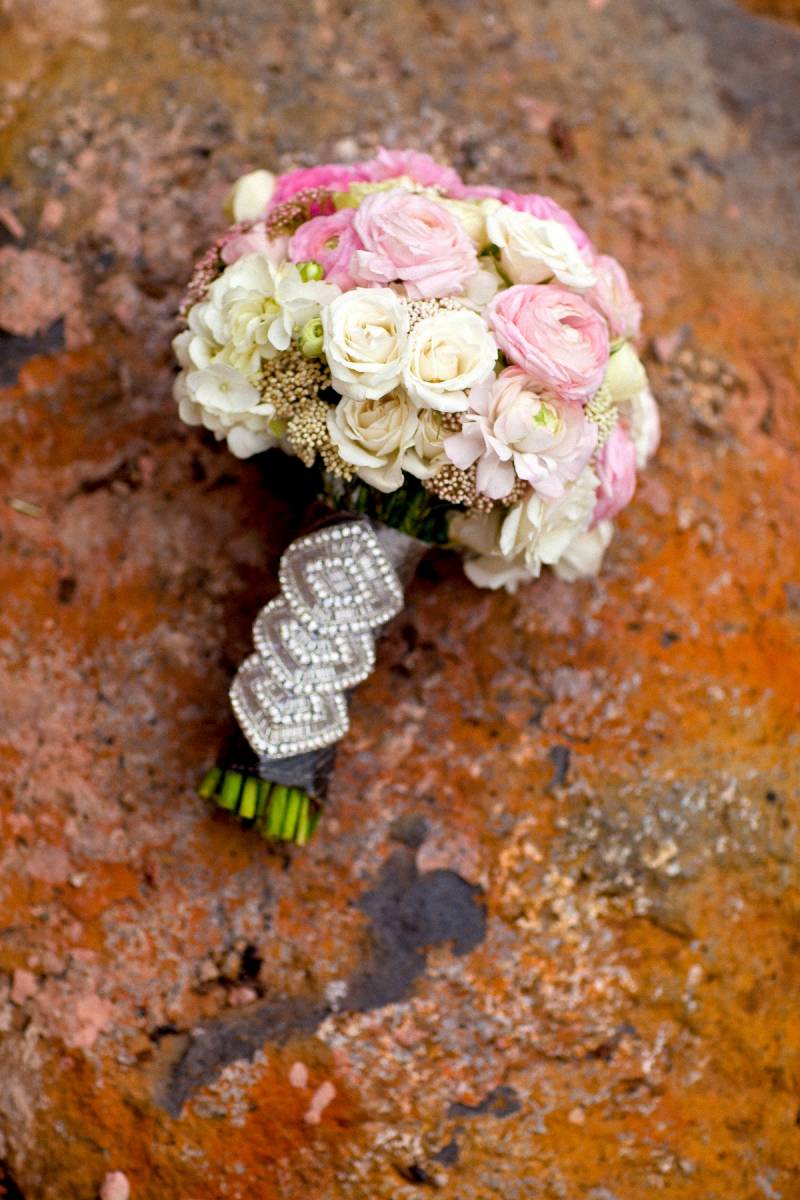 Mandy Grace's pastel confection is the epitome of feminine chic. A delightful display of white hydrangea, pink ranunculus, ivory spray roses and rice flower, it is the perfect princess bouquet. An elegant pewter silk ribbon and sparkling beading at the handle add a touch of glamour.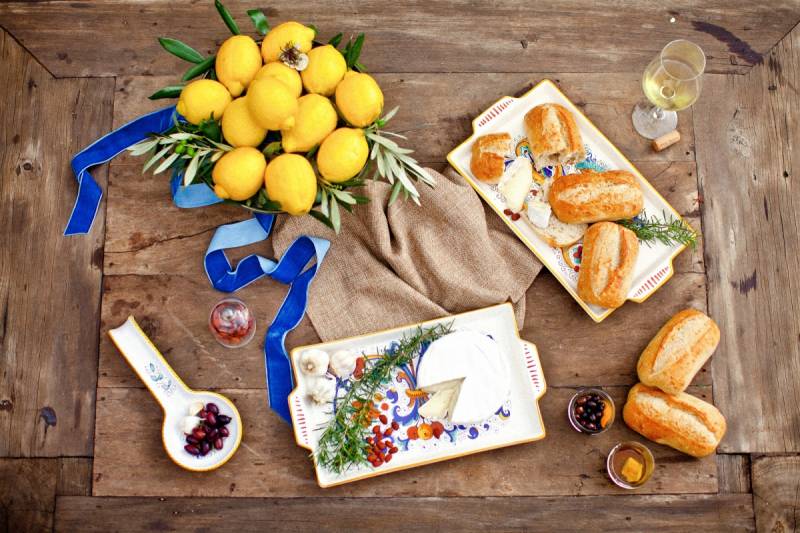 Unexpected bursts of fuchsia and pink are a lovely modern accent to the classic blue and yellow tones so often synonymous with Mediterranean style.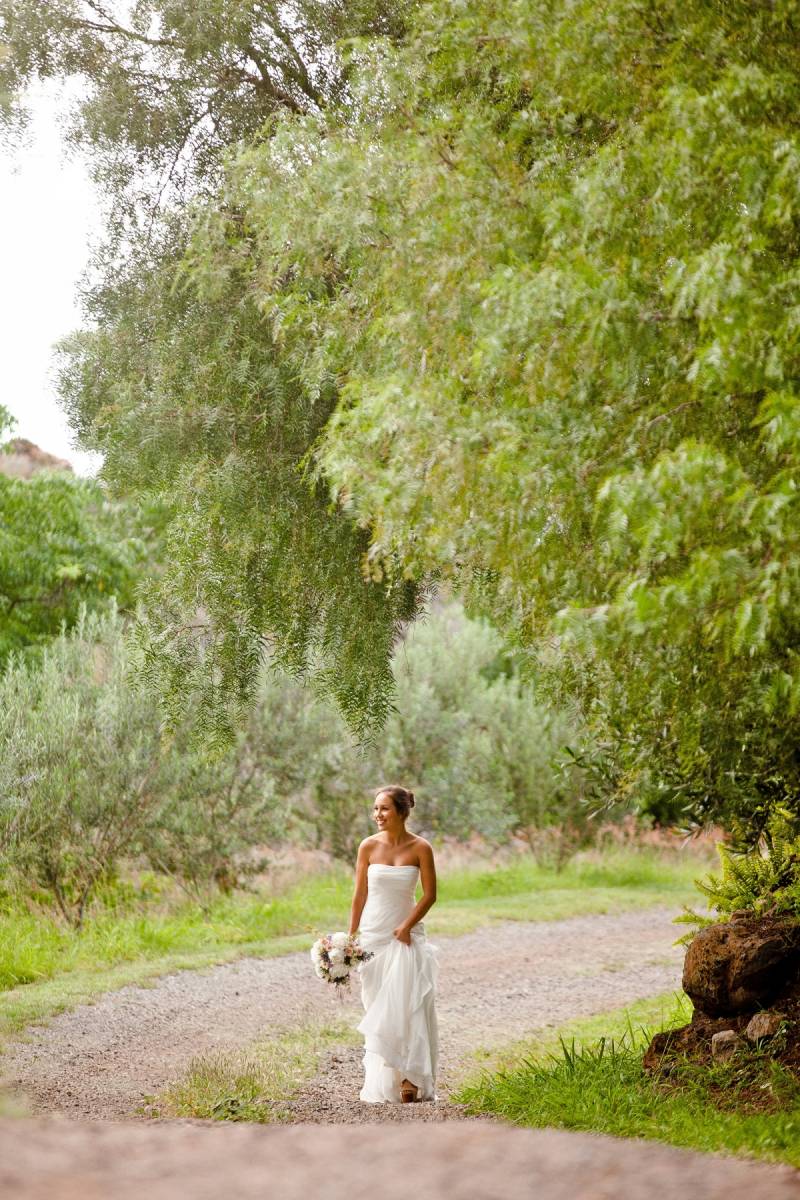 Olivia takes in the idyllic scenery of the olive tree farm in Kula, Maui. Floral designer Mandy Grace composed her lush bouquet of white peonies, white spirea, 'Porcelina' spray roses and purple stock. White godetia and eucalyptus create an earthy texture to this feminine mix of flowers.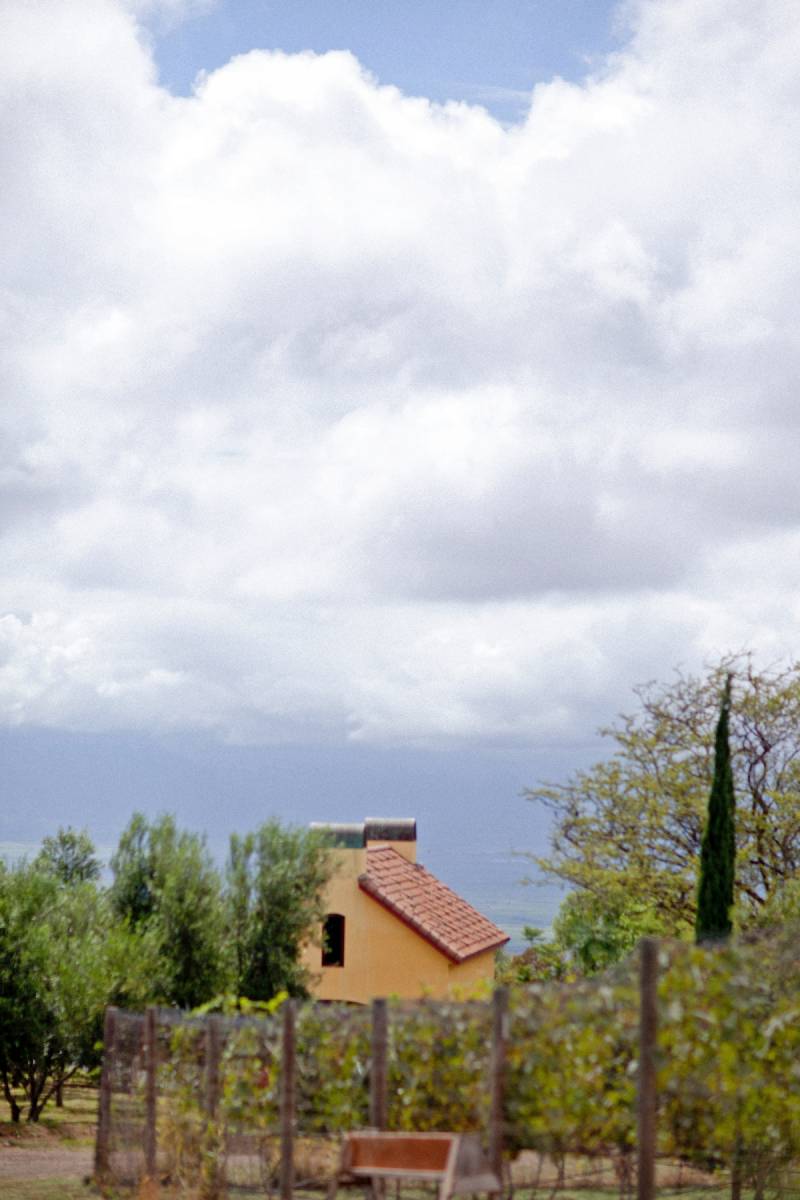 The Mediterranean bungalow is a hidden oasis blending the best of both worlds—Tuscan countryside in the hills of Maui.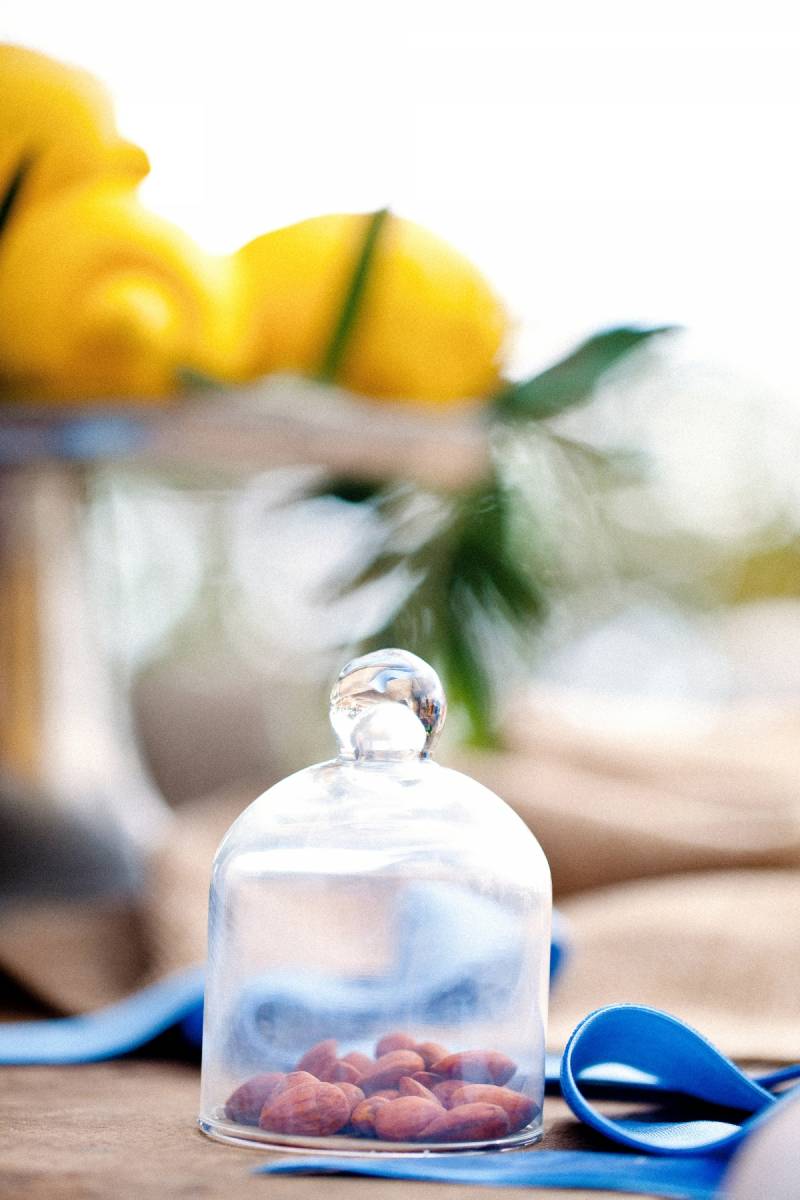 A display of cheese is served with a handful of almonds.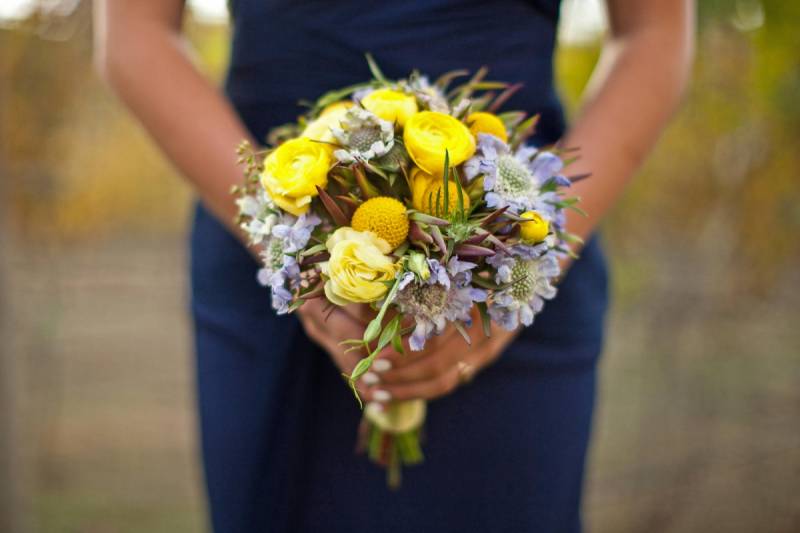 A dainty bouquet designed by Fong Tagawa blends lavender scabiosa, yellow ranunculus, seeded eucalyptus and baby blue lisianthus accented with rich 'Safari Sunset' leaves.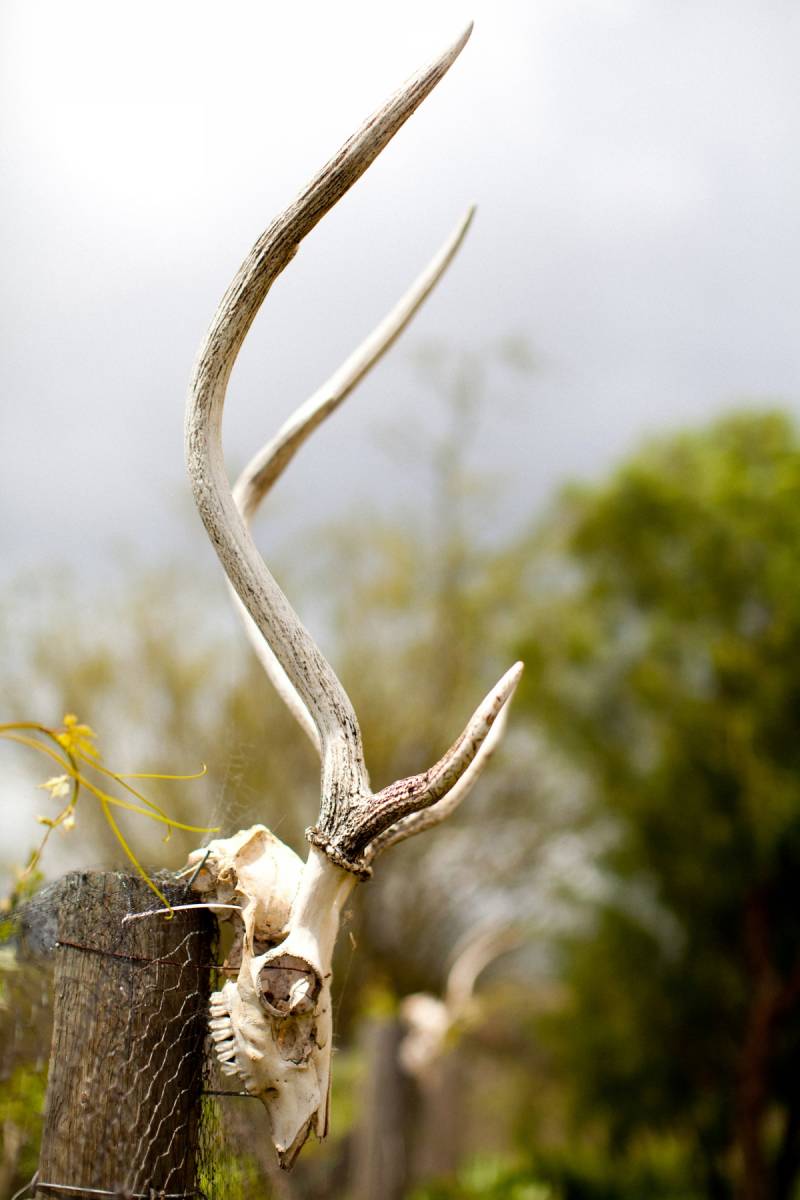 A regal pair of Axis Deer is a common sight in Kula.