We have put together a few of our favorite necessities for your bachelorette party. While your activities may vary, these little details will elevate the experience! Each has been tried and tested by our editors, and we are sure you'll love them as much as we do.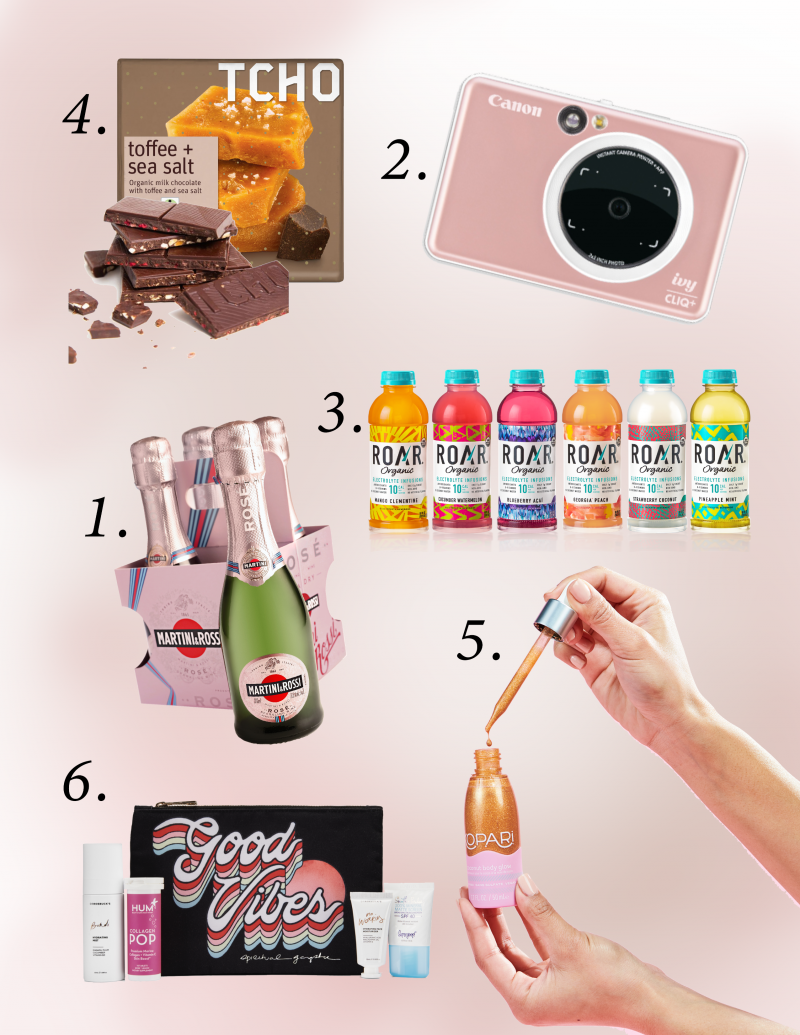 1. Martini & Rossi Sparkling Rosé Minis
One of the most difficult decisions when it comes to bachelorette party planning is: Rosé vs. Champagne. Thankfully, Martini & Rossi has given us the ultimate solution. Their Sparkling Rosé has the delicious taste of Rosé with the fun fizz of Champagne. Plus, they come in adorable mini bottles! Is there anything more you could ask for?
2. Canon IVY CLIQ+ Instant Camera Printer
You'll need this little gadget to capture all of your favorite moments of the celebration! This little Canon fits easily in a purse, is super easy to use, and it prints photos instantly. It's like a more convenient and portable version of a traditional Polaroid. You'll have so much fun going through pictures of the bachelorette party the next day!
3. Roar Electrolyte Beverages
Electrolytes are essential to keep you going through a long day and night of activity. And it definitely helps that Roar drinks are so much lower in sugar and carbs that your traditional Gatorade! They are made with a proprietary electrolyte blend created with organic coconut water, organic cane sugar and sea salt. Each Roar comes in a delicious flavor such as Cucumber Watermelon or Pineapple Mint. Yum!
4. TCHO Chocolate
Every female-centered gathering should include chocolate. We love the creamy consistency of TCHO chocolate bars. They are melt-in-your mouth delicious, but aren't too sweet. Our favorite flavor is espresso dark chocolate. Trust us, you need to try this chocolate. It will taste even better with a mini bottle of that sparkling rosé.
5. Kopari Coconut Body Glow
Look, smell, and feel like a summer goddess while basking in the sun! This body shimmer is made with natural pearlescent minerals for the perfect golden shimmer. It is made with hydrating coconut oil to keep your skin feeling soft even after a long day of celebration. And did we mention that is smells AMAZING? The bouquet of tropical gardenia and coconut is perfect for a day lounging poolside or a night out dancing with your girls!
6. Dr. Roebuck's Good Vibes Kit
Some of our favorite brands collaborated on this adorable, ready-to-go pack of sunny essentials. The kit includes Dr. Roebuck's No Worries Hydrating Face Moisturizer, Dr. Roebuck's Bondi Hydrating Mist, Supergoop! Mineral Smooth & Poreless Matte Screen SPF 40, and HUM Nutrition Collagen POP + Vitamin C Dissolvable Tablets. It has everything you'll need to keep your skin hydrated for an endless amount of fun! You'll thank yourself for using these goodies.