Tara and David met in Hawaii nearly four years ago while attending university on Oahu. Tara says, "We actually lived across the hall from each other and since both of us were transplants from California, we had few friends so we would try new restaurants together. Our dates consisted of surfing and diving together...it was such a carefree, magical and easy time for us to truly fall in love. Our friendship transformed into a strong bond of love.
The couple hosted an intimate wedding overlooking Kealakekua Bay on the Big Island of Hawaii. The bride says, "One of my favorite childhood memories took place in Kealekekua Bay. I was eight years old when my family and I kayaked through the bay and anchored our boats at the monument. We brought a picnic and snorkeled through amazing caves. I was so excited to return to the bay to celebrate our wedding week with all of our friends and family members!"
Isn't the bride's blush wedding gown by Zac Posen gorgeous?
Photography by Julie Harmsen | Location: Private Estate, Kealakekua Bay, Big Island via TDD Rentals | Floral Design + Coordination by Bliss in Bloom | Bridal Gown: Zac Posen | Groom's Suit: Barney's New York | Catering: Grass Shack | Cake Food for Thought | Tent + Lighting: Big Island Tents | Hair + Makeup: Lush Hair Salon | Videography by Fitts Studios | Entertainment: Ryan S. + Kevin Teves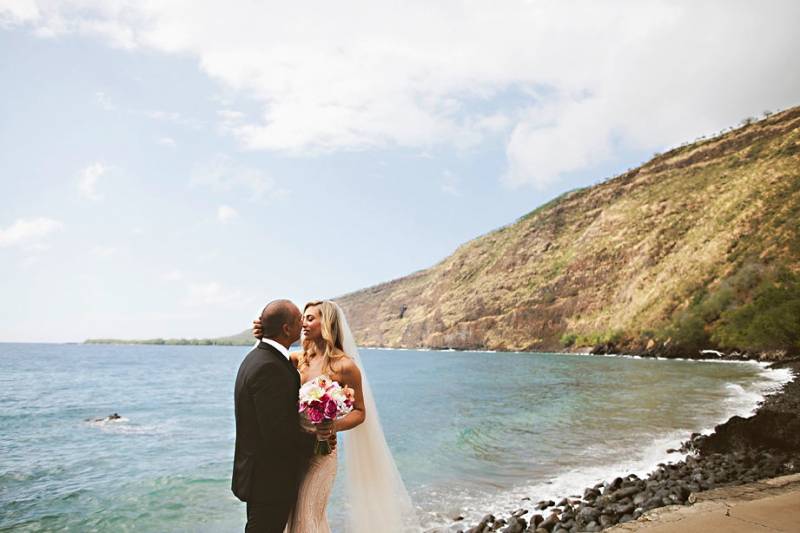 For our wedding, we really wanted to capture our experience in Hawaii together and share it with our guests," Tara says. "We wanted to be surround by Hawaii's nature and beauty. We decided to rent two giant houses on the water in the bay for a week. One house was all the bridesmaids and the other the groomsmen. Most of our guests also decided to to also rent houses in the bay as well so everyone was able to walk to a from each other's houses.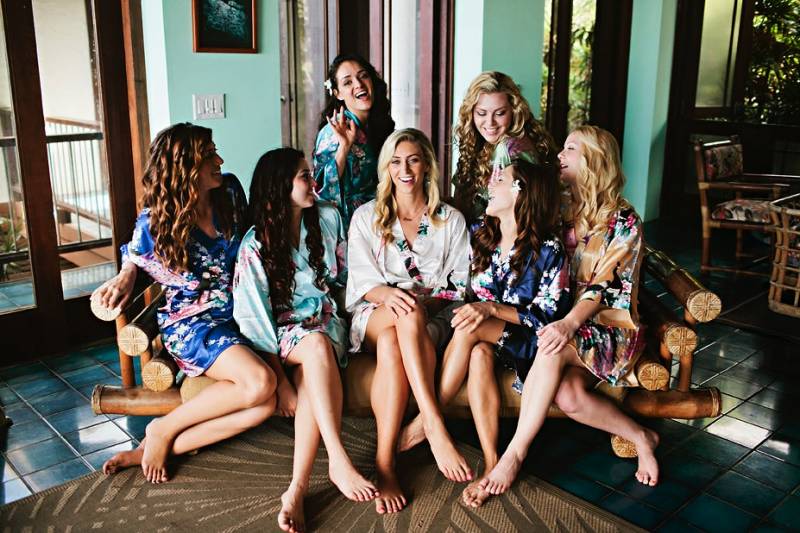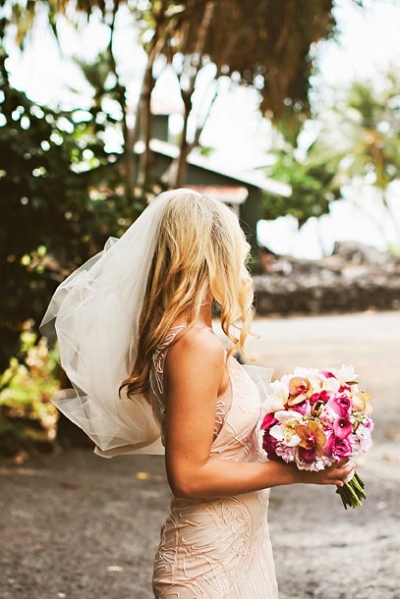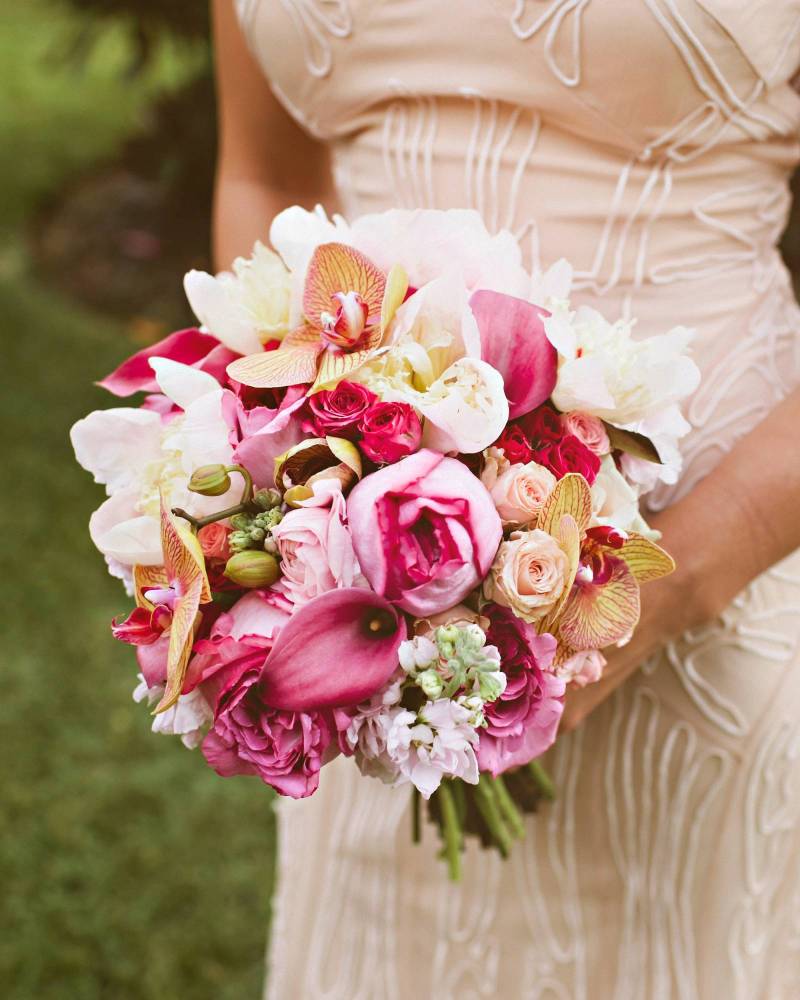 "Besides the location, the gown was really my favorite part of the wedding," Tara says. "I knew I didn't want a white dress so I chose a blush Zac Posen evening gown that I found on Gilt for about a third of the listed price. I knew it was a risk buying my dress online but the design really spoke to me. It was unlike anything I had ever seen before. I am usually a very indecisive person but the moment I saw this dress, I knew it was "the dress."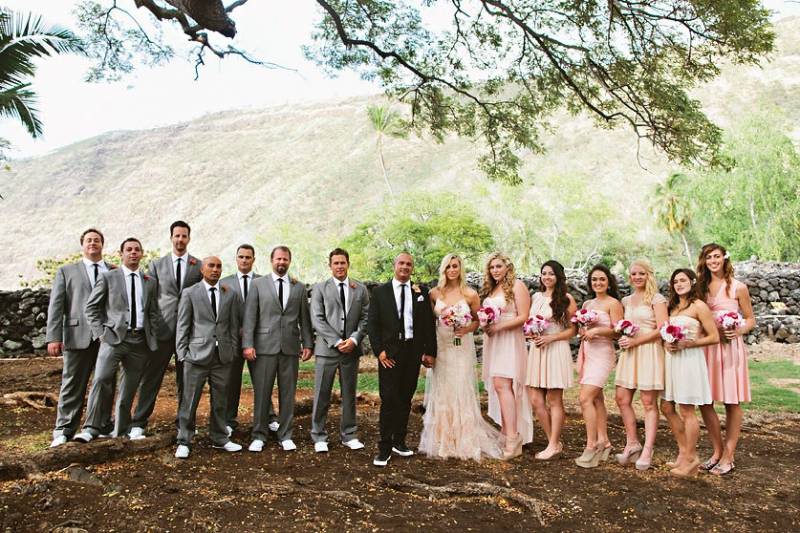 We wanted to stick with a natural color palette for the bridal party. My six bridesmaids wore blush and pink cocktail dresses paired with nude heels. I thought it was important that they feel pretty, sexy and comfortable. As a gift, Katie Jane Hoggan who lives in Hilo, helped me design gold and turquoise earrings for the girls to wear. We wanted a really classic look for the guys-- simple grey suits with black ties.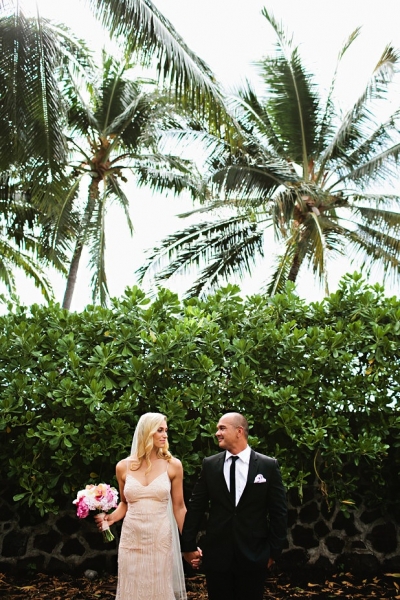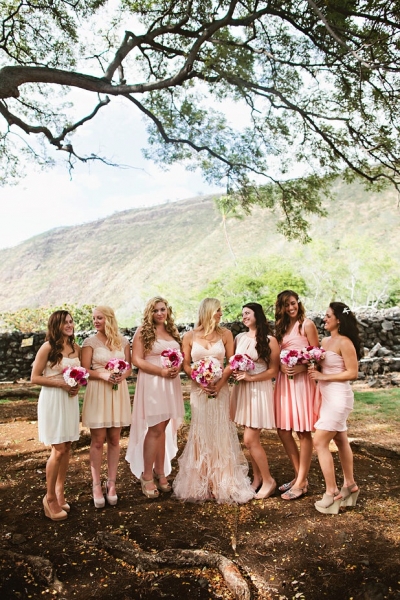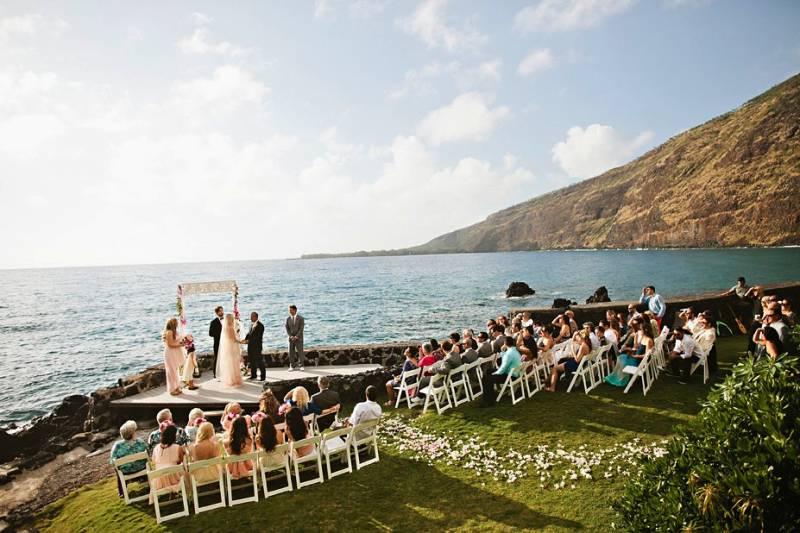 Our vision for the wedding day was relaxed, beachy elegance. We wanted simple decor that did not distract from the beauty of the landscape.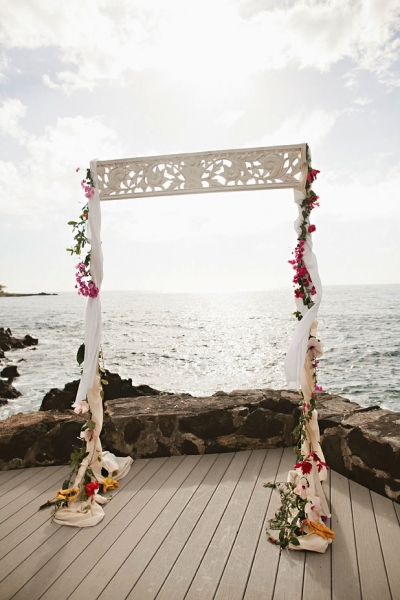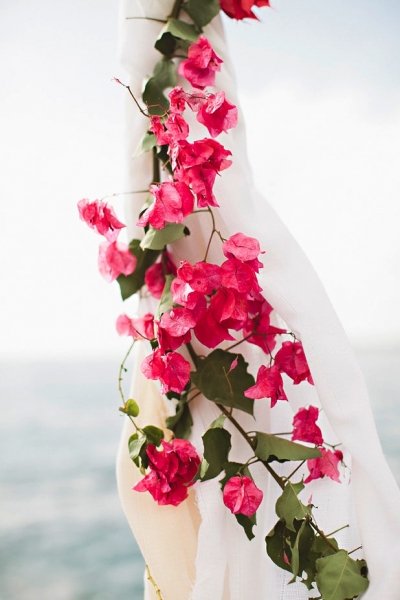 "My brother built our wedding arbor. We found a beautiful carved wooden art piece in Los Angeles and knew right away that we wanted to incorporated it into our ceremony. After the wedding we hung it above our archway entrance into our house-- a special momento that we will always cherish."