Inspired by the natural beauty of the West Coast, this Pacific seaside styled shoot features a color palette that reflects the sweet serenity of surrounding nature. Light grey and oak are joined by light blues with green accents. Fine art photographer Maricle Kang beautifully captures the scenery where sky touches water. The softness of the ocean transcends into each individual image.
"It was a foggy day and it naturally created a very soft ambiance to the whole scenery. The sky was pale, the ocean was as cool to deep blue, and the reflections of the light on the water were silver. It was our perfect backdrop." --Maricle Kang
"The cake was designed by Cathy Do, and her design was inspired by the texture of the sea. It was topped with white buttercream icing and hand-made toppings made out of rice paper to resemble sea plants."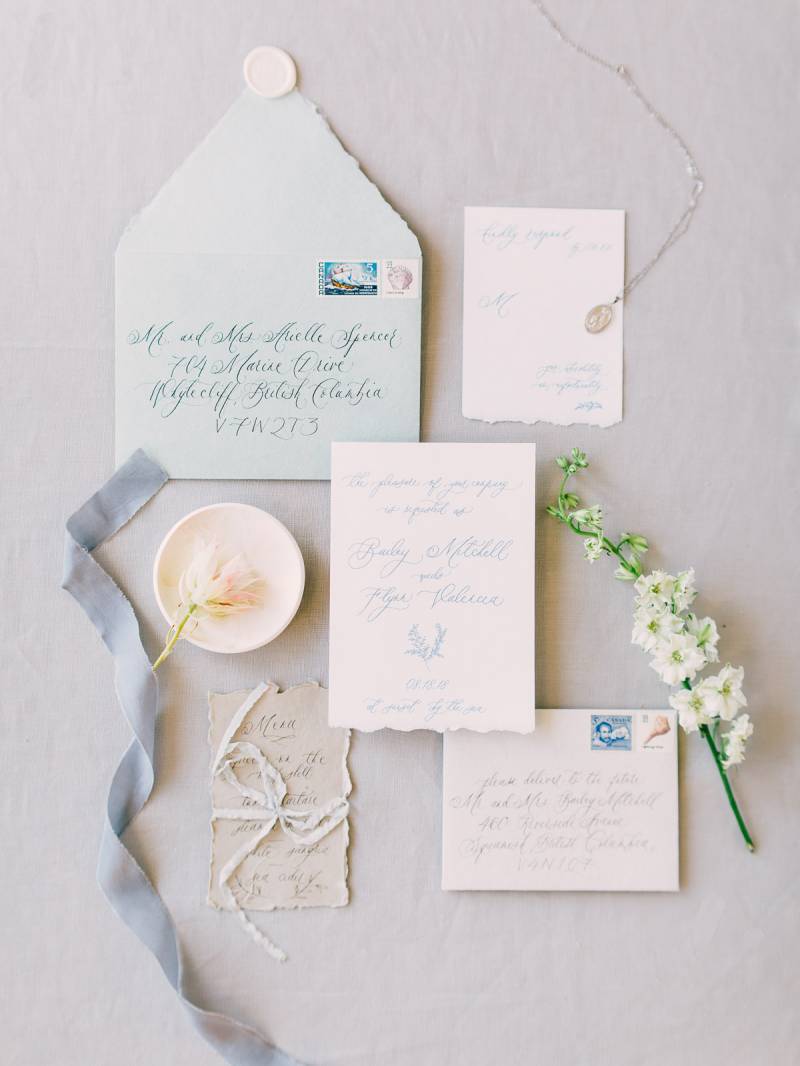 All of these natural elements inspired Ayla Pena's beautifully calligraphed stationery. It was crafted with handmade artisan paper and tied with hand-dyed silk ribbon. The place names were calligraphed on oyster shells that each held a different shape and pattern. It was exactly what Maricle wanted to capture: the unique, one-of-a-kind quality of mother nature.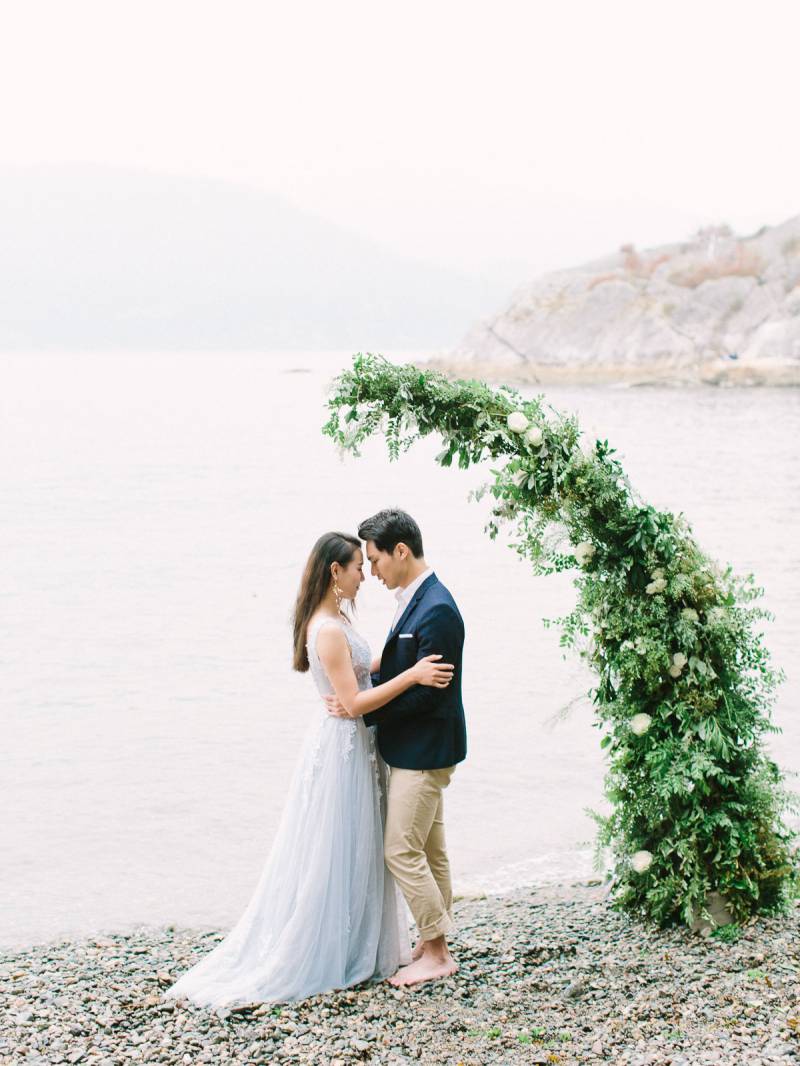 "The half-moon flower arch was curated using a variety of greeneries. We wanted to create something that looked like it grew naturally and found along the sea."
"The design of the tablescape was inspired by the ocean and waves. A lot of natural elements were included in the design. The table was handmade using white oak wood by Namu Design Co. The edge of the table had a live edge effect which mimicked the way water flows and the shape of the waves. The table stands were natural birch wood stumps. The centerpiece was inspired by coral reefs - the flowers in the sea. The table was decorated with mismatched shells and stones; dressed up with grey taper candles and table runner draped to mimic seaside waves."
The dresses were also inspired by the elegance of the sea: one silvery blue with delicate lace, the other adorned with elegantly loose sleeves that move softly in the wind.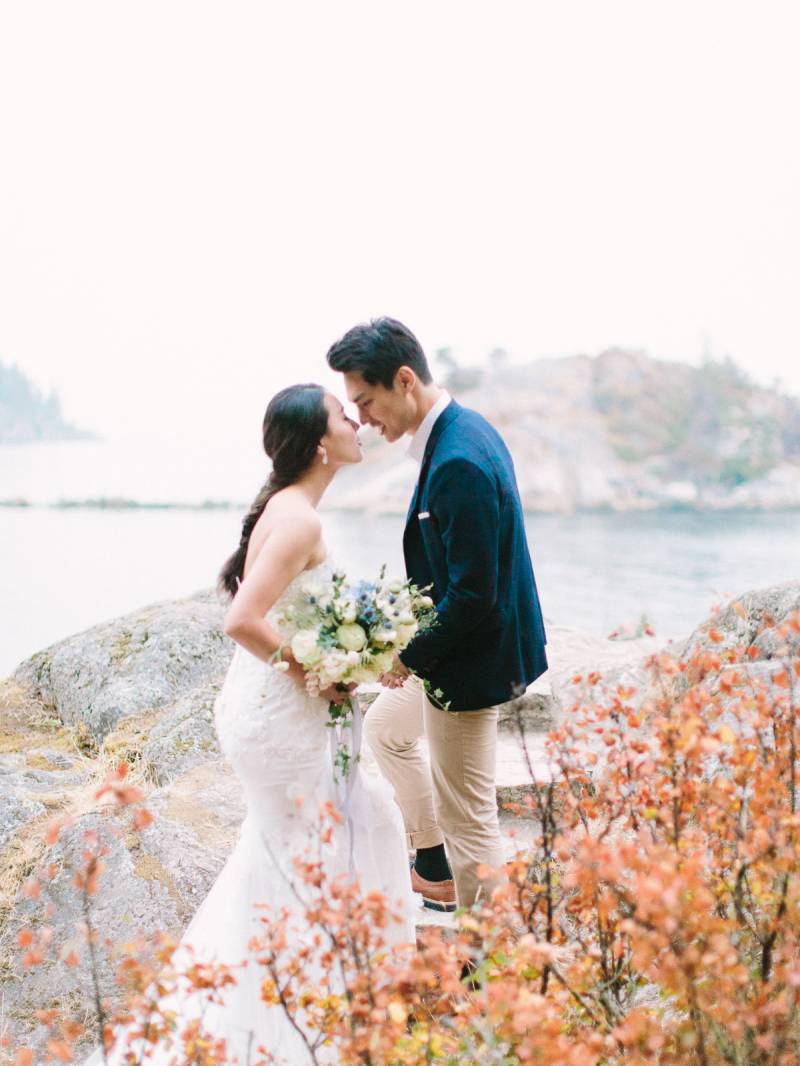 "The goal of this style shoot was to showcase the raw beauty of the ocean, and to capture love by the sea!"