Photographer Caprice Nicole and makeup stylist Jessica Waite recently collaborated together on a stunning beauty story for Pacific Weddings readers. We're excited to share three distinctively different looks and Jessica's method for creating the striking and dramatic makeup and hair for a glam wedding, after-party or fun, beach session. Jessica says, "Annabelle's stunning bridal look was inspired by the transition from winter into spring. After the long, cold months, skin is pale but hope and love spring anew in the warm sunshine and bloosoming flower fields." Enjoy, ladies!
Photography by Caprice Nicole | Location: Maui, Hawaii | Hair by Senior Stylist for Jessica Waite, Anna Marie Cua | Makeup + Fashion Styling: Jessica Waite | Model: Annabel Maria
Makeup Method:
1. Her flawless skin was lightly airbrushed with Temptu Pro and finished with MAC mineralized skin finish powder to bring a soft glow to her complexion.
2. Cheeks were highlighted with MAC Pink Frontier and colored with Stilla convertible color in Lillium.
3. MAC pigment in "white" was applied to the lid and outlined with MAC fluidline in "black trac" for strong contrast. 4. We used a glamorous pair of Makeup Forever lashes, cut them in three pieces and stacked them into a pyramid on the outer corner of her eye for full impact.
5. We did a classic brow using MAC charcoal brown shadow and an angled liner brush by " Intelligent Design". 6. MAC's limited edition Retro Matte lip color in "RiRi Woo" was the mesmerizing focal point that finished the look.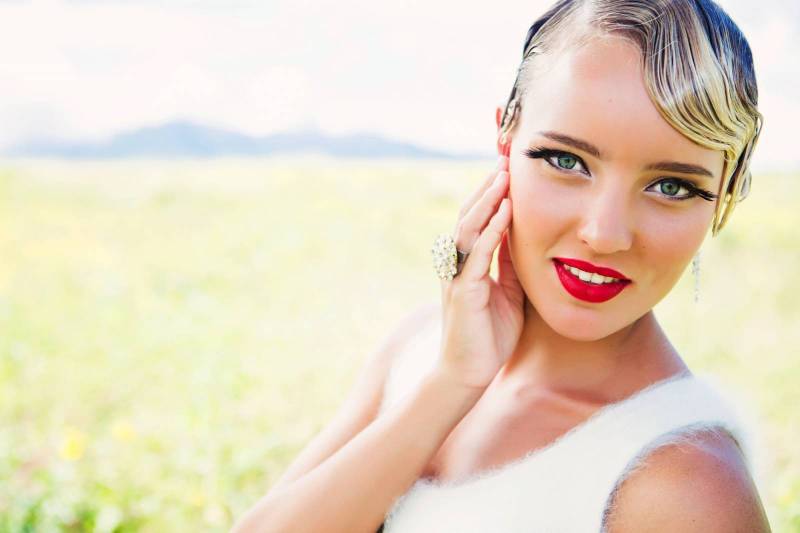 Hair Method: These perfectly sculpted pincurls were the masterpiece of Jessica Waite's Senior Stylist Anna Marie Cua. Kenra styling gel, and duck bill clips formed the pieces and the look was finished with Onesta shine serum.