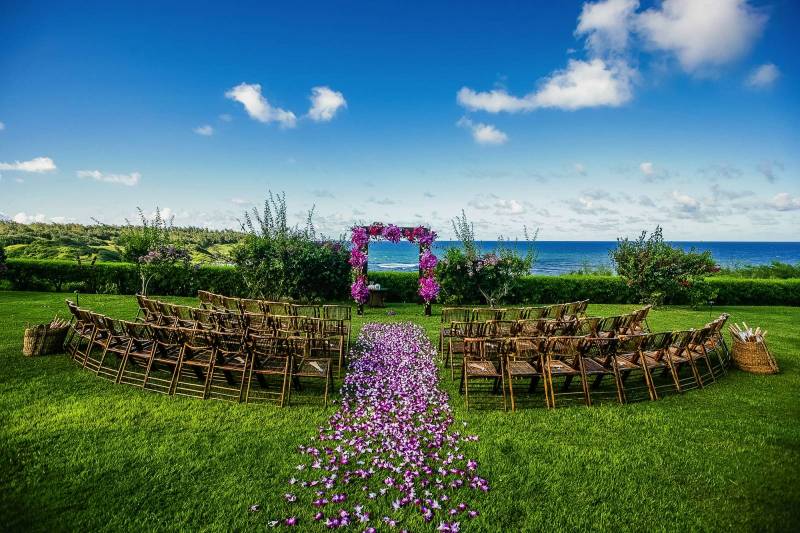 "We knew from the very start that Kauai would be the place," says Brett Alexandra DeFevere of her wedding to Henry Eric Firdman. The Chicago-via-California couple shared their island home on Kauai with friends and family for a glamorous destination wedding. The bride tells us, "We've been affectionately calling our wedding "the destination wedding right at home" from the very start (despite our wedding locale being over 4,000 miles from our current home in Chicago!). We hosted our wedding at my family's home on Kauai--I've been visiting Hawaii since the time I was a little girl. And all major family milestones usually take place there from birthdays to anniversaries but never a wedding...until now! My parents were saving that for me.

"Kauai is where my family feels most at home in addition to being the place my husband and I had become engaged a year earlier. It is truly home and one we wanted to share with everybody. We often say about Kauai, you either get it or you don't, so this was the ultimate test of our 65 guests arriving from all over the country. Eric is an avid surfer from San Diego and Brett is a "beachy blonde" from Los Angeles. She says, "Living in Chicago has proven rough for us both! Being away from the sea and sand is so bittersweet at times and we wanted our big day to be a holistic reflection of our roots by the Pacific."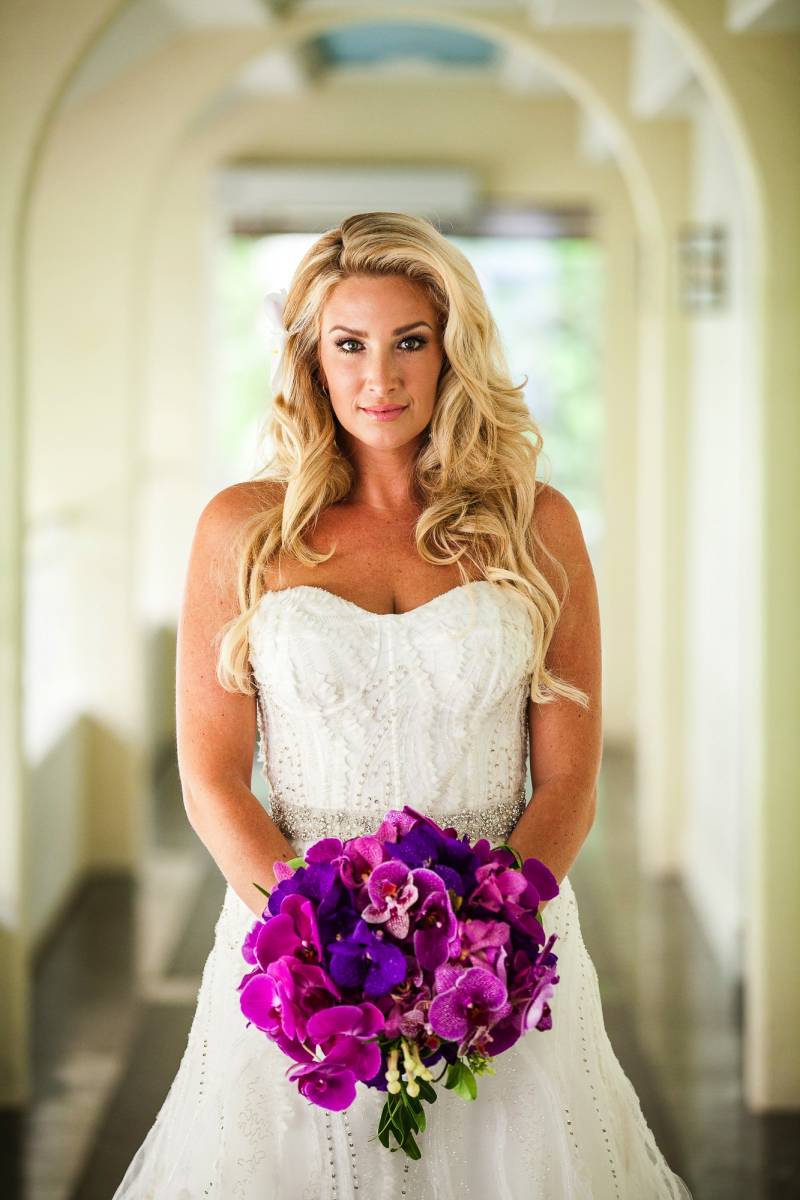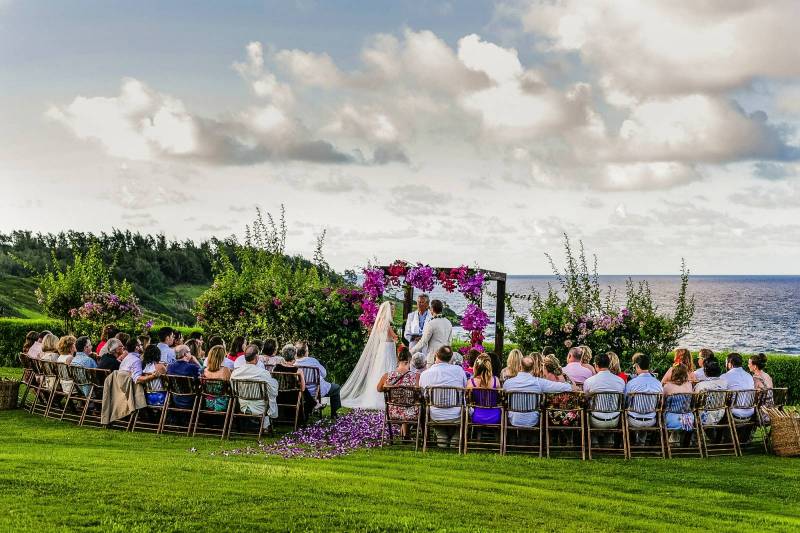 "Our vision for the day was glamorous luau and I think it was achieved beautifully with the help of our team at Martin Roberts Design. We created a luxurious Hawaiian event with three distinct vibes for ceremony, dinner and reception. The ceremony was set on a bluff in the backyard with unobstructed ocean views. This was the most natural decor with flowers and seating to compliment the organic environment. Bamboo chairs and bright bougainvilla and phales matched the existing foliage on the property. We especially loved the reclaimed wooden ceremony arch. We kept it simple as not to take away from the views."

Brett carried a bridal Bouquet composed of fuchsia phales, purple vandas, maiden hair fern, and calypso orchids. Her uncle, Mitch Fisher, presided over the touching ceremony.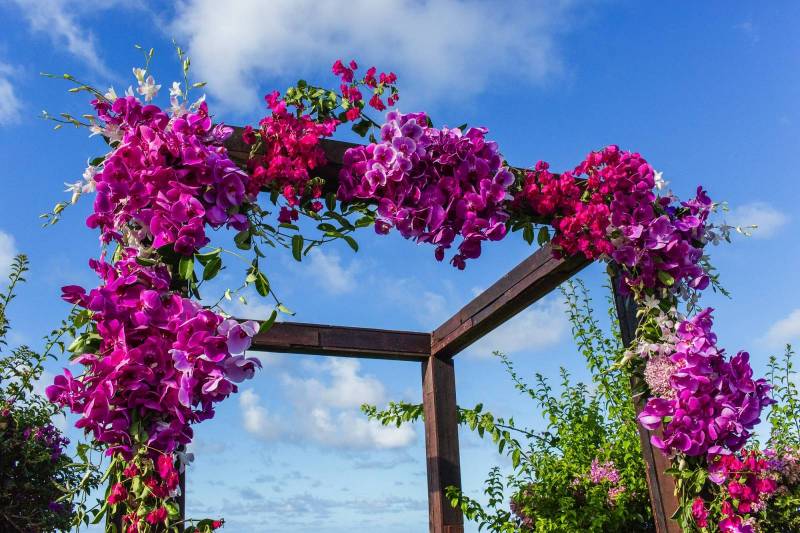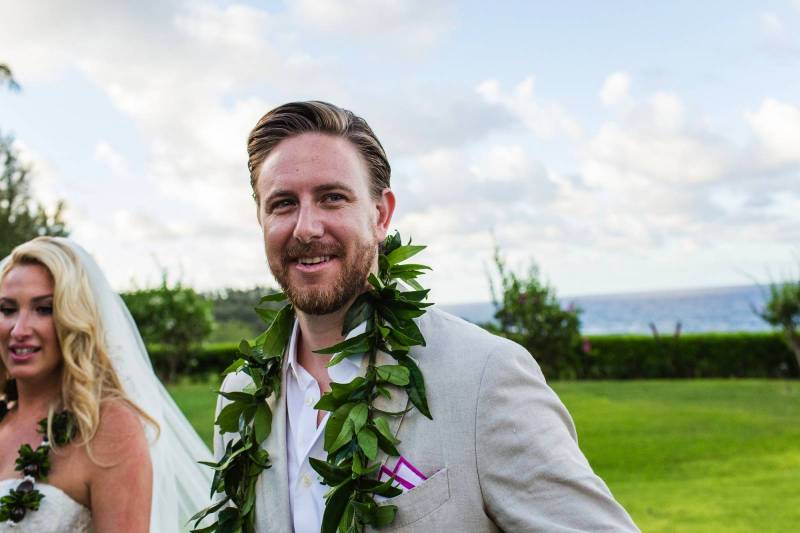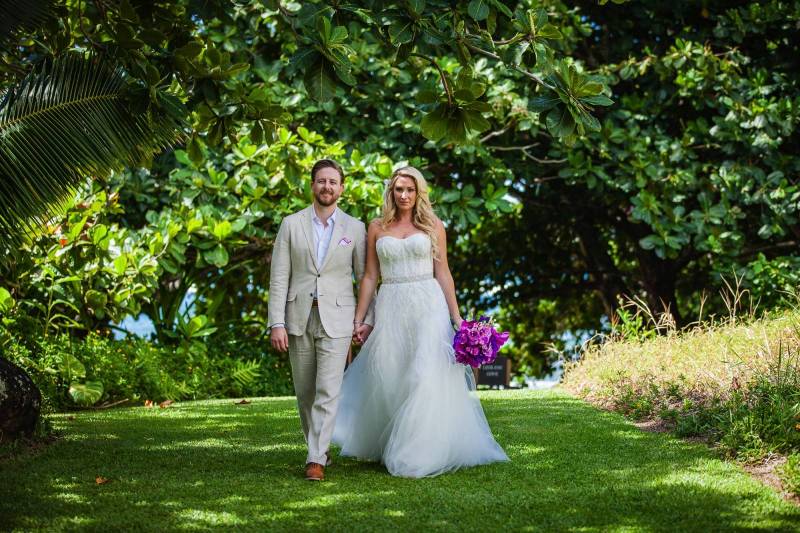 Brett was stunning in a Monique Lhuillier "candy" gown in ivory. The dress was light and delicate with layers of tulle. The ethereal gown perfectly matched the island setting. She wore a cathedral length Reem Acra veil which was her "something borrowed" from her sister. And for her shoes, she donned Jimmy Choo "Sazerac" heels. It just so happened that Eric's favorite cocktail is the Sazerac. The bride's jewels were a mix of vintage (her grandmothers diamond tennis bracelet) and new (rock crystal earrings by Siman Tu, NYC). In honor of her late father, Brett had a piece of his Aloha shirt sewn into the bodice of her dress. Her groom was handsome in a linen suit by Stockholm-based Suit Supply with a custom white and fuchsia pocket square to compliment the ceremony colors.

"We did not have a bridal party...our intentions were to gather as a group, a family and have everyone feel as connected to us as possible. We wanted everyone whom had traveled to our family home in Kauai to be as much a part of the union as we were."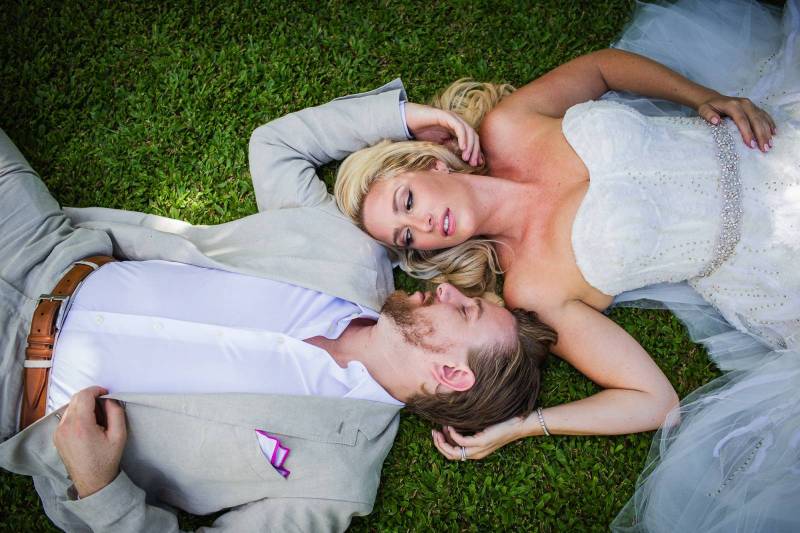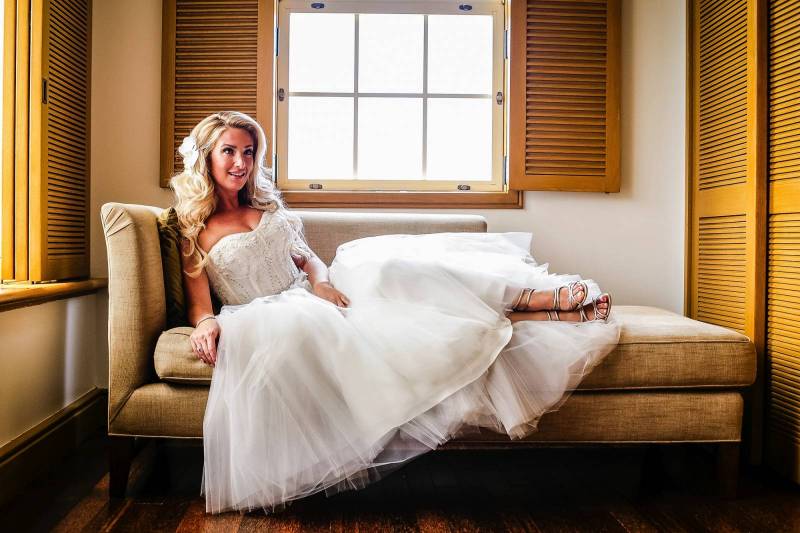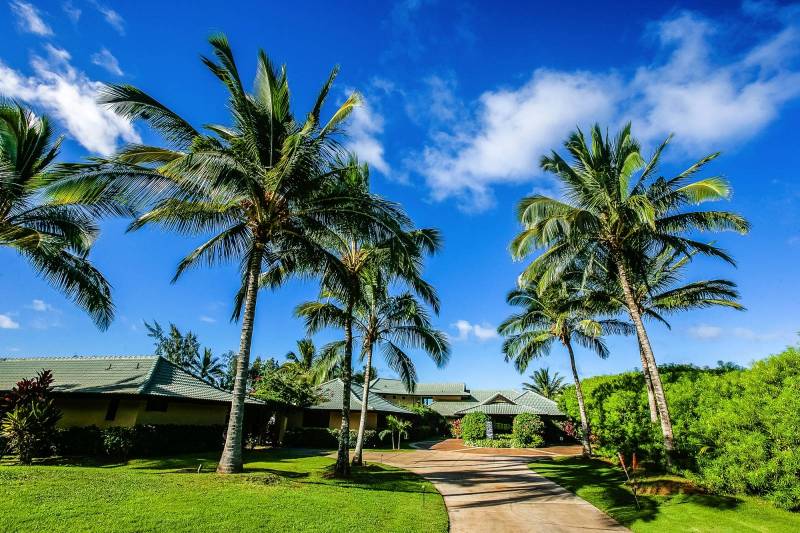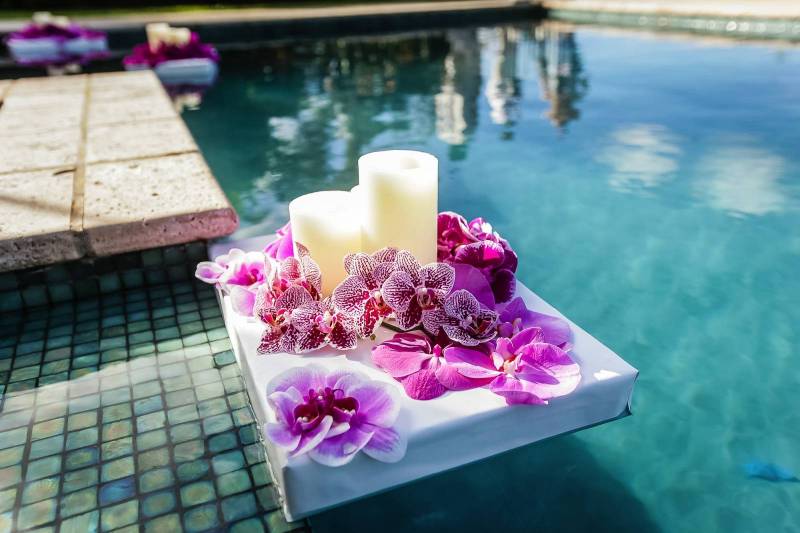 "We brought as many outdoor elements as possible to the event from the ceremony setup on the bluff overlooking the ocean, to the breezy, open-air tent poolside for dancing," Brett says. "We heavily focused on a more glamorous take of the traditional island wedding...gone were the typical beachy-styles in favor of a more modern look. Martin Roberts did an amazing job creating two distinct feels for the event: whimsical and bright outdoor versus monochromatic and luxe indoor."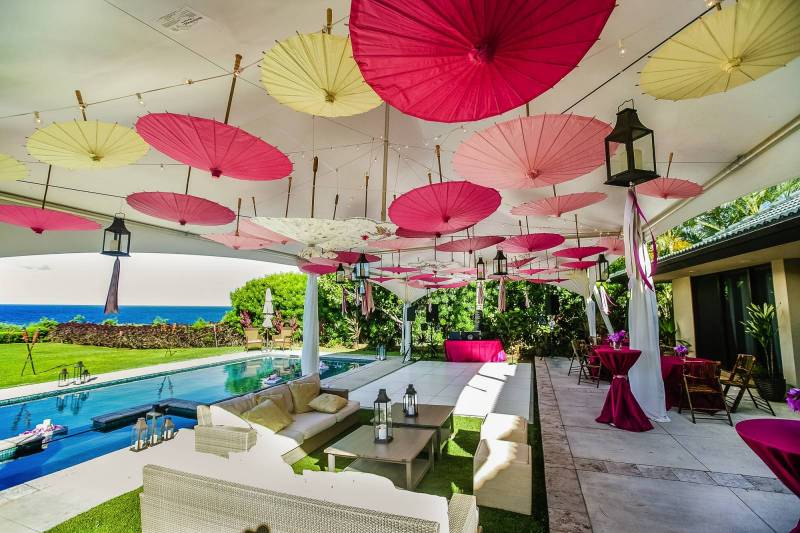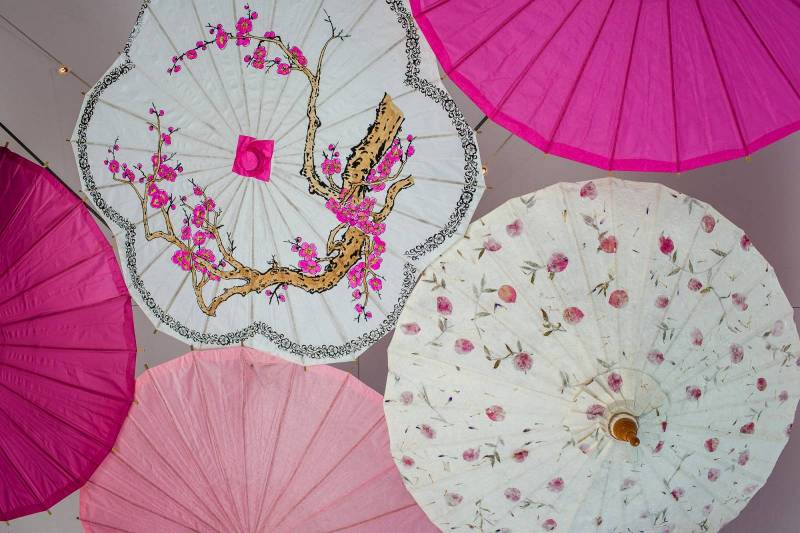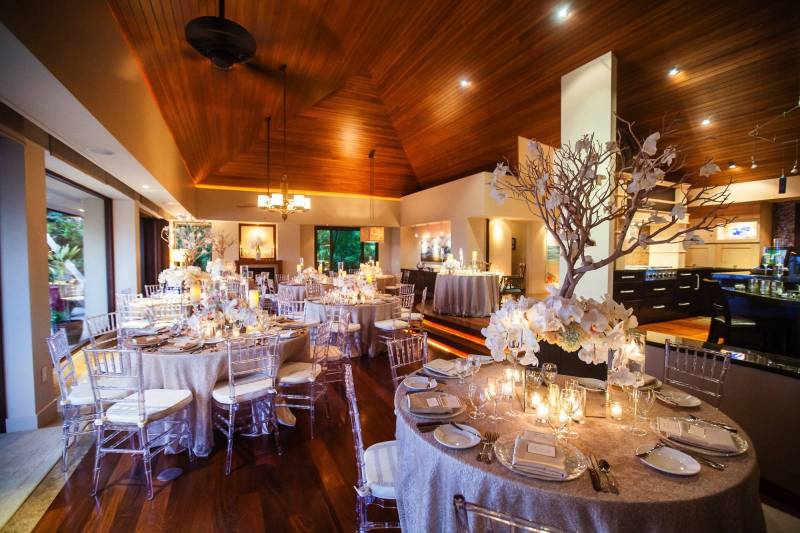 "Dinner was held indoors in the grand room at Hale Pukalani. Teak ceilings were offset with modern, clean lines and clear Chiavari chairs with metallic linens, tons of candles, mercury glass and over-the-top florals in tones of white, ivory and blush. Tall centerpieces of Manzanita trees in mirrored boxes were overflowing with phales, roses, peonies, natural branches and orchids. Guests dined on a plated dinner by Contemporary Flavors catering.

The cocktail menu was created by Brett and Eric and featured signature drinks named after our nicknames for one another.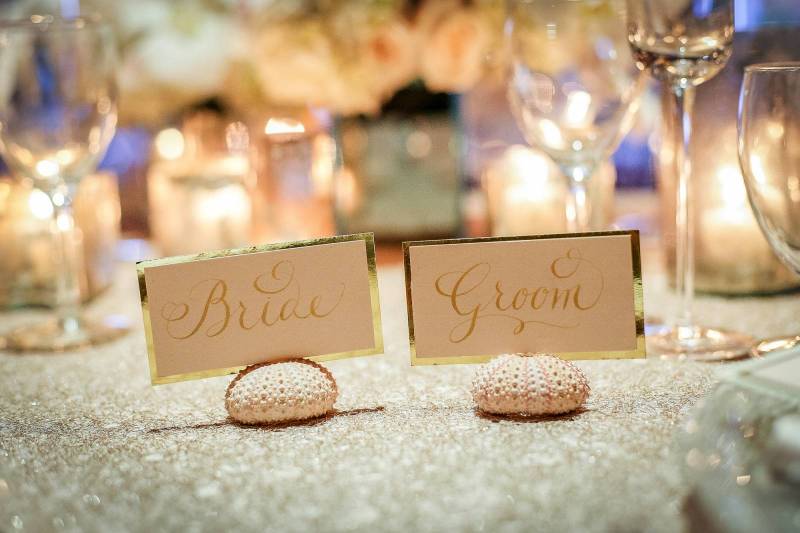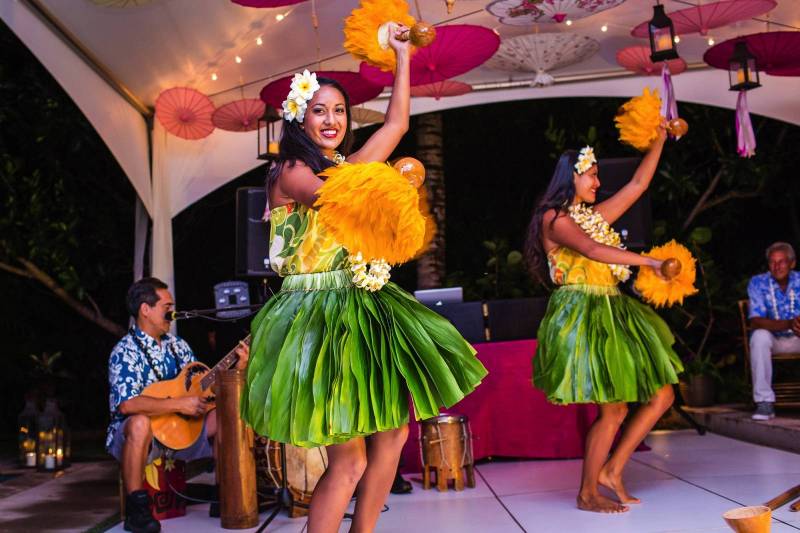 "The evening was capped off with dancing in an open-air tent designed by Martin Roberts. The ceiling was draped in Asian lanterns and patterned rice paper umbrellas in the colors of white and fuchsia. Lanterns and intimate seating clusters created a fun, late night lounge environment. The reception also featured a performance by local musicians accompanied by hula and fire dancers to kick off the dancing. Soul Fire Productions provided the entertainment. The evening was capped off with dancing and a performance by local musicians accompanied by hula and fire dancers. It was a true Hawaiian experience! By the end of the evening all of the guests were dizzy with pineapple scented delight. My only wish is that we could do it all again tomorrow! "