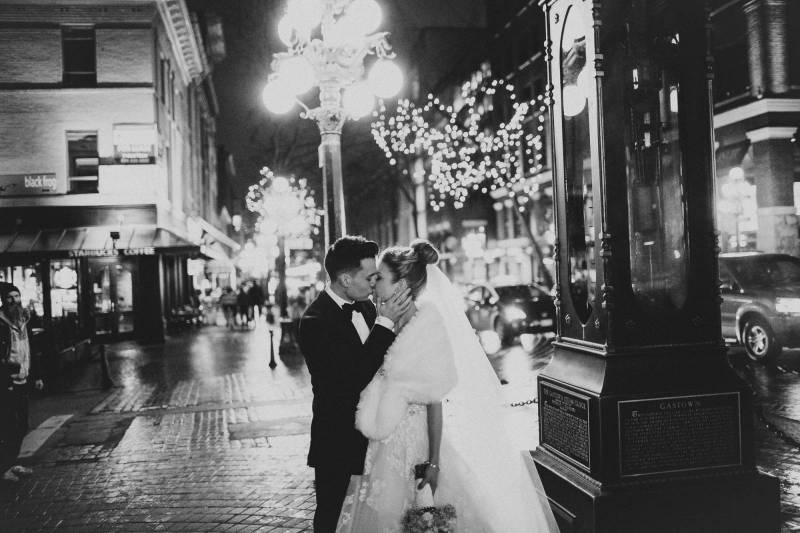 When we spotted this wedding in photographer Luke Liable's portfolio we knew we had to share it. Fraser and Dana hosted a classic black tie affair in Vancouver's beautiful Rosewood Hotel Georgia on New Year's Eve. The glamorous color story of the day was silver, gold and pearly white. The Rosewood Hotel Georgia combines the glamour of the roaring 20's with chic, contemporary design in the heart of Vancouver. The historical Spanish Ballroom offers the ultimate in old world elegance with its ornate walls and antique chandeliers.

How they met:
"Fraser and his twin brother were new customers at my family-owned Tim Hortons," Dana explains. "After a few failed attempts at getting my name, he emailed the customer comment email address asking me for my info, and signed off with his regular order. I instantly knew who it was, and we met up shortly after."

The Proposal:
Fraser's unique proposal was the ultimate surprise. "He worked on a Pinterest storyboard piece displaying our relationship--from asking my parents for my hand in marriage, and ending it with asking me to marry him. He uploaded it to Pinterest at the exact time that I always went on the site (right before bed), and waited for my reaction. It was Christmas Eve and I obviously got the best present ever!"