Jake Shimabukuro and his girlfriend Kelly Yamasato were surprised and delighted when both of their lines felt a strong tug almost simultaneously. They had been fishing with simple bamboo poles all day without so much as a nibble. But since it was their first time fishing together, neither was in a hurry to give up. When they pulled their entangled lines out of the water, they realized in amazement that they had actually caught the same fish—it had swallowed both of their hooks! Jake says it was then that his father pulled him aside and said, "Son, I have never in my life seen anything like that. You better ask her to marry you now."
It wasn't the first time the pair found themselves in a place of extraordinary good fortune. In fact, extraordinary defines their lives as individuals spent in service to others, his in spreading the gospel of peace through music (his latest CD is entitled Peace Love Ukulele), and hers as a physician dedicated to women's health. Known as the impresario of the ukulele, Jake is most beloved in his home of Hawaii and recognized around the world as the young musician who lends a whole new dimension to his instrument. A simple introduction to Jake will reveal his genuine humility and grace. So it seems fitting that he chose the humble ukulele to share his remarkable musical talents. Or perhaps, it chose him. It's the very quality that drew Kelly in from their first dinner, a blind date set up by Jake's stepsister. "He was so nice to everyone in the restaurant, I wondered if it was an act. But it turns out to be true—that's who he is all the time," says Kelly.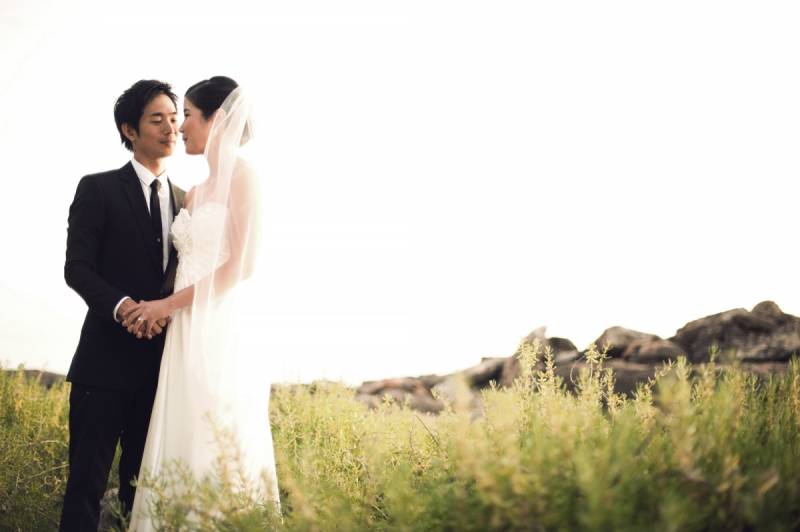 Coordinator Brigid Barcarse stepped in to execute an affair for nearly 300 guests traveling from the United States and Japan. Jake and Kelly were clear in their vision. "This wedding is not about us. It's about our family and friends who have gotten us to this point, a big thank you party to say, 'You mean the world to us'," Jake says. Brigid took the time to get to know them as a couple, handling many key decisions on their behalf due to the demands of their schedules. Brigid remarks, "Jake and Kelly wanted their guests to have great food, be comfortable and truly enjoy themselves. They didn't have many special requests for themselves at all."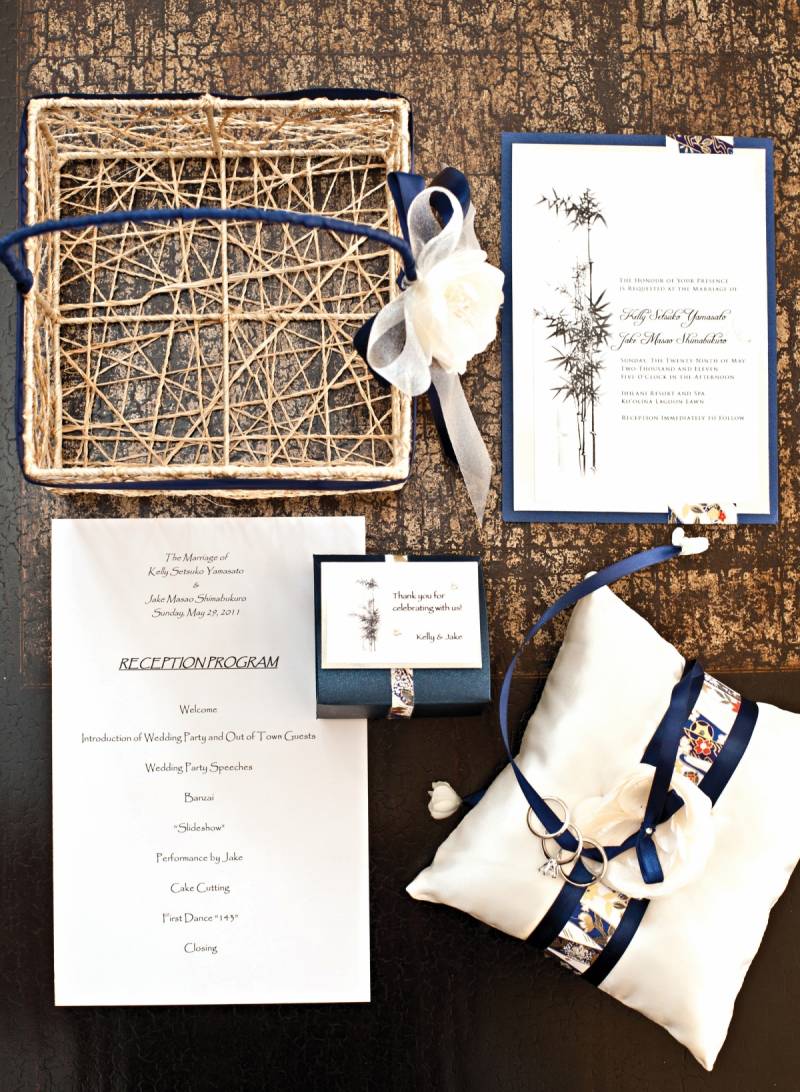 The navy blue color story was expressed in handmade invitations, favor boxes, table cards and bridesmaid dresses. Since Kelly is from the Big Island, guests were treated to delicious chocolate covered shortbread cookies from Big Island Candies.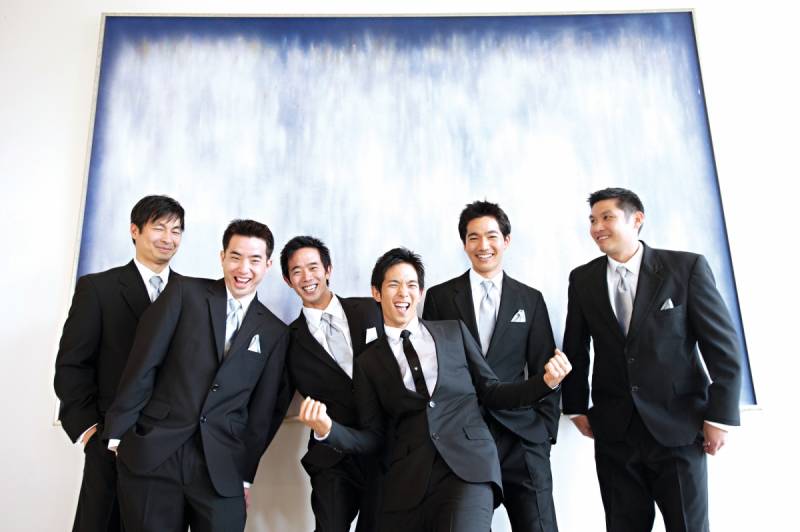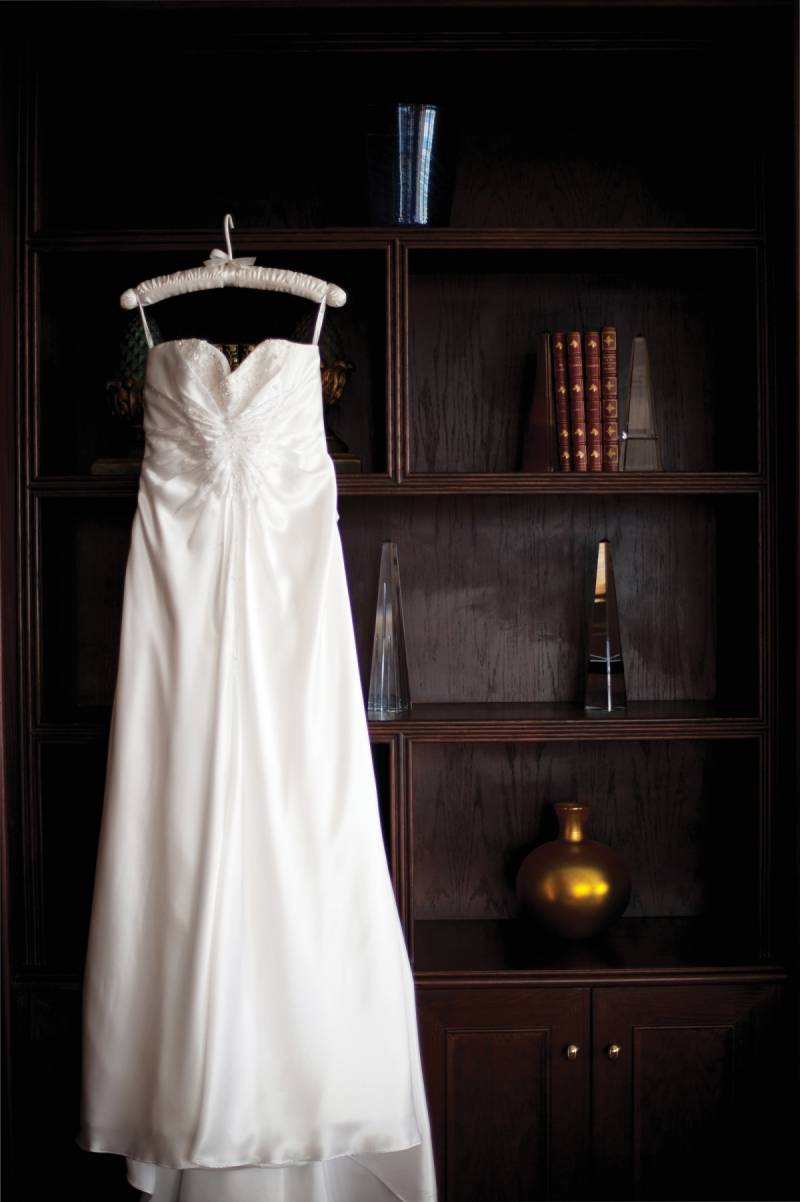 Kelly was stunning in a silk charmeuse gown designed by Madeline Gardner for Morilee, and Jake wore an elegant dark Dior suit. The moment the two locked eyes during the processional is forever etched in their hearts. "Walking down the aisle, I could feel the energy of the small group, everyone closest to us. Seeing Jake standing there is an image I'll never forget," relays Kelly. Of all the precious moments during the wedding, this one stood out for Jake, too. "I was waiting for her in all this anticipation, and at first I couldn't see her. There were just camera lights and I could feel the buzz and energy as she turned the corner. When our eyes met, it was like everything stopped. My eyes filled with tears."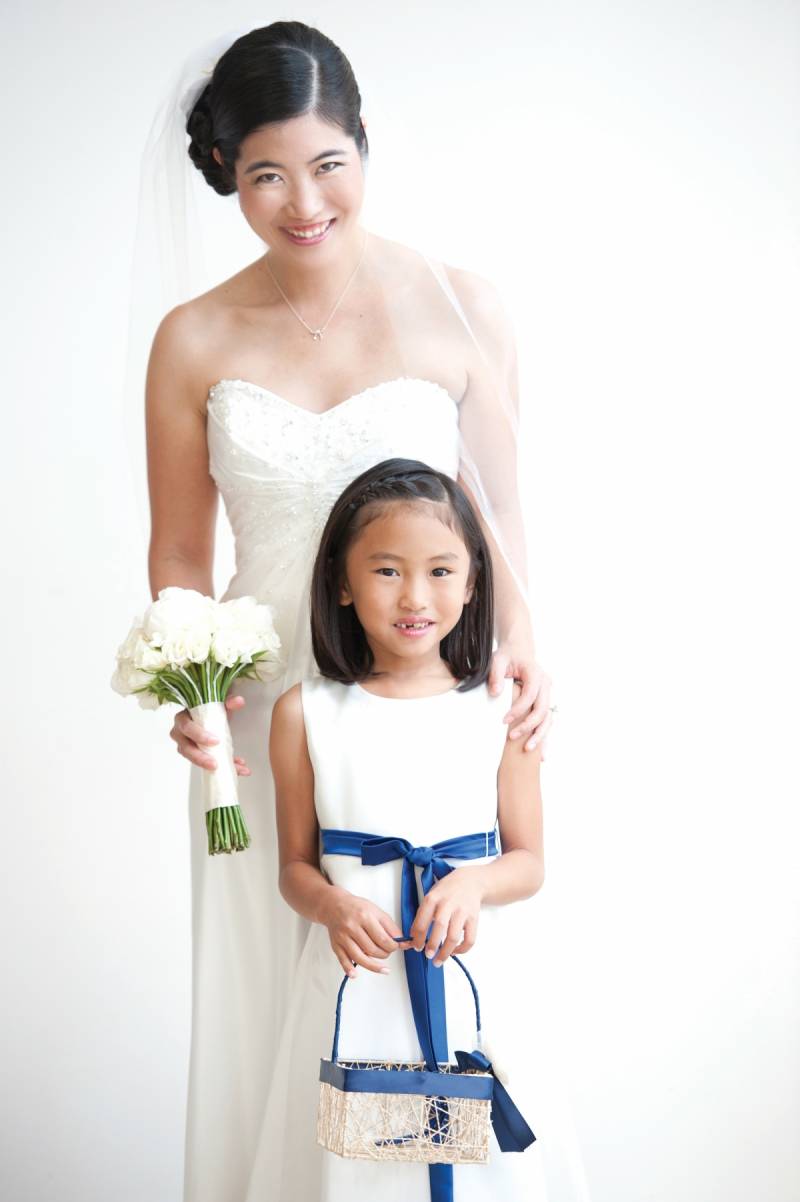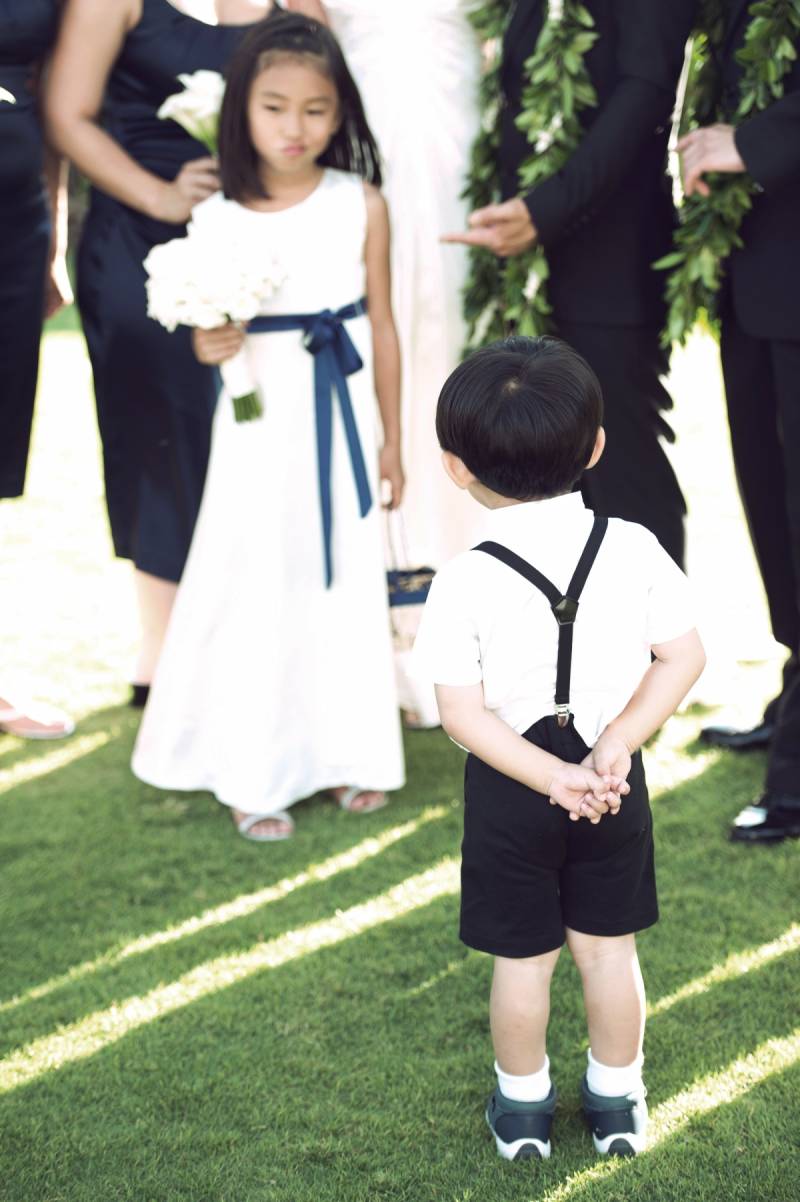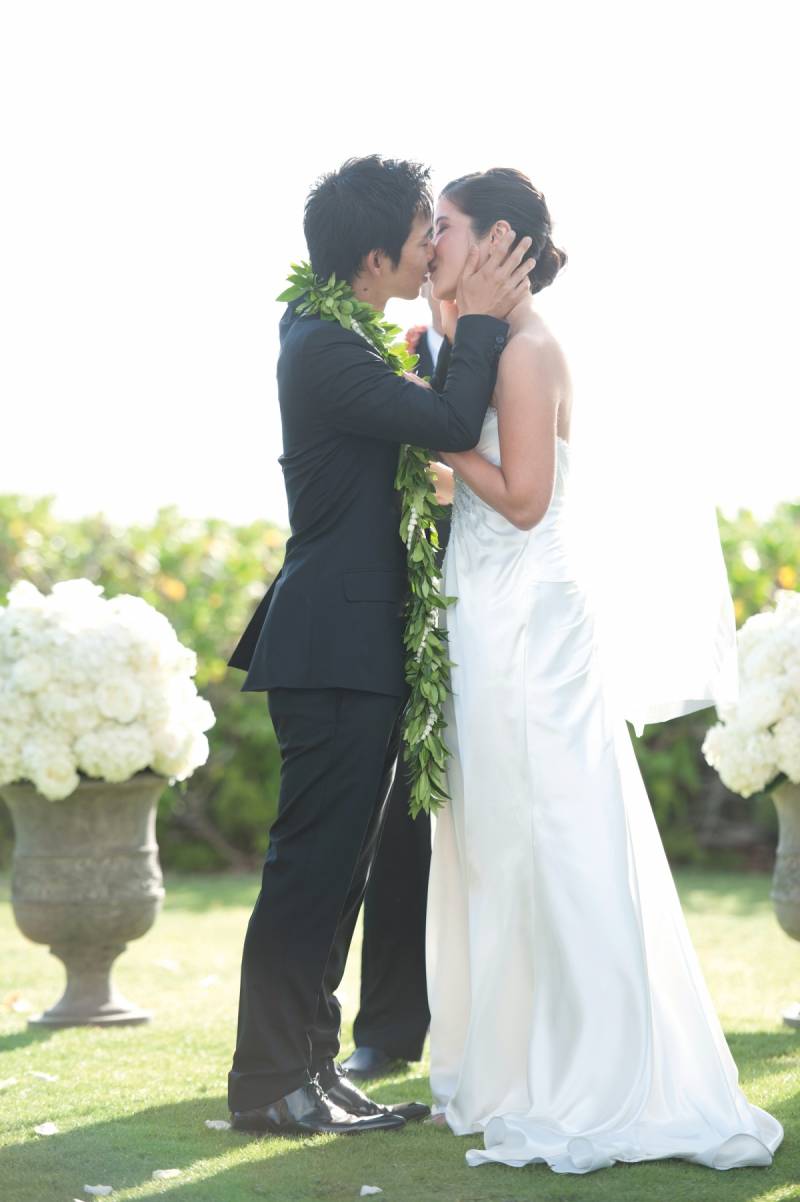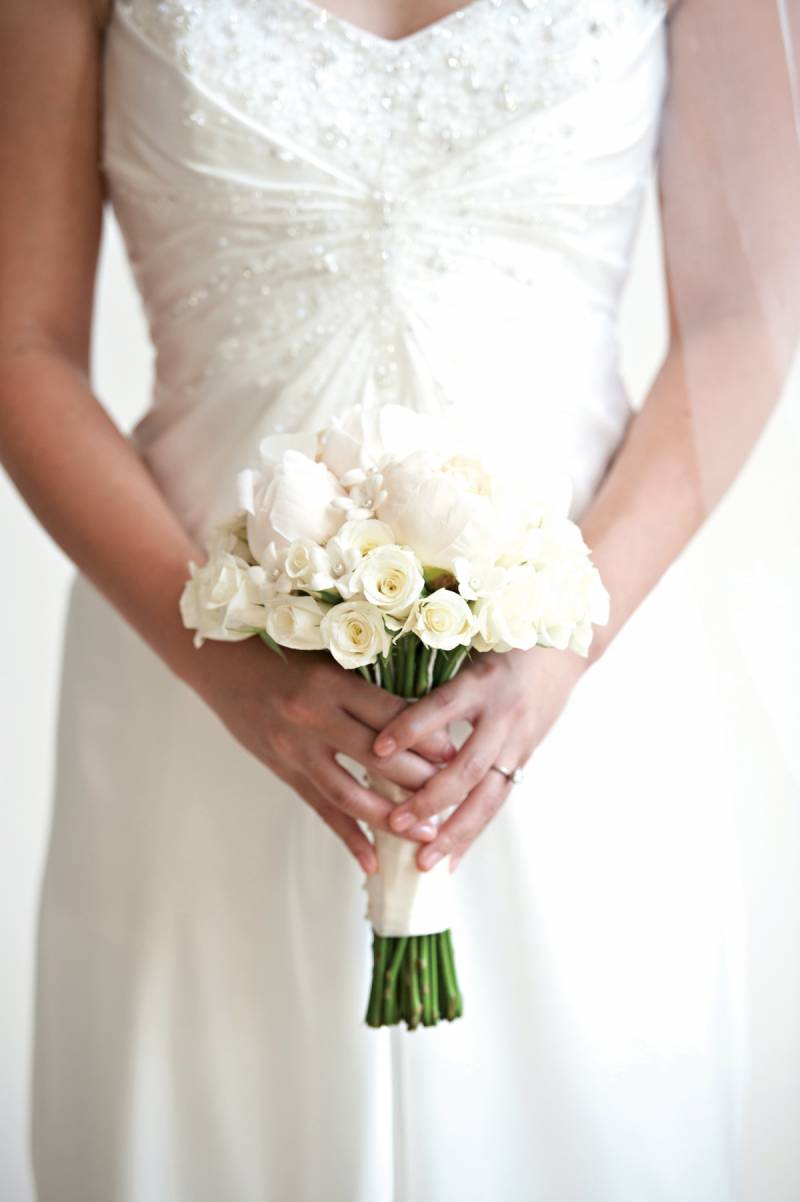 White calla lilies and hydrangea graced the reception centerpieces accented with elegant navy linens ordered from Les Saisons, with ivory linens providing a softer backdrop to the stage and in outdoor lounge areas.