A blush and ivory vintage travel theme prevailed at Ashley and Mike's wedding at Maui's The King Kamehameha Golf Club set in the lush mountainside. The bride's vision for the day was simple and clean. She says, "I wanted the decorations but I didn't want them to be over-the-top. I had set colors in mind, and didn't necessarily care what look they'd produce, as long as we stuck to my four colors: peach, soft yellow, ivory, and burlap. Through my months of planning, I noticed a certain theme was coming together, I would end up calling my wedding style vintage travel.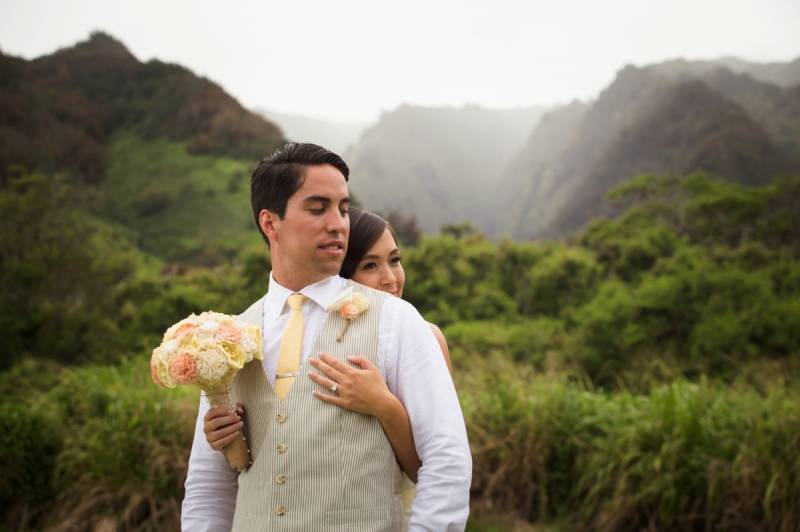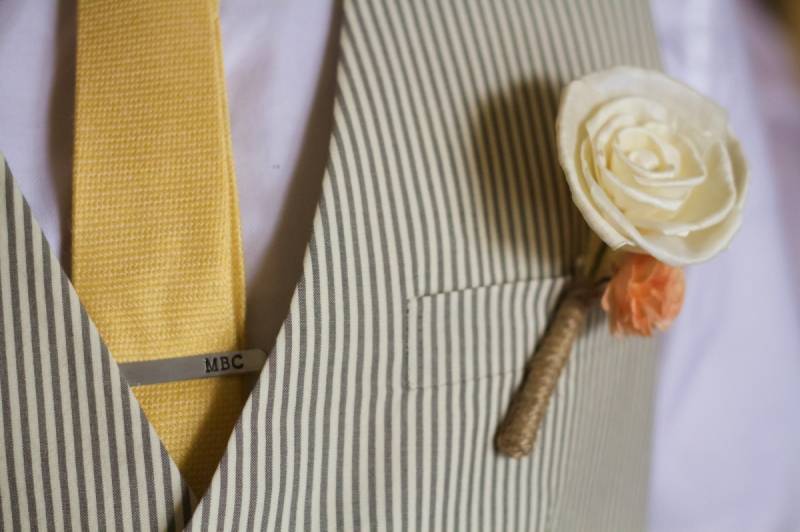 The Sola flowers were made of balsa wood by Curious Floral Crafts on Etsy. They were each hand-dyed to match my colors, and the owner Sam was such a pleasure to work with. I love the idea of the Sola flowers. It has allowed me to spend money on something that I got to keep forever, currently my bouquet sits in a vase on our dining table, and I get to see it every day.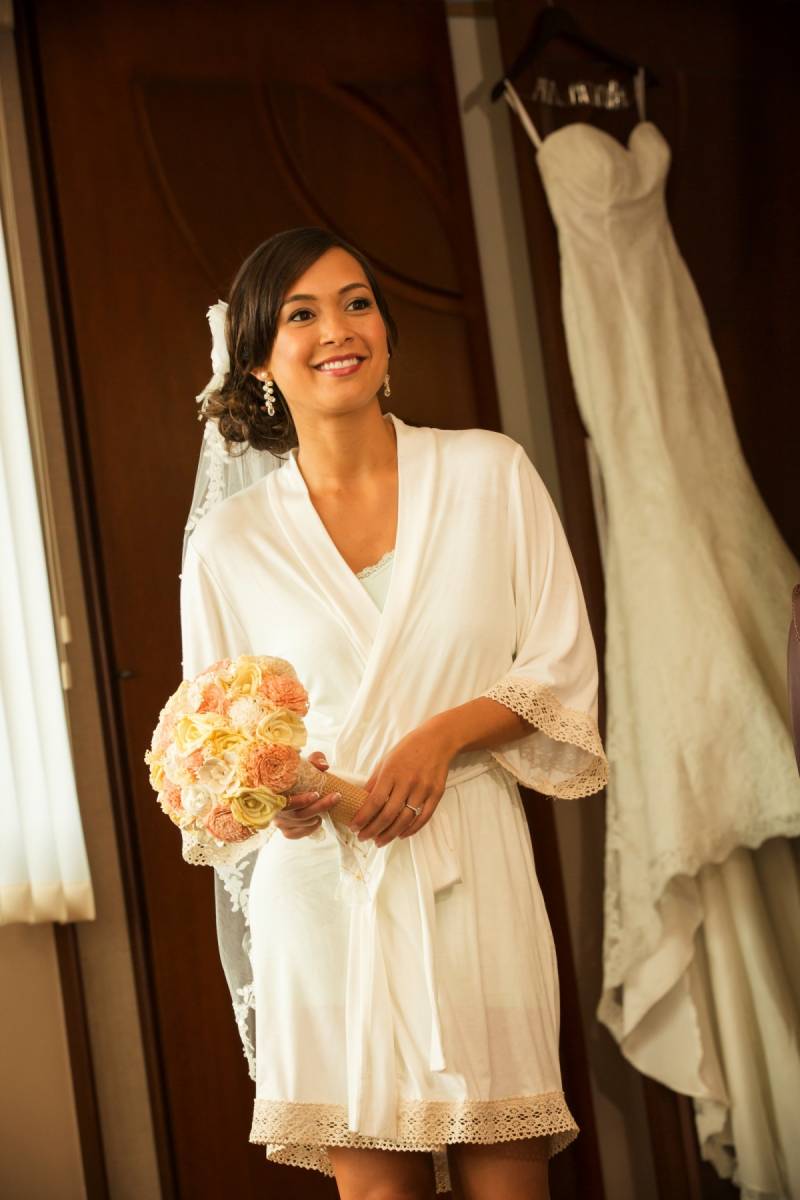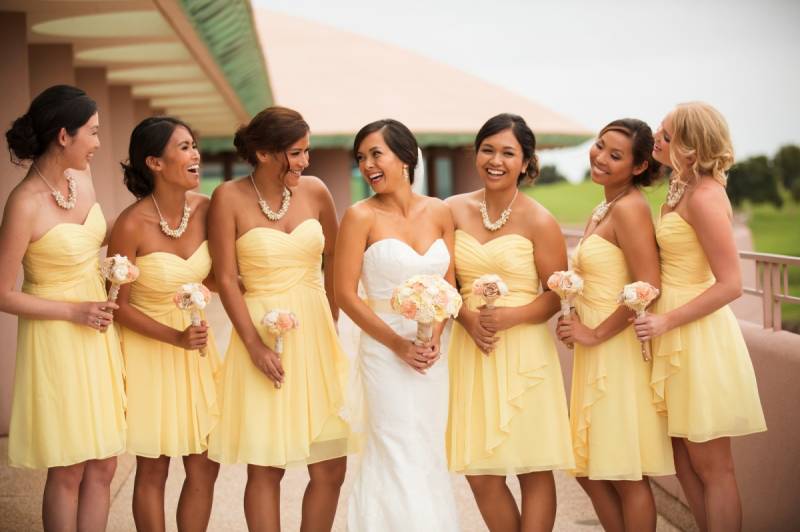 I always knew my bridesmaids dresses would be soft yellow. That was the color I've wanted since high school and I'm just lucky my groom didn't hate the idea! I had bridesmaids in California and Hawaii so to make things easy on them-- I picked the cutest dress I could find at David's Bridal. Then I bought each girl an ivory and beige beaded necklace that was paired with heels (2.5 inches tall because I'm short and didn't want my maids towering over me!).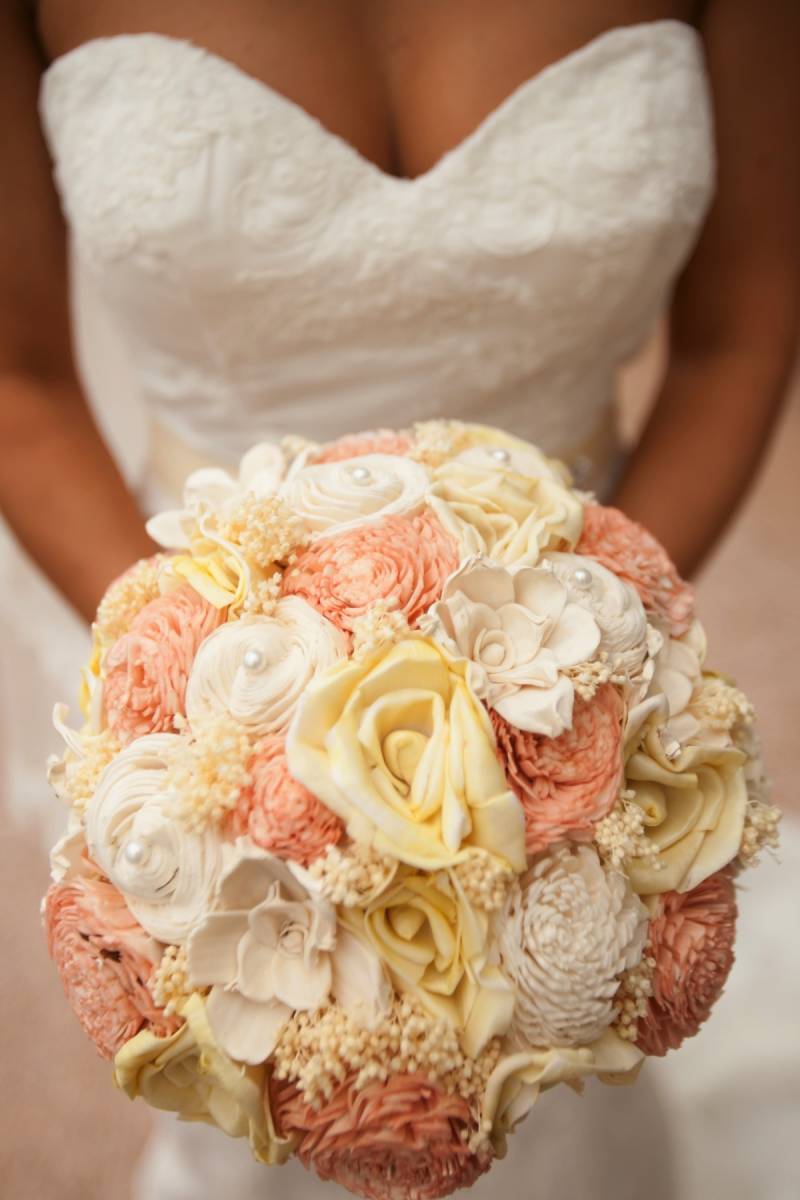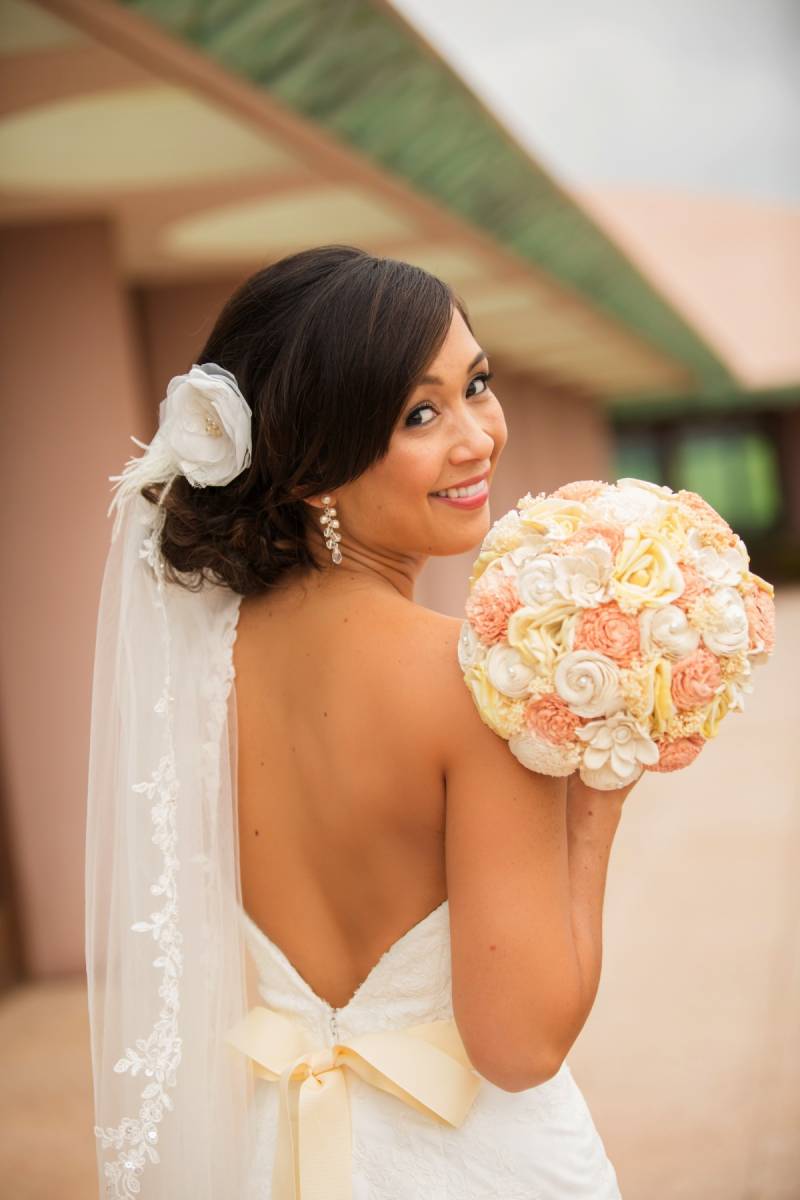 I wore a local San Diego designer's dress that I found at The Bustle boutique. It had lace, a sweetheart neckline and fit me just right. I went into the boutique thinking I wanted an A-line dress, then walked out with a mermaid. It was gorgeous. I paired it with a matching lace veil. I then bought some eggshell yellow ribbon from Michael's and had my alterations gal sew the trim on.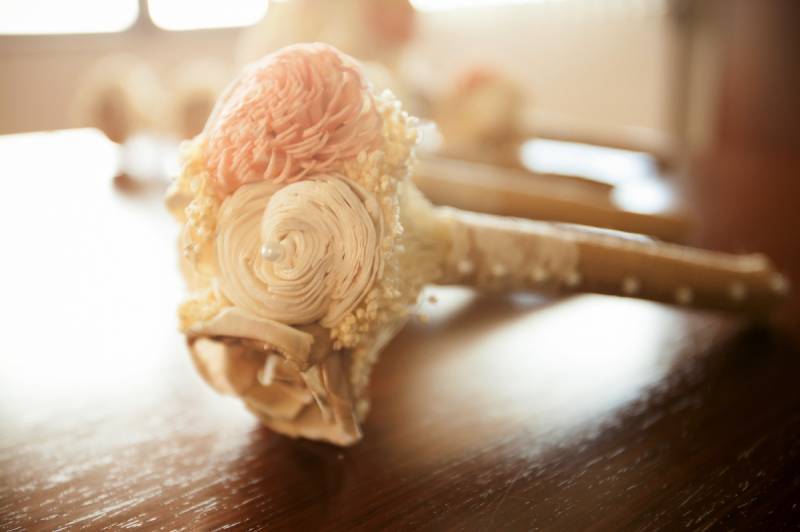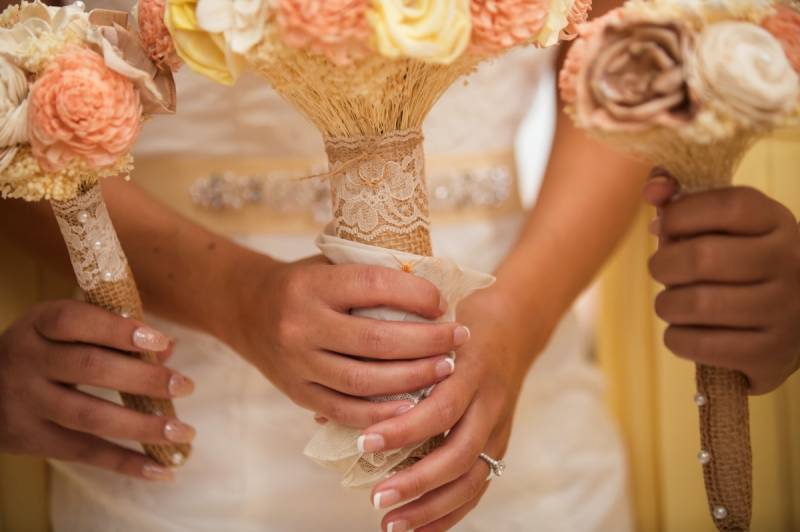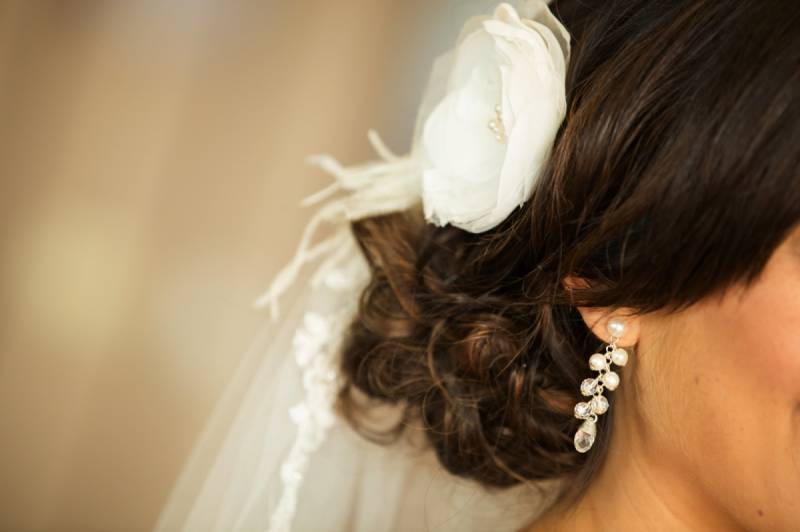 The pearl earrings I wore were the first pearls my husband got me on our first Valentine's Day. My Aunt made a dangle earring that could hook onto the pearls, the dangle part had additional pearls and crystals.

For the ceremony outside we had an ivory linen-draped chuppah which we then tied on burlap and ivory flowers using soft yellow ribbon. The aisle was lined with peach, soft yellow, and ivory rose petals (freeze dried). It was natural, simple and perfectly aligned with my vision.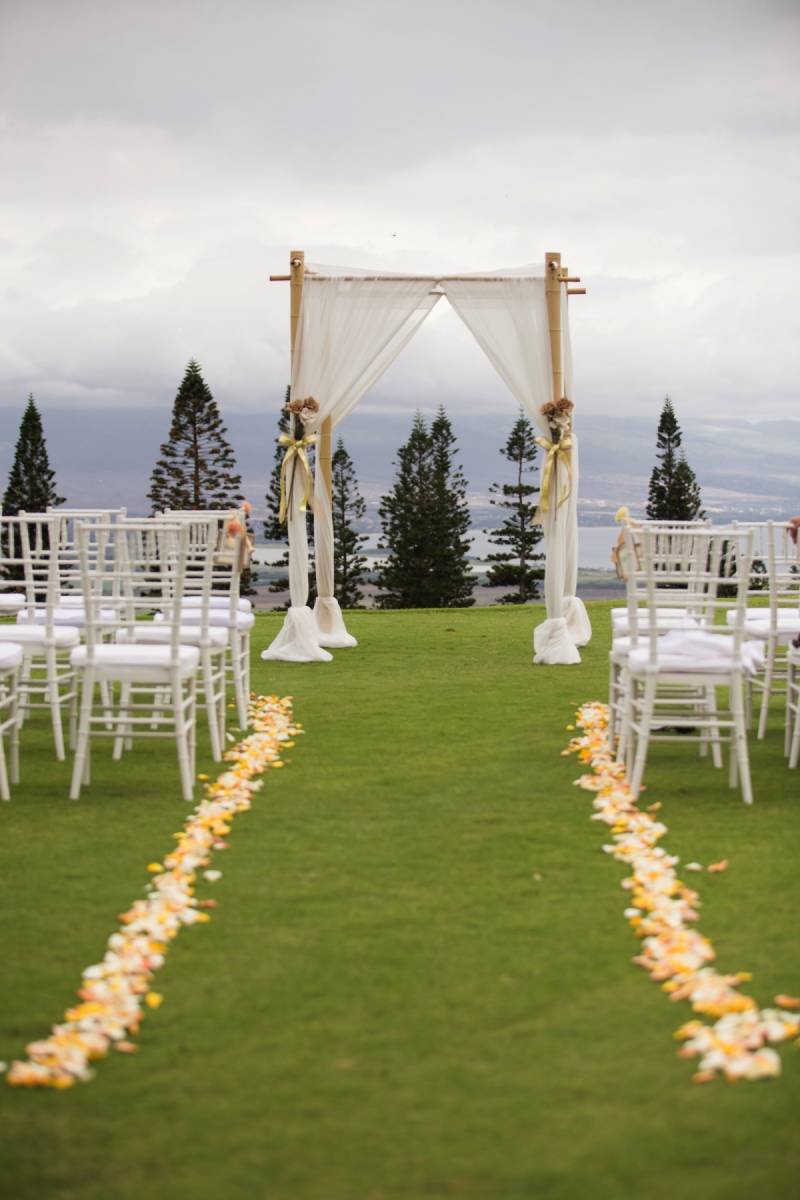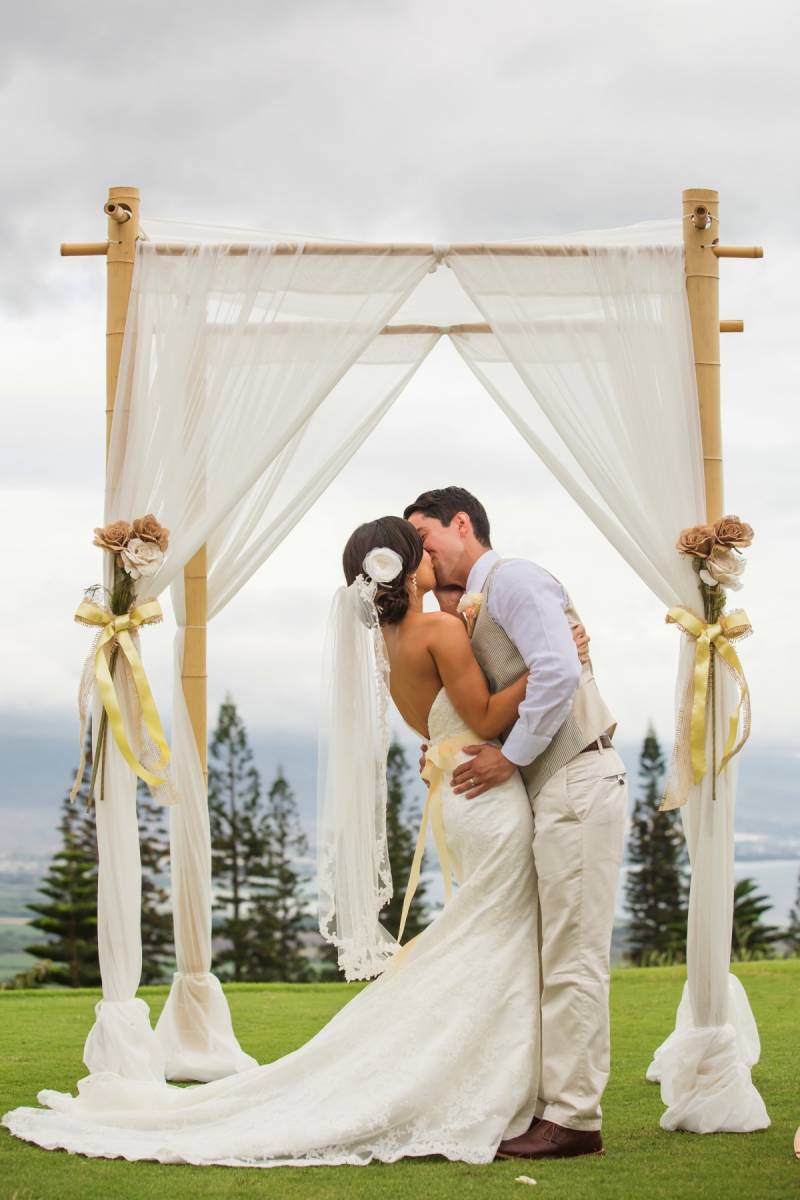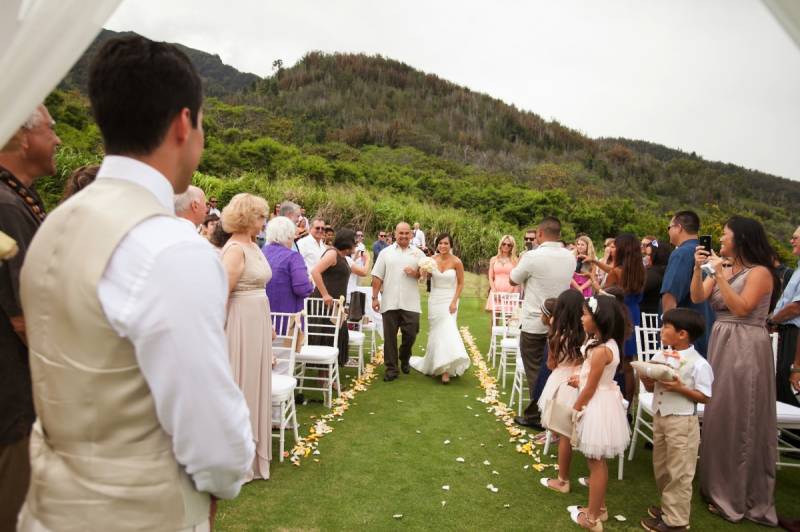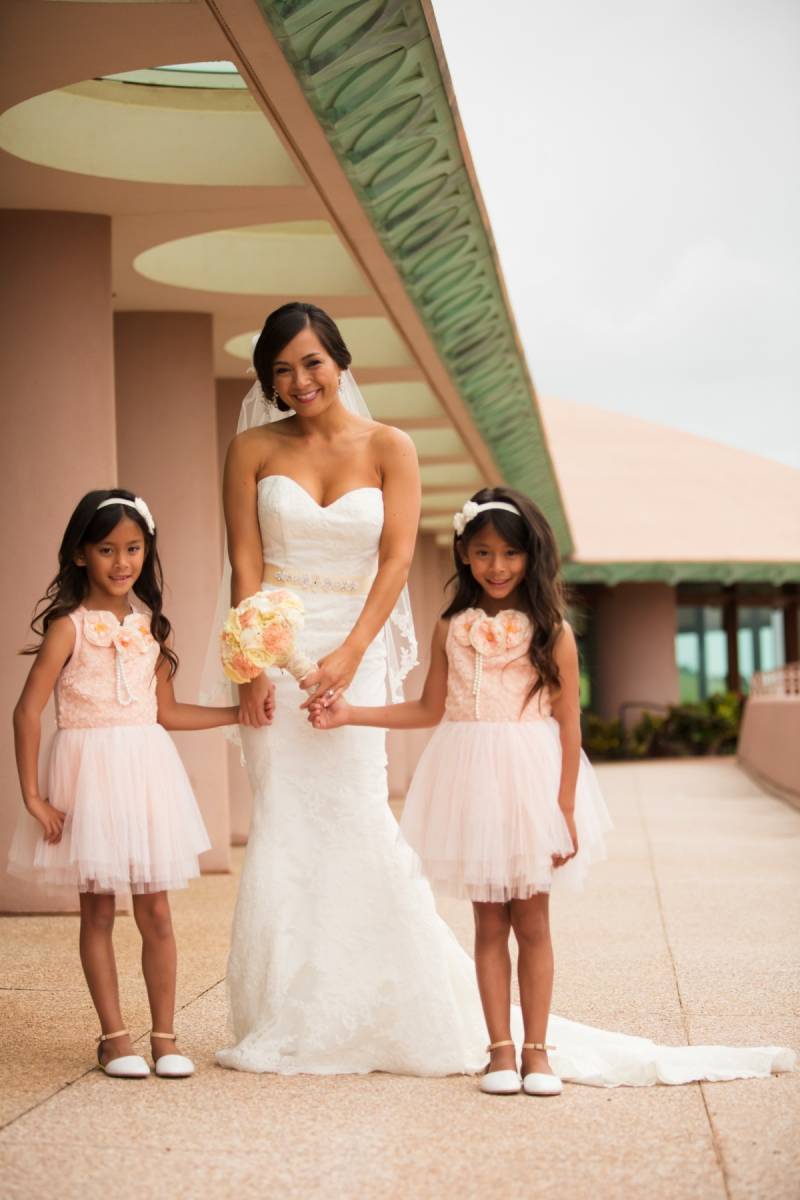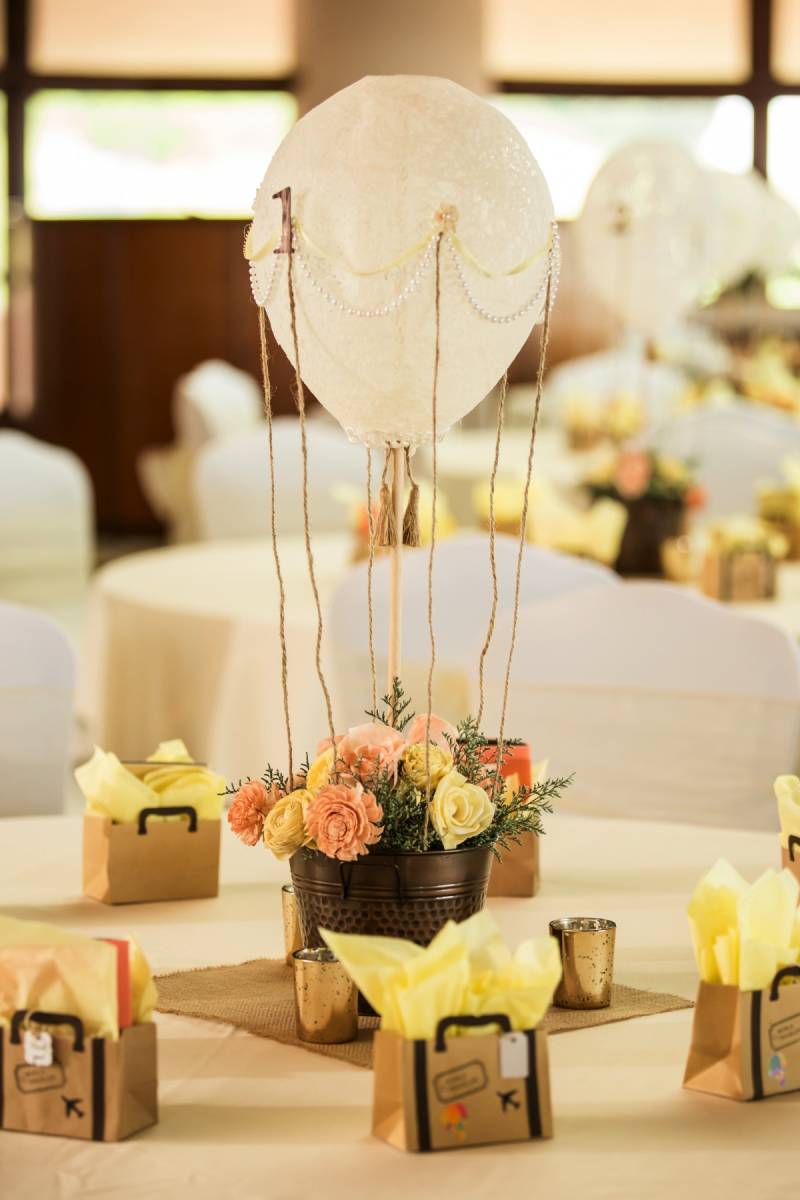 For the reception area, it was located in the Grand Waikapu Ballroom, and that room itself has so much character to it. The ivory walls have a hint of yellow to them and a white chandelier in the middle, it all matched perfectly. The few things we changed were the chairs, we added white chair covers with a soft yellow ribbon. We then added amber uplighting. Each table had a flower pot with Sola flowers and a balloon attached that resembled a hot air balloon. Each flower pot had peach and soft yellow flowers with green moss and caspia. Each balloon was an ivory lace (think paper mache). The pots sat on a square piece of burlap with antique candle votives. Then on the table were our wedding favors, little luggage bags that had yellow tissue paper with held either a peach or beige kookie that said "To love, laughter, and happily ever after. Michael & Ashley Carvalho May 24, 2014".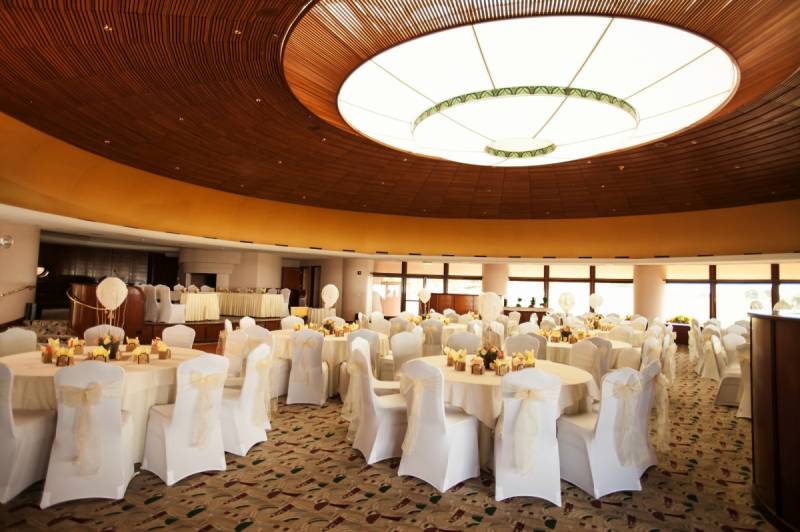 I had a vision of wanting a hot air balloon. My sister-in-law volunteered to actually make them by hand! We first envisioned using real balloons with a netting draped over it (saw it on Pinterest), however the netting was proving to be a problem and so, she created her own version. She ended up creating a balloon shape using lace with paper mache. This was convenient because the lace could also be folded for transportation (mind you these were coming from Sacrament to Hawaii!) and to simply get them back to shape, all one had to do was blow a balloon up inside the lace and it would once again retain that shape. My sister-in-law made 18 of these centerpieces by hand, it also included pearl and flower notches on each balloon that connected to yarn type string that draped down from the balloon to the centerpiece pot. It was absolutely gorgeous.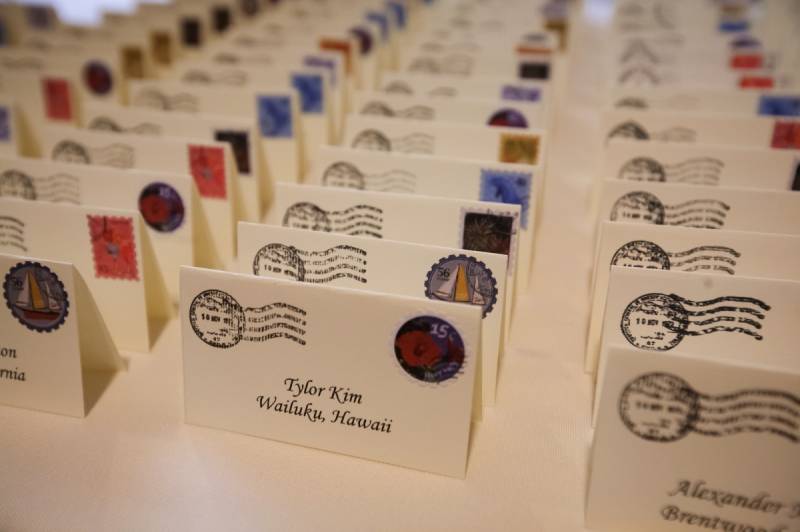 Although I didn't intend for it to be this way, a lot of my items were DIY. The escort cards were cut and printed by my mother-in-law, stamped to look like an envelope with the person's name and city and state, complete with a fake stamp.