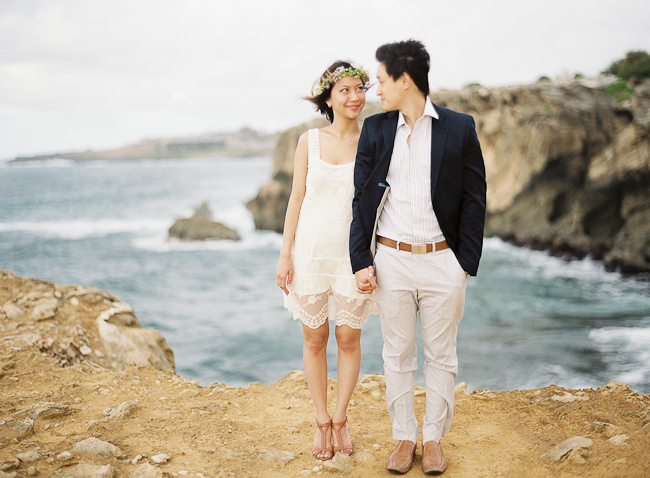 For their one year wedding anniversary, Annie and Don returned to the island of Kauai where they wed at the beach in Poipu. "Since then, we vowed to try to visit Kauai at least once a year!" the bride says.
The newlyweds reached out to their wedding photographer, Blenda Montoro to capture cliffside anniversary shoot complete with a teepee, champagne toast and delicious by Cakes by Sandi. The bride made her haku lei the day before the early morning portrait session.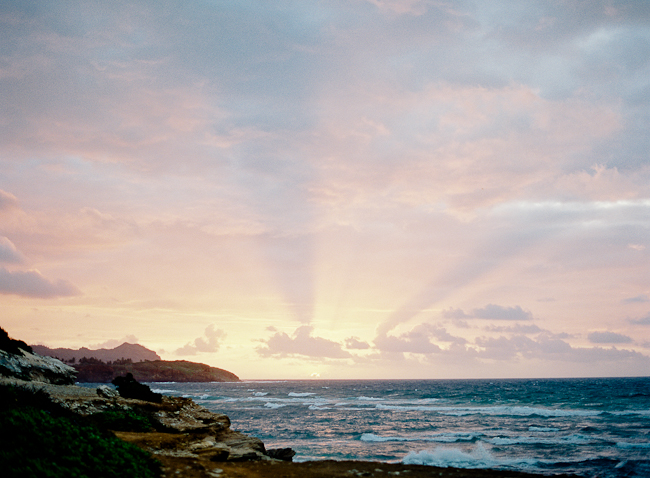 Annie says, "To catch the best lighting for our photos, Blenda recommended that we shoot early (we met at Shipwreck Beach before sunrise). Blenda came equipped with the best props! After what seemed like a long and arduous trip up the trail leading us to our final destination, we had a moment to take it all in. We experienced the most amazing view of an unforgettable sunrise--it was breath taking! I could remember the wind blowing at our cheeks and hearing the rush of the waves crashing but there are no words to describe the all consuming peace we found once we reached the top of the cliff. All the more reasons why we love Kauai! These photographs brings back our fondest memories of our anniversary: drinking champagne at 6 am and eating lilikoi cake for breakfast! That pretty much sums us up."