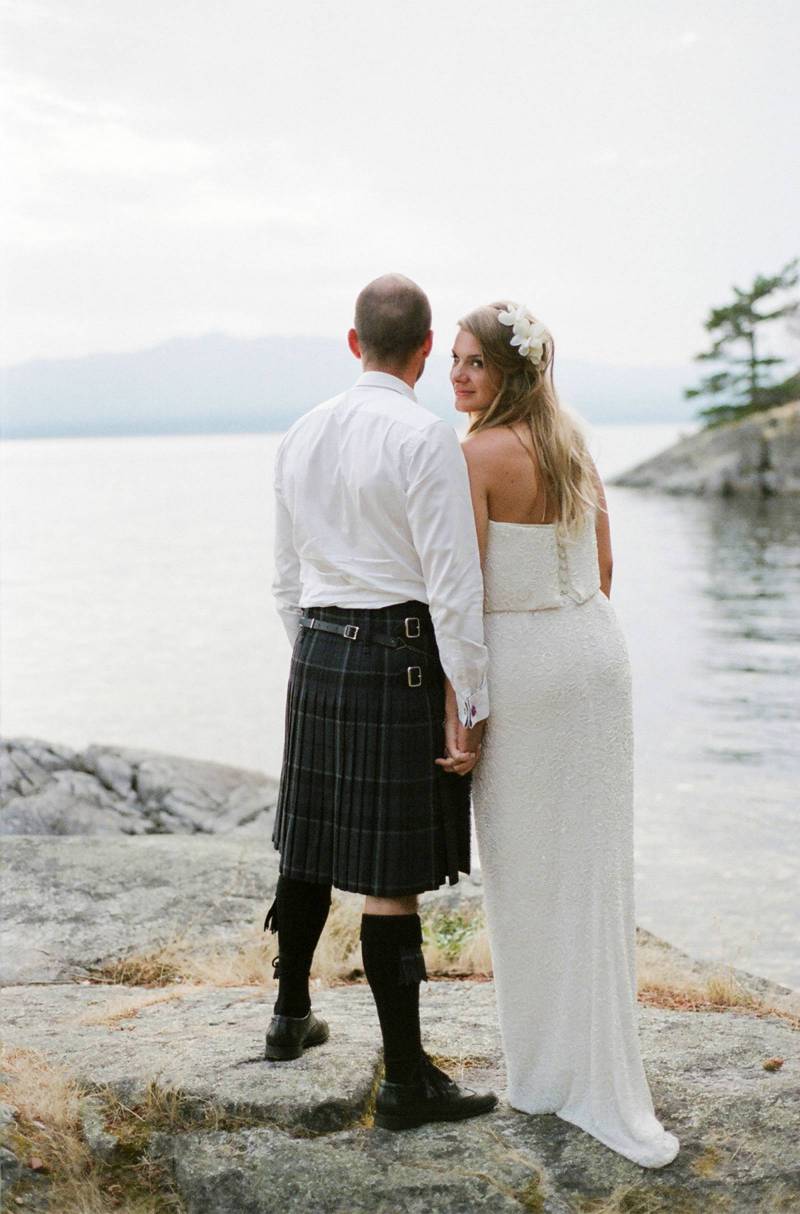 Chris and Clover traveled a great distance to celebrate their love along British Columbia's Sunshine Coast. The gorgeous Canadian bride tells us, "Choosing a location for our wedding was definitely the hardest decision for us. Chris is Scottish and we met in Queenstown, New Zealand and now live in Glasgow. No matter where we chose to get married people were going to have to travel a great distance which probably the main reason we put off a wedding for so long. We were engaged for 7 years before we finally tied the knot!
We had discussed getting married abroad somewhere warm and tropical but the all-inclusive resorts just felt a bit impersonal. I decided in the end I really wanted to get married in Canada as I really wanted to share how special it is with our friends and family overseas."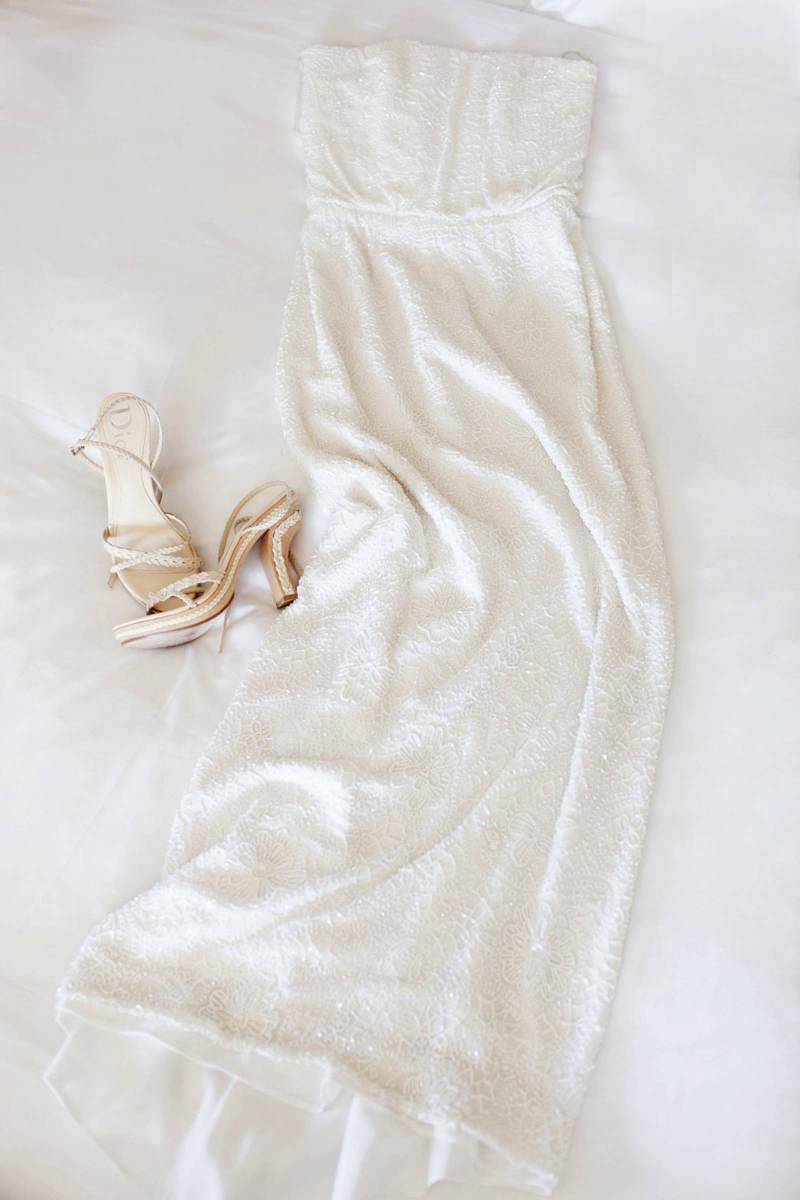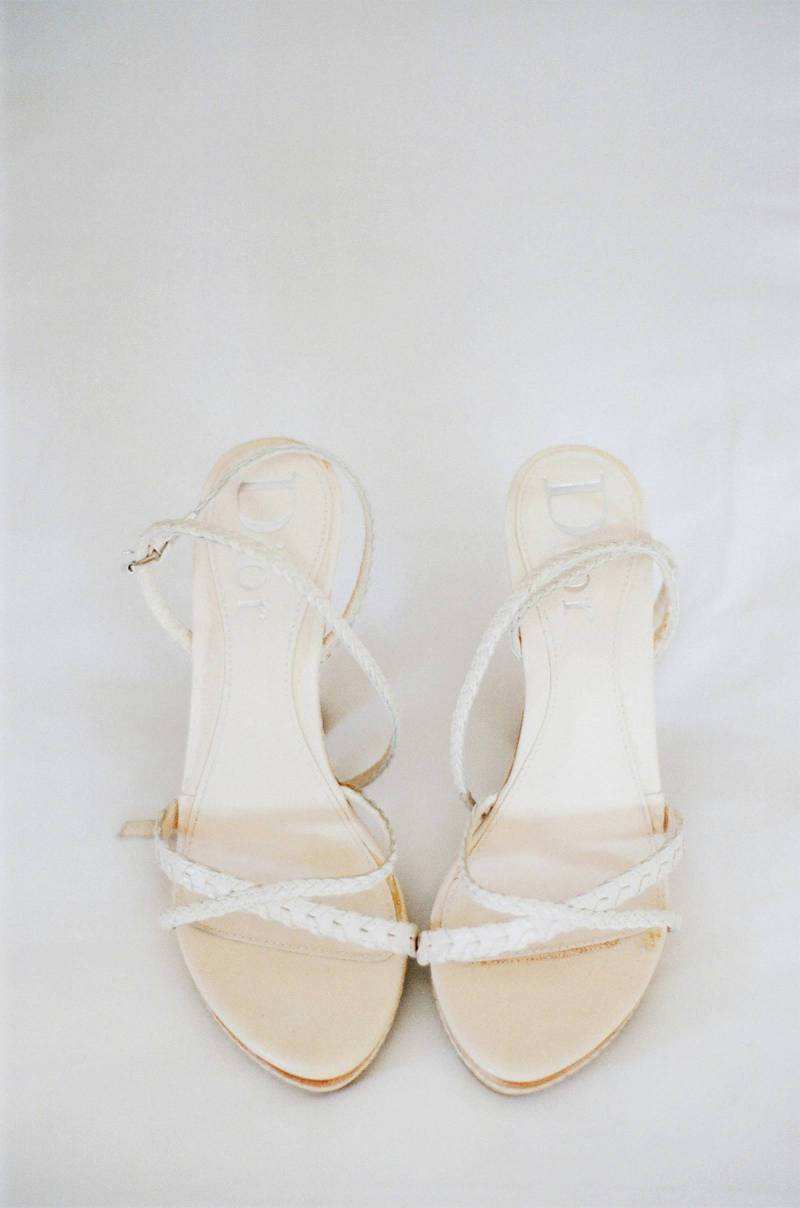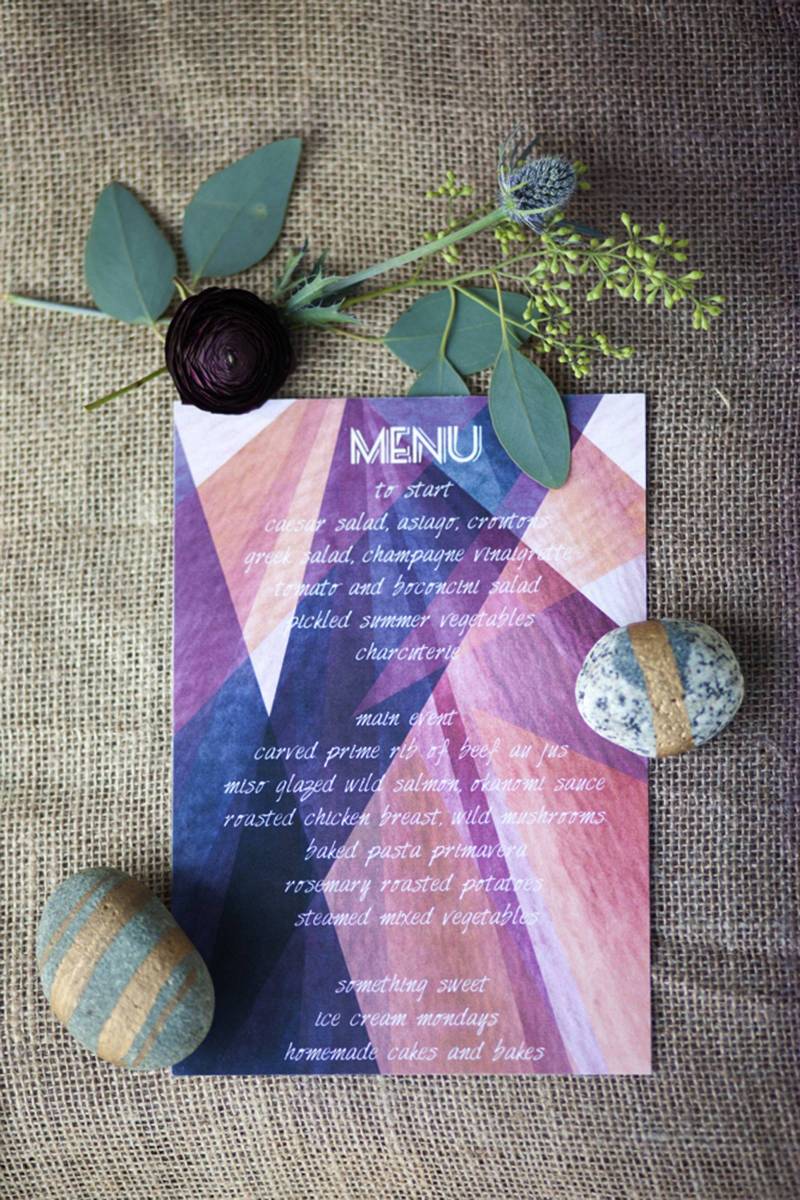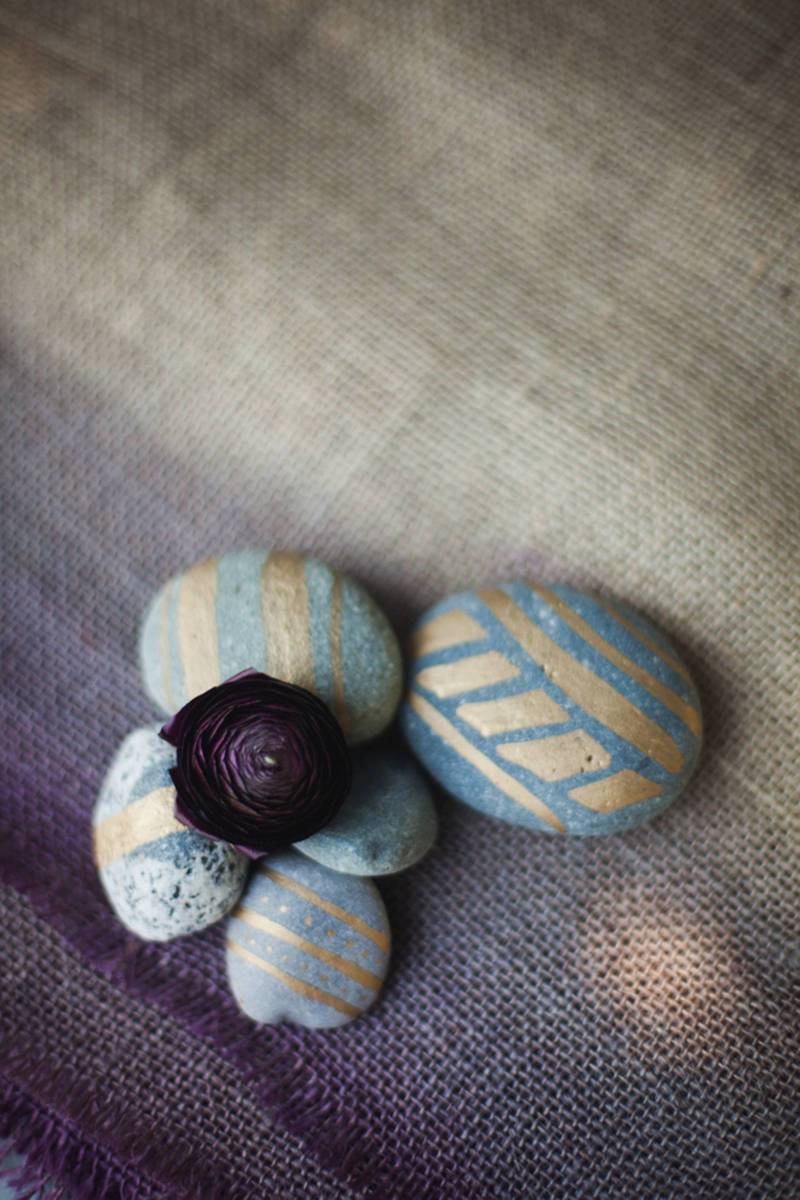 After an exhaustive online search for the right venue, Clover decided to look for a wedding planner for the inside scoop and expertise on BC. She says, "I came across Spread Love Events and loved their work. They were able to give us invaluable advice, ideas, and comparisons of venues. Our vision was to host a beautiful outdoor wedding by the water with 100 people, great food and dancing all night long. We decided on the Rockwater Secret Cove Resort, a stunning location on the Sunshine Coast. It provided the most magical backdrop to our wedding! We even had a super moon and phosphorescence in the ocean that eventing."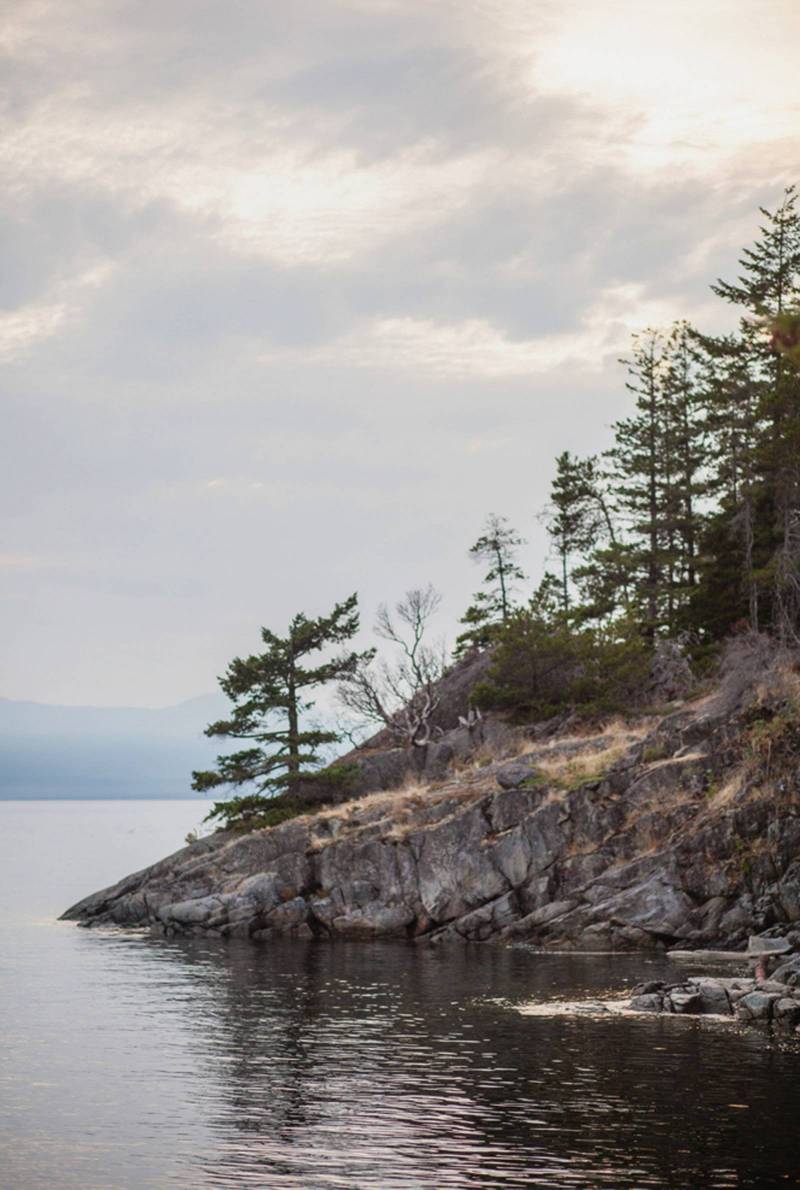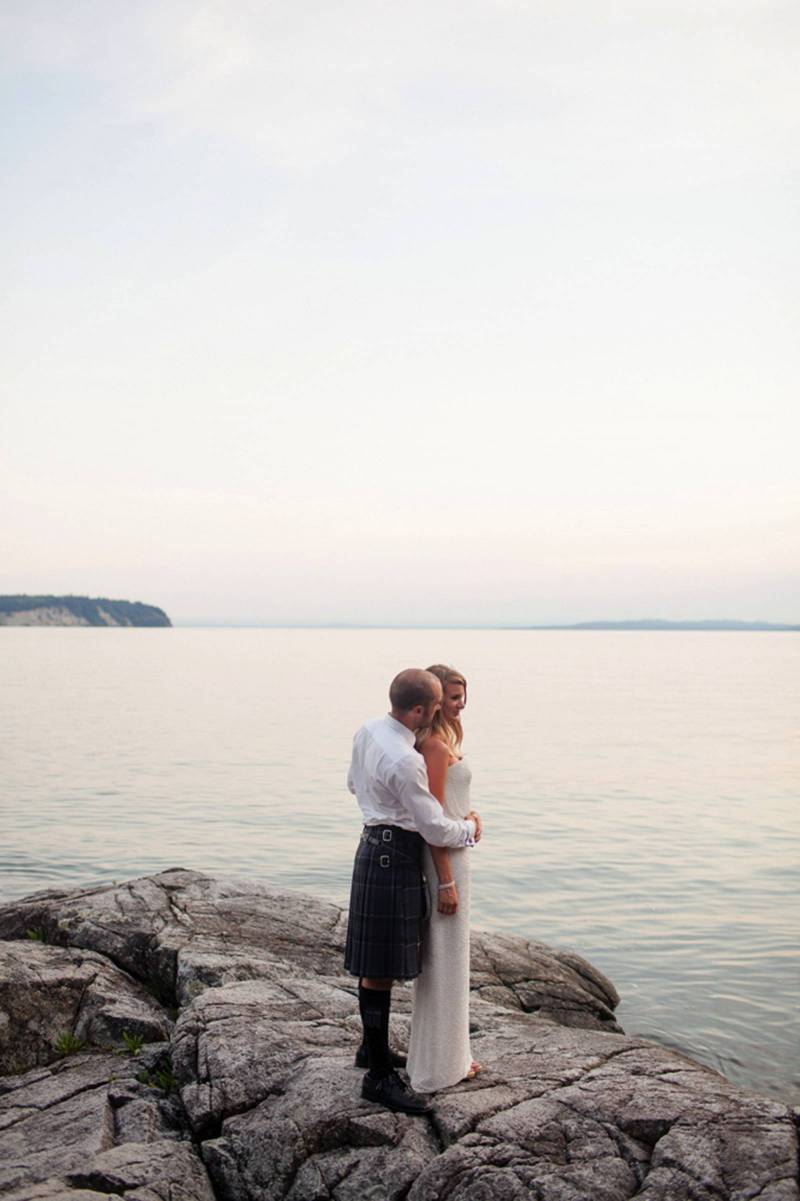 "Having a planner was invaluable and we continued to work with Spread Love Events on the styling, florals and coordination," Clover says. "There is just no way we could have done it without them. Planning a wedding is a huge challenge, but planning from overseas is an even bigger one! We were looking for a very relaxed, colorful and bohemian feel to the day. We didn't want anything too formal or overdone...but personal and beautiful all at the same time. I had (as most brides probably do), hundreds of pins on Pinterest of all sorts of gorgeous boho wedding ideas. Ashley of Spread Love Events pulled together a beautiful style board that was exactly what we were going for: a color story of corals, plums, pinks and peaches with loose and natural flowers, gorgeous rich rugs, and twinkling lights and candles. When we saw it all come together it was even better than we could have imagined!"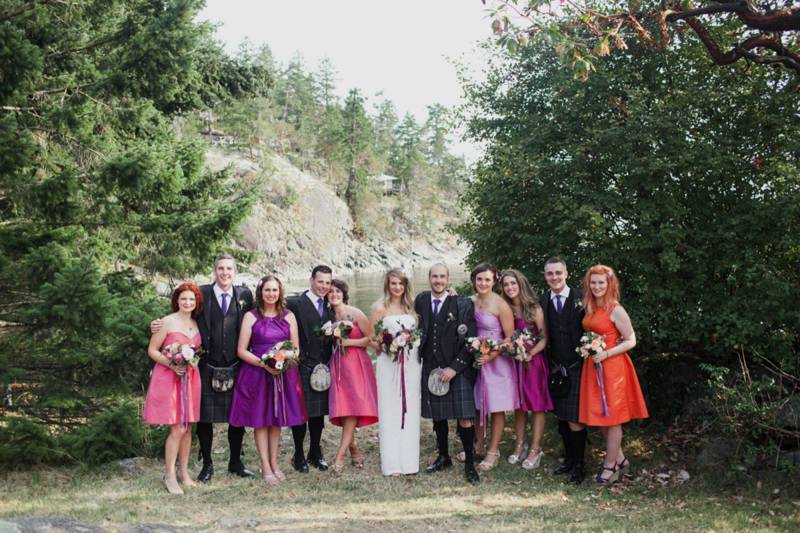 Once we had a clear style vision I was able to start working on some of the fun details. I knew I didn't want perfectly matching bridesmaids dresses however coordinating six bridesmaids to look a bit different but still cohesive not easy! In the end the girls chose Alfred Sung dresses with different neckline styles and colors. I gave them each a gold dipped raw amethyst necklace to wear on the wedding day.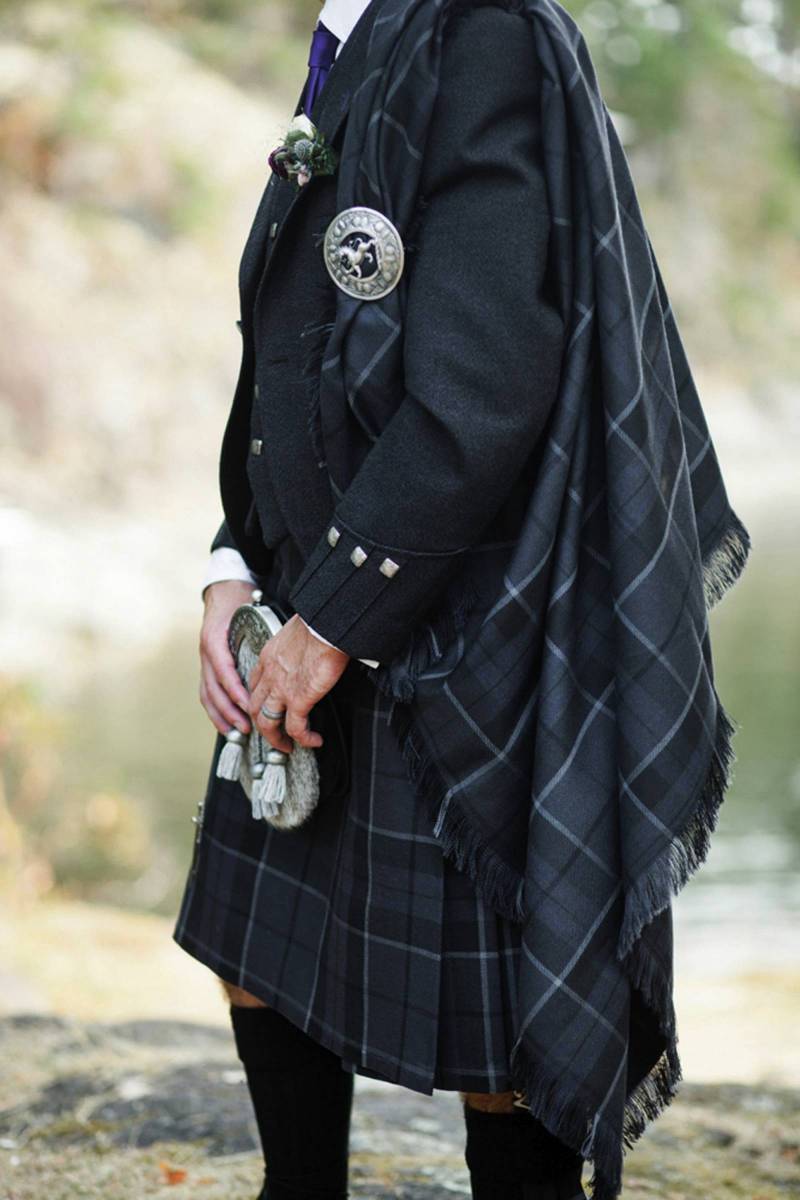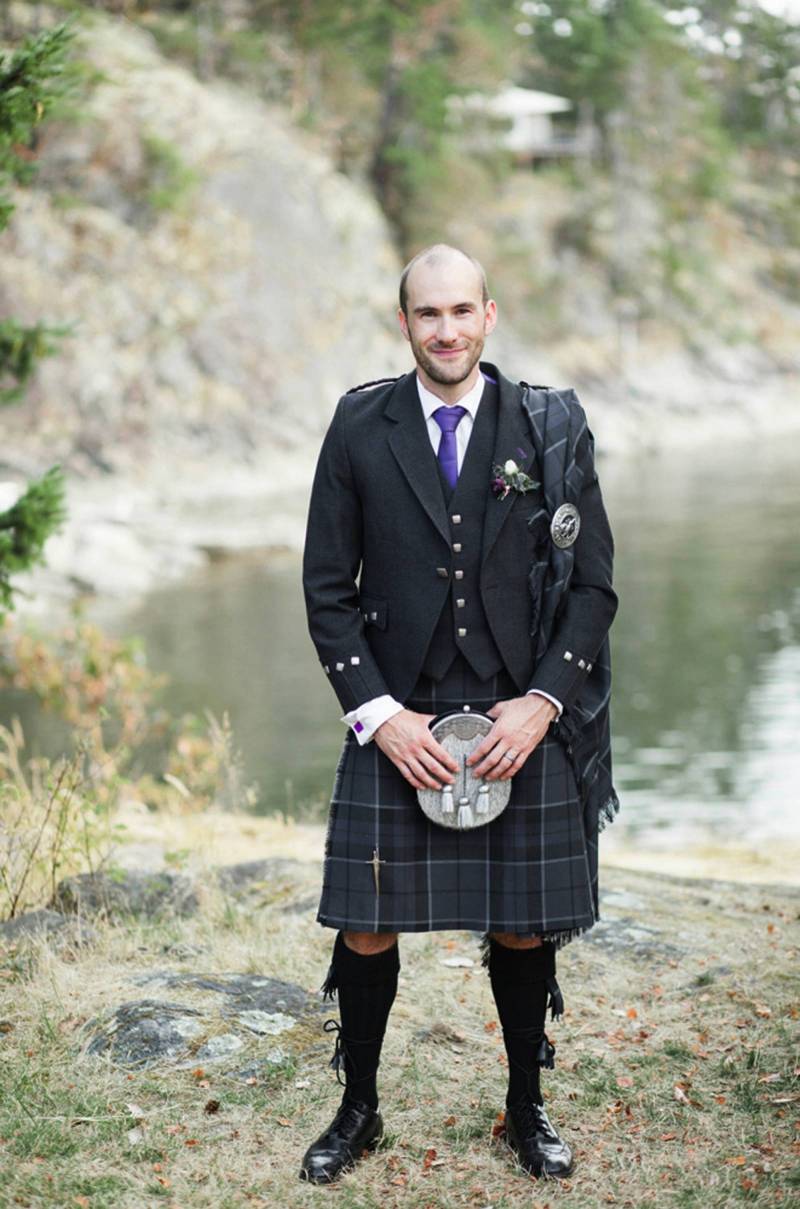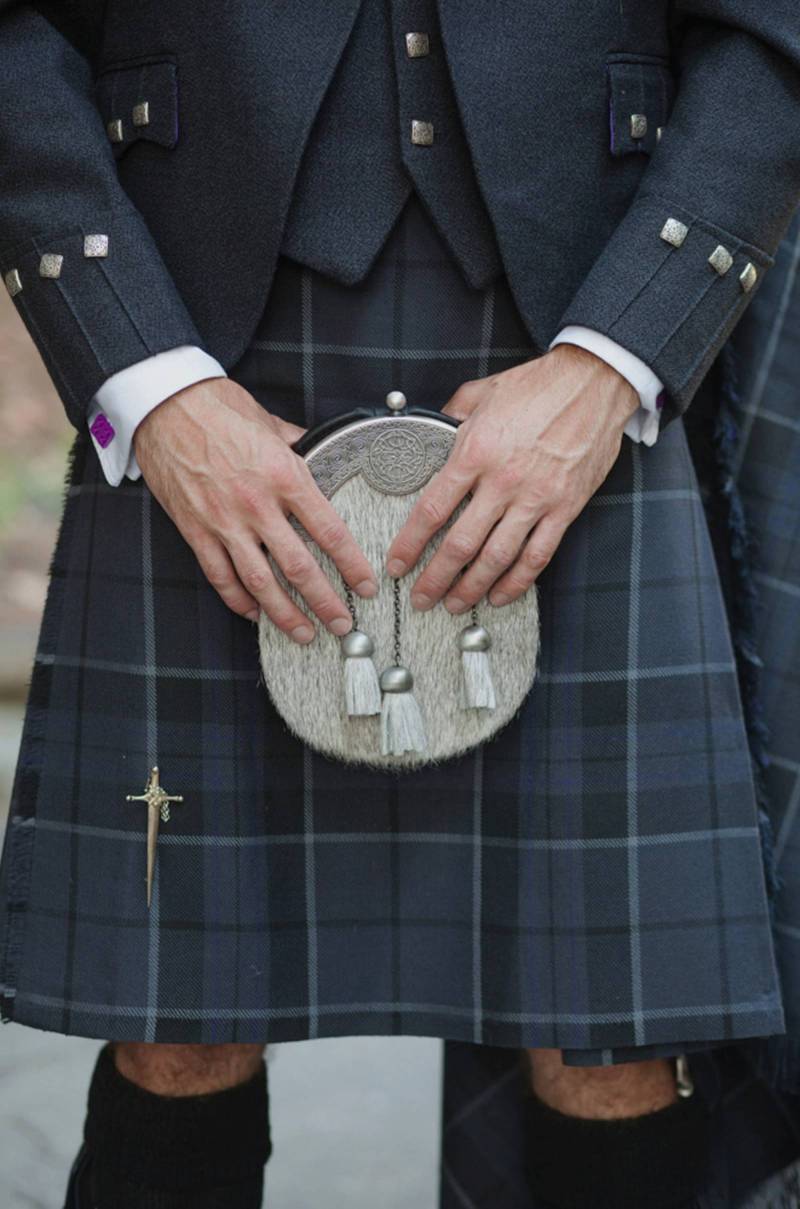 "Chris and his three best men wore full traditional Scottish kilts, in the Orkney Slate tartan, which is a special tartan from the island Chris is from. He also wore a tartan sash and special brooch which is worn to set the groom apart. The boys did very well as it was 32 degrees the day of our wedding and they were all wearing layers of heavy wool!"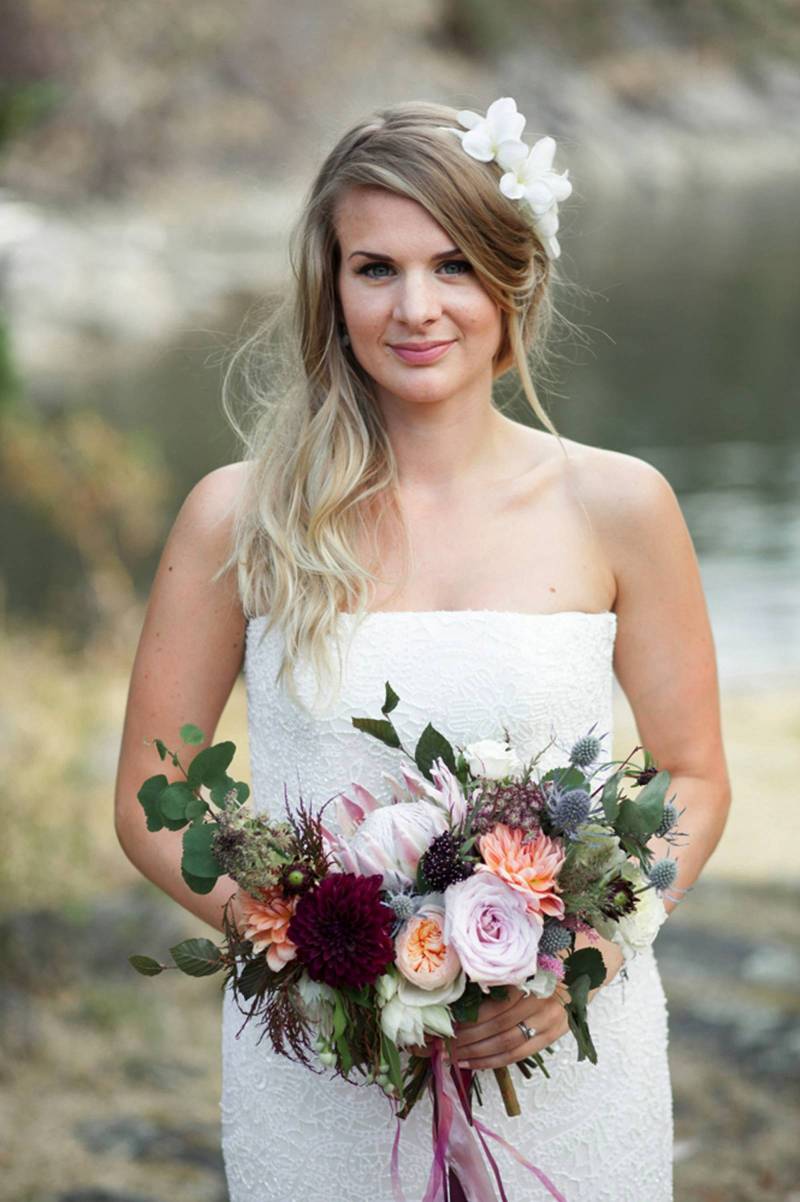 "It was difficult deciding on my wedding dress as I knew I didn't want anything too traditional. I ended up choosing one of the first dresses I tried on but it wasn't an immediate "this is the one" moment. I went to a number of other appointments at different shops after I tried this dress on. I went back to the Stephanie Allin Ingrid dress because it had the most exquisite floral beading all over it with a subtle boho vibe. But most importantly, I felt comfortable in the style. I wore my hair loose and wavy with a flower crown I adapted slightly from the Etsy shop Gardens of Whimsy. I wore braided wooden Dior sandals which had a bit of a chunkier heel which was a must for walking on the grass. My two beautiful nieces were the flower girls and they wore pale pink dresses with white daisies on them and floral crowns in their hair."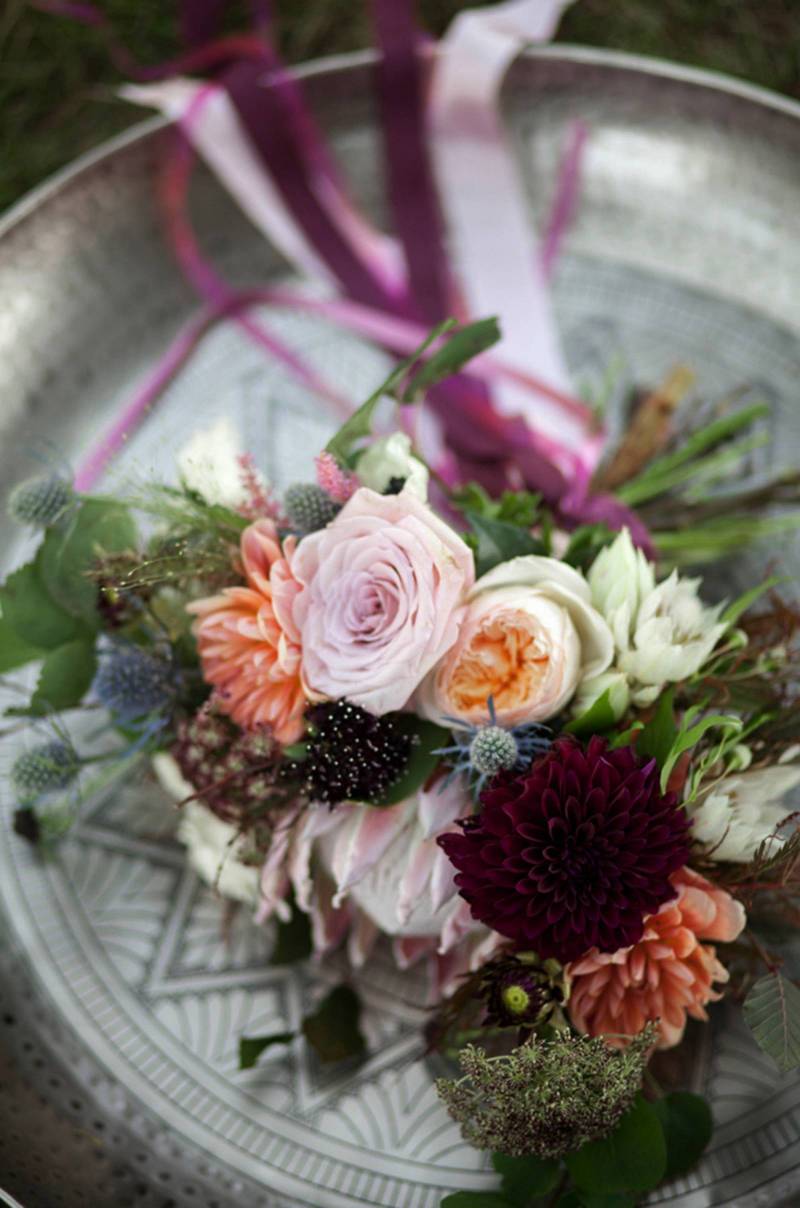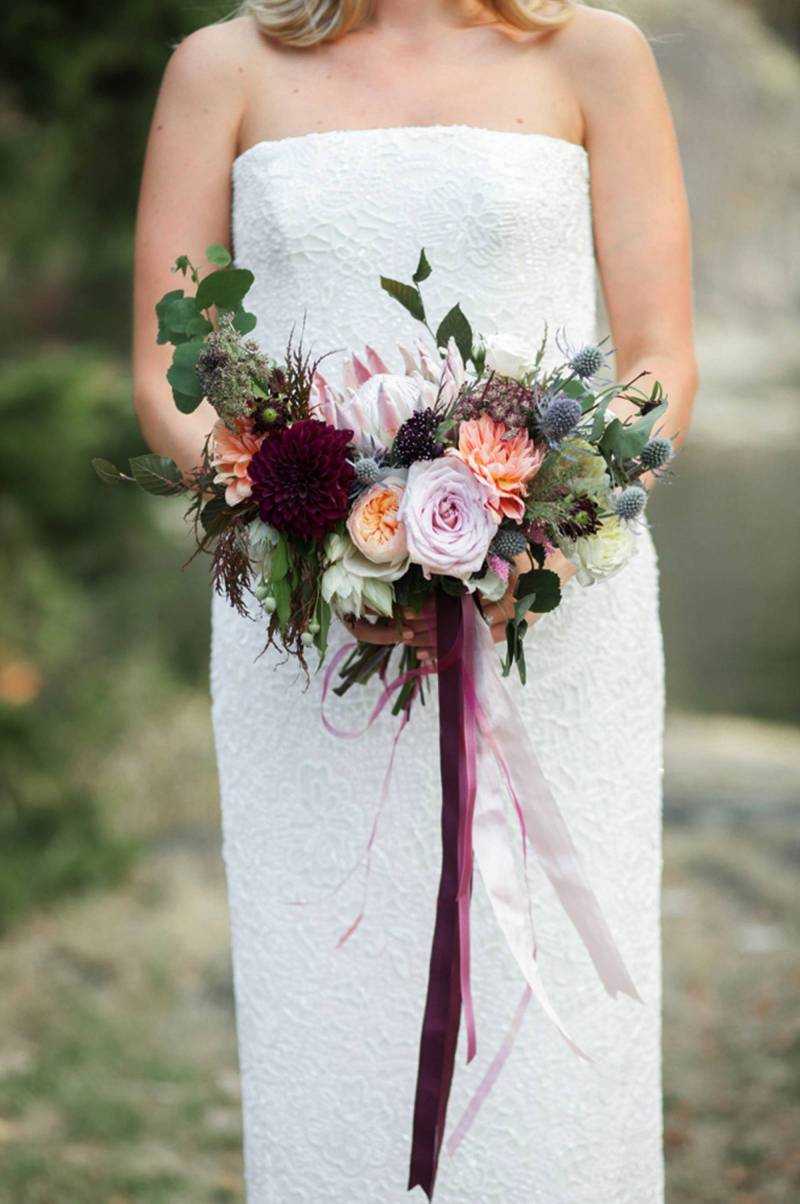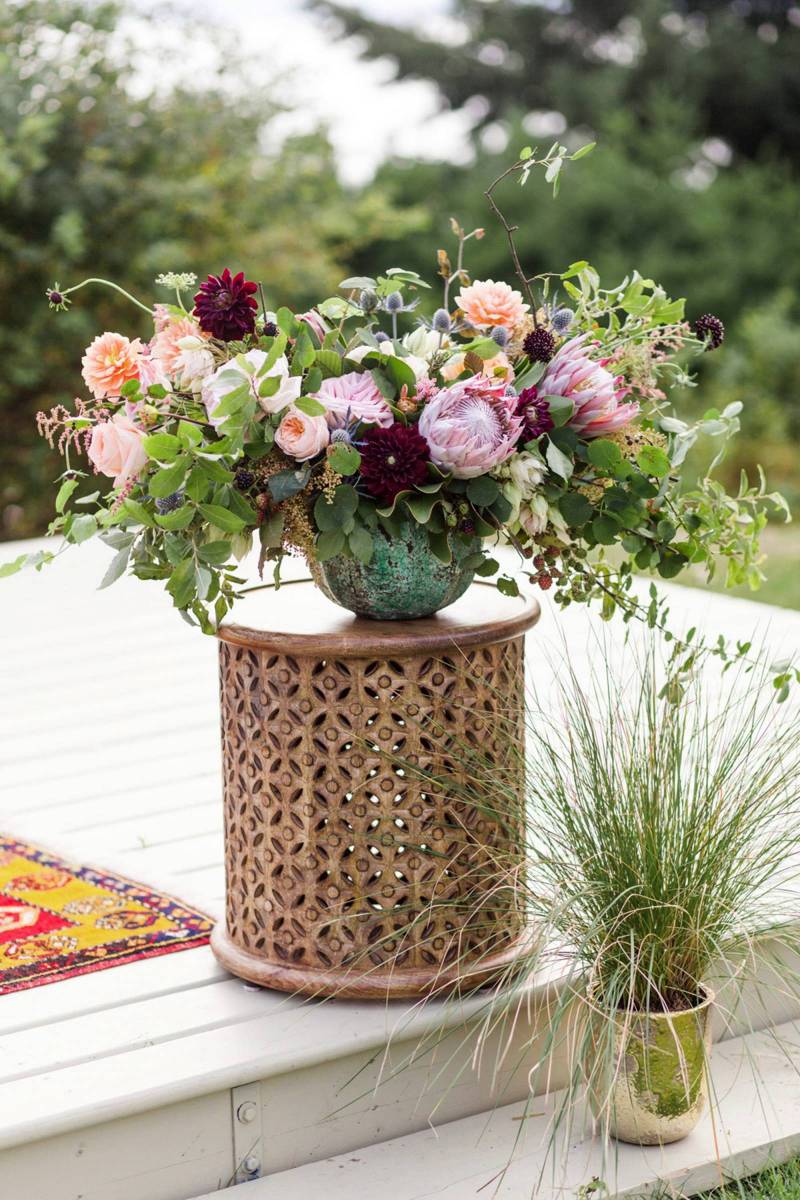 The bride tells us, "The flowers were a total surprise on the wedding day as we had only given Ashley a very loose idea of the kind of look we liked. They turned out stunning! There were juliet garden roses, dahlia, protea, blushing bride, thistles and blackberries in the arrangements. The bouquets were hand tied with cascading silk ribbon from Paris."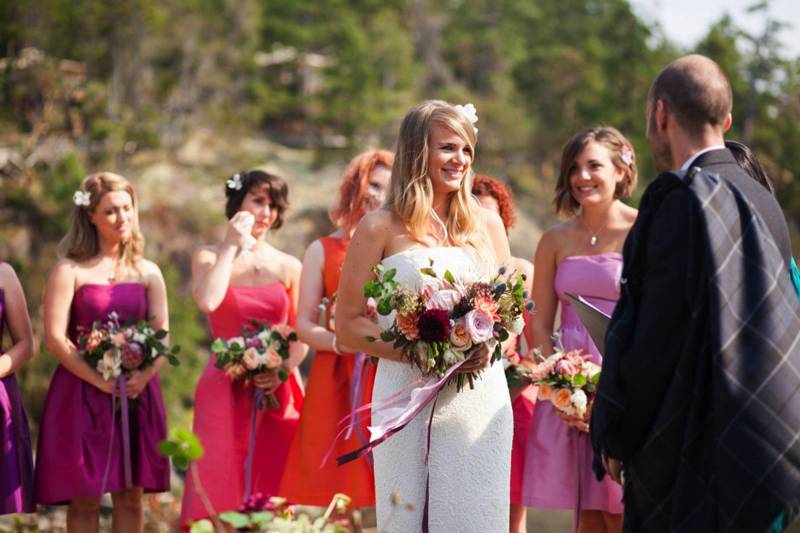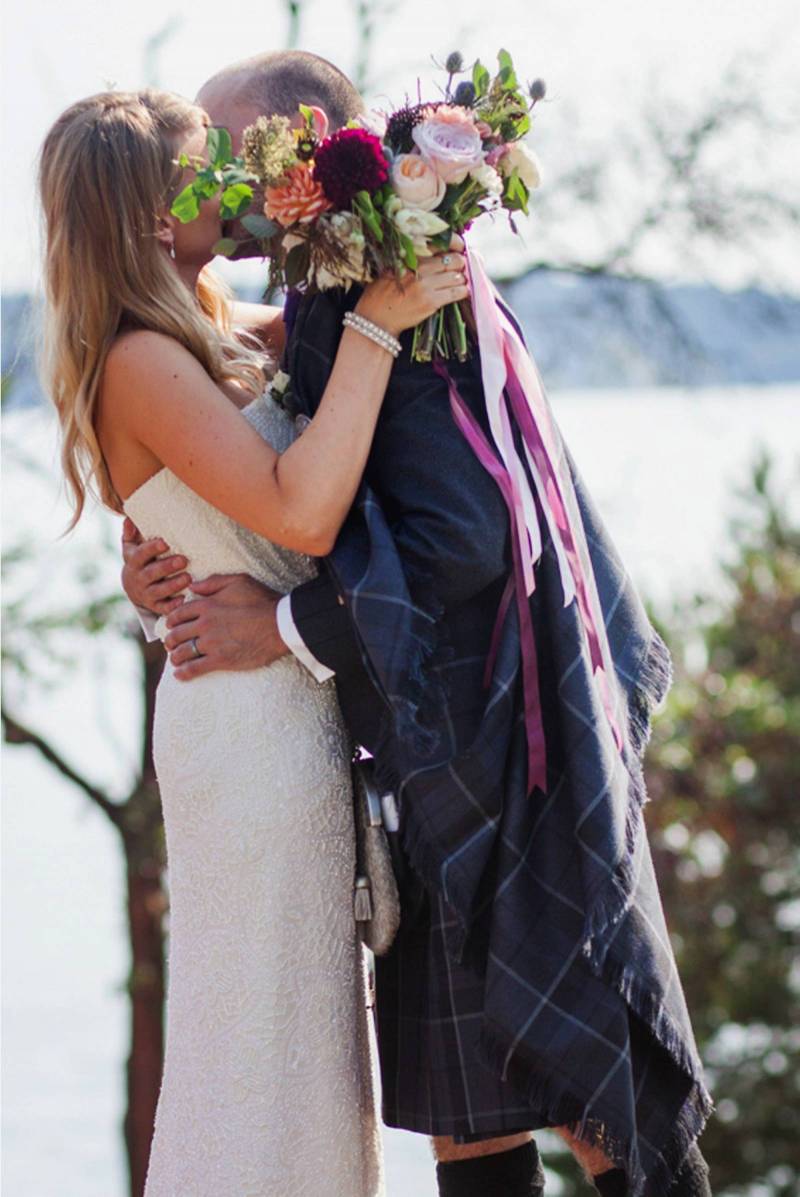 "We really wanted our wedding ceremony to be very personal so we had one of our best friend's, Brook, officiate the ceremony which we created together. It was so special, emotional and funny, which was exactly what we wanted. We had two of our friends do special readings, a completely personalised adaptation of Dr Suess' "All The Places You Will Go" and a reading inspired by Carl Sagan. Guests received sea grass fans with dip-dyed tassels as favors that we made ourselves. Because it was such a scorching hot day, when I walked down the aisle with my mom, we were met by a sea of people fanning themselves, so it turned out to be the perfect choice!"
We enjoyed a family-style meal and the food was fantastic! We opted out of a traditional wedding cake as the women in my family are amazing bakers so my mom, aunties, sister-in-law, and I all made a selection of home made cakes, bars, cookies, and sweet treats that we decorated with beautiful sugar flowers made by a friend. We also had an ice cream bar so guests could have more dessert a la mode. At midnight the resort put out a poutine bar (a traditiaonal Quebec dish), which was a smash hit!"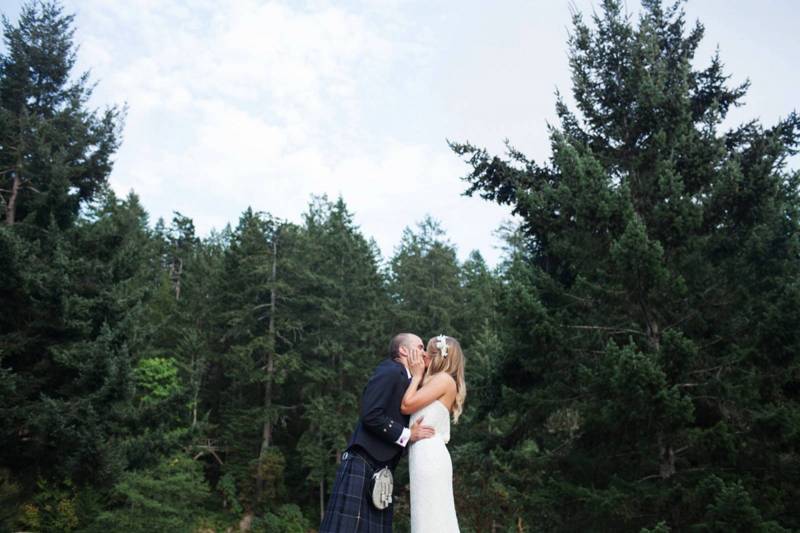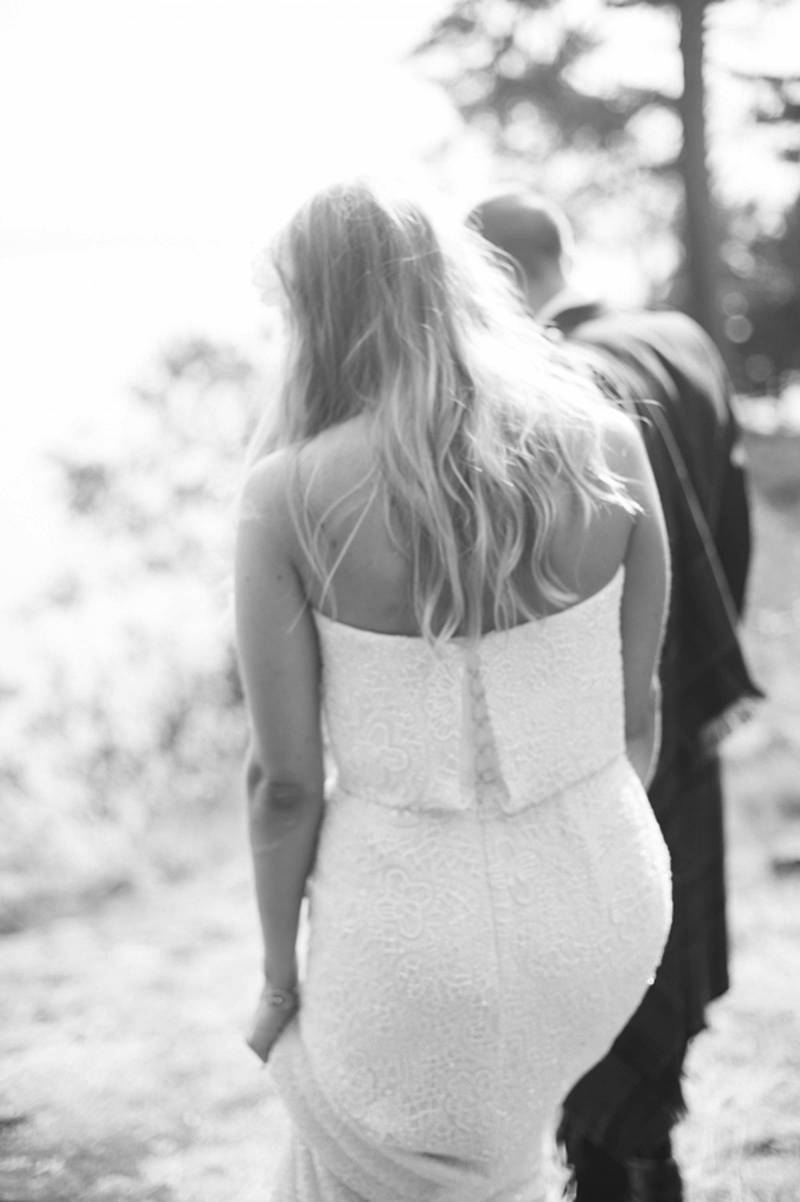 "We were so lucky to have found our photographer Kelly Brown. We were so blown away by her beautiful pictures. Kelly and her husband Bryce were so lovely and made us feel totally comfortable, and her pictures really captured the day and so many special moments."