Good things come to those who wait. Joy, excitement, mystery, love. In a world where desires are too often met with instant gratification, Jenny-Lee Schionning and Sean Kramar found that waiting can be an adventure that leads to true happiness. The two met serendipitously in Jenny's hometown of Dunedin, New Zealand in 2006. Sean had recently arrived from Philadelphia to study abroad for a semester at the University of Otago, where Jenny was studying dentistry. They had noticed each around town, and a bit of flirtatious eye contact gave her the courage to maneuver into line next to Sean at a church luncheon one day. Lost in conversation, he says, "Neither of us touched our food." They found themselves immersed in stories of family and future aspirations, and Jenny knew instinctively that "things were going to get complicated."
Not long after their first encounter, Sean gave Jenny a copy of one of his favorite children's books, Cork on the Ocean, a tale of a little cork who floats at sea and eventually finds a lovely bottle to share his adventure. Looking back, they both laugh at what he thought was a perfectly subtle way to share his affections. She says, "It was anything but subtle!"
An international group of family and friends traveled from the United States, Kenya, the United Kingdom and Australia to the quaint surroundings of Waiheke Island to celebrate the union of Jenny and Sean. The wedding was layered with nuances that reflected their journey as a couple. A travel motif prevailed in a quintessential New Zealand party held at the lovely Mudbrick Vineyard. According to Jenny, "Our travel theme was an easy choice, considering the thousands of miles we've flown to see each other over the years, the many guests from all corners of the globe, and the fact that with families in two different countries, there will be plenty ahead!"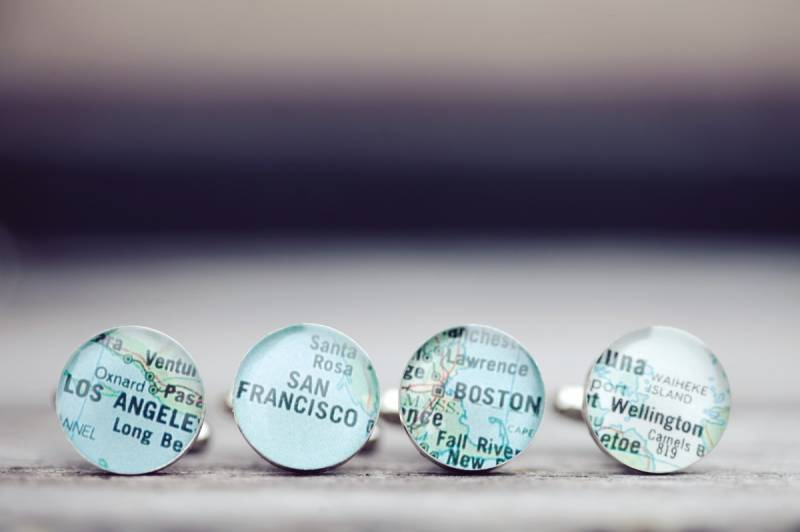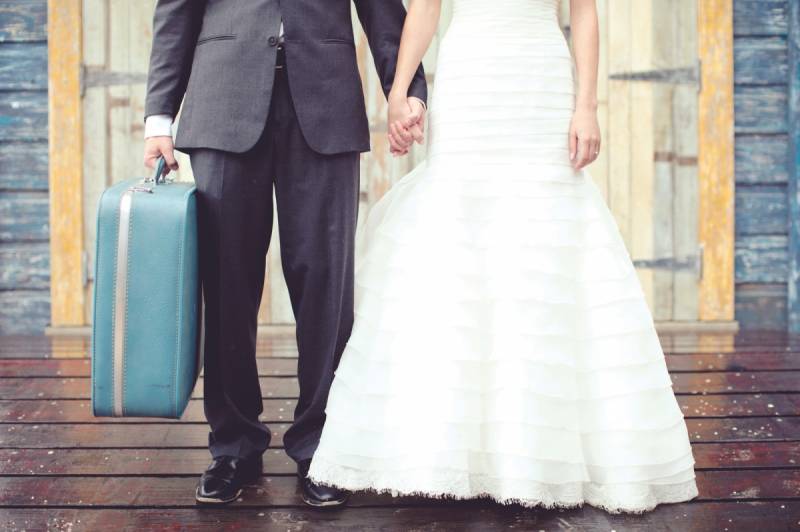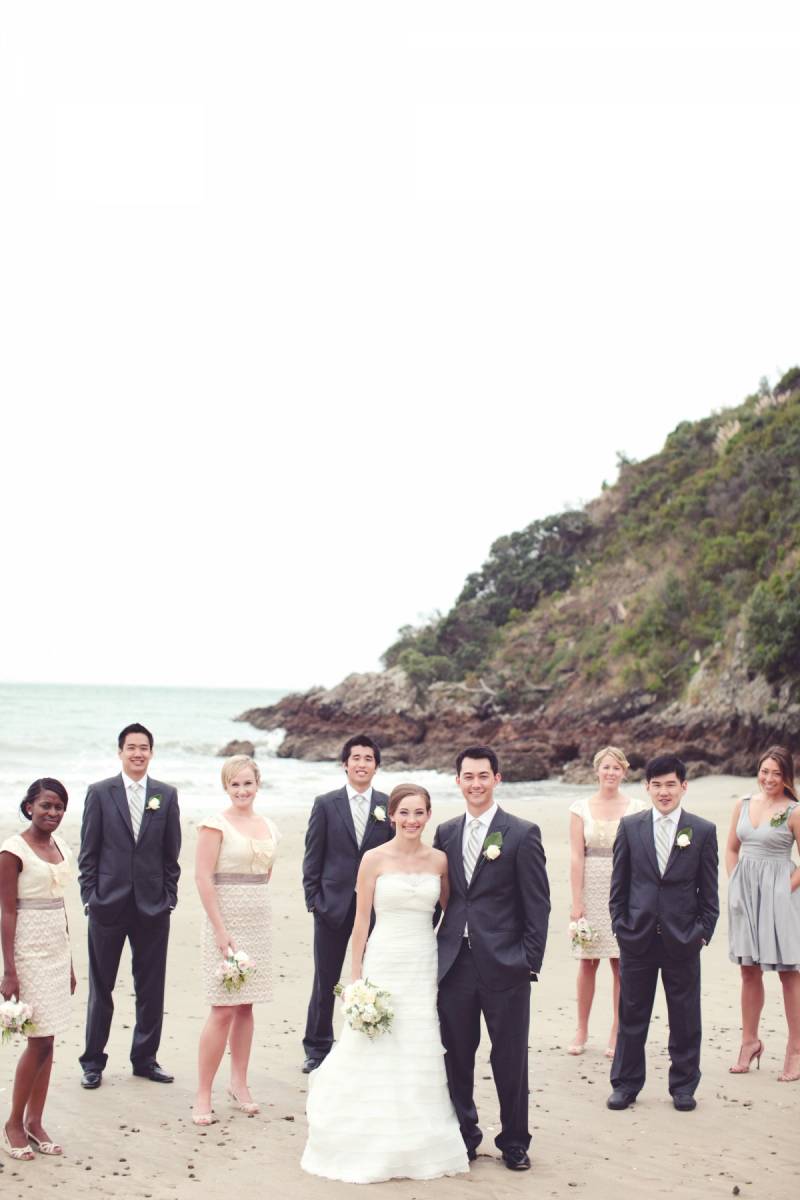 Bridesmaid dresses from Anthropologie followed the classic look of the day, paired with the gentlemen in elegant striped ties and dark suits. Sean ordered custom cuff links for each of his groomsmen, with the left cuff link representing a map of the place from which they had traveled, and the right a map of Waiheke Island.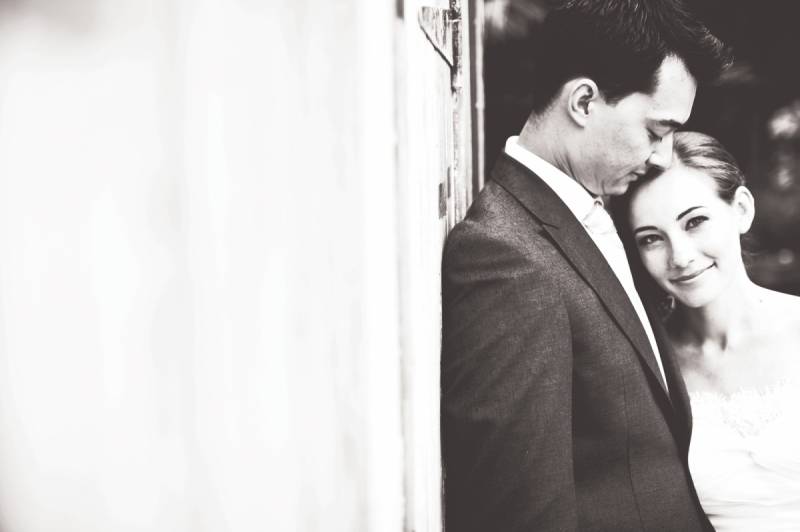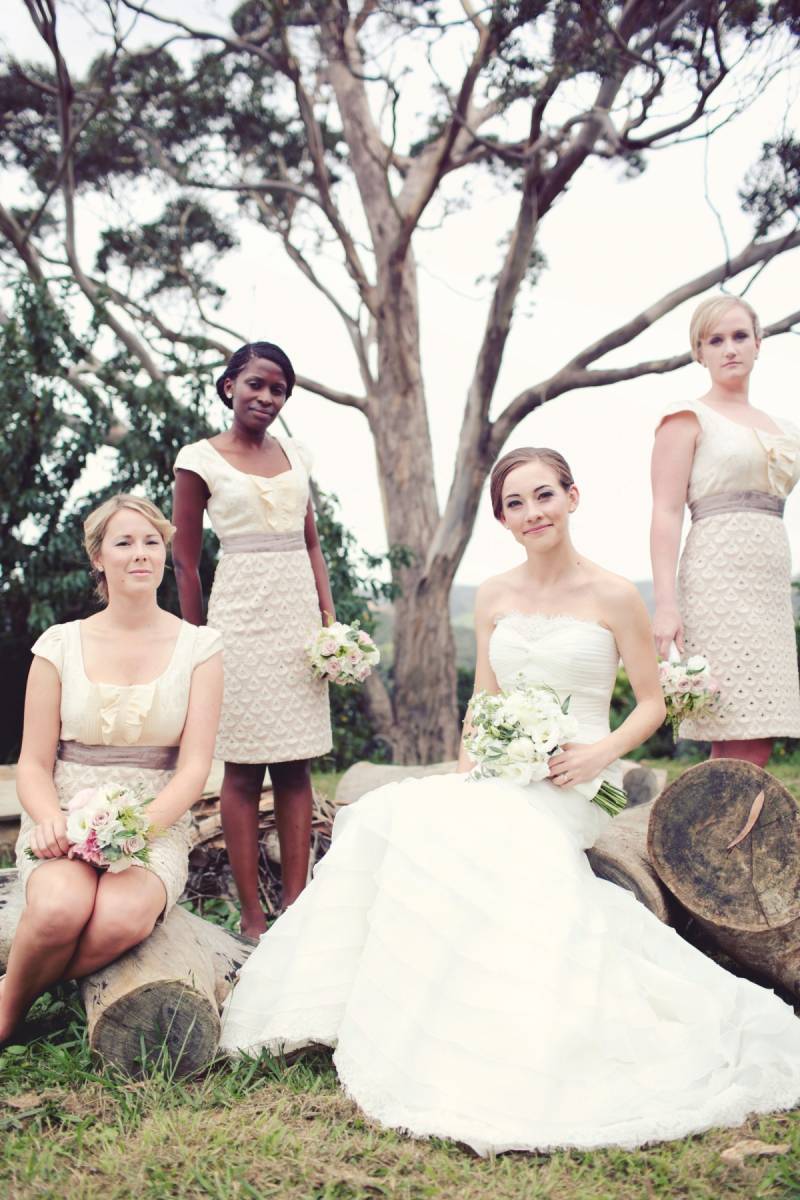 Jenny was positively radiant in a sweet ivory La Sposa gown, her hair swept up in sophisticated style with floral hair pins she found in an Etsy Shop. She and her bridesmaids carried fragrant bouquets of ivory roses, double stock and pale lisianthus, with a touch of eucalyptus added for the bride.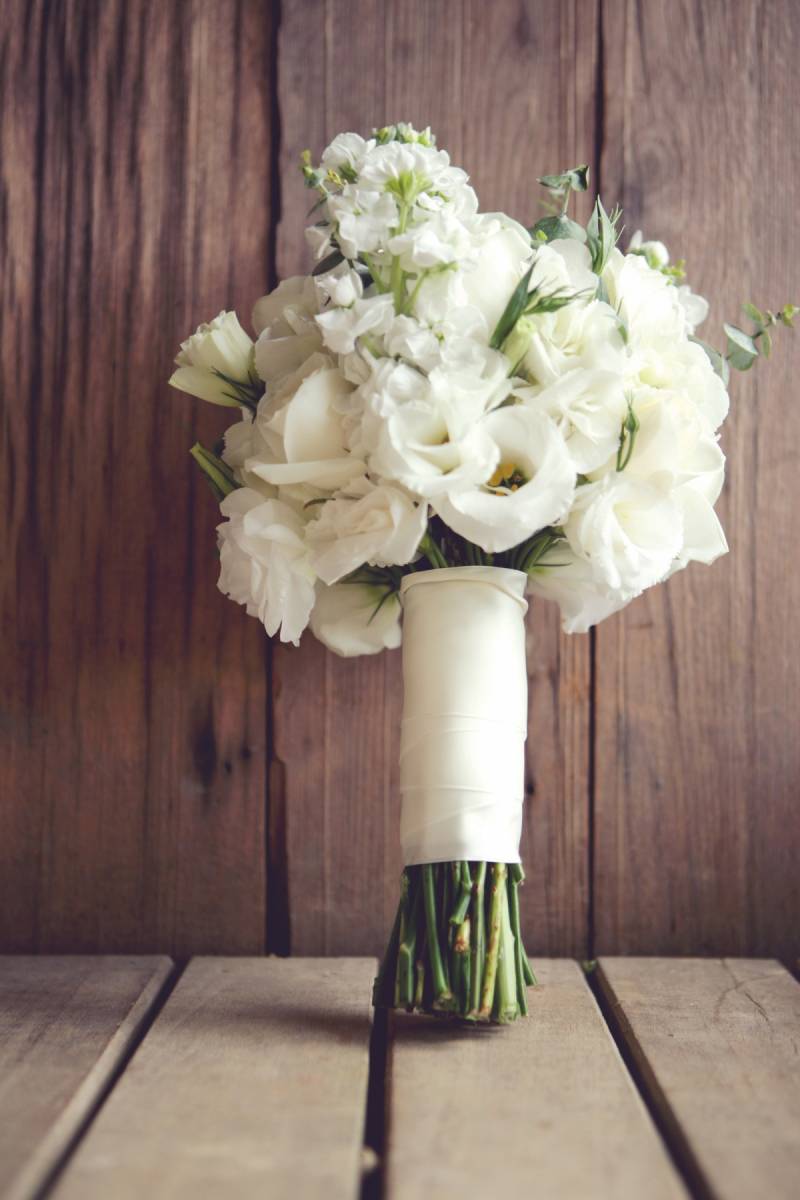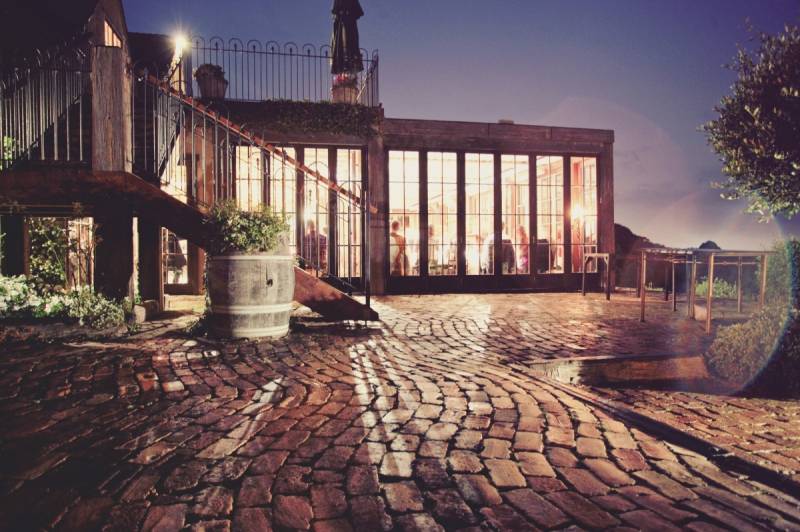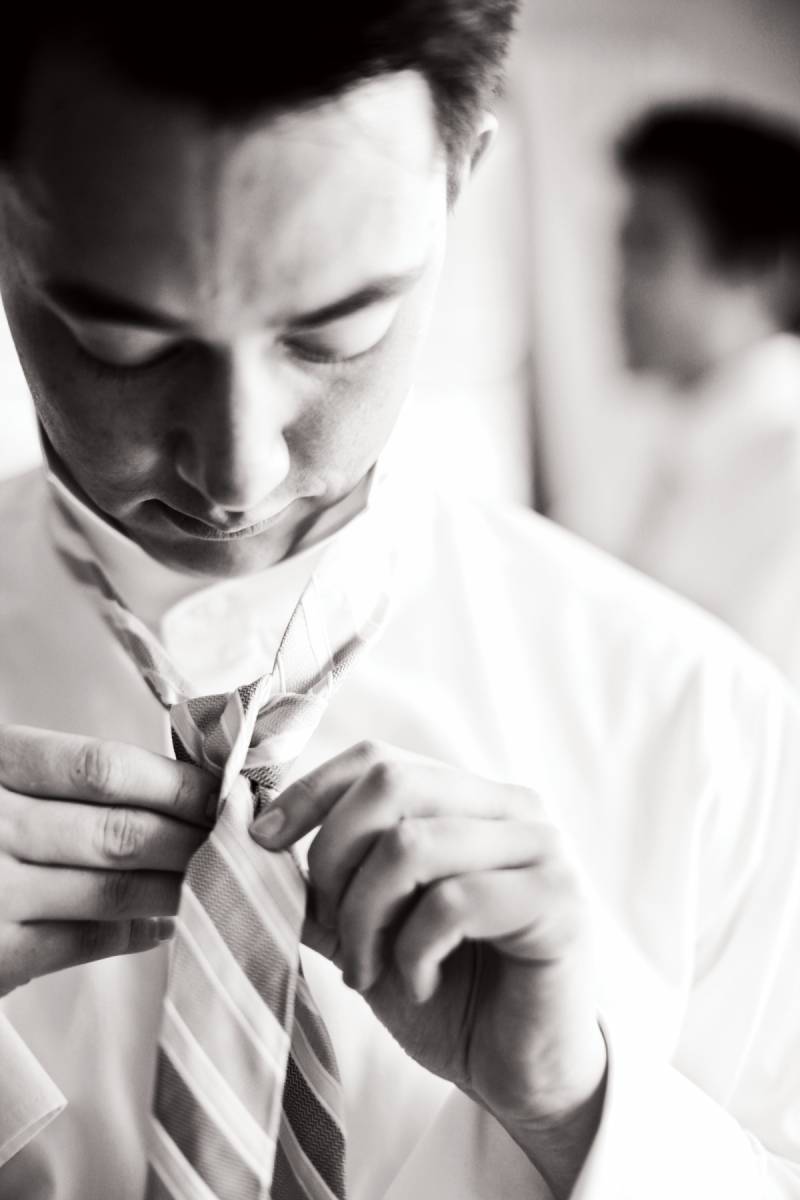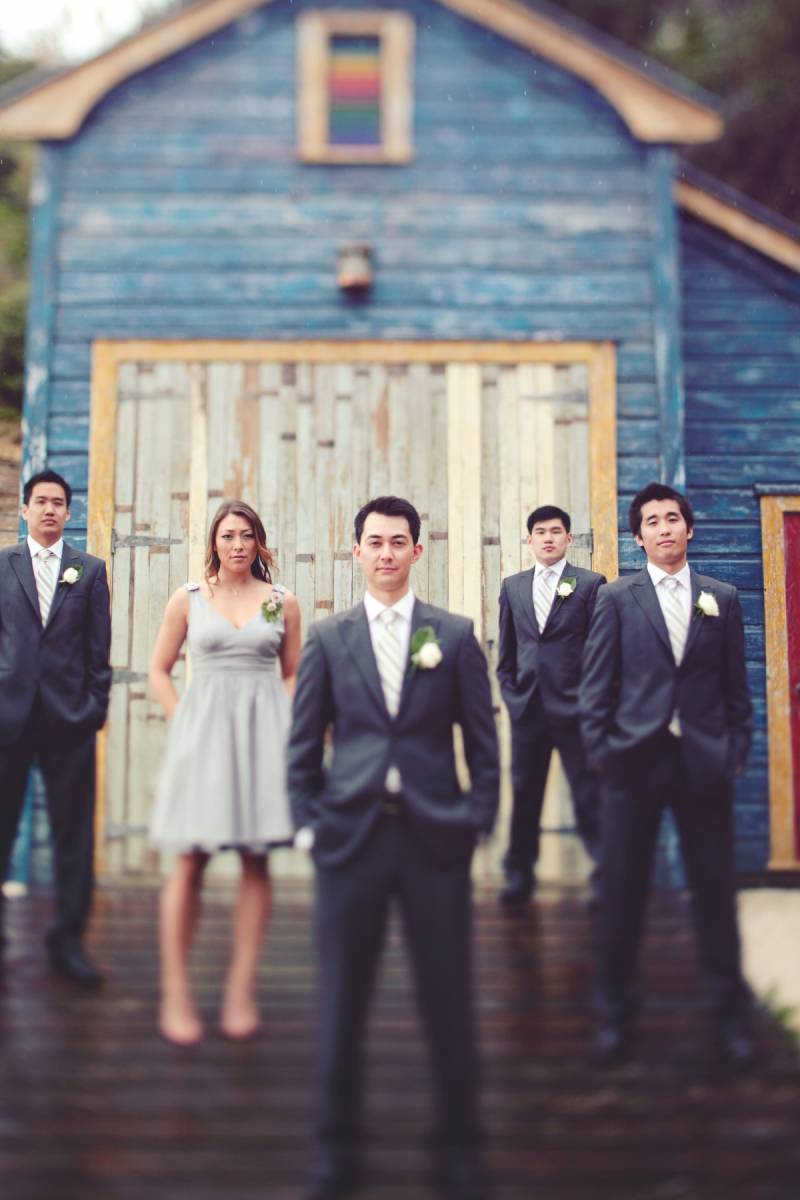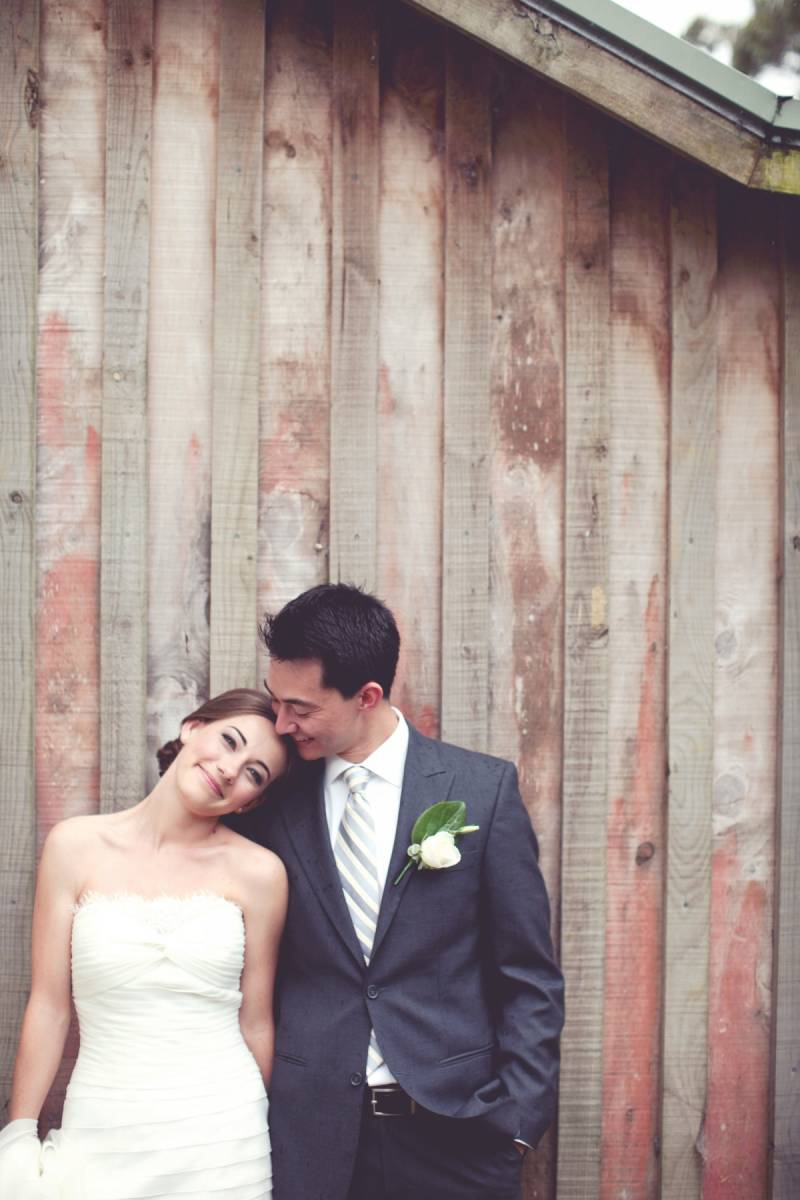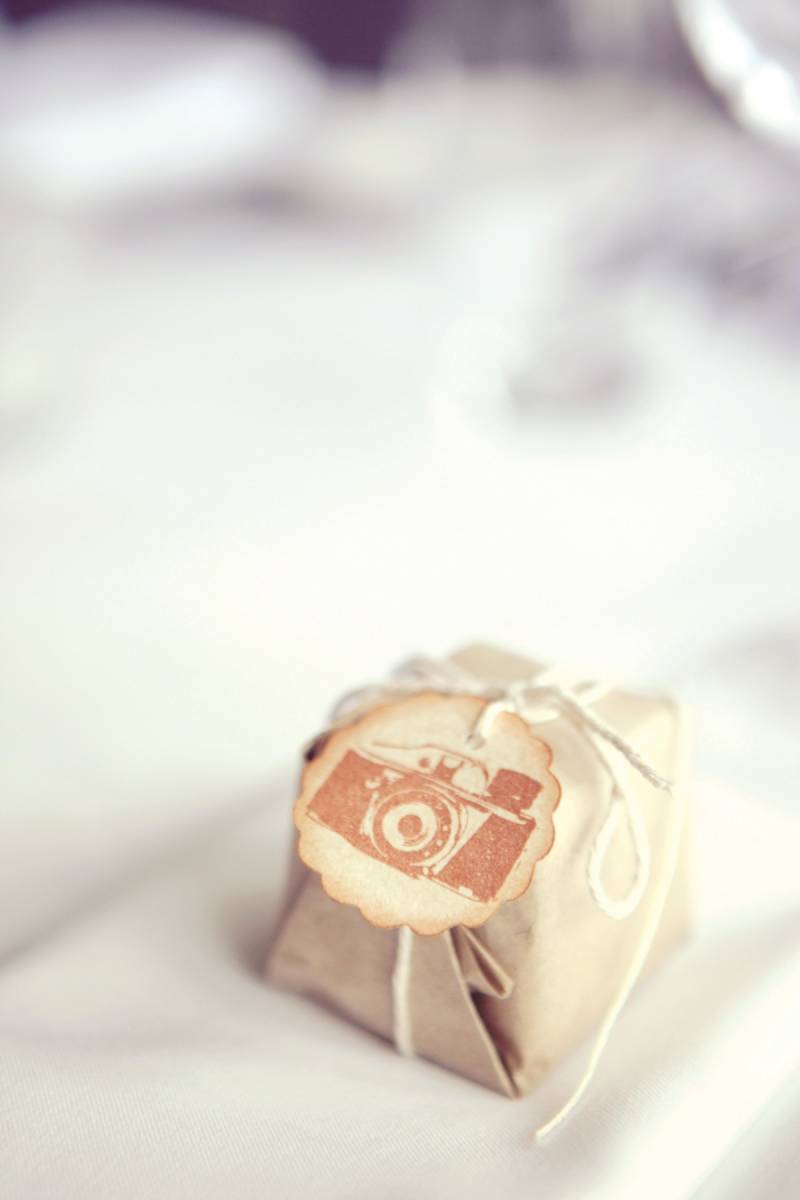 Small packages of New Zealand chocolates were wrapped as tiny parcels and stamped in keeping with the travel motif. "We both adore maps and old letters, so we had great fun bringing it all together," says Jenny.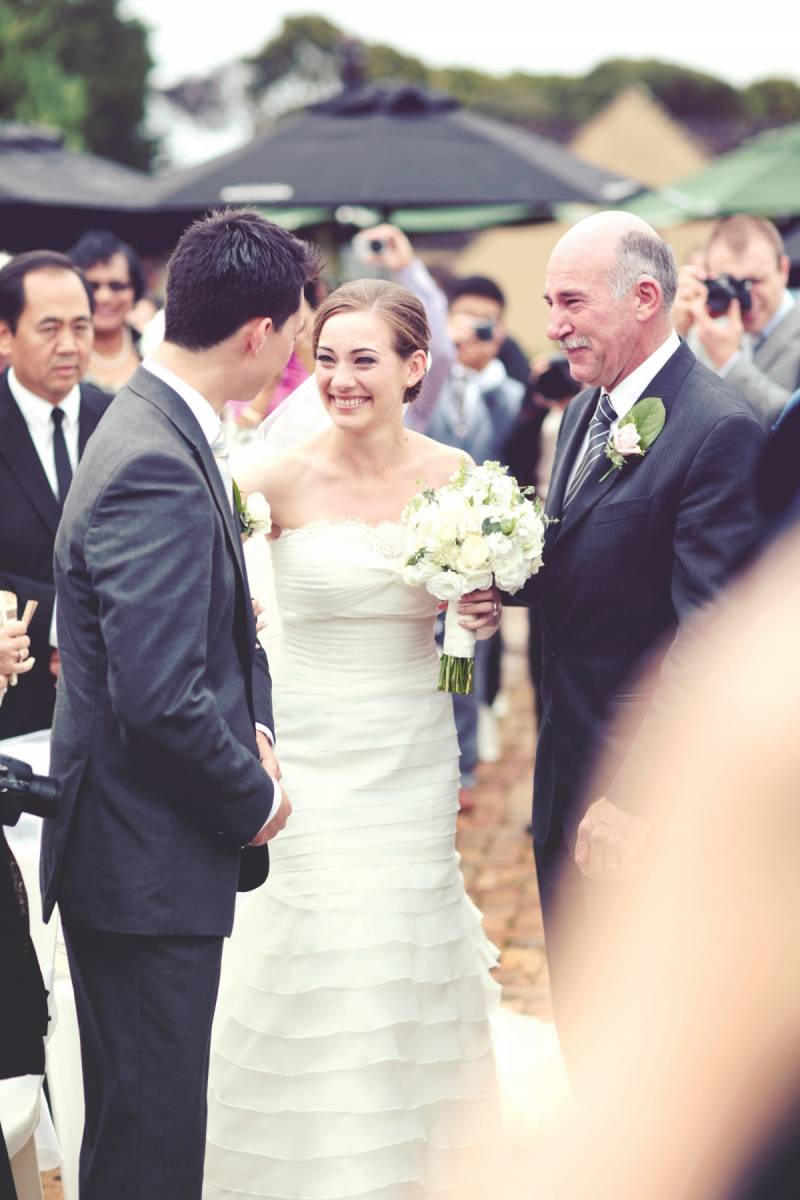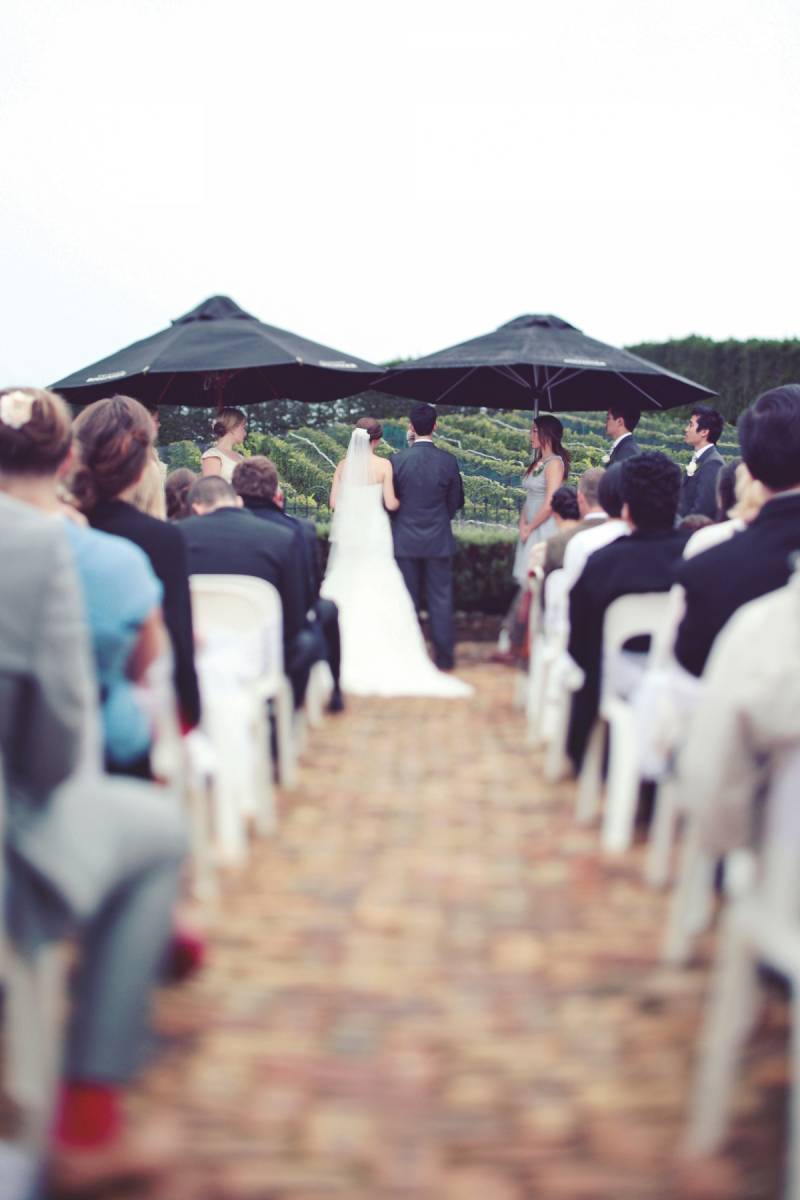 The bride's veil was her "something borrowed", loaned to her by a girlfriend. By the time the ceremony was to begin, both she and Sean could hardly contain their excitement.
The gregarious celebrants gathered under umbrellas for the wedding, determined to embrace the New Zealander's insouciant attitude and not allow the light drizzle to dampen their spirits in the least. In the bride's words, "The rain only added to the richness of the day—all the more funny stories to share afterward!"Jenny and Sean had come full circle, and the long awaited moment they had each been dreaming of finally came to fruition. Standing against a breathtaking tableau of ocean and hills, the two pledged their eternal love.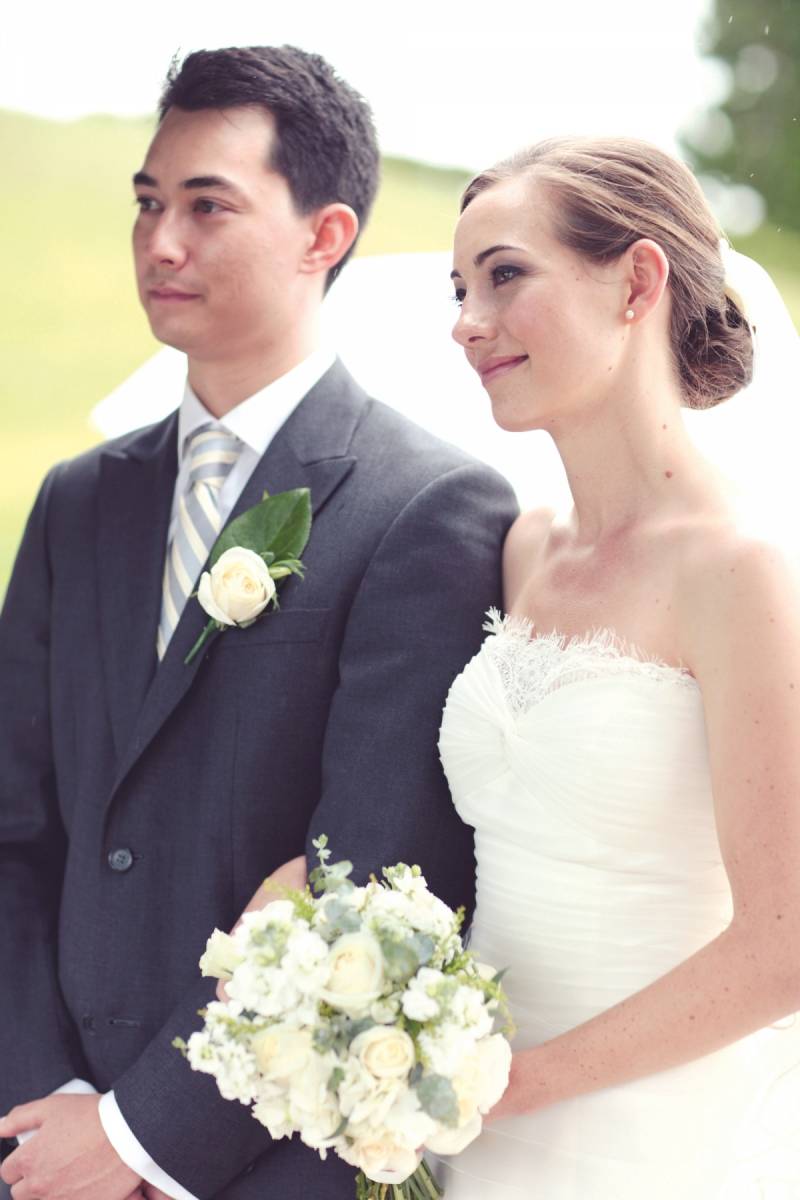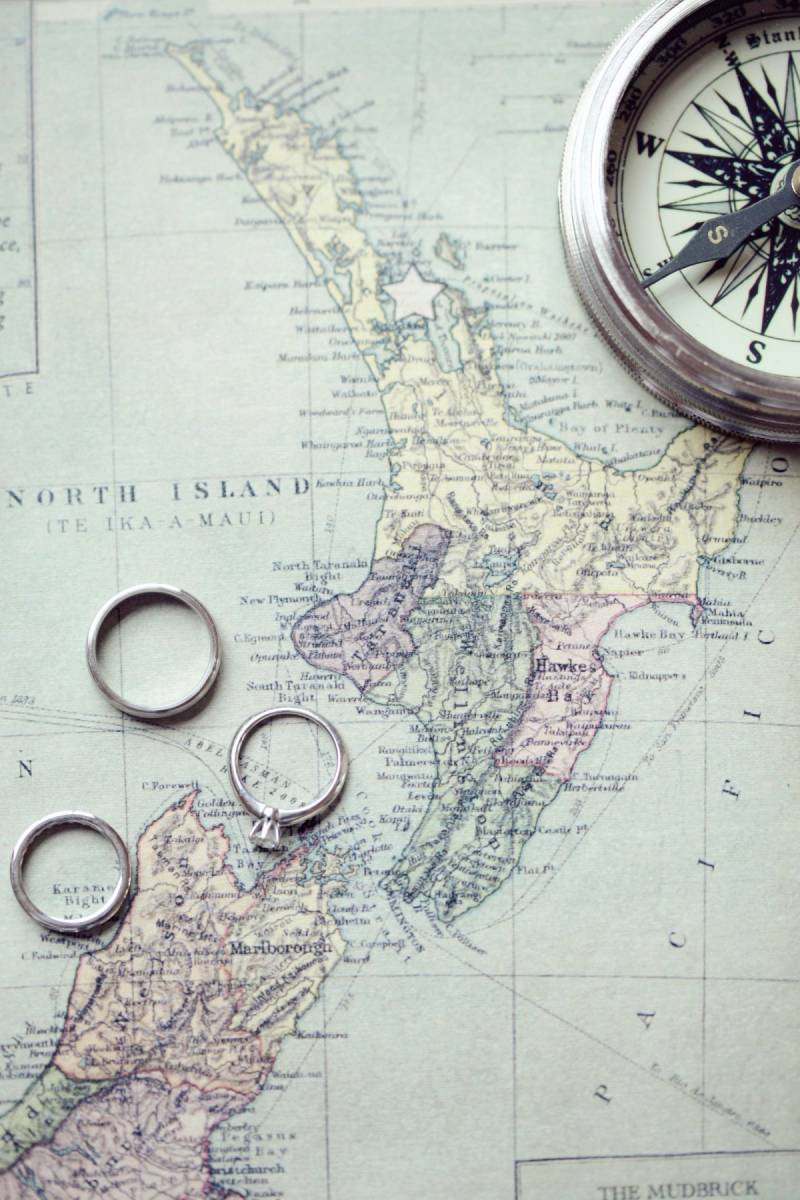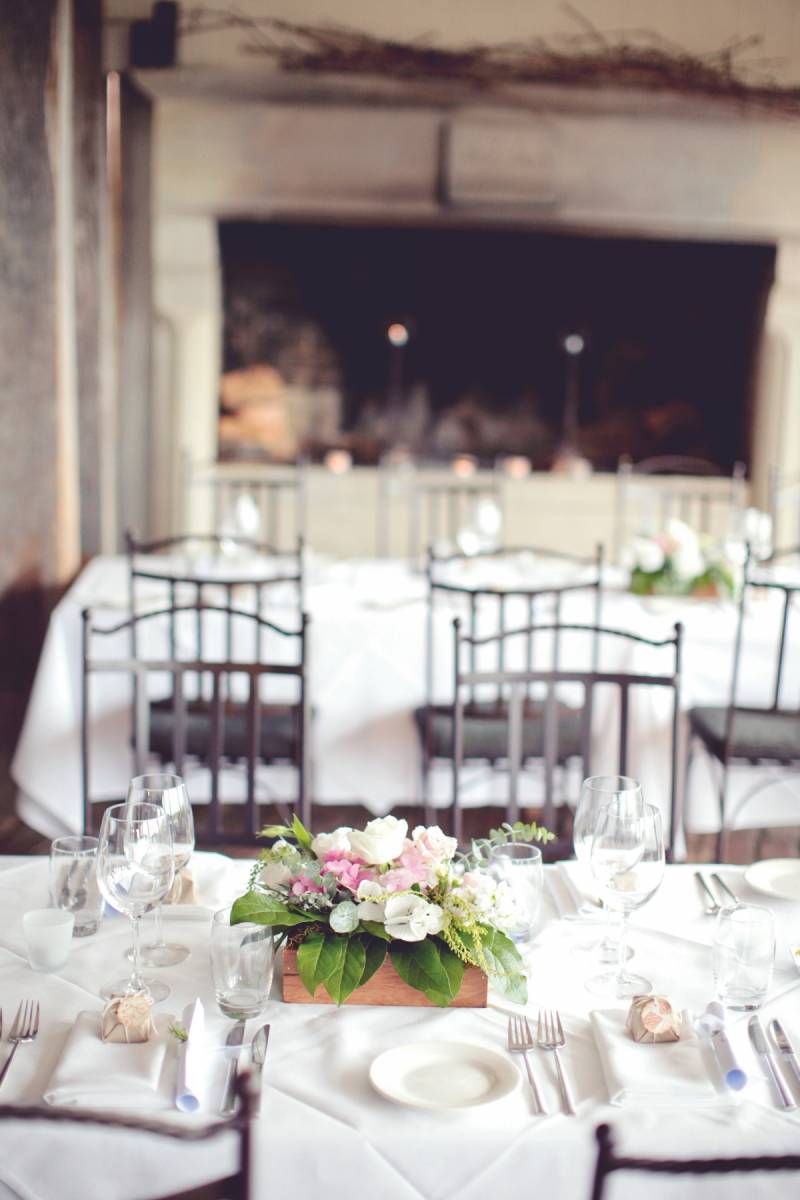 The reception following was informal and at once, timelessly elegant, reflecting the genuinely unpretentious and loving nature of the newlyweds. Tables were dressed in ivory linens and graced with pastel flowers in rustic wooden boxes.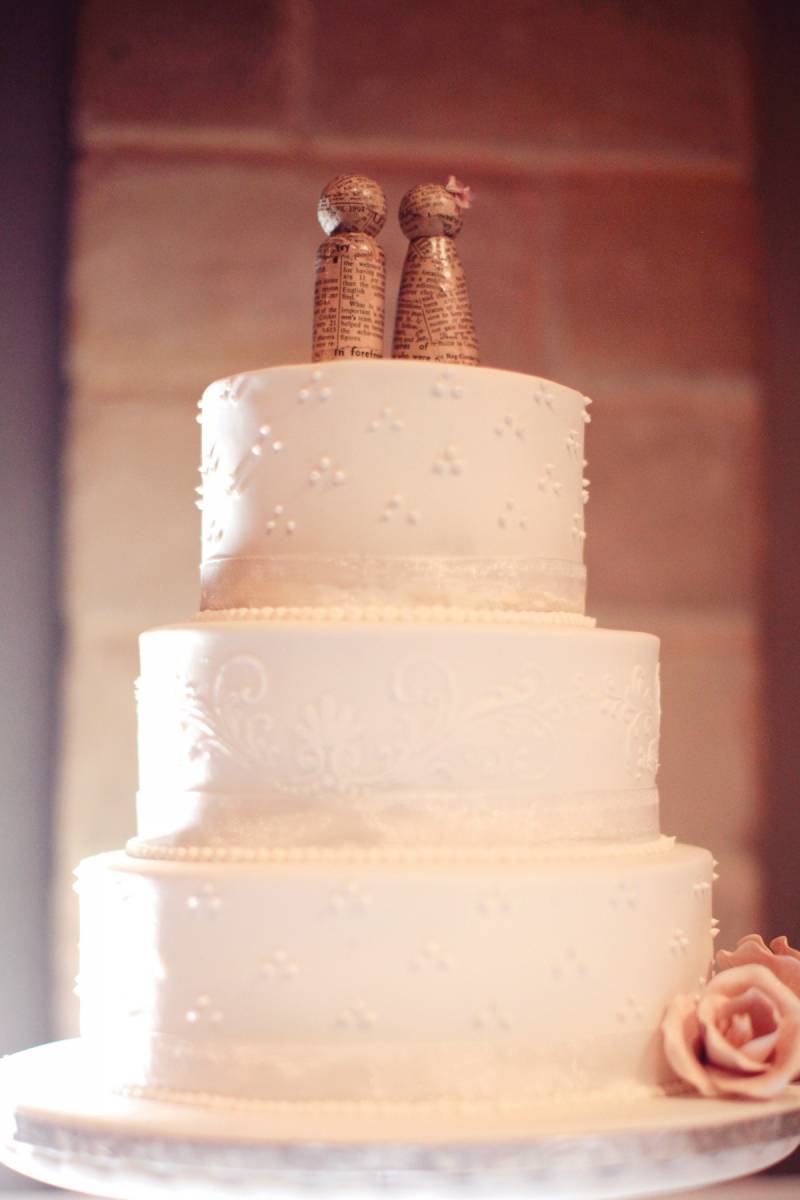 Even the wooden cake toppers were a labor of love. "I found plain blank wooden figurines on Etsy, and a vintage newspaper in an antique store. I then carefully decoupaged the newspaper onto the figurines with craft glue, and added a tiny ribbon bow onto the bride—easy! I loved how simple and effective they looked on top of the cake," relates Jenny. She purchased ready-made gumpaste flowers and dusted them with pink luster before adding them to the butter cream cake, saying, "I loved our cake to pieces!"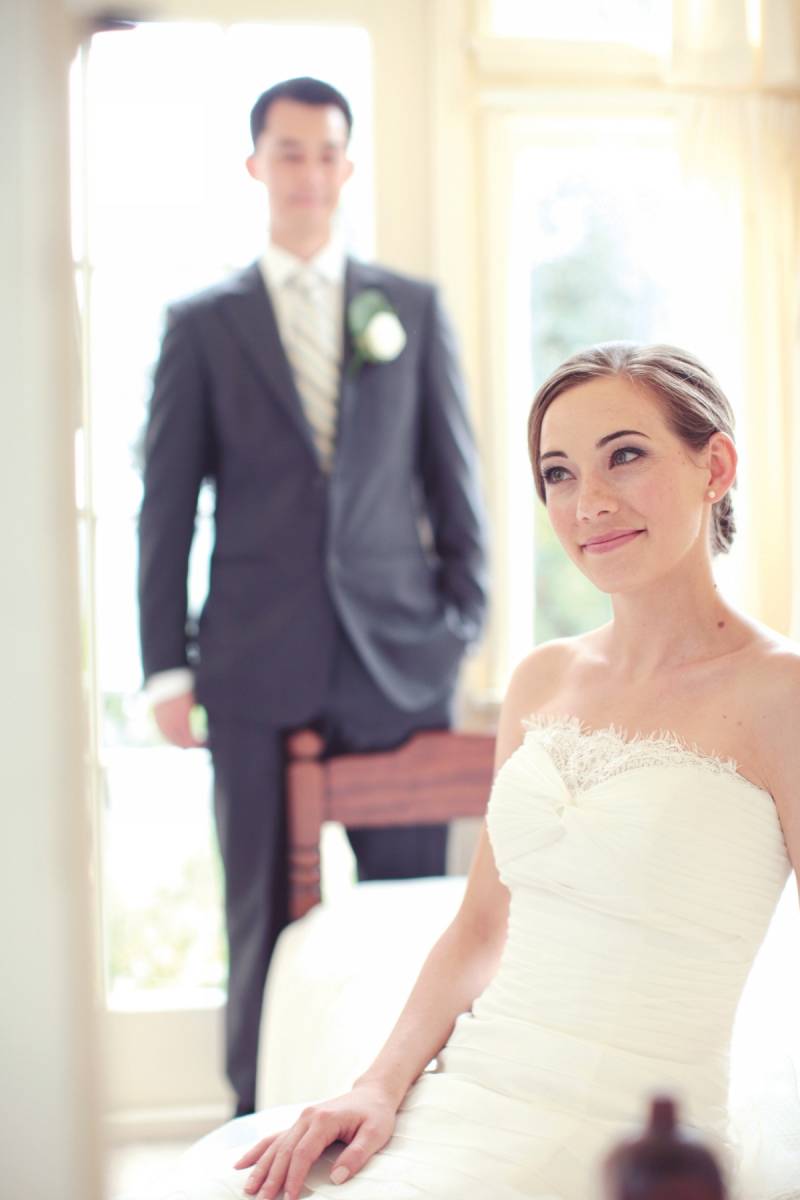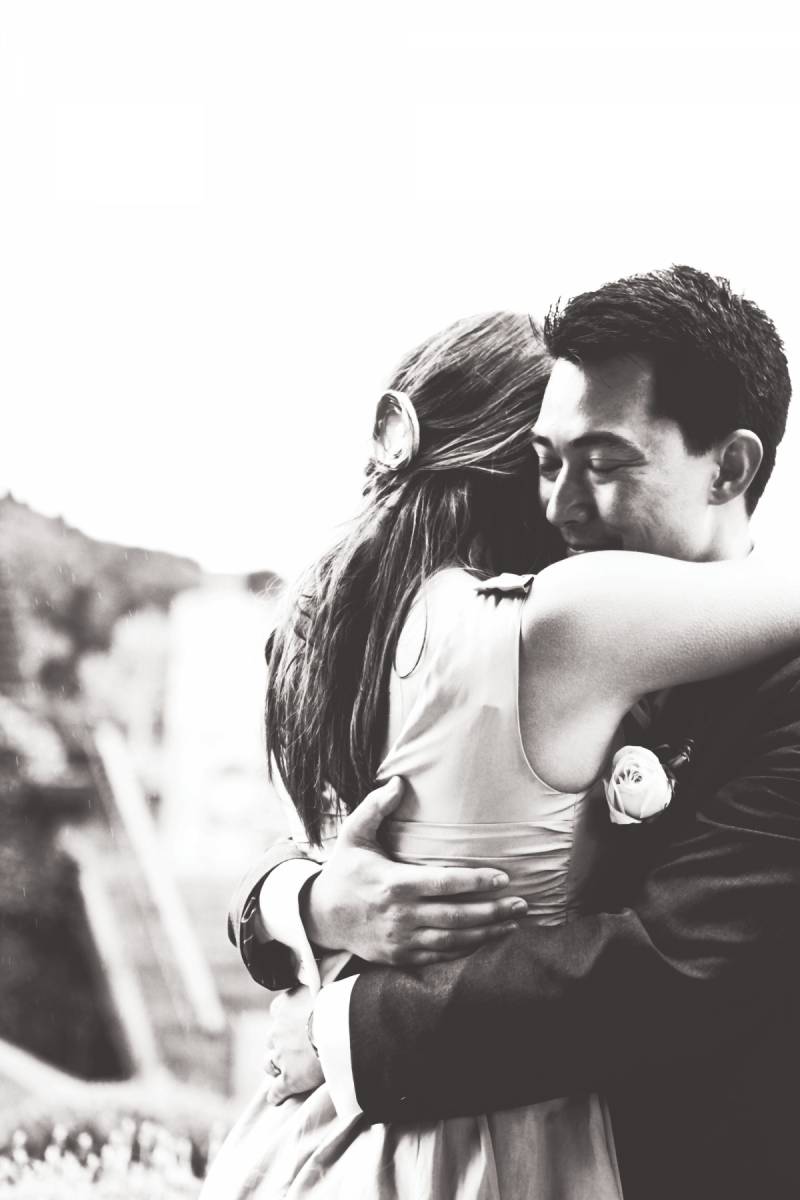 Elated and exhausted after the wedding, Jenny and Sean jetted off for a honeymoon in Tahiti, where they did nothing at all but soak in the sun and relive the happy moments of their wedding. Not surprisingly, after Sean completes graduate school, their sojourn in Boston will be followed by more travel. For now, they relish the simple joys of experiencing everyday life together. Jenny says it is surreal. "I can't believe we're on this side of the equation!" Sean knows for certain that the book about the little cork and bottle (which he still reads to this day) tells the poignant story of his life with Jenny: "Don't be afraid, murmured the maid. Be happy the sea isn't flat. For what is a high, without a low. Where's the adventure in that? ...And so it began, an innocent plan to travel together that day. Then catching a ride on the outgoing tide, they happily floated away."