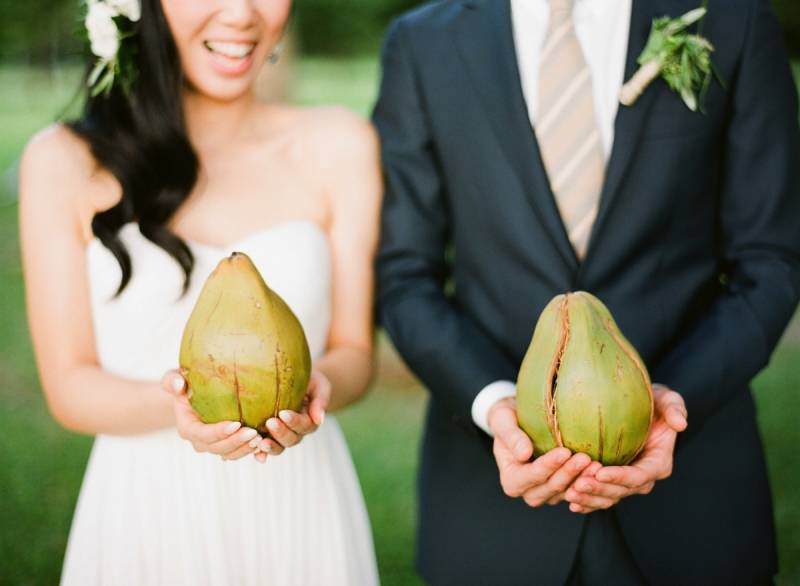 Natsuko and Carlos hosted a destination wedding at Olowalu Plantation House in Maui, Hawaii and it was absolutely lovely! The bride tells us, "Our vision was to have a nicer version of a garden party at home: relaxed and no fuss. Because it was a destination wedding, we wanted to have time with our guests and make sure everyone enjoyed the evening. Nature is such a big part of Hawaii, we wanted it to play a big part in our day.

Also, there's a language barrier between our families (Japanese and English) so making a laid-back atmosphere was essential for people to open up. It worked out great and our families and friends communicated well!"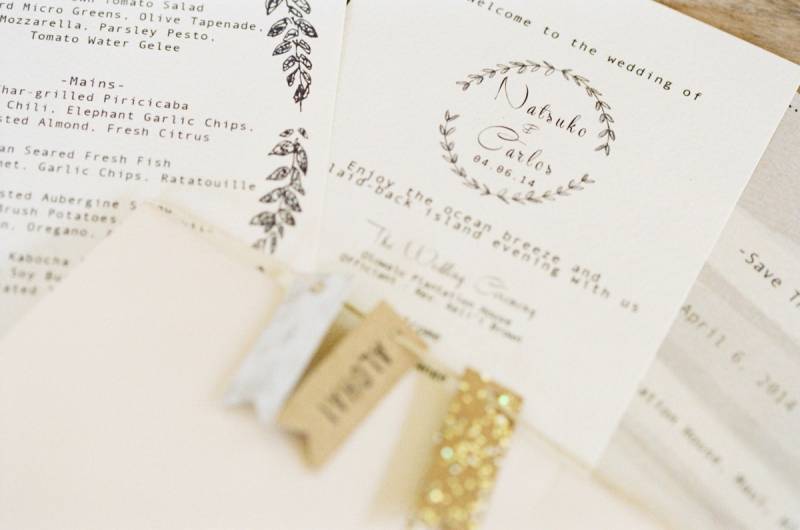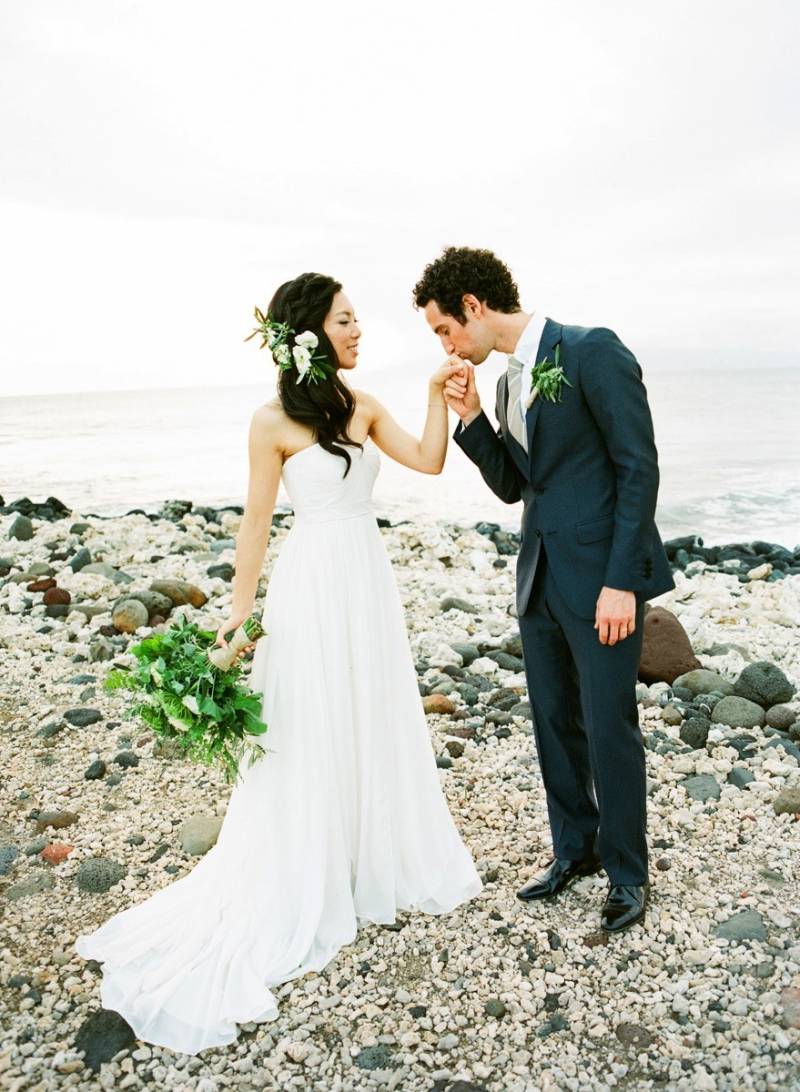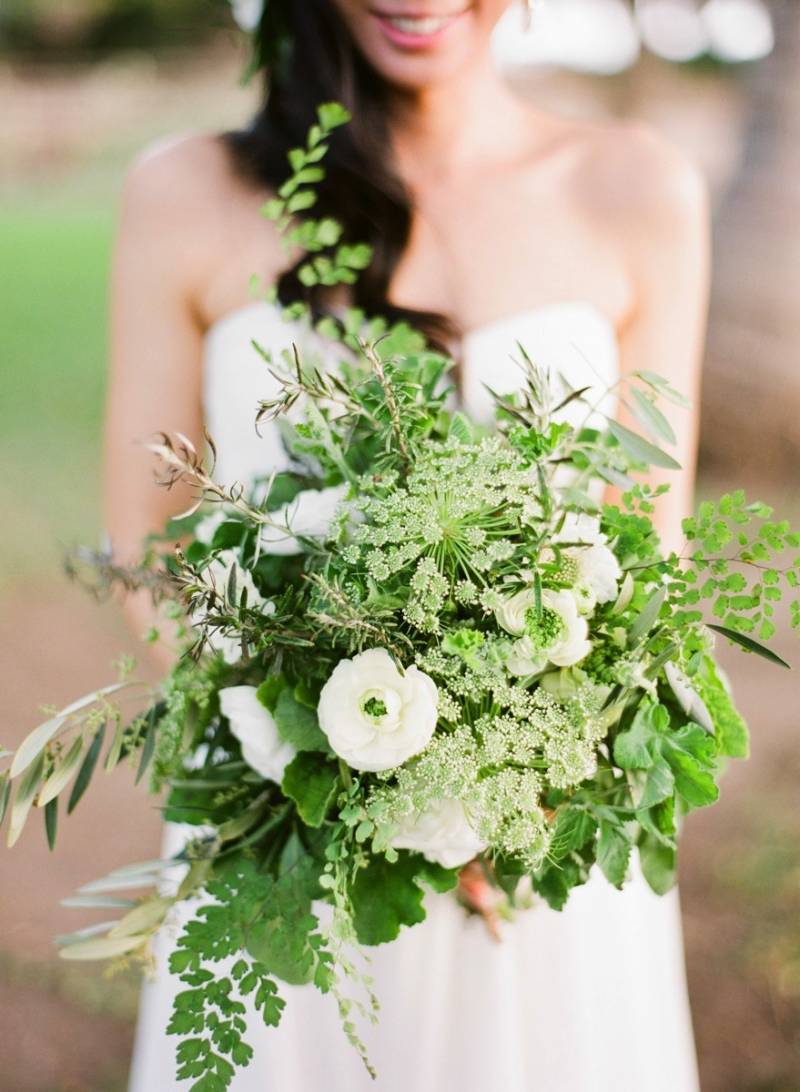 Long before we were even engaged, we joked about escaping to Hawaii from cloudy, wet london where we were living. Hawaii was literally on the other side of the planet, so we knew it was only a wishful thought. Then, we moved to Japan and got engaged and realised Hawaii is the perfect middle location for our families and friends to gather. Also, it was no longer the other side of the planet! There are so many venue choices in Hawaii, but we wanted something personal, not a hotel/ resort organized wedding, and Maui seemed perfect. On Maui, we looked at lots of locations and fell in love with Olowalu Plantation House when we saw that it was quiet, on the ocean, had incredible trees, views of the mountains and a nice jetty for people to venture out on.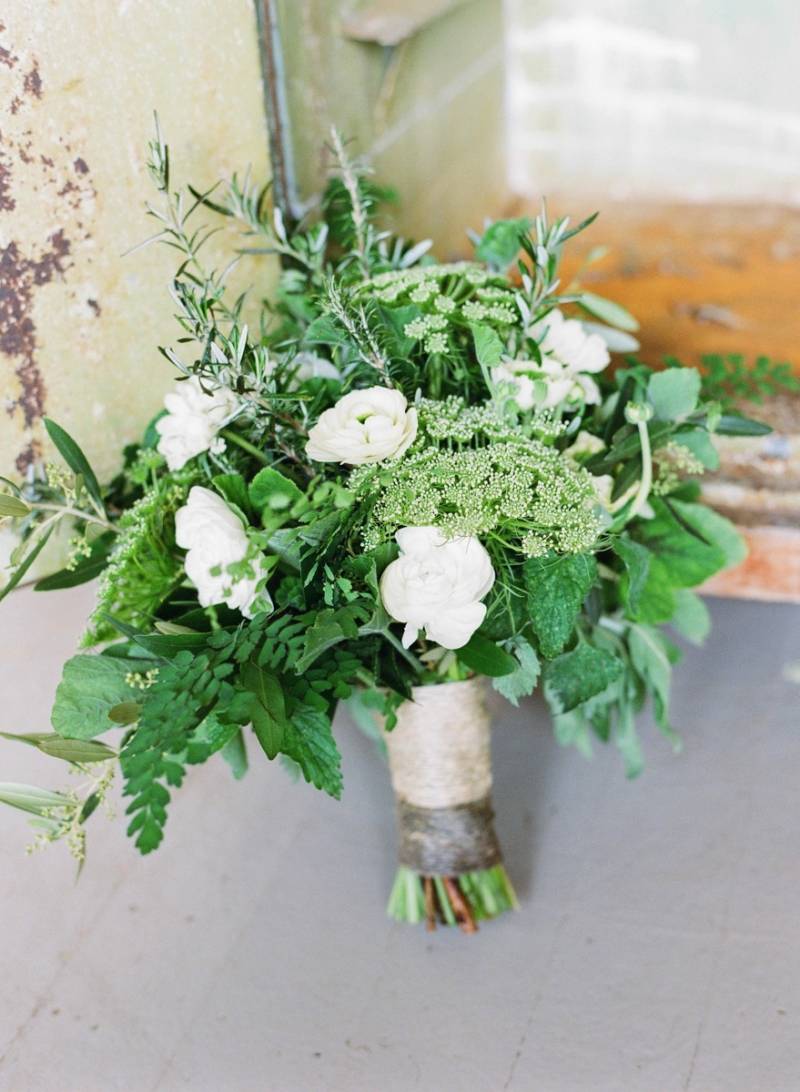 My dress was from Jenny Yoo and it was love at first sight! But I saw it on the internet, and because it's not available in Japan, I'd never seen it in person or tried it on before I ordered it. Initially, I thought it was a bit risque so I went to a couple local bridal salons, but I always thought about the Jenny Yoo dress. So I took a risk, ordered it without seeing it and I don't regret it at all! It was exactly what I imagined. As I have a background in textile design, I must say the texture of the material was dreamy too.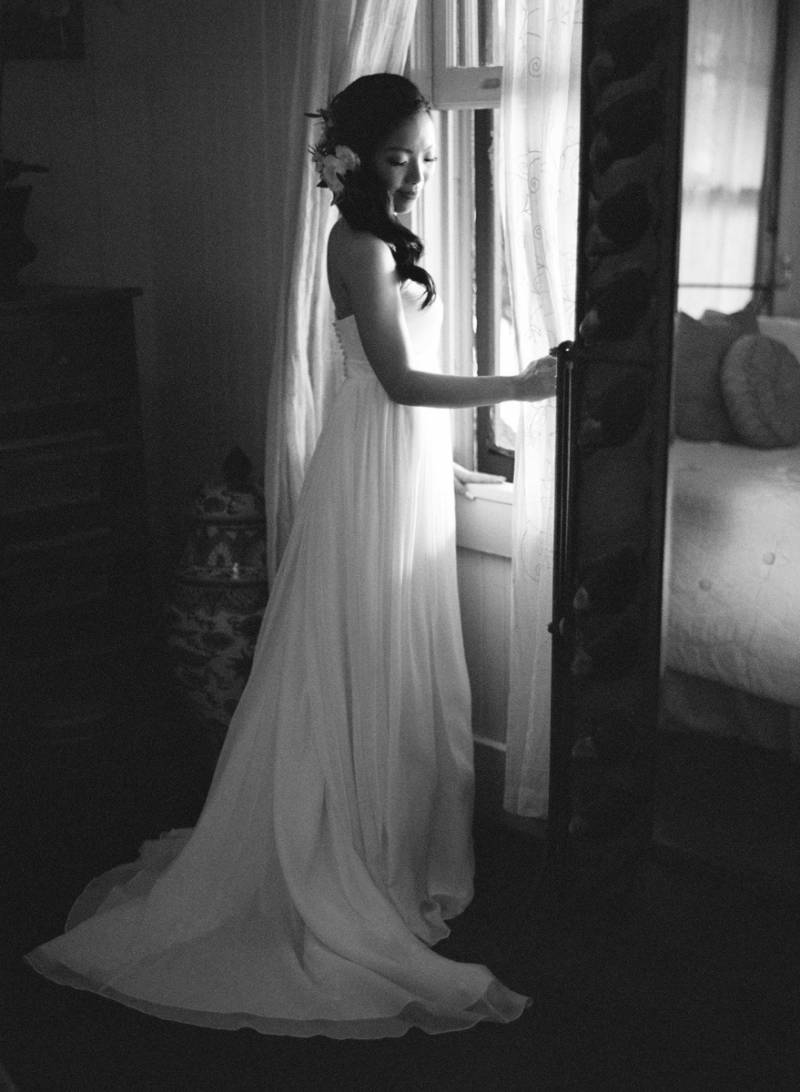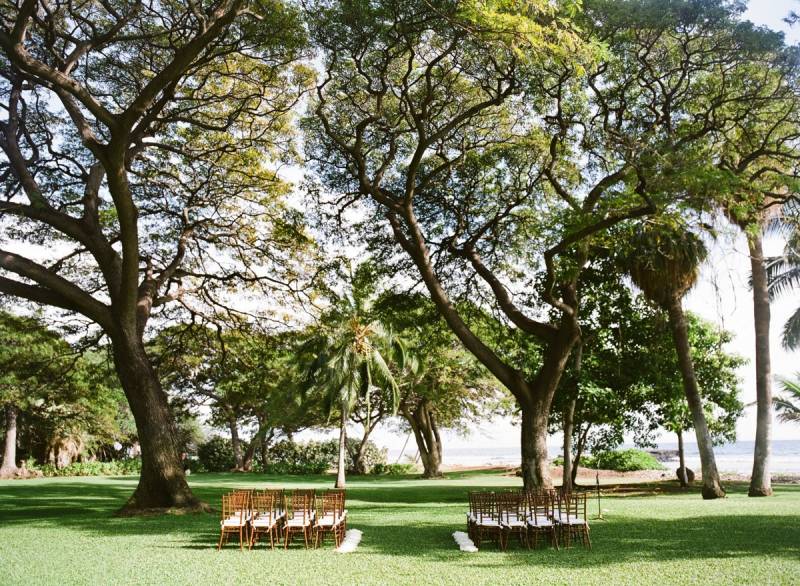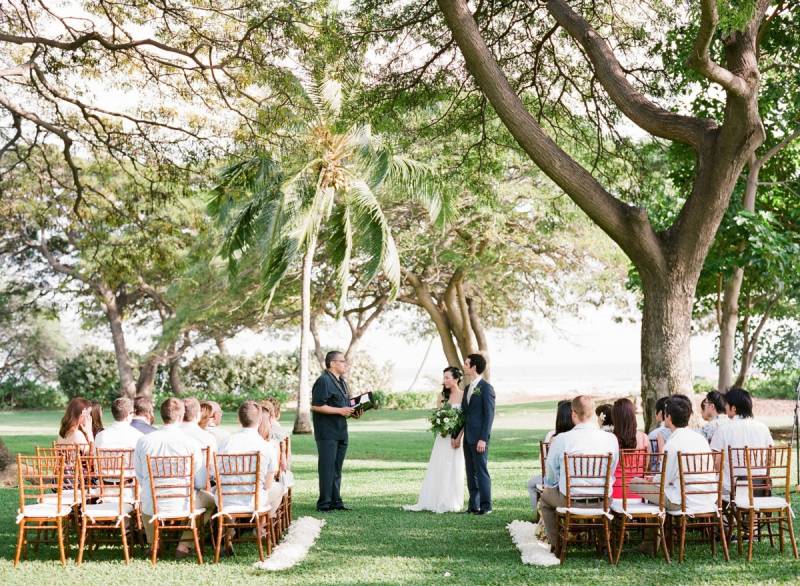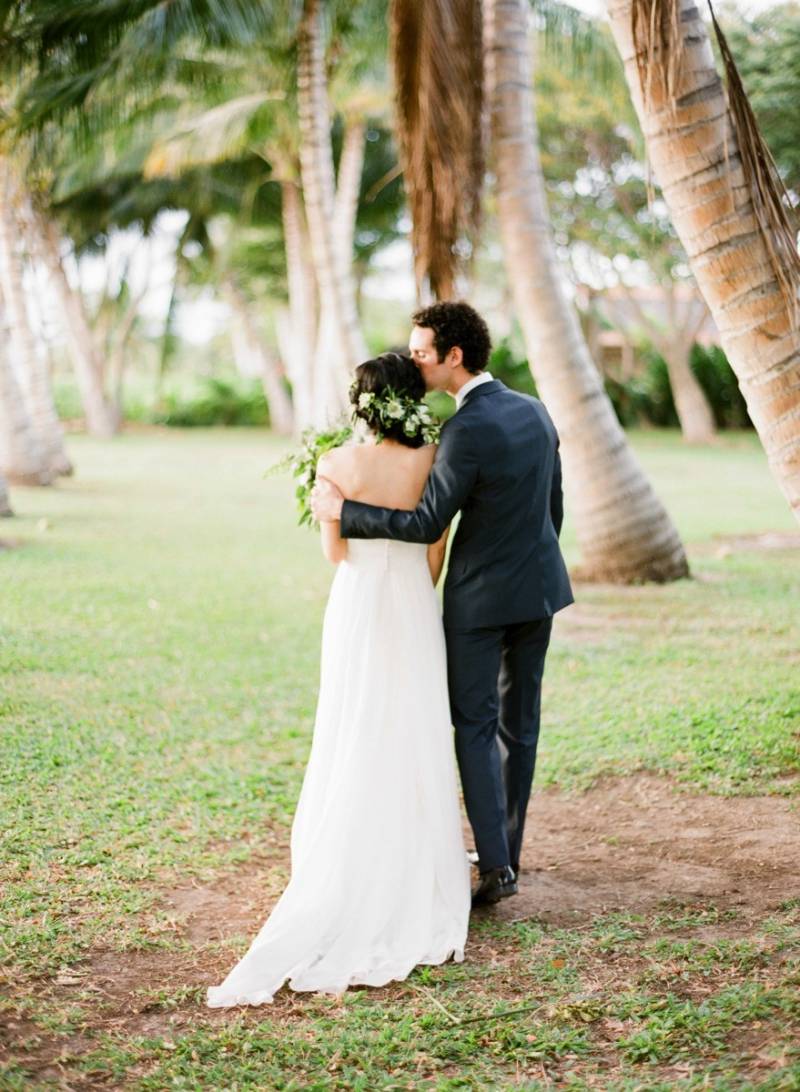 The style we were going for was relaxed, simple and natural. The venue was absolutely beautiful with lush green, ocean and mountain on the other side. We wanted nature to stand out, so we decided to make the decorations as minimal as possible. Flowers were white and understated and matched the venue's greenery.

For us, Olowalu has two main focal points, the ocean and the huge banyan tree. So, the bar and comfortable, couch-like seating were set up along the ocean for the cocktail hour and the dinner tables were set up under the banyan tree. We think this helped us and our guests appreciate different natural aspects of the venue at different points of the evening.

Also, the tables were set up as two long tables and food was served family-style to add to the "at home", relaxed vibe.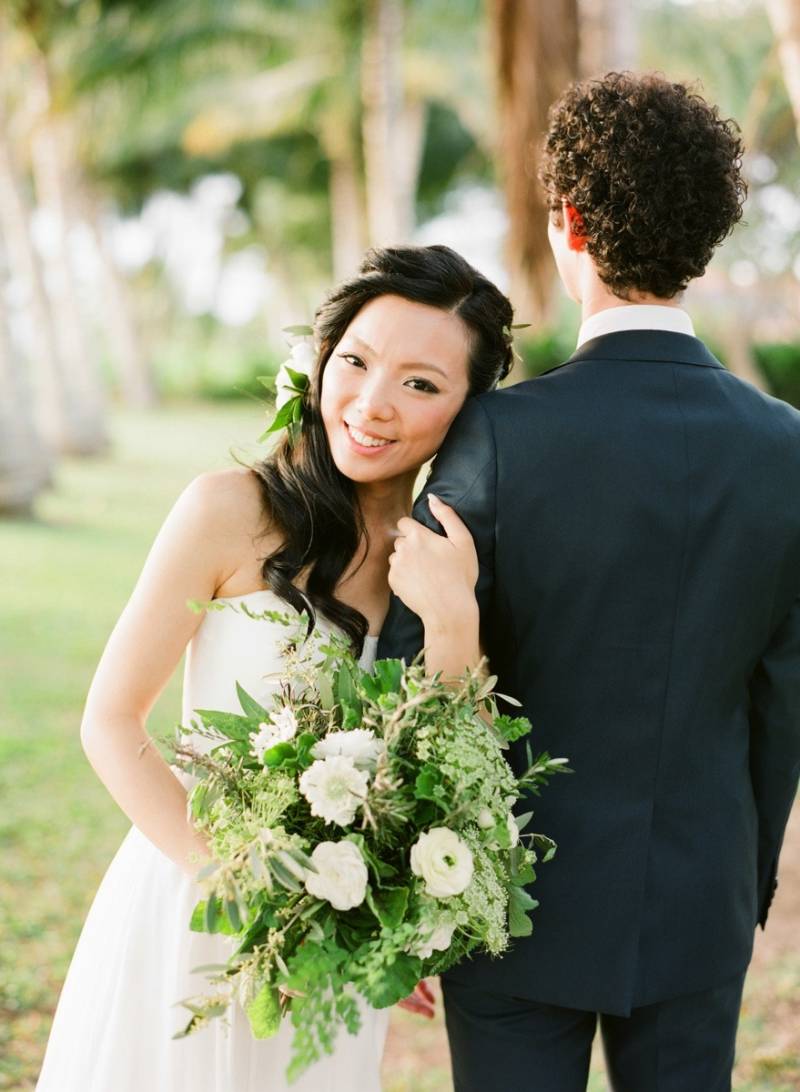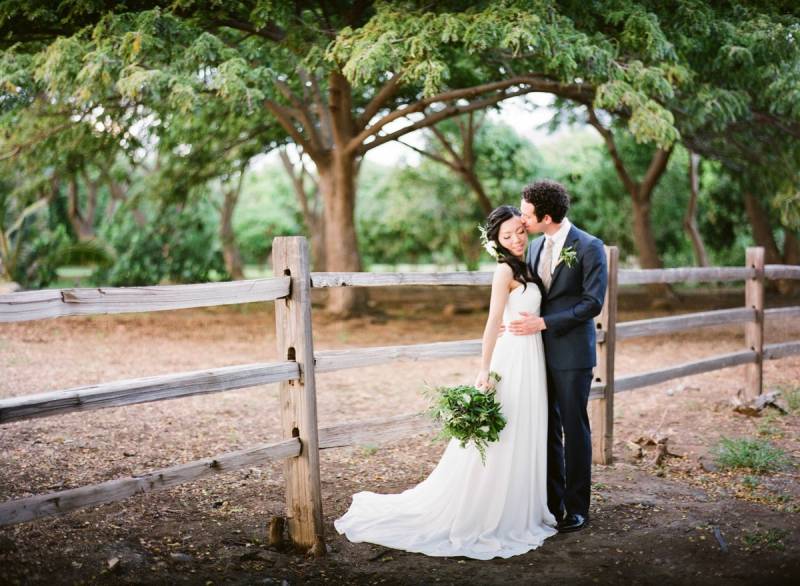 Having been to several weddings where the bride and groom seemed frantic and too busy to spend much time with anyone, we knew we didn't want that. We were so lucky to find such a talented wedding planner, Jane of Belle Destination Weddings & Events, and all other vendors involved. They did a great job in keeping the wedding moving smoothly so we could focus on each other and our guests. It was literally exactly as we envisioned it!