Standing at the edge of the awe-inspiring Big Sur cliffs, Michael Goard awaited his bride, Emily Jacobs. After two days of running around "like madmen" to organize events for friends and family, his mind was still racing until the moment he saw his bride. Escorted by her grandfather, Emily walked toward Michael down the natural aisle, and he recalls, "Suddenly all the details and worries fell away, and it was like, 'This is why we're here.' It was a feeling of arrival."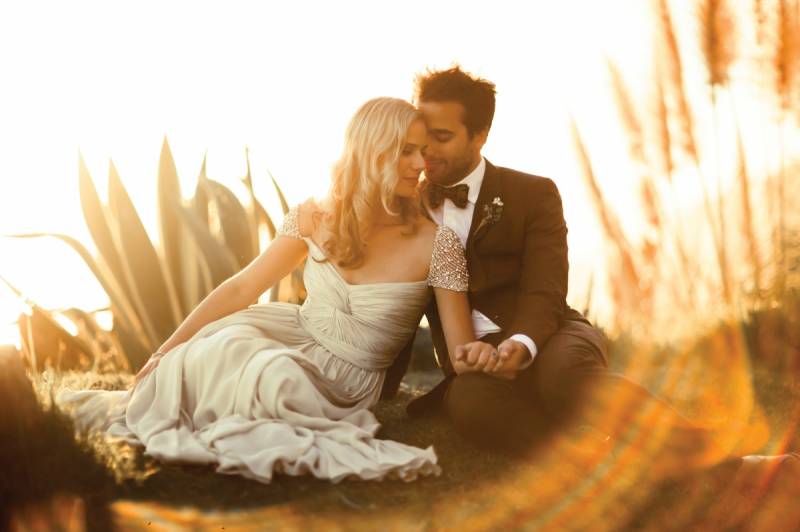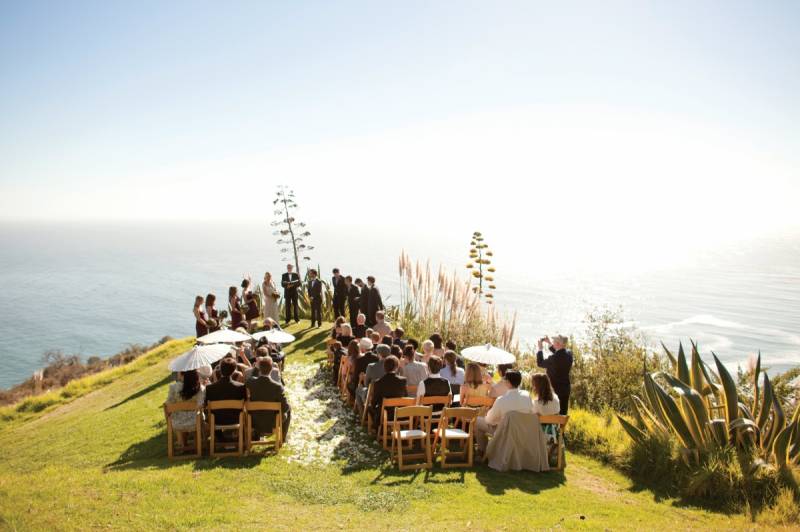 The intimacy of the affair reflected Michael and Emily's hope to surround themselves with the very people who had played an integral part in their love story from the beginning. The two neuroscientists met in 2004 while interviewing for graduate school at Berkeley. Emily, who was still in her senior year at Smith College, immediately spotted Michael, a researcher at Caltech, in the corridors of the hotel where the candidates were staying. And while he can't recall their first encounter, Emily admits, "When I made the decision to attend Berkeley, I secretly hoped the bespectacled candidate I saw in the lobby would be coming, too." Although Michael's parents nudged him toward Harvard, the Ivy League institution would have to wait. Cold winter weather deterred the native San Franciscan, and Emily got her wish. The pair spent the next four years together at graduate school in California, and eventually decided they couldn't live their lives apart.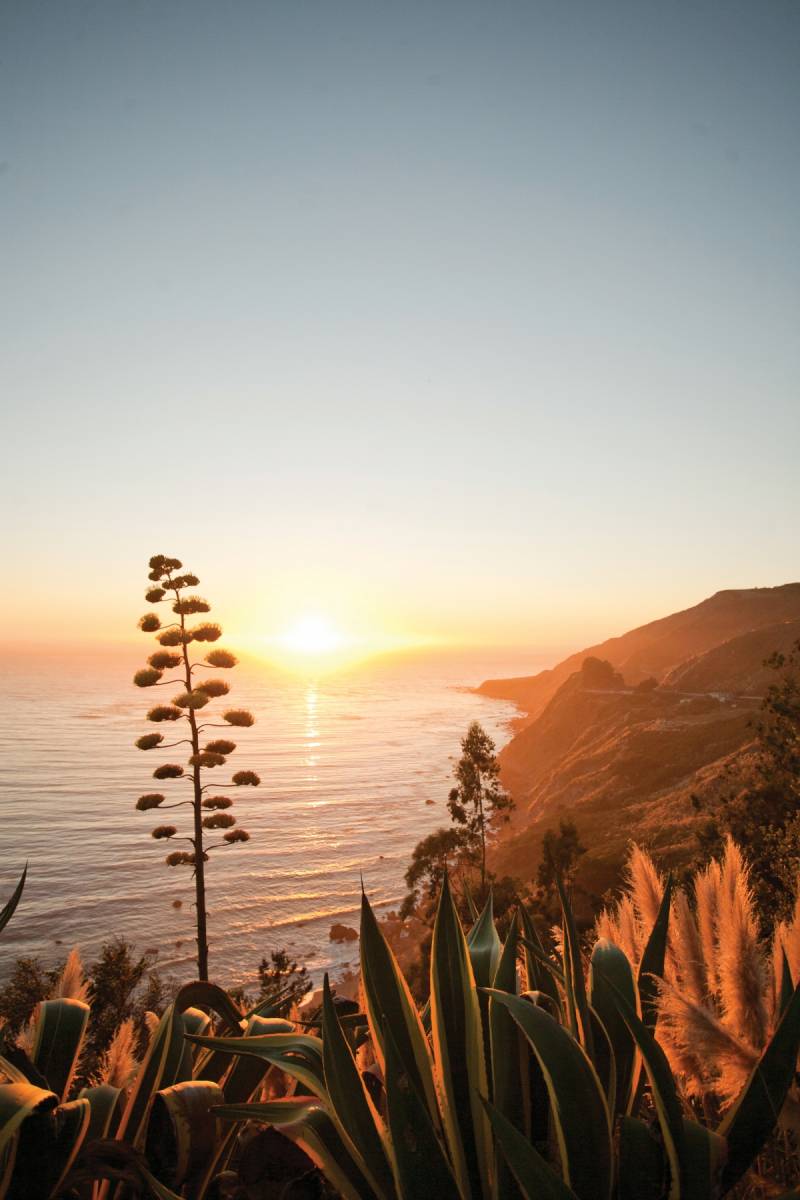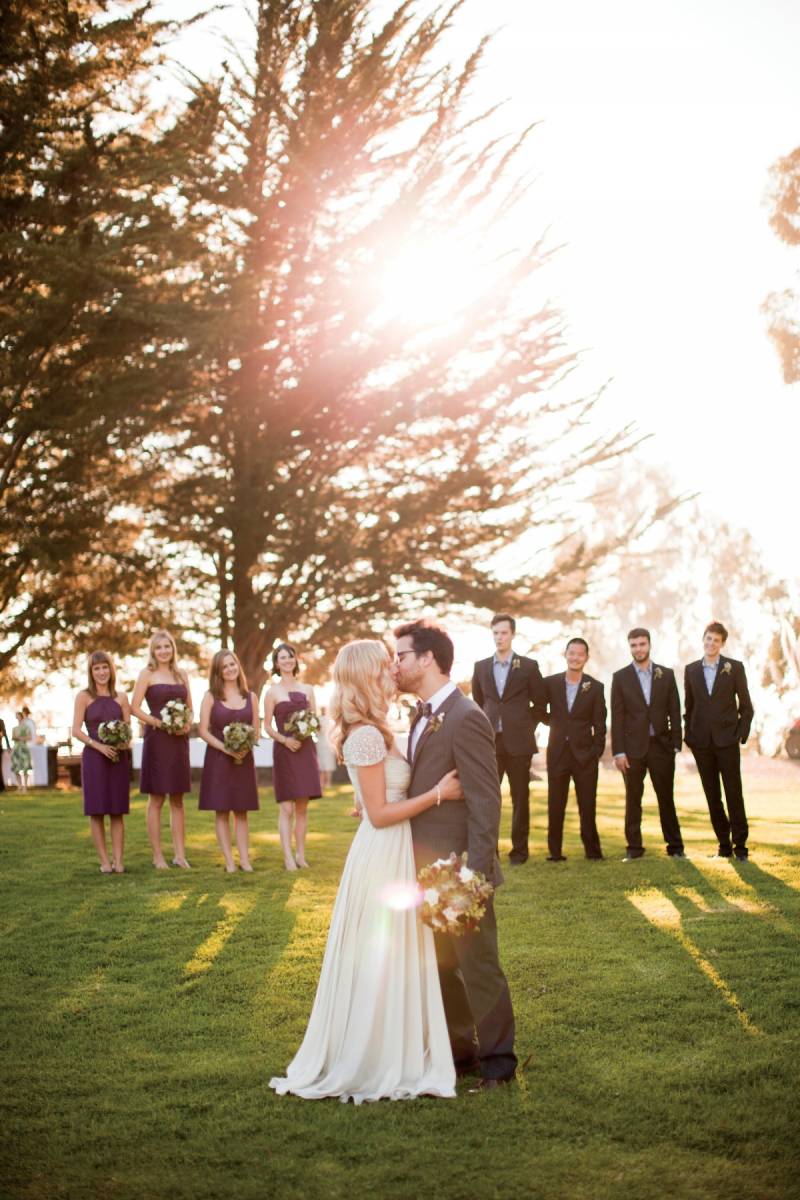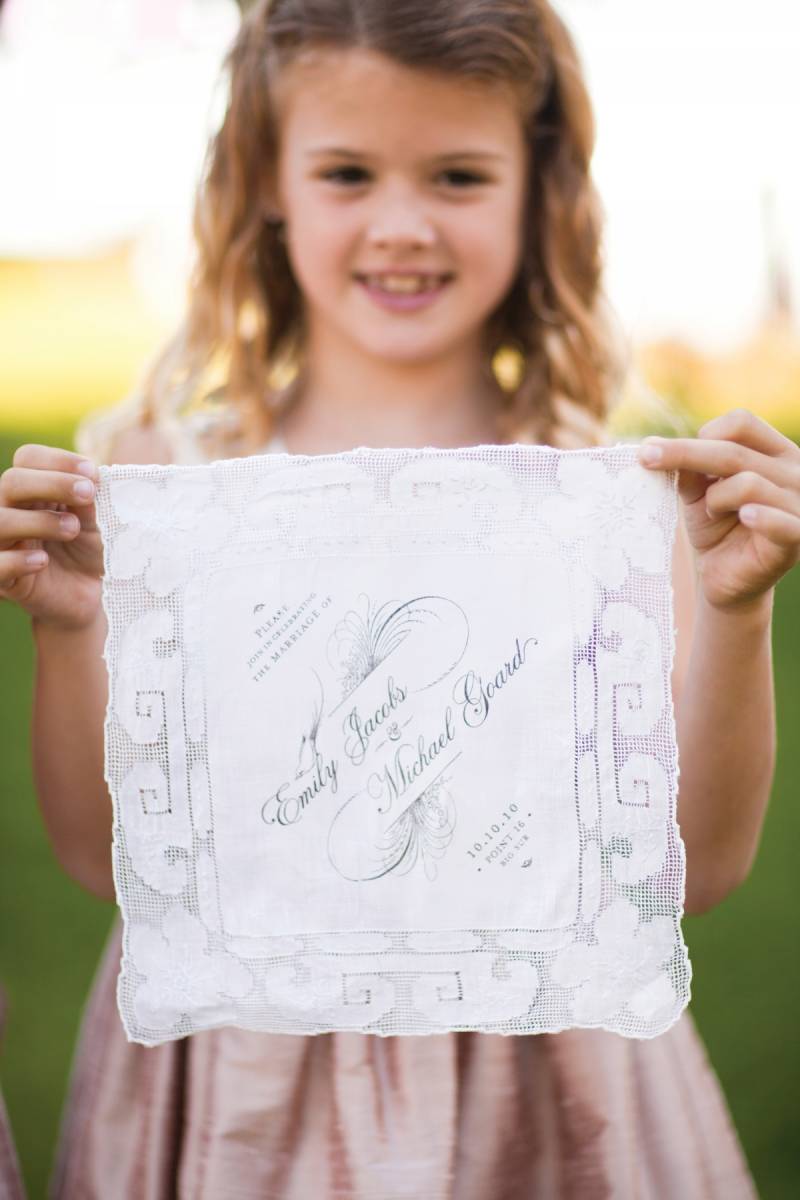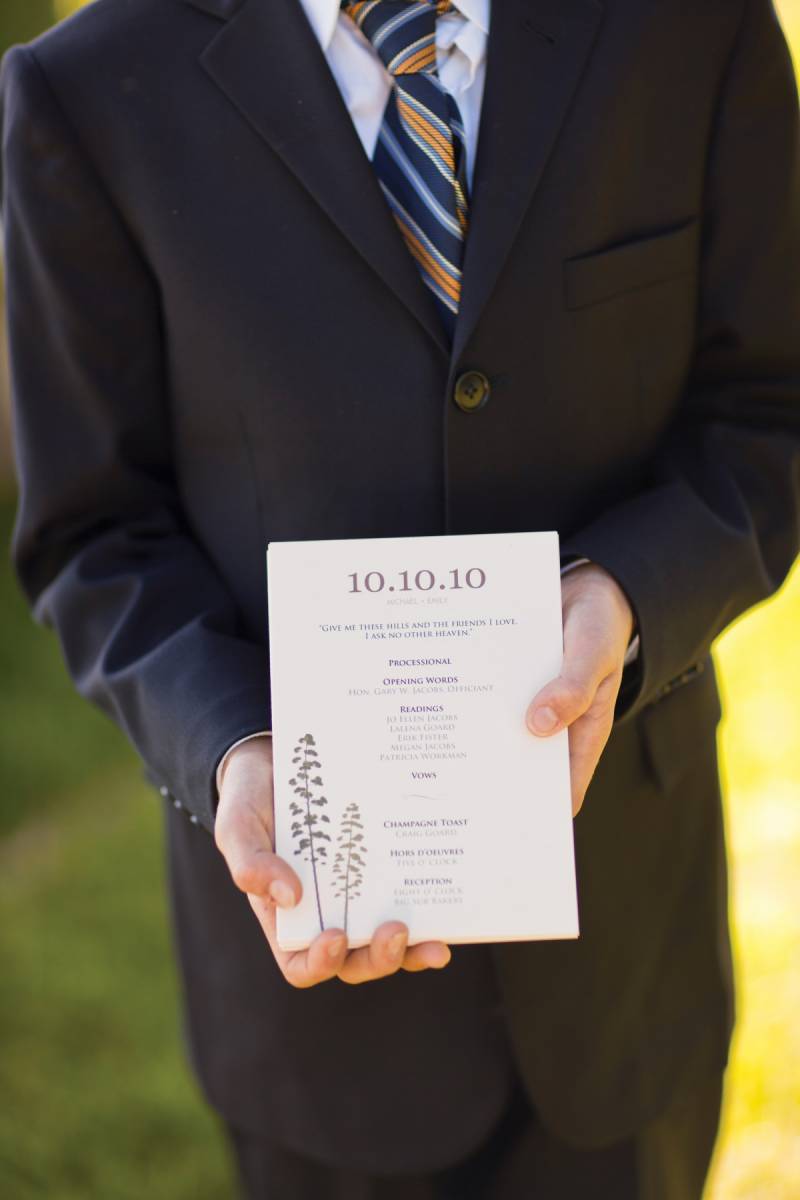 Zach Viera, one of the groom's best friends, designed the wedding invitations, which were screen printed on vintage handkerchiefs—many of which were handsewn by the bride's great grandmother.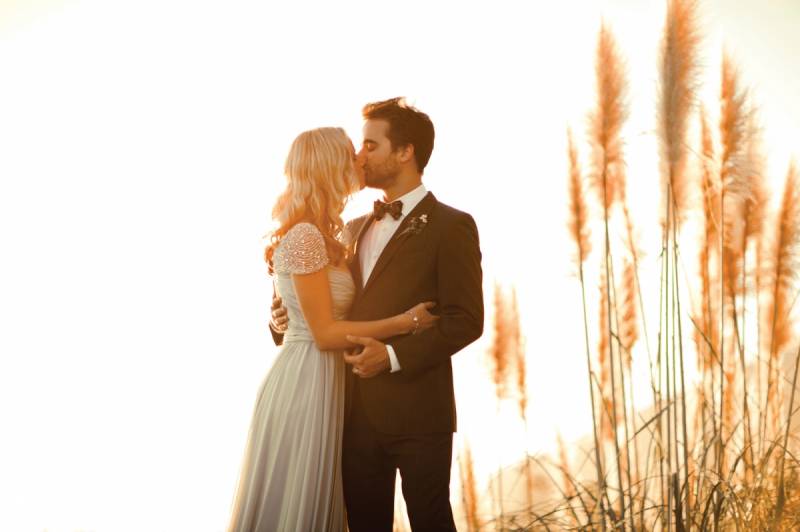 Michael had enjoyed many family holidays in Big Sur, and since his earliest dates with Emily took place there, it seemed the perfect venue to share with their loved ones. Big Sur's misty blue skies, rugged coastline and endless Pacific Ocean created an intensely beautiful setting for the charming personal effects of the wedding.
The wedding apparel was just as extraordinary. Emily selected a dramatic Reem Acra gown in a shade she describes as "somewhere between celadon and grey" and dressed her bridesmaids in a vivid hue of raspberry silk.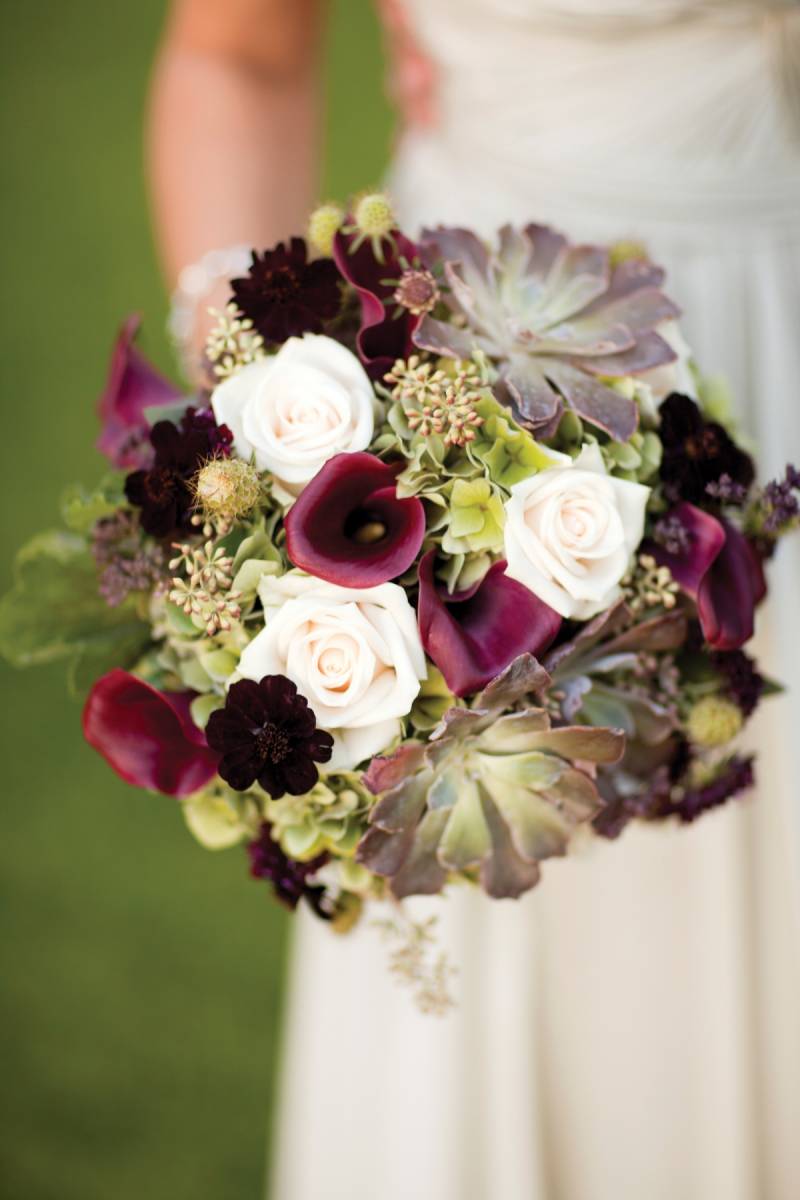 Pewter-green succulents and bromeliads were blended with ruby dahlias, blackberry stems, Texas berries, anemones, thistle and green hydrangea for the bridal bouquet and table arrangements. Silver- blue brunia flowers appeared as tiny suede buttons among the lavish blossoms, the perfect earthy highlight.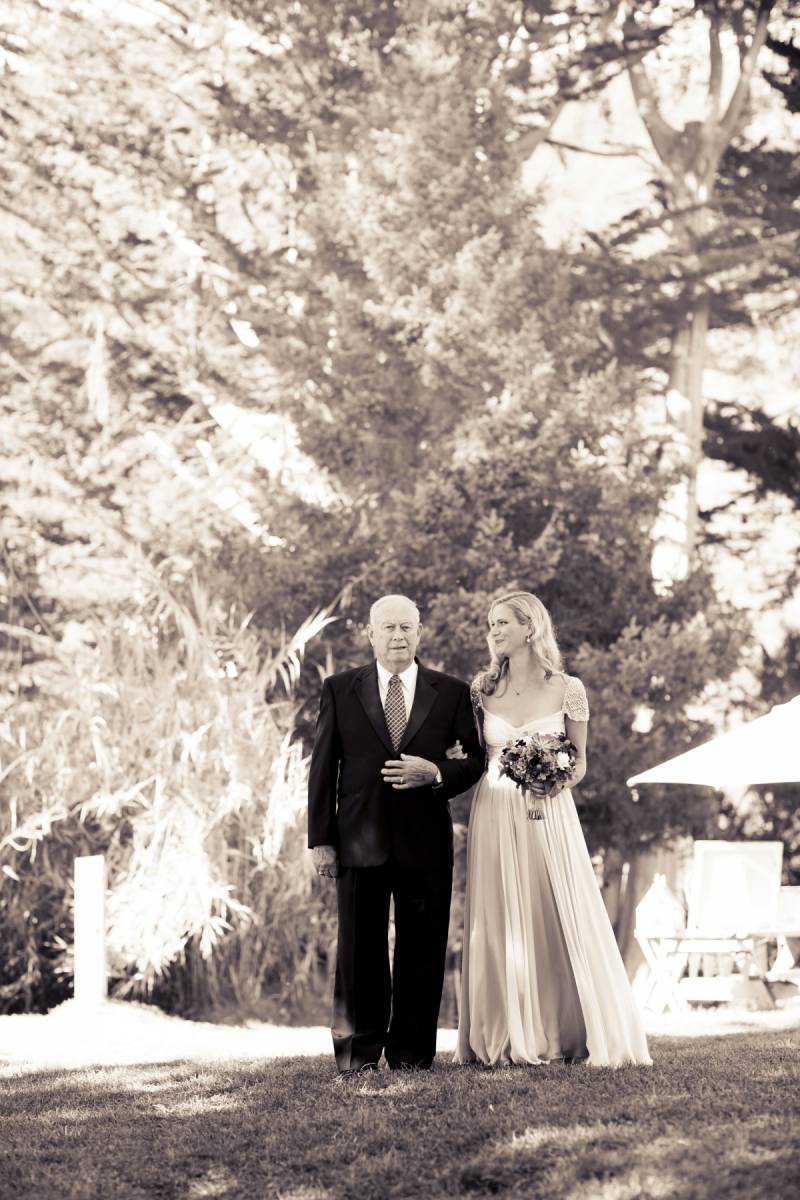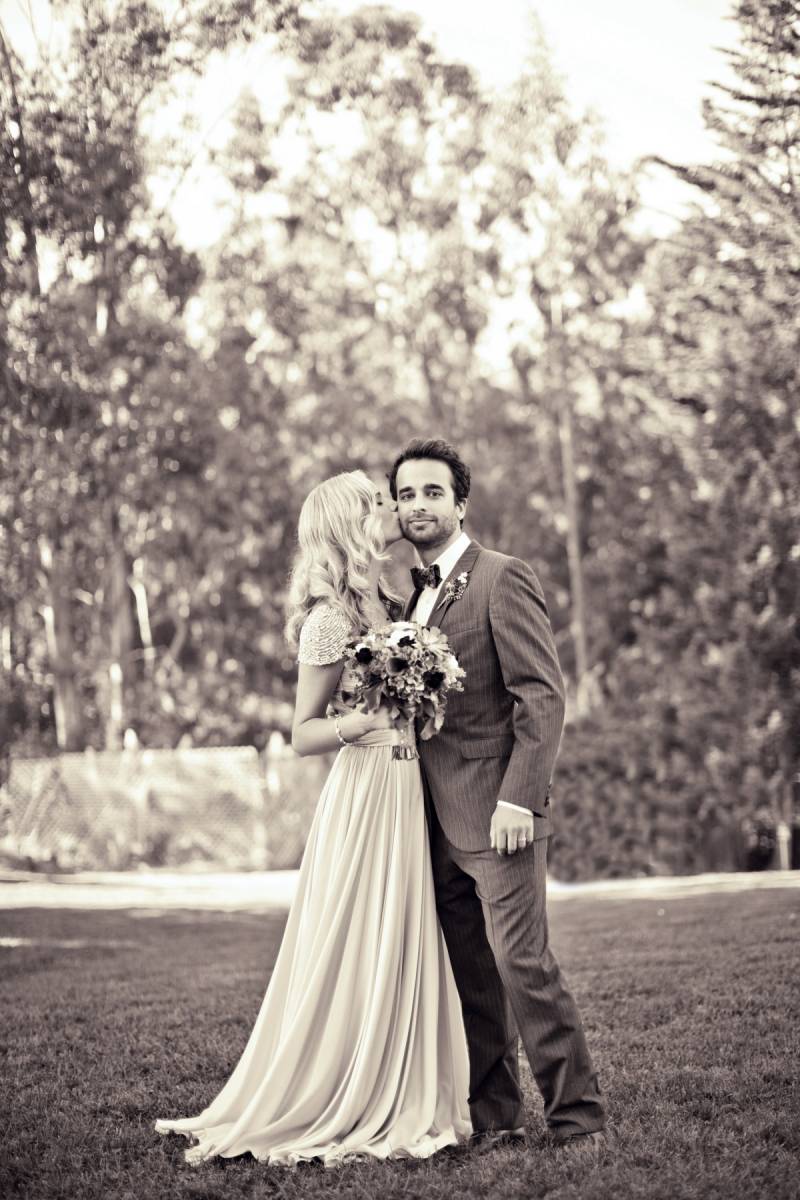 Michael chose a posh Paul Smith suit for himself and festive blue and white checked shirts paired with black suits for the groomsmen—ties not an option.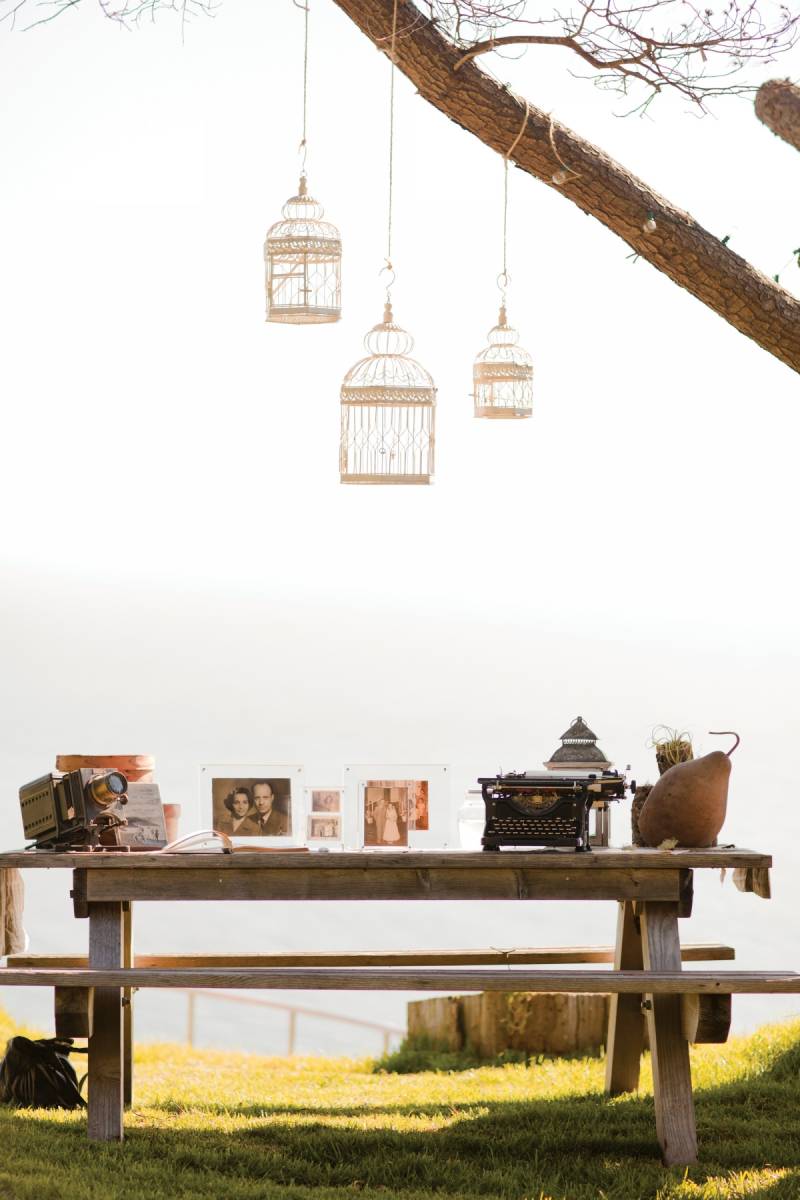 The bride turned to her own quirky collections to create a party that was uniquely "them". She explains, "I adore history, the patina of age, the marker of time. Since we collect old things—typewriters, projectors, books, photographs, cheese boxes, terrariums and birdcages—we just borrowed items from our house." Family photos of the couple's grandparents were placed at a welcome table, at which guests could convey their sentiments via a vintage typewriter.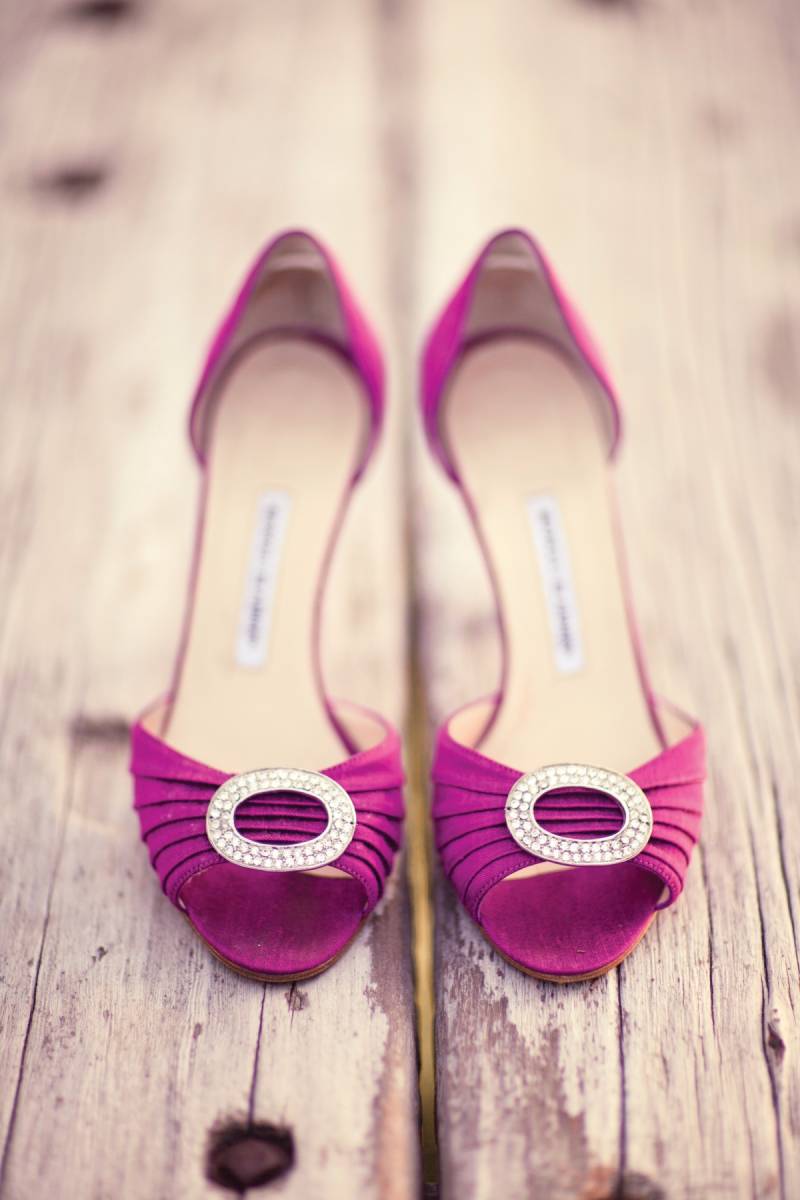 "Miraculously, I stumbled upon a pair of 'Manolos' that matched perfectly," she says.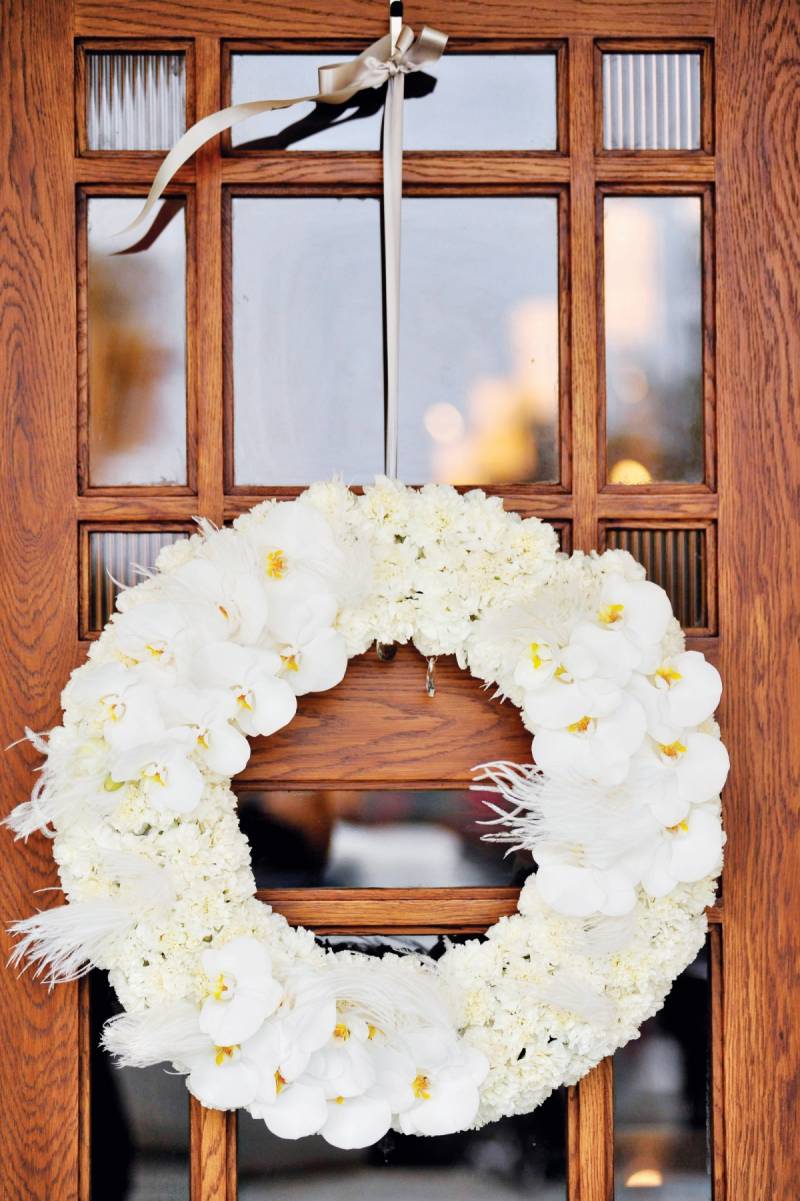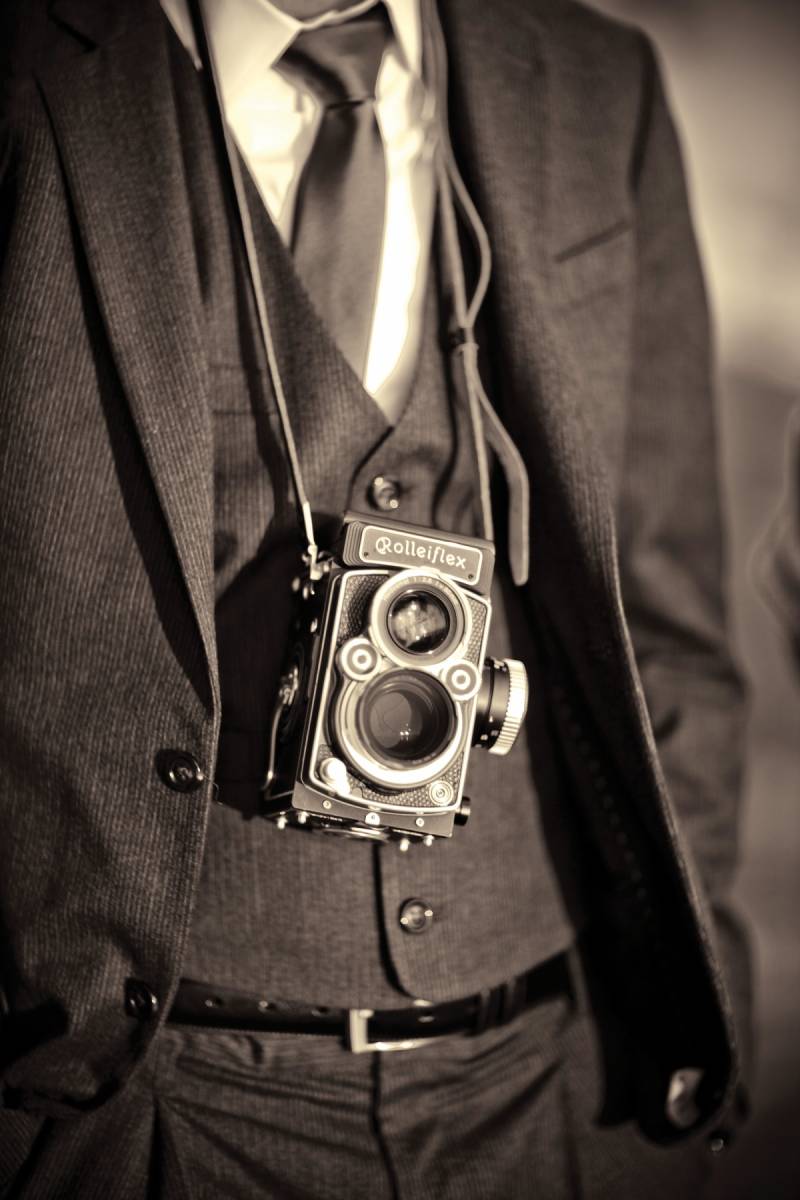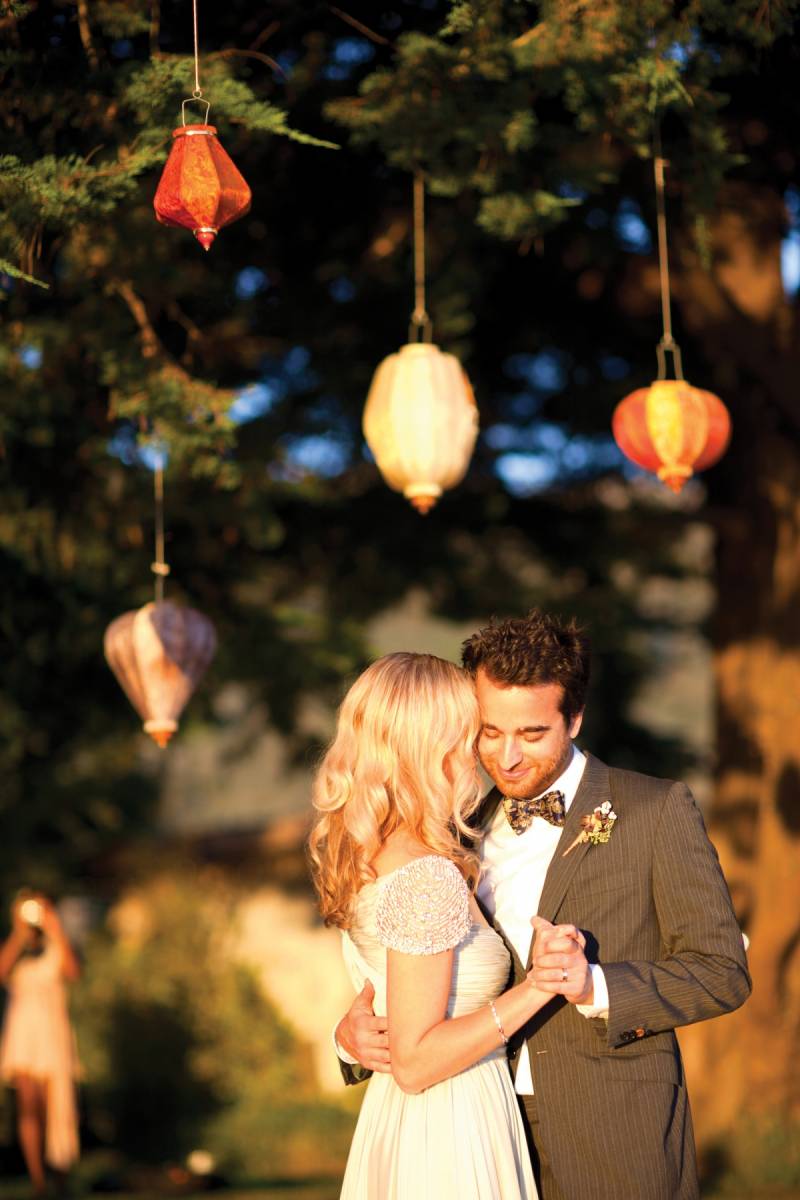 Silk lanterns that Emily brought back from Vietnam provided a delightful burst of color against the rustic wooden stage and also served as a reminder of a mutual love of travel. "Many thanks to my dad for hanging them all one by one!" says Emily. Indeed, she likened their wedding to a genuine community affair, with friends and relatives lending a hand throughout the evening.