I first noticed Jason two years ago at a café on Maui's North Shore. He was witty, intelligent and completely unlike anyone I had met before. After spending a weekend camping with a group of friends in the rugged terrain of Kanaio, he had my interest. Jason hails from New Mexico, while I am a born and bred East Coaster. A shared love of travel and exploration was immediate, and we became acquainted through tales of wanderlust and adventure. Within months of our meeting, Jason had gifted me a round trip ticket to any destination in the world, and before long, we were writing and photographing our way around India and Southeast Asia.
A year later we found ourselves back in the States, happily engaged and excited to wed! We thought autumn in New England to be the perfect time to host our seaside wedding. We really wanted to create an easy-going environment for our families to join together without the typical formalities that come with such an affair. My parents' beach house in Massachusetts provided the ideal setting for our nautical-inspired wedding. Marshfield is a sleepy coastal town that quiets down in the fall. I particularly love the off-season by the sea. Having spent many years in the Hawaiian Islands, I discovered a newfound love and appreciation for New England's coastal charms, and I really wanted to share this with our out-of-town guests. Family and friends arrived from around the world, traveling from Hawaii, New Zealand, Canada, California and Arizona. We kicked off the week-long celebration by hosting an intimate dinner at a favorite seafood restaurant, Haddad's Ocean Cafe, famed for creamy clam chowder and baked lobster. The following night, celebrants gathered at the Nygren family's rental cottage to enjoy a home-cooked spread of Southwestern fare, courtesy of the ladies in Jason's family. All agreed that it was one of the most memorable nights for delicious food and warm company.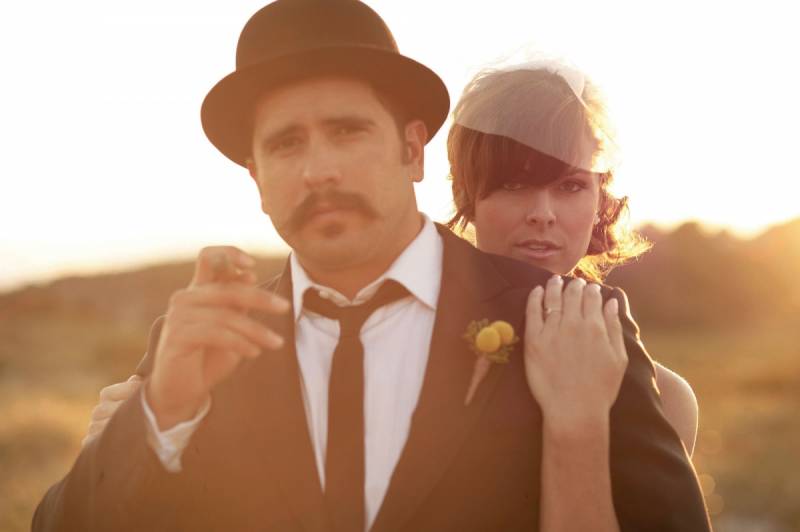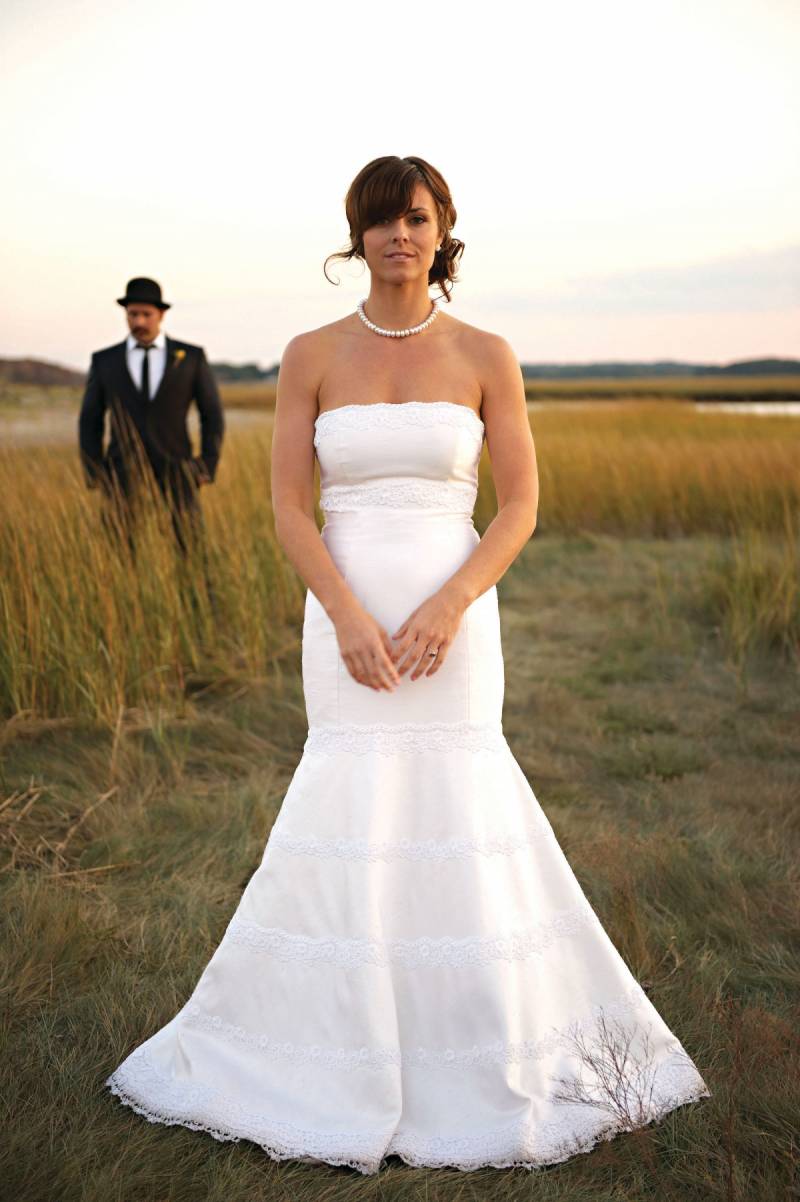 The day of the wedding arrived quickly, and the turbulent seas and menacing clouds cleared to reveal a sailor's sky. The sun warmed the chilly autumn air as boats gently drifted by in the distance. A captain bell sounded the processional as I walked down the grassy aisle hand-in-hand with my father.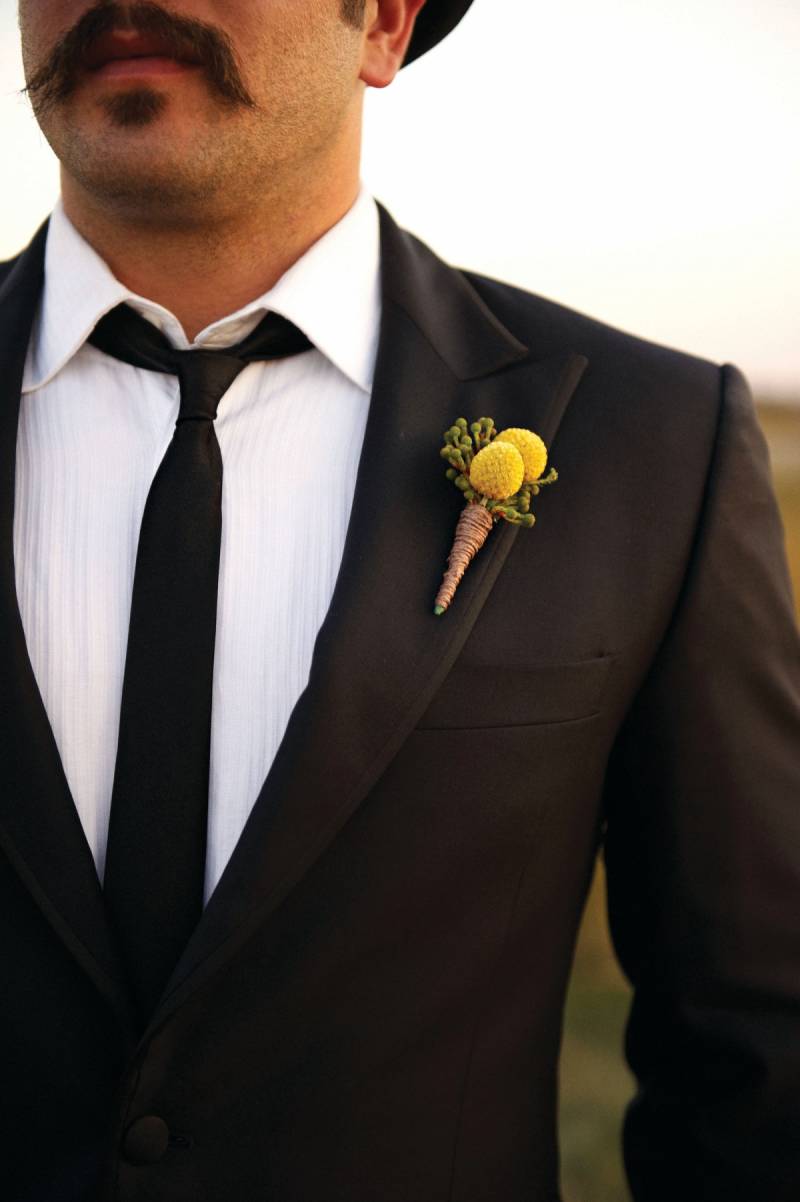 From the beginning, Jason has inspired me with his unique sense of style. The weekend of our engagement, we happened upon a perfectly tailored Paul Smith tux at the Soho boutique, which set the glamorous tone in dress.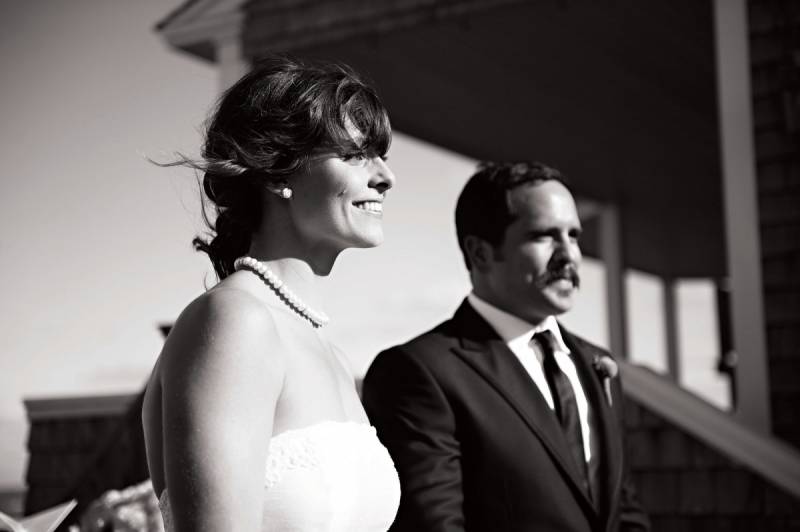 Musician Steven Lord strummed Jason's favorite Simon and Garfunkel tune on guitar. We enlisted our dear friend Carlos Popata to preside over the heartfelt ceremony in his native Maori tongue. Having collaborated with Carlos on every aspect of the ceremony, it was truly a genuine expression of our love. Friends and family members shared poems and readings encouraging us to be like the sea: constant, steady and strong. Jason and I had indeed found a safe harbor in one another. In tribute to the island that brought us together, we presented our parents with Hawaiian lei. The most touching part of the ceremony was when Jason and I turned to face our guests, taking a moment to make eye contact with each one in attendance. We were overcome with emotion as we exchanged memories in silence.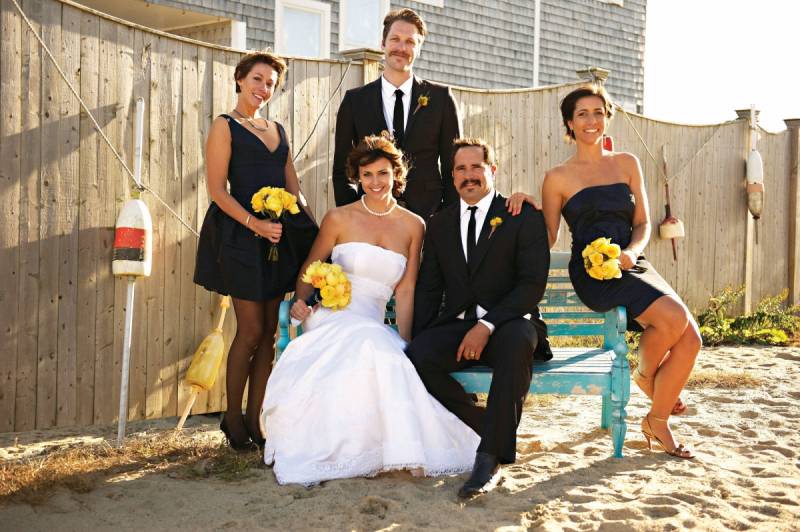 Despite my years of culling bridal fashion as an editor at Pacific Weddings, I had barely dedicated much thought to my own wedding gown. My personal aesthetic tends to lean toward vintage bohemian—on a good day, classic. At Country Weddings boutique, my mother actually picked out the dress—a strapless silk Alvina Valenta gown. Paired with a short veil and wool Anthropologie bolero, the look was at once timeless and chic. I was lucky enough to have my sister-in-law Amalie Nygren, a talented hair and makeup artist, on hand to tend to my tresses. My bridesmaids, Olivia and Laila, wore midnight blue dresses of their choice. I presented them with handmade gold bangles with shells found on the shores of Maui by jewelry designer Kristel Pistol of RockaBella Jewels.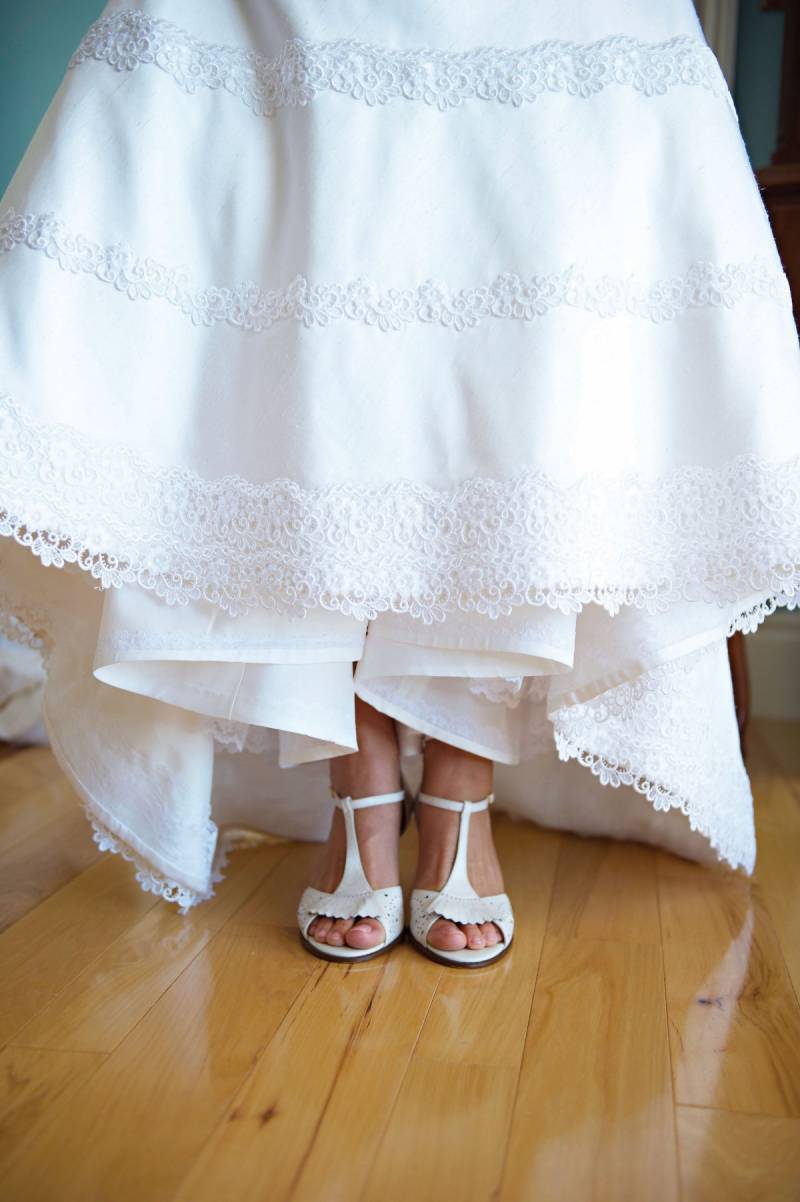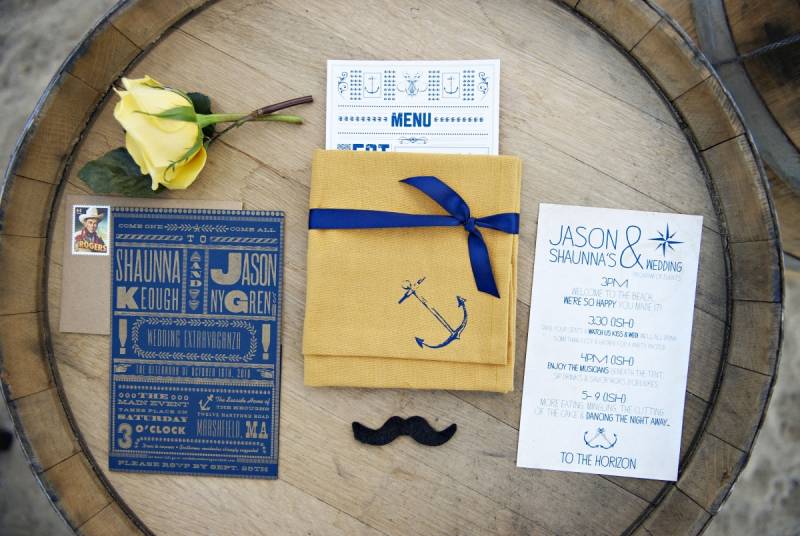 For our color story, we chose dark ink blue and marigold, a beach-classic combo inspired by a favorite bouquet on a past cover of Pacific Weddings magazine. Our vision for a stylish homespun party was realized with the creativity of a handful of friends. My brother-in-law, Greg, illustrated an anchor that we used in various elements from the screen-printed graphic on gold napkins to the printed matter. Graphic designer Jesse Vuona created the vintage Parisian café menu and program for the day, and his wife Sarah captured candid moments on 35mm film.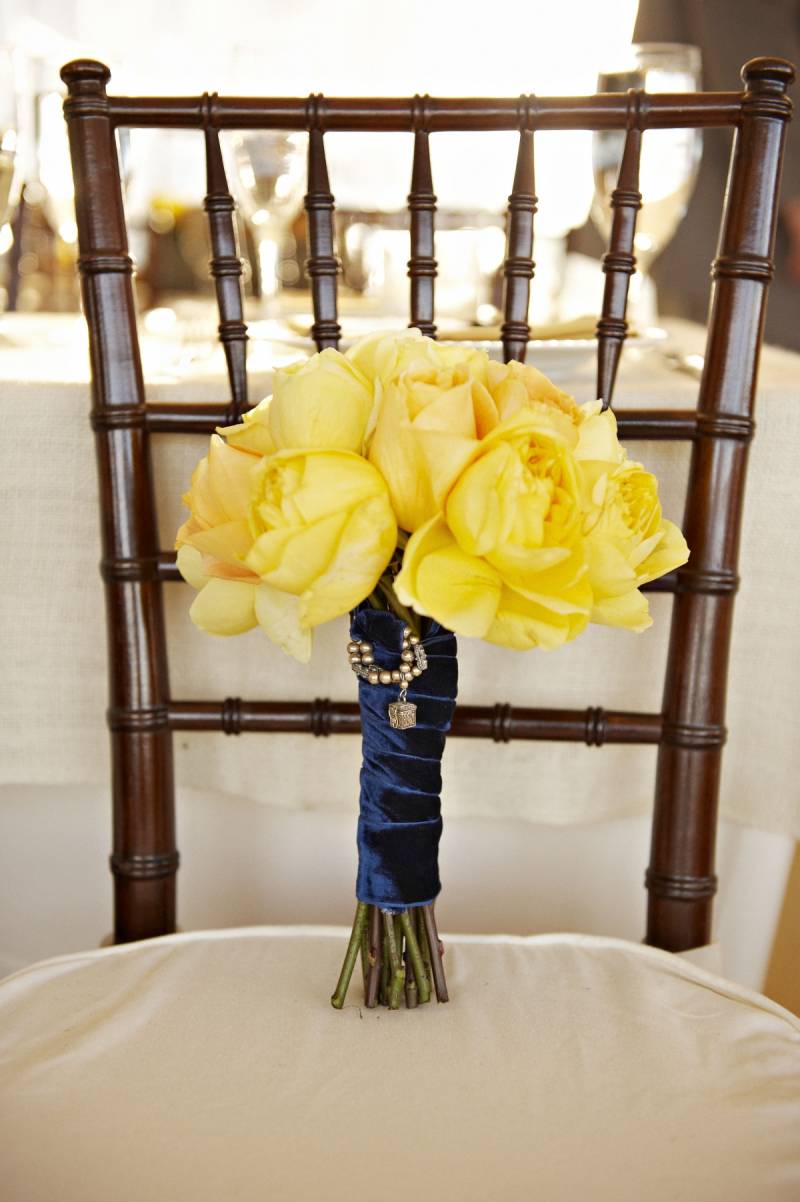 Boston-based florist Luiz Diniz of Four Seasons Greenery carefully attached my Grandma Noni's antique bracelet to the velvet ribbon on my bouquet.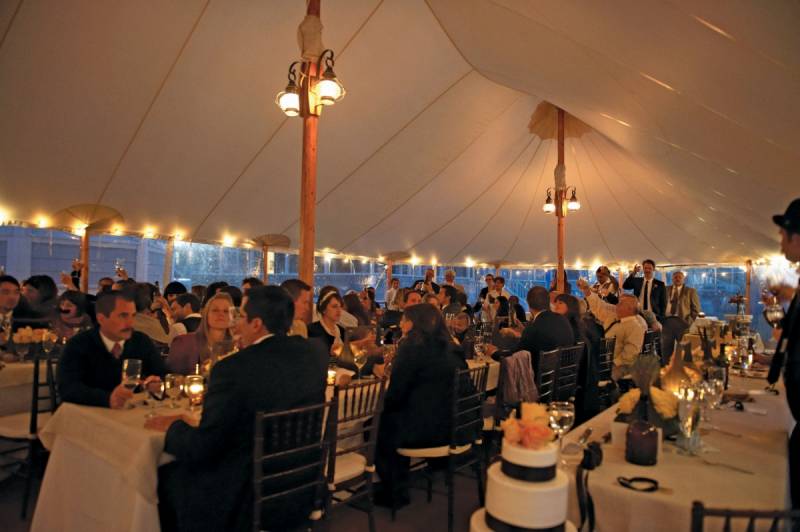 As the ceremony commenced, guests made their way to a grand white tent aglow in candlelight. The simplicity of nature inspired the floral arrangements of Bosc pears and roses in buttery shades of yellow, placed in wooden farmhouse boxes.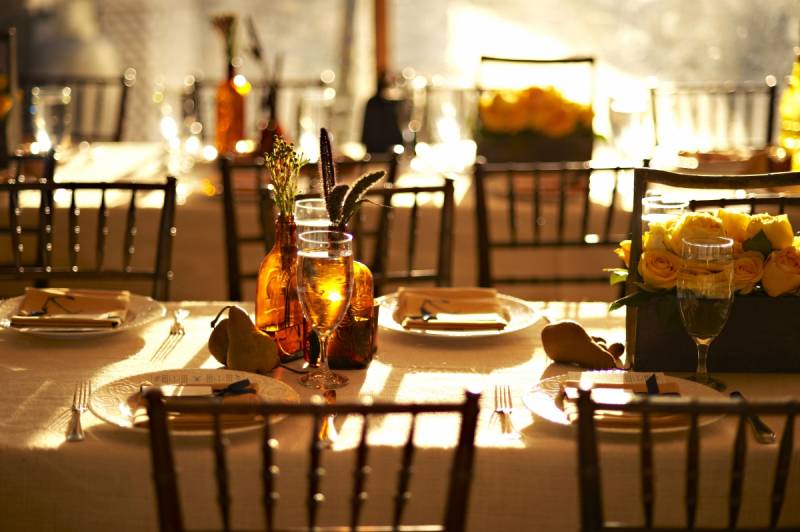 My cousin Jesse Acciacca, a talented artist, created the signage for each table using old sailor terms such as "Rocked in the Cradle of the Deep" and "Hoist the Main Sail".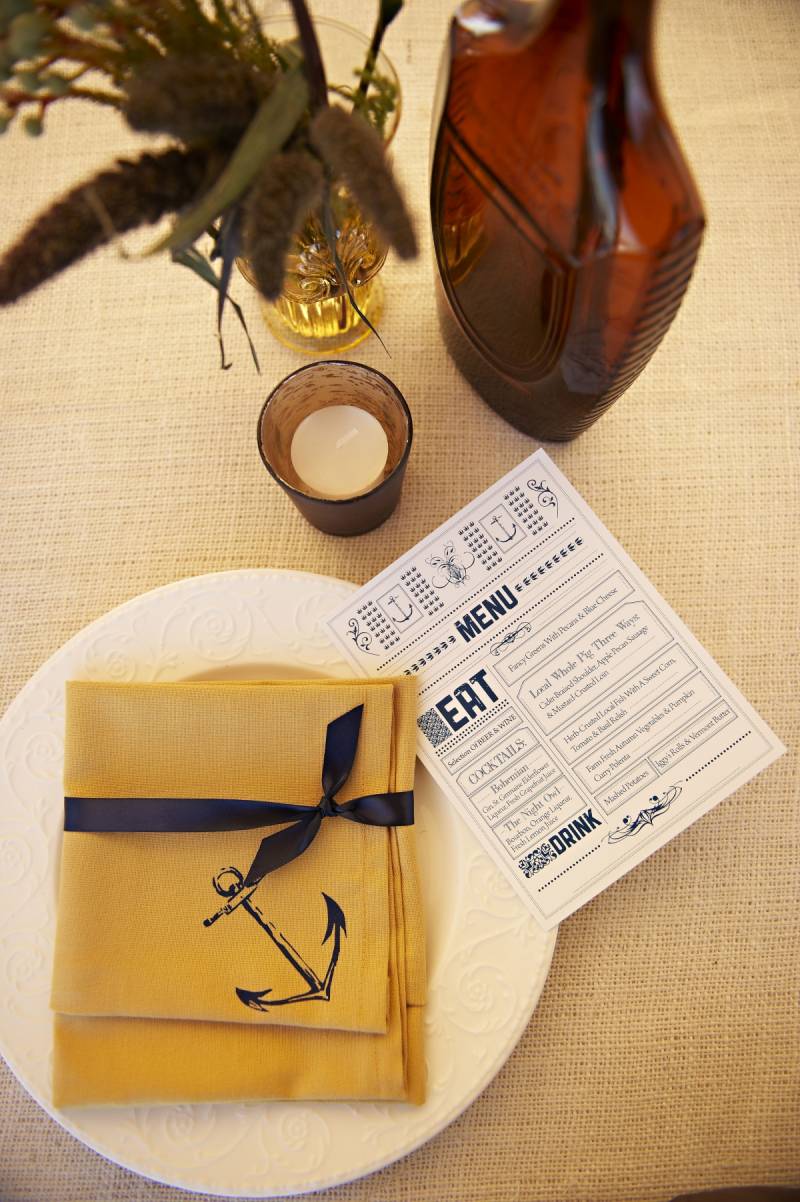 In looking for ways to add blue to the space, we used salvaged objects found in our travels across the country, from old Bitters bottles to oil lanterns and hand-blown glass balls wrapped in fishing net. My mother and I delighted in collecting antique pedestals and amber bottles at New England's many flea markets and thrift shops. We embraced the imperfections of each fragile bottle and incorporated subtle nautical motifs into the décor.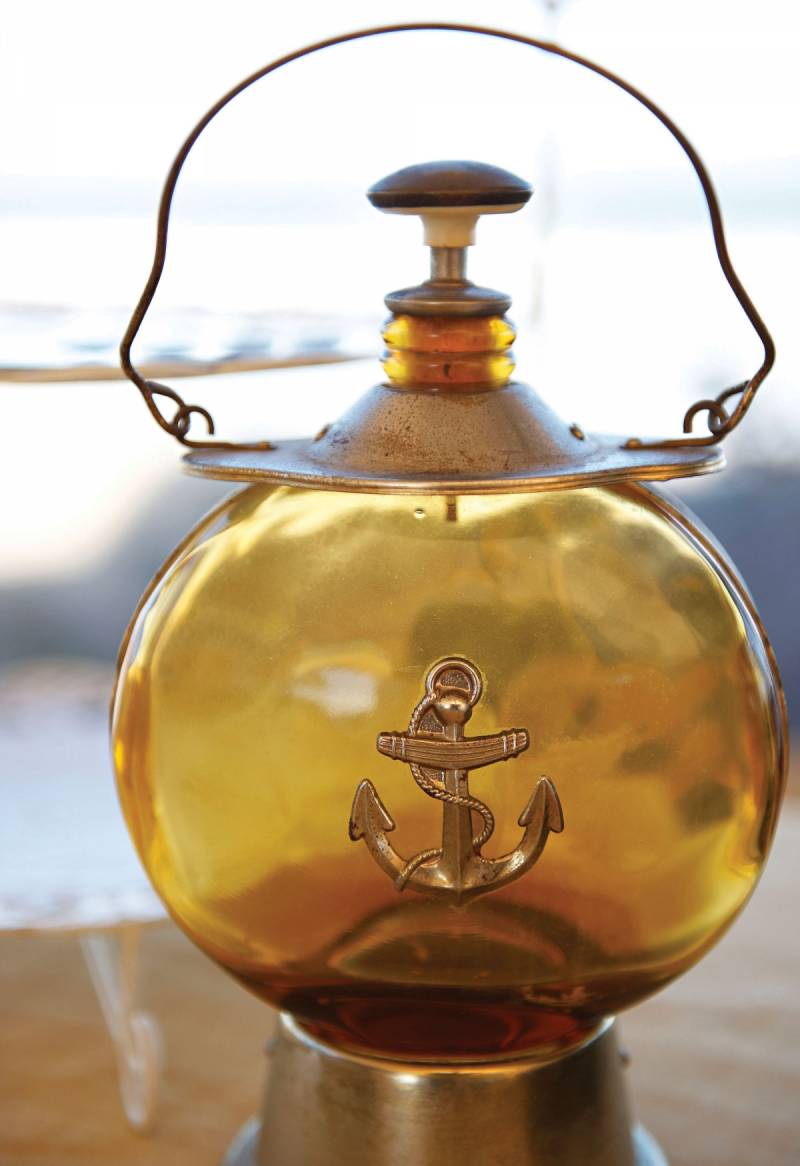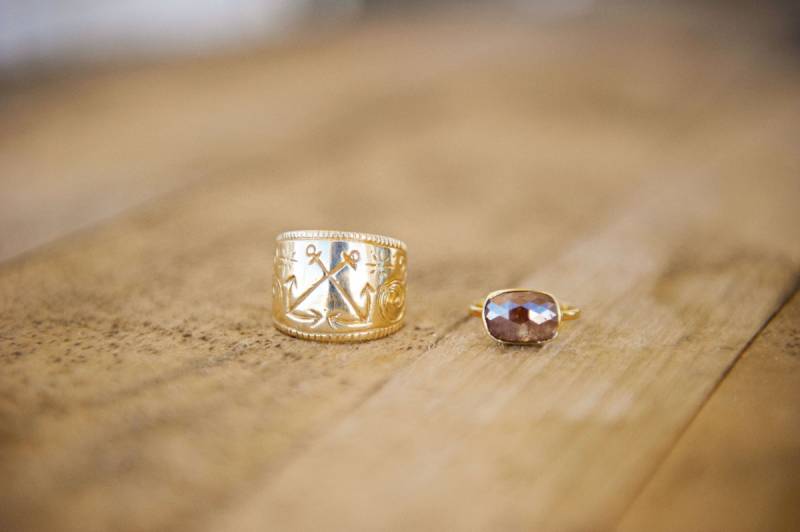 Jason has long admired the traditional tattoo work of Sailor Jerry—the true nautical style of days passed owes much to the balance between rough and polished elements, from surface to function. We chose the nautical symbol of an anchor in homage to the sea, and, more importantly, on this auspicious day, we felt we were anchoring ourselves together in love. The symbol of two crossed anchors is tattooed on Jason's ring finger. He commissioned California artist Nick Potash to design and create his gold wedding band with two crossed anchors etched on the surface to match.