When Fred Patacchia, Jr., a professional surfer known locally as "Freddie P", asked island beauty, Melissa Gomez, to spend the rest of her life with him, there was no place more idyllic than the middle of the Pacific Ocean. For some, the idea of getting down on one knee atop a jet ski might be considered a high-risk proposal. There is, of course, the diamond ring to bear in mind. And, on that particular day, the unruly ocean waves so characteristic of Oahu's North Shore presented a serious challenge. While Melissa snapped photos of the golden sunset in the distance at Haleiwa, Fred managed to make a bracelet out of fishing line to secure the ring around his wrist. Melissa recalls, "I was so shocked and overwhelmed, I cried uncontrollably and shook my head 'no.' I finally managed to say what I meant to say all along— 'yes'!"
The couple chose a private oceanfront cove with stunning views as the setting for their January 9, 2011, affair. Lanikuhonua, which in Hawaiian means, "Where the heavens meet the earth", is tucked away at Ko Olina Resort and Marina on the west side of the island. "It was love at first sight," says Melissa of the wedding location. "It almost felt like a destination wedding—I've lived in Hawaii my whole life and have only been to Oahu's west side a handful of times. It's a place like no other." The day before their celebration, the winds were blustery and rain poured from the sky. On the day of the wedding, however, the couple and their 300 guests were welcomed by the sun, and the glistening azure sea provided the backdrop for their vows. The honorable Chuck Furuya, the bride's stepfather, presided over the touching exchange. Melissa says, "I know my mom married her soul-mate when she married Chuck. They are a couple that Fred and I admire and truly respect. It seemed only fitting that he perform our ceremony."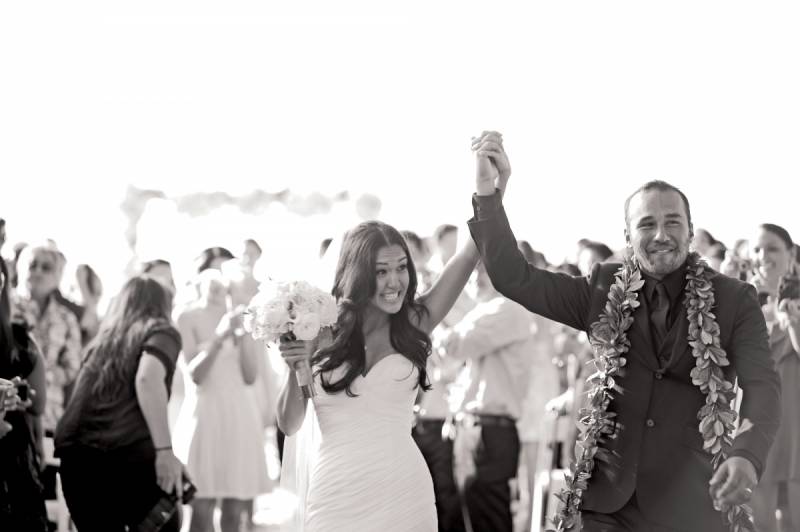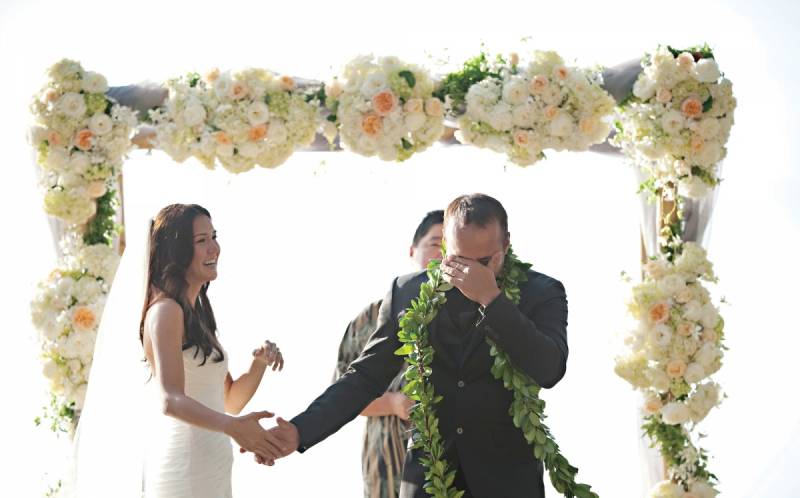 At the reception Melissa had just one request: she wished to see the sky all night long. Wedding coordinator Karisa Ramolete Hayashi adhered to the bride's "no tents policy" as well as her vision of "a pretty French vineyard" in decorating the expansive lawn. "Lanikuhonua at Ko Olina is such a naturally beautiful place, we wanted to go as minimal as possible," Melissa says. They chose to highlight the vivid tropical surroundings with light shades of grey and soft peach. "I've always liked the look of flower petals that have faded over time," says the bride. Florist Sueveangela Yamaguchi of Su-V Expressions focused her attention on the bamboo arbor, which she draped in luxurious clusters of white hydrangeas, Juliet David Austin roses and orchids for the ceremony. The bride eschewed traditional floral centerpieces atop the tables, opting for an organic display of river rocks and birch branches placed in clear glass vases.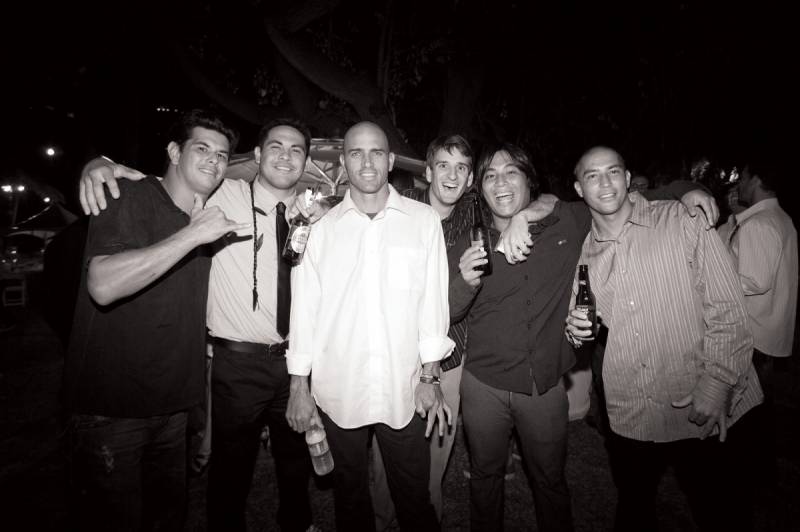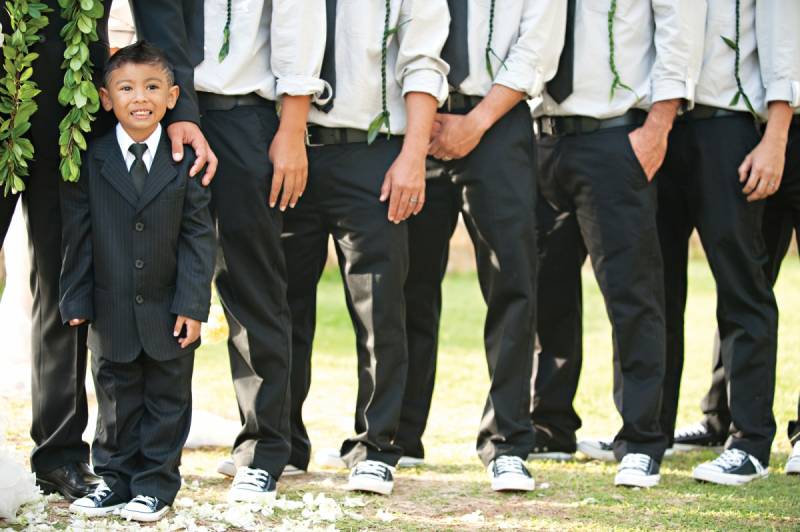 Almost everything about the couple's celebration bore their deep devotion to the island, from the traditional "Old Hawaii" ceremony to the display of Hawaiian delicacies and fresh island seafood at the reception. Even the groomsmen were dressed head-to-toe in Quiksilver, a casual nod to Fred's brotherhood of watermen. Hawaii is the storied playground for some of the world's most famous surfers, so it was no surprise to count world champions Kelly Slater, Mick Fanning and Sunny Garcia among the guests. "Since we travel so much with the surf community, we consider our friends an extended family," Melissa says. Fred was a handsome groom in a black three-piece suit with a traditional maile lei.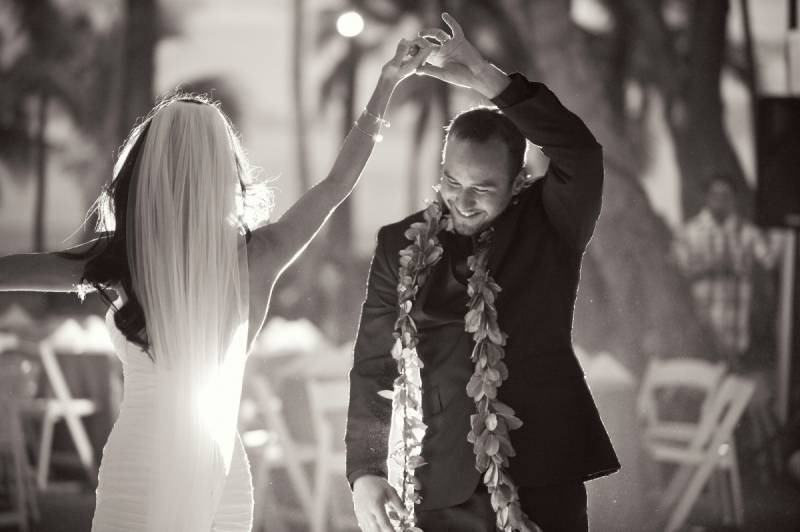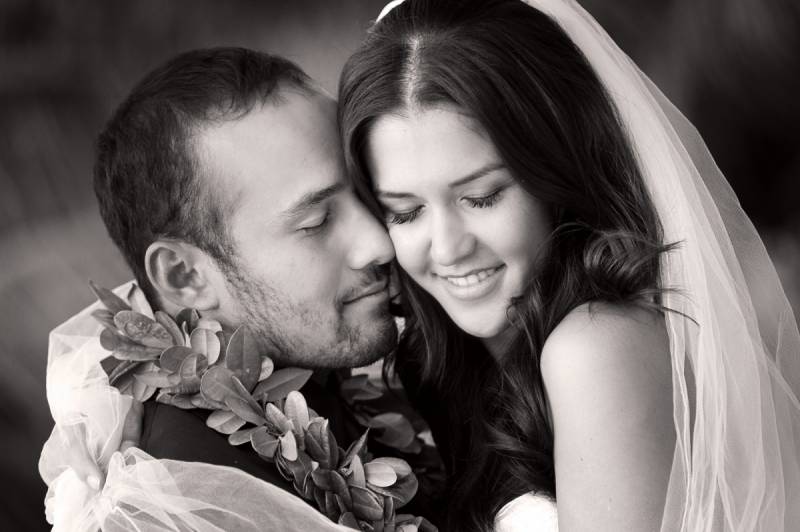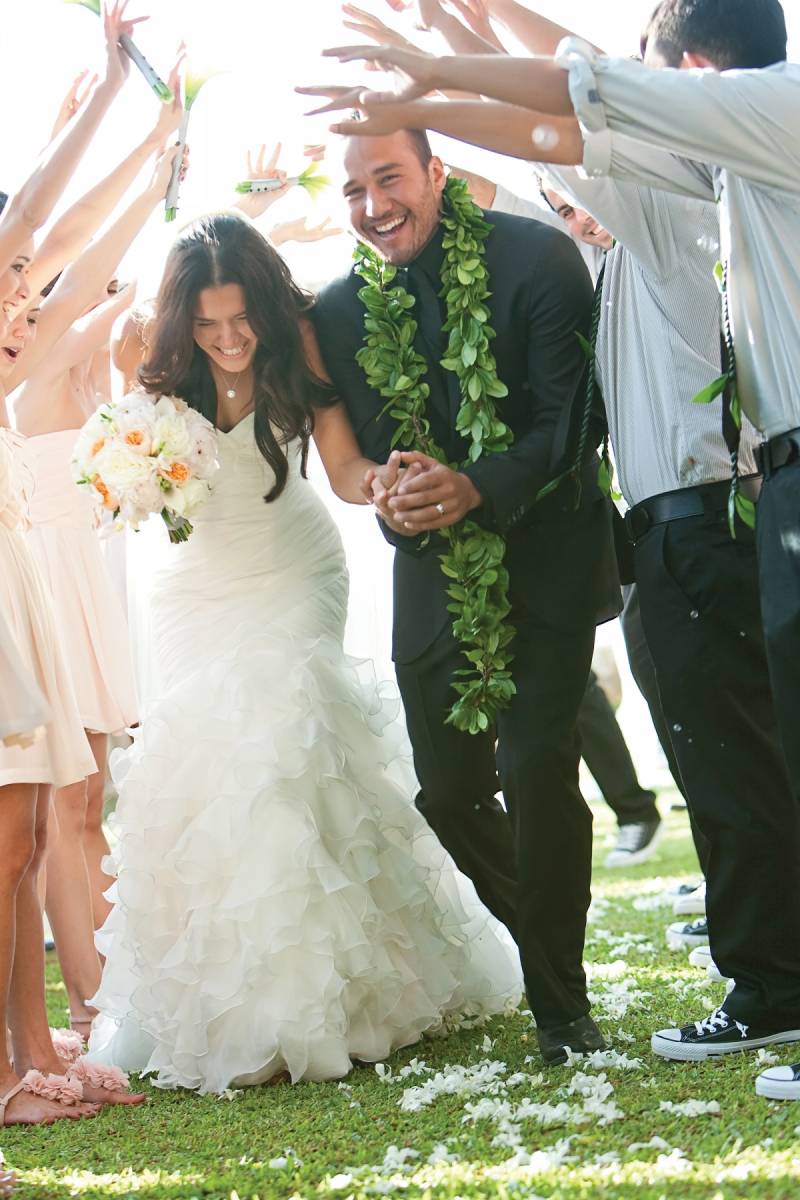 The gorgeous brunette wore a strapless Pronovias gown with layer upon layer of chiffon cascading into a dramatic three-foot train. She was surrounded by her attendants in feminine pink dresses with loose flowers tucked in their hair. Melissa carried a lush bouquet of white Juliet David Austin roses, mini calla lilies, freesia and lisianthus with soft peach peonies for a hint of color. Her bridesmaids held calla lilies for a classic look.