Josh and Kara met four years ago in Flagstaff, Arizona. While they both are alumni of NAU, they didn't actually attend the school at the same time. A year after he graduated, Josh was on campus for his younger brother's graduation. As fate would have it, he and Kara ended up at the same graduation party for a mutual friend.
The bride shared their meeting, "Josh saw me from across the room and decided to take a chance and talk to me. We introduced ourselves and the conversation lasted less than 2 minutes before he was rushed to leave by his brother. He told his dad later that night that he had met the girl he was going to marry...Months went by and we didn't talk (he didn't get my number). Fast forward to Thanksgiving Day and I received a very bold facebook message stating, 'Hey! You're my future wife that I met in Arizona, right?' I laughed and agreed, and we haven't stopped talking since then!"
After graduating college and almost two years of dating long distance, Kara moved to Maui to be with Josh.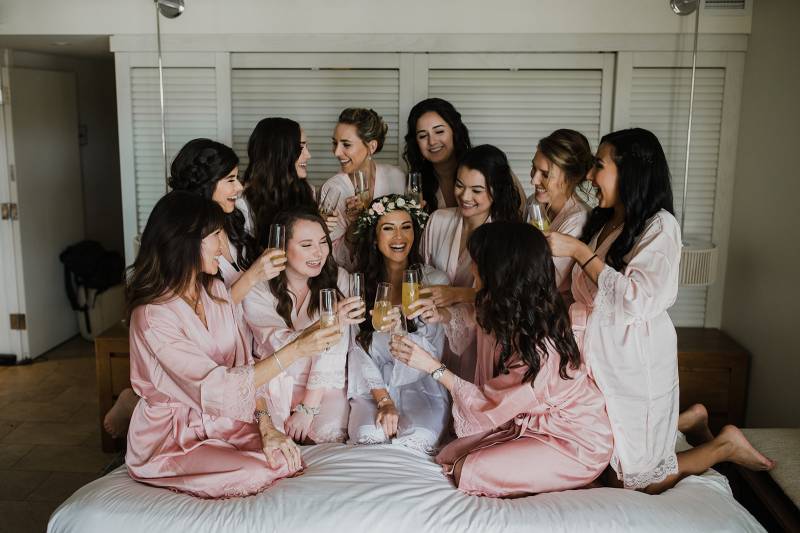 The proposal as told by the bride:
"The day before Easter in 2018, Josh decided he wanted to take me on a picnic in Poli Poli right above the Lavender fields. The night before, we got in a huge fight because he said he had NO plans of proposing anytime in the near future. So of course, I was grouchy as we drove up to the picnic. When we got there, a ton of teenagers were camping in the spot Josh planned on popping the question, so he was a bit stressed out. I couldn't figure out why out of the 100's of acres of grass, he wanted the spot right on the edge of the field. We waited for them to leave and then Josh set up our picnic. He said he had an Easter gift for me and pulled out two giant easter eggs. He handed me the first one which had my favorite chocolates, and then the second which was a hand written letter about how thankful he was that I moved across the ocean to spend my life with him. When I finished reading the letter, I looked up and Josh was down on one knee holding a gorgeous ring. I'm not sure what he asked or the words that came out of his mouth, but I dropped the eggs, covered my face and cried as I said, 'Is this real?' He finally had to ask me, 'So is that a yes?'"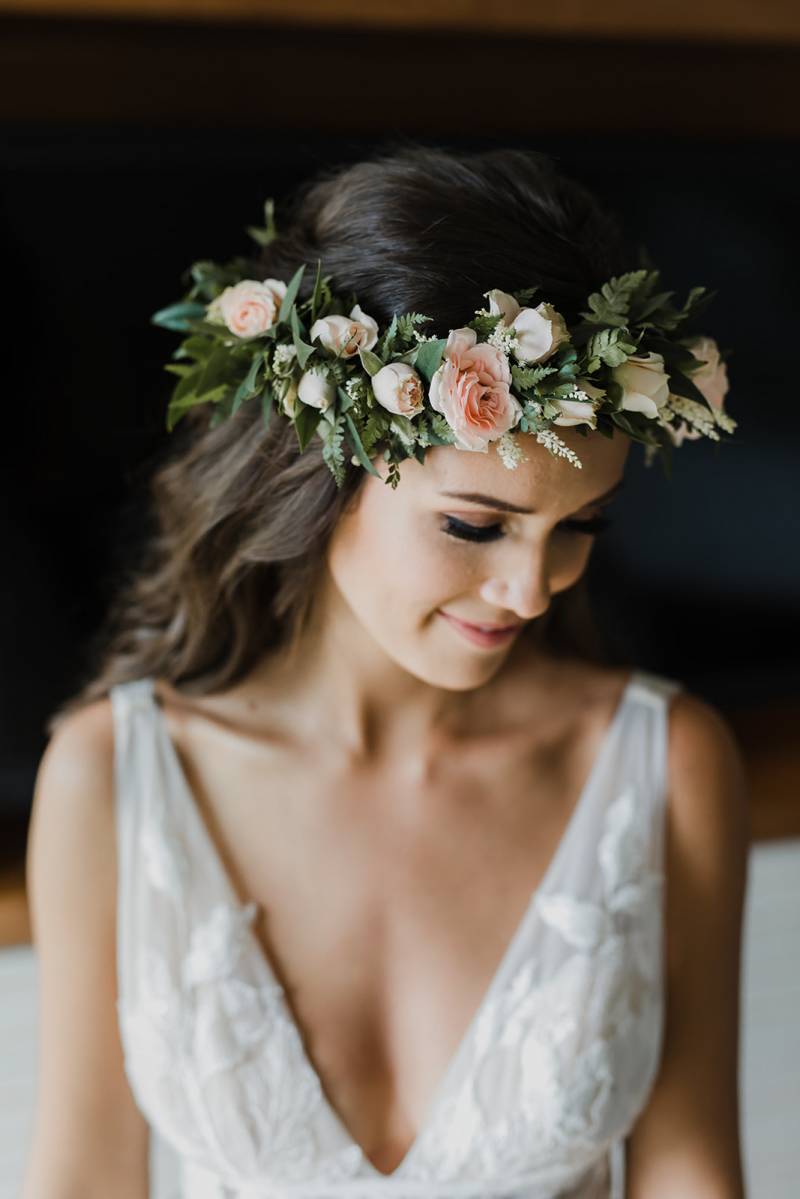 "My bridesmaids wore blush dresses, and I used mostly greenery as decoration. Our flower arrangements were filled with eucalyptus, light roses, some different greenery and small white flowers with a final touch of a pink king protea. I wore a haku on my head to match the bouquets. I wanted to feel like a Hawaiian goddess."
"My favorite memory of our wedding day were hearing Josh's vows. I wish I could write them in here, they're so dang good. Honestly, Stephanie [of Stephanie Betsill Photography] caught my emotions perfectly of that moment. One moment Josh had me crying with his sweet words, and the next I was laughing because he was singing Back Street Boys. It's a perfect memory that really captured our relationship as a whole and a constant reminder of why I married my best friend."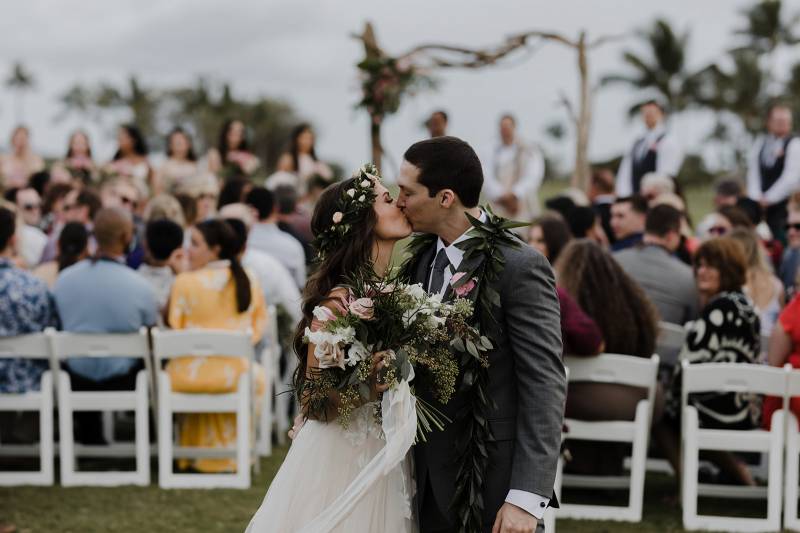 Rather than creating a theme for her wedding design, Kara wanted to use simple decorations to focus on the natural beauty of the island.
"We got married on a golf course surrounded by palm trees, so I didn't feel like any decoration during the ceremony was needed. I chose light colored driftwood as our arch with just a touch of king proteas and greenery for a pop of color on the corner."