Jenny and Viet hailed from the San Francisco Bay Area to the glistening shores Oahu, Hawaii, to share an intimate wedding with their dearest family and friends. The couple met in high school and fell in love in their early 20's after reconnecting. Jenny recalls, "We both knew we had a little crush on each other in high school, but it wasn't until we became good friends as adults that we realized how much happiness we brought to each others' lives. It just made sense."
Jenny herself is a wedding photographer, so it was only natural that her own wedding was captured by a fellow talented friend, fine art wedding photographer of Trynh Photo. Trynh's photography style is characterized through her use of soft light, timeless aesthetic, and mix of both film and digital mediums. Every candid moment of excitement and timeless detail was beautifully photographed through Trynh's lense.
The bride and groom created a color palette of soft, muted pastels in order to let the tropical nature of their surroundings serve as a colorful backdrop to their wedding without being overpowering. Jenny added romantic, feminine touches through custom embossed calligraphy invitations, soft gossamer bridesmaid gowns, and crystal embellished accessories. Below, Jenny has shared some of her favorite memories and details from her wedding day with us.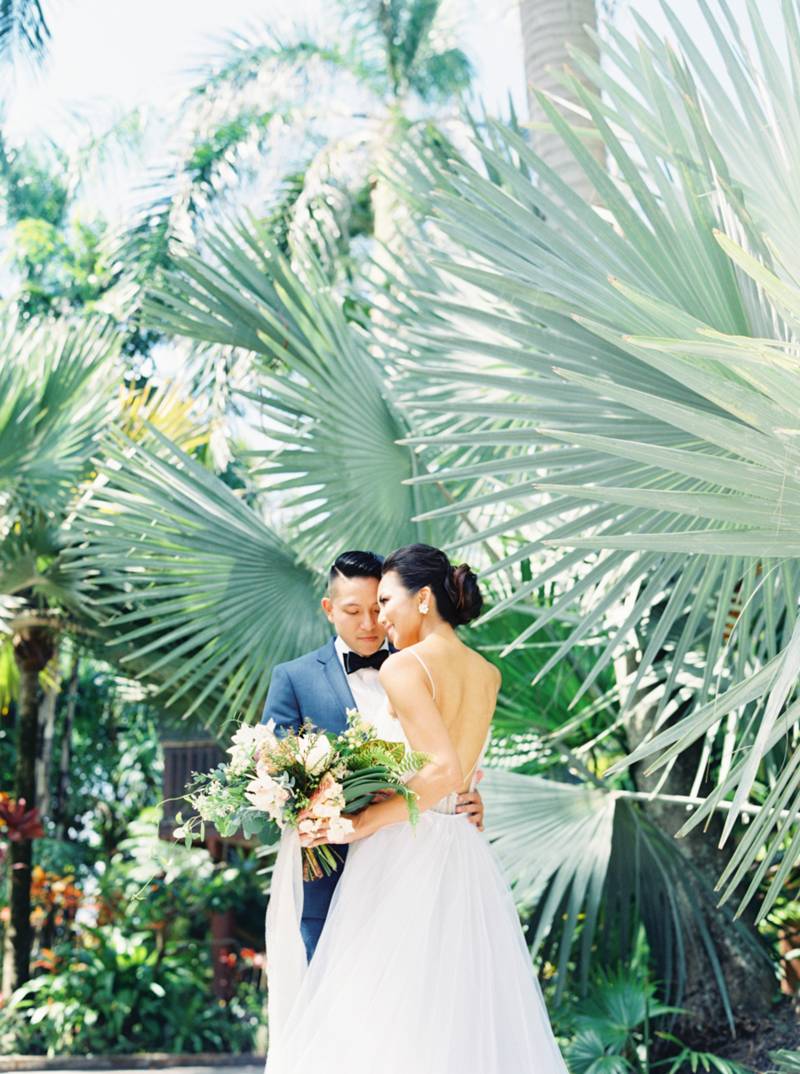 "Being a destination wedding, we made just one trip to our venue on Oahu before we knew we wanted to book it. It was the perfect location for my entire family and bridal party to stay at and enjoy an entire weekend of festivities. Being a creative, it was natural for me to want to design and curate the vendors to perfectly carry out my vision of a timeless wedding."
"Besides my new husband and my family being at the wedding, my gown was my favorite thing. I knew I wanted a gown that was feminine and unique, yet timeless at the same time. I specifically requested a gown that had dimensional details and an illusion neckline that wasn't 'too sexy' for my mom. This Idan Cohen Dress was the third wedding dress I tried on at Kinsley James Walnut Creek, and I instantly knew it was the one because it made me feel so confident and graceful. I hope to save this gown for my future daughter or daughter in law if I am so fortunate to have kids. If not, it will go to one of my nieces!"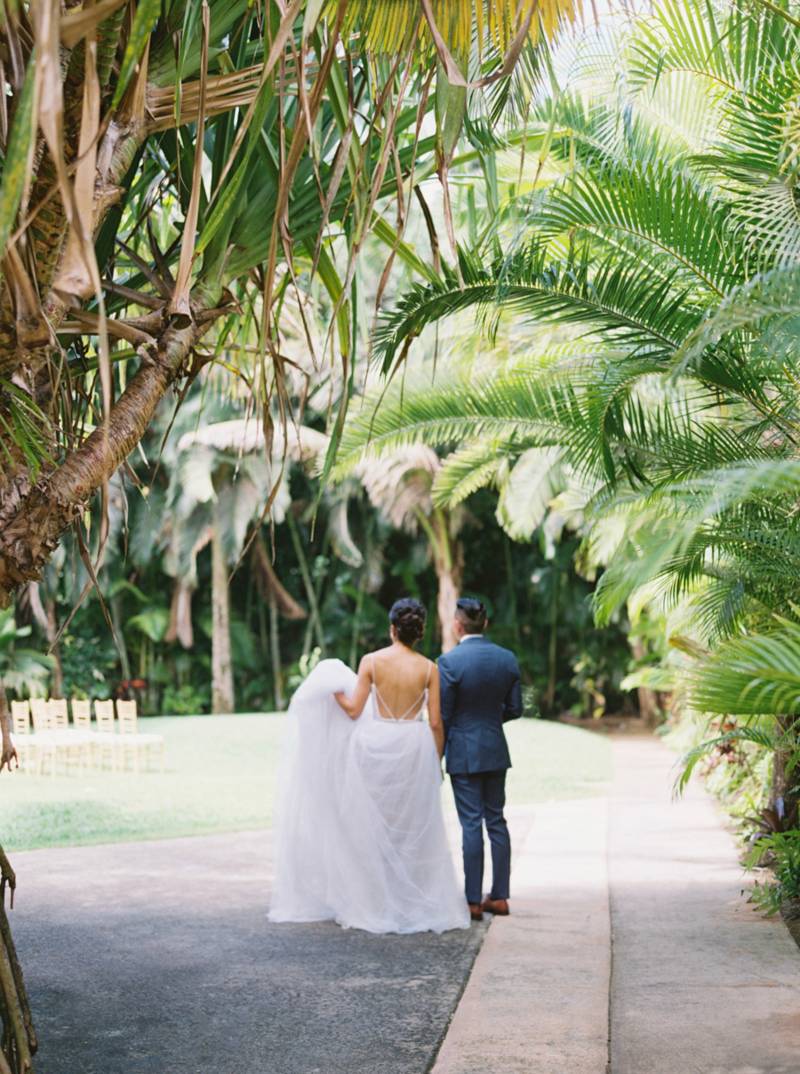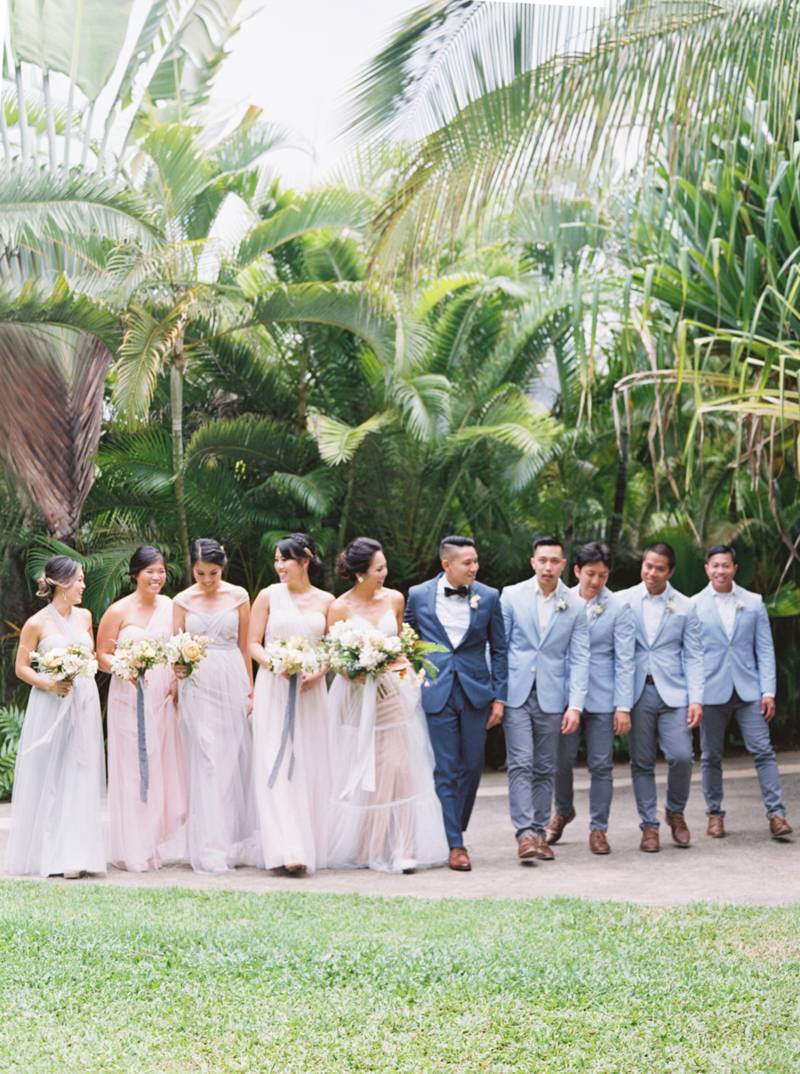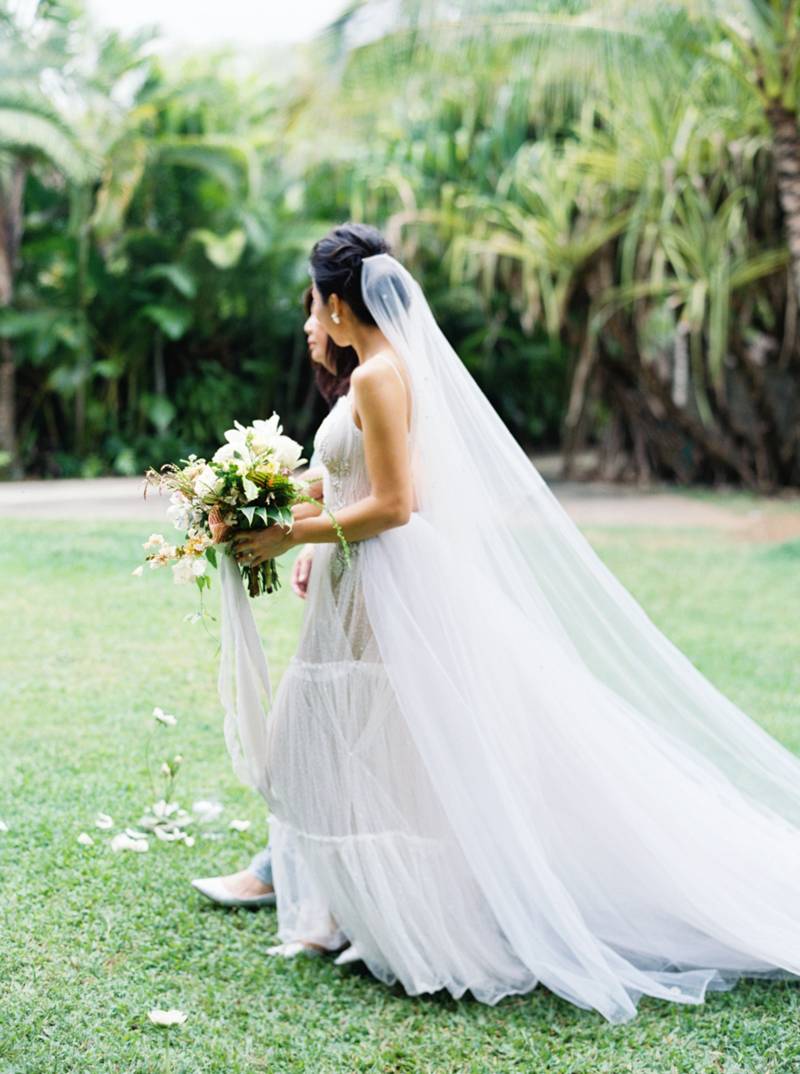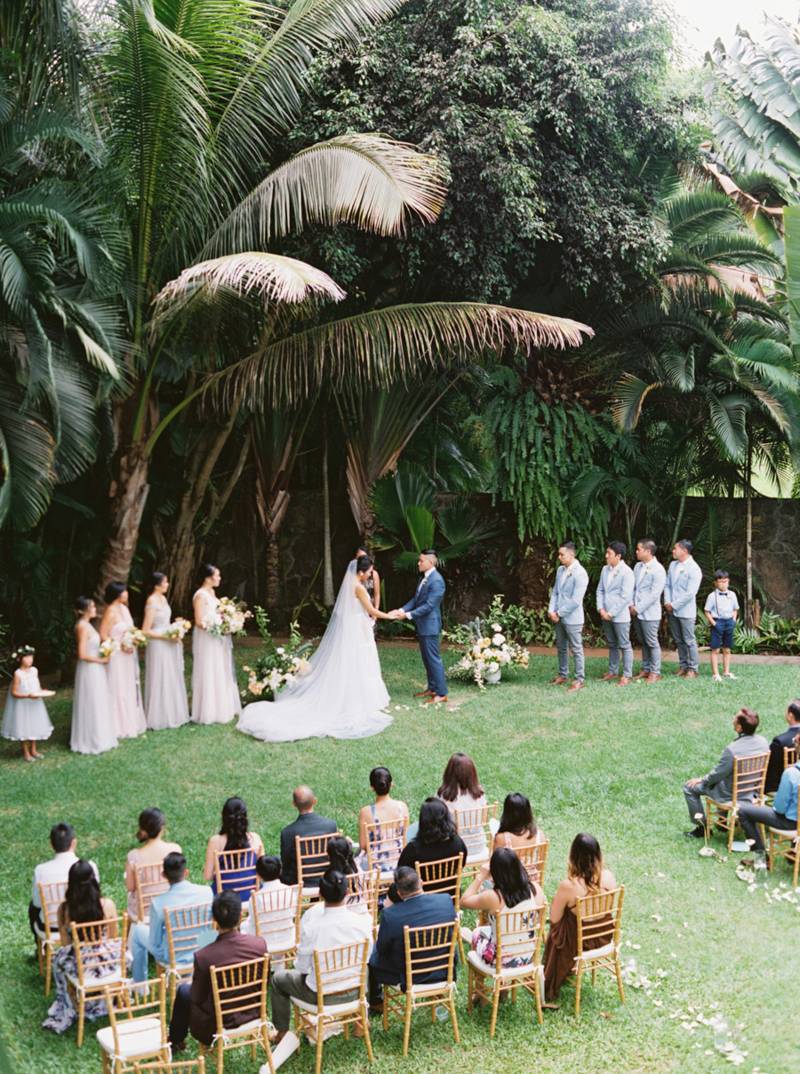 "Our tropical wedding was an intimate, formal affair inspired by our love for family and island life. We kept our design elements very minimalist but with a lot of intention behind every detail. One of my favorite decor elements was our table names. We dedicated them to my husband's late mother through naming the tables after her favorite orchid flowers. Our flowers were arranged Ikebana style into vessels that were handmade by my dear sister, Brenda Soi just for the occasion. I also loved our color choices of grey-blue and that sweet in between gradient of beautiful calming colors that my husband and I will never be tired of admiring."


In typical Hawaiian wedding fashion, the couple was surprised with rain during their reception. It is received as a blessing in Hawaiian culture, and naturally, Jenny and Viet took it just as such. The entire wedding party spent the rest of the night celebrating and dancing under the tent to the sound of live music and pouring rain.