Annelise and Sterling shared a beautiful wedding ceremony with their family and friends in beautiful Dana Point, California. The ceremony and reception were held outdoors at the Monarch Beach Resort with a color palette of light blush and peach, sprinkled with floral tones of ruby and deep greens. The couple headed to the beach for bridal portraits in between the ceremony and reception. The bride and groom had a lively, large wedding party, and the entire day was filled with excitement and laughter.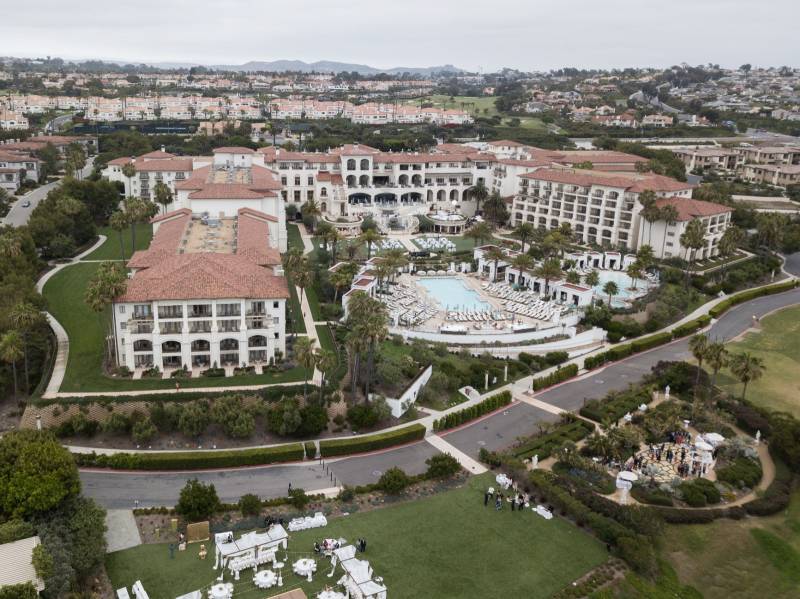 Annelise shared her planning experience and favorite moments with us:
"I was convinced that I would be planning this wedding without the help of my partner. To my surprise, he actually brought up brilliant ideas that made our wedding way more beautiful than I could've imagined on my own! For example, the wooden structures, peach orchid boutonnieres, and having both the ceremony and reception outside (instead of moving the reception indoors) were all his idea. He actually is a lot more creative than I am, so I really appreciated his artistic eye."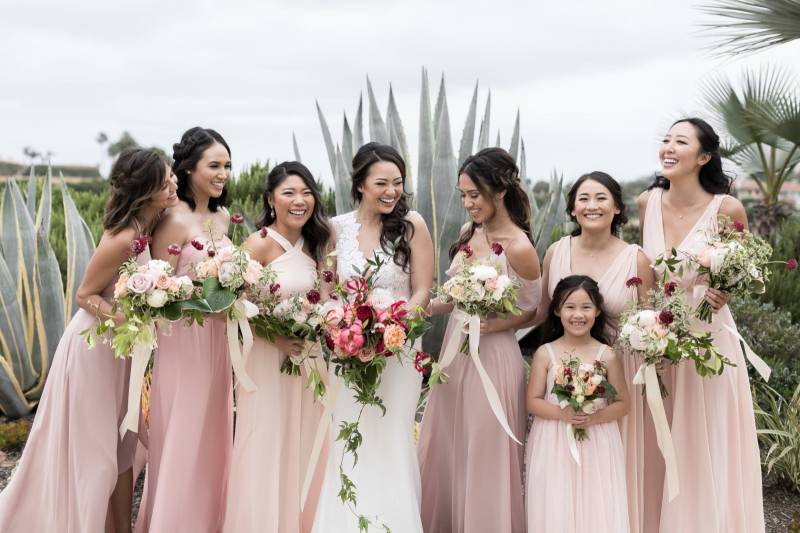 "I think we got really lucky with our floral arrangements, because they were all done by my really talented friend, Erin Wu of Flower People LA! She actually had generously offered to do our flowers, not for free of course. But because of her help and thoughtfulness of our budget, we were able to have a LOT more florals and decorations! She worked tirelessly with me through the year+ long engagement, exchanging ideas and going back and forth on color palettes and decor options. She is the best."
"I think people were surprised when they saw me walking down the aisle alone, especially because my dad was a huge part of the reason why we were able to have such a beautiful wedding. It's funny, he tells us that it's because he's not marrying us or that we're not his property, so why would he "give us away." It sounds like he has super feminist beliefs, which is cool! But I think that he's just shy and doesn't want to take up room in the spotlight. He also didn't walk me down because he had not done so for my sister, and he wanted to be fair to her."
"My mom passed away in 2012, right before I graduated college. I had been mentally preparing for her not to be at all of my big events for years, especially my wedding. It made me really sad that she wouldn't be able to meet my husband or celebrate our relationship physically. In order to still make her part of our big day, we had a memorial for her and honored her during the ceremony. While the entire day is overwhelming in so many ways, this one moment where I placed a bouquet of flowers on the seat she would have sat in was the most emotional for me. I still get teary eyed thinking about that moment. Regardless of the sadness my heart felt, I felt a great sense of joy and pride to be able to still include her and to know that she would've loved my husband."