Jill La Fleur of La Fleur Weddings & Events has established herself as a critically acclaimed destination wedding planner and event designer. Although she specializes in large and lavish weddings around the world, when it came to her own wedding she preferred to keep it local and intimate. A dear friend of theirs offered to host the wedding at their gorgeous home estate in Santa Ynez.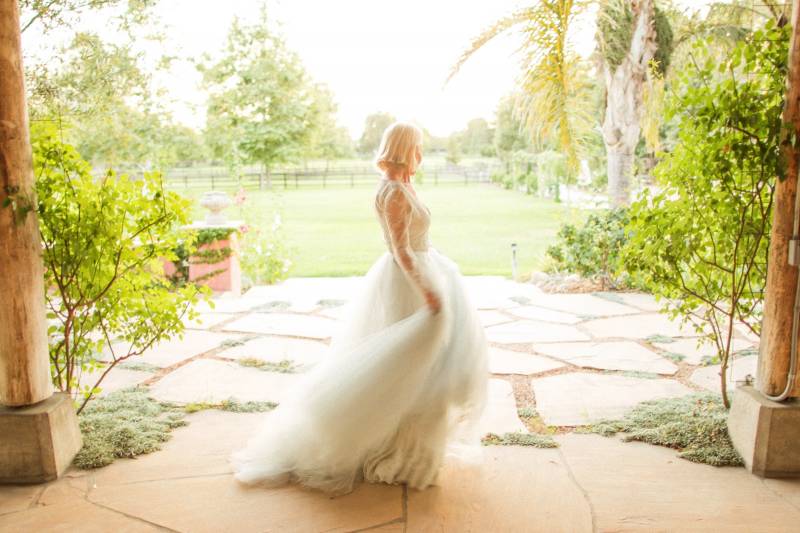 The couple focused on simple and elegant details that reflected personal style along with special touches to honor their family and culture. Jill beautifully incorporated the Fleur de Lis family emblem into their wedding day decór. She and Gokhan said their ceremony vows atop a Turkish rug sewn with the emblem, and all of the wedding custom paper goods were created by Honey Paper in Los Olivos using the design of the Turkish rug.
Many dear friends of the bride contributed to her special day. The intimate affair was photographed by the talented Mike Larson, whom Jill has worked with for many years. Her hair was styled with a soft, side braid by her longtime friend and hairdresser, Kelly Trumble, of Mishay Salon. Another longtime friend and colleague, Mar Romero, of Team Hair and Makeup created her beauty look. She wore a special handmade piece of jewelry down her back with an angel's wing to honor her mother. It was made on Maui (where Jill used to live and often works) by a friend of hers who owns one of her favorite galleries, Maui Enchantress.
Jill had her eye on a couple of gowns that she just fell in love with immediately and just could not decide between the two- so she wore them both! For her Bridal shoot on the wedding rehearsal day, she wore a dusty blue, romantic gown by Claire La Faye. For her wedding day, she chose a stunning, bohemian-chic gown by Rue De Seine which she found at one of her favorite Central Coast bridal salons in San Luis Obispo, Moondance Bridal.
Another dear friend offered her Santa Ynez vacation rental home for Jill's family to stay all together for the weekend. For their family rehearsal dinner the night prior, they decided to stay in and cook homemade, organic pizzas in the beautiful outdoor pizza oven and serve them with a local cheese & charcuterie board, salad (much of which was organically grown Jill & Gokhan's own home garden), and Santa Ynez Valley wines.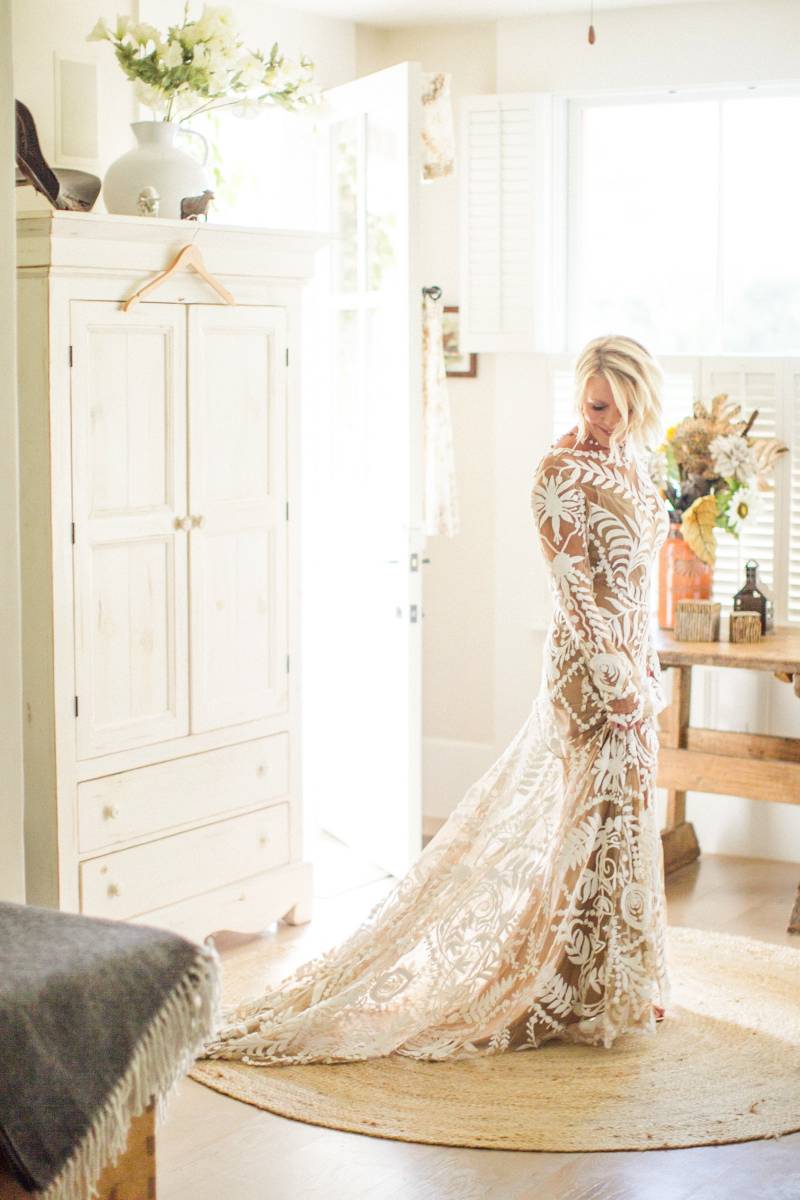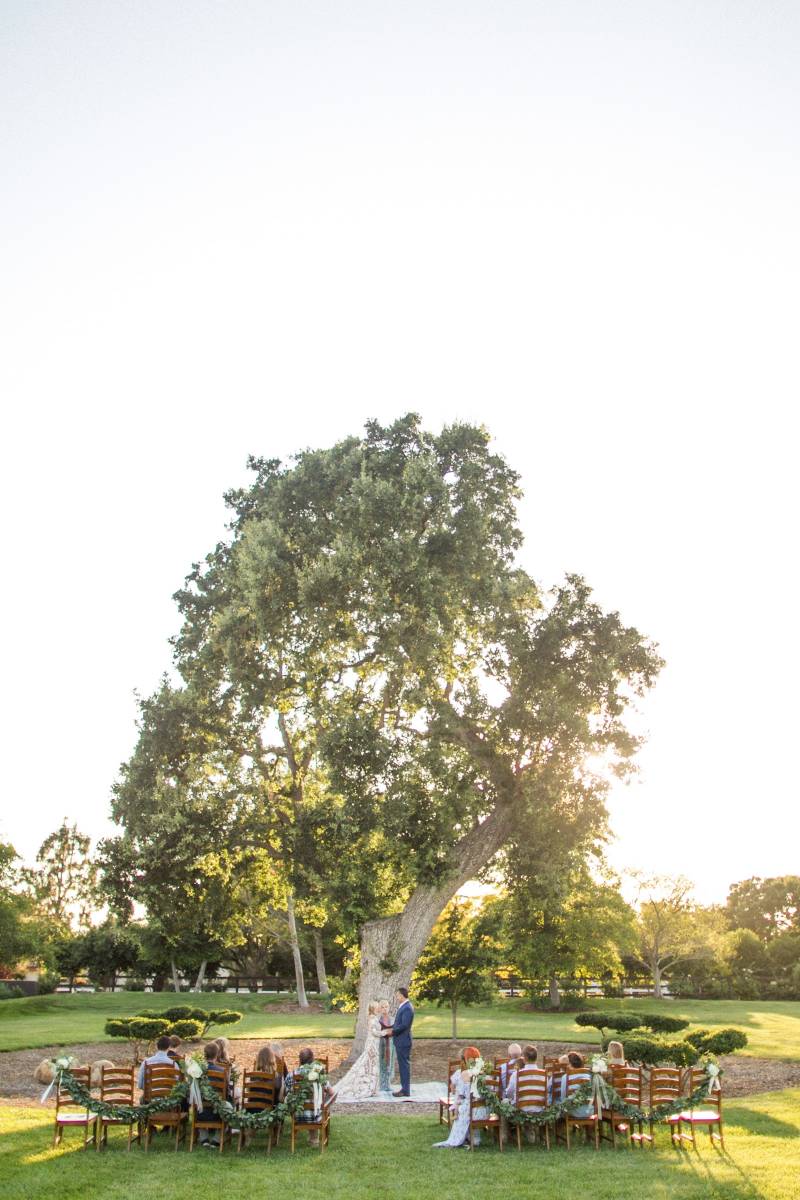 The wedding was officiated by a wonderful, local officiate, Miriam Lindbeck, of www.weddingsantabarbara.com in front of a beautiful oak tree as they stood on a custom Turkish rug (Gokhan is originally from Istanbul), which they now have prominently displayed in their home. Jill's dad is also a Deacon and he lovingly said a special blessing over Jill & Gokhan and the combined Cross & Tasbih that Jill custom-made and wrapped around her bouquet. Jill's son, Jake, carried the rings and a seat was saved up front for her mother, who's ashes were placed in a beautiful bud vase with an olive branch (her favorite).
The dining room was elegant, but also felt like home! Jill styled the tables with vintage goblets, crystal, plates, and gold flatware all from Otis and Pearl. The lovely linens from La Tavola mixed in beautifully with the floral elements created by Jill's sister, Colleen La Fleur of Atelier de La Fleur. Her crystal compotes & vases filled with soft floral and greenery mixed with her brass candleholders created the elegant, bohemian-chic vibe that matched both the estate and Jill's personal style.
The 2-tier wedding cake was created by Christine Dahl of Santa Barbara Cakes and was served with Turkish Delight & Turkish Coffee from a local Santa Barbara shop, Seven Hills Turkish Imports. Jill and Gokhan also gifted a delightful set of Turkish towels to each of their guests from this store.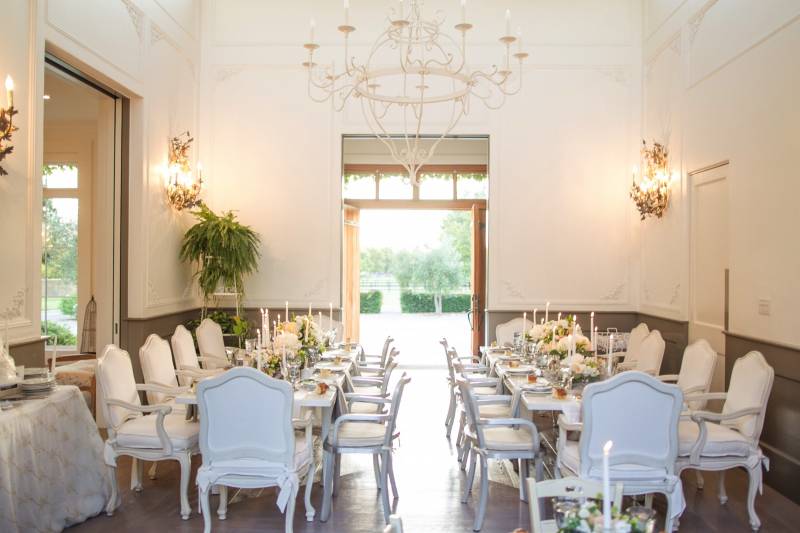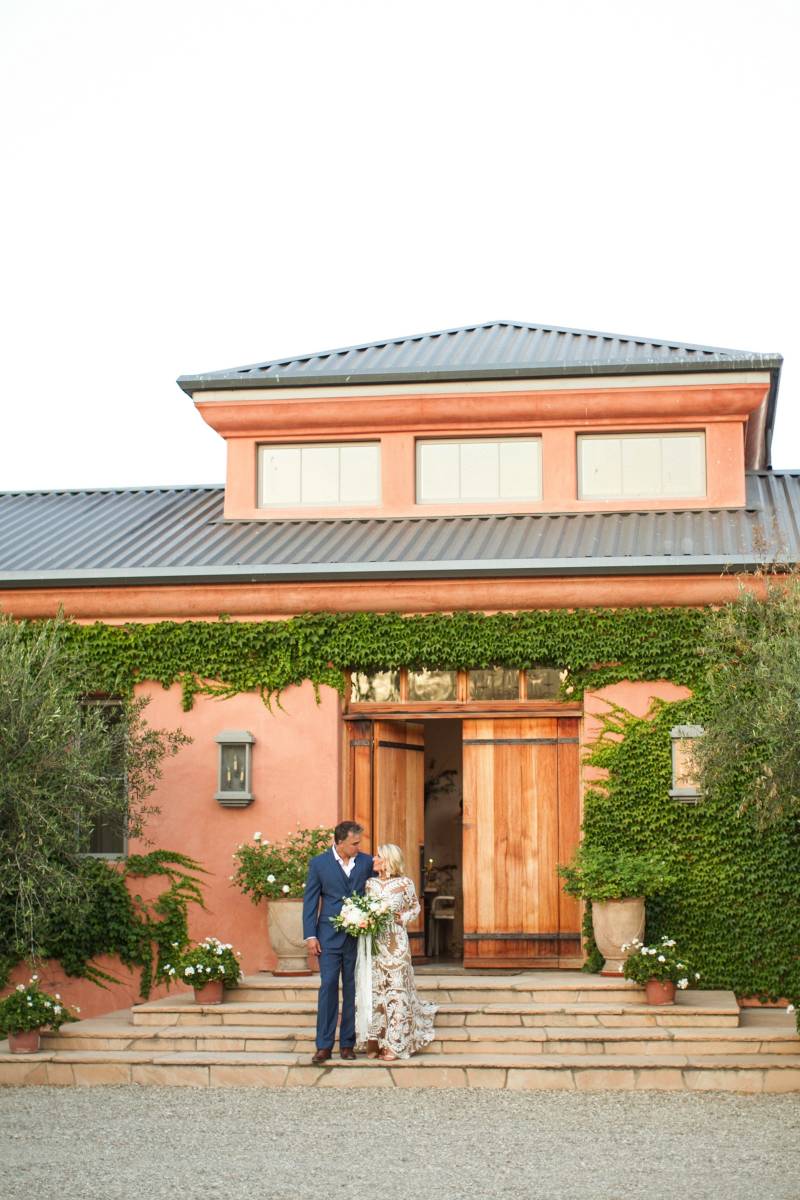 The meal was important to them as well. As Jill loves to cook and Gokhan loves to eat, they wanted to treat their friends and family with a favorite local chef's cuisine, Luca Crestanelli of S.Y. Kitchen. He prepared their favorite dishes from his acclaimed Santa Ynez Valley restaurant. The wines they paired their meal with came from Sunstone Winery, one of the few local sustainably grown vineyards in Santa Ynez.