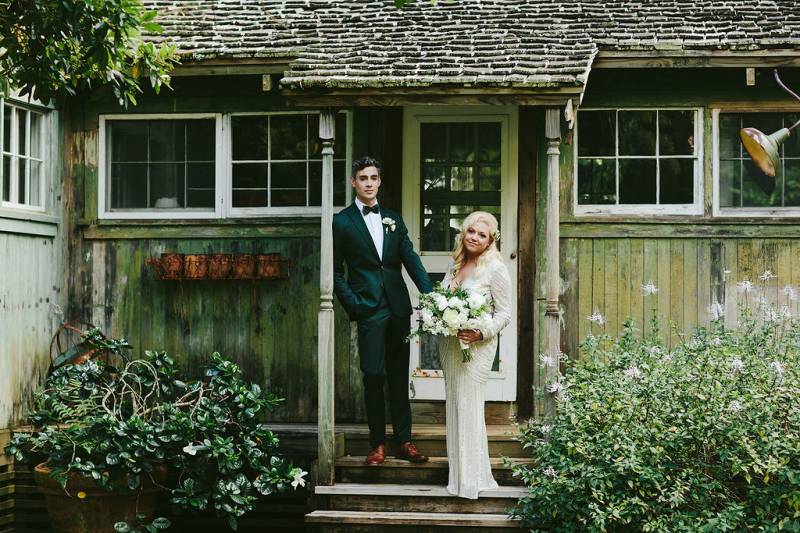 The bride and groom share a love story that sounds worthy of a romance novel. Natalie told us about how they met:
"Jeremy and I met by complete random chance one night in NYC when I was in town on a 'girls trip' and our flight arrived in after midnight. We checked into our hotel in Manhattan and decided to go get a drink and play pool at a local Irish bar near our hotel. There was a group of guys playing at the pool table ahead of us, so we put our quarters down to claim 'next game' and got to talking to them as we waited. Jeremy and I immediately gravitated to each other and started talking, realizing we were cracking each other up with the same humor and jokes. The night turned into 4am last call at the bar and we were still so drawn to chat. The next day, as soon as Jeremy got off work, we met up again and hung out all night until the sun came up. Repeat until I had to fly home to San Francisco. From there, Jeremy came to visit me in SF two weeks later, and he never left. He went home to get his things and moved in with me in San Francisco."
Their proposal story is just as romantic as their initial attraction.
"Jeremy proposed on New Years Eve in Paris. We were in town with a group of friends for a wedding and for the holiday. It was 3am with a very special bottle of Champagne. It was just the two of us, everyone else had gone to sleep. We crawled out on the rooftop stoop of the apartment we were staying at and he went down on one knee."
With such a fun history of magical nights, it was only fitting that Natalie and Jeremy celebrated their marriage in the most memorable, breath-taking fashion as well!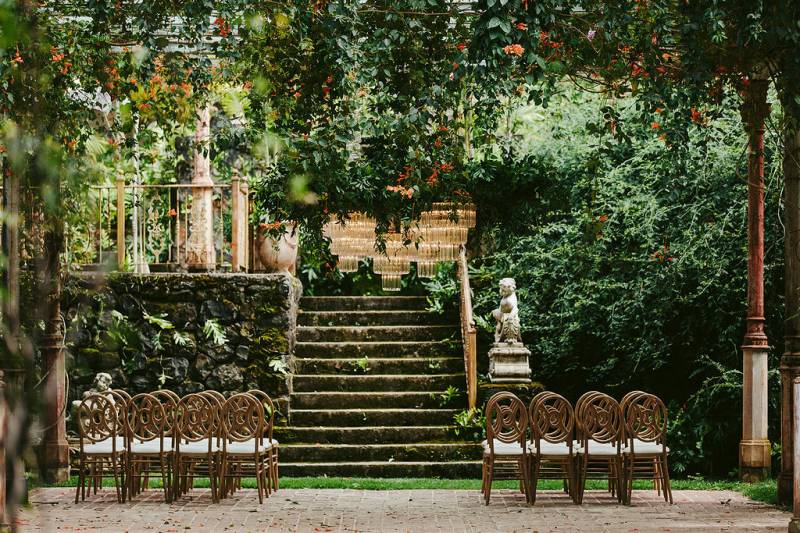 Natalie explained that, "Maui, Hawaii was the first destination vacation we ever took together, shortly after moving in together. My family has a condo in Kahana and he had never been to the Islands. Being a New Yorker, I knew Jeremy would be blown away and fall in love with the topical paradise."
Since Natalie's family is from Seattle and Jeremy's family is from New York, it was inevitable for at least one side of the family to travel to the wedding. The sentiment of their first Hawaii trip together combined with the idea of a destination wedding made Maui the perfect spot to host their wedding.
The bride told us how they decided on their dream venue:
"We did research on the best, most romantic, picturesque venues that we could see our friends and family being able to travel to. We searched online, Pinterest, and Instagram. We elicited help and recommendations. Haiku Mill kept showing up in all of our research and after gazing upon multiple pictures of past weddings and events, we were sold. It just fit the exact atmosphere and twinkling-lights-meets-tropical-paradise we were envisioning."
The bride's overarching theme for the big day was, "A bit Great Gatsby and Art Deco, met with a ton of lush greenery and twinkling lights. The color pallet was easy to land on- white, gold, and deep green."
To bring Natalie's vision to life, a statement modern crystal chandelier from Inspiration Event Rentals added a glamorous focal piece for the evening's events. Local floral designer Mandy Grace created an organic installation of fresh greenery around the chandeliers that blended beautifully into a canopy of orange blooms. The lush floral arrangements and sultry-hued decor beautifully complemented natural, driftwood tables for the reception.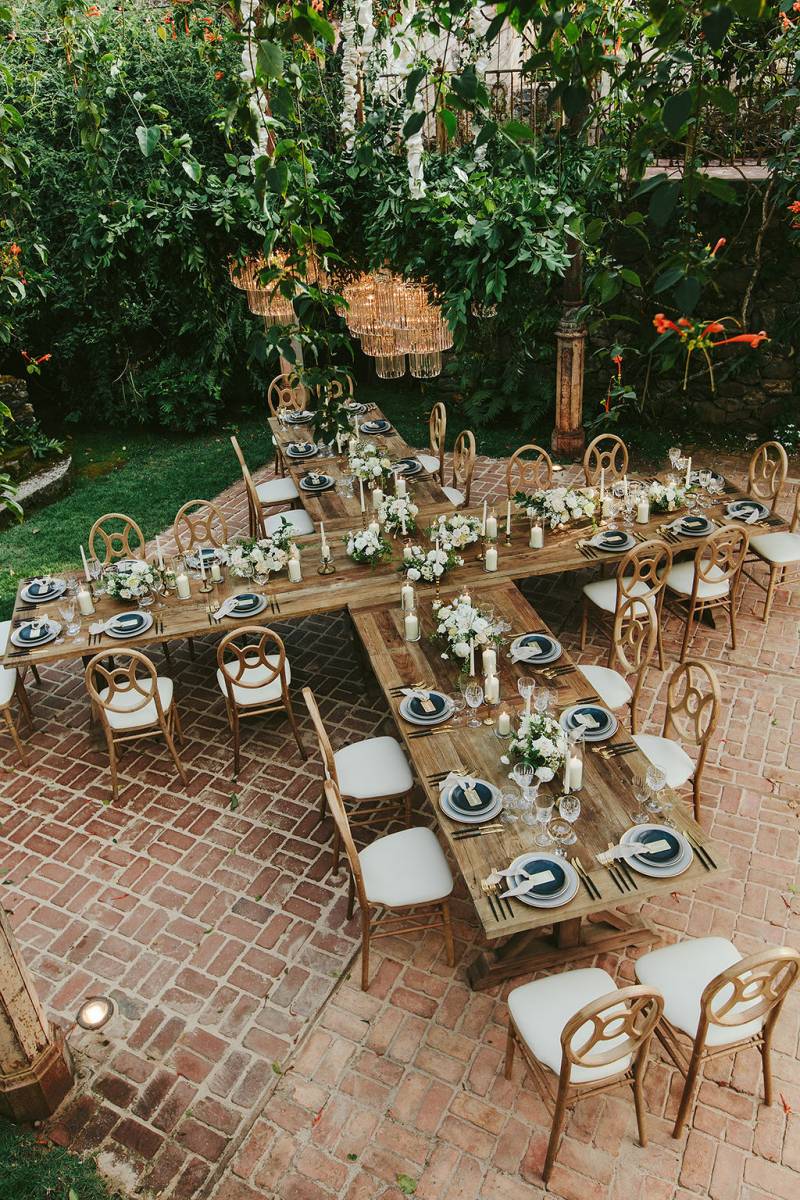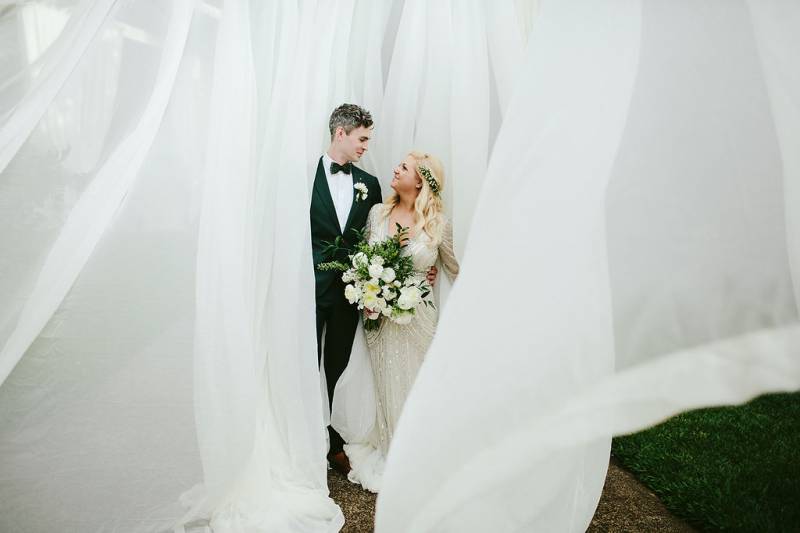 The bride wore an intricately beaded, long-sleeved dress for both the ceremony and reception. She originally had brought two dresses to wear- a more traditional Jenny Yoo gown with a long train for the ceremony, and a glimmering, beaded dress from BHLDN for the reception party. Natalie shared that, "The latter was to be the reception/dancing dress that was very old Hollywood glam, a nod to that 1940's Art Deco aesthetic we were going for. On the day of the wedding, however, as soon as I got my hair and makeup done and started getting in the spirit, I knew I wanted to just commit to the one BHLDN beaded dress. I never ended up wearing the traditional white wedding gown and my veil, but I have no regrets!"
We are truly mesmerized by the combination of Melia Lucida's artful photography and the lovely space of the Haiku Mill. Each wedding at the Mill's venue is a work of art, and it is amazing to see how differently the space can be transformed to meet each couple's unique vision. To see more real weddings at this Maui destination wedding venue, click here.