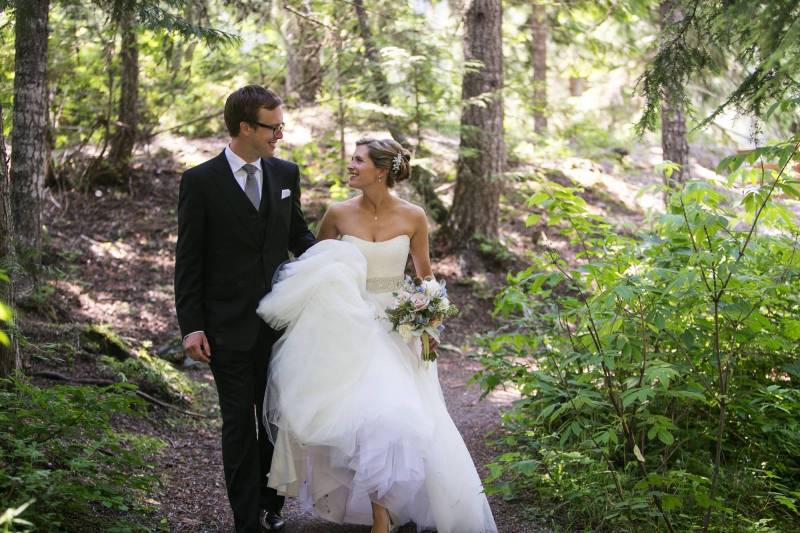 Krista and Jon hosted a rustic and elegant celebration in Whistler, BC with the help of wedding planner Roxanne Cave of Celebrate Events. The couple selected the Squamish Lil'wat Cultural Centre for their ceremony and reception venues. It's the first-ever centre dedicated to the history and culture of local First Nations, set amid the mountains and river. The bride tells us, "By having the wedding at the Squamish Lil'wat Cultural Centre we were able to use the whole space for the wedding. The cultural center has a beautiful round hall that our wedding planner was able to transform into a spring garden. The space was designed in such away that during the ceremony guests were able to have a panoramic view of the mountain backdrop."

"Whistler is a very special place for Jon-Ivar and I. Living in Vancouver, Whistler has always been a great family destination and a place to relax and unwind. We were excited to have our family and friends join us over the weekend. Our vision was to provide a beautiful, natural, alive atmosphere for our family and friends. The cultural center served as the backbone to create this feel with its towering wood carvings, elegant patio and floor to ceiling widows."

Photographer Lori Miles of Sweet Pea Photography was on-hand to capture the good times.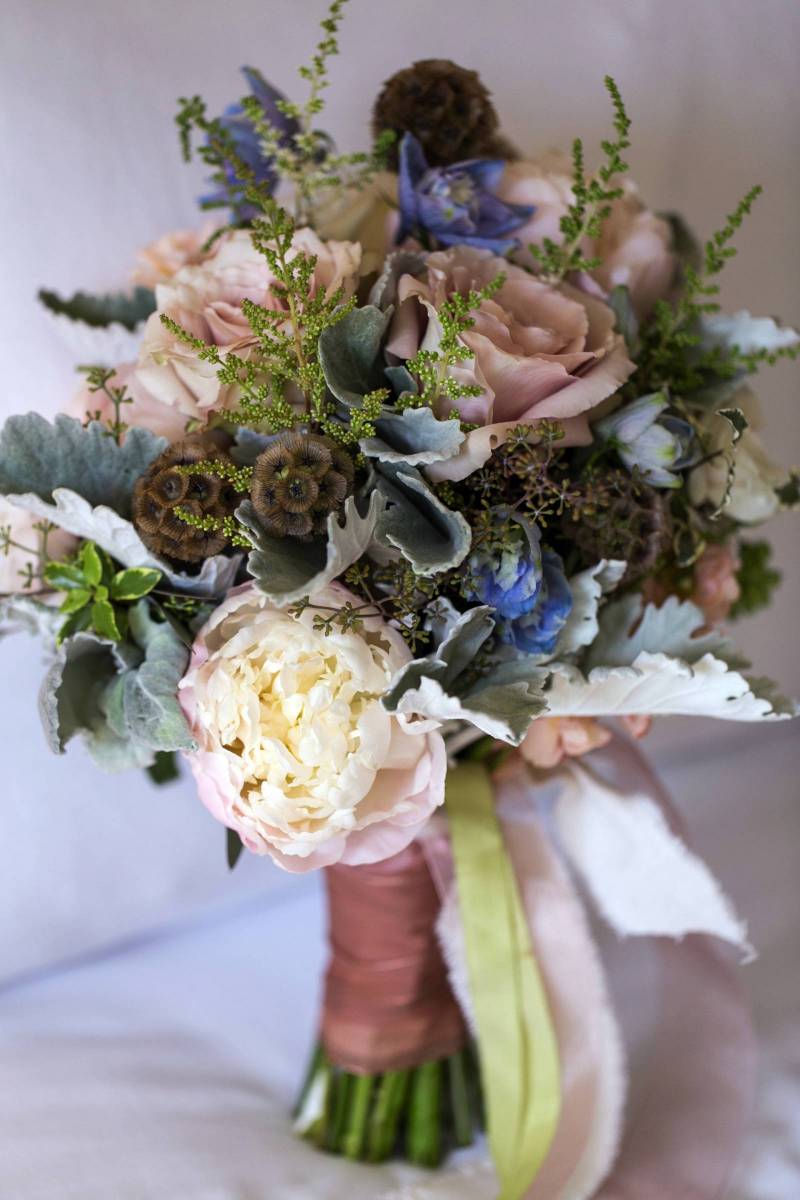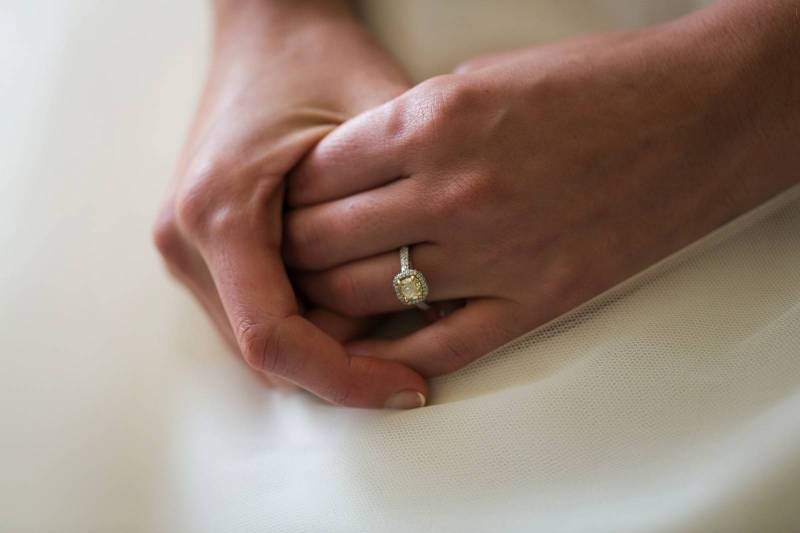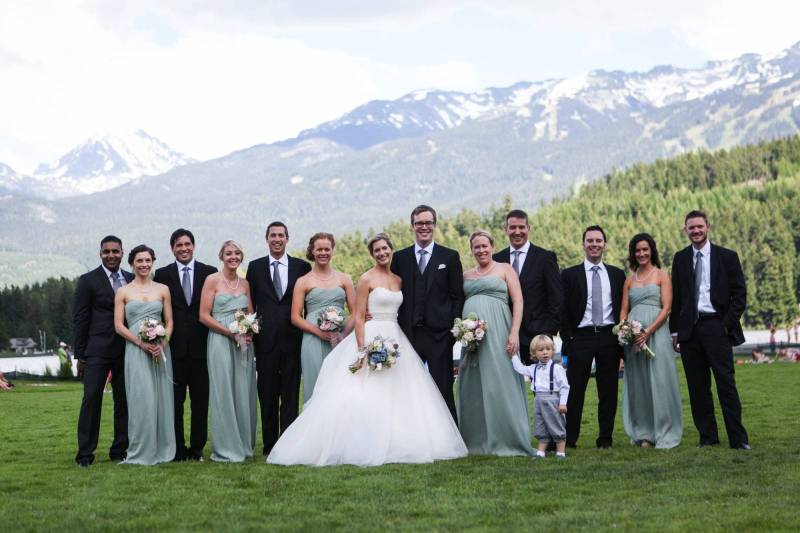 "My dress was by Romona Keveza design. I actually was quite lucky in finding this dress. My Mom and I had an appointment at Blush Bridal to look at wedding dresses. It just so happened that this same weekend there was a Romona Keveza trunk show. The dress was exactly what I had envisioned. It was elegant, understated and classic. It really was a pleasure to wear. It was light, flowy and easy to dance in."

For the bridesmaids, I had seen these dresses before on Pinterest and thought that the color fit well with our wedding theme. The mint green tied in with the dusty miller flower arrangements. I really thought the long style was elegant yet still appropriate for summer. As for the design we were a bit limited to the empire style as one of my bridesmaids was quite pregnant at the time of the wedding."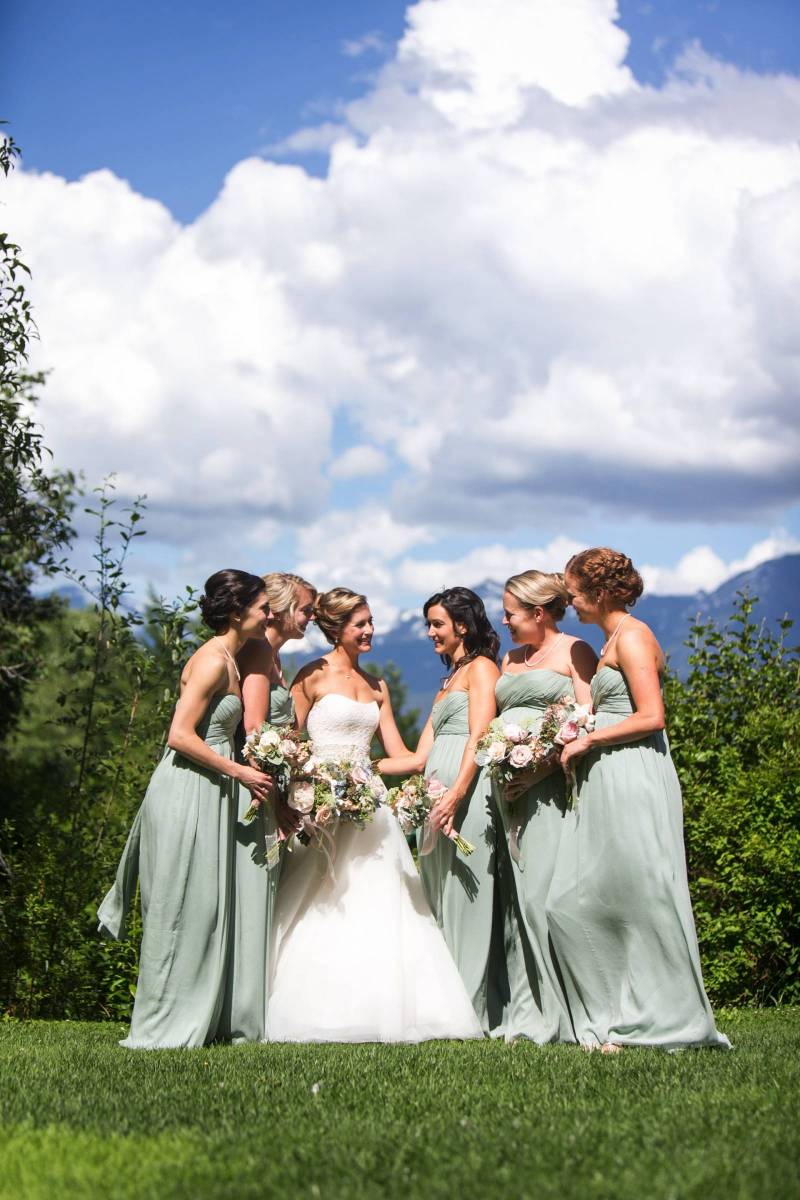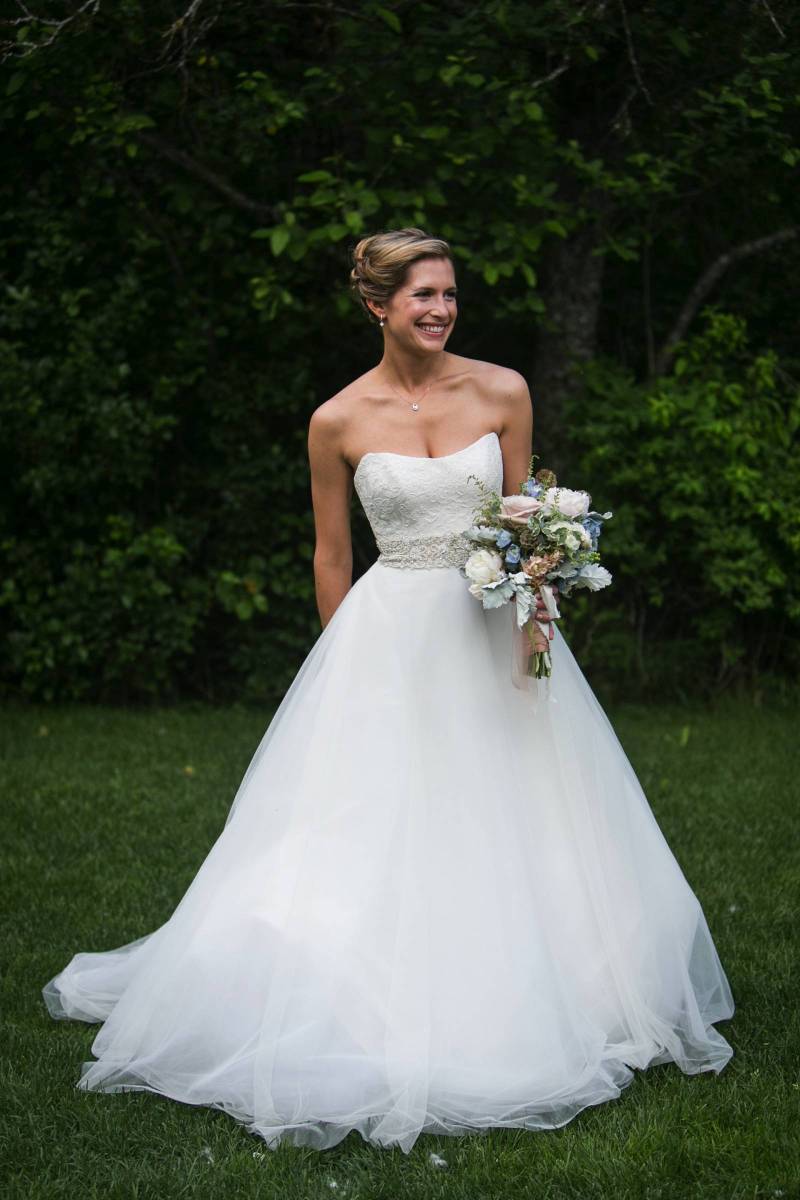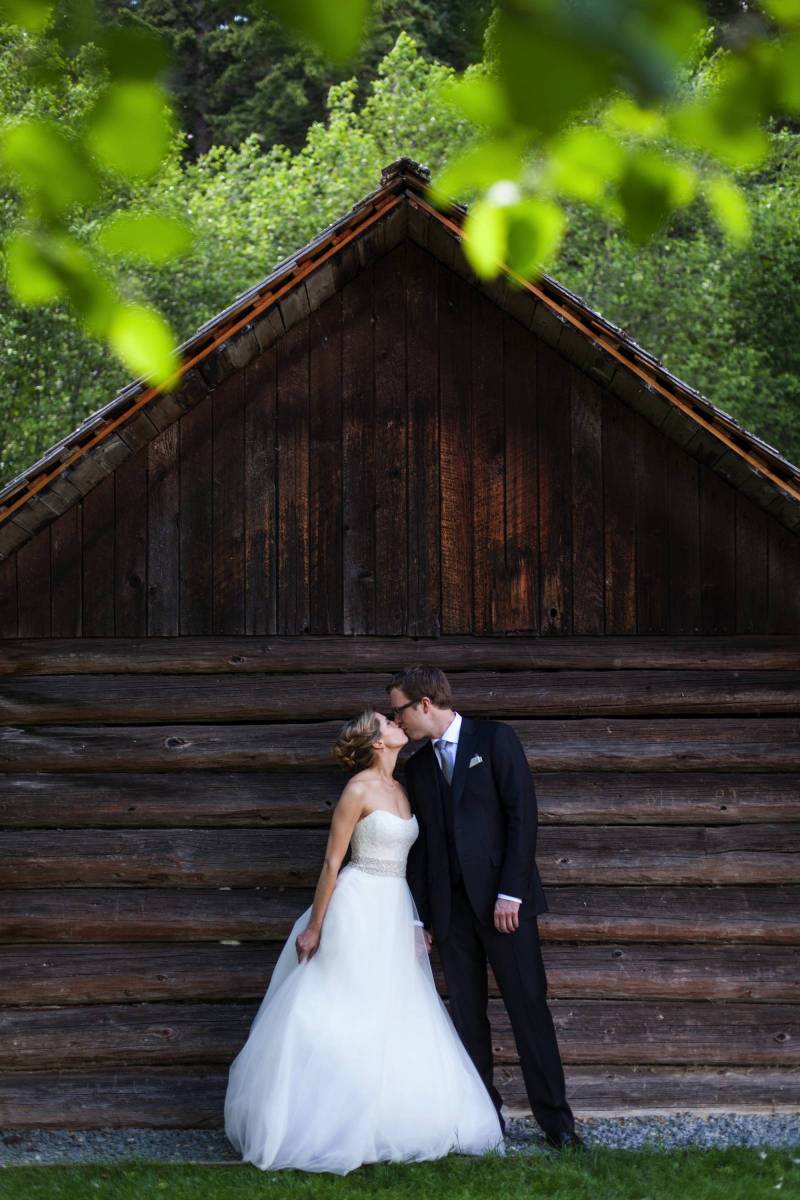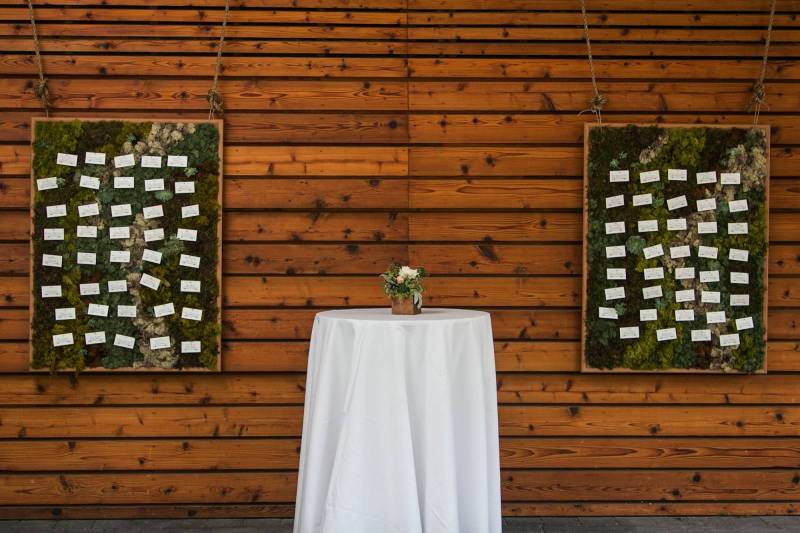 "Our wedding planner, Roxanne, also designed a flower archway with all of my favorite flowers to really set the mood as guests arrived. This theme continued on into the cocktail reception where we had live music during the sunset cocktail party. We also had a live moss wall where guests could find their seating assignments for the wedding reception dinner. We then finished the night off with a dance floor designed to represent a whimsical night with candles, greenery and tea lights."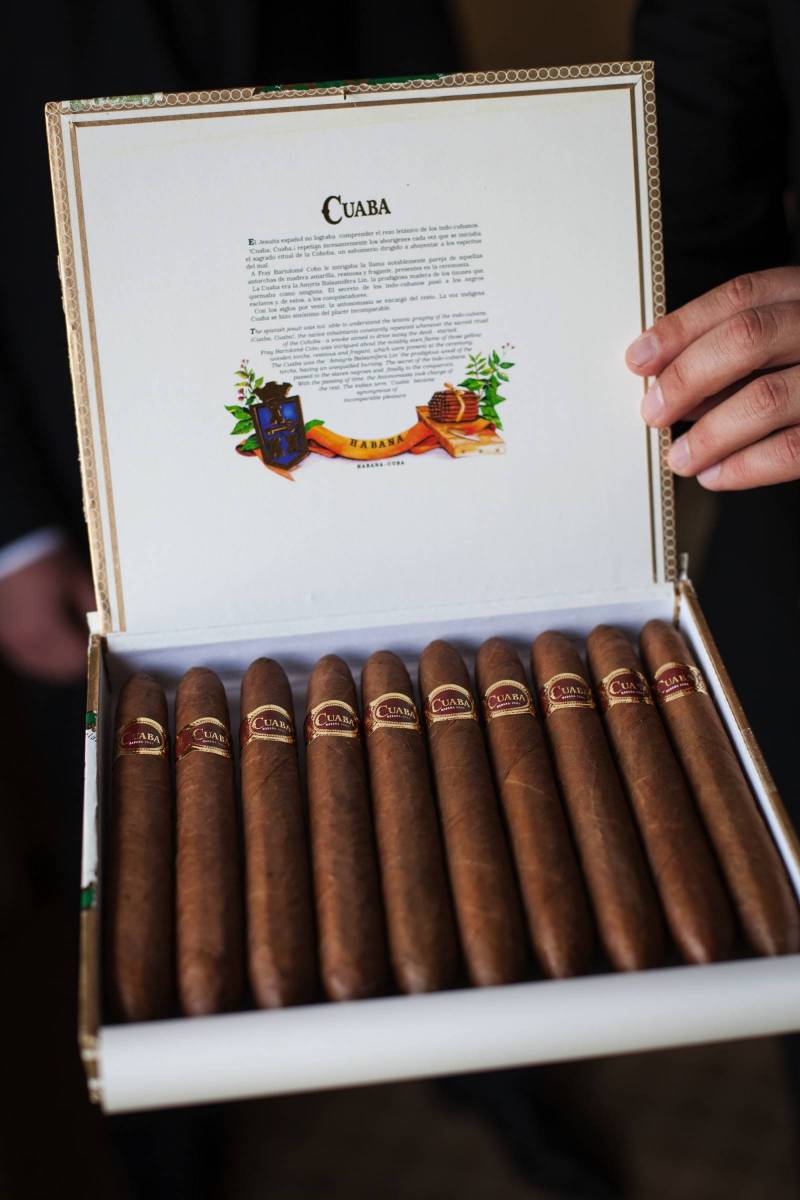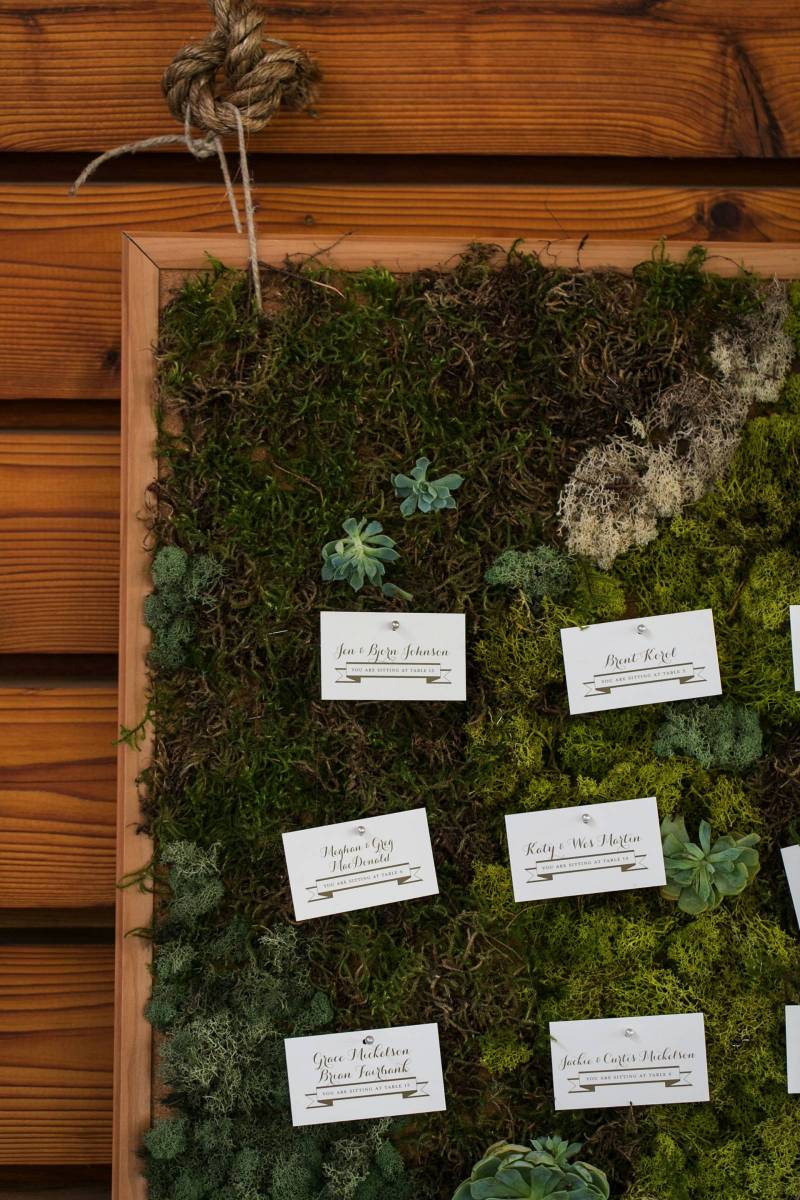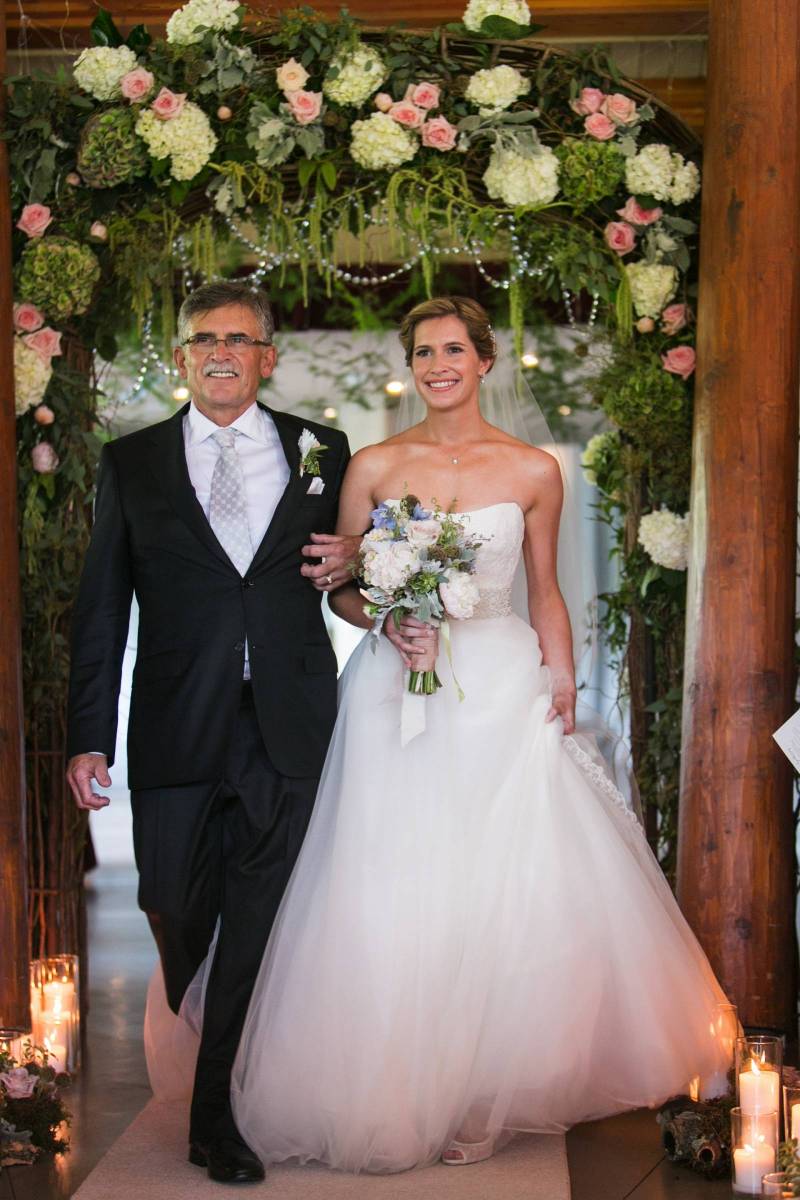 "I love flowers and really wanted the ceremony to represent a beautiful garden. Our wedding planner and florist used a combination of flowers, trees and potted plants. We were actually able to transport many of the hydrangeas and maple trees into our garden at home after the wedding.

The theme of the flower garden was continued into the dining experience with tall central flower arrangements to fill the room and low lying arrangements filled with pastel colors. For the low flower boxes my family built and stained each box branding them with a heart and our initials in them. Following the meal, Roxanne and her team were able to re-design the round hall where the ceremony initially took place to a desert buffet and dance hall."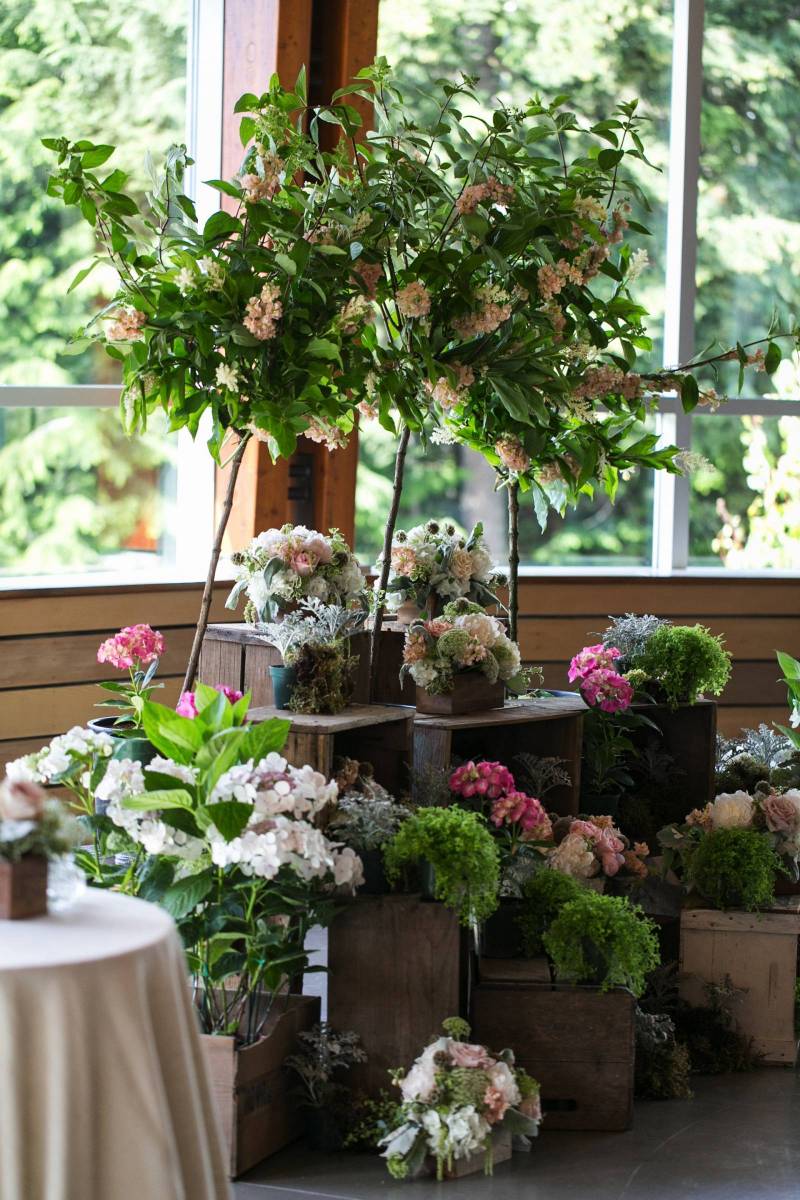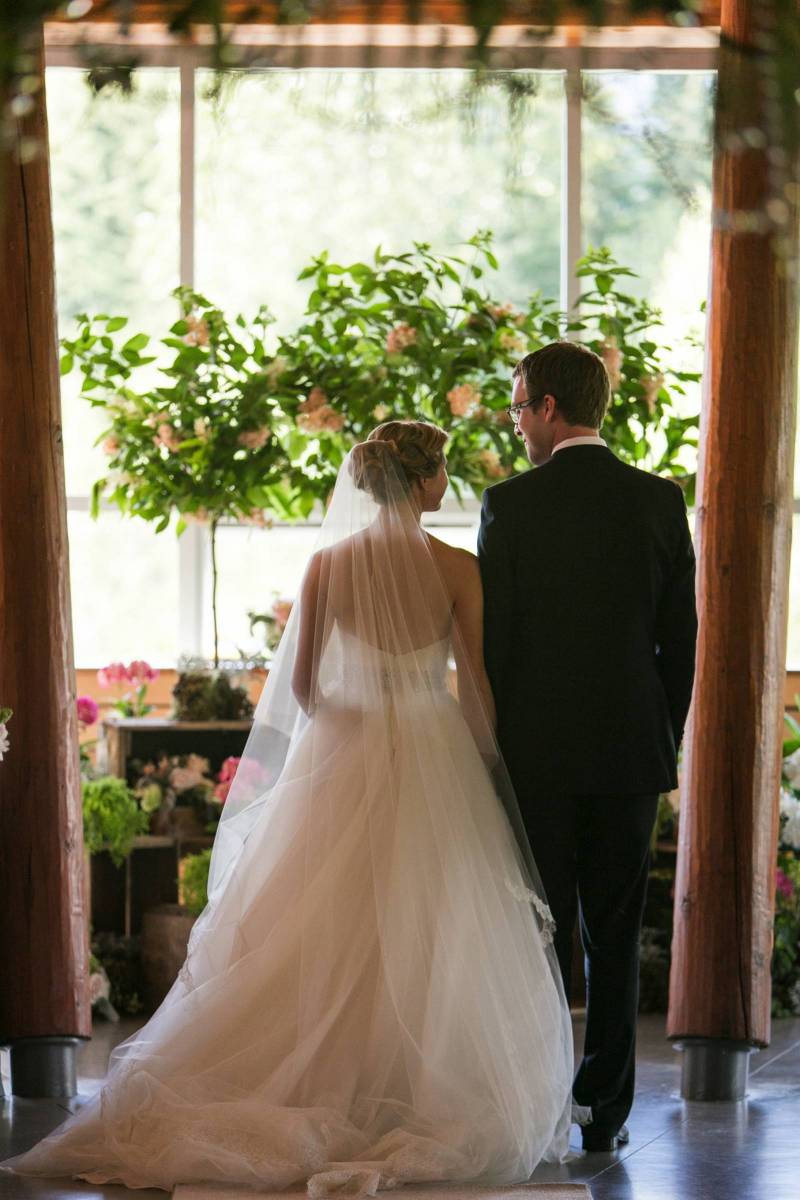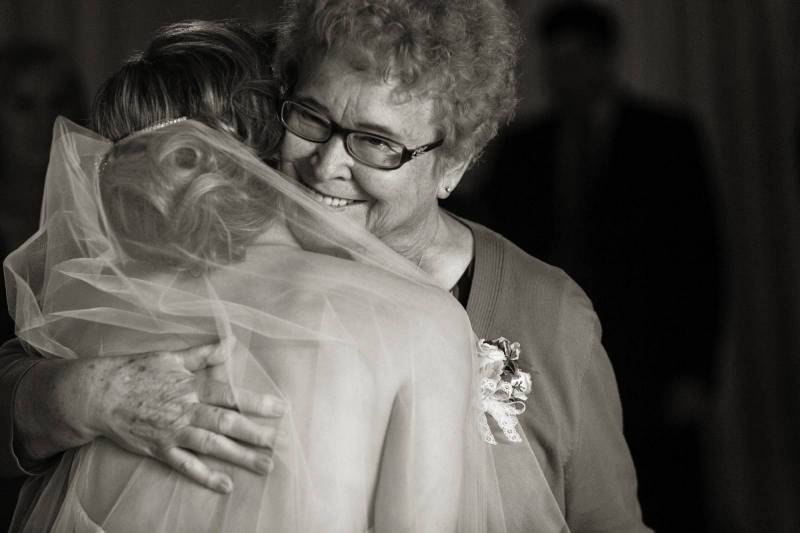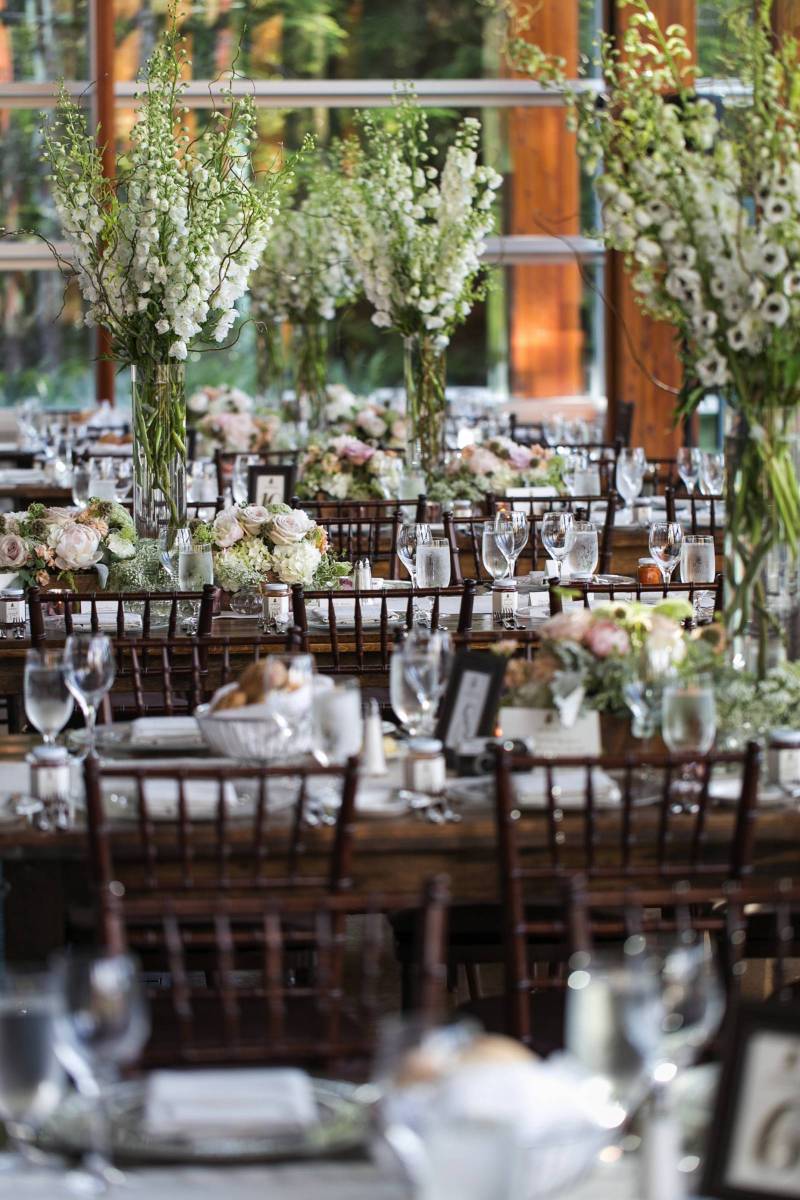 "We are also people that love to enjoy a great meal with family and friends. Roxanne was instrumental in transforming the "great hall" into a beautiful warm and alive venue. We decided to go with family style dinning to allow for mingling and conversation. Over all we hoped our wedding provided a warm, elegant and alive design so that our guests could enjoy the evening over great food, dance and song."