Robbie and Rosa welcomed 148 guests to Northern California for their modern garden wedding in Santa Rosa. Robbie is Jewish and from Toronto, Canada, and Rosa's background is Roman Catholic from Kerala (a state in south India), but she grew up in a small town in Louisiana. Because all of their guests were "out of towners", the bride and groom wanted their wedding to show the people that matter the most in their lives why they love their new home in Northern California.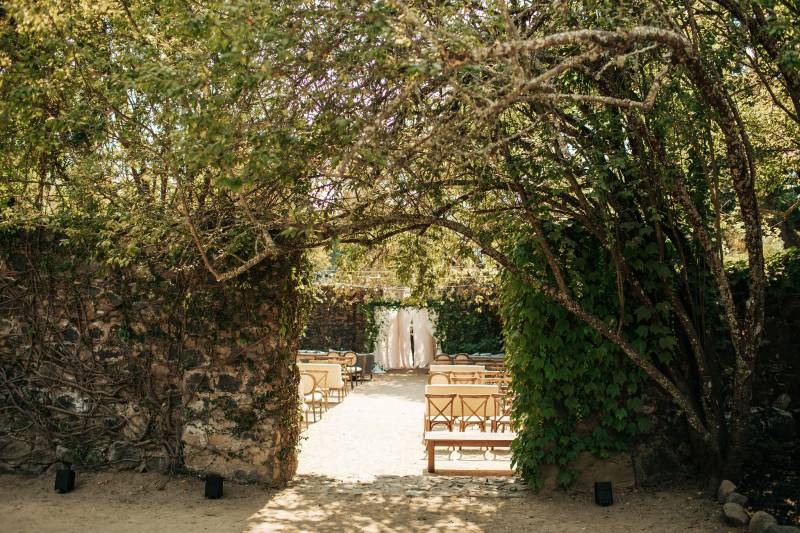 Rosa shared her experience in finding the perfect venue and initiating the design process with us:
"Annadel Estate is a small winery and organic flower farm founded in the 1800s, located a 20 minute drive from downtown Sonoma, CA, where we spent our first Valentine's Day as a couple. Once we saw Annadel's greenery-covered ruins and vast lawn, we knew it would be the ideal outdoor venue for our wedding, perfectly embodying the beauty of wine country that we wanted our guests to experience.
We loved Annadel's simplicity, history and beauty, and tried to compliment and not overshadow it's aesthetic with minimalist details, greenery-inspired florals and a neutral color palette. Robbie and I were equally involved in selecting every detail, with Pilar Mustafa of Flutter Events helping us assemble our vision of having a modern, outdoor wedding in Sonoma County. I designed and created all of the paper goods, from the invitations to the dinner menus, using online print shops and my trusty hot glue gun to melt wax seals and assemble program fans...
For the decor, our florist mixed flowers with fruits like green pears, grapes, persimmon, and mint to keep the tablescape very playful while still using seasonal white blooms in minimalistic vessels. I also selected formal place settings in modern colors-- gray, gold, white, and black-- with clean lines."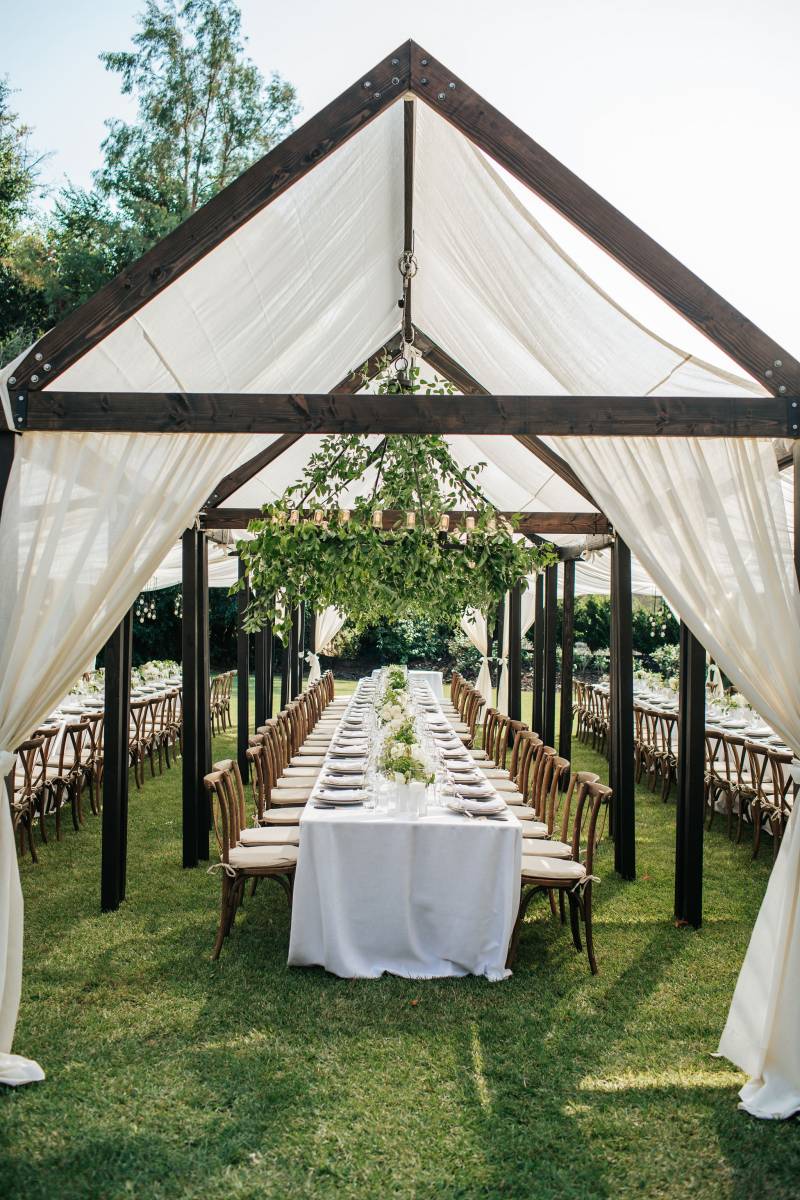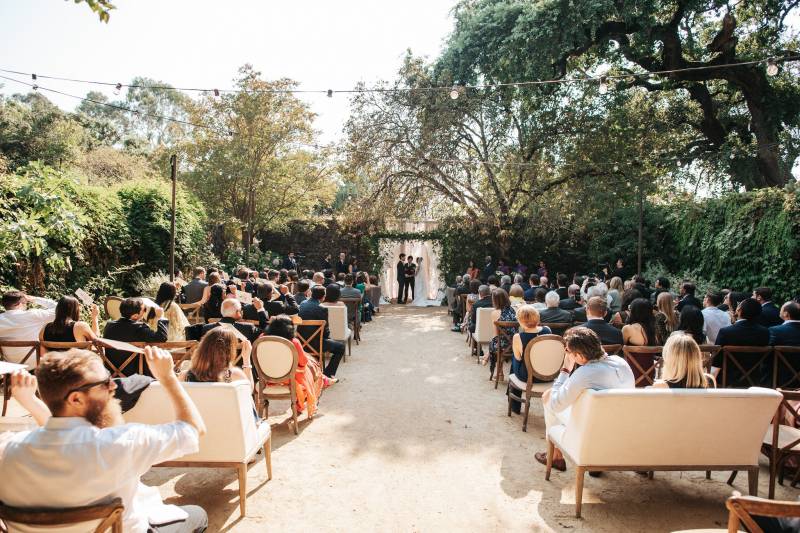 "Our ceremony featured customs from both of our heritages, with an emphasis on the aspects that make them more similar than different. One Indian tradition we shared, for example, is the 'Manthrakodi,' or the groom shrouding his bride in a new saree, symbolizing his care and love for her. Although a custom unique to Catholics from Kerala, the Manthrakodi has its origins in Judaism, with the groom covering his bride with a 'bedekan' for the same reason. We stood under a Chuppah, which our officiant (a dental school classmate of mine) reminded everyone was designed with open walls to symbolize hospitality to our guests. The Chuppah was covered in greenery and blooms to match those of the ruins at Annadel, and guests were seated in a motley of chairs and couches in front of us."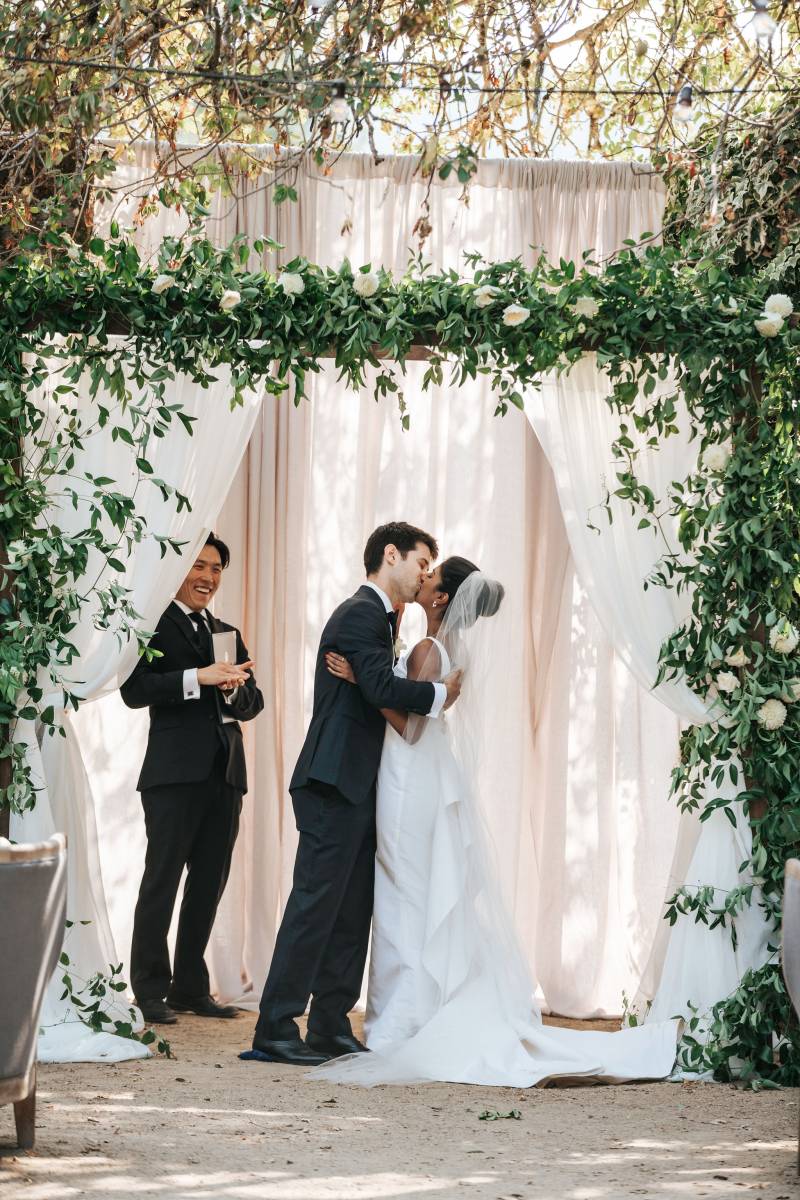 Rosa recalled her favorite memory from the wedding:
"The highlight was the enthusiastic "hora" that kicked off dancing for all the guests. We knew our DJ was a star when she mixed a custom version of "hava nagila" for us one week before the big day. In addition to being lifted on chairs, we both crowd-surfed over our guests (with wine bottle and toothbrush-shaped pool floaties) and engaged in impromptu acrobatic feats that lasted nearly 15 minutes! It's safe to say nobody could stay seated after that, and my Indian family can't wait to incorporate a hora into any future weddings."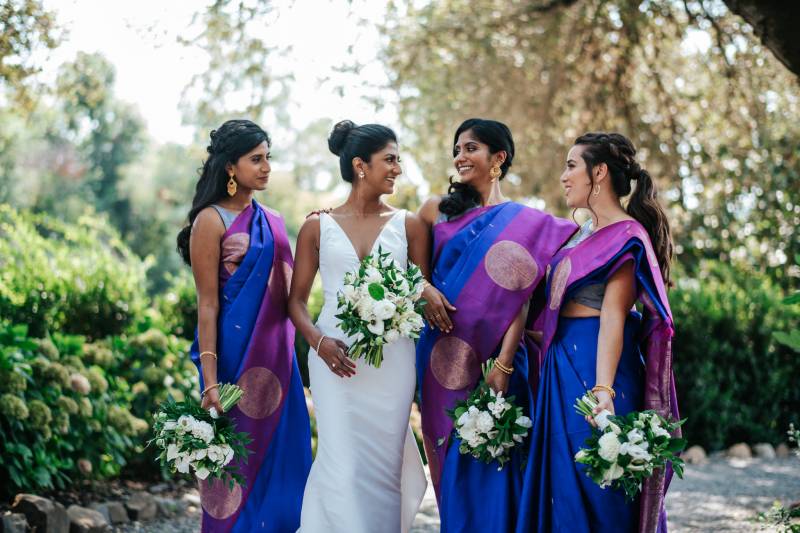 "I have always been drawn to how clean and elegant unadorned white silk looks. The Oscar de La Renta 'Landon' gown blew me away with its cascading detail on the back - so classic but unique at the same time...I paired the dress with diamond earring jackets I designed myself, which my mom had made in India, and borrowed diamond studs from my sister. To round out the look, I wore Stuart Weitzman heels in navy blue suede and was gifted a Cartier Panthere two-toned watch by my parents. I loved the watch so much that I was inspired to buy a Cartier watch engraved with our wedding date for Robbie, which I surprised him with the night before our wedding!
We kept the wedding party all in the family. The bridesmaids, our sisters, wore traditional Kanchipuram silk sarees from Kerala; and the groomsmen, our brothers, wore dark blue suits.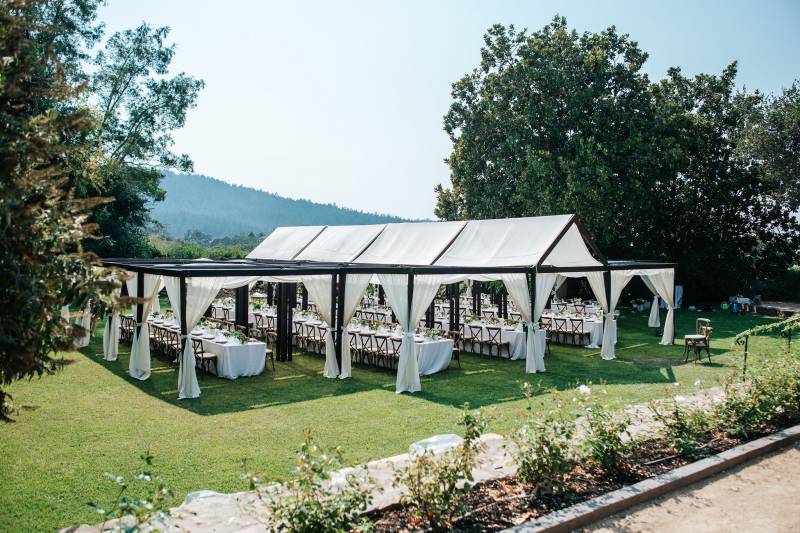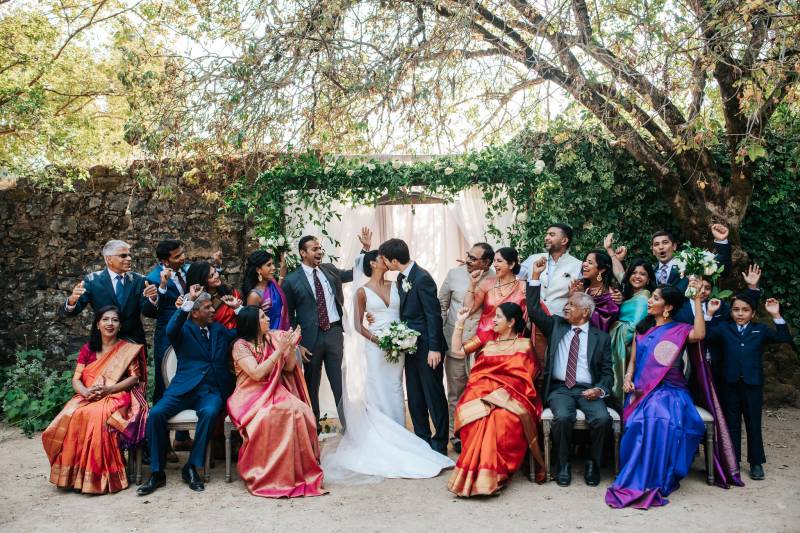 "We loved the communal vibe of having the dinner served family style, and seated all guests together at long tables while our families gave toasts in between courses. We completely lucked out in having the dinner service during golden hour. My most cherished memory of the wedding is seeing everyone's glowing faces all around under the ethereal, waving white cabanas, laughing with each other at the toasts and marveling at the spectacular light we were blessed with."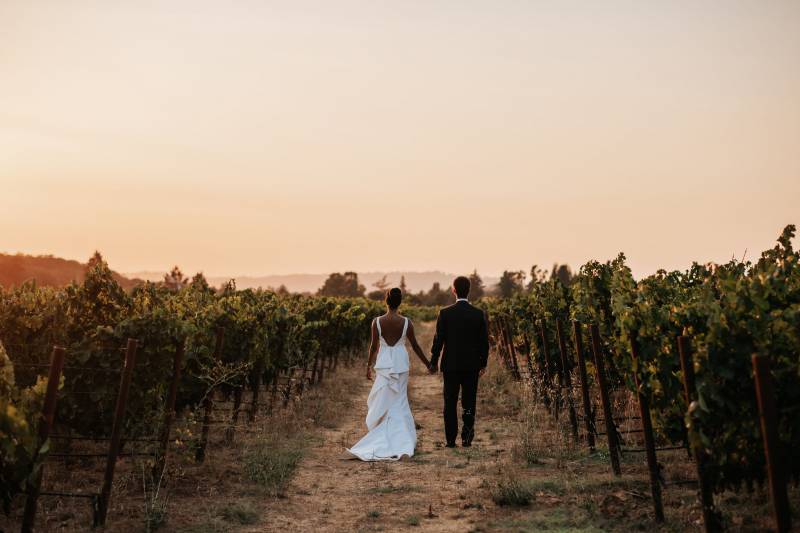 "Overall, I know every bride thinks their wedding was the best, but guests continue to remind us long after the weekend was over of how much fun they had experiencing our cultures and our new home in California through a distinctly 'Robbie and Rosa' lens. When we think back on our wedding day, we're the most proud of this."