Happy Valentine's Day from all of us at Pacific Weddings! Why not begin your celebrations by browsing through a few of our favorite bridal garters to date. La Gartier specializes in high end wedding garters that can be used as either a tossing garter or a treasured keepsake.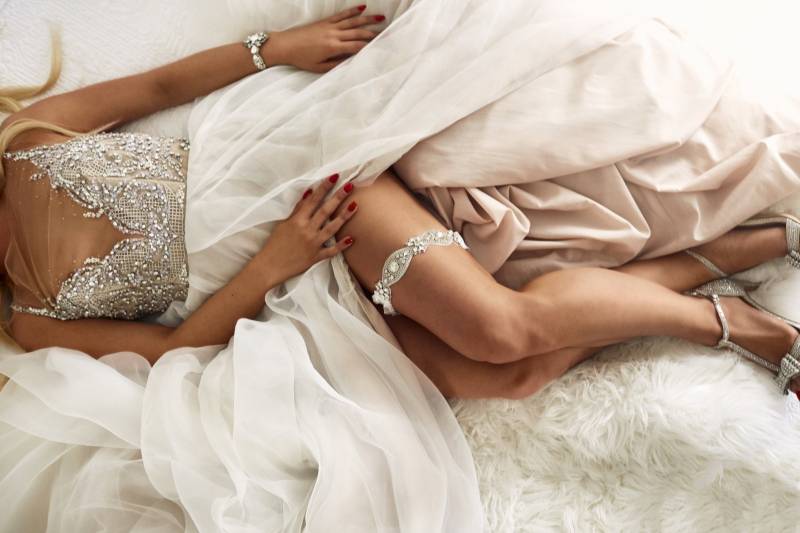 Left: The Galia (limited edition) is one of our favorites for the sophisticated sexy bride. It is actually named after the wedding gown designer Galia Lahav, and is intended to be worn by a bride who is wearing a Galia Lahav wedding gown on her wedding day. It looks especially gorgeous when worn with Galia gown that features see-through, illusion detailing of some kind.
Right: The Blue Pearl Toss Garter is made out of an exquisite blue pearl and sparkling rhinestone band. This garter would be perfect for any bride who is looking to cross off her "something blue" in an elegant and subtle.
Left: La Gartier has a wonderful collection of bridal handkerchiefs as well. Whether you are gifting this hankie to someone you love or shopping for yourself, this "something old" wedding hankie is sure to set you apart! And each handkerchief features blue embroidery that can serve as a your "something blue". Note that each of these handkerchiefs is a one-of-a-kind item. Once this item is purchased, it will be permanently removed from their website and will no longer be available. So, if you are looking for originality + all things loving on your wedding day, this is your hankie.
Right: The Floral Fairytale is designed for the bride who believes in fairytales, is in love with love, and is excited to have her happily ever after! This garter is made out of a 3-D floral and swarovski crystal band. Sprinkled throughout the body of the garter are tiny blue and ivory pearls as well as pink and purple transparent beading. The back elastic band is created using a fine ivory satin with floral embroidered lace on top and bottom. Hand-sewn along the band are 8 tiny flowers centered with 1 single swarovski crystal rhinestone at the center for added sparkle.
Right: The Mother of Dragons designed for the bride who is brave, loving and fearless in her pursuits. The front band of the keepsake garter features exquisite ivory and pearl detailing. Hidden within the beading are over 20 "dragon scale iridescent" rhinestones added for extra sparkle. Hanging from the center is a removable dainty silver dragon pendant.
The Ever After Wedding Garter is one of our favorites. The front band is primarily comprised of clear, sparkling pear-shaped swarovski crystals. Blooming from within the sparkling band are exactly five flowers: three blue (made of a soft acrylic and a rhinestone detail at the center of each flower) as well as two white flowers (made of gauzy, ethereal organza with a pearl detail at the center.) The best part? The inside of the back band is embroidered with the words "Happily Ever After" in princess blue.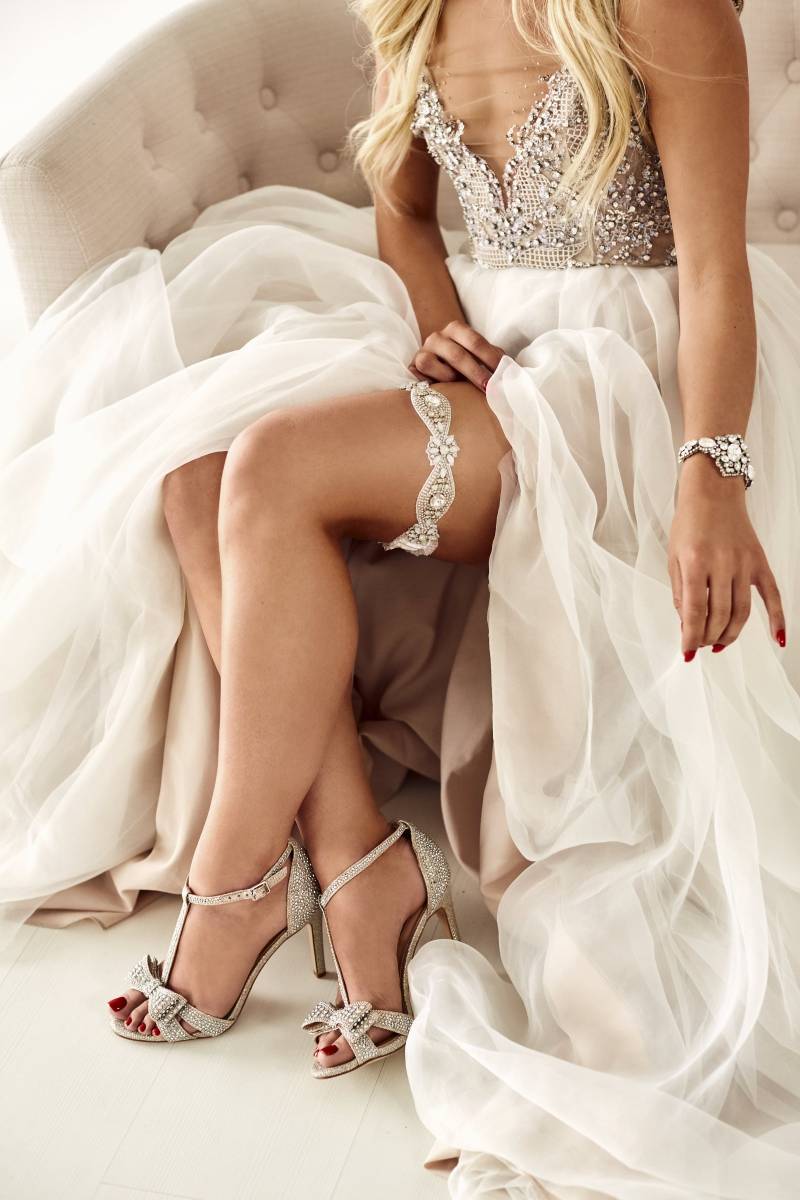 The Athena perfect for the bride who loves opals. It would also work extremely well for a bride who is wearing a form-fitting gown (ie: mermaid or trumpet) due to the fact that it lies very flat against the leg. The Athena is made out of a solid sparkling opal and rhinestone band. The back half of this garter is made of a light, soft light ivory ruffled elastic with tiny swarovski crystals sprinkled throughout. Please note that the hue of the stones can vary given different types of light, similar to how opals can look more green or more blue when rotated in different types of light.
Left: The Lori takes a modern twist on vintage design. This garter is made out of an alternating rhinestone and pearl vintage-inspired band that features subtle golden embellishments. The back half is made of a soft light ivory elastic.
Right: The Mother of Dragons