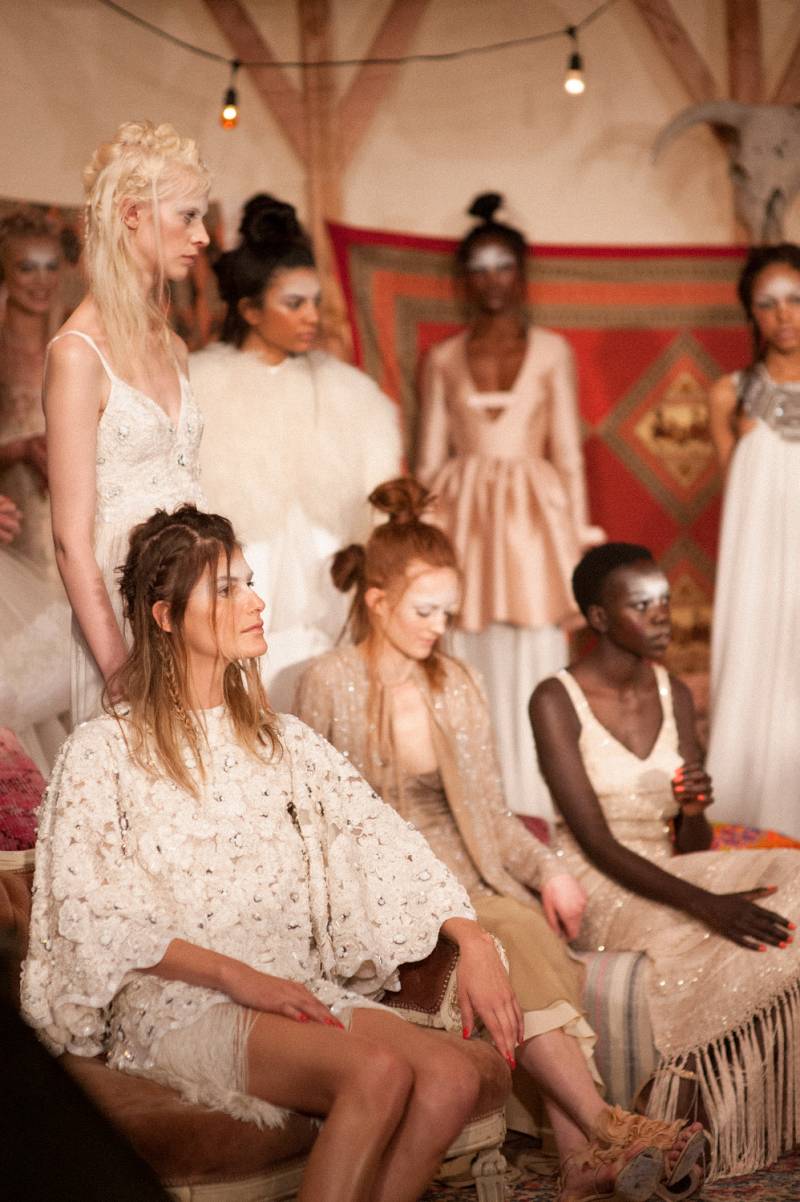 Bridal week is a hurricane of details, couture, and white. There are flowers, there are long, lace-draped limbs. We've come to be accustomed to the sleek, white floors and delicate crystal chandeliers that symbolize and accompany wedding fashion. Perhaps for this reason, Houghton's runway show slash model-lounge stood out as one of the most inspiring events of the week.
Photographer Cameron of Cameron & Kelly Sutdio stepped in to shoot all of the magnificent details for us.
A long train of global-bohemian rugs paved the runway, and a Ralph Lauren worthy canvas tent of sorts sheltered Houghton clad models and supported metallic orbs, layered fabrics, and several strands of bistro lights. Models with strong, edgy features boasted bridal warpaint and messy braids and buns - and not in the subdued, only subtly messy way usually seen at bridal shows. Hair and makeup bordered on couture-level wierdness. We couldn't get enough.
Amidst layers of epic details like the white, painted foreheads and piles of cowhide and oriental rugs were the designs themselves. Impressively varied, the models walked in shearling, lace, silk, and fringe of the short, long, kaftan, mini-dress, over-alls, and peplum varieties.
In general, the fashion world seems to be moving away from the over-done flower-crown bohemian in favor of a chic, global jetsetter. We fully support this transition, and without further ado, we introduce the royal family of this movement: Houghton Bride.