Chelsea Sevitz and Dustin Bukewihge initially tossed around the idea of "a simple backyard barbecue." A big wedding wasn't particularly appealing to either of them, especially Chelsea, who has a tendency to deliberately deflect attention despite her beauty and intellect. The Haiku Mill changed their minds. Stepping in through the ancient archway, Chelsea was taken back in time and reminded of everything she adored in Paris. Ornate cast iron columns rescued from French flea markets and luxurious antiques imbue the old sugar mill with a secret garden ambience that both Dustin and Chelsea found mesmerizing. "The beauty of the mill took my breath away," she says. "We knew instantly that we wanted to be married there."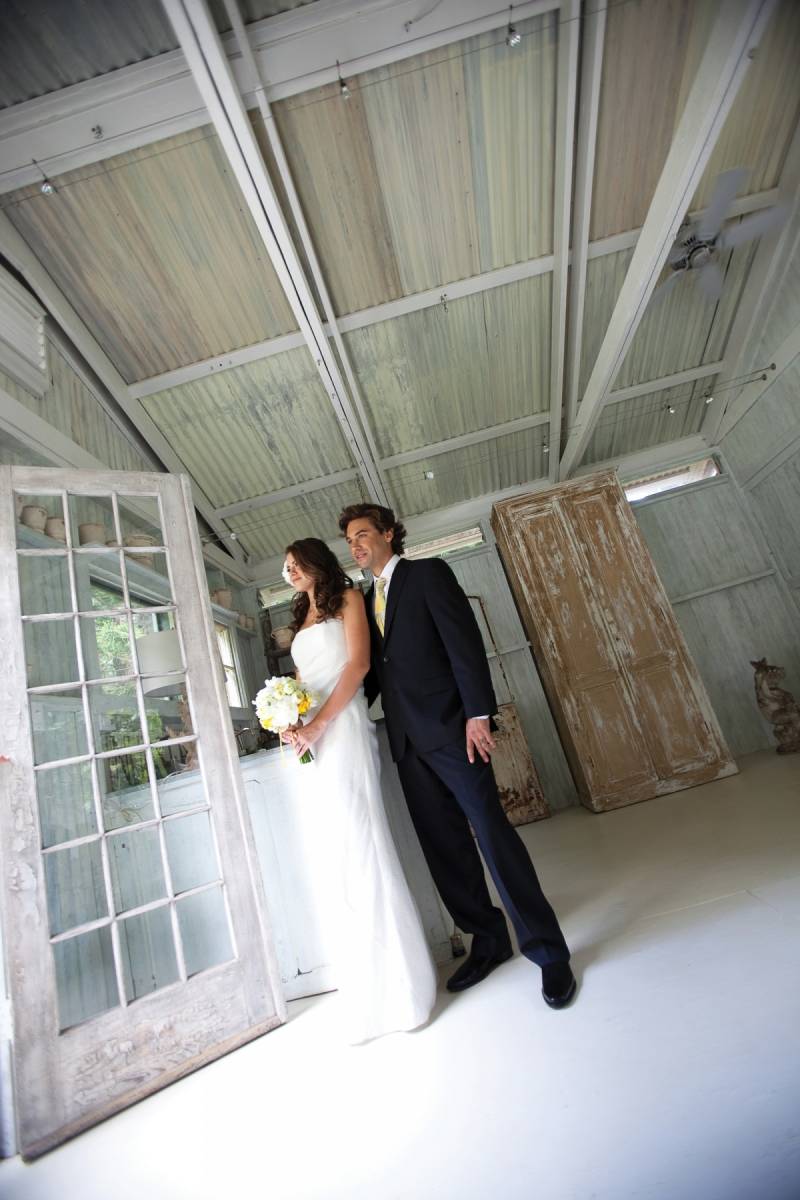 On the day of her wedding, Chelsea arrived on the scene with her bridesmaids, Marion and Michelle, and they were escorted to the Cane House. The dollhouse-like cottage is the consummate bridal suite, with its fresh white- on-white interior, pretty French antiques and sumptuous canopy bed. It was a sublime setting for makeup artist Jessica Waite and stylist Dan Sanchez to sooth Chelsea's nervous energy. She had yet to see the mill in all its splendor, and protocol dictated that Dustin be held at bay, so she was breathless with anticipation.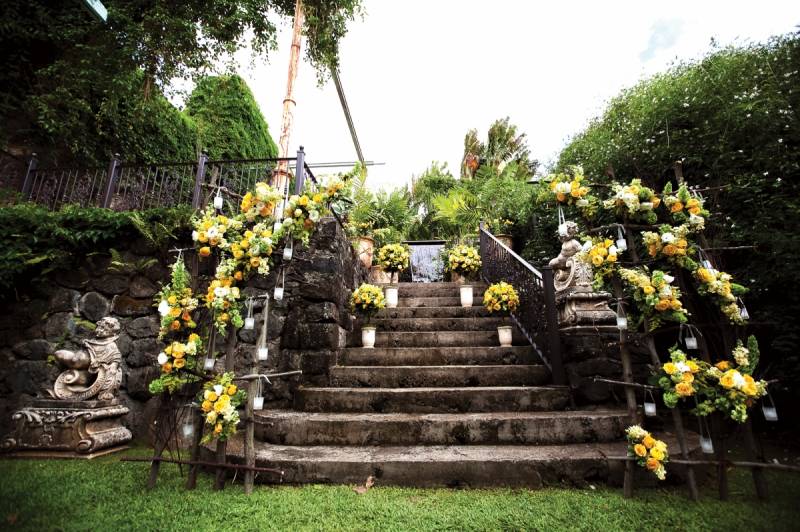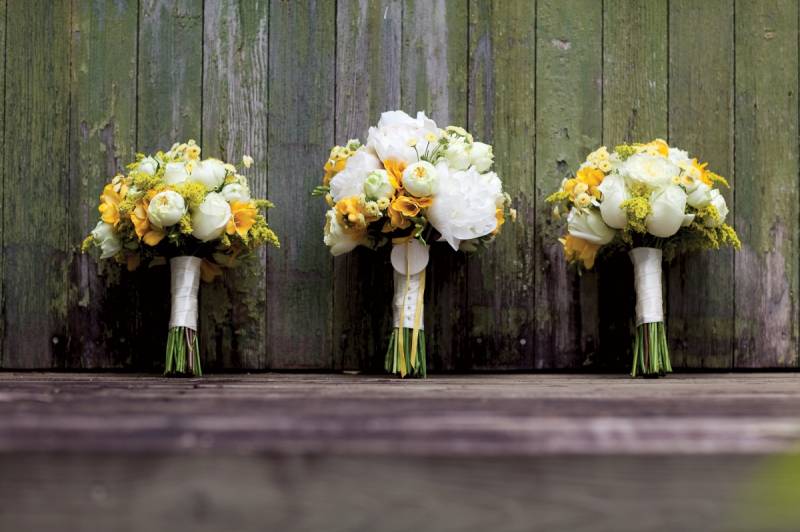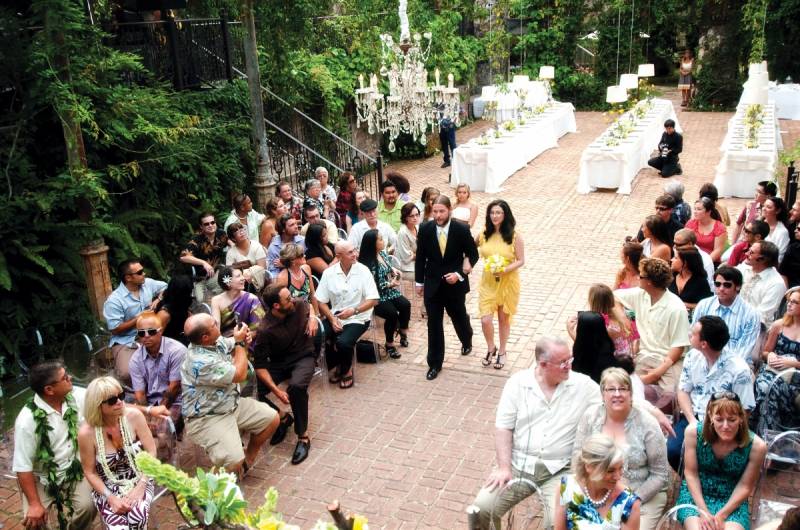 Bridesmaids wore sunny yellow dresses, each of their own style, and carried smaller versions of the bridal bouquet.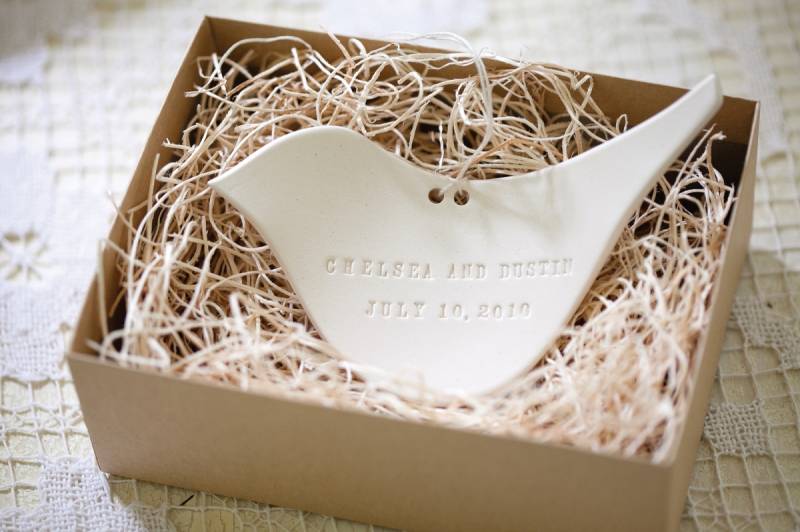 A Paloma's Nest charm was inscribed with the wedding date, July 10, 2010.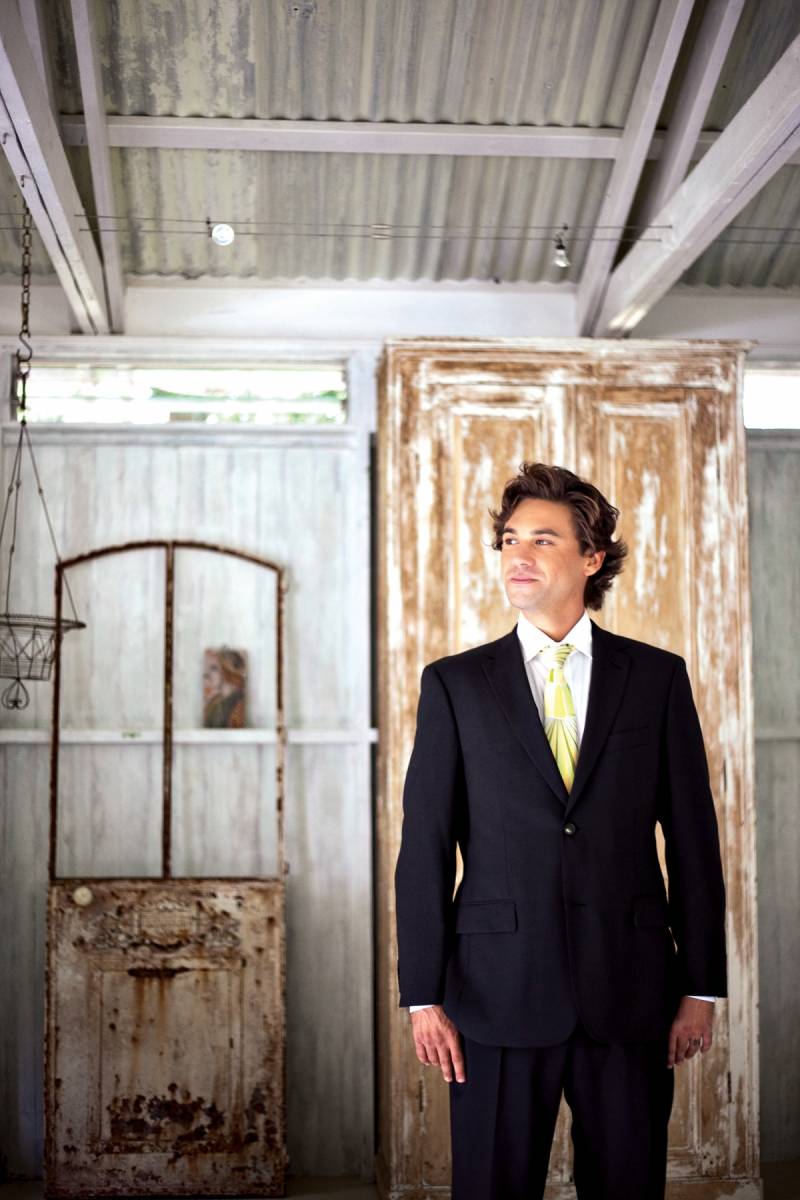 The groom cut a handsome silhouette of midnight blue in a Hugo Boss suit. His eye-catching Emilio Pucci tie mirrored the color story for the day, and reflected his lighthearted approach to timeless style.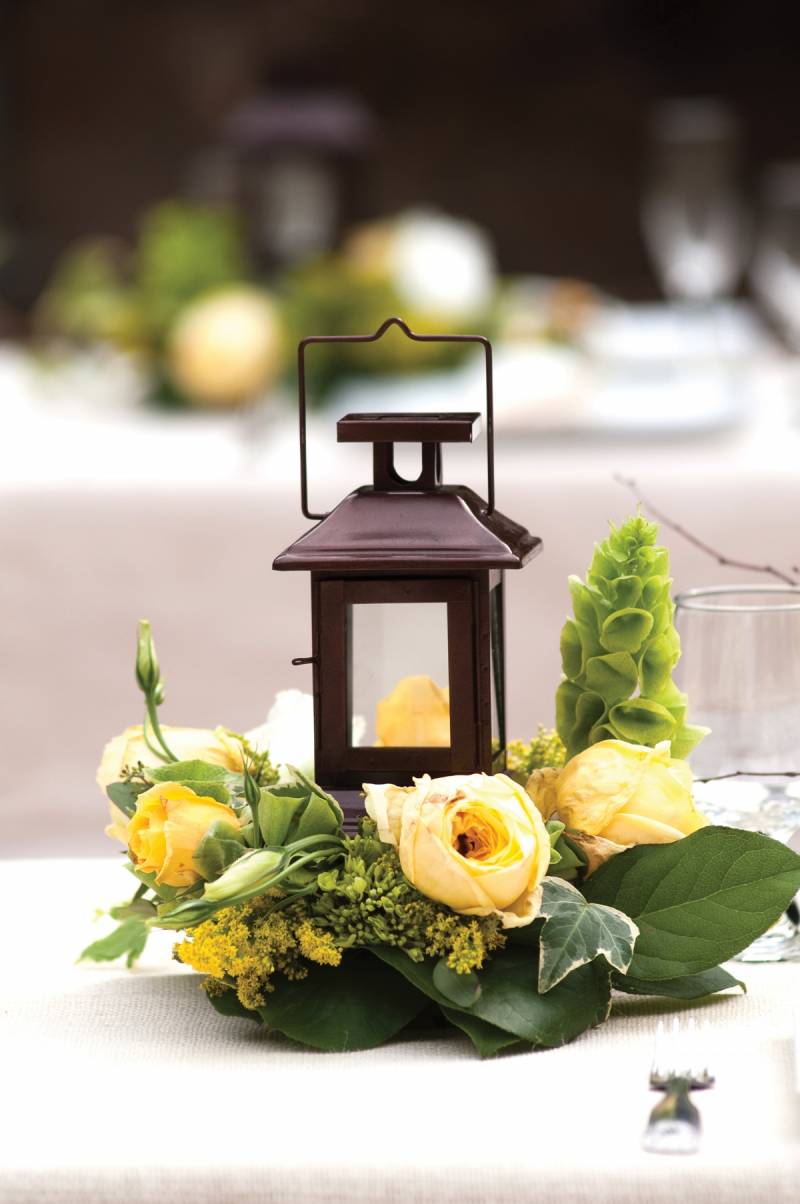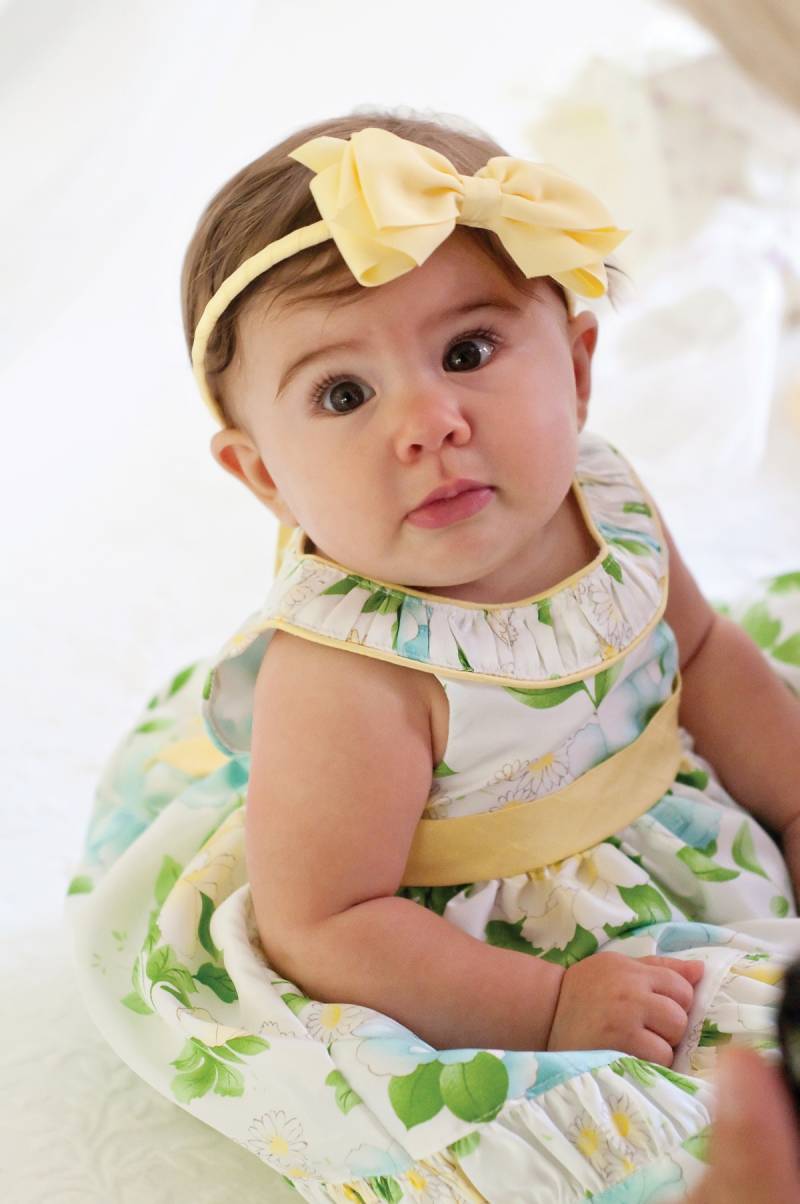 Even Dustin and Chelsea's adorable little daughter Olive donned the colors of the day, along with a precious coordinating headband.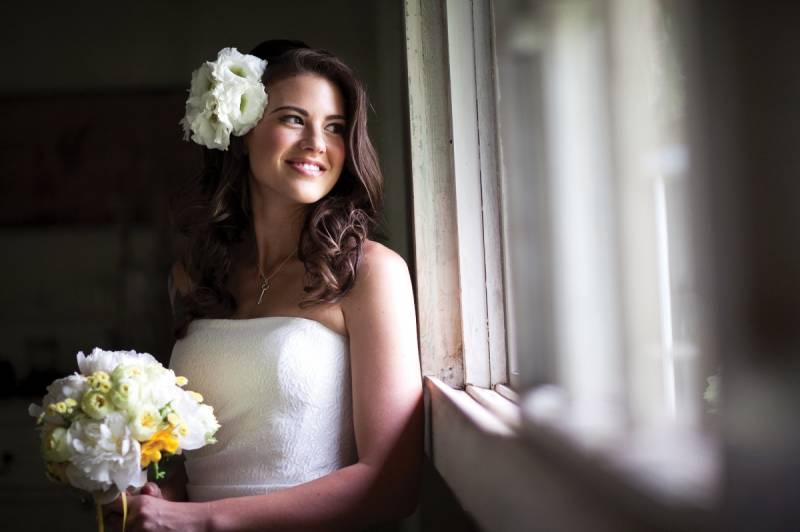 With her long hair in romantic, loose curls tucked in a clip of lisianthus, Chelsea was demure.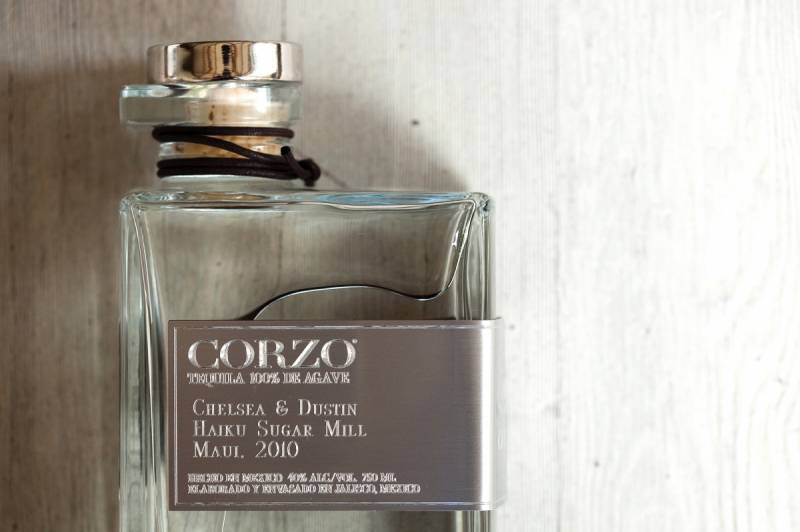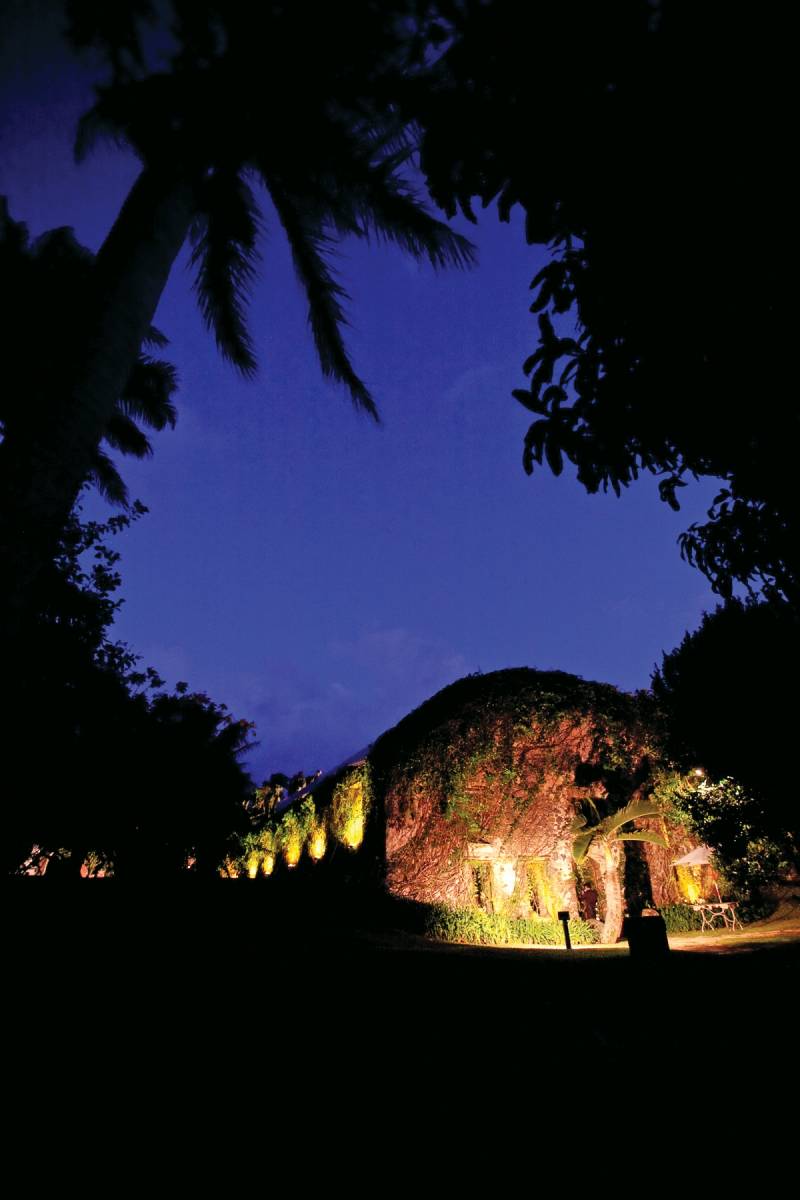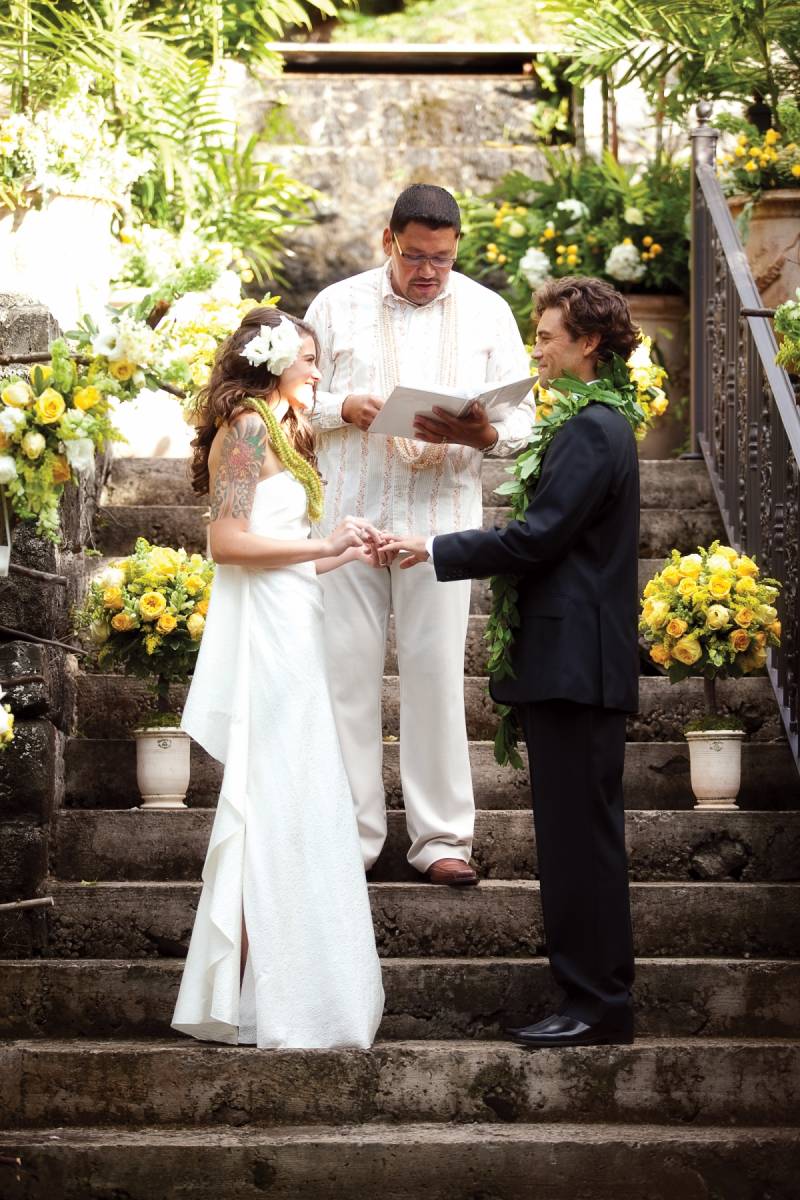 The bride wore a lovely strapless a-line gown of gossamer silk. Her lush bouquet of lacy white peonies, dainty feverfew buds and fragrant yellow garden roses was tied with a Paloma's Nest charm that was inscribed with the wedding date, July 10, 2010.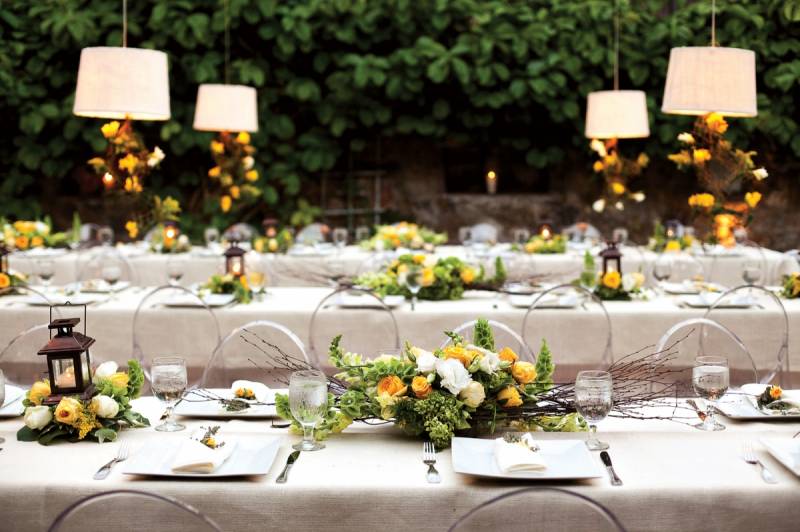 The palette of the day, including the bridal party's attire, was spectacular against the earth tones of the mill. Florist Fong Tagawa's natural altar of dark wood branches covered in a profusion of saffron and white flowers was lit with dozens of tea lights. Striking topiaries in antique clay pots led up the steps to the mill's waterfall, creating a stunning backdrop for the wedding vows.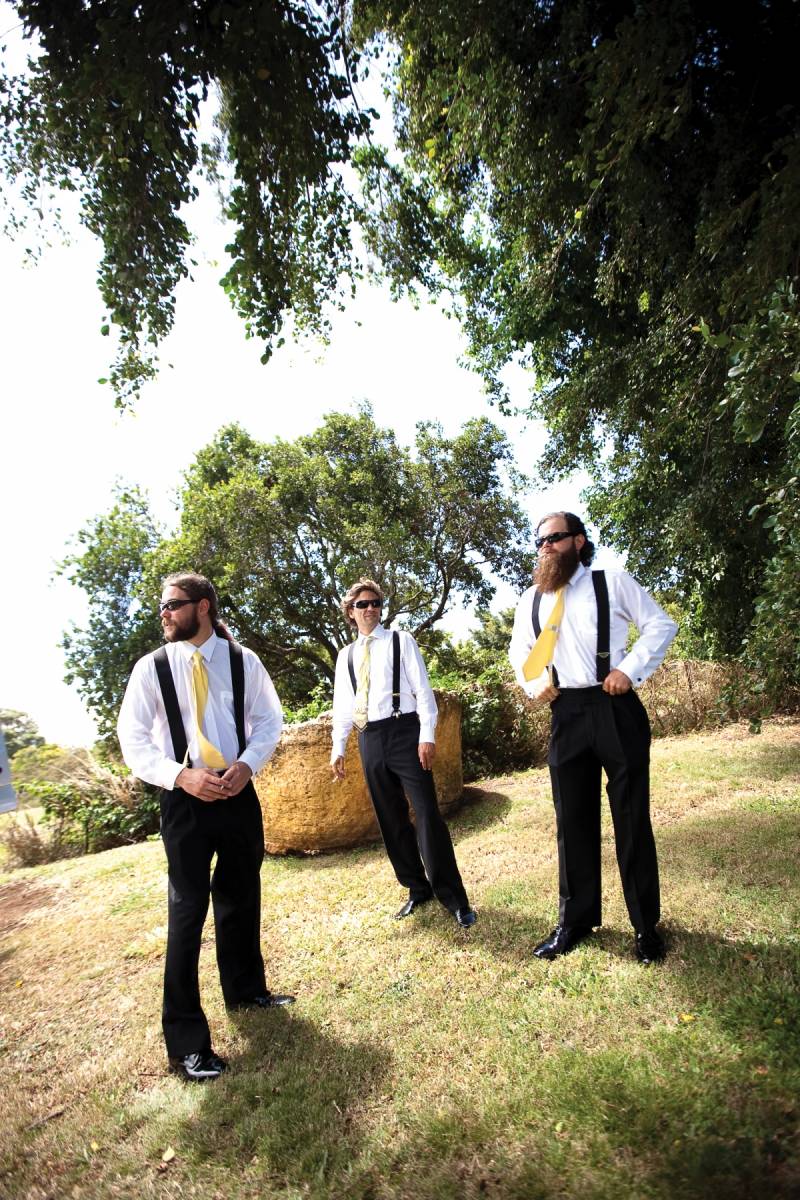 The groom's best friends, Nick and Brian, stood by his side in jet black suits and suspenders paired with vivid yellow ties.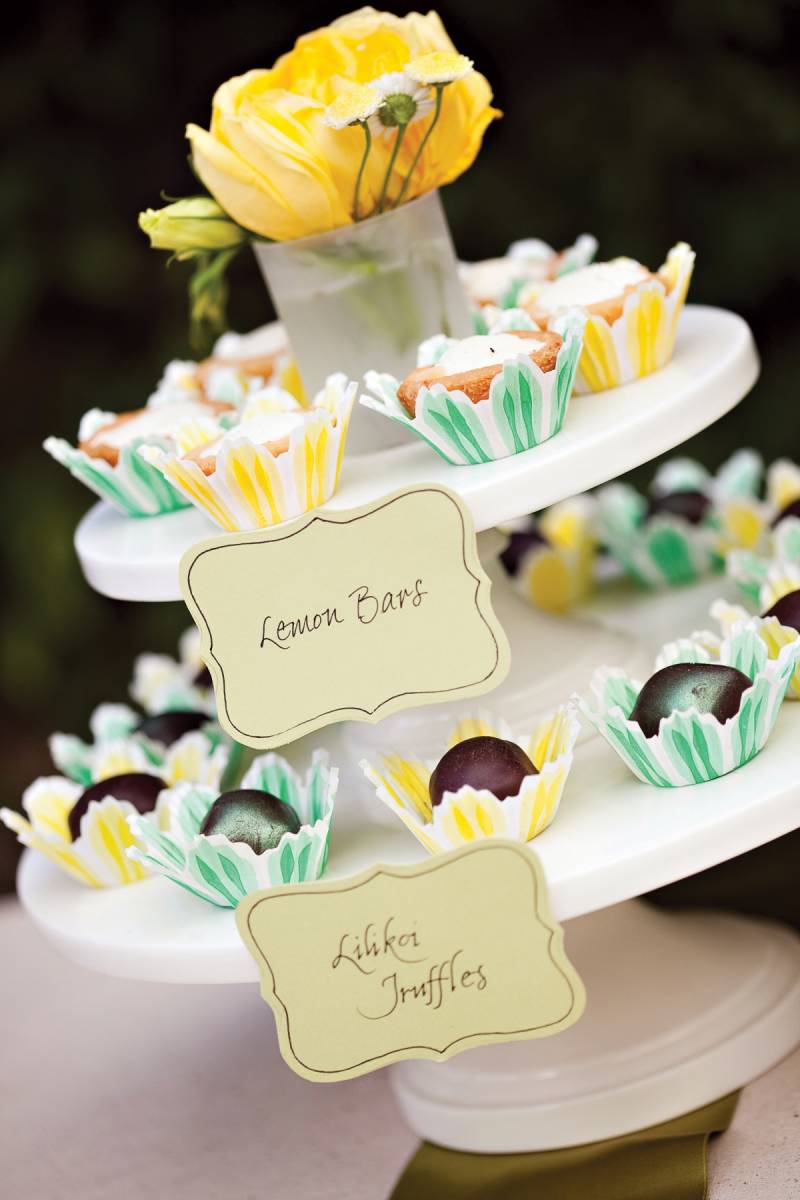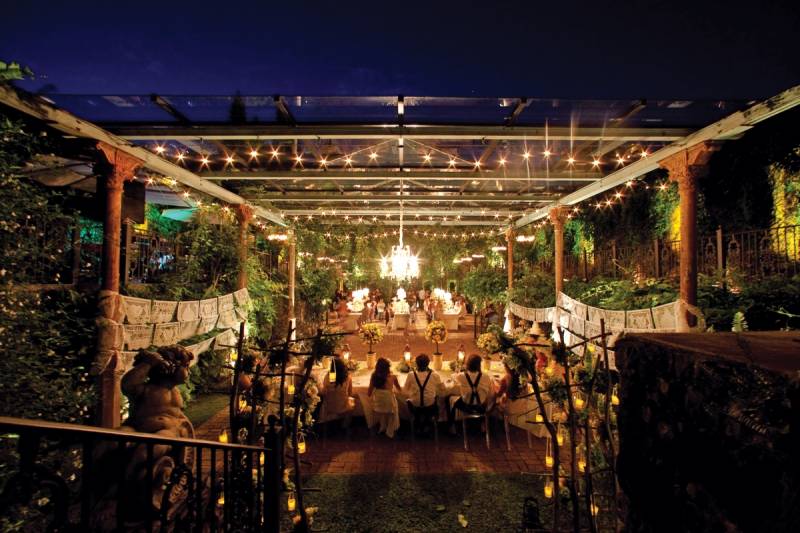 Gathered among the immense mango tree outside the mill, seventy-five family and friends enjoyed cocktails and waited for a chance to congratulate the newlyweds with a warm embrace, the first of many to come as the night would unfold. The bridal party and their parents sat at the head table, bedecked with ivory burlap linens, exquisite topiaries and copper lanterns embellished with garden roses, lisianthus, hydrangea, snapdragon, solidaster and Bells of Ireland. Intricately cut by hand, strands of fragile white Mexican flags surrounded their table, a nod to the groom's family heritage. A fine bottle of Corzo tequila was reserved for the wedding party, its silver label inscribed for posterity.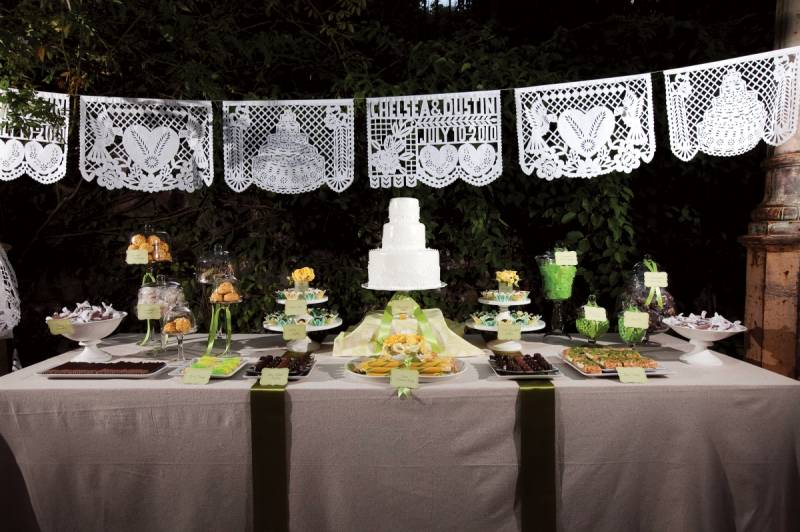 Dustin's hope for a good old-fashioned barbecue prevailed at dinner, since this was the one thing he most desired for their guests: a hearty, delicious meal they wouldn't soon forget. Café O' Lei served a robust menu of barbecued spare ribs, grilled chicken, quinoa salad smothered in roasted vegetables and fresh blackened mahi mahi. Family and friends dined under the soft light of ivory drum shades adorned with white burlap, natural twigs and fresh flowers. Candlelit lanterns surrounded by roses tucked in twig baskets spilled over each table, creating the naturally elegant mood that Chelsea desired. Mother-of- the-bride, Alberta Fujihara, says, "The tremendous attention to detail—from tying in the twigs from the invitation motif, down to the sprig of thyme and tiny rosebud at each place setting—made this wedding the most beautiful one I have ever seen."