Today more than ever, more people are invested in supporting local businesses and becoming more sustainably conscious. An easy and impactful way for couples to bring this practice into their wedding planning is through using local flowers for their ceremony and reception.
Flowers are often shipped in from miles away for wedding decor, but selecting locally grown and harvested flowers will support local business and community. You can easily work with your florist to put together a selection of seasonal, locally sourced flowers that both support and celebrate the place where you plan to wed. Not to mention, if you are marrying in a warm or tropical location, locally-sourced flowers are sometimes more adjusted to the climate and less likely to wilt.
We talked with Maui-based flower farmer and designer Reba Dodge (also known as Harvest Dream Girl) about her experience cultivating a sustainable farming practice on the island. These beautiful images of Reba on her farm were taken by Hawaii wedding photographer Mykle Coyne and directed and styled by Amanda Robson of FEAST Celebration Design.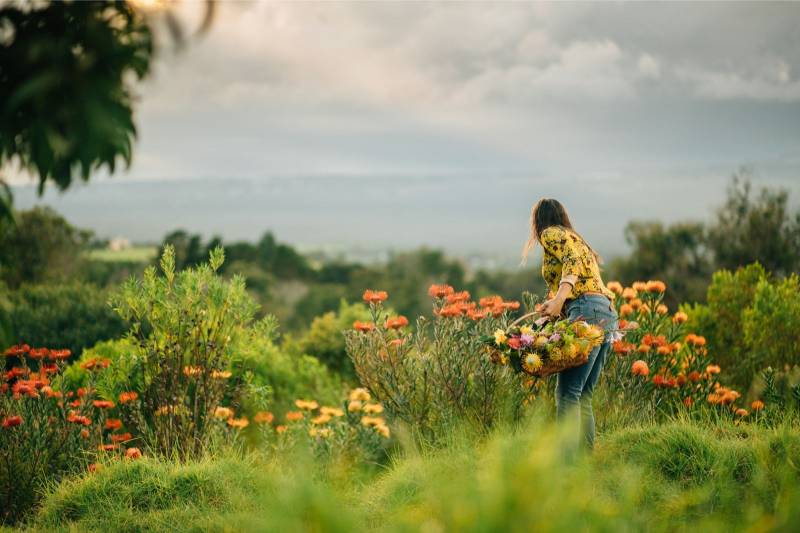 Everything about Reba's farm is magical. The property is perched up high in the crisp, quiet town of Kula along the slopes of Maui's Haleakala. From the edge of protea bushes, a tantalizing bicoastal view of the island unfolds. This is how each day both begins and ends here.
The farm is family-run, and every single bloom produced on this land is grown and harvested by Reba and her family. She described the process of handling each seed she plants with an "energy and passion" that is almost tangible. Every single step of her process is intentional and never rushed. Moreover, every single flower is grown out of love.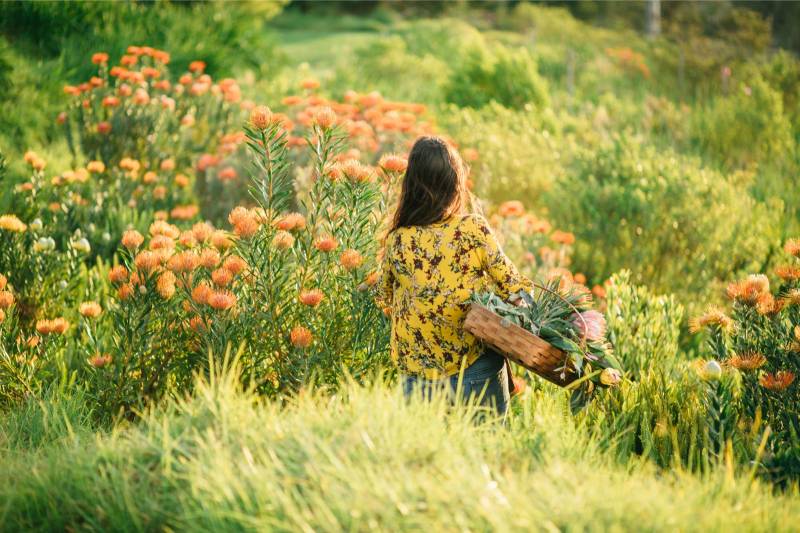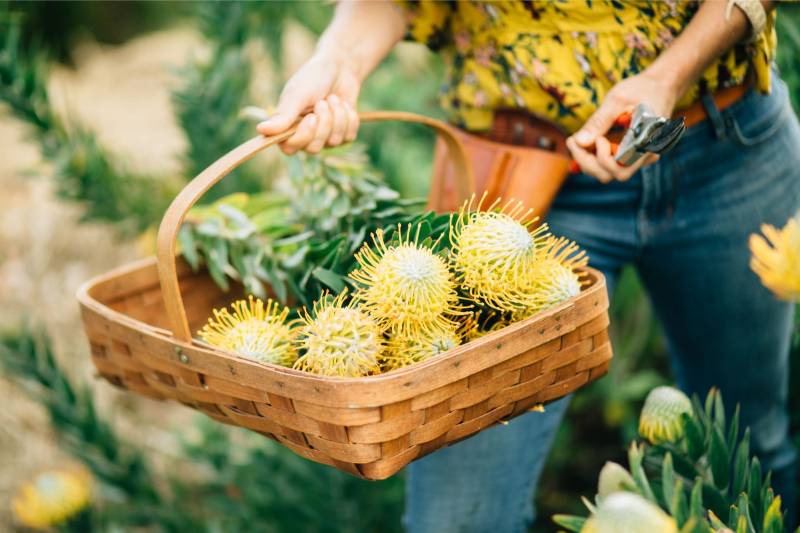 Reba's approach to floral design is similar to her approach to life: slow, indulgent, and precious. She specializes in a few small boutique weddings a year with people who share her vision. She pours her love and energy into her work, and she only uses seasonal blooms to create her designs.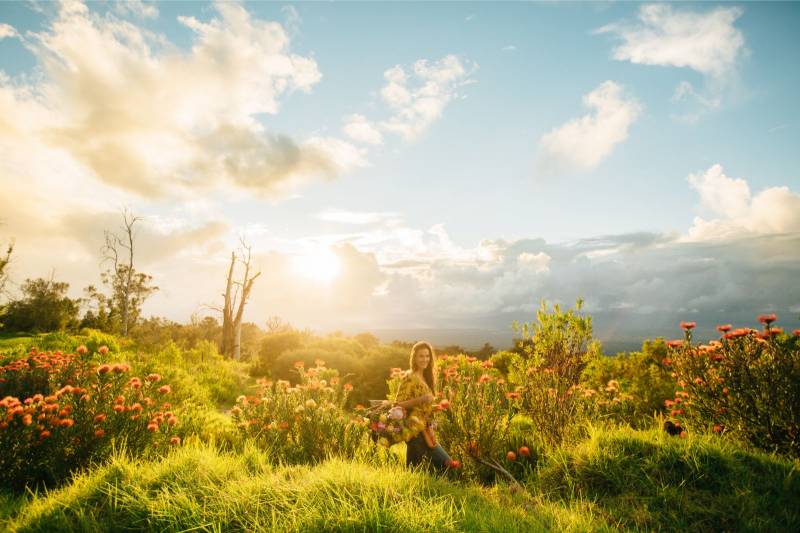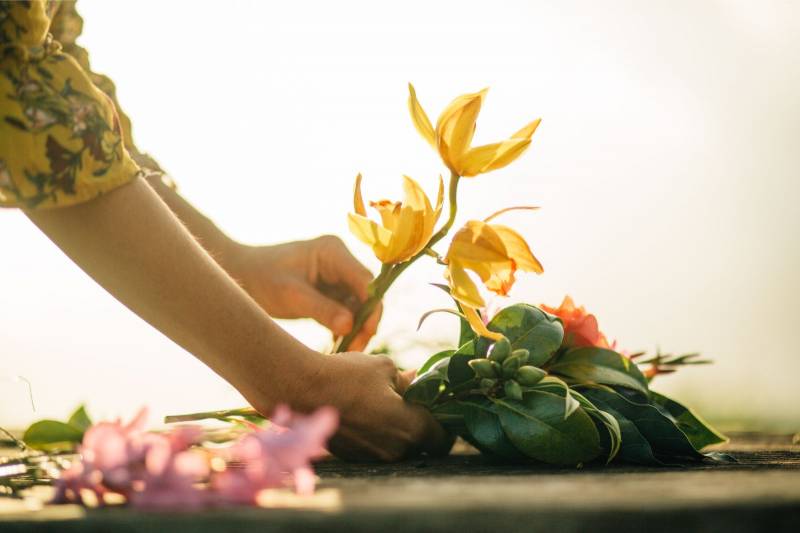 Reba often works with Amanda, the creative director and founder of FEAST. In true Maui fashion, they design gatherings that are built around celebrating community and reveling in a meal together.
"Amanda shares my same vision of slow flowers and slow food," says Reba. "FEAST connects you to how intentional each creation is."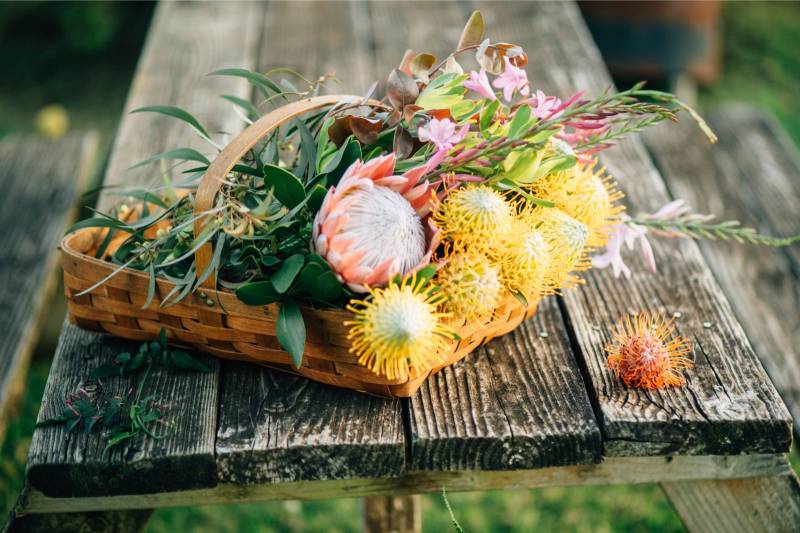 The way that Reba creates is completely holistic. It begins with planting intention and ends with celebrating family.
"Everything I design is locally sourced and supports the community. [And beyond that,] it is so fulfilling. Each bride is going through the most intentional process of her life, and it takes time. A foxglove takes two years to grow, and when I give a bride a bouquet with that flower, I am giving her two years of my love and effort."