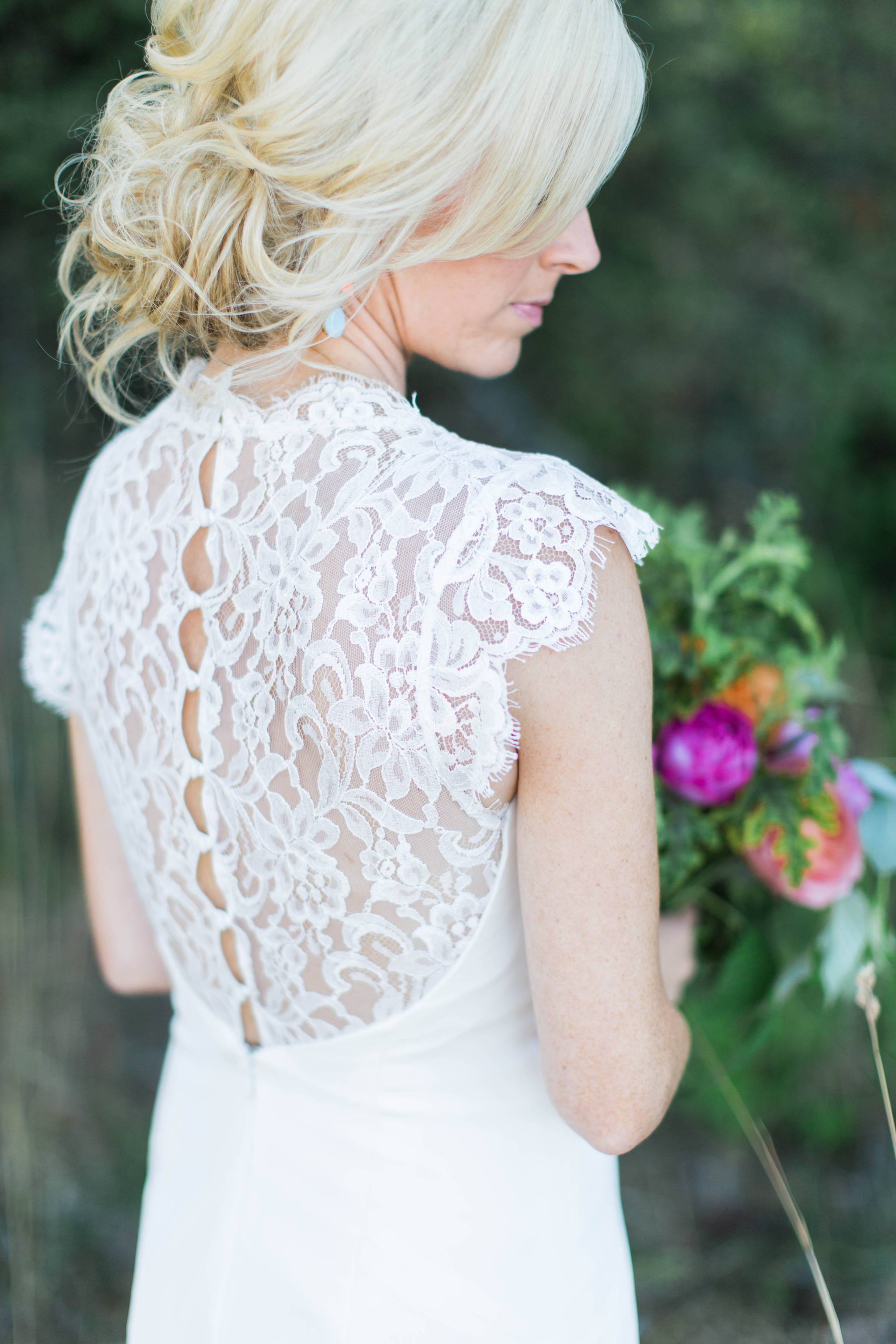 Although Brent and Wendy crossed paths multiple times while attending Oregon State University, they officially met at a pub in downtown Portland, introduced by mutual friends. , but it wasn't until after Brent graduated that they met through mutual friends from Oregon State University. At the night's end, their friend insisted that Brent and Wendy talk on the phone, so he called Brent, handed Wendy the phone, and the rest is history.

When it came time for their wedding celebration, Wendy's passion for planning weddings and events for friends and family under her company Wendy Scott Design came in handy. The three words she uses to describe their lively outdoor wedding? "Bright, happy, and fun. Our color palette was inspired by a "thank you" card designed by Rifle Paper Co. We wanted something that was very bold and fun, but had a very beautiful and easy feel to it by adding in the soft peaches and shale colors."
The Location
The private estate on Rocky Bay in Washington's San Juan Island has been in the Hedberg family since the 1970's. Brent worked at Roche Harbor during the summers in college, and when Brent and Wendy started dating in 2007, they started bringing friends up for long weekends throughout the year. It became a very special place for them. Where the wedding reception was held, it was previously a meadow for the horses to frolic in.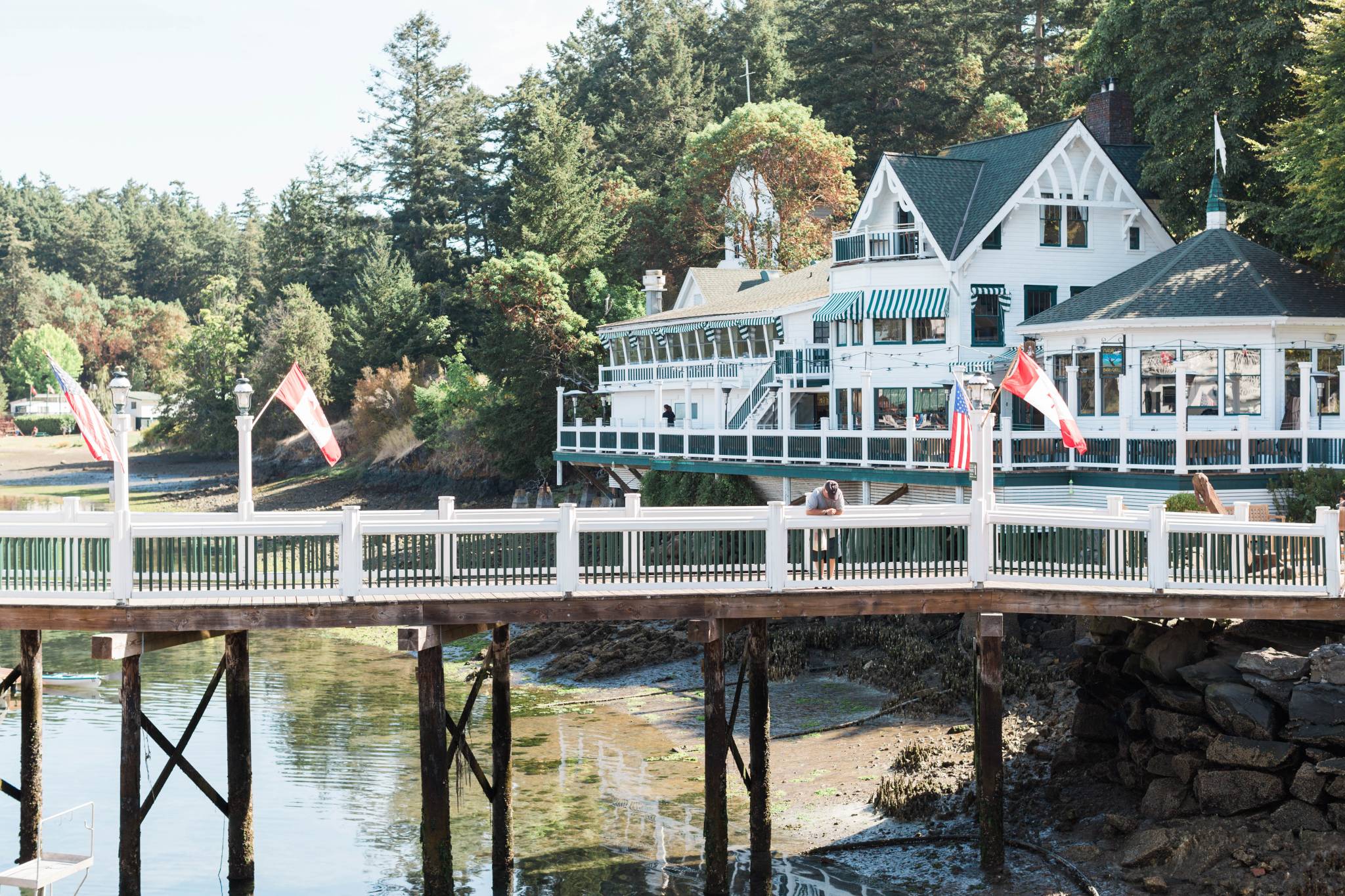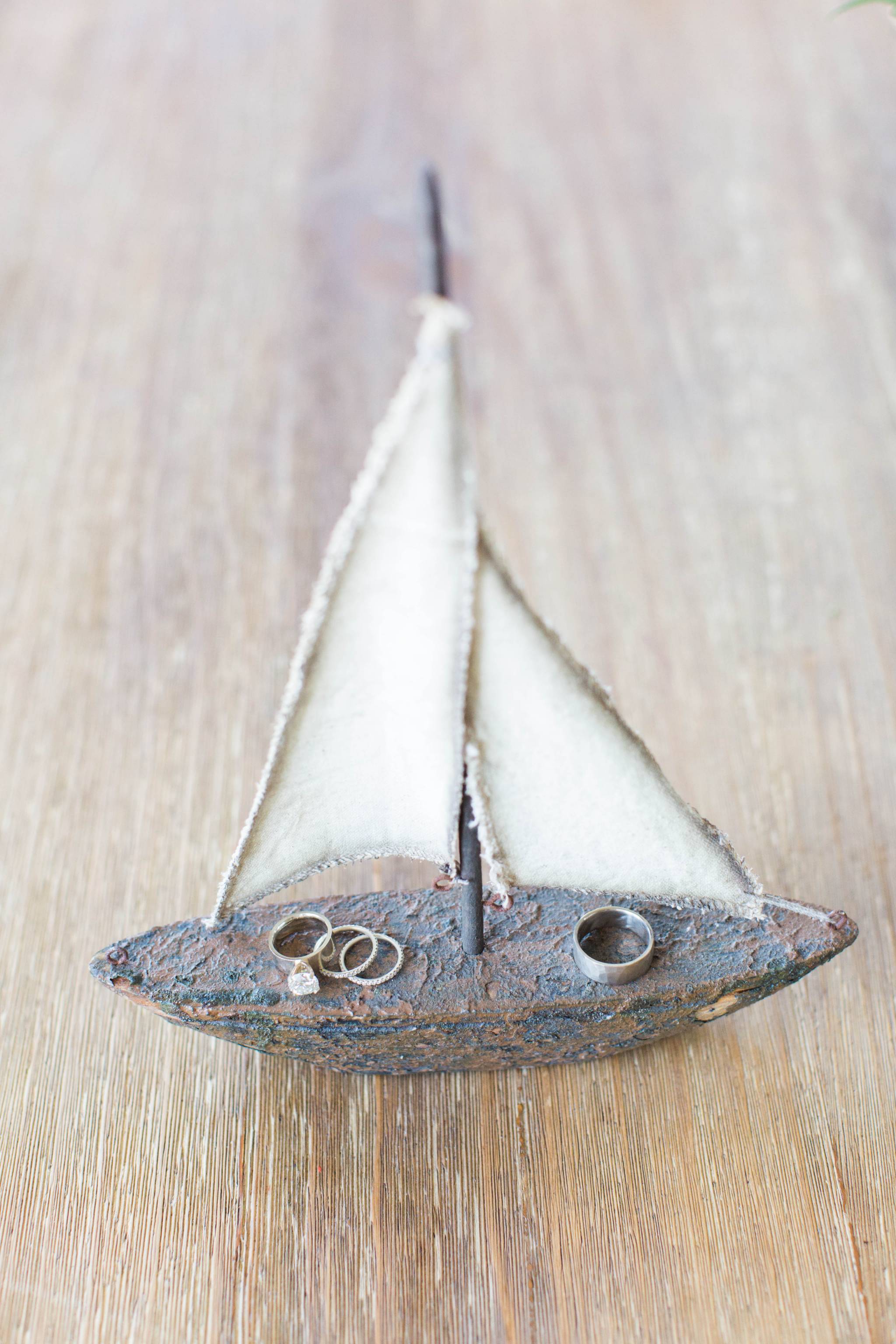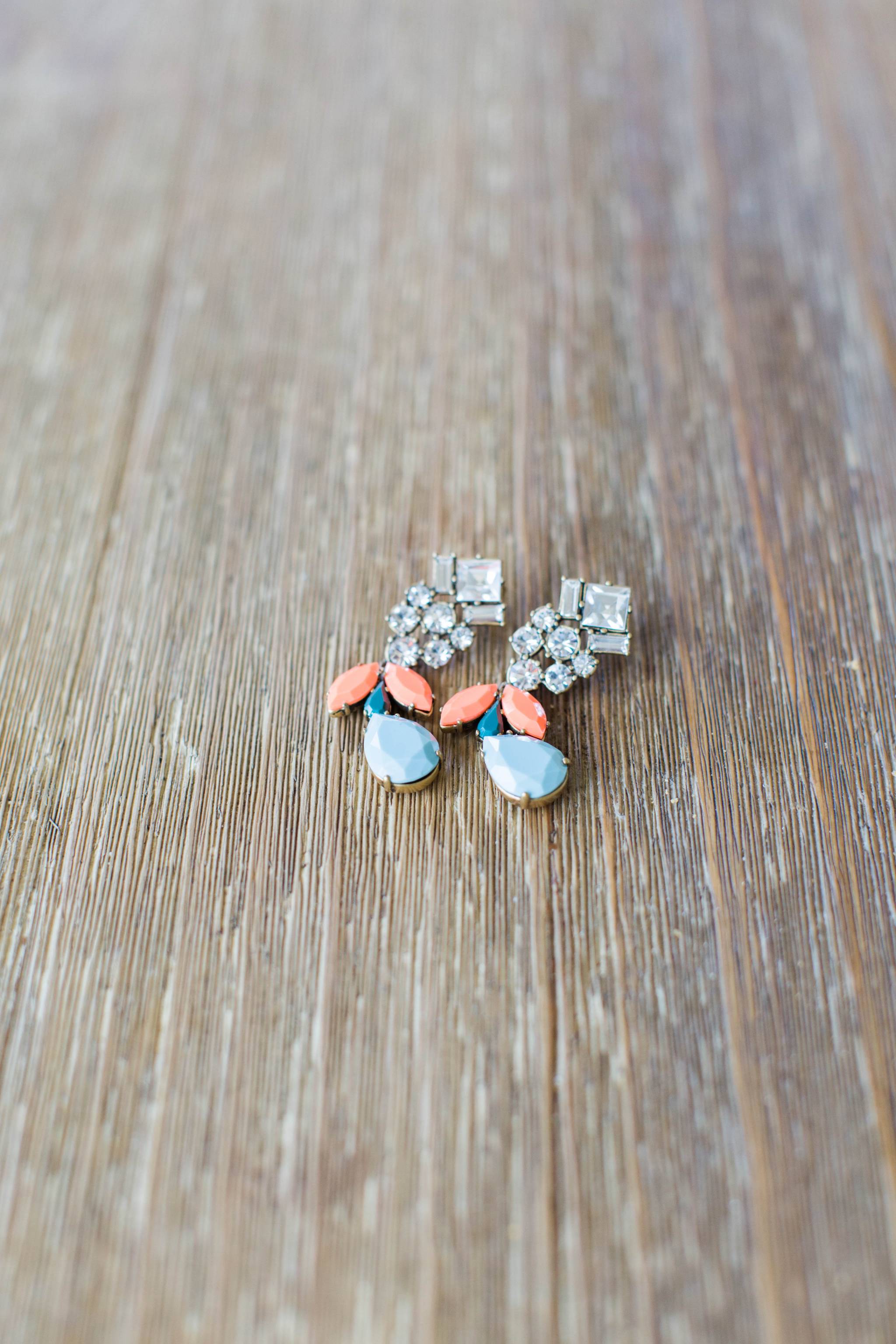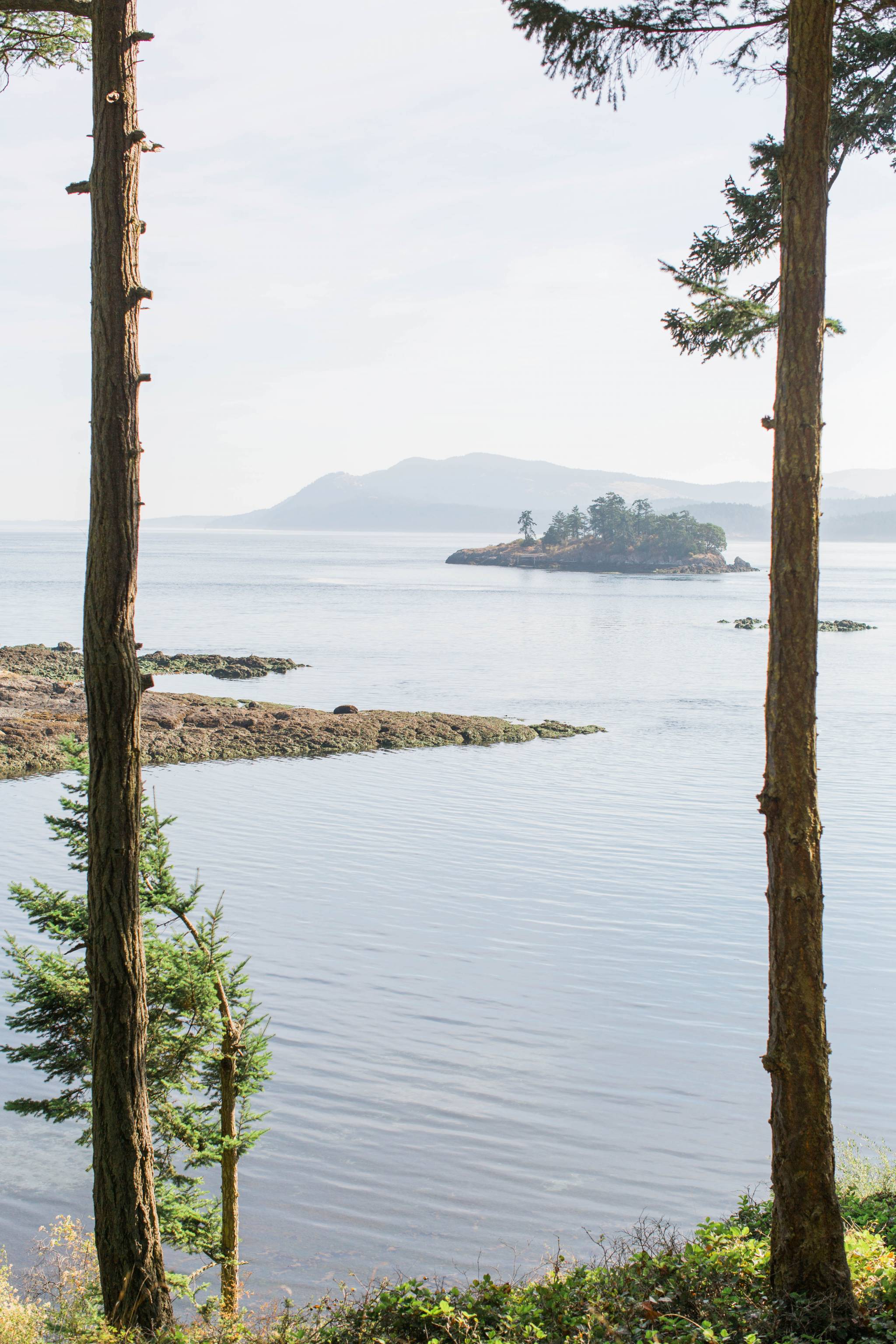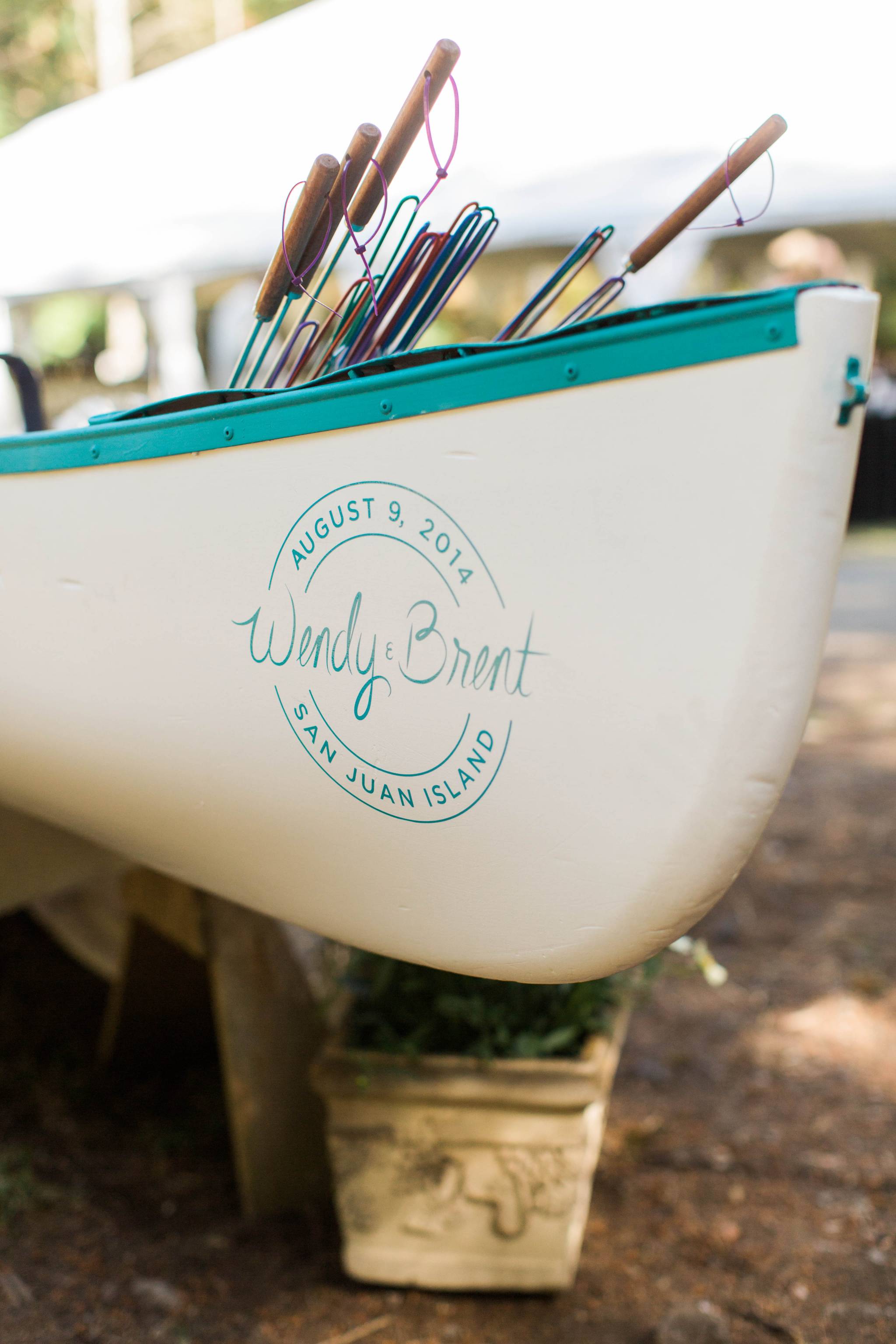 The Dress
"I actually found my dress on Pinterest! I saw the dress, knew it was the one, so I pinned it to my secret wedding board and called around to see what shops in Portland carried Nicole Miller. I ended up finding it at The English Department. When we went in to try it on, I made sure to try on 10 other dresses before that one, and that was still the one. A very special friend who was like a grandmother to me, went wedding dress shopping with us Two weeks later, on the morning of our engagement party, she passed away. We feel very lucky that she was able to be a part of such a special moment. There was actually a photo at the wedding hung of us from that day, in the dress shop, with the wedding dress on. She said "that's the one, Wendy."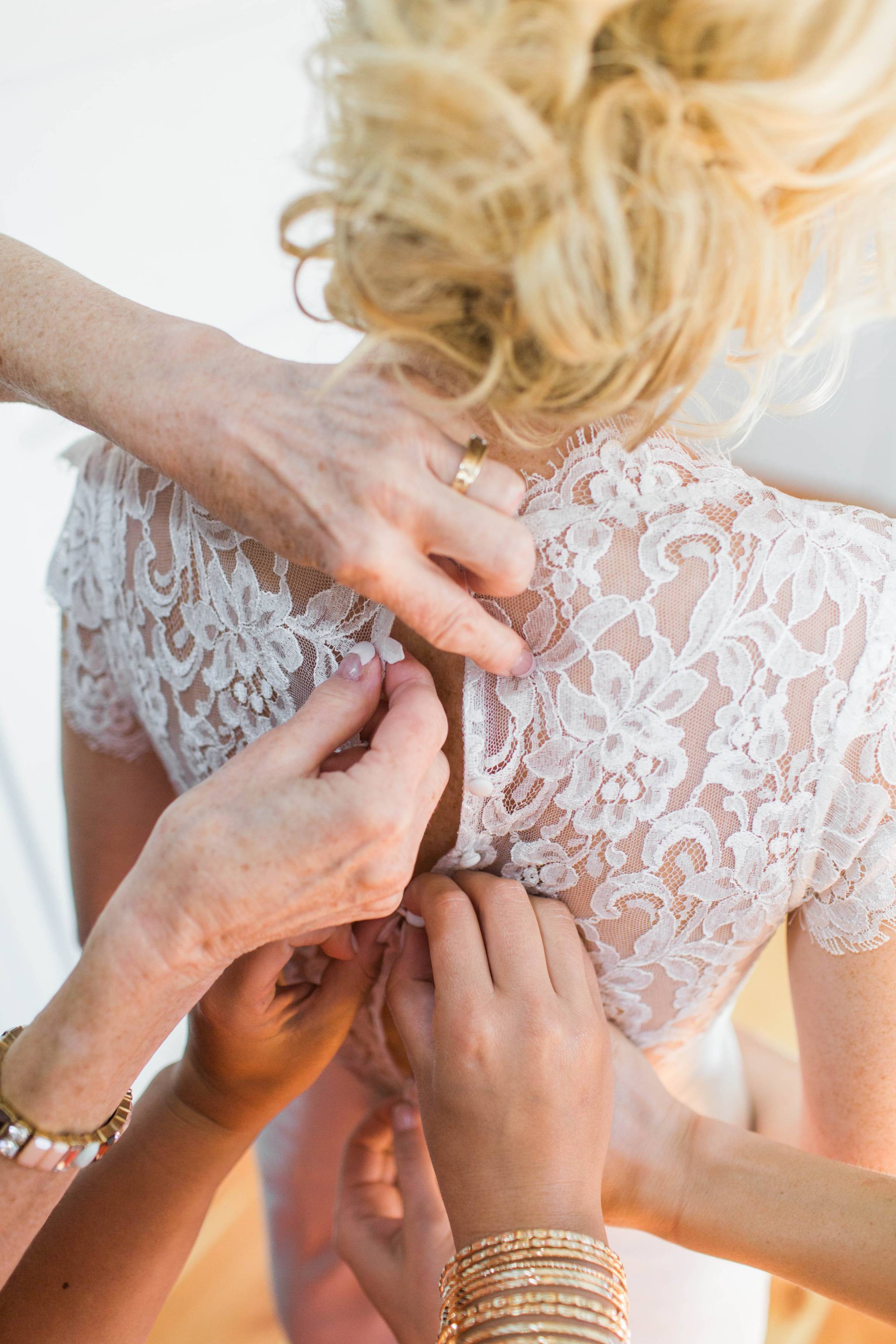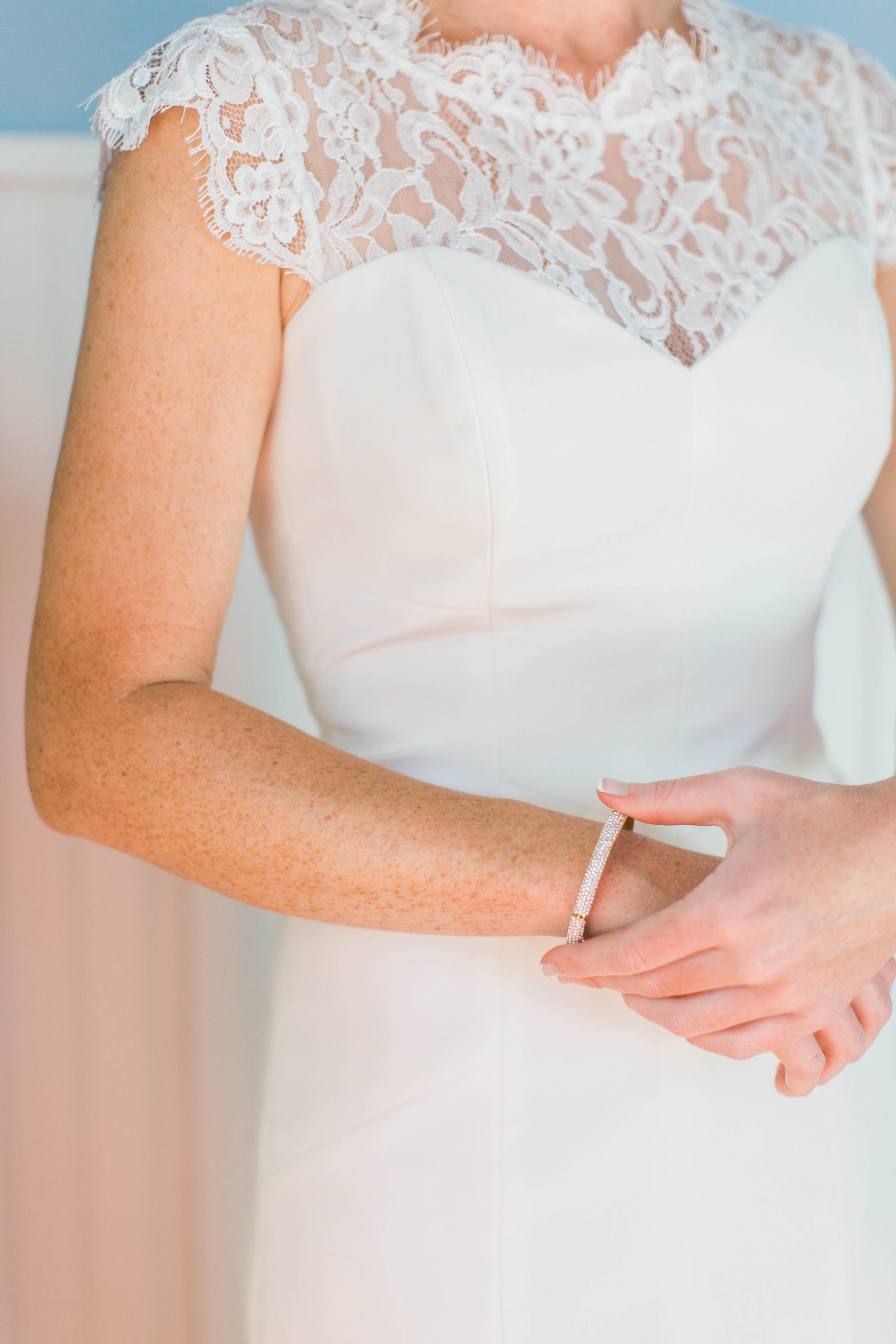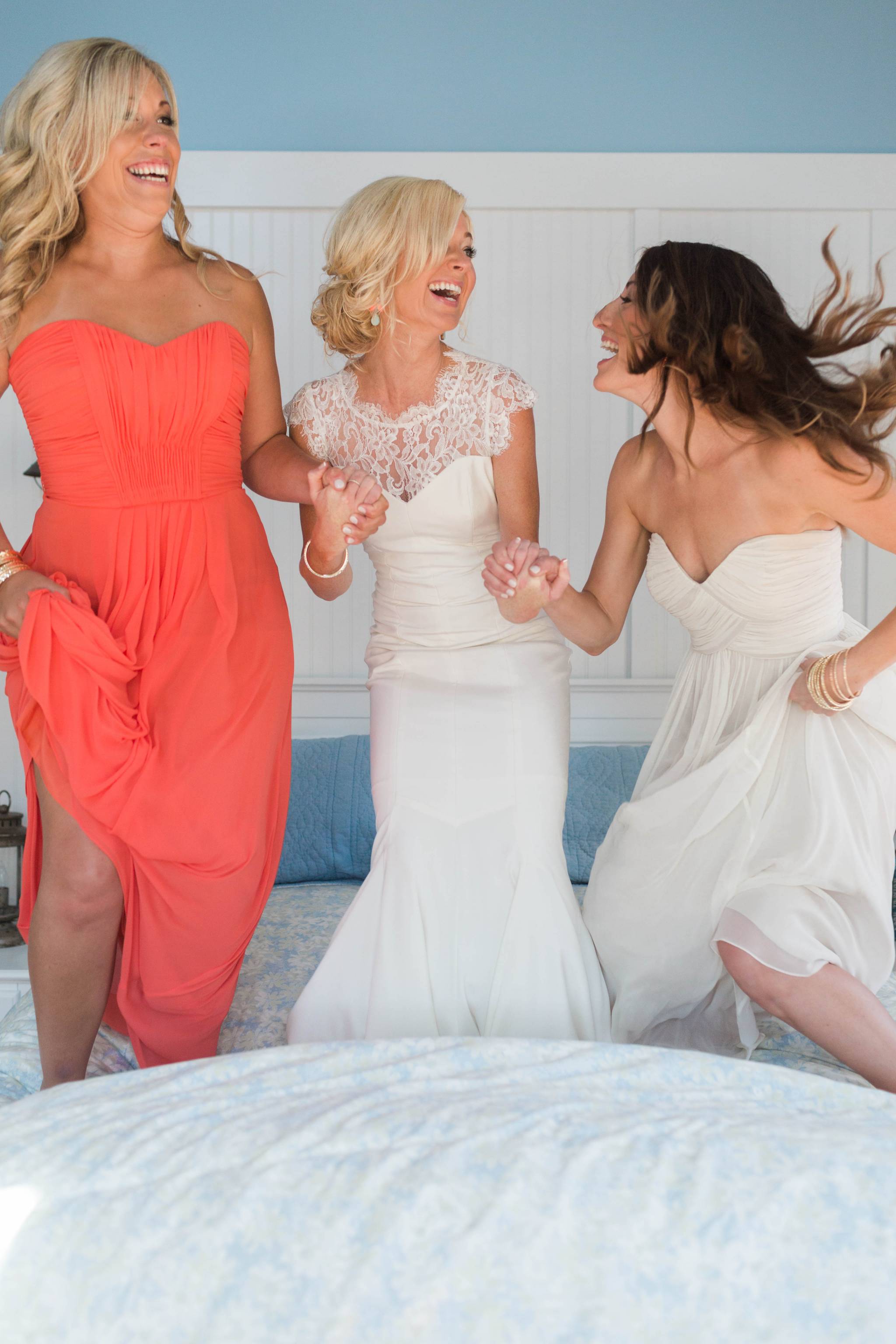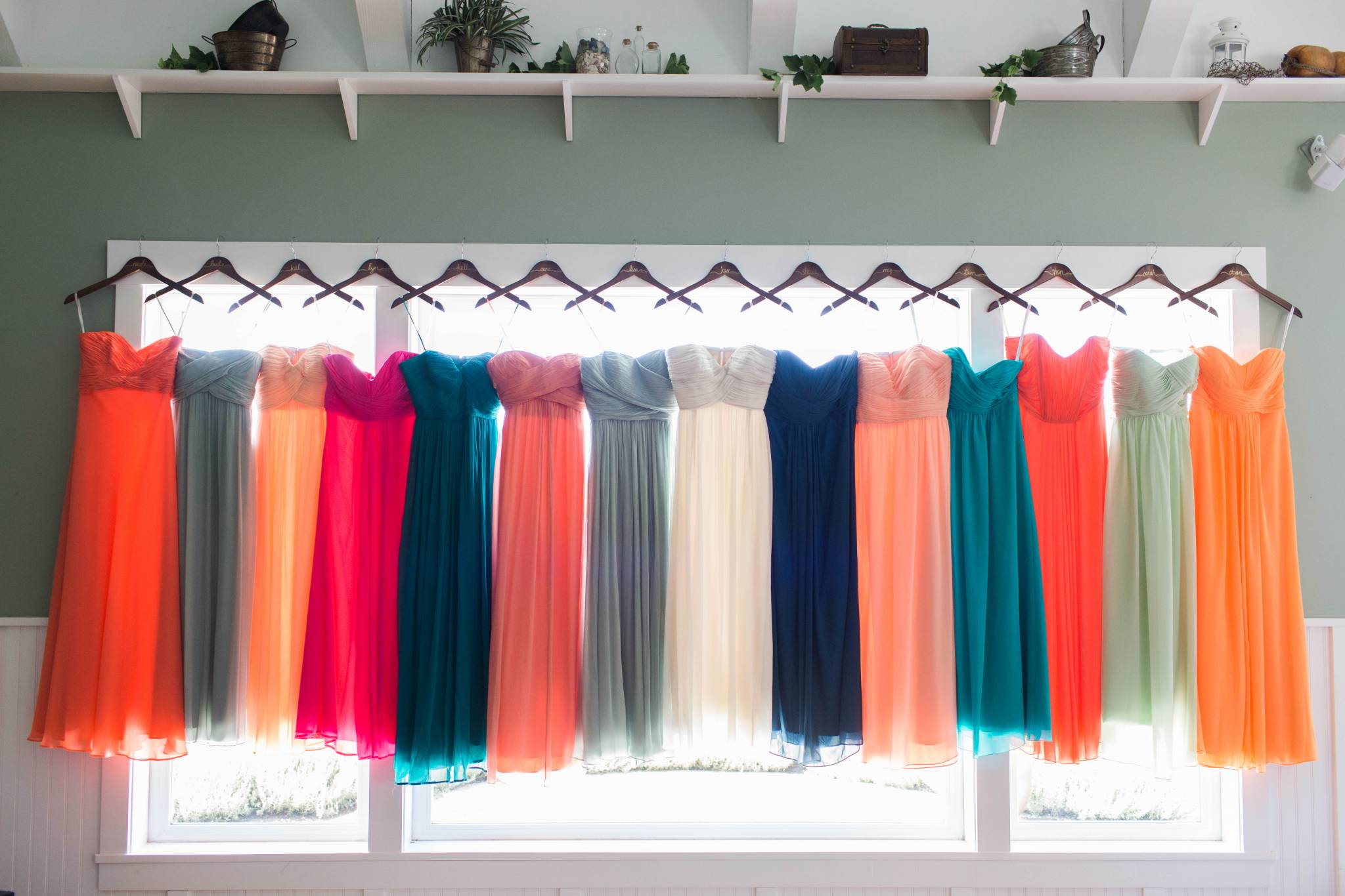 The Bridesmaids' Look
​The Matron of Honor stood out being in ivory. I wanted to accomplish a live rifle card within the bridesmaid dresses, and worked nearly over one year to establish what that palette should look like. I wanted people to be surprised, so throwing in pops of tangerine and fuchsia I felt would really make it fun, unexpected, but yet the colors would still work very well together. If the girls had the same color dress, they had a different style. If they had the same style, they had a different color. Also, if they were in a pink/peach/orange tone, they were shoes that were in the green tones, and vice versa.The bridesmaid's dresses in vivid shades of tangerine, fuchsia, mint, turquoise, peach, and coral were by J.Crew, Donna Morgan, WTOO, Alfred Angelo and David's Bridal.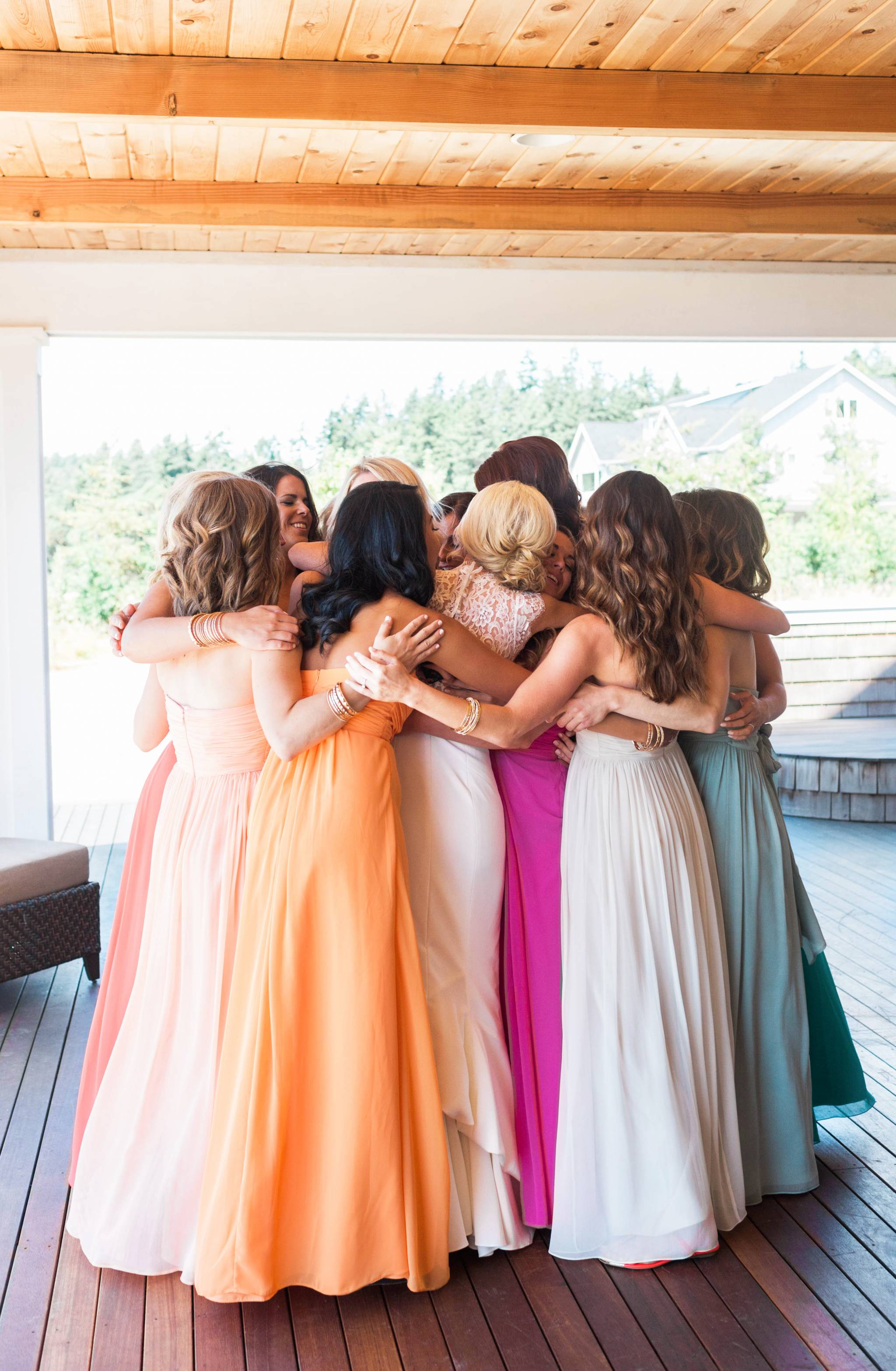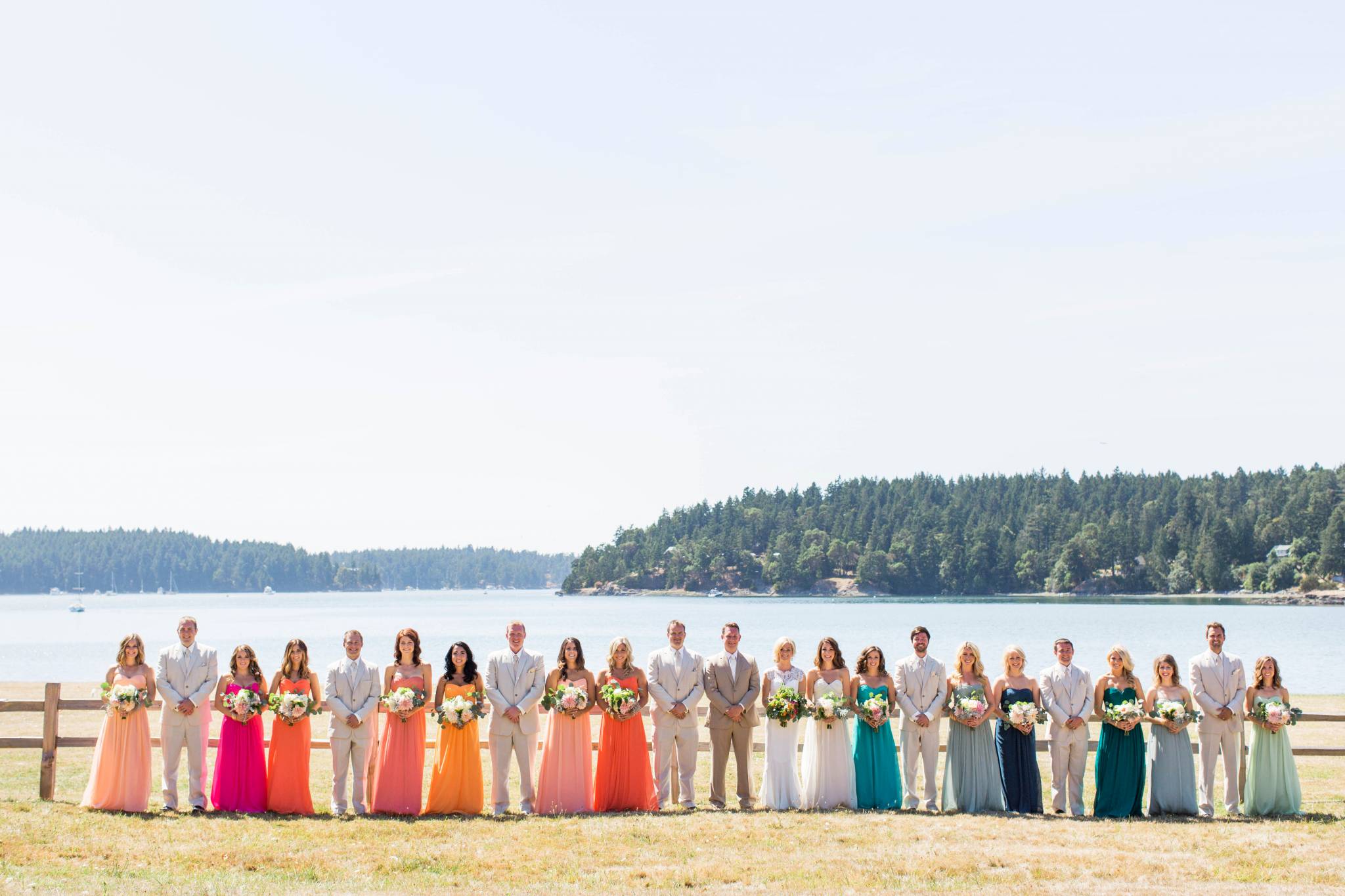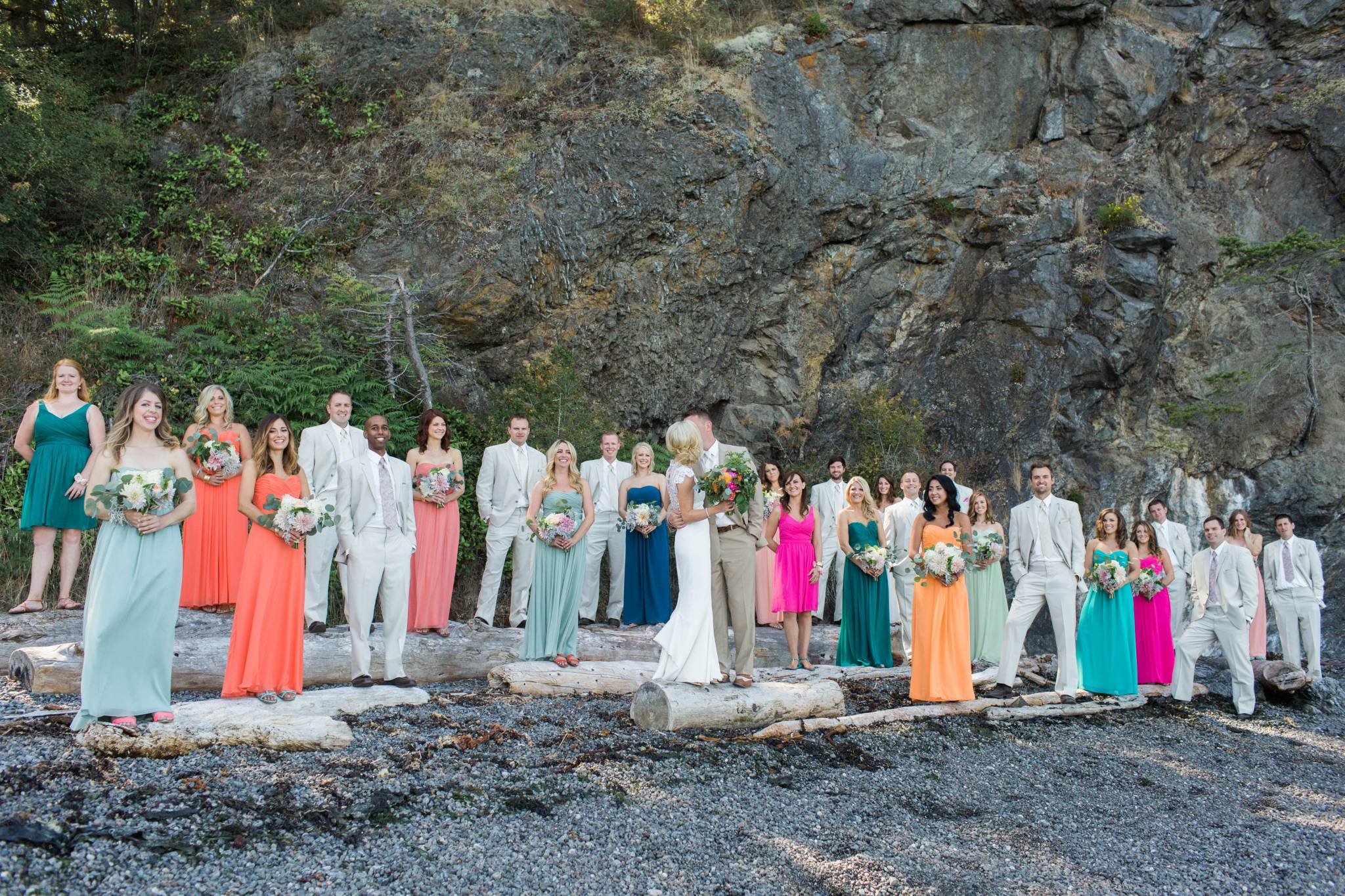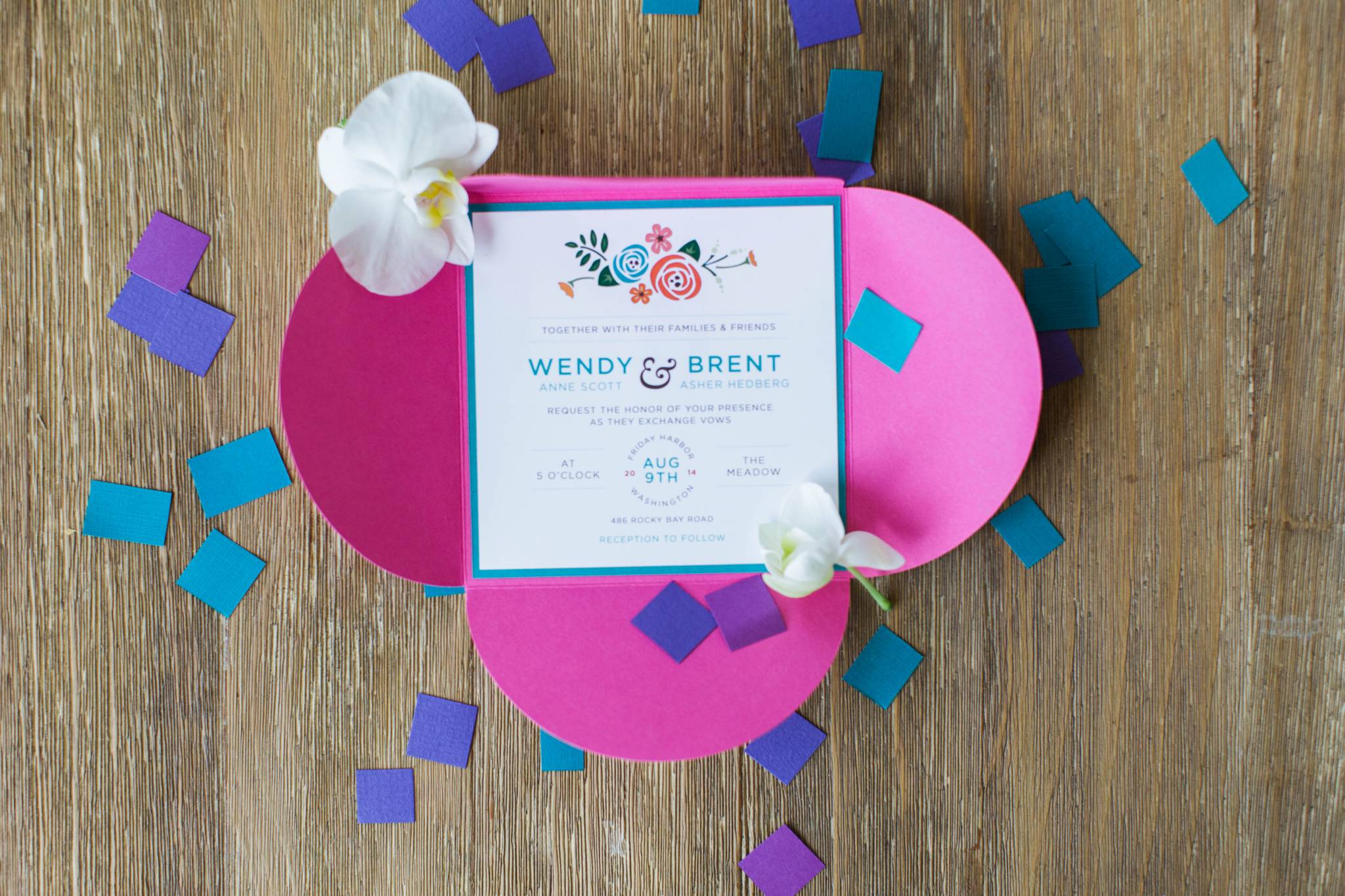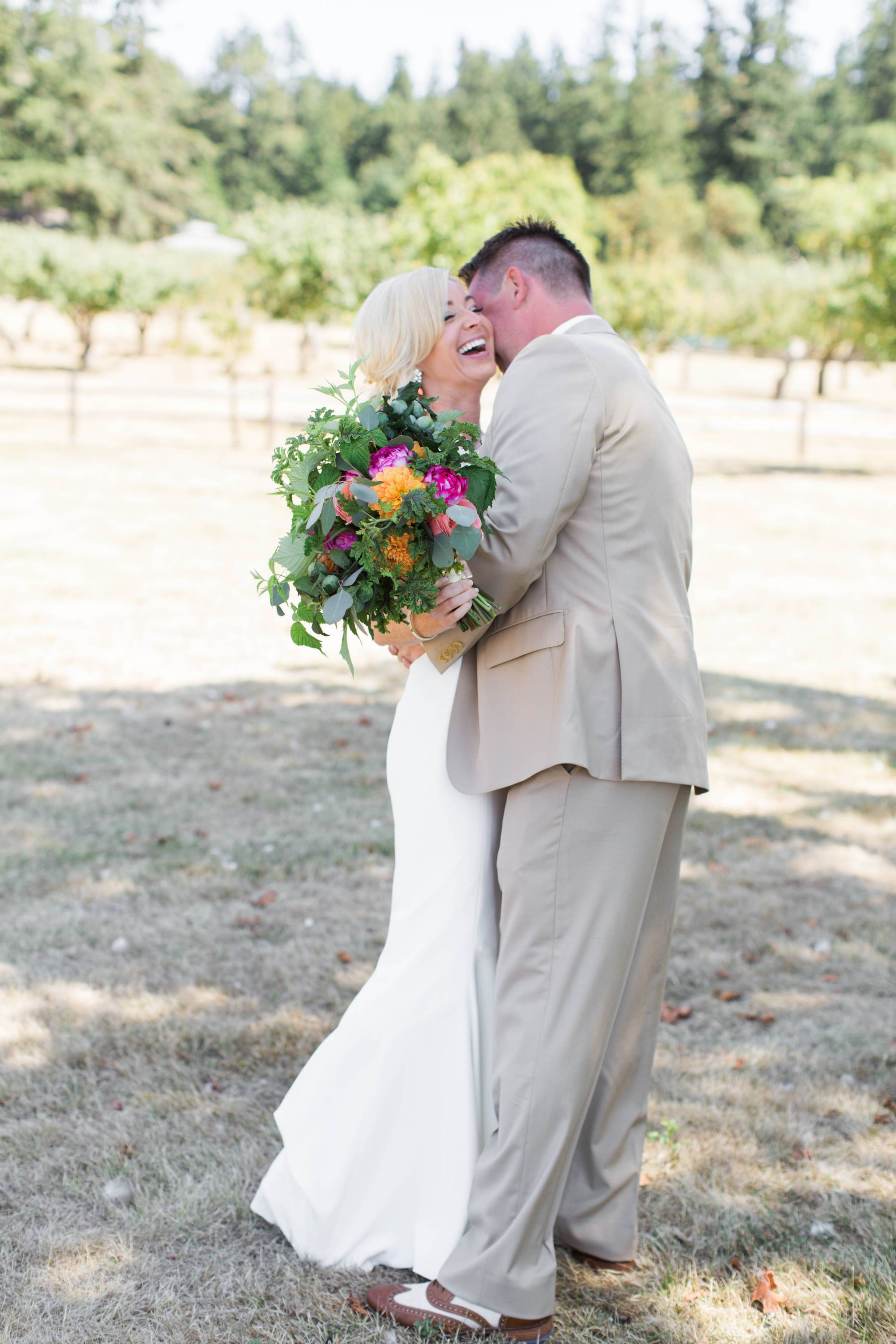 The Floral Design
"Our florist Kelli of Country Bouquets did such an amazing job! The bride's bouquet had plums in it, the buffet floral had pears, and the small vases for dinner tables had grapes. They were stunning!"
The Groom's Attire
The Groom's father (who passed in October 2012) has a good friend, Tony Spear, who owns a suit shop in Portland, Oregon, Este's. His shoes were by Cole Haan. "Tony had all the boys in for drinks and fittings. We wanted to keep the boys in the same color, that was soft, so it wouldn't take away from the variety of bridesmaid dress colors and styles."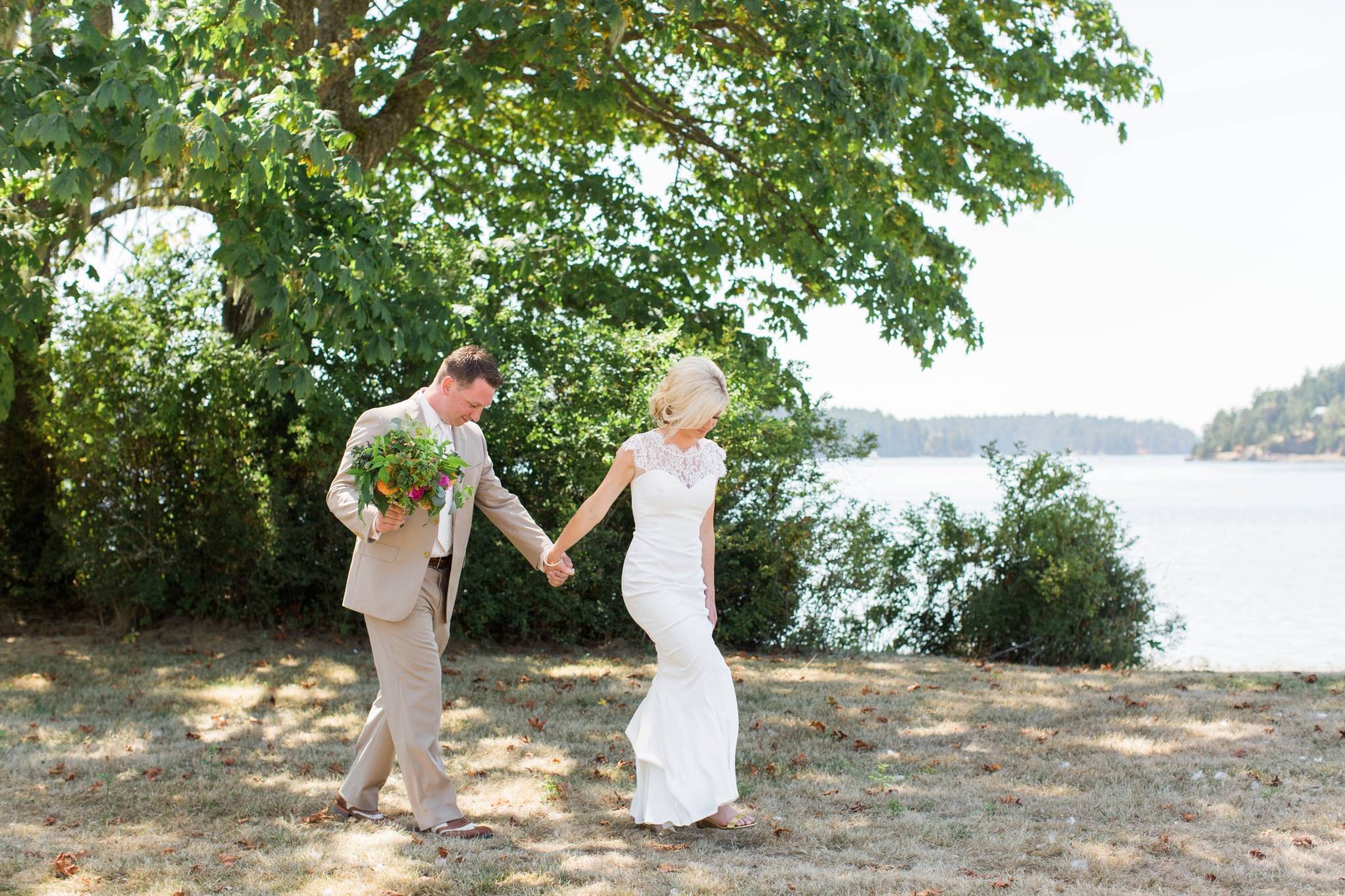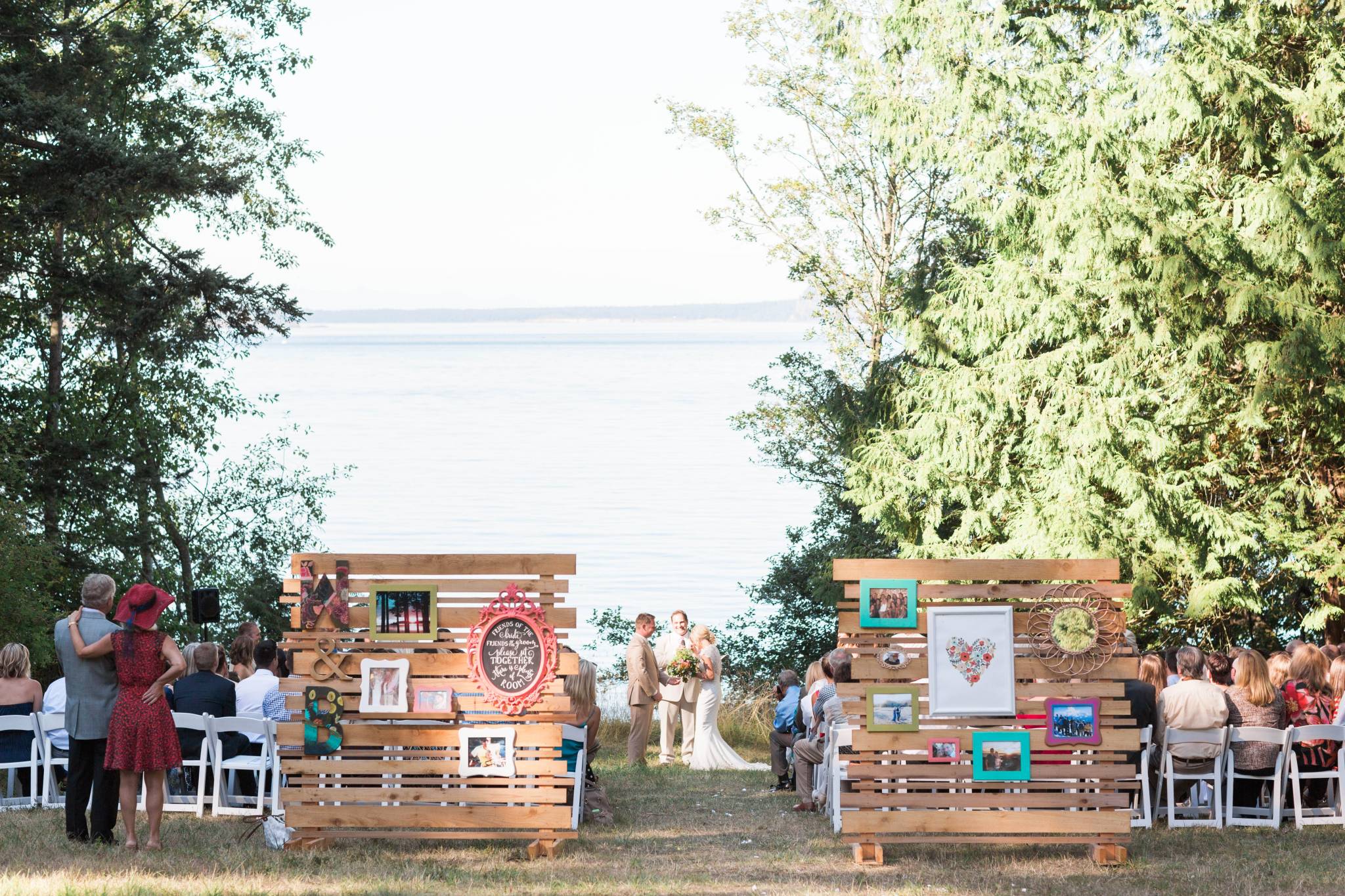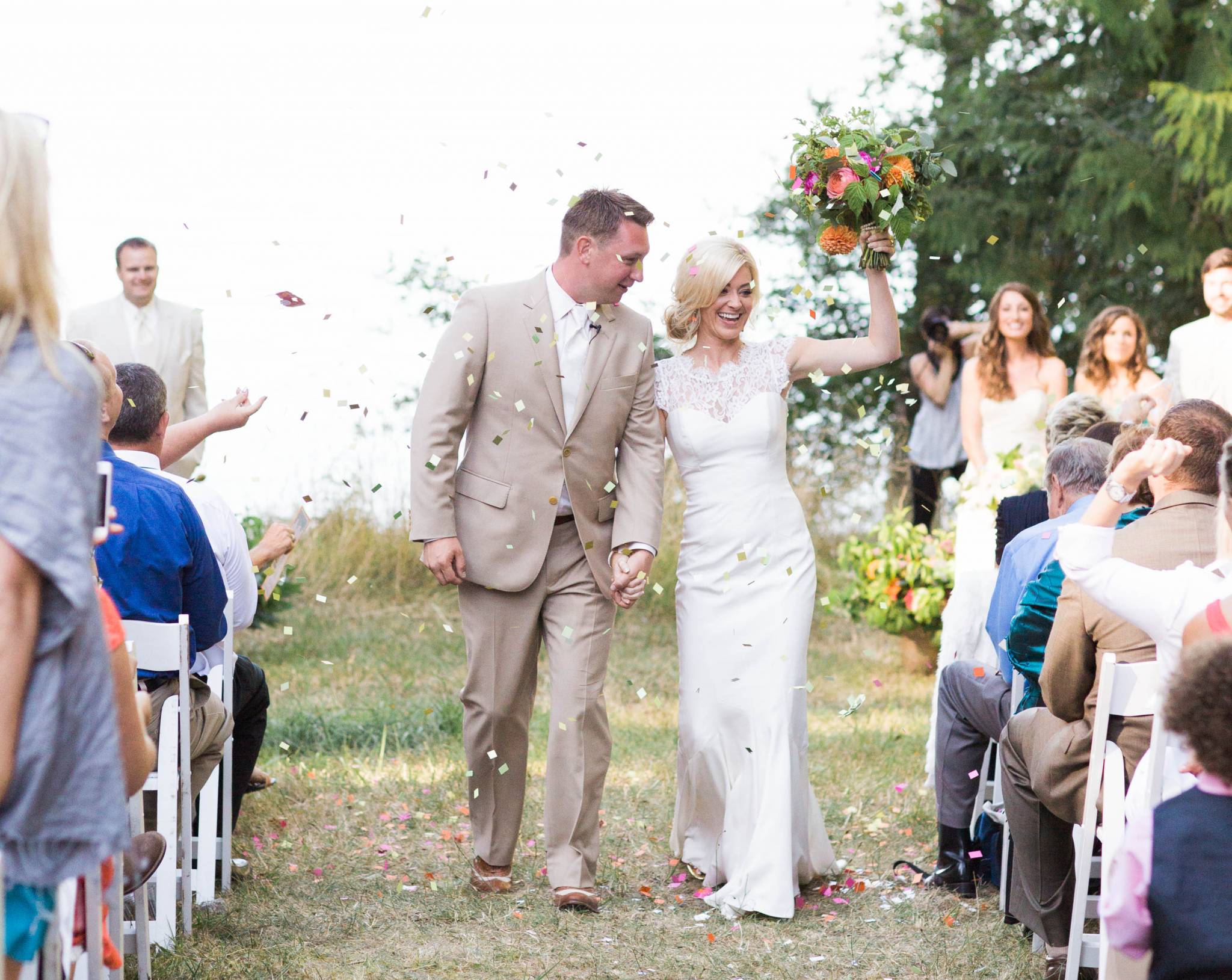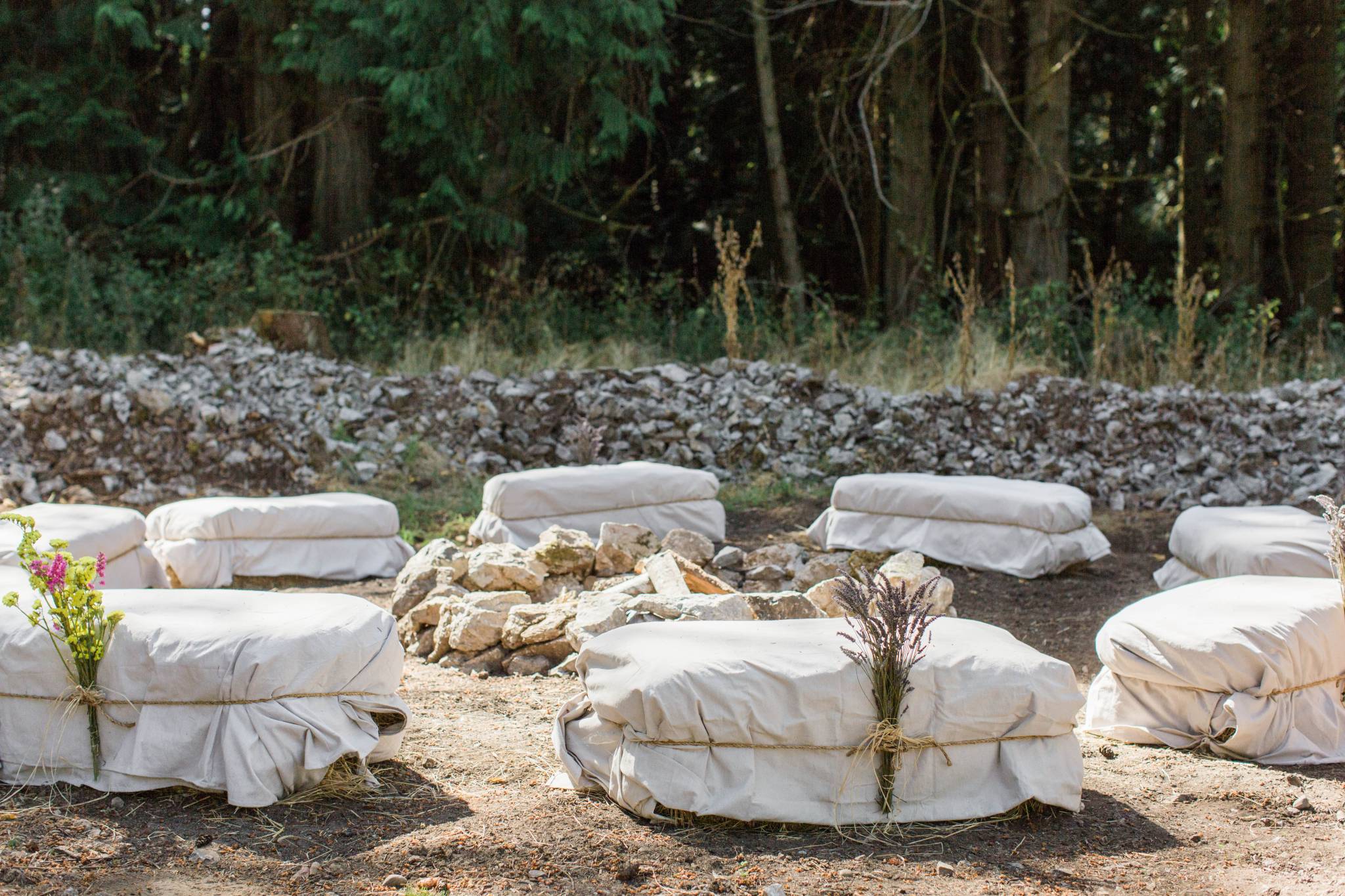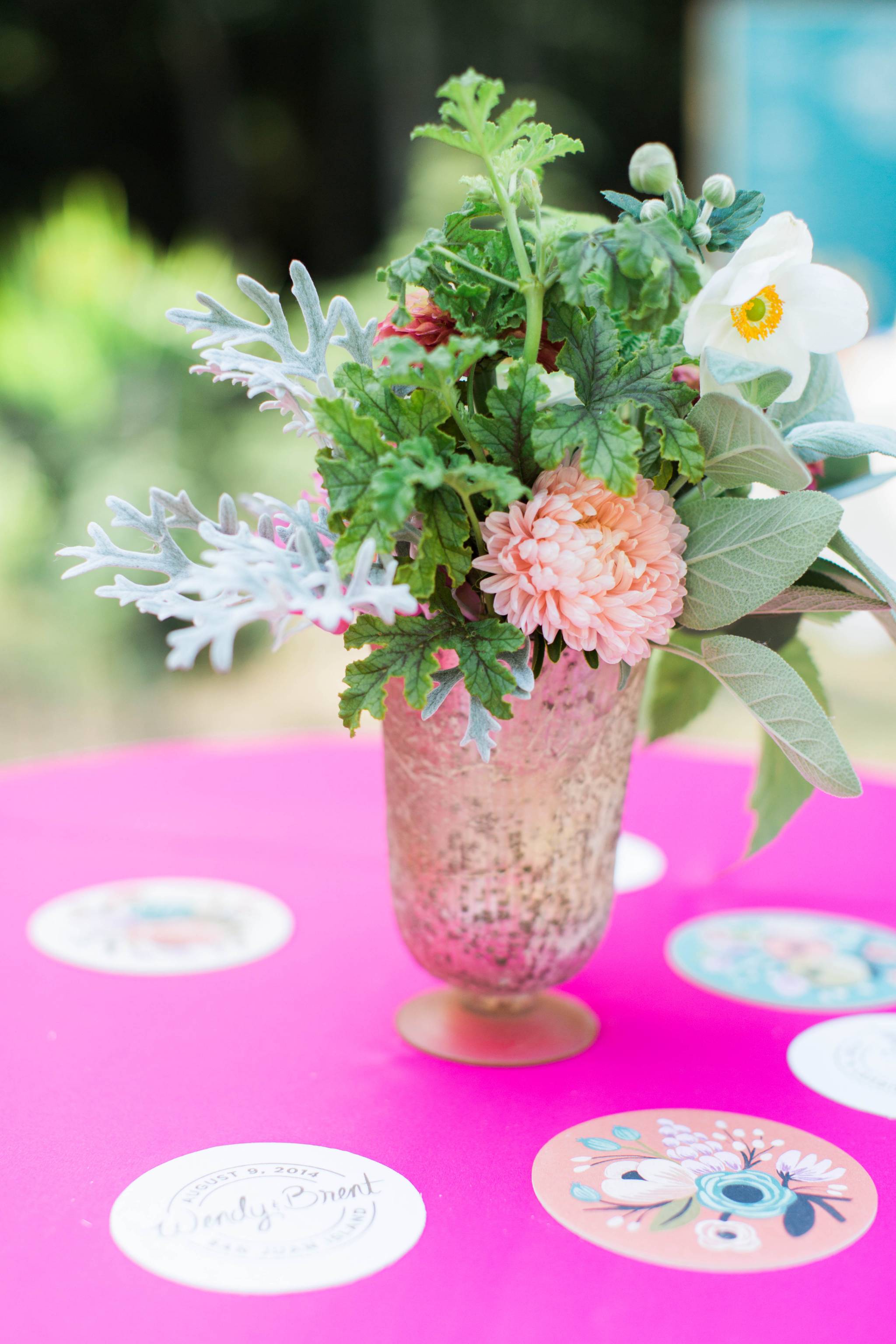 The Handmade Details
"We made the flower girl and ring bearer baskets out of rifle paper. The groom made the wood panels for the doors into the ceremony and the photo booth. We also had a friend make the bean bag toss and then we paper mache the rifle paper on top of it. All of the plates at the reception were hand picked for guests. They went every other... floral, solid, floral, solid. Also, if you had a floral plate, across from your table was a solid, and so forth. On top of every plate was a hand written name card menu, with gold embossment. And under the seat cushion was a plastic "to-go" bag for your plate with our logo on it. Everyone used them, and took their plate home, which was the goal! The SS Brendy was also custom made with the logo from our wedding invite as a surprise to us from the Groom's mom, Pam."
I think my favorite detail was having a custom escort card for every guests. When the guests walked up, they had to find a picture of them. The photos of our guests were either photos taken in the San Juans, with us, or a photo with the bride, groom, or both of us. The photo had a small note of what table they were sitting at. The best part was, they had to exchange the photo (that looked like a mini polaroid) for a real mini polaroid. I love personal touches and reminding people why they are at our special day, so I thought this was a really cool way of reminding our guests of that, but then also having a cool photo guest book to take home with us of all our guests.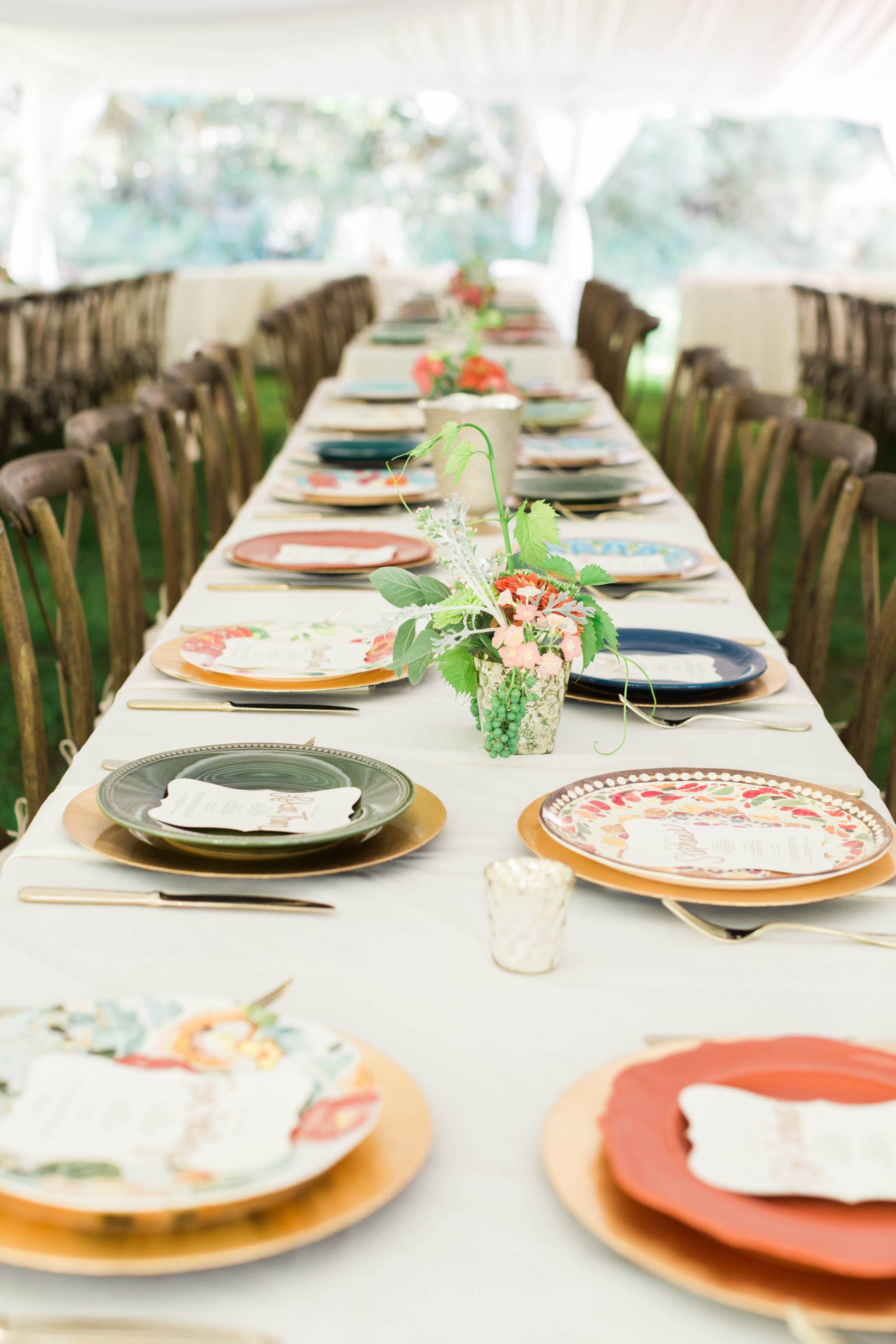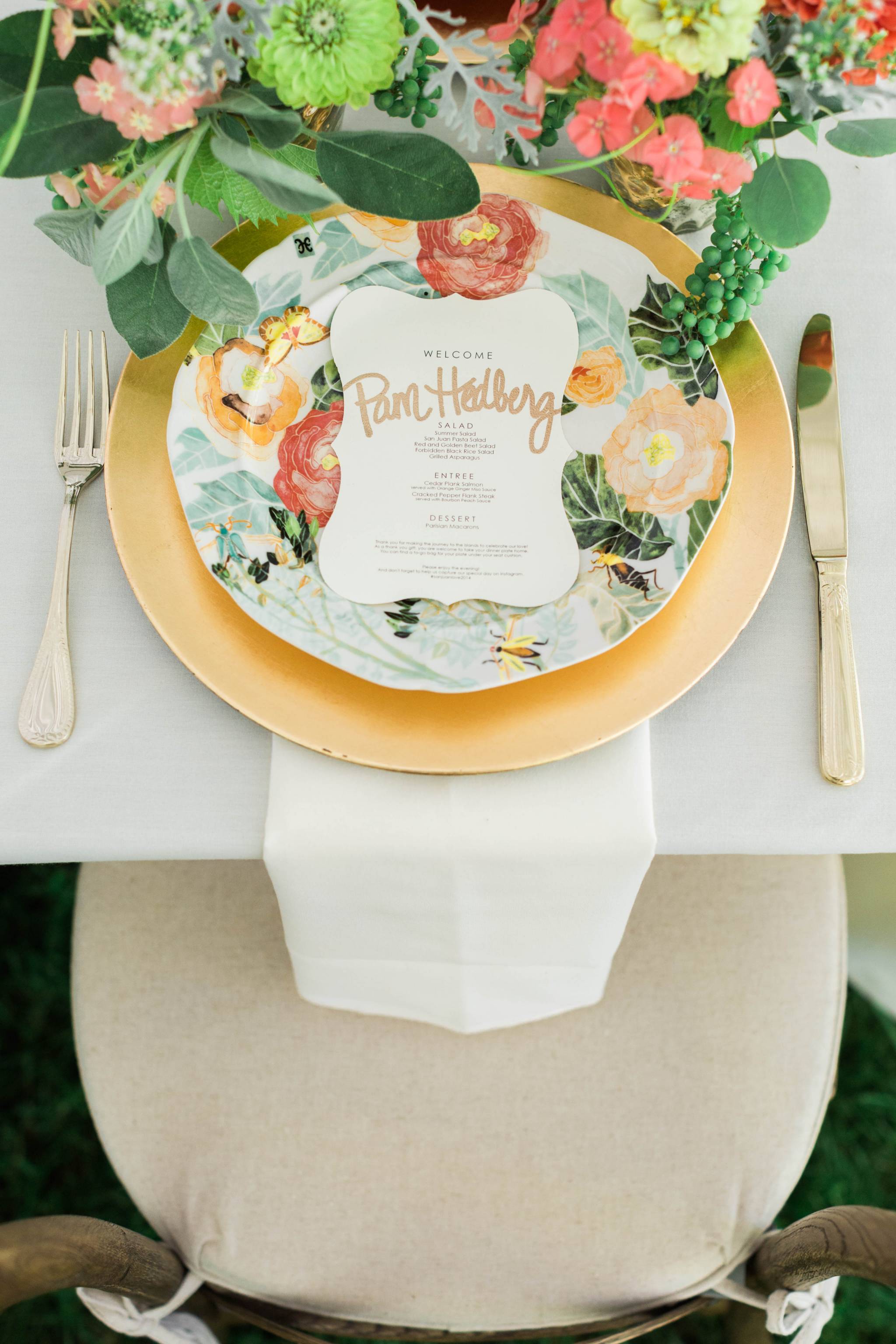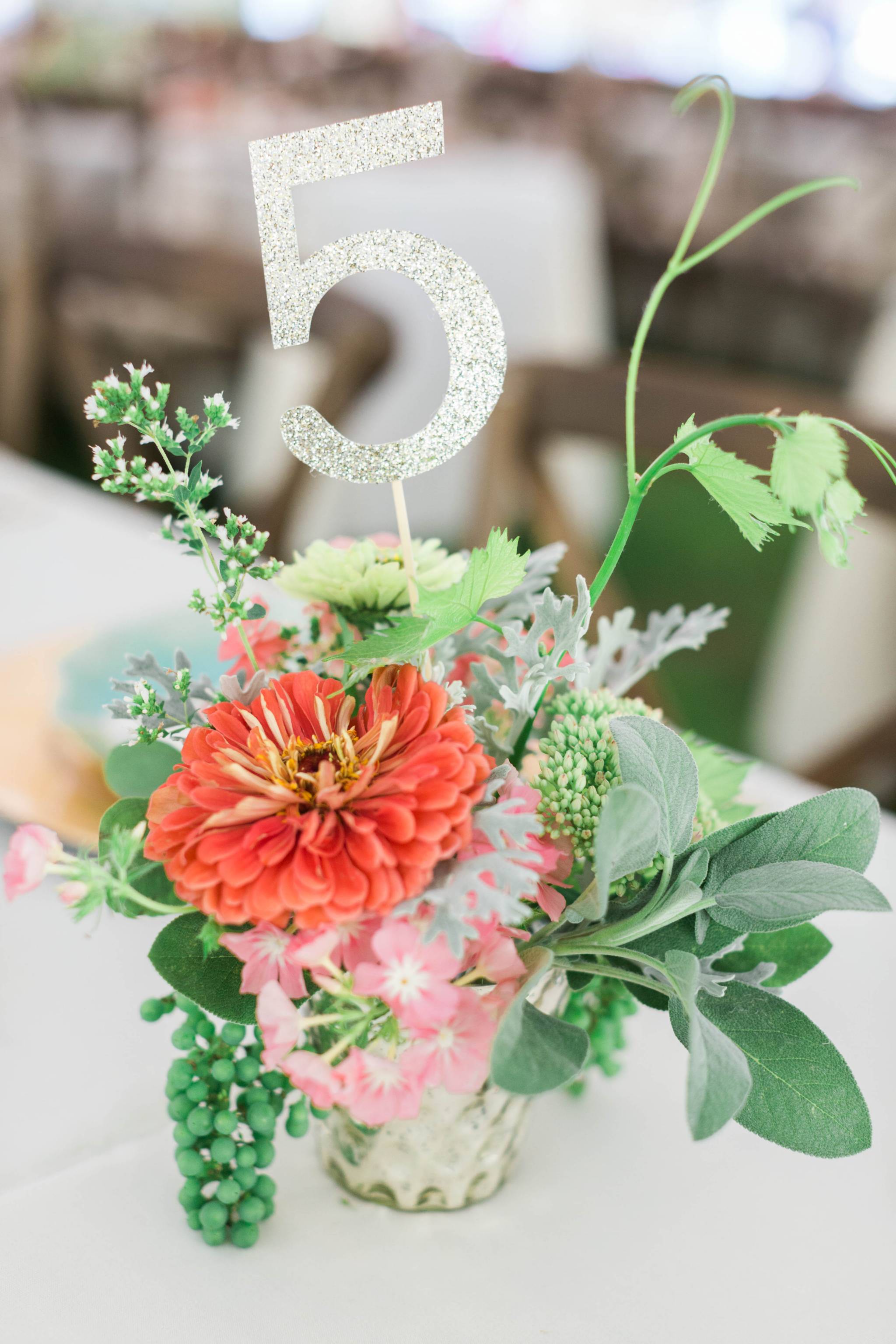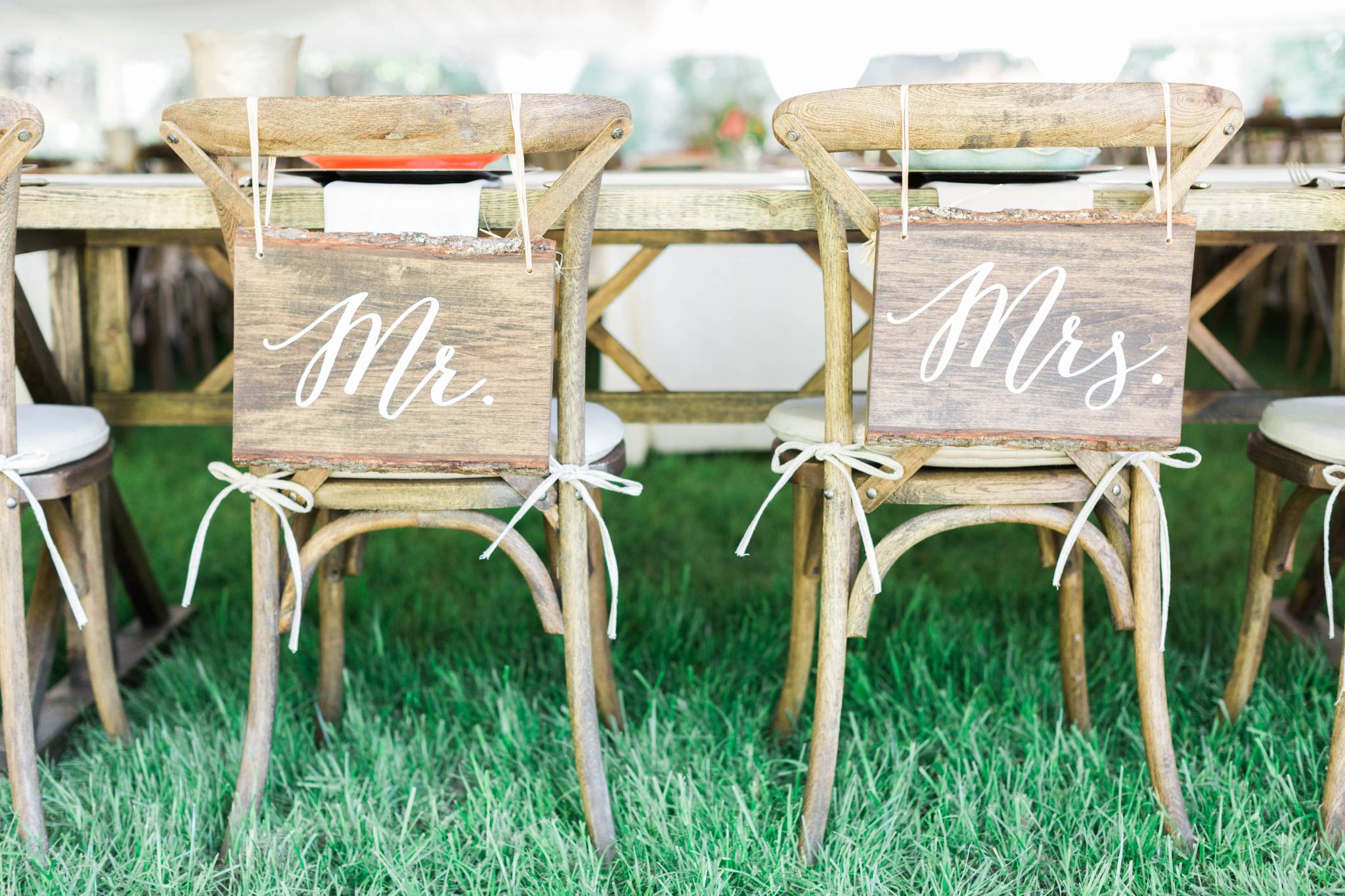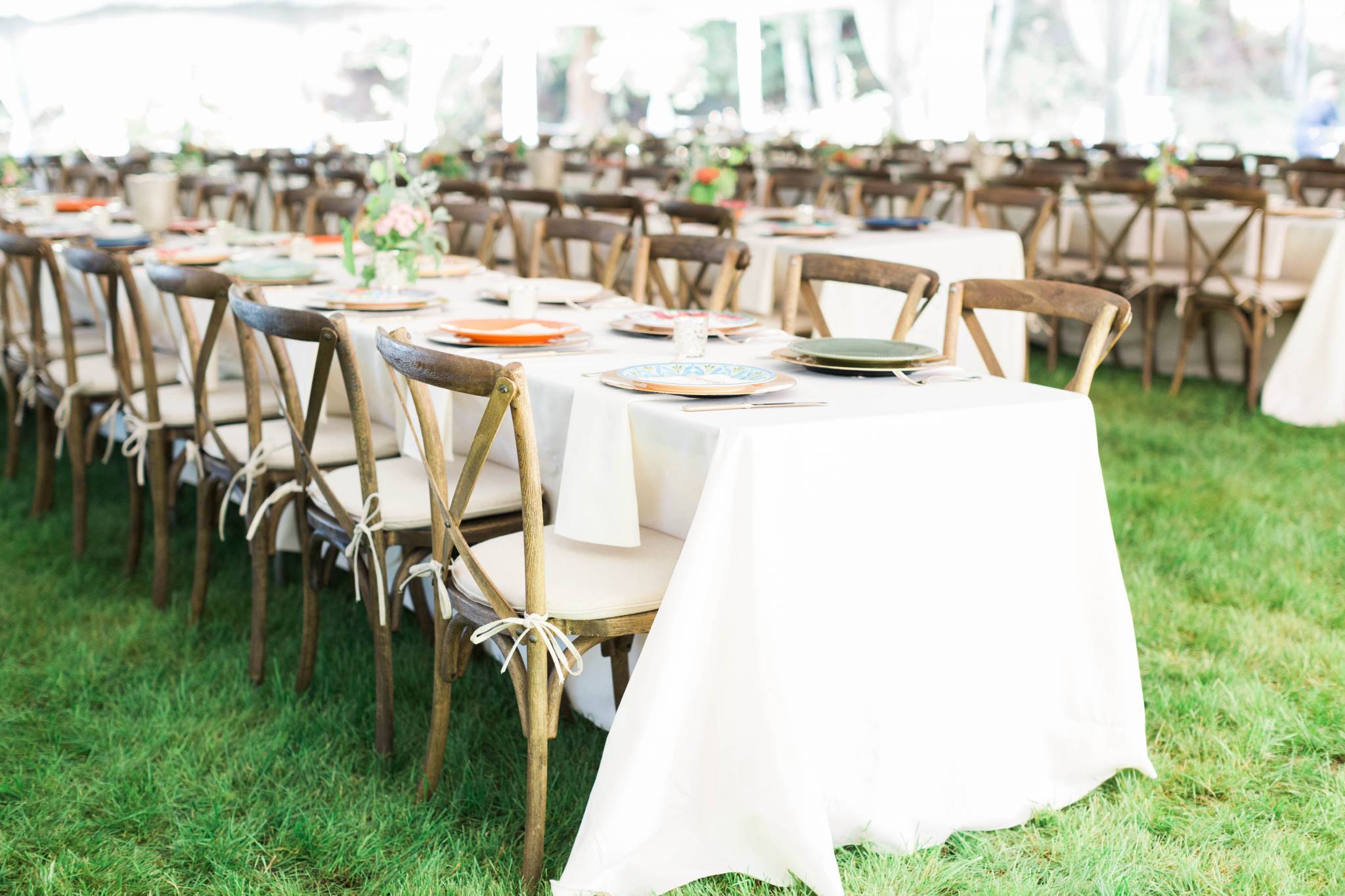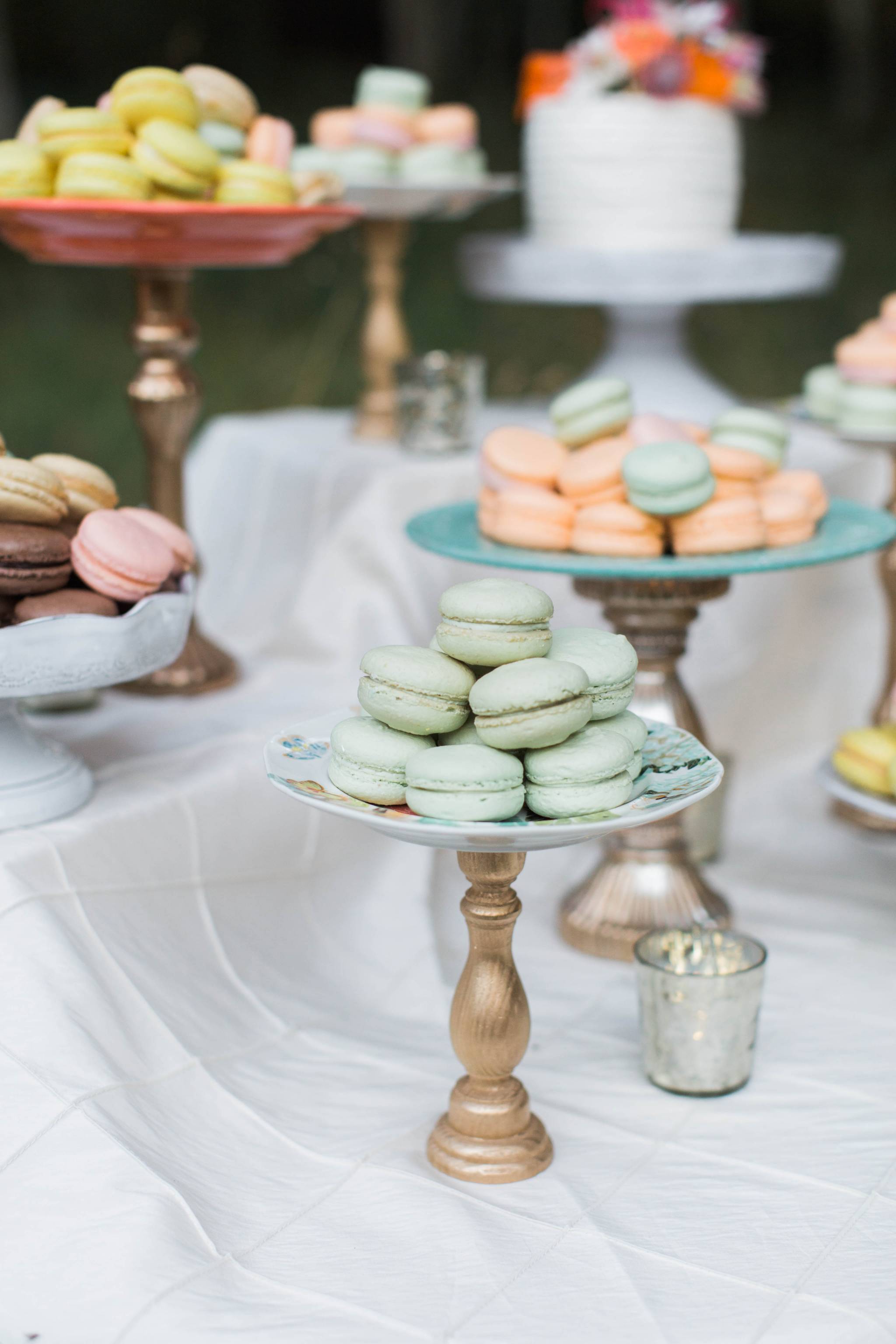 Cake Artist - Felicitations out of Friday Harbor made the cake, although we didn't really want a cake...... we both aren't huge fans of cake, and never really eat it when we go to weddings as guests, so we had macaroons. Not just because they are delicious, but we (Wendy in most cases, haha) thought the color in the macaroons would be a fun touch. We ordered them from Le Panier, Seattle: http://www.lepanier.com