Alex and David's Big Island destination wedding was filled with soft, sentimental moments and uniquely personal touches. The Oregon-based couple spent their first date among an incredible hidden hike. So it was only natural that they entered into marriage outdoors, surrounded by beautiful lush greenery and the cool blue Pacific Ocean.
The bride is a potter, and she brought handmade pottery all the way from Oregon to Hawaii to use as decoration for the wedding. The simplicity and intention of the bride's décor brought even more sentiment into the couple's big day. The mugs and palm leaf ring dish were all made by Alex.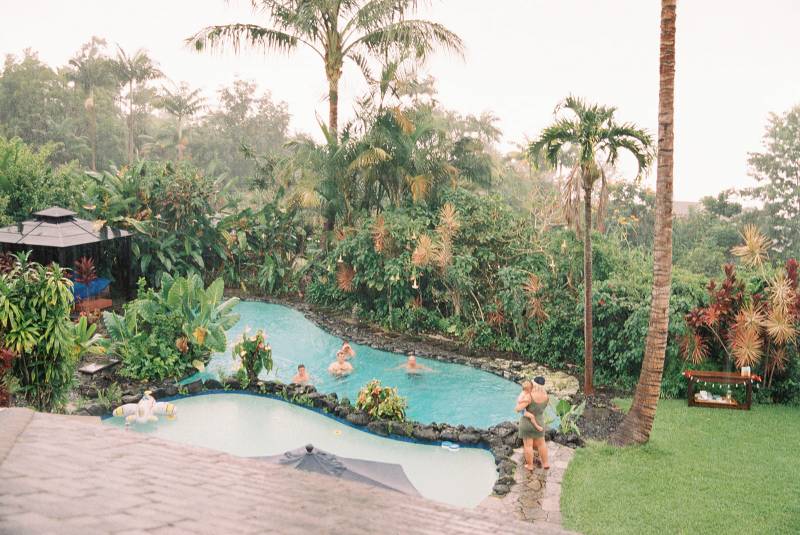 David and Alex's destination wedding photographer Katie Ann Photography shared some of her favorite moments from the day:
"When I arrived in Kailua-Kona, I could tell their day was going to be stunning, not only because of the scenery, but because it was such a tight knit group of friends and family attending. It was such an amazing and relaxed day with pretty, simple details; but the focus was more on the marriage and spending time with family than on elaborate décor.
We were in a tropical zone of the Big Island, so it rained throughout the wedding day. I love this photo of a bunch of the guys in the pool. It was raining, but it was still warm outside and everyone just wanted to jump in the pool, rain and all."
"The day ended with a gorgeous sunset, so we finally got to see a glimpse of the Hawaiian sun. This was when we escaped down to the rocky lava cliffs to capture some photos at dusk."