The wedding venue can often times serve as the style inspiration behind your celebration. When we think of a ranch wedding, we imagine a well-worn barn with a clean slate to craft a homespun and intimate gathering. And nature must reign supreme. But a ranch setting doesn't necessarily mean a horseman's rustic paradise. It can offer the same pristine seclusion and service of a luxe resort. We've rounded up 6 ranch wedding locations in California and Hawaii to satisfy even the most Ralph Lauren of tastes.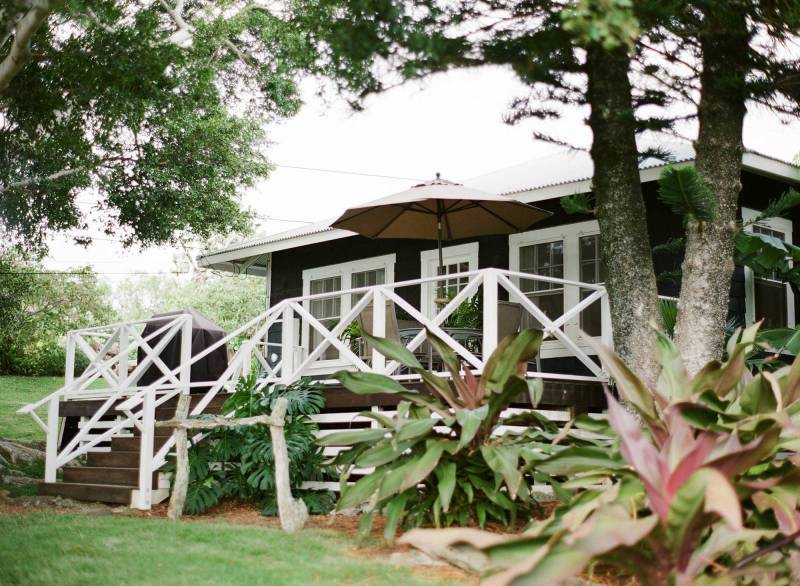 Puakea Ranch, Big Island, Hawaii

Natalie and John decided to exchange their wedding plans in Nashville for a breath-taking elopement on the Kohala Coast of the Hawaii's Big Island. The history and charm of the Puakea Ranch sold the handsome couple immediately. The theme was vintage with a touch of bohemian whimsy. Since they ended up eloping the pair simply used Hawaii's beauty as a backdrop. Natalie shares, "But I did bring some things from home and set up a styled picnic for our 'reception'." The Puakea Ranch provided the perfect privacy for such an intimate union. And Tennessee photographer Brandon Chesbro was able to flawlessly catch every detail as they merged their Nashville roots with the tropical beauty of the ranch.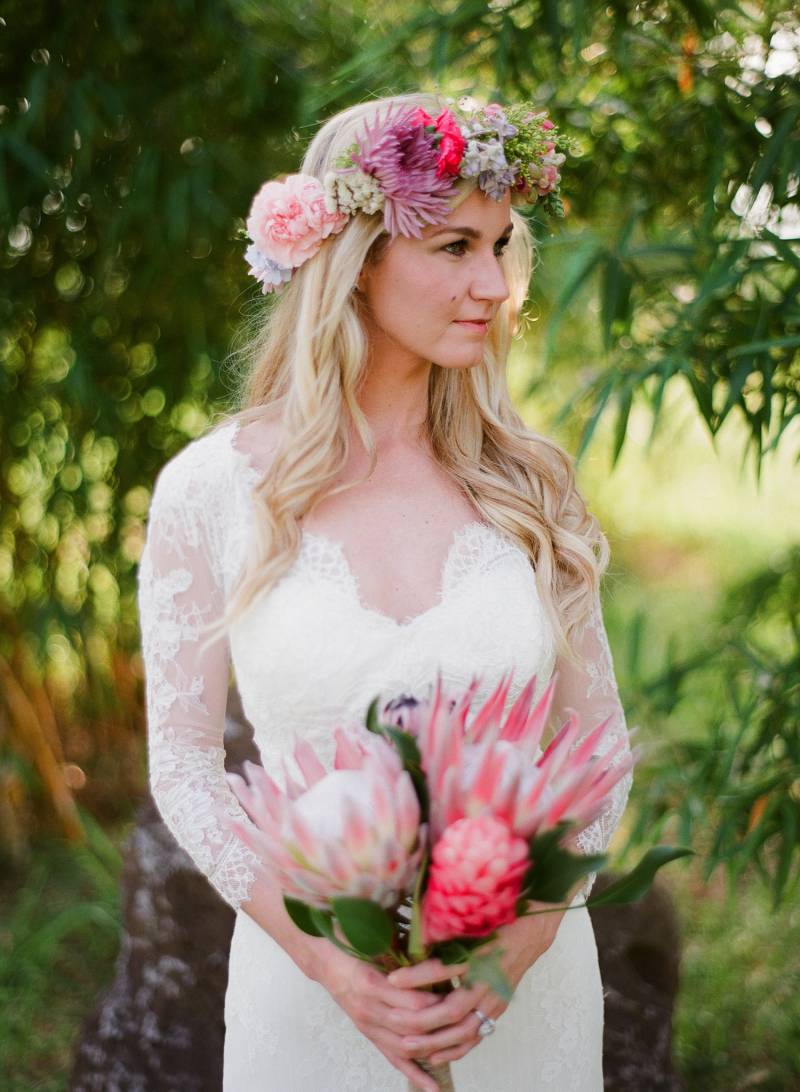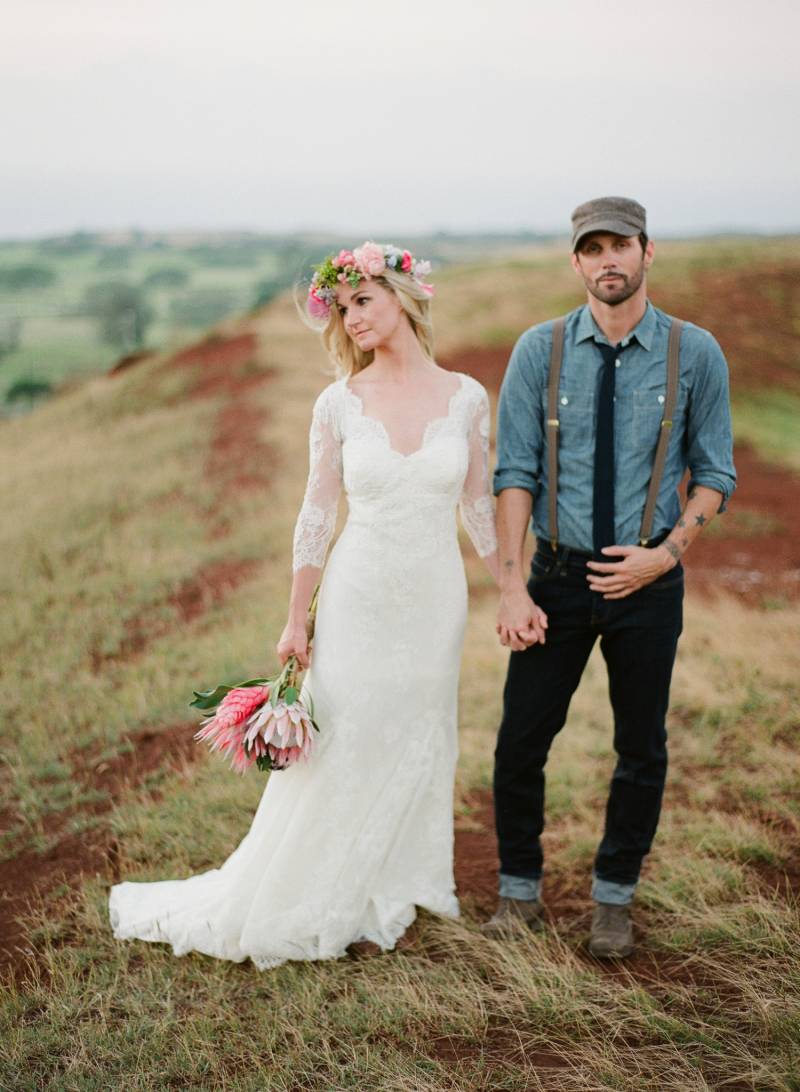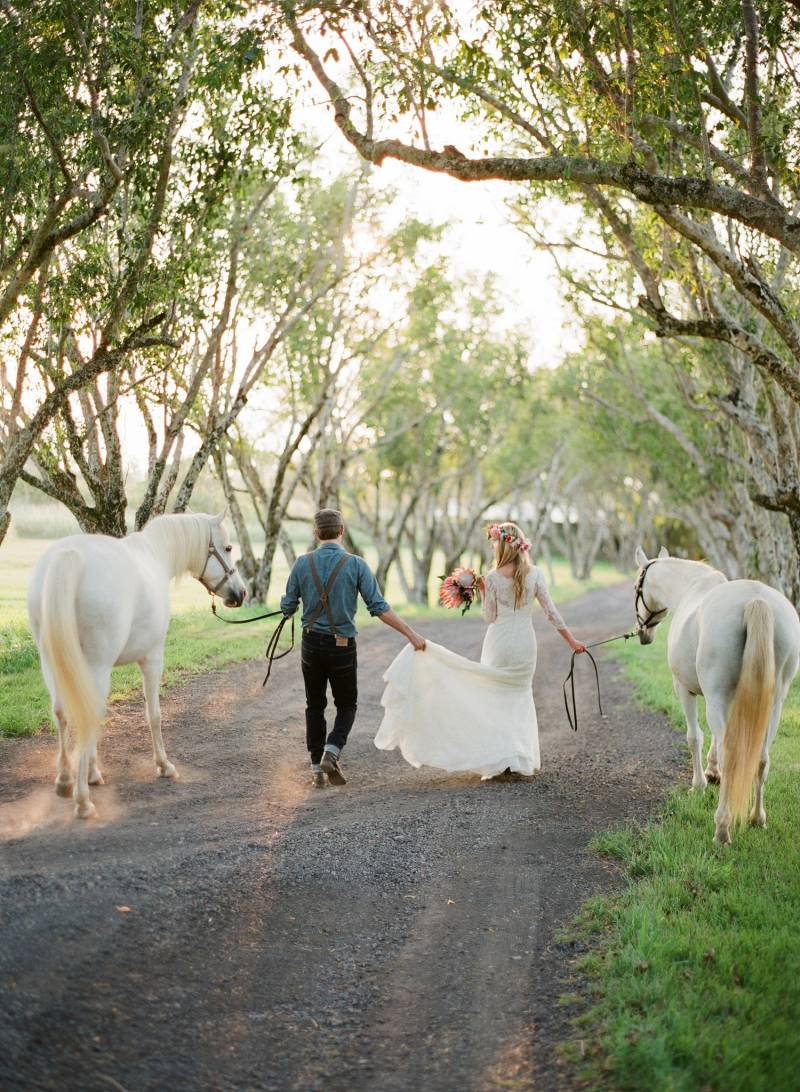 Twin Peaks Ranch, Ojai Valley, California

Photographer Tec Petaja captured the beautiful couple, Andrea and John at Twin Peaks Ranch in Southern California's Ojai Valley. When the couple started planning their wedding, they got some serious help from the industry creatives over at Bash, Please. Paige Appel and Kelly Harris are known for crafting unfussy and highly personalized weddings. "The inspiration was definitely more autumnal, wild and rich," Appel and Harris say of their approach to Andrea and John's September celebration. "It felt very California, with a nod to an alfresco Spanish dinner party." Faced with the challenge of designing a not-too-feminine wedding ("which weddings can tend to be," says Bash, Please), the duo ditched formalities and focused on cool, natural elements.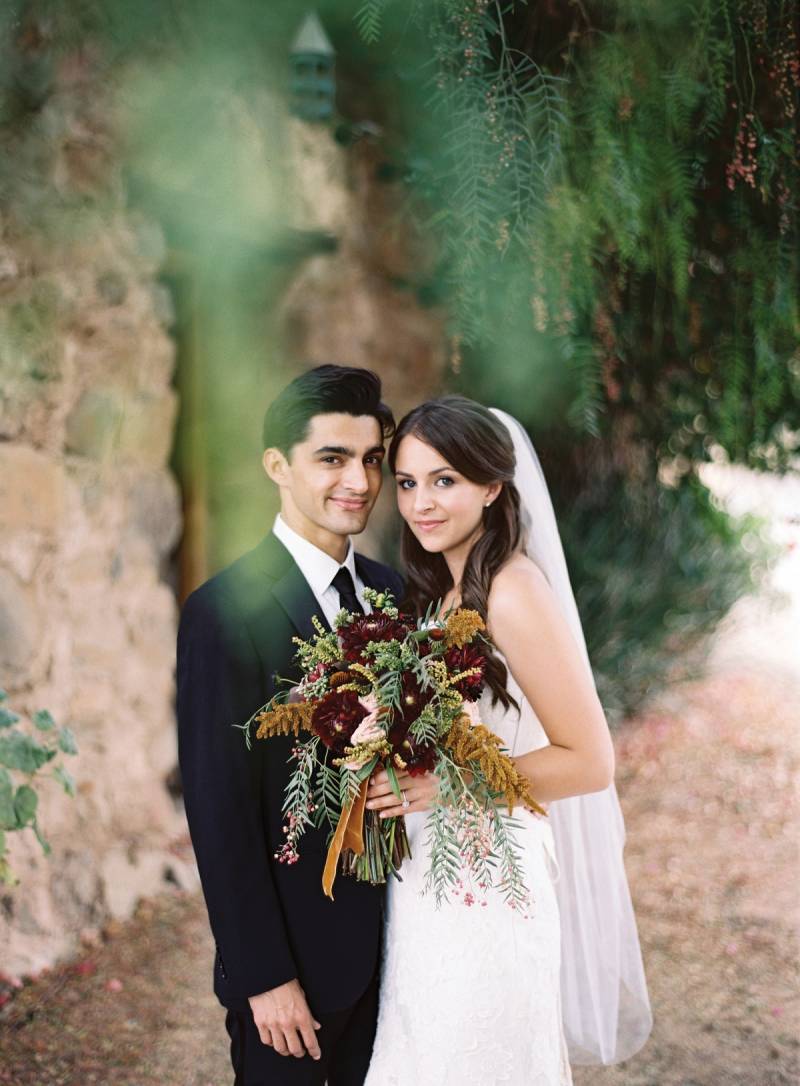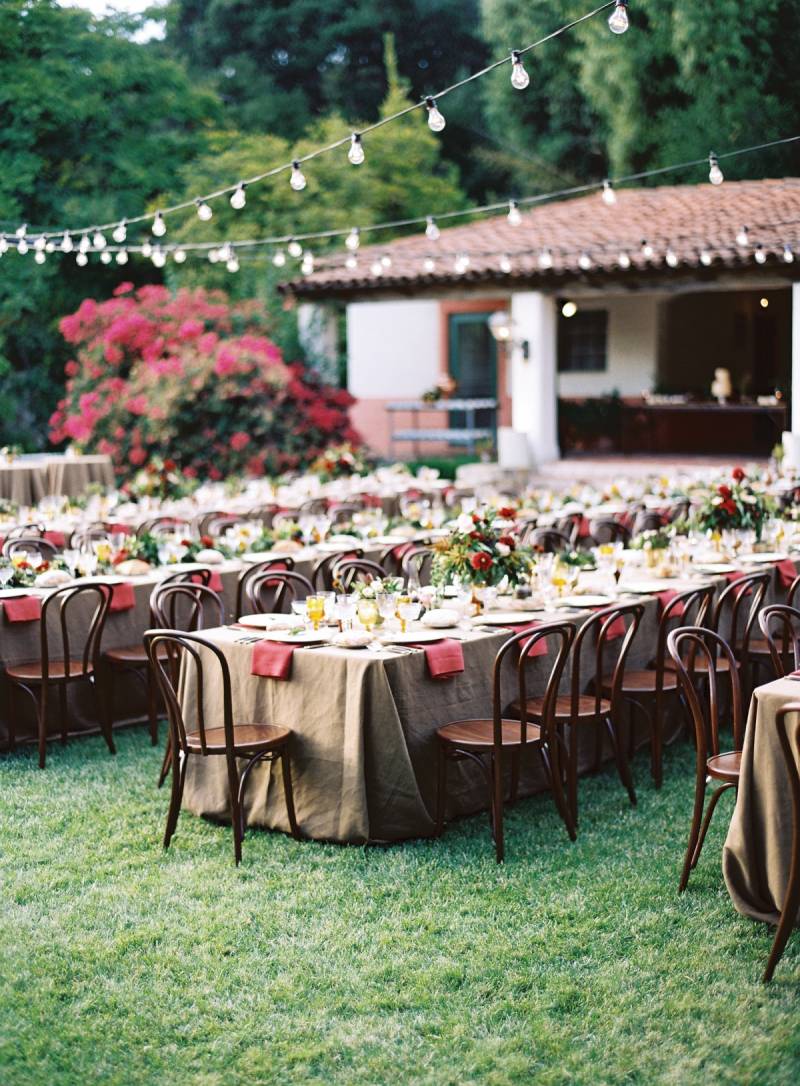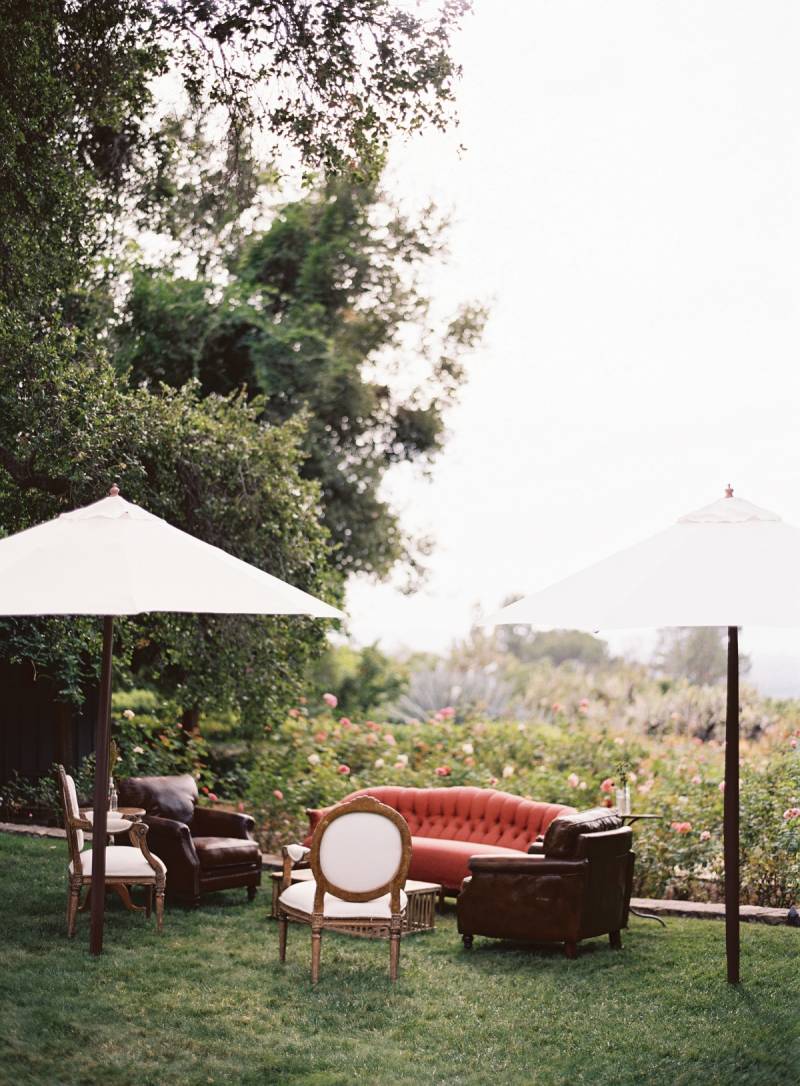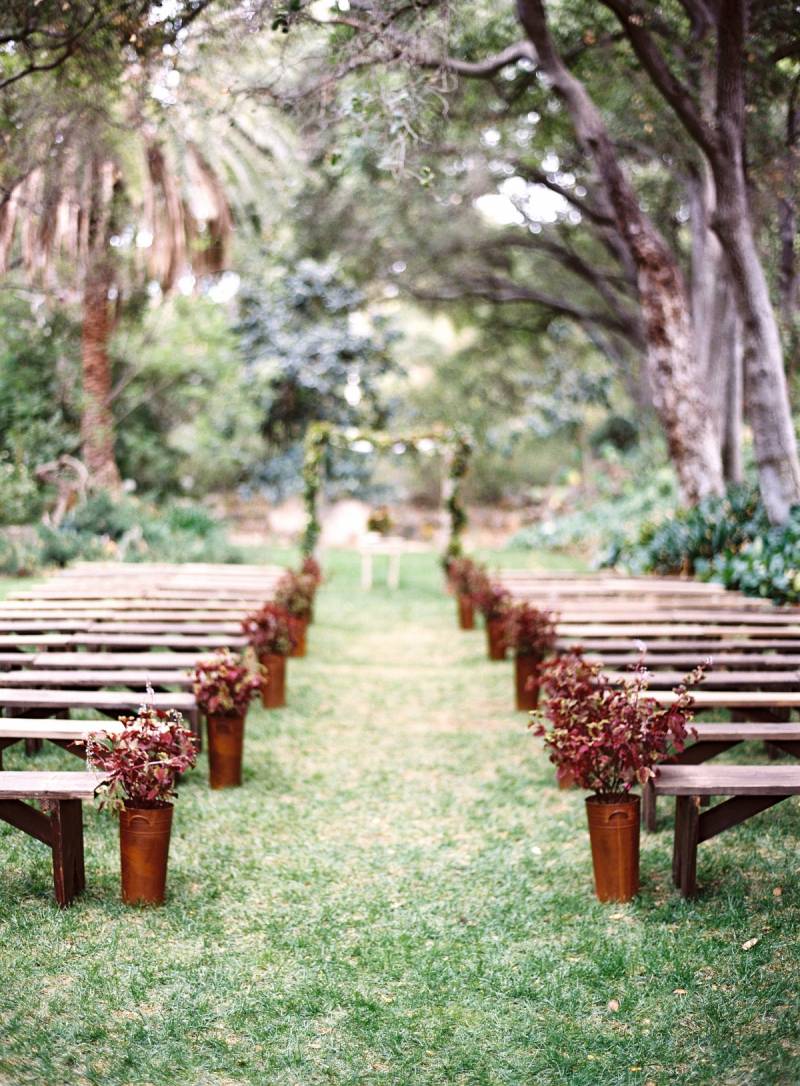 Kualoa Ranch, Oahu, Hawaii

Tomoko and Taihei hosted a beautifully simple and laid-back celebration at the Halekulani Hotel with a wedding reception at Kualoa Ranch in the Paliku Garden on Oahu. Event planner Sugako Johnson of Bliss Bridal worked closely with the bride to select a soft color story of mint green, coral, pink and tarnished gold. Florist Shilhi and her team at Passion Roots Floral & Event Design and her team designed whimsical arrangements at the ceremony and reception. After the ceremony, everyone took a boat to cross Molii Pond to get to Secret Island Beach for fun photo shoot.
Get inspired by the colorful details of this Kualoa Ranch wedding here.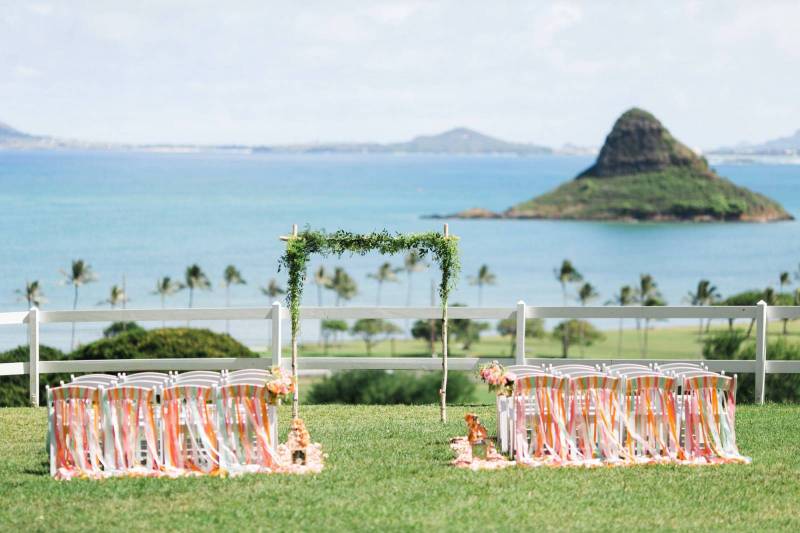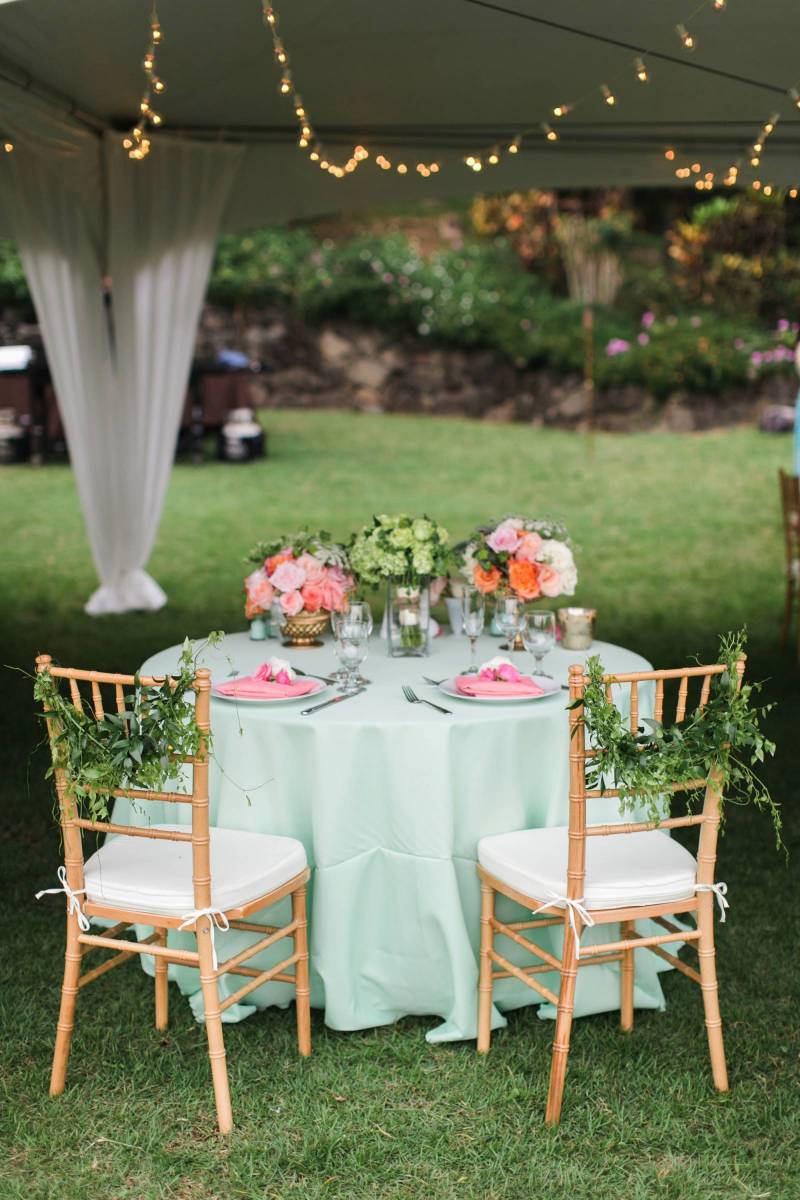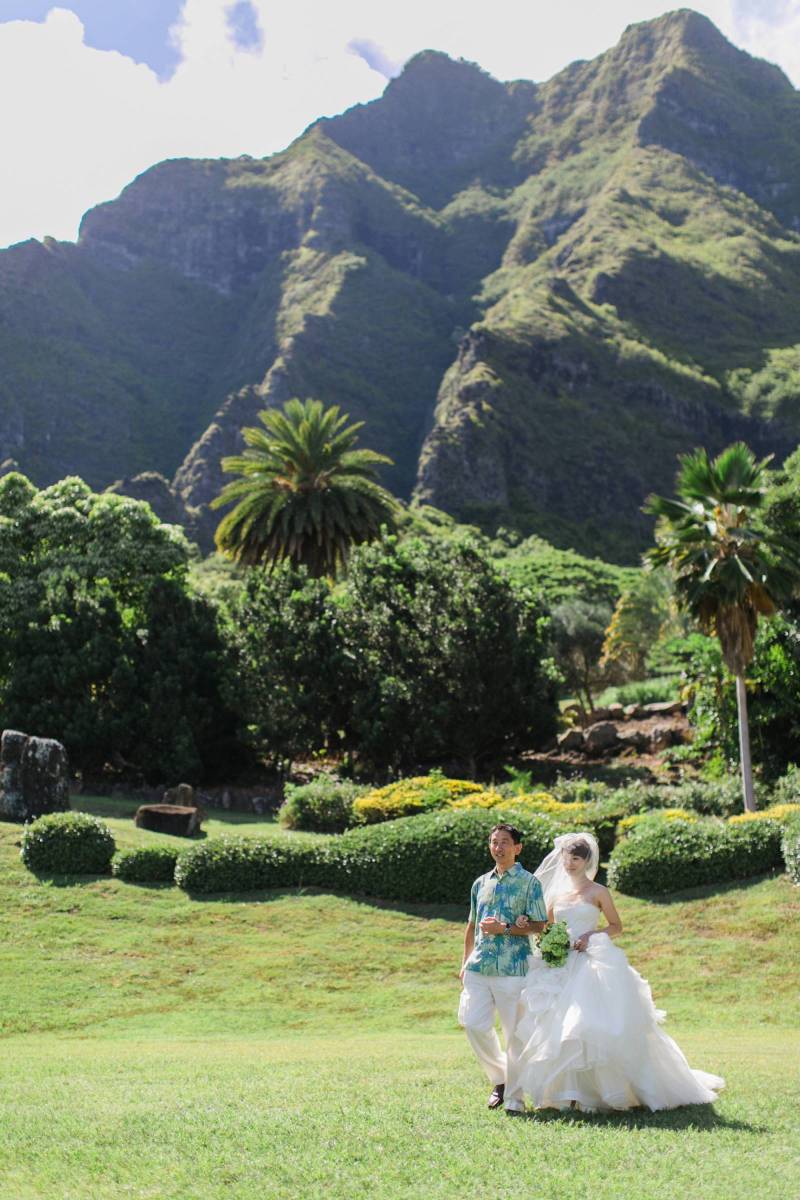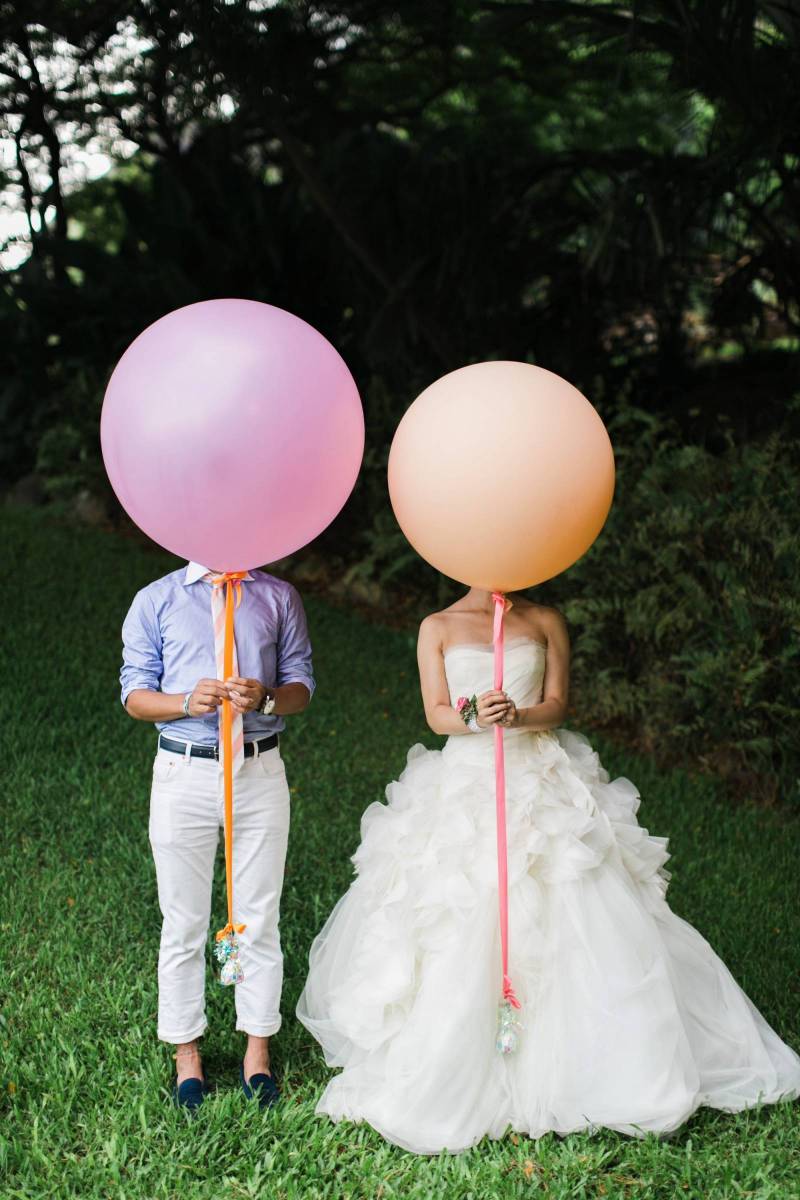 Dos Pueblos Ranch, Santa Barbara, California

Miyo and Braden didn't have the luxury of time when it came to planning their destination wedding in Santa Barbara, a location chosen for the nostalgia factor: the couple's relationship took root in Southern California and Miyo grew up nearby. Just four short months before the auspicious occasion, Miyo stumbled upon images of Dos Pueblos Ranch and knew it was just perfect. The sprawling ranch boasts a one-hundred-year-old restored barn alongside a grand sycamore tree, a historic estate and access to a private white sand beach. "I fell head-over-heels in love with the beautiful ocean views and the barn...oh, the barn!" Miyo exclaims.

On their wedding day, Miyo and Braden wove a path through Dos Pueblos Ranch towards a palm tree-dotted lawn. The bride's request to have a view of the ocean as she recited her vows to Braden was realized at the ceremony site, marked by an elegant arch constructed by Ambient Event Design. Florist Kerstin Olson Horneman of Blue Magnolia Floral & Event Design adorned the blush silk curtains with natural garlands of greenery and clusters of white garden roses. Lush, monochromatic bundles of white hydrangea, garden roses and dahlias were placed in urns atop white wooden pedestals. A darling flower girl appeared wearing a halo of delicate pale blooms with ribbons trailing down her back.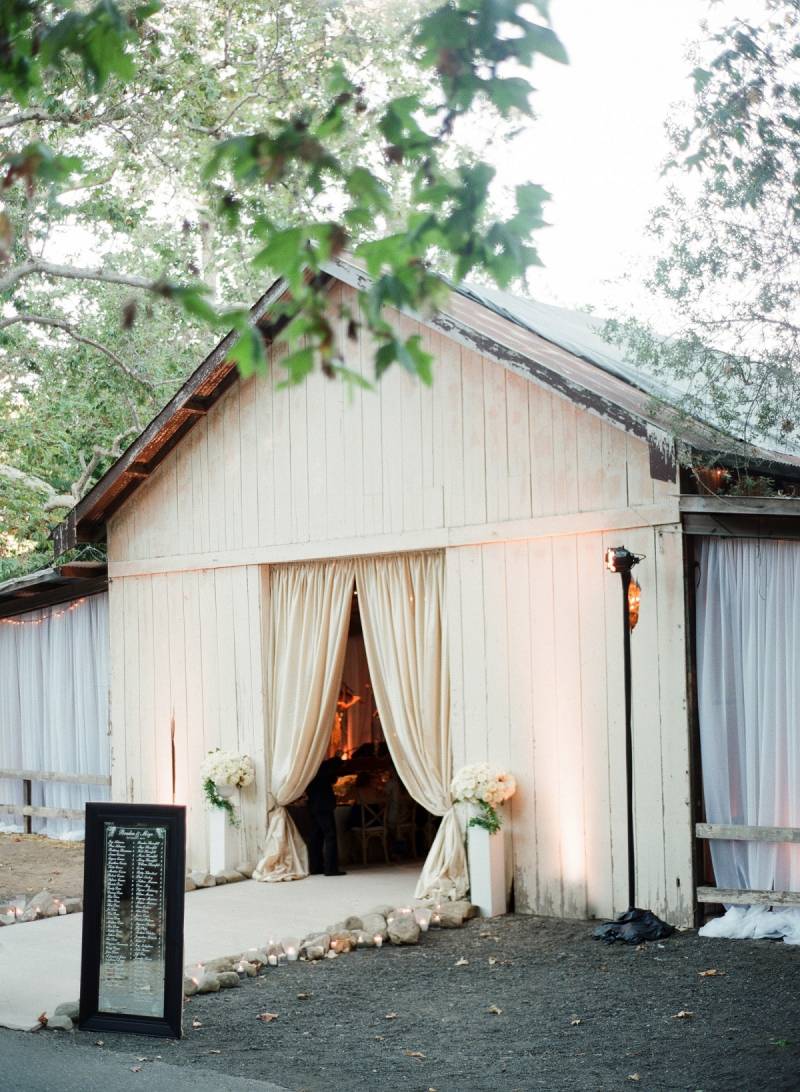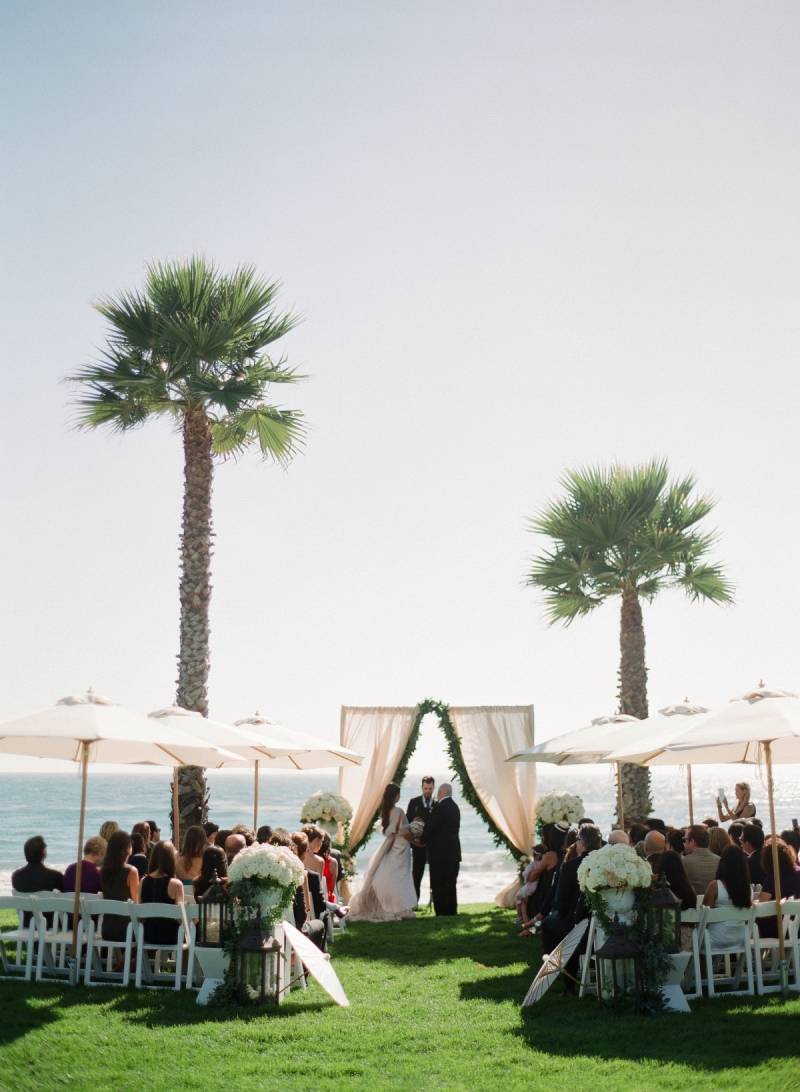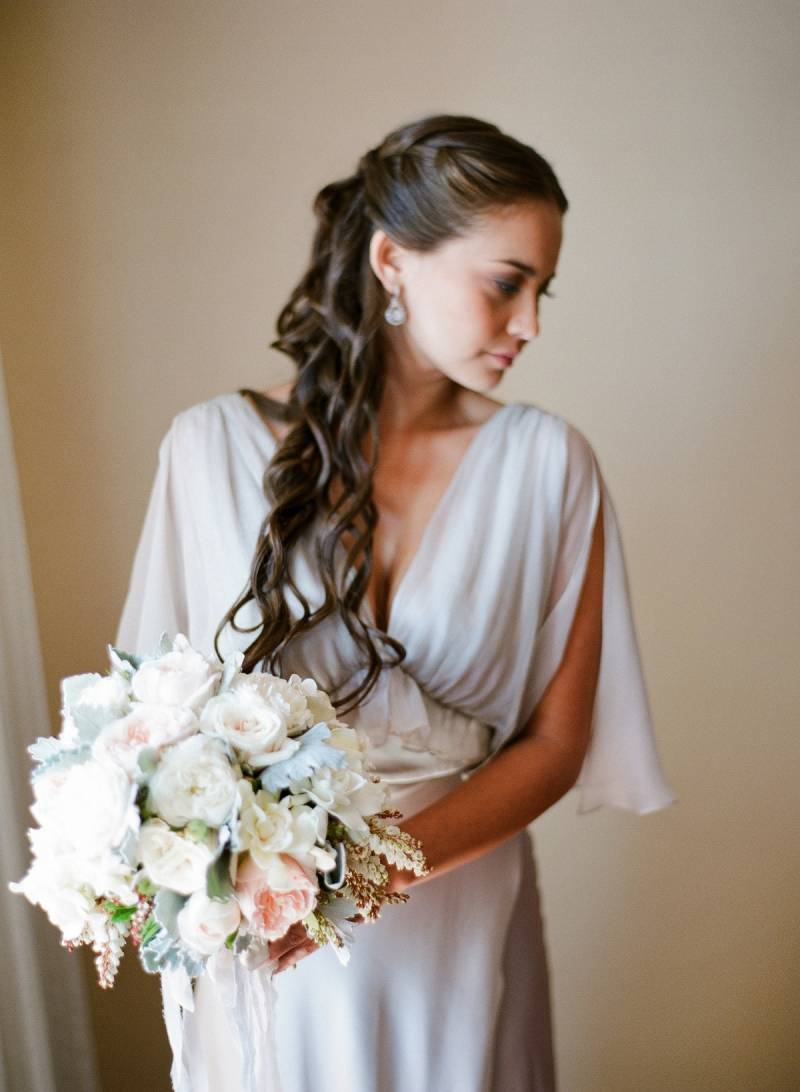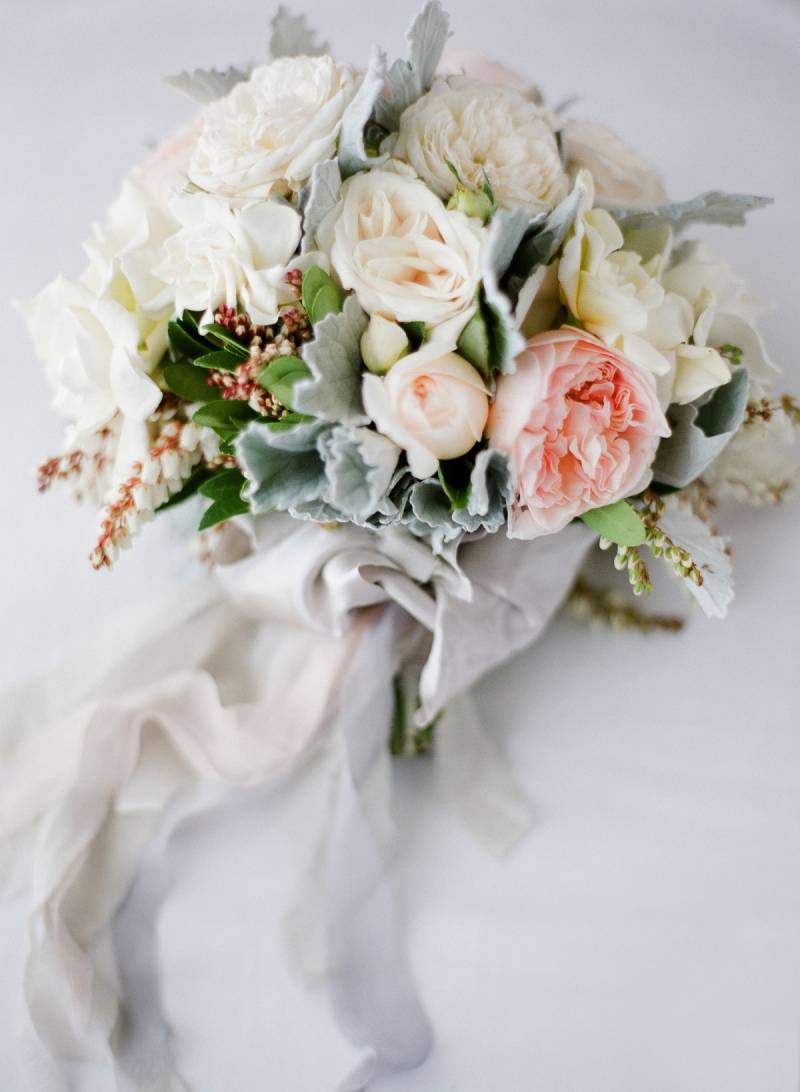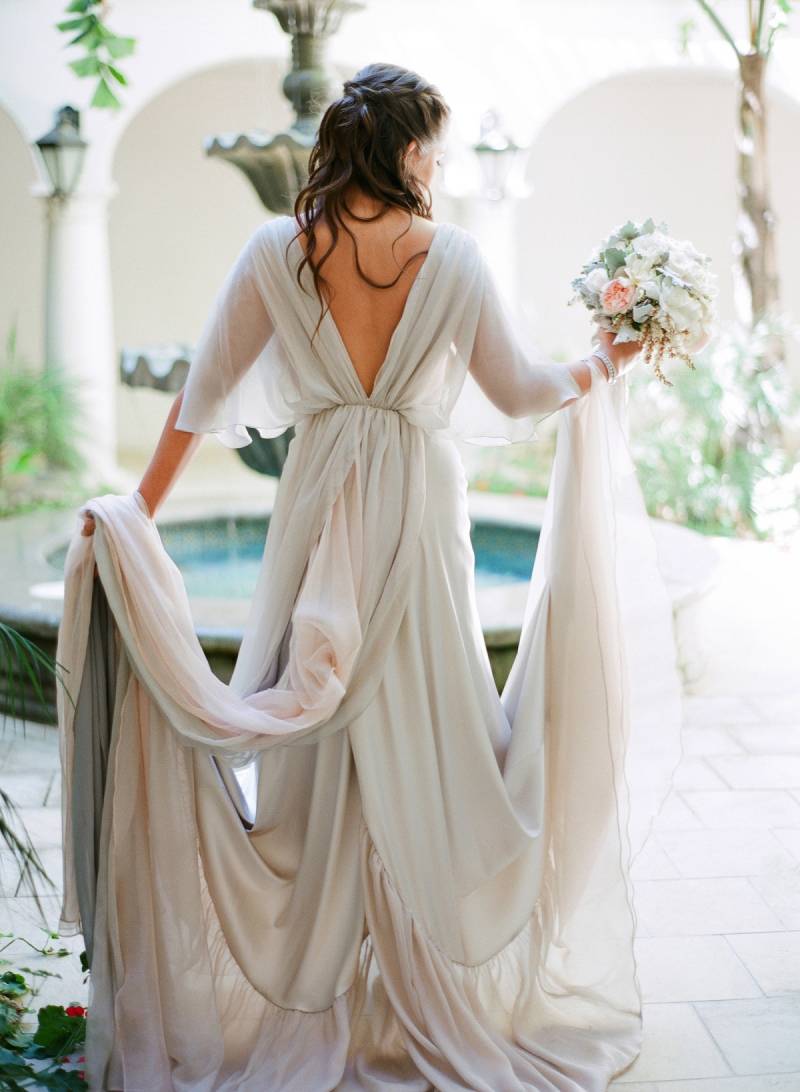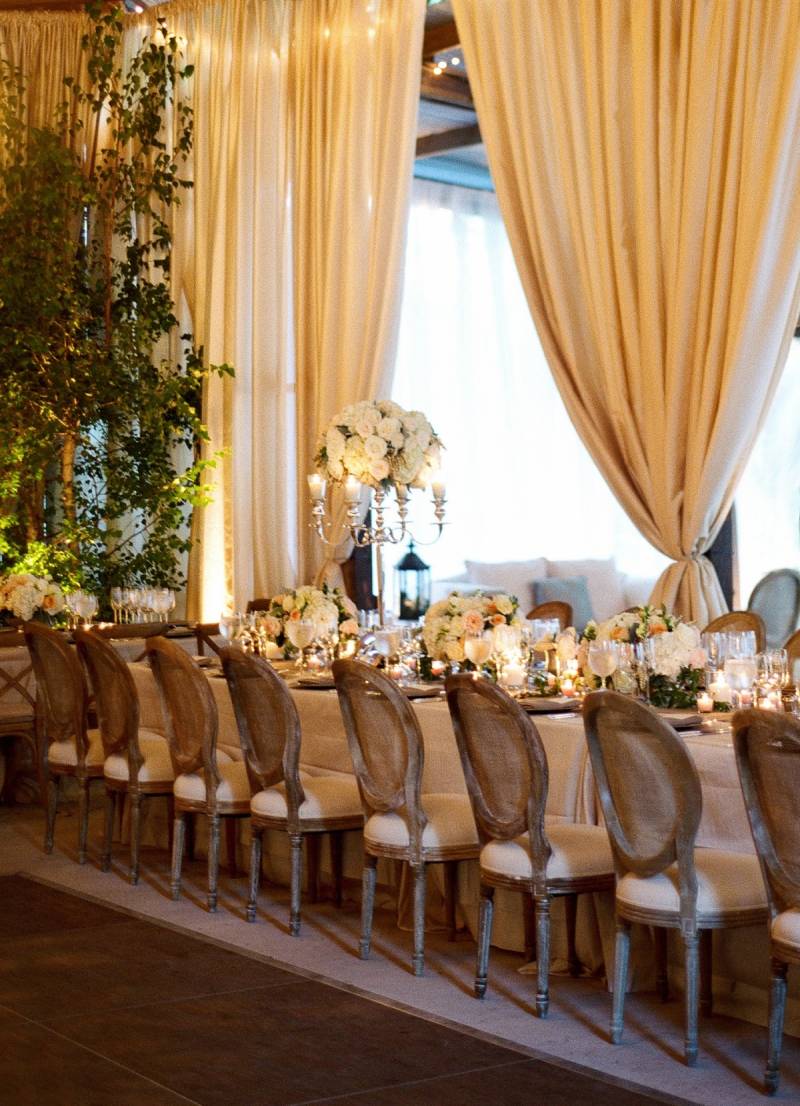 Anderson Ranch, Kenwood, California

Julie and Conor decided to host an intimate celebration in Wine Country with their immediate families in attendance. Wine Country has been the destination of choice for travelers who love its unpretentious feel, farm- to-table approach to cuisine and picturesque vineyards that line the blue sky. Conor and Juli wanted their wedding to embody the laid-back pace of life in Sonoma County which stretches just beyond the fog that escorts those across San Francisco's Golden Gate bridge. "Because our group was so small, we thought it would be wonderful to have a mini-vacation with our guests and Wine Country felt like the perfect place," says the bride. When they happened upon Anderson Ranch in Kenwood, they knew they would wed beneath the grand canopy of trees. "There had only been a handful of weddings held there before ours, including the owners of the property, and that made it feel even more special," the couple says. The Ranch was inspired by American author Jack London's legendary Glen Ellen Wolf House and the craftsman-style lodges from the turn-of-the-century. A renovated barn fashioned from Sonoma fieldstone and old- growth redwood is the focal point of the 75-acre estate. French-country antiques dot the interiors, finely curated by a French importer of the local boutique, Chateau Sonoma.
Julie and Conor's elegant Wine Country wedding is featured here.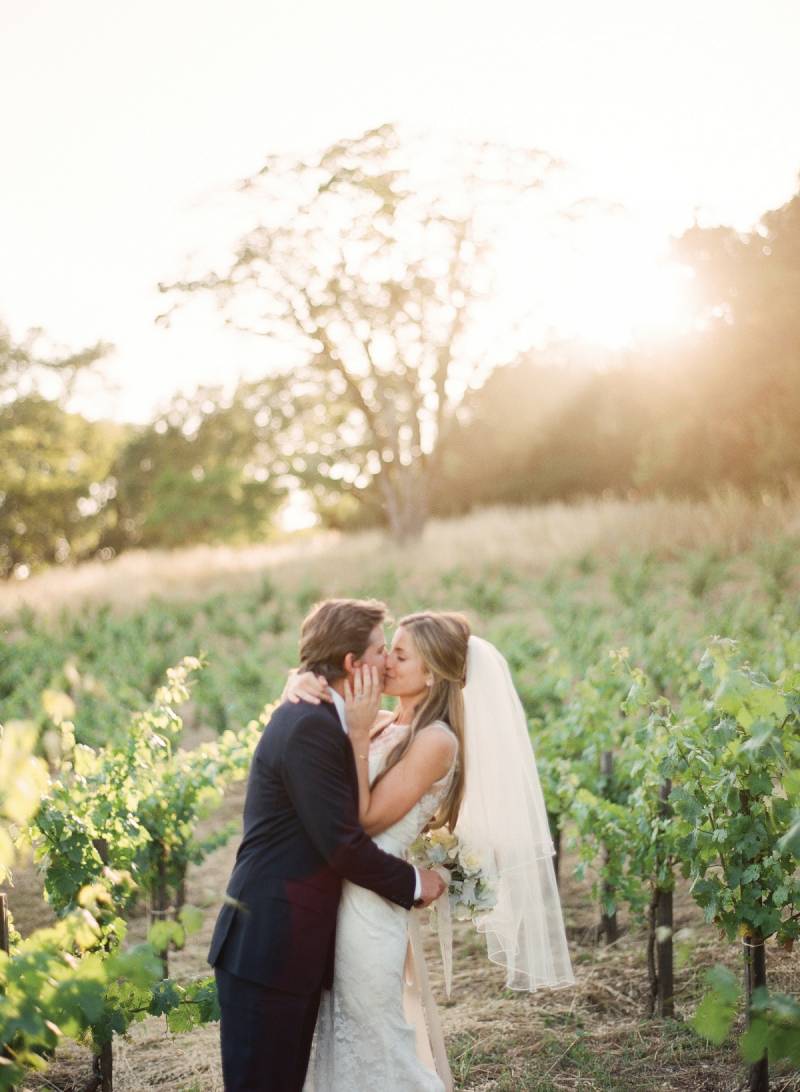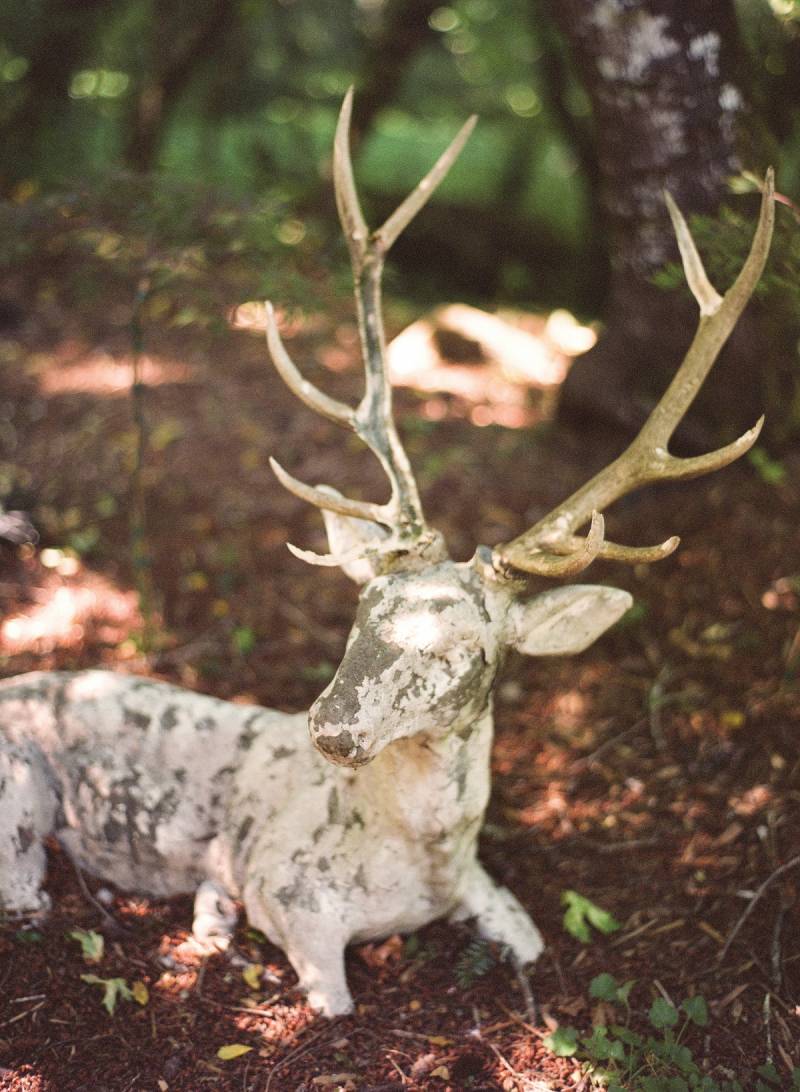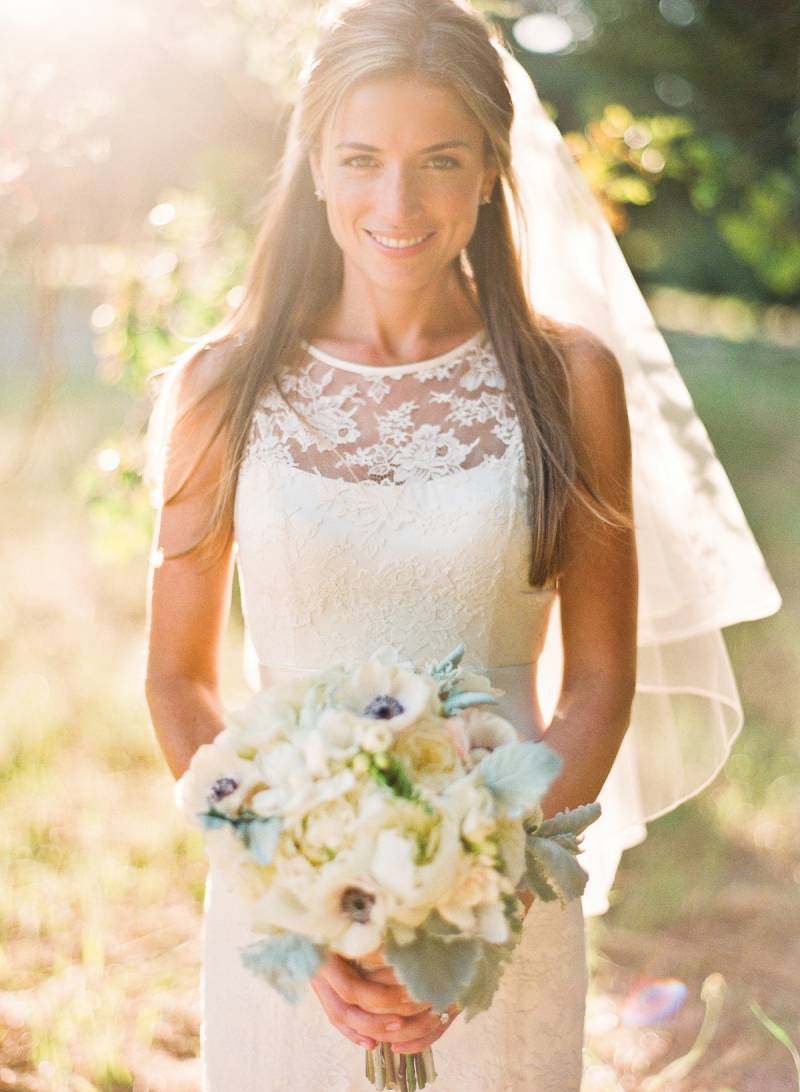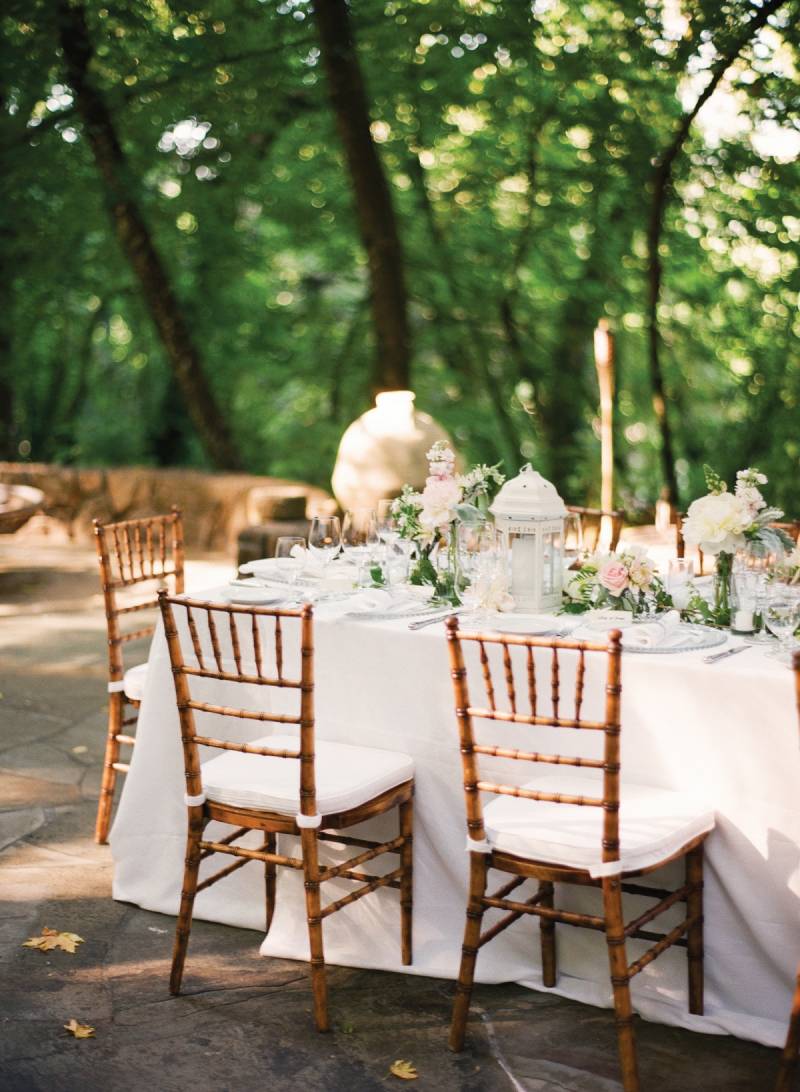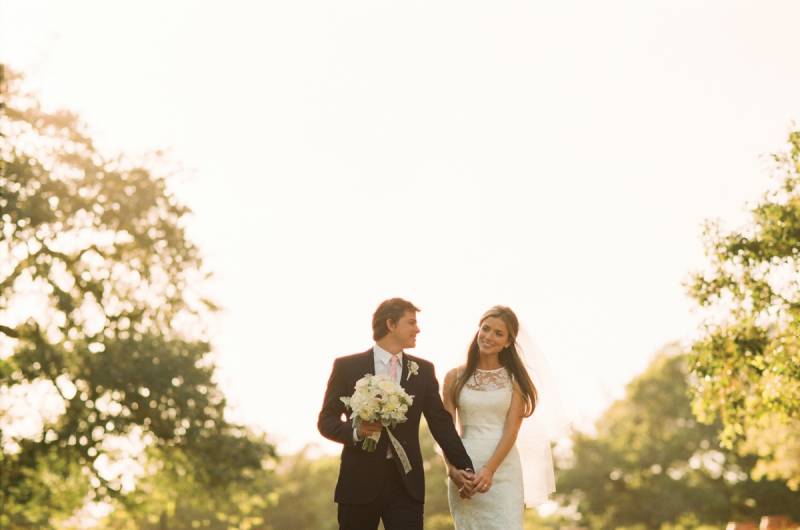 Rancho Las Lomas is one of Southern California's most charmingly elegant private resorts tucked away in the foothills of Silverado. Since the groom's soon to be bride was attending medical school in Chicago during the wedding planning process, Asher took on the task of finding a wedding locale. The couple originally hoped to wed along California's central coast where their families live. After a venue search turned up empty, they looked to Santa Barbara's chic hotel scene. When Asher came across the gardens at Rancho Las Lomas, he knew it was the place. Event planner and designer Lindsay of LVL Events handled all of the colorful, vintage-inspired details of the day.