We don't know about you, but when we're searching for that perfect signature scent, we are sometimes completely stumped as to what scent to choose-- are we feeling light and airy or more seductive and rich? Do we want floral hints or something a little more masculine? We've done some research and have narrowed down our top picks for the summer season. Here are seven lovely scents that we hope will define your style as much as ours.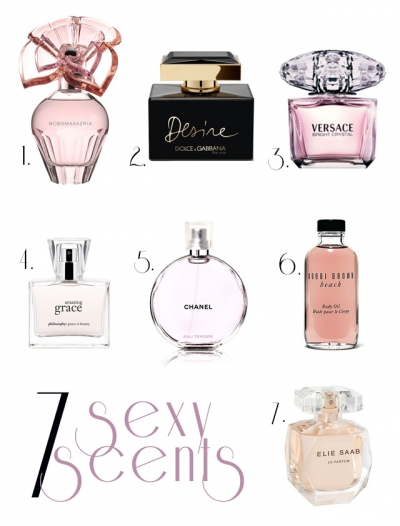 1. BCBG MaxAzria Eau de Parfum: Sensual and sophisticated, this scent has an interesting mix of cherry and strawberry combined with florals such as lilies, rose, and jasmine. Definitely leaves a lasting scent when you walk by.

2. Desire by Dolce & Gabbana: Desire is the perfect word for this lusty combination. With strong feminine qualities, it will leave you (and him!) wanting more.

3. Versace Bright Crystal Eau de Toilette: A majority of florals go into this fresh and light concoction, with a little bit of amber and musk to bring an edge. A perfect scent for an outing with friends, like going to a museum or shopping with your girls.

4. Philosophy Amazing Grace: For a woman's "most beautifully feminine moments." This scent reminds of us of great women, like Grace Kelly, Jackie O, or Princess Diana. It has a fresh and illuminating quality to it and doesn't fade after 10 minutes.

5. CHANEL CHANCE Eau de Tendre: The 3rd generation of Chance takes it's common form of generally being for a younger crowd, but lifts you up with freshness in florals and greens. Jasmine and musk take the hold at the end to make it both "innocent and seductive."

6. Bobbi Brown Beach Body Oil: Obviously as an oil, you will get the gorgeous shine to your legs that stars have in all those sexy photo covers, but it also has moisturizing oils such as olive and avocado. And of course, the reason it is on this list is because of the crisp scent of the beach. Very light and airy and it kills two birds with one stone.

7. Elie Saab Le Parfum Eau de Parfum: This scent will make you feel sophisticated everyday with its woodsy and flowery elements. If you like the finer things in life, this one will definitely fit the bill.