Would you ever get married in the middle of the ocean? Jenn and Parker invited their family and friends to Oahu, where they hopped into outrigger canoes and paddled out to tie the knot in the water. Jenn, originally from Oahu, says, "We wanted this day to embody adventure. Getting everyone in the water made it really intimate and meaningful in the sense that we were all working together to make this really beautiful thing happen." After the ceremony, the party hit up a local food truck, Camille's on Wheels for appetizers and dinner and Via Gelato for dessert. Sounds incredible, right? Photographer Kristen Hook of Hook Photography captured the entire ceremony in the ocean using water housings for her cameras.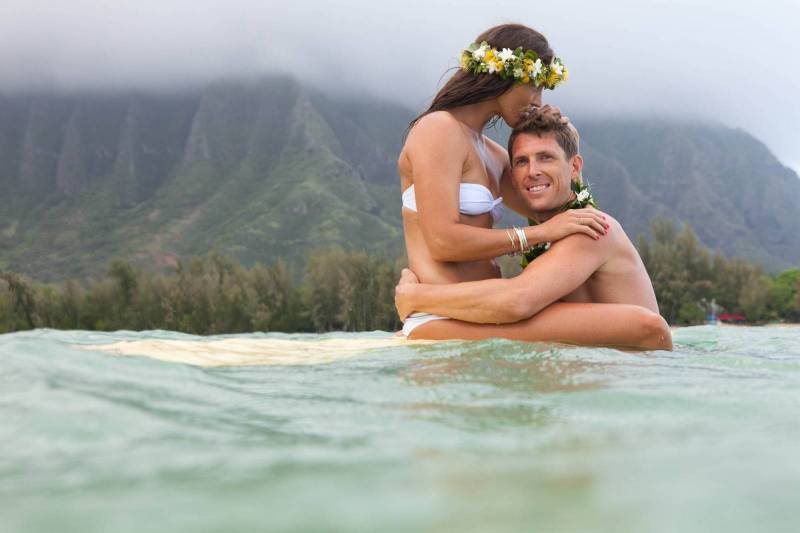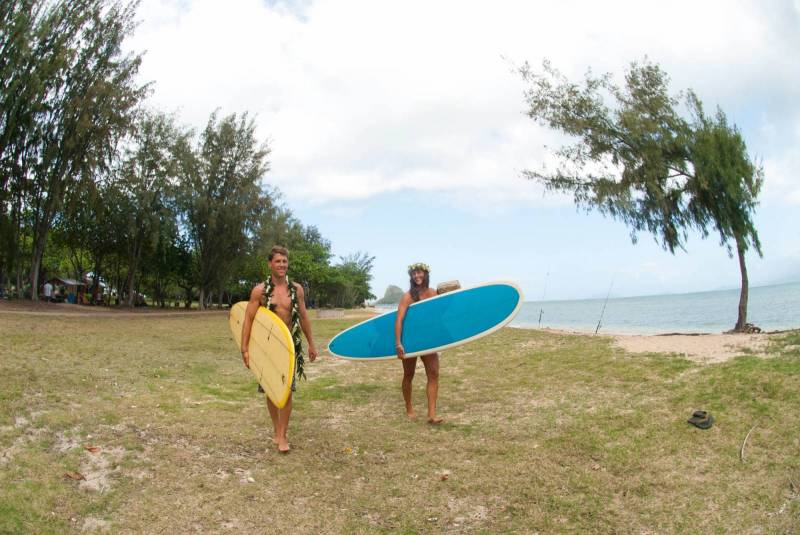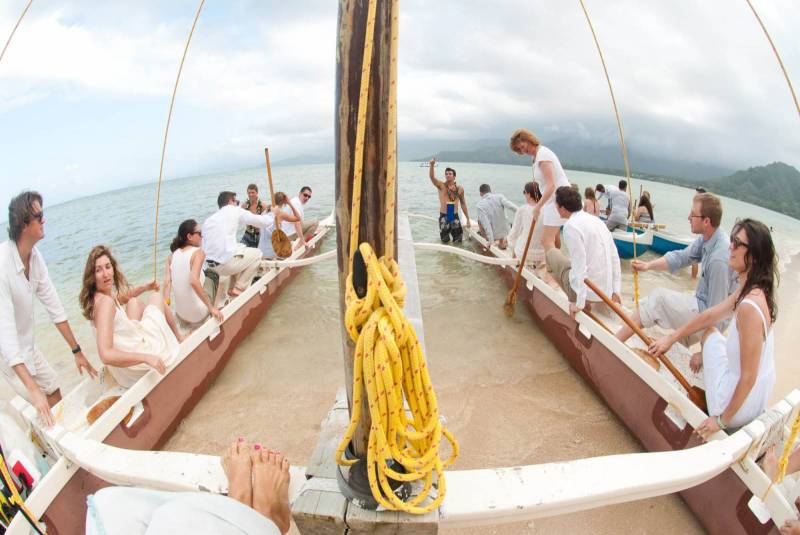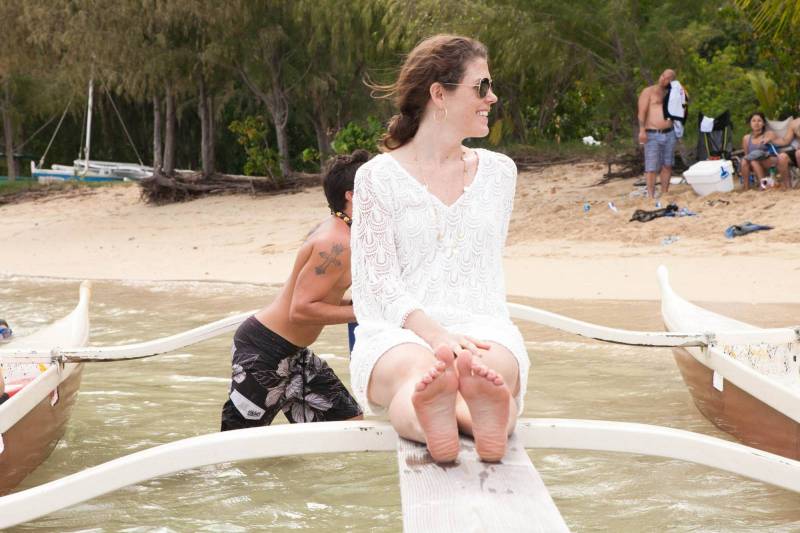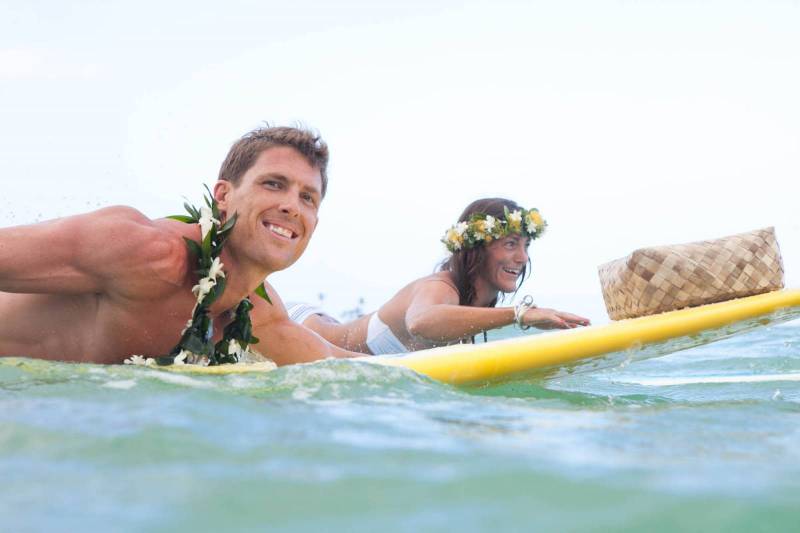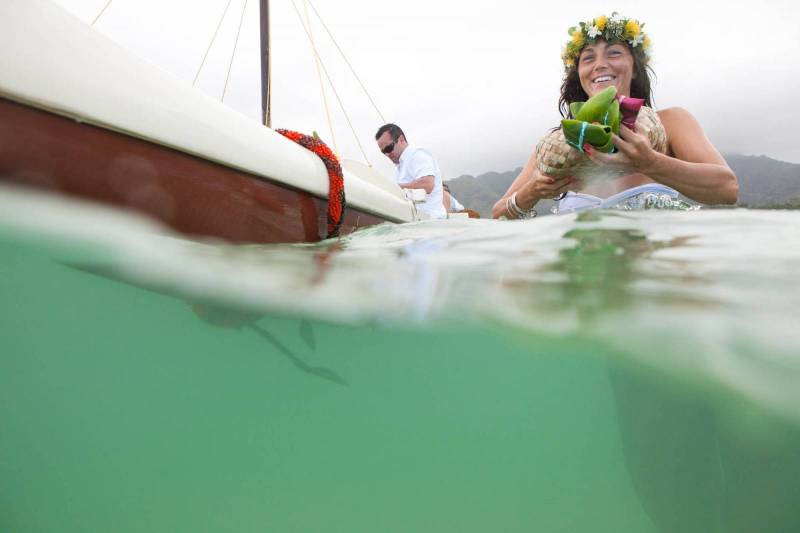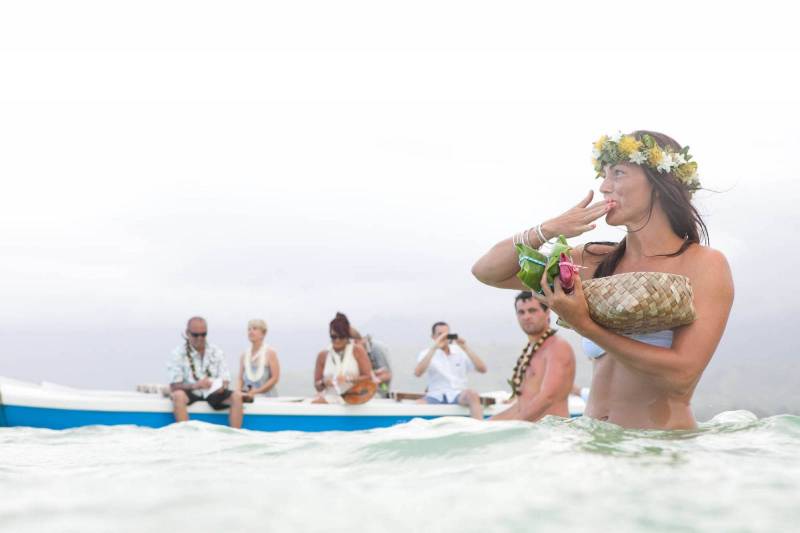 So you didn't have to stress about finding the perfect wedding dress? Tell us about the bikini you wore. Growing up surfing in Hawaii, being in a bikini feels so natural. We wanted our personalities to drive the tone of the wedding, and we didn't feel a tuxedo or a wedding dress was very meaningful to us. We just feel better in board shorts and bikinis! After trying on a million or so, I found a Pualani bandeaux top and a pair of Vix bottoms. I still wear it surfing on special days!
Where was your haku lei from? My haku was from Cindy's Lei and Flower Shop in Chinatown, Honolulu. It was a combination of yellow lehua, tuberose and greenery native to the Big Island.
Did your guests mind getting wet? We are super close with everyone that was at our wedding, so I think they knew to expect something out of the ordinary. I think everyone really embraced being on the water. Some jumped all the way in…in wedding attire!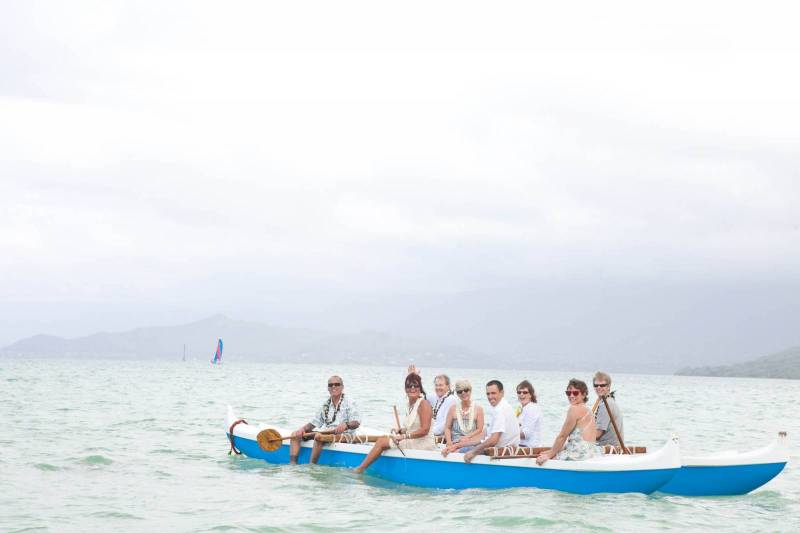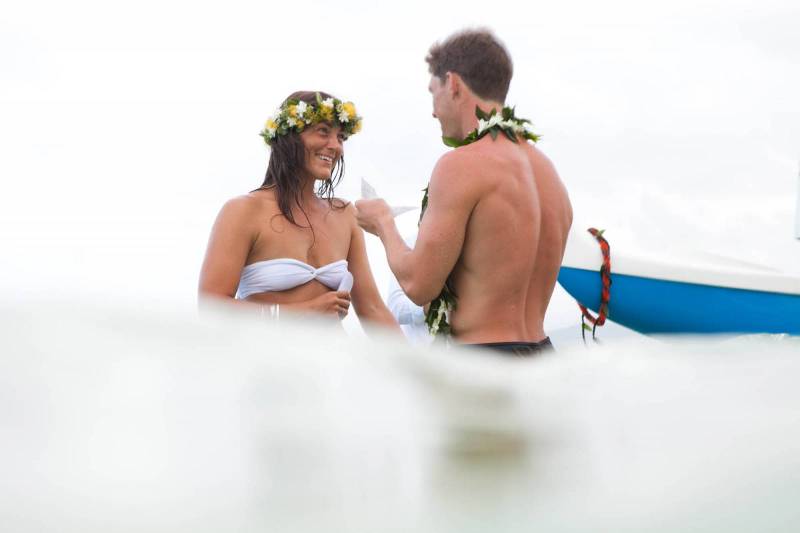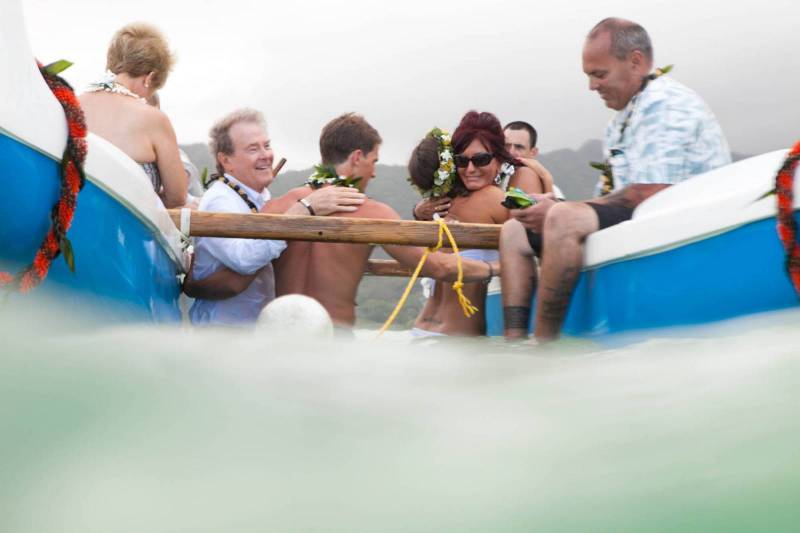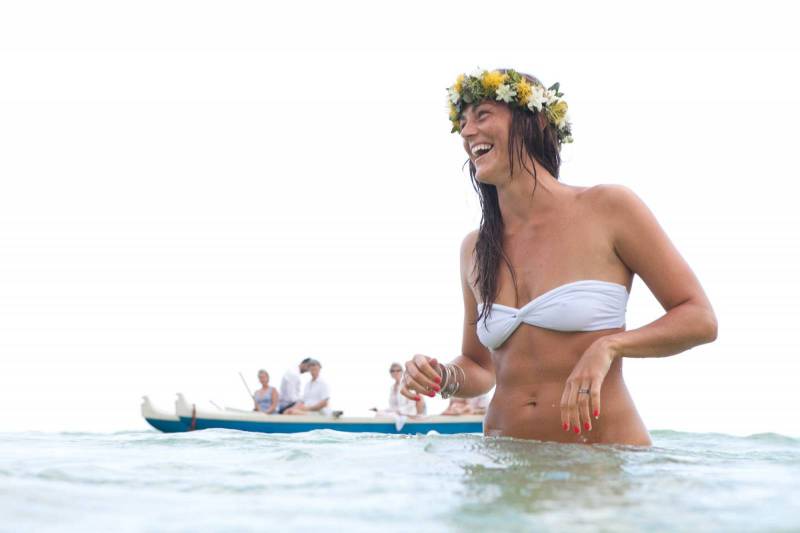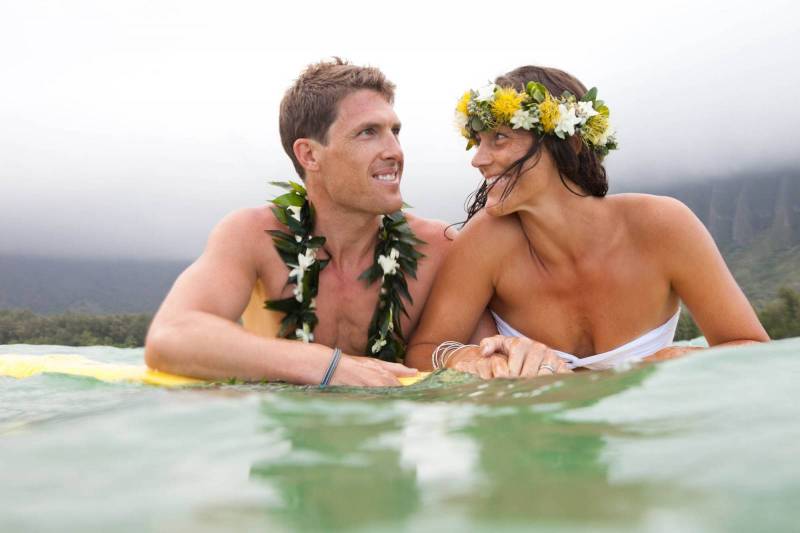 What was your favorite memory of the day? Getting 40 people into canoes and out to sea is no small task especially when most hadn't even seen a traditional Hawaiian canoe before. As we launched the final boat I remember thinking, "we are actually going to pull this off." Our vision that we had poured everything into was unfolding perfectly and even more beautifully than I had imagined. As we paddled out on our surfboards, the magnitude of what we were embarking on hit me. I looked over at Parker and saw my best friend beaming, looking more handsome than ever, and this was the man who I would "adventure always" with.
From the groom Parker: It had been cloudy all morning. Right before the guests arrived, Jenn was off primping when it started to rain. I mean pour. Everything was getting drenched: glasses on the tables were filling up with rainwater, all the pictures we'd put out were soaked. We were relying on clear weather (total rookie move) and I was thinking, this is a disaster, Jenn is going to be so upset. And then I turned around and Jenn was standing behind me with the most beautiful smile on her face and she said, "Hi." That's it, just "hi" with a smile. And I thought, "I can't believe how much I love this woman." Anyway, about five minutes later a gentle breeze pushed all the rain out to sea and left misty sunlight in it's place. Everything dried out and was beautiful and perfect. I'll never forget it. I can't help but add, however, that the ceremony was the most intense spiritual moment of my life. In that place, in the sea, surrounded by such amazing people…unreal.