An appreciation for fine wine and a love of the great outdoors inspired Iris and Ryan's rustic outdoor wedding at Hawks View Cellars in Sherwood, Oregon. Famed not only for their single vineyard varietal wines, the family-owned winery offers a genuinely personal experience of the Northwest winemaking. Iris and Ryan's wedding day marked their six year anniversary. They both agreed that they wanted the décor and feel of the day to be vintage-inspired with an interesting juxtaposition of industrial and rustic.
Portland, Oregon photographer Mark Mirocha says, "Iris and Ryan are two of the most passionate folks that I've met in quite some time. They are passionate about food, wine, life, learning, experiencing and most of all, each other. I've never worked with a couple quite like Iris and Ryan. They are patient, inquisitive, deliberate and thoughtful. But most of all, they know how to love. For that, I'll never forget them."
Location: Hawks View Cellars, Sherwood, Oregon | Photography by Mark Mirocha | Floral Design + Arbor: Cottage Garden Greenhouse | Wedding dress by Haunt + Holly Stalder | Groom's Suit: Estes, Portland, Oregon | Catering: At Its Best + Urban Farmer Portland | Music: Celebration and Music Events | Cake: Helen Bernhard's Bakery | Stationery: Cards of Wood
After looking at countless wedding dresses, Iris decided she wanted something a little untraditional. Her lace dress was designed, dyed and custom-made by Haunt + Holly Stalder in Portland, Oregon. Iris designed and made the sash for the dress.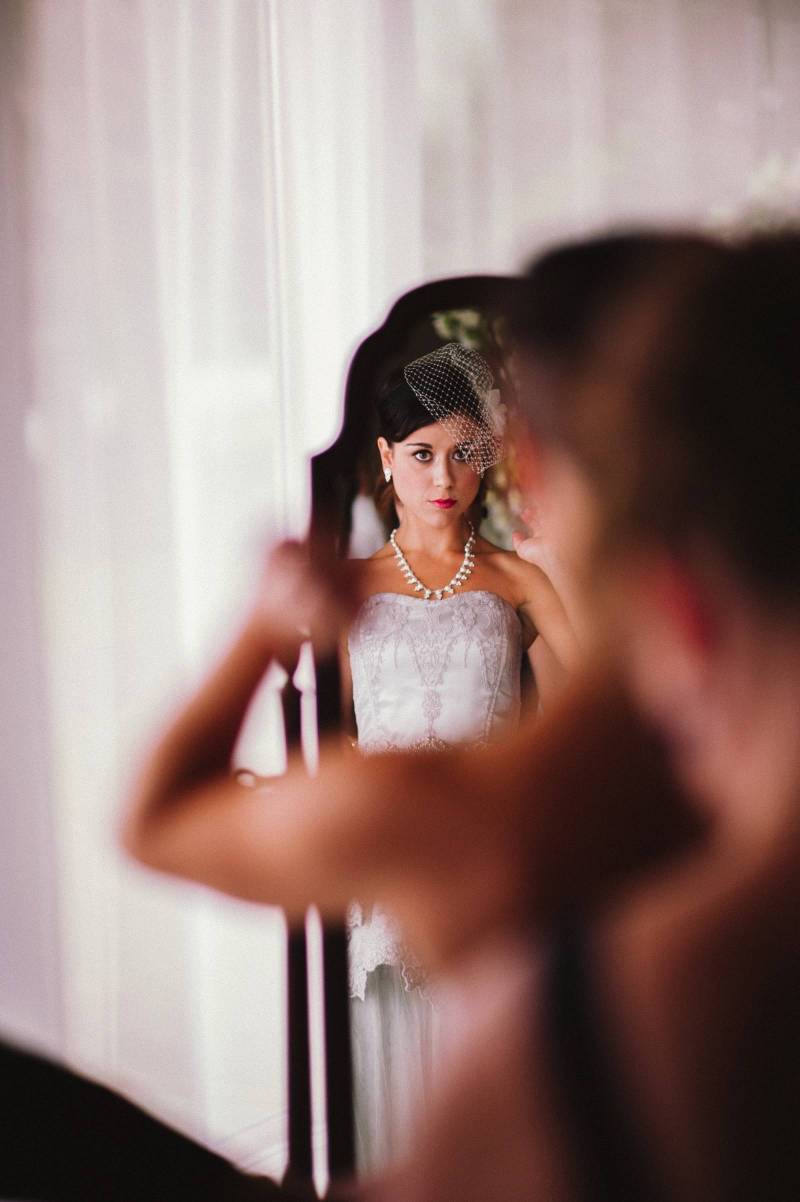 The bride made her own birdcage veil for a vintage look.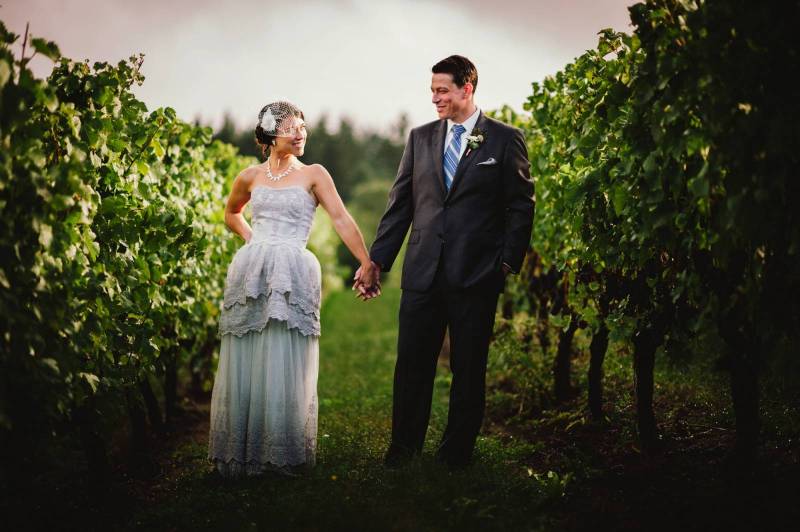 Iris and Ryan loved the idea of an outdoor vineyard ceremony, but the weekend of the wedding (in true Oregon fashion), the forecast called for rain. They quickly moved the ceremony location to the Hawks View Barrel Room surrounded by the finest French Oak barrels in the world. At the end of the day, the skies opened up and the sun came out, making for the ideal light for photographs.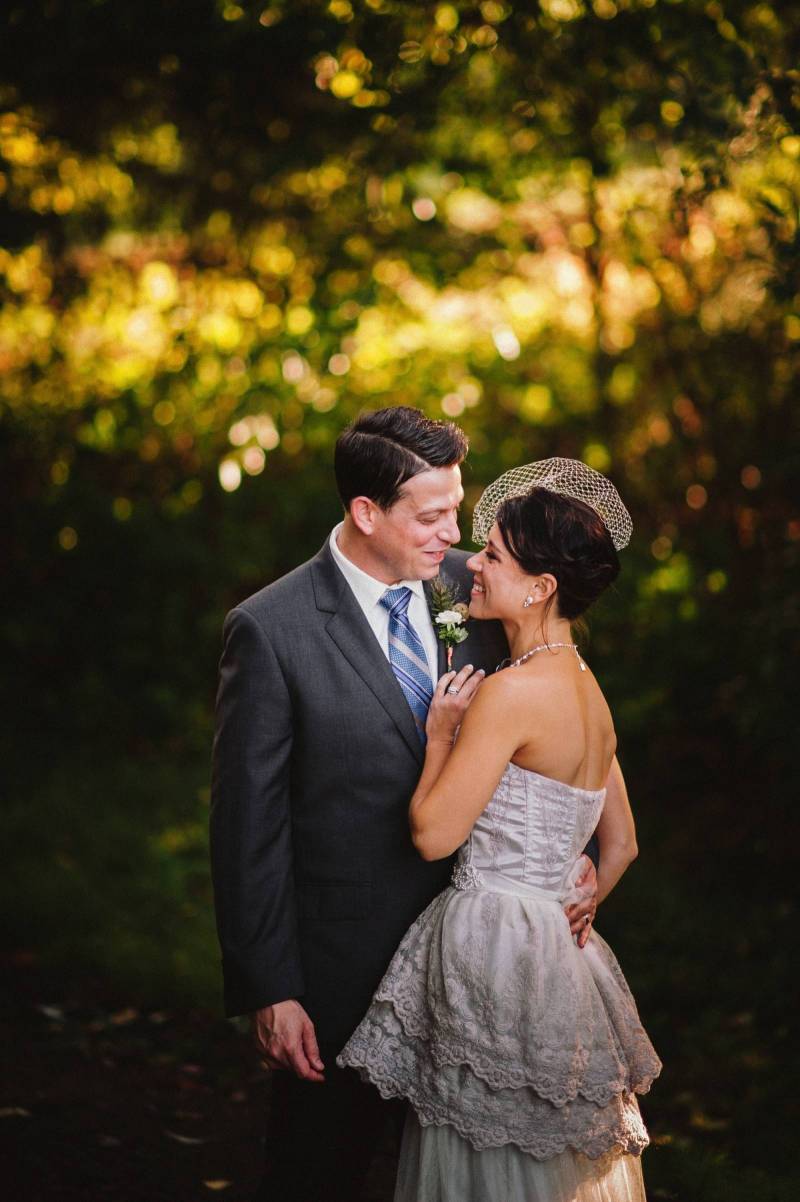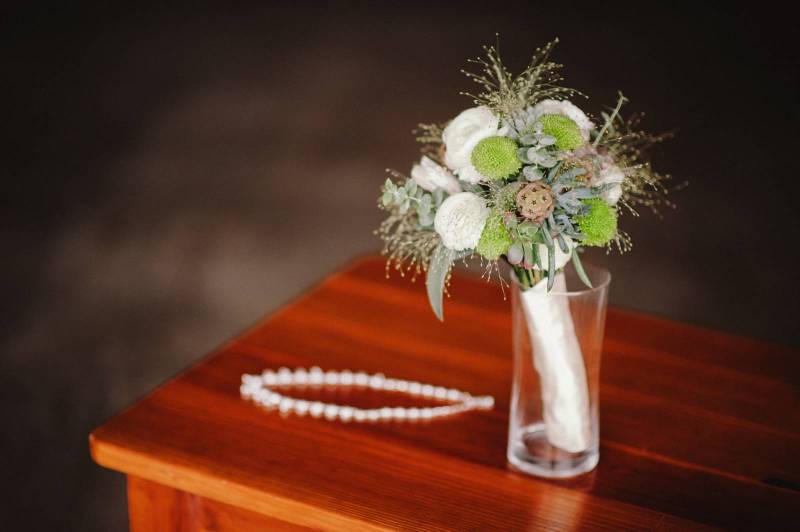 The sister-of-the-bride created the bridesmaid bouquets, boutonnieres and the bridal bouquet. They sourced the succulents from the local wholesale flower market 35 days before the wedding and stored them in a cool, dark space.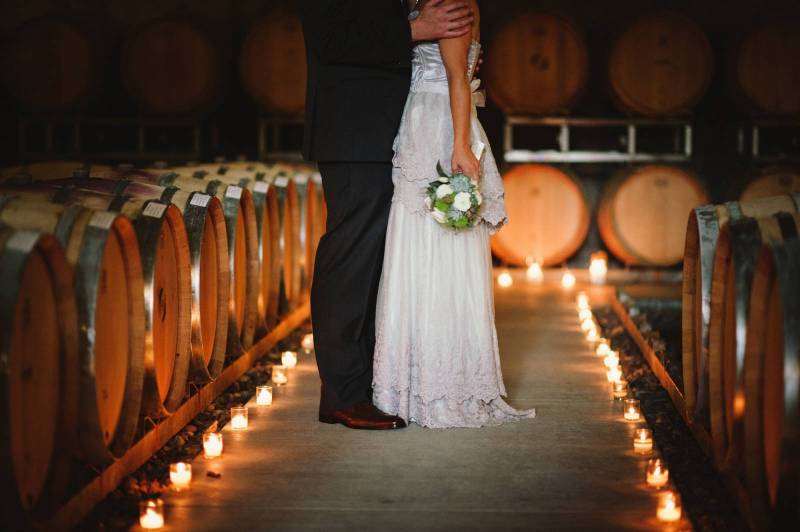 The reception location, much like the couple's initial meeting, was "love at first sight," according to the bride. It was the perfect balance of urban and rustic.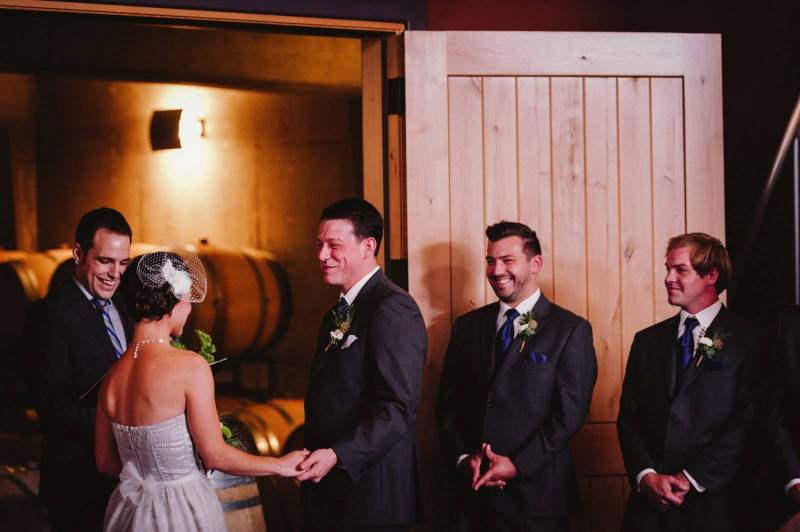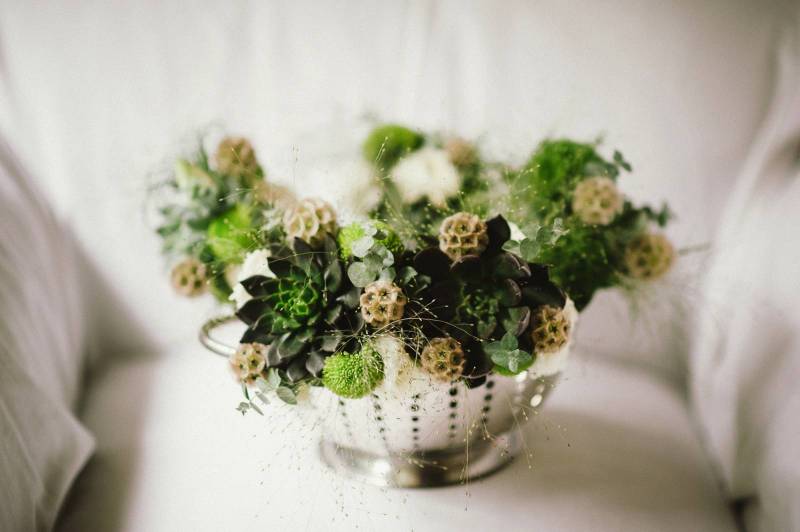 The inspiration for the centerpieces came from the nuetral and earthy color palette of the venue. "We loved the idea of pairing green succulents, flowers and copper wire to standout against the wood and concrert surfaces," Iris says.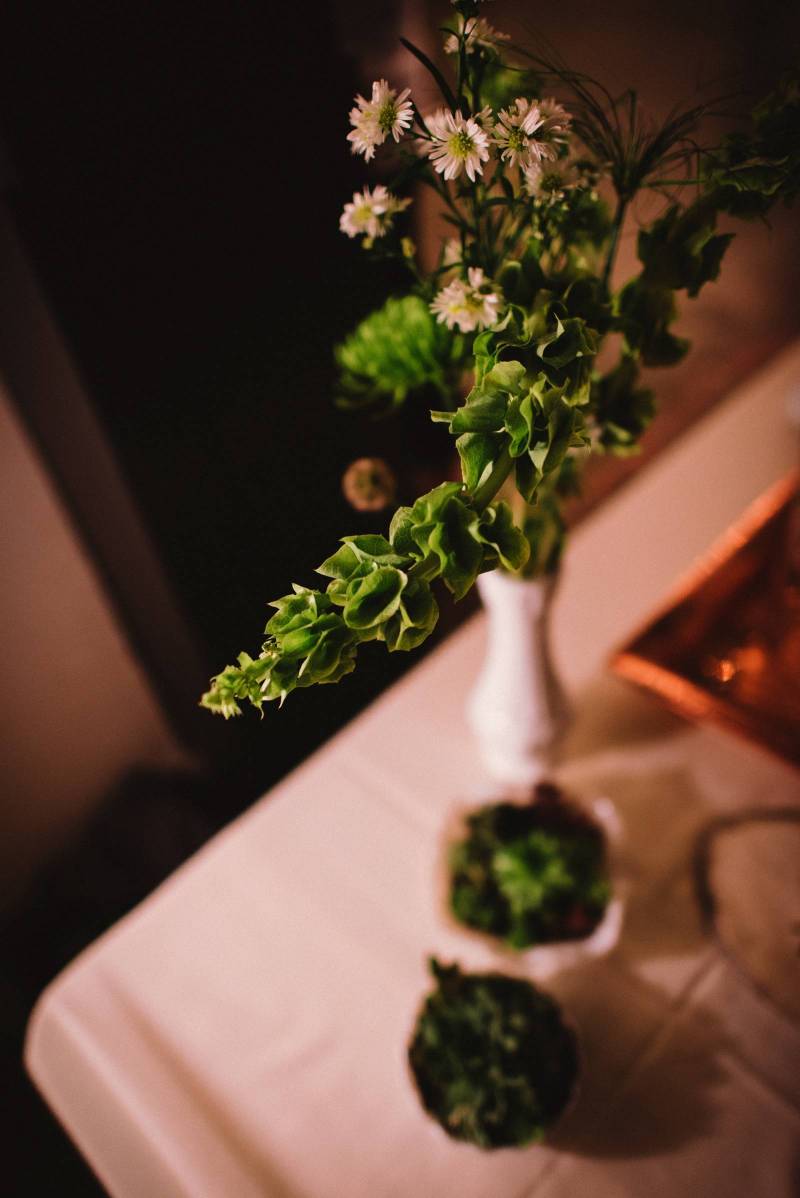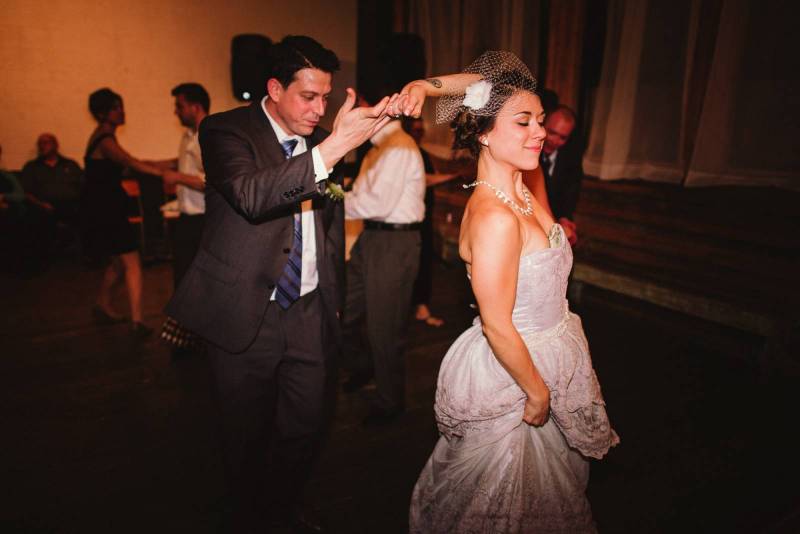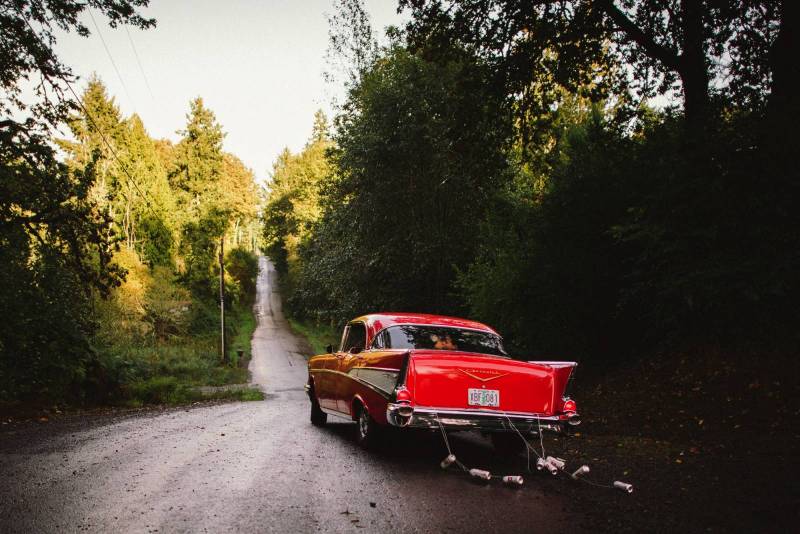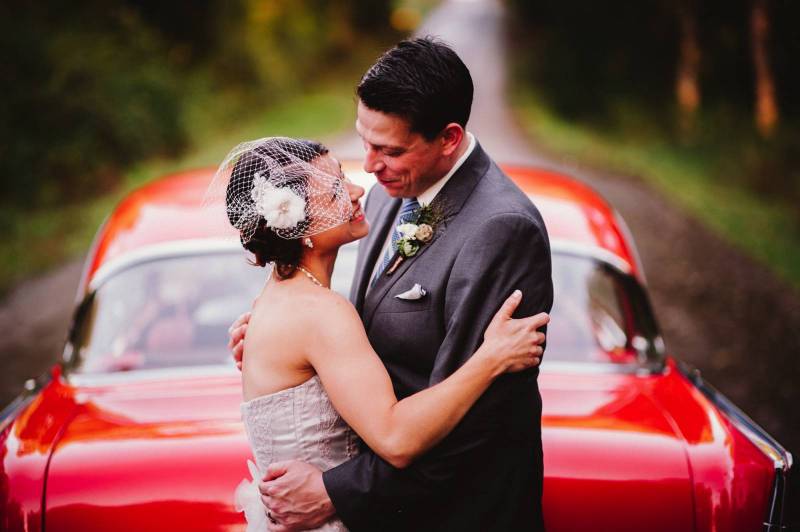 "It was the most amazing party we have ever (or will ever) throw. We realized that planning a wedding is similiar to creating a happy marriage; it takes commitement, patience, and perseverance," Iris says. "And it takes an understanding of both people and collaboration to make those dreams a reality."