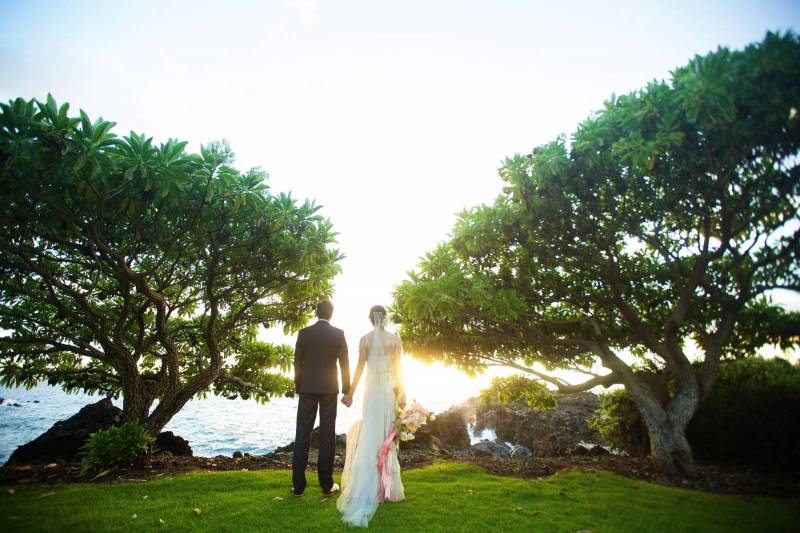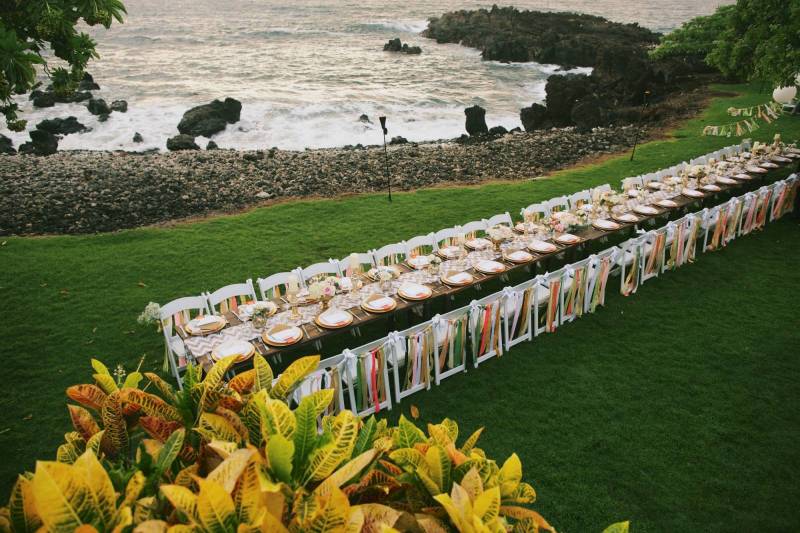 Northern California natives, Liz and Ira, dated for almost a decade when Ira proposed to his sweetheart." I was completely surprised," she says. "I was sure that we were just going to be life partners. Little did I know, he had been planning to propose to me for over a year." She continues, "You have to realize that Ira and I have always marched to the beat of a different drummer. From the start we knew that we wanted to make sure that our wedding stayed true to our values and humor."
She tells us, "Right after our engagement, I felt extremely overwhelmed. Where should we get married? Did we want a big or small wedding? Did we want rustic or super modern? Thankfully, our good friend gave us a wonderful piece of advice right before I pulled out all my hair--she advised us to sit down separately and create a list of things that were important to us as individuals for our wedding. We came together after making our lists and were able to truly focus on what was important. The biggest point was that we wanted the wedding to be small and intimate. During our nine years together, we had always dreamt of vacationing in Hawaii, but never took the steps to make it a reality. That's when we both looked at each other and knew we would wed in Hawaii.
We saw our wedding as the perfect excuse to gather all of our closest loved ones in one place to have one epic vacation together. We took a look at all of the islands and Maui just seemed like the right fit for our needs. We wanted to create a fun party for our guests filled with exciting surprises, whimsy and humor. We also wanted to make sure that we were able to get our dog, Cooper, over to the island, since he was Ira's best pup. Luckily, Hawaii's direct release program allowed us to bring him to Maui."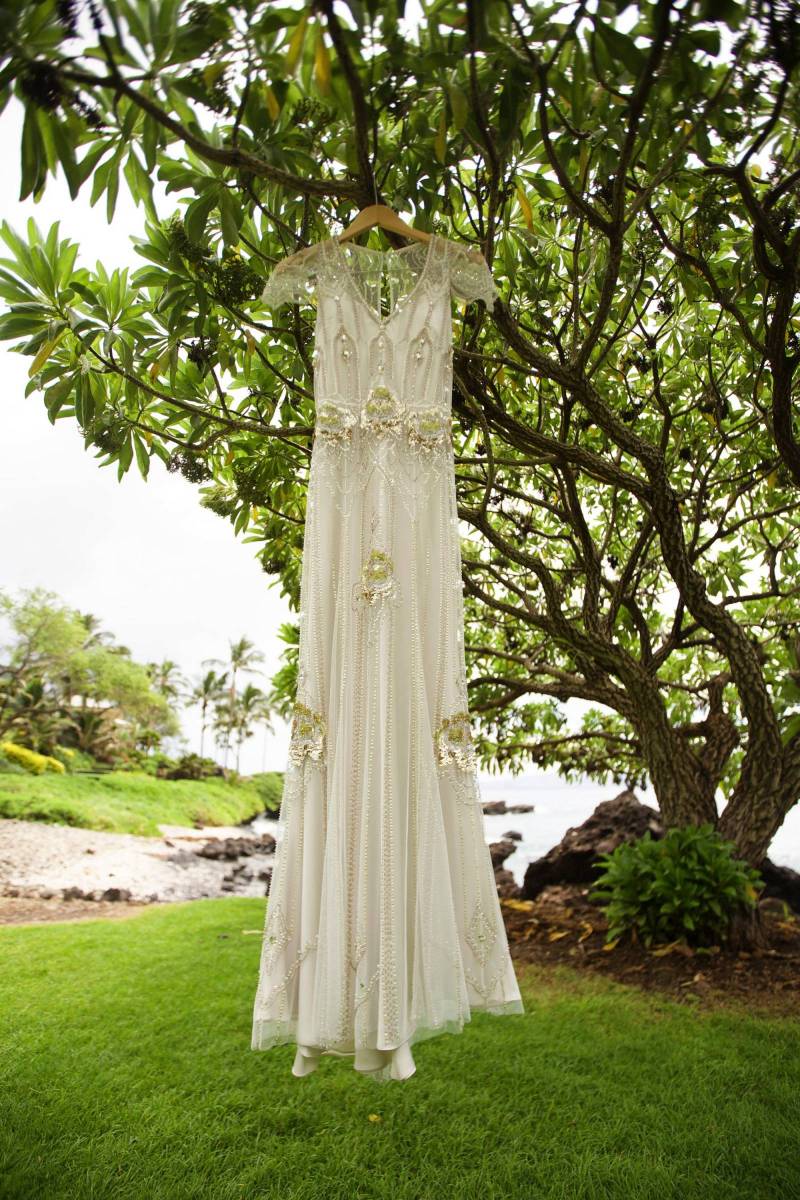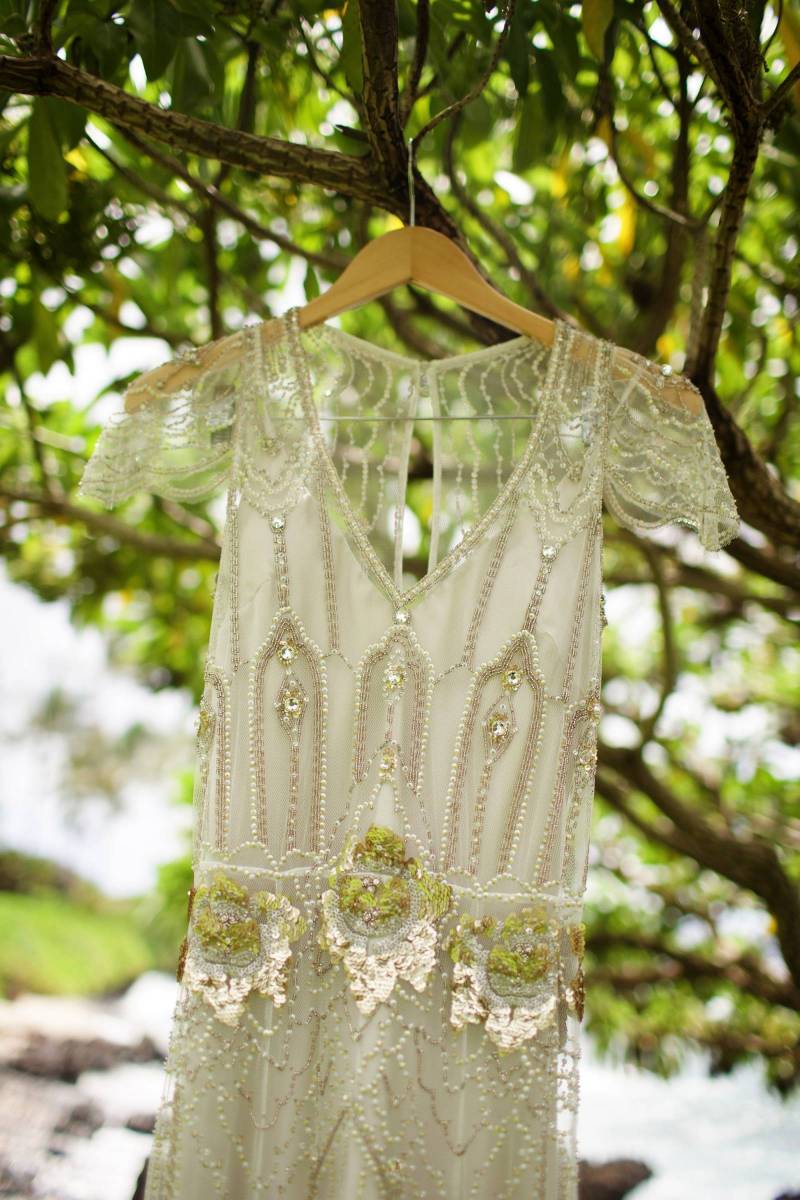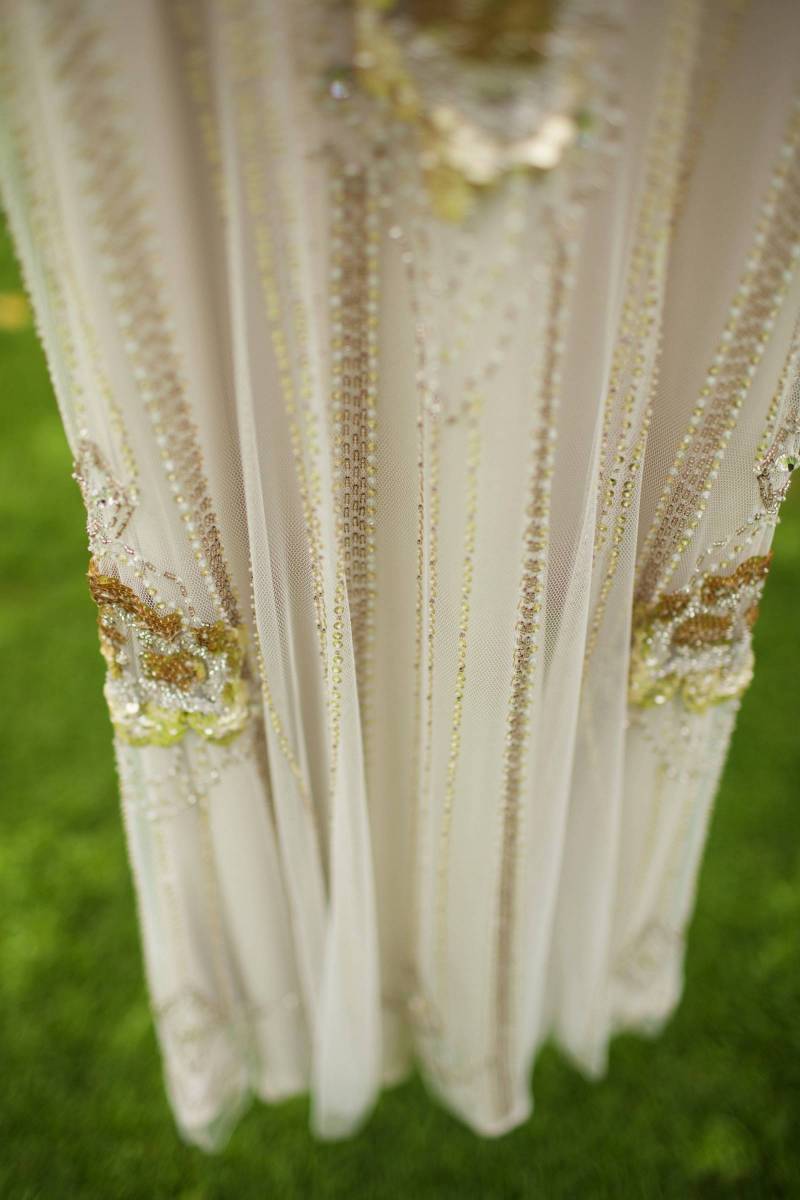 Ira and I love the style of the 1920's. We have always been fans of the art deco movement. What Ira didn't know was that my wedding dress was the factor that tipped our wedding towards the art deco style. Once I decided on my dress, it seemed like everything else lined up perfectly.
I had no preconceptions when it came to how I wanted to look on my wedding day. I have always been a big fan of Jenny Packham gowns. I think she creates beautifully intricate and feminine pieces. I looked online and saw that my local Saks was hosting a trunk show for her and I immediately booked an appointment. I pulled three very different dresses by Jenny and then I asked stylist Hermine to pick a dress that she thought would compliment my personality. Hermine was an angel! She has been a bridal consultant for over 10 years and I knew that I was in good hands.
However, when she came back to the dressing room with a non-white gown, I thought she was crazy. But, I put it on and immediately fell in love. The platinum color of the dress complimented my skin tone perfectly and the delicate beading was incredible. I felt like my best self in that dress. The dress ended up being the muse for me gently nudging my husband to go with an art deco feel for our wedding. I struggled for a long time whether or not to wear a veil. Having our wedding on the beach, I knew that veils could become wind monsters, but I just didn't feel like a bride without having a veil on. I wanted a simple veil that didn't detract from the dress but also gave it a sense of drama. I also pinned a white peony in my hair as a tribute to my grandmother and grandfather, whose favorite flowers were peonies.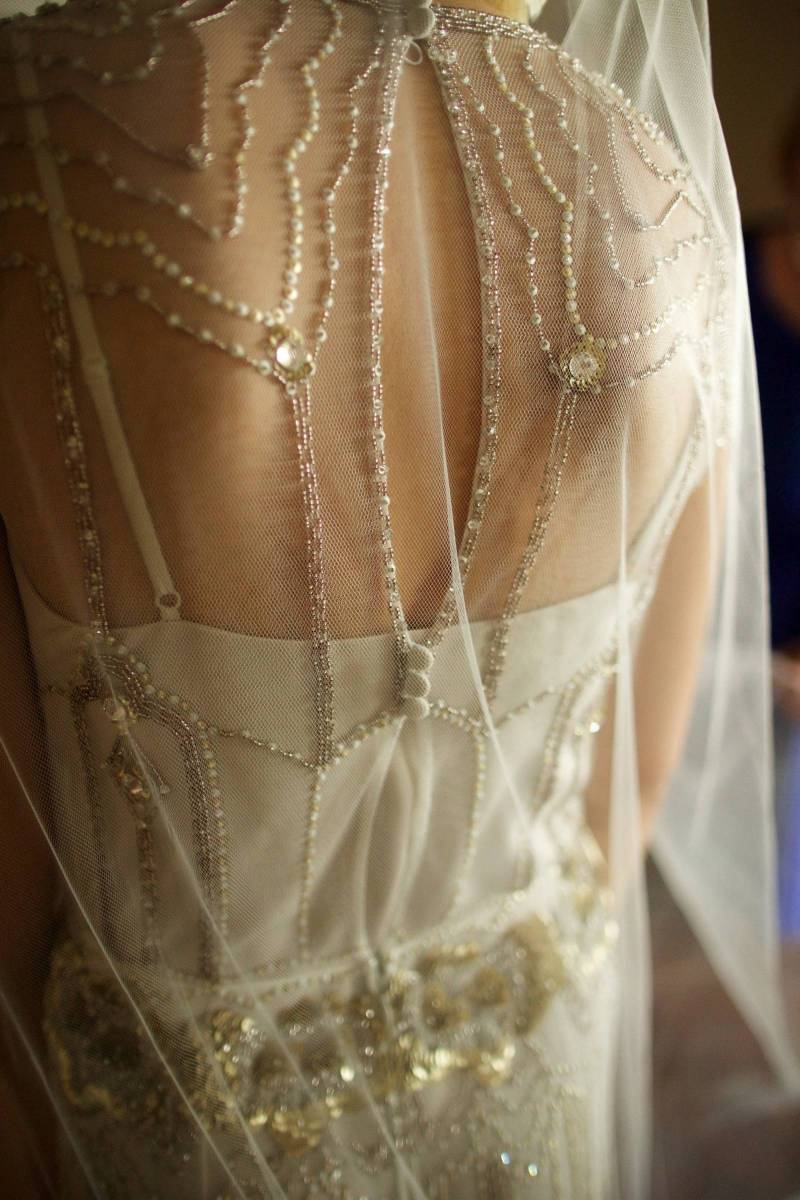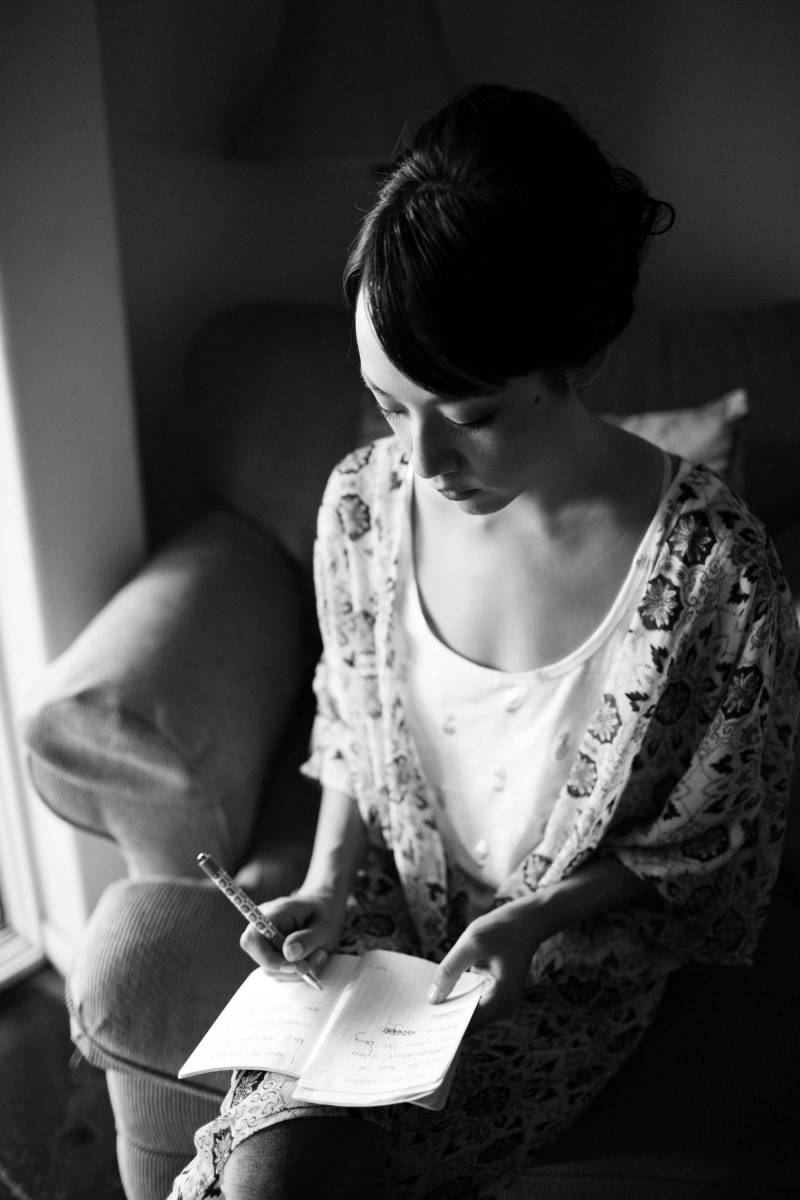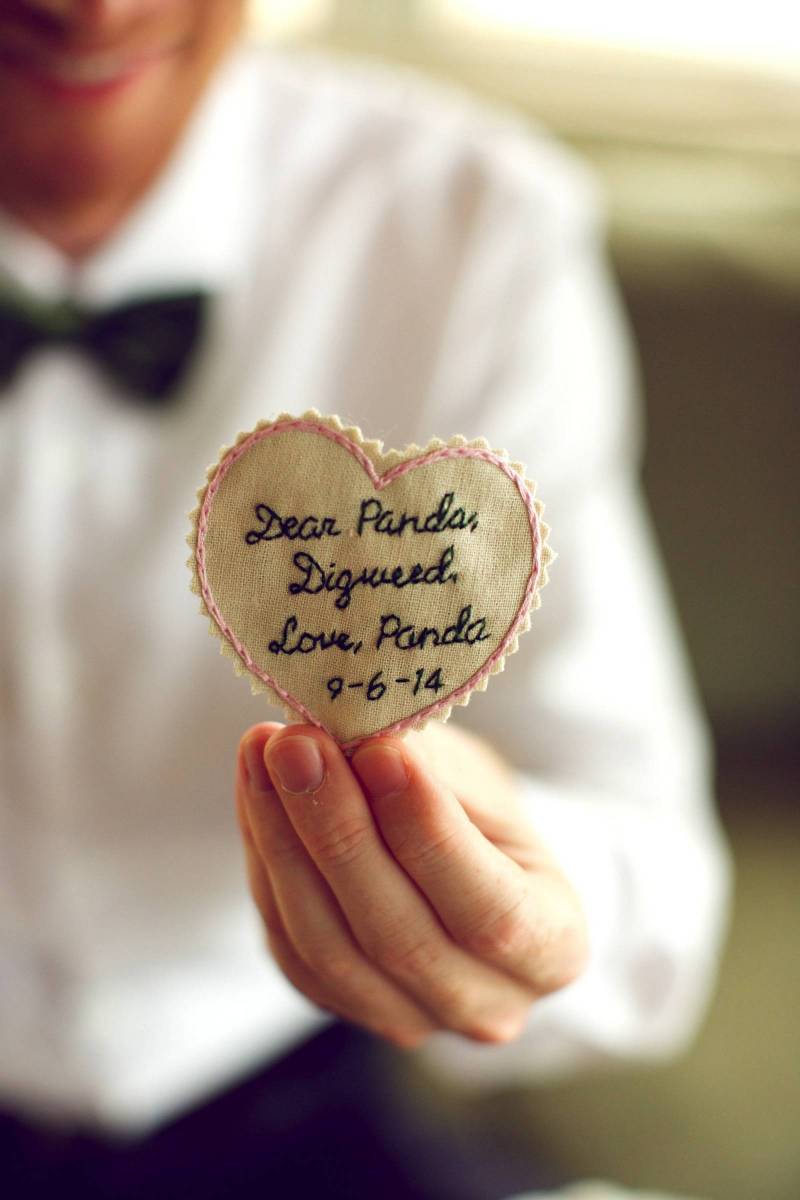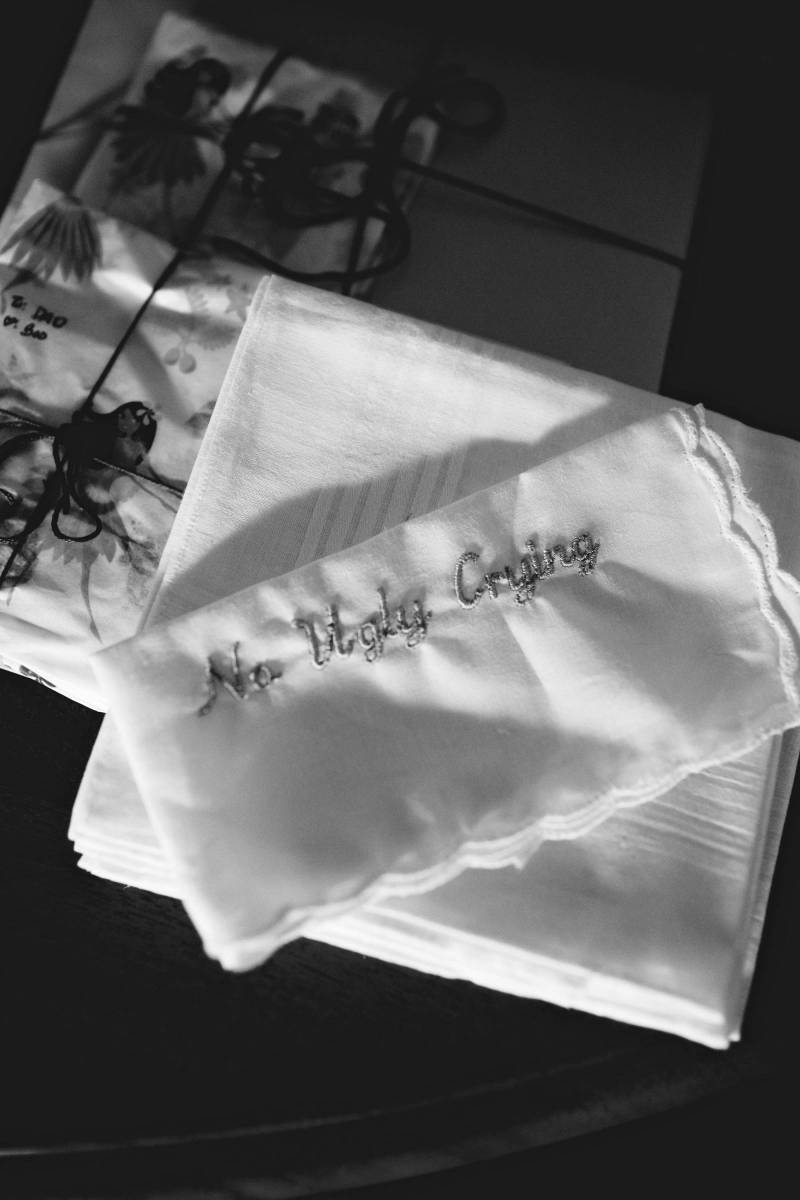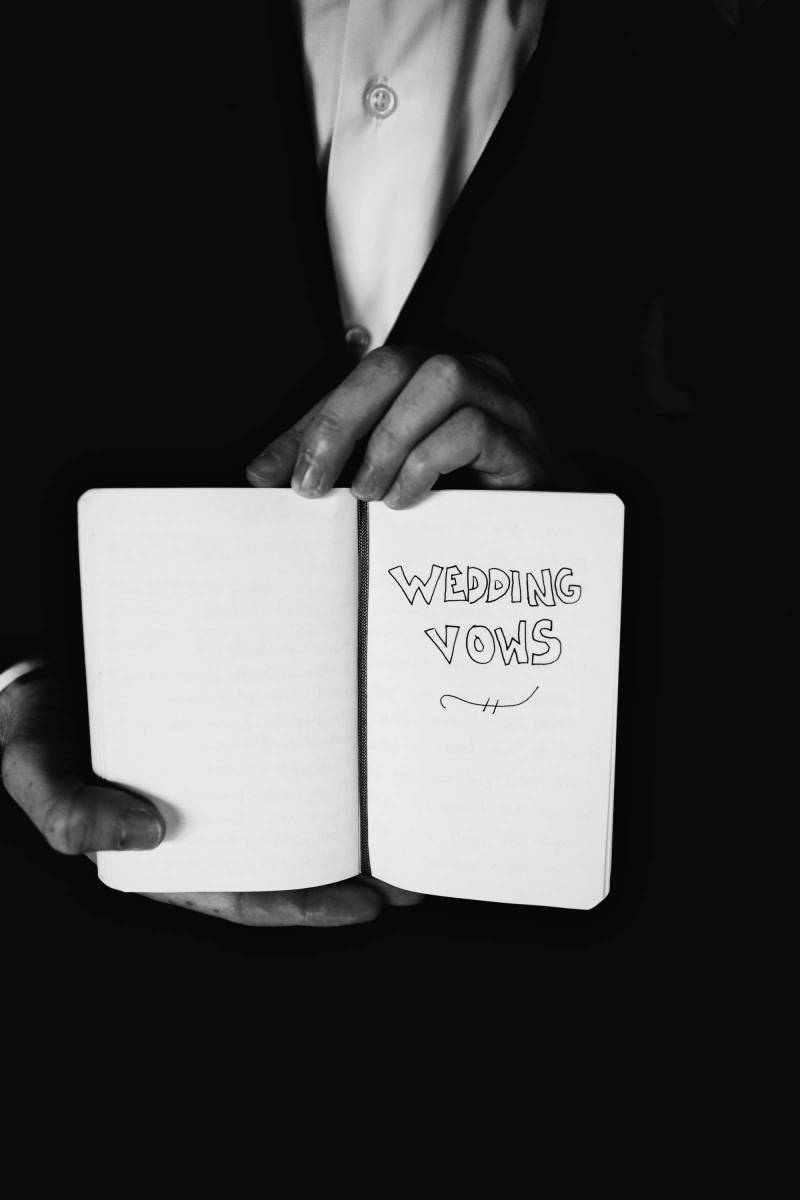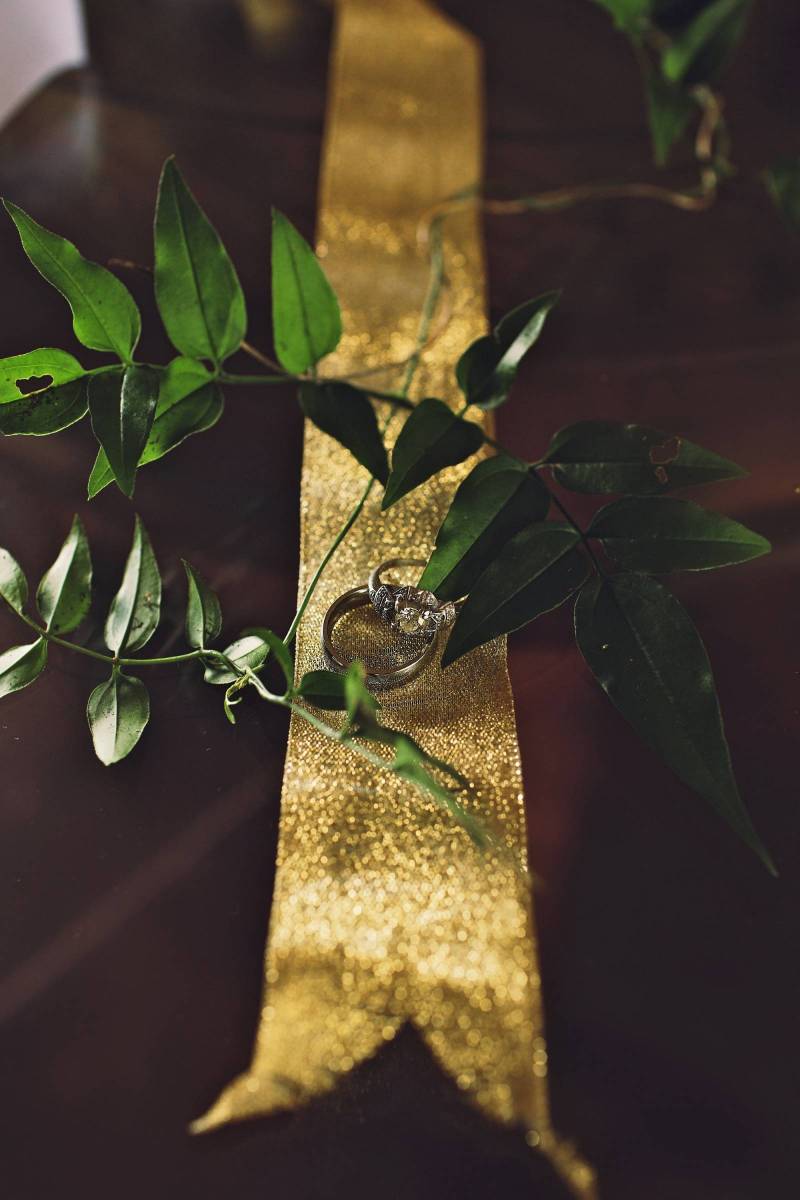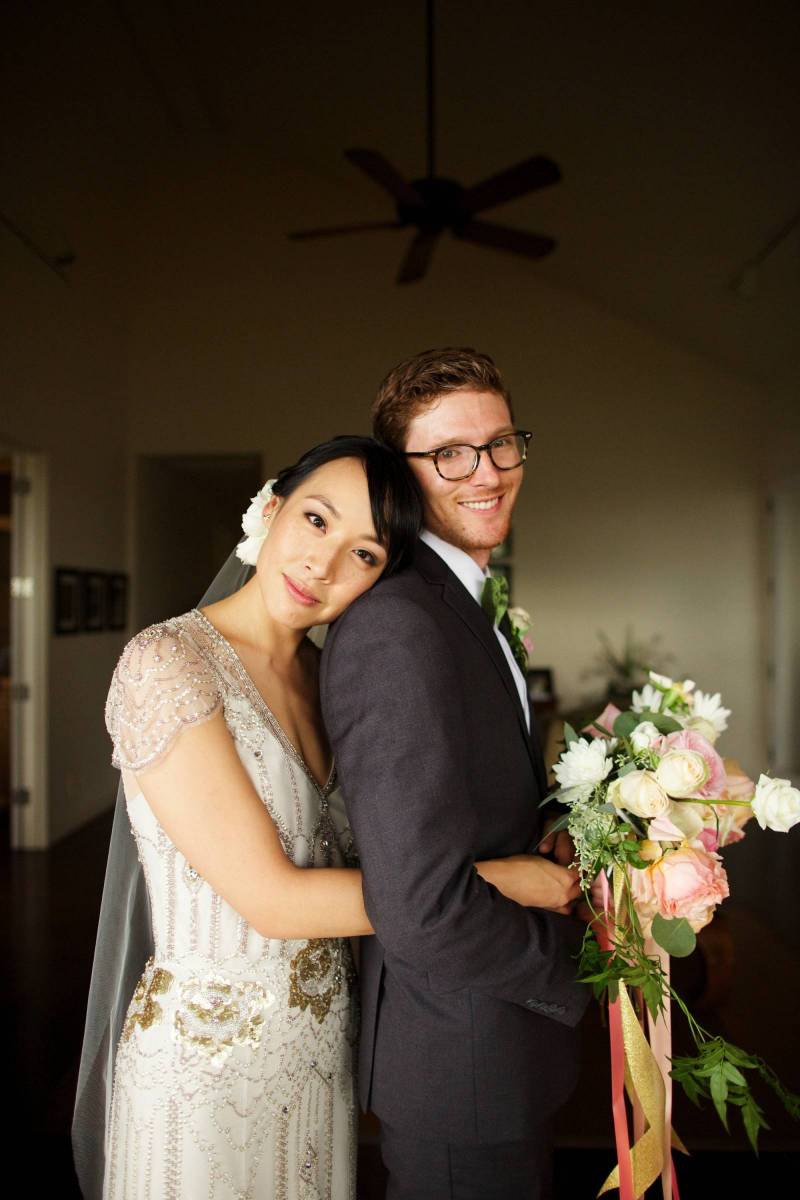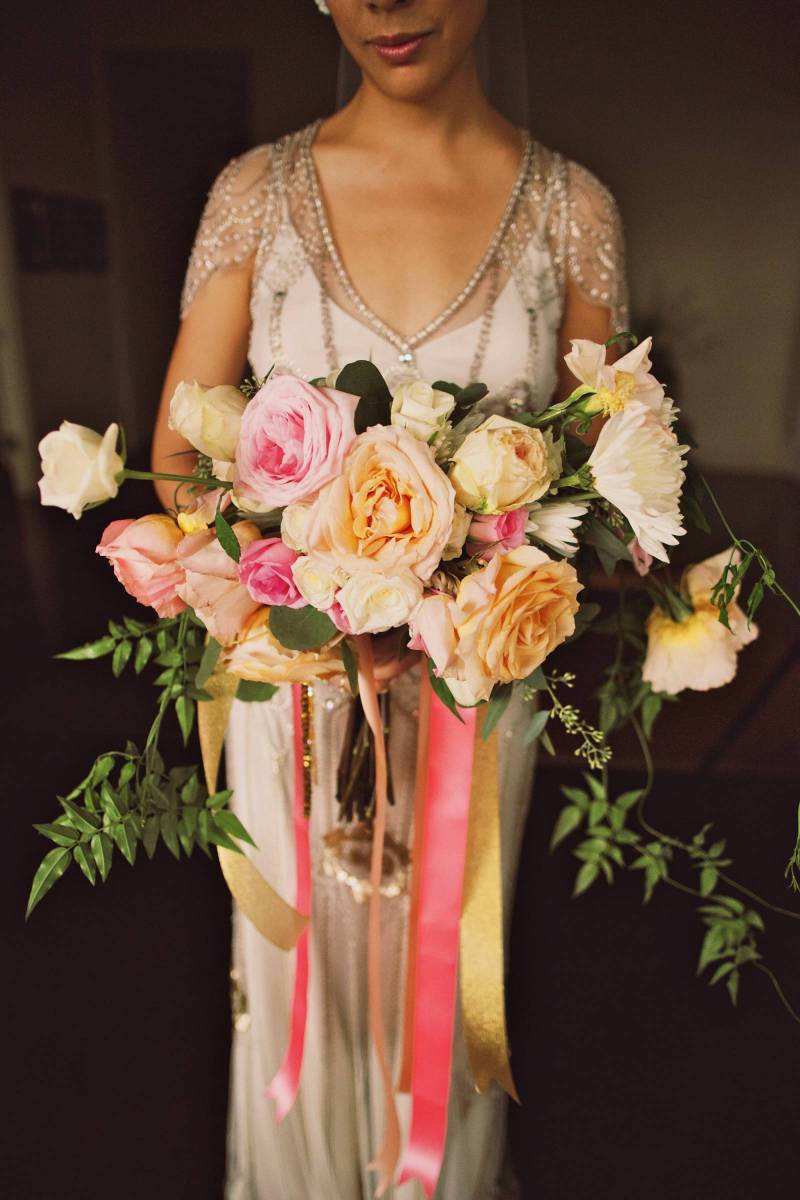 For flowers, we wanted something very simple and soft. However, I knew that I wanted my bouquet to be a little bit more organic in form. I had seen a very unique bouquet in a fashion editorial spread and asked Darren if we could create something similar. Darren, being the miracle worker, created a masterpiece that stayed within our color story and somehow tied into our art deco style. Our ceremony took place with the ocean as our backdrop.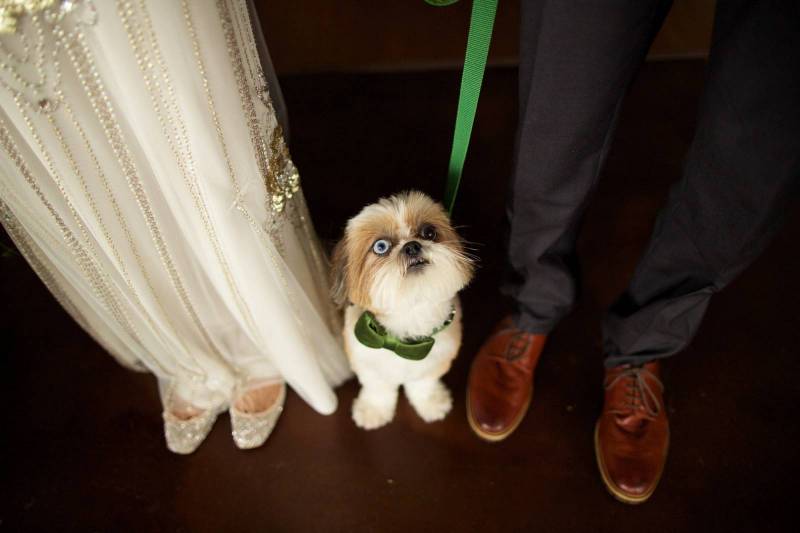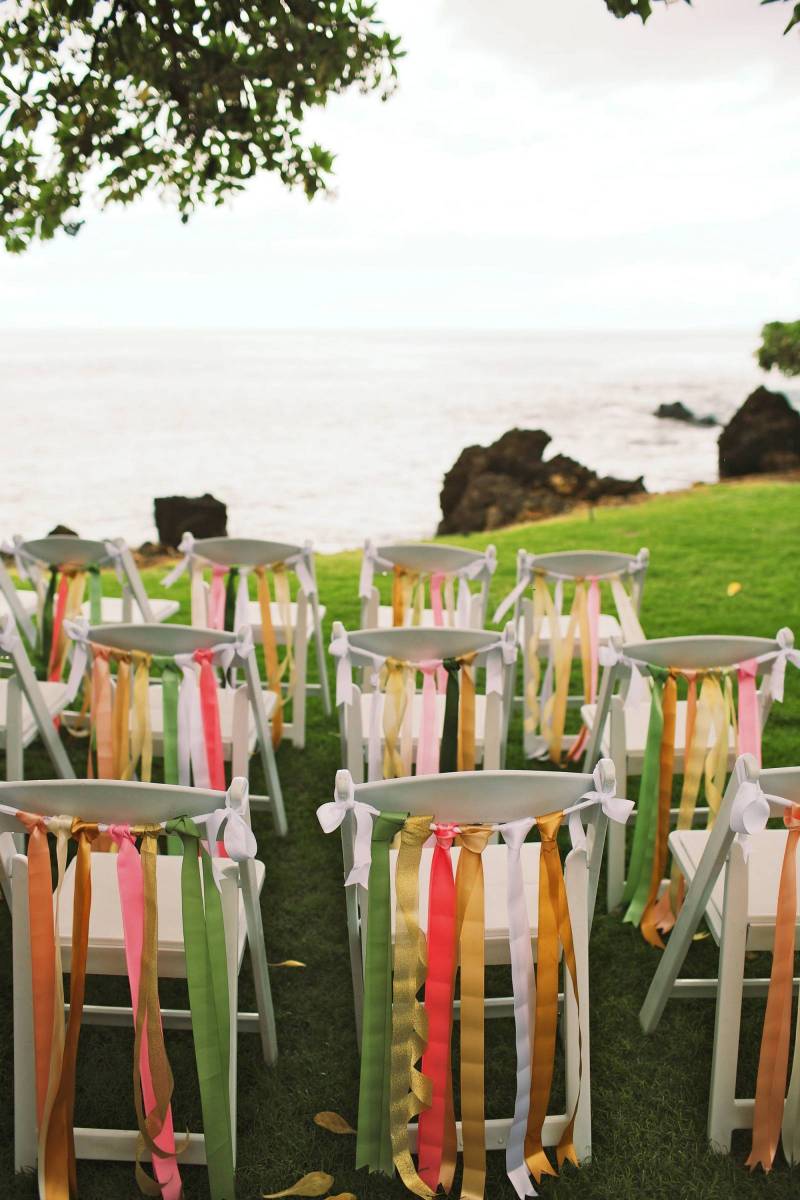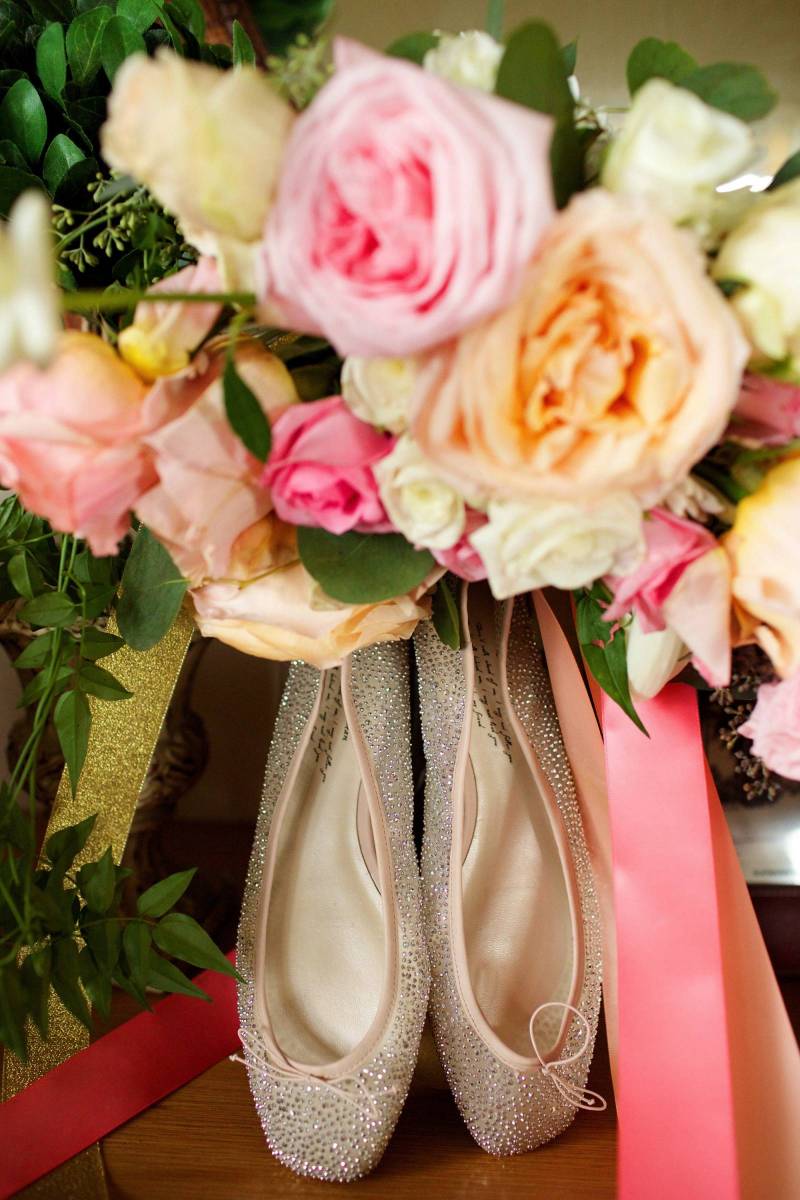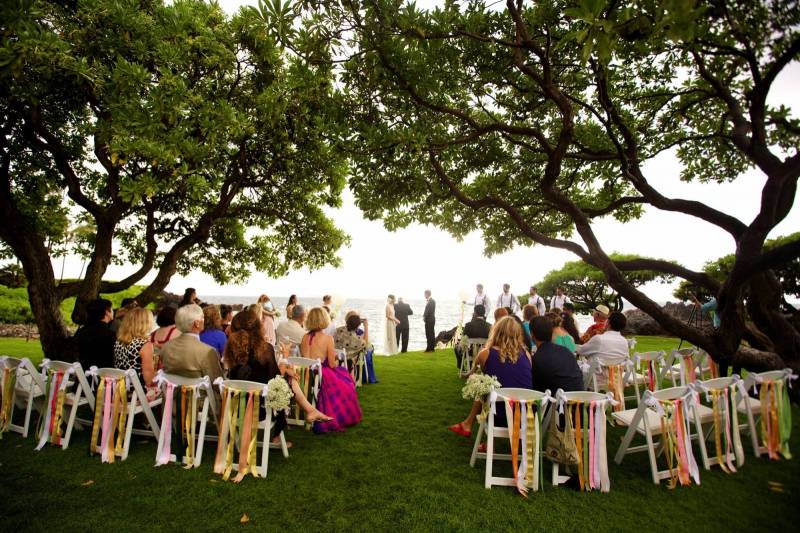 Our colors were integral to our wedding. They provided us with a guide to make sure all of our details had a through-line. Our palette was gold, blush, sage green, and cream. We loved the look of the warm pastels accented with the luxury that the color gold provided.
For our ceremony, we wanted to create a place full of whimsy and movement. I had seen a chair decorated with ribbons online and thought it would be wonderful to have all of our wedding chairs to not only display our colors but have the ribbons move with the ocean breeze. Creating the ribbon decorations for the chairs ended up being a little more work than I had planned, but I was lucky to have an incredible friend who helped me with the design and execution. We wanted to echo the movement of the ribbons in our ceremony space as well. Originally, we wanted to have a bamboo arch, but we fell in love with the idea of big round balloons to define our ceremony space. We used big cream weather balloons with gold, blush, and sage tassels to frame the space where we exchanged our vows.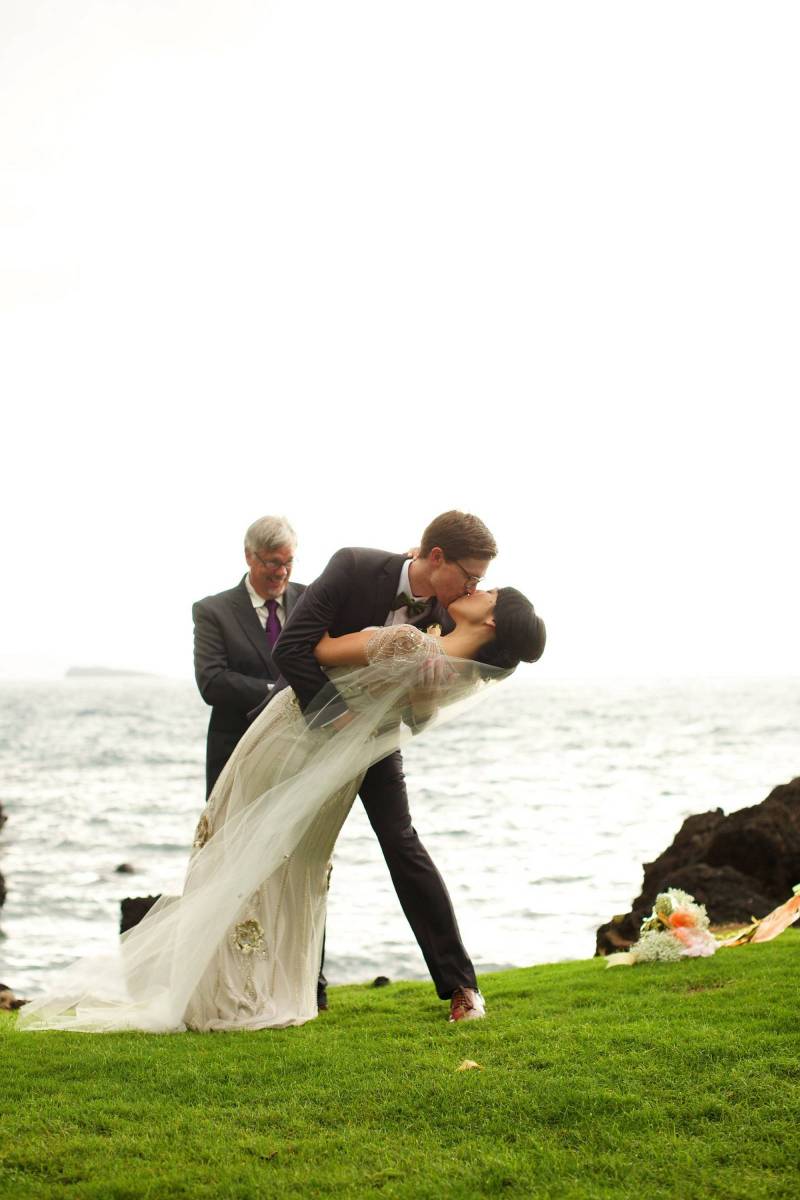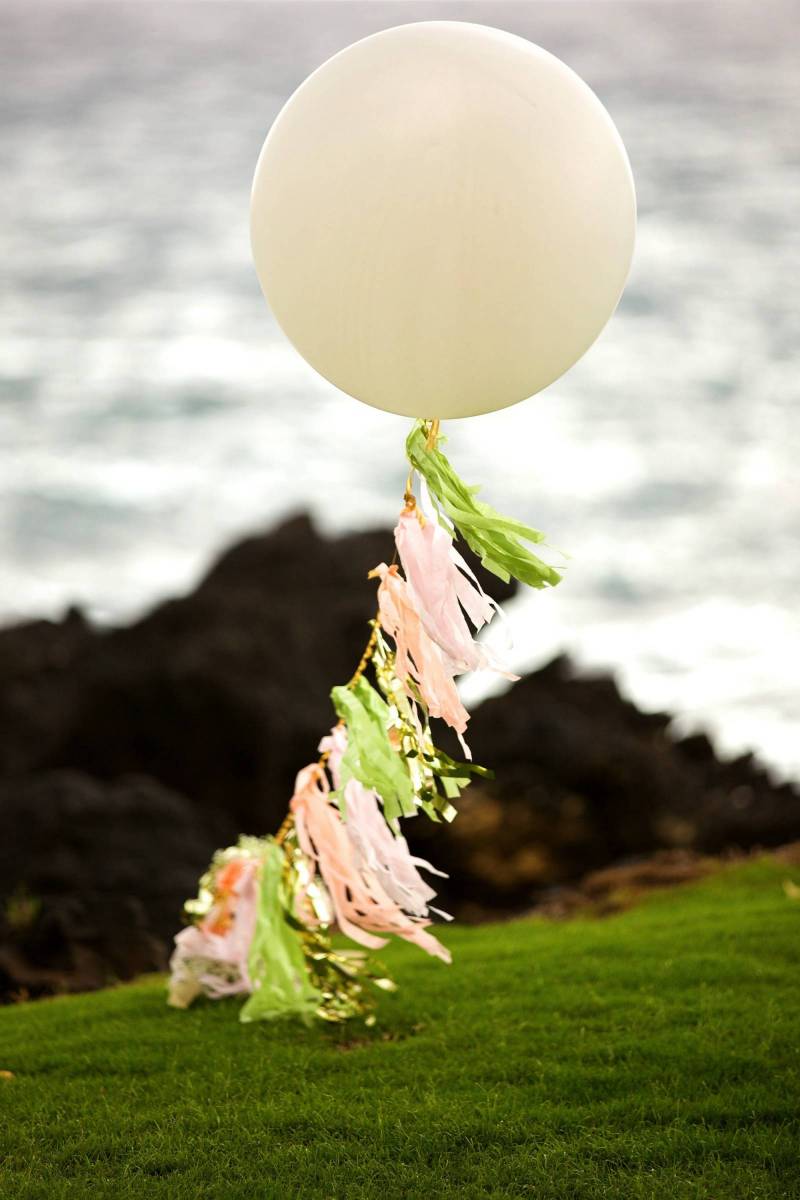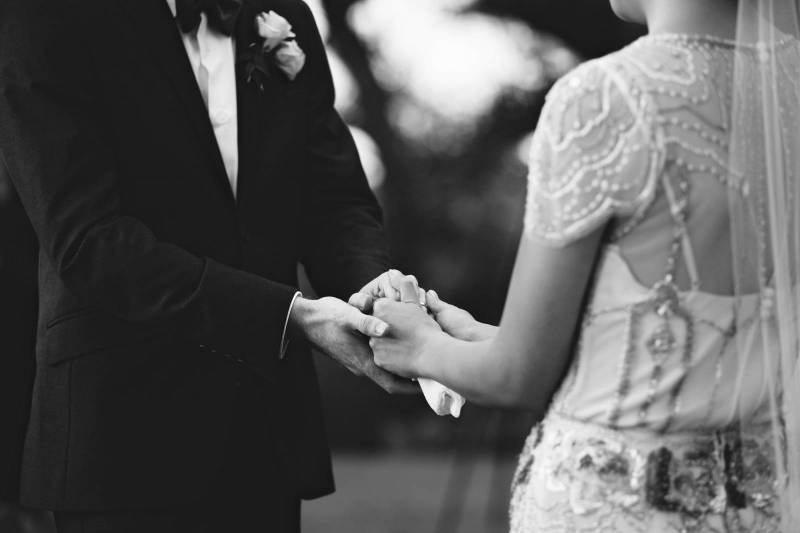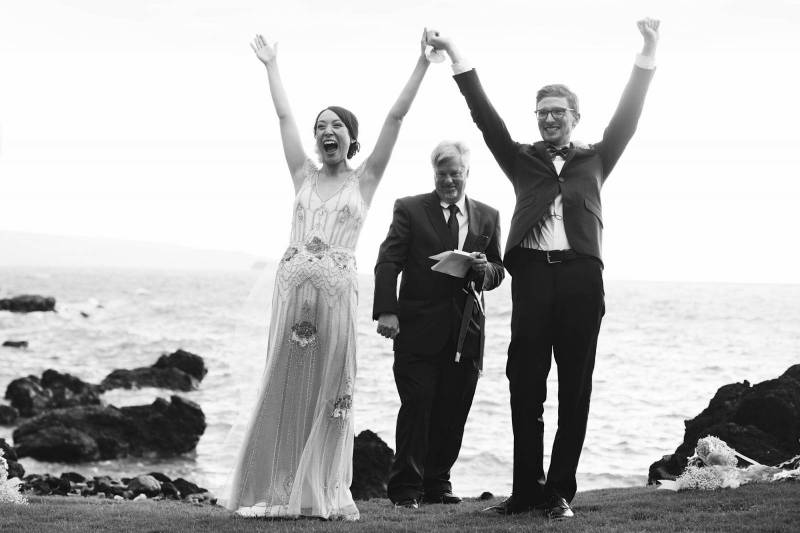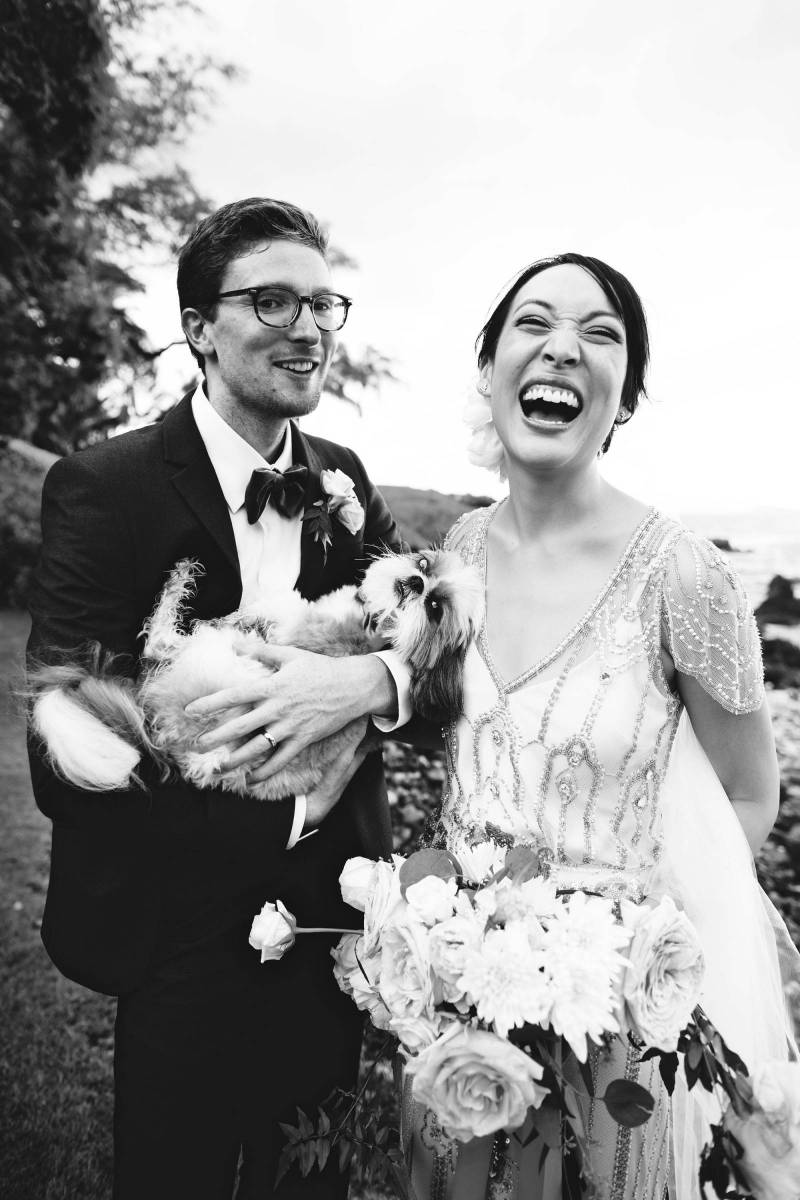 We decided on one long table so everyone could have intimate conversations but also feel free to move around. We chose to have collections of shorter centerpieces of tea roses, baby's breath and candles, so people could more easily converse. We also incorporated a bit of the razzle dazzle of the 1920's with a chevron sequined gold and white table runner. We loved how the sequins sparkled during the sunset and picked up the light from the candles. Since we were such a small party, instead of typical place cards, we printed and hand wrote thank you cards to all of our guests. Each place-setting alternated between blush and gold envelopes and had a hand-stamped card with our logo on it.
We were just so honored that people took the time out of their lives to celebrate with us and we wanted to make sure that we thanked each individually. For our dinner, we wanted to serve food inspired by Hawaiian culture. Chef Tiffany from Maui Wedding Catering Services did not let us down with her delicious mahi mahi and Kaluha pork. We also surprised our guests with Ululani Shaved Ice later on in the evening to keep the party going and cool people down off the dance floor. Ululani Shaved Ice is incredible! Their handmade syrups and attention to texture and flavor were the perfect way to cap off the evening.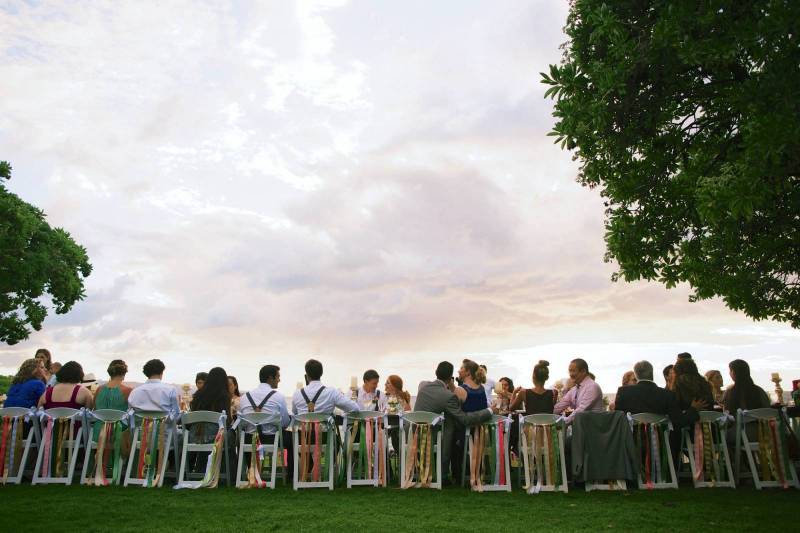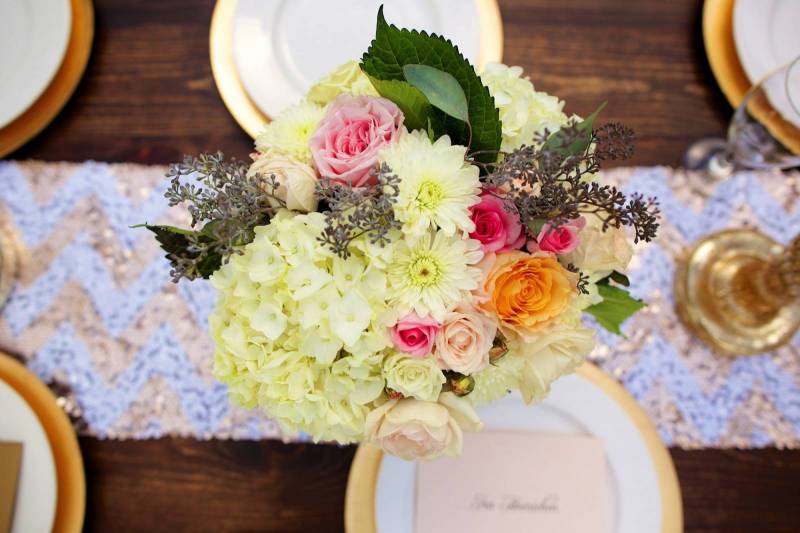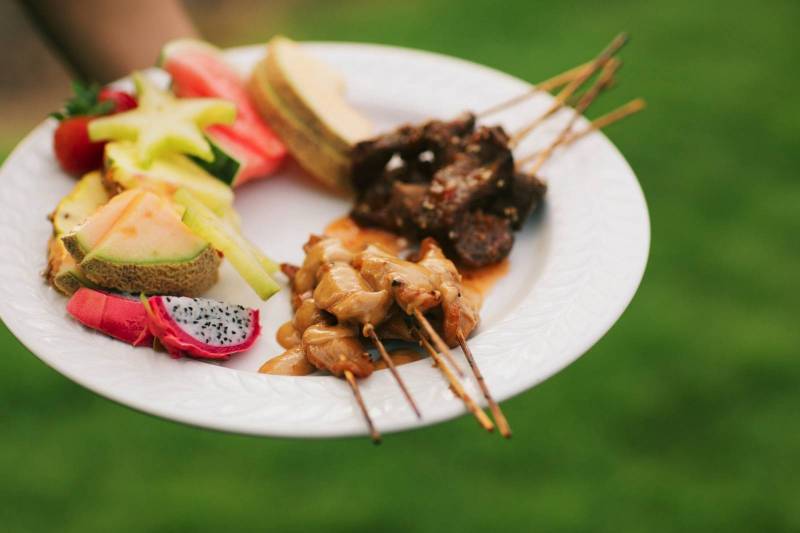 Being Chinese American, I wanted to incorporate a little bit of my Chinese heritage into our wedding. After our ceremony, I changed into a traditional Chinese garment called a qua. My mother wore this qua. She bought it with my late grandmother to wear when she got married to my father. Many of my cousins have also worn this qua at their weddings. There was something quite magical wearing this gown at my wedding. It was like I could feel all the women in my family standing there with me during the day. I am so honored to be a part of a long lineage of strong, smart, passionate, and driven woman.
We also surprised our guests with lion dancers to bless them and our marriage with prosperity and good luck. As a child, my favorite part of any Chinese wedding was the lion dancers. I knew that I had to have them in our wedding. Plus, our dog Cooper looks like a little lion. It couldn't have been more perfect. The troupe was so fun and definitely started our reception off with a big Ira and I love throwing dinner parties and we wanted our reception to feel like one large family meal.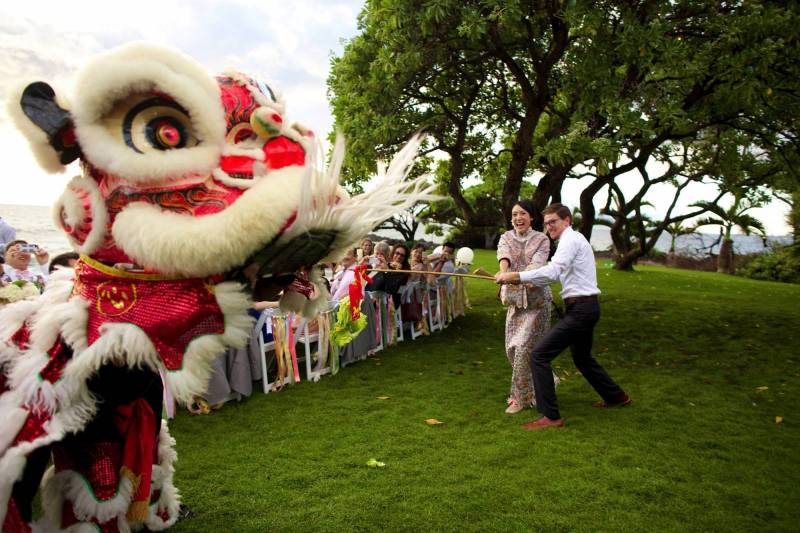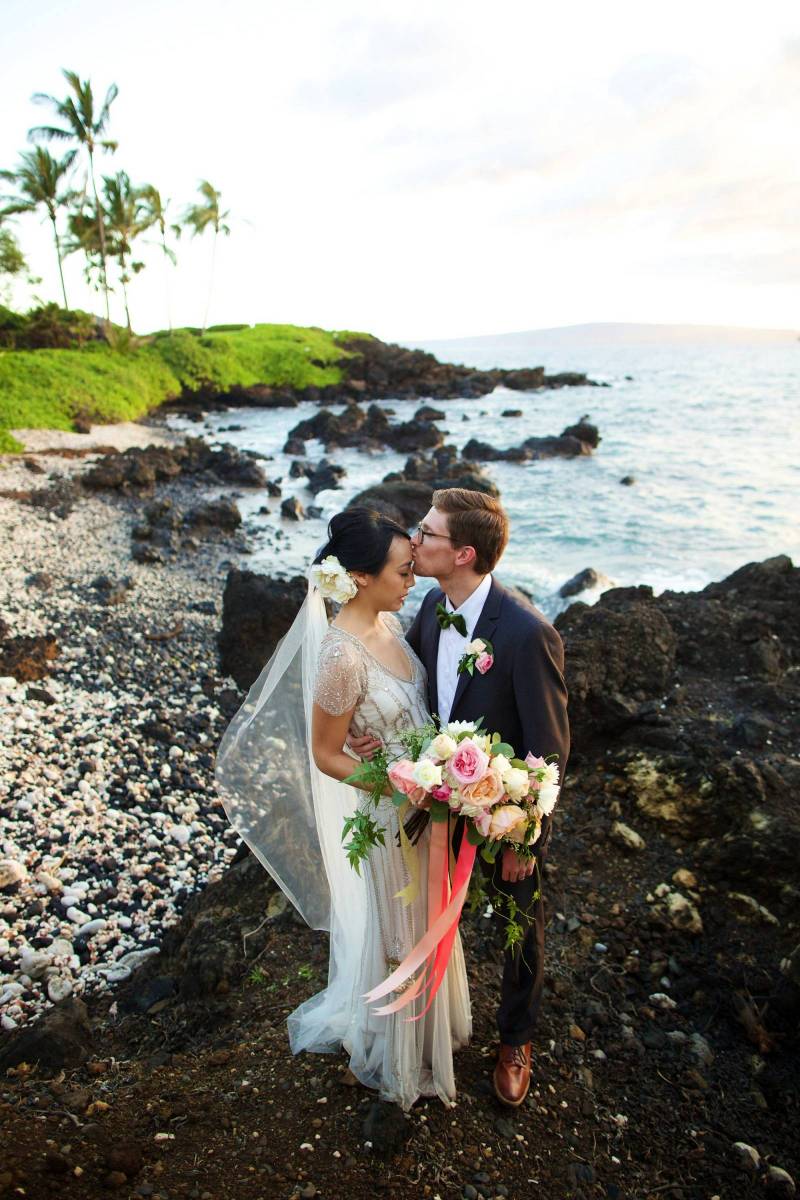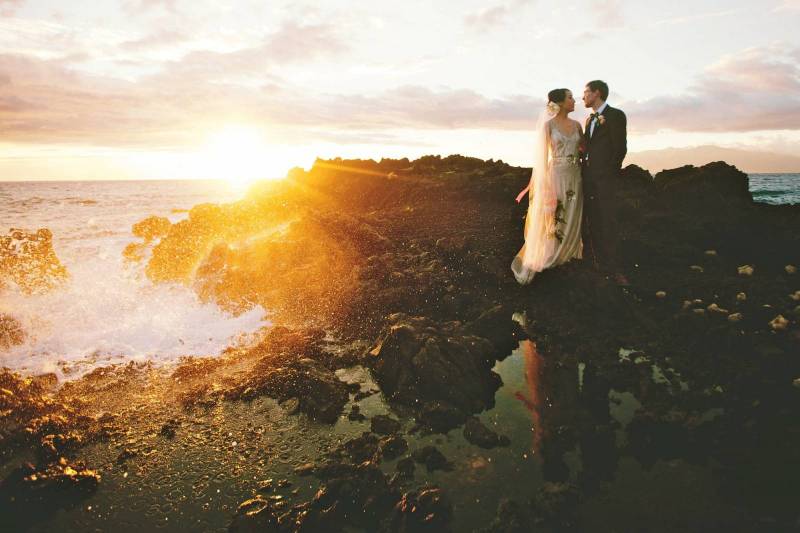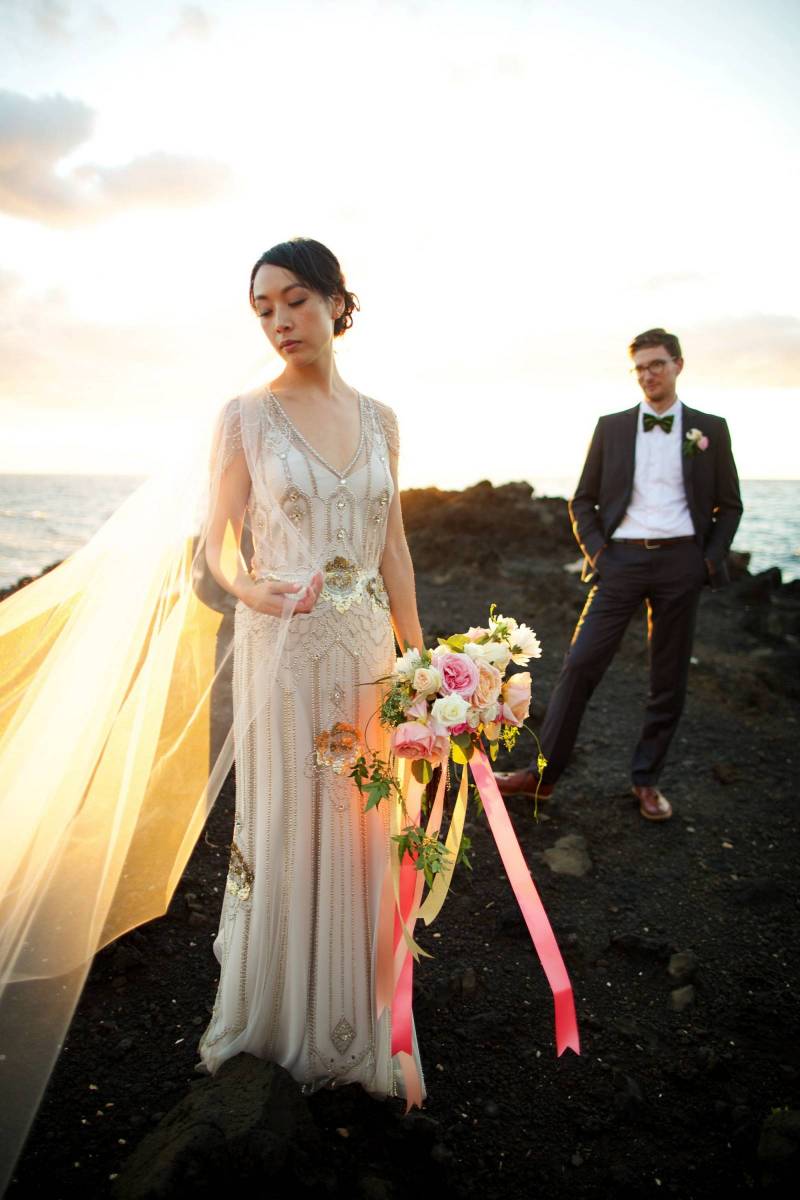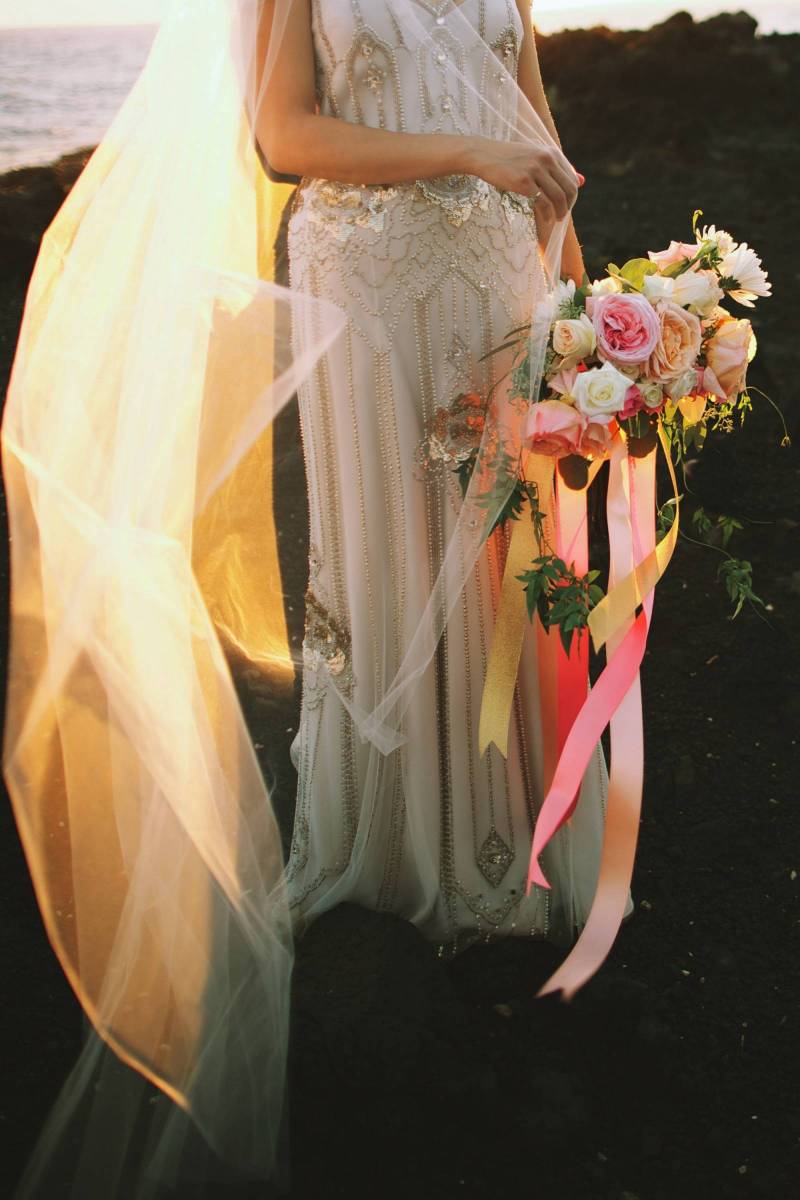 We wanted to try to create as many intimate handmade moments as we could at our wedding, even with our gifts. Last Christmas, Ira and I were each gifted with handmade rainbow loom bracelets by our friends' awesome kids. We loved the bracelets so much that we asked them to make us custom rainbow loom bracelets for our guests. The bracelets were woven in our colors of blush, cream, gold, and sage and made with extra kid care and love. The best part was then they glowed in the dark on guest's wrists on the dance floor. We also were lucky enough to work with Island Flipbooks who created an amazing custom experience for our guests. They had so many props for people to play with and it was a blast seeing people's faces light up when they were able to see their funny flipbooks.