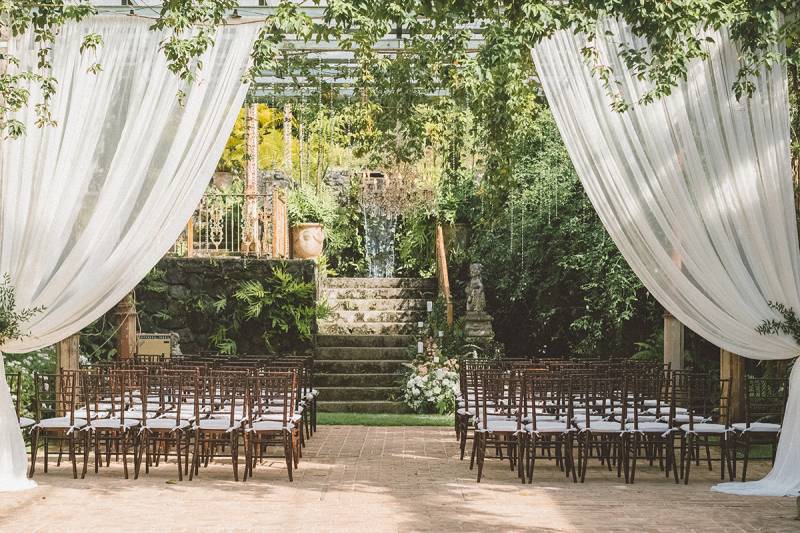 Although their romantic relationship blossomed while living on the East Coast, Yubin and Cory were drawn back to the Hawaiian islands to wed. Both the bride and groom were raised on Oahu and even went to the same high school-- so it was only fitting that they planned their wedding back home in paradise surrounded by family.
Yubin, the bride, took us through her entire planning experience with us:
"We specifically chose Haiku Mill [on the island of Maui] for the ceremony because of its unique history and enchanting natural beauty. No venue on any other island compared.
The first time we stepped foot on property, we completely swooned over the elaborate greenery and cascading waterfall. It also reminded us of a garden we treasured in our neighborhood in NYC. We often took strolls through it to escape the chaos of the city. It was a nice way to tie in a little piece of New York to our special day."
"We wanted the wedding to represent an elegant, modern affair while incorporating our Asian heritages with a touch of Hawaiian flare. I was actually born in Korea and was raised with Korean values even after moving to the states. Cory is half Chinese and half Japanese but was born and raised in Hawaii. The welcome table displayed a pair of wooden wedding ducks, a brass double happiness symbol, and 1,000 paper cranes I spent months folding from washi paper. Each tradition was a nod to our ancestries. Vintage frames holding photos of our grandparents were propped up in their honor."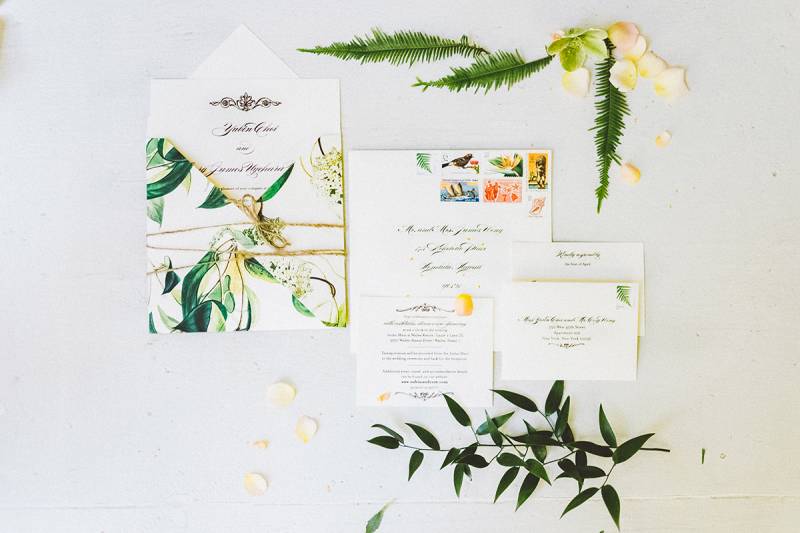 "Cory and I are sure we met as teenagers. We attended the same high school in Hawaii and hung around the same crowd. But, neither of us can really recall any one specific moment with each other--the details are a bit blurry. We re-met in New York City after graduating from college, through his roommate, who is a mutual friend. I was living in Boston at the time while he lived in Manhattan. Despite the distance, we stayed up late and talked on the phone every Sunday night like clockwork. Cory made his feelings towards me pretty clear when he showed up on my doorstep dressed in a full suit on an uncomfortably hot summer night. We had been texting all day and instead of walking home after work, he took a 5-hour bus ride so we could continue our conversation in person. I wasn't interested in dating then but after a yearlong chase, a pedicab ride through Times Square, an evening performance of Jersey Boys, and a candlelit dinner, I finally said yes."
The Engagement:
"I love a good surprise but to this day it's not something Cory has been able to pull off. His enthusiasm tends to fuel this need to tell me so that we can revel in the excitement together. To be honest though, it's a quality I find endearing. He didn't exactly tell me when or where he was going to propose, but boy were there a lot of clues leading up to it. Cory ultimately proposed in our little yet beloved 400 square foot studio in NYC. Thinking back, it's the only place I could ever imagine it happening. We spent 4 years in that apartment and we always said that if we could live in that tiny space for as long as we did, we could do anything. His intention was to put up decorations and propose after I came home from work. I unknowingly threw a wrench in his plans by working from home that day. He casually pretended to go to the office in the morning but because he couldn't wait, came back a few hours later with flowers and a ring. He also invited our families to join in on the celebration at our first date night restaurant, which was incredibly thoughtful."
"We knew that first and foremost, all of our family members had to be a part of our ceremony in some way. Cory's father officiated and put together a heartfelt program with just the right amount of humor. My mother walked me down the aisle and wore a beautiful Hanbok, a traditional Korean dress, as my brother played the ukulele. Cory's mother said a prayer originally written by Cory's grandmother so that was sentimental. Cory's siblings read a few Bible passages and his twin brother held the rings. We made it even more personal and wrote our own vows. By involving the family, it was as if they helped us get married. It was truly touching."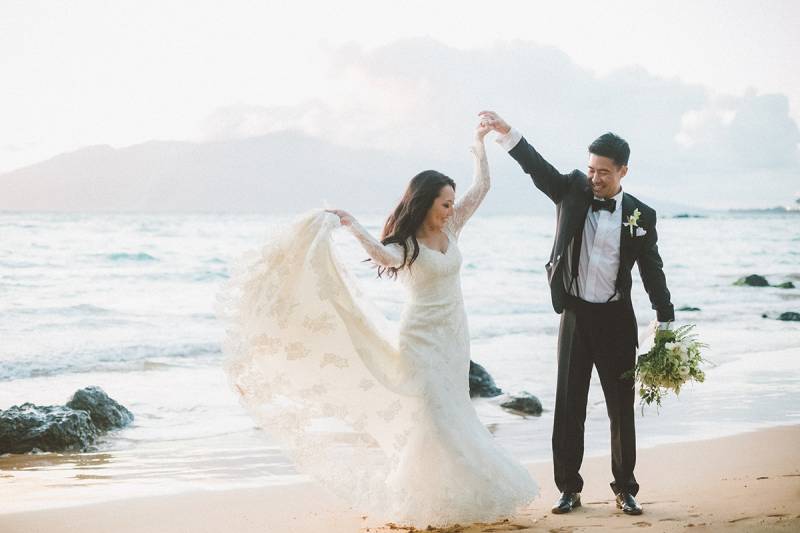 "Our wedding certainly wouldn't have happened if it wasn't for our wedding planner, Kimiko Hosaki [of K.H. & Co. Events]. She understood our desire for a classic wedding with Asian and Hawaiian influences. Our vision was executed in a way that was beyond what we hoped for. Kimiko even surprised us on the day of the wedding with details like folding fans laid out on the ceremony chairs and gold accent napkin rings on the reception tables. Gestures like these showed us how considerate she was. We held the ceremony and the reception in two different locations and she shuttled back and forth without hesitation to ensure everything was flawless. She genuinely cared about us and rarely left our side. We also couldn't have picked better vendors. They blew us away with their level of professionalism and warmth. It was exactly what we needed to make us feel at ease throughout the day."
"Red is a prominent color in Chinese and Japanese cultures, so it had to be in the color scheme. We typically lean towards neutral tones so I thought to create a focal floral piece with an ombré effect including shades of red transitioning into gradients of orange, peach, pink, and cream. This way, the inclusion of red felt subtle.
Hawaiian cuisine was a must-have as it is comfort food for us. We brought in shave ice from Ululani's Shave Ice, a local favorite, for guests to enjoy after the ceremony. The reception, catered by Andaz Maui, included musubis, a poke station, locally caught fish, and malasadas. We kept our wedding small and intimate so we decided to exchange a formal plated dinner service with a more laid- back mix and mingle vibe. This gave us the opportunity to spend quality time with everyone but also encouraged our family and friends to interact with one another."
"The florals definitely stole the show; I still dream about it! My favorite arrangement was the floral installation that scaled a tree at the reception. Teresa Sena and her team did an amazing job carefully picking the perfect hues of romantic flowers like roses and mixing them with gorgeous tropical blooms such as orchids and gingers to achieve the ombré look I wanted."
"We opted to host the reception on the beachfront lawn of the Andaz Maui so guests could dine with an incredible view of the sunset. It also served as a stunning backdrop to a surprise hula dance I performed for Cory. At one point, we were able to slip away and share a quiet moment on the beach. For a second it felt like a normal day in Hawaii for us― walking hand in hand, looking out into the ocean, and listening to the waves crash. It was a great way to take it all in."
To see more luxury weddings at the Haiku Mill, click here; and to see more real weddings captured by Angie Diaz Photography, click here.