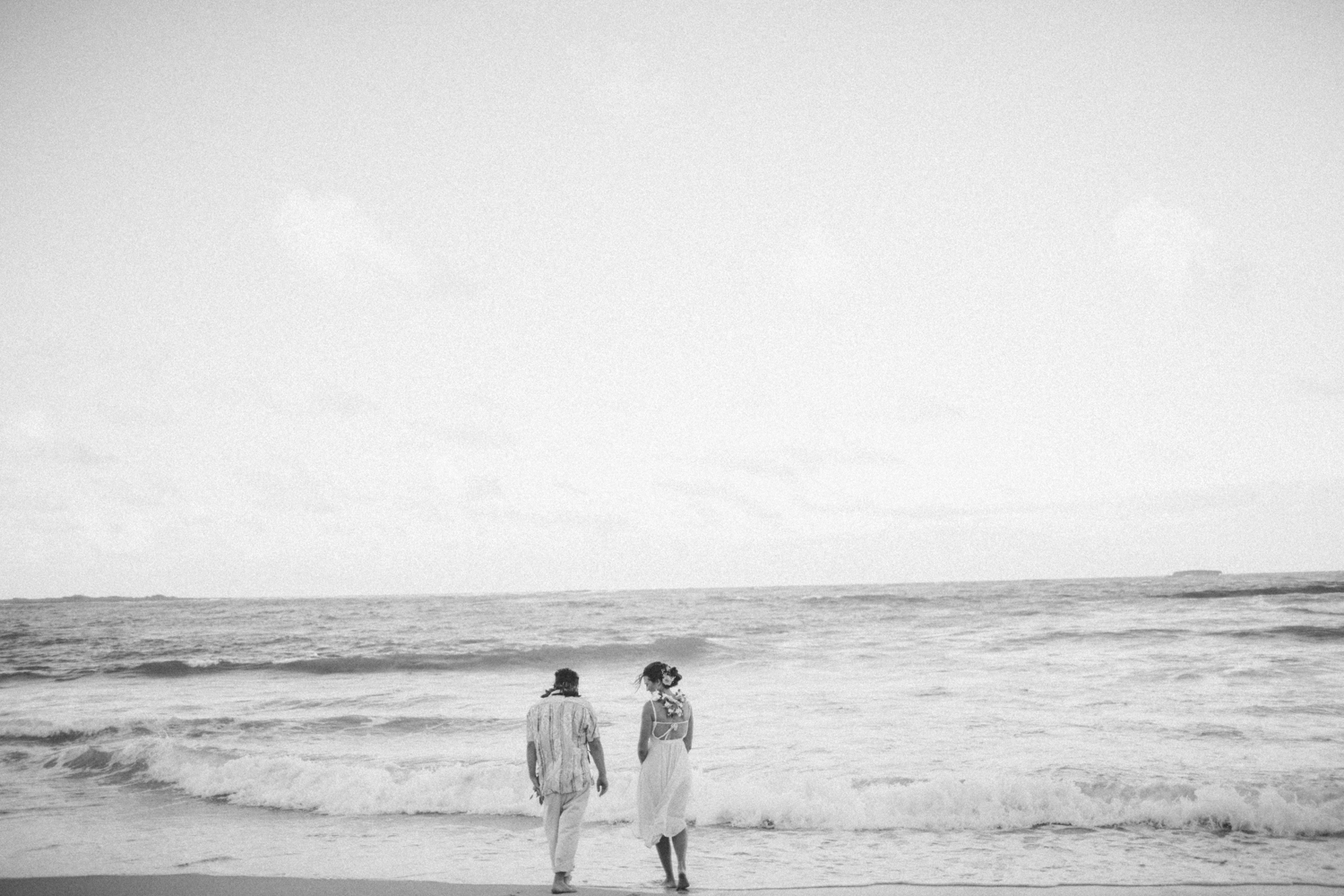 There is nothing quite as magical as the North Shore of Oahu, Hawaii, famed for its big wave surfing come wintertime. In season, from October through March, monstrous waves turn the North Shore into the mecca of surfing. The stretch of beach is one of the world's coolest villages with real life visions of paradise played out daily.
When Oahu native, Jennifer married her longtime sweetheart, Tyler, it was never a question of where. "My husband's family has ties to the islands, as well," she tells us. "He sometimes jokes that he fell in love with me because I am from hawaii!" The vision for their small beach wedding in Malaekahana included the words "offbeat, barefoot, relaxed, minimalist, Hawaiian bohemian, rustic, and Gilligan's Island. "Above all, we wanted to give our out-of-town guests a low-pressure, unforgettable, and exotic experience," Jennifer says.

"Since we eloped exactly one year earlier in October 2013, our day was really about celebrating with our loved ones...talk about taking the pressure off! We planned for 6 months, from off-island, which was quite a challenge to not be able to control details until the week of, but it turned out better than we ever envisioned, even without a wedding planner! We had guests from as far away as Toronto, New York, and London there with us. Now that's Aloha."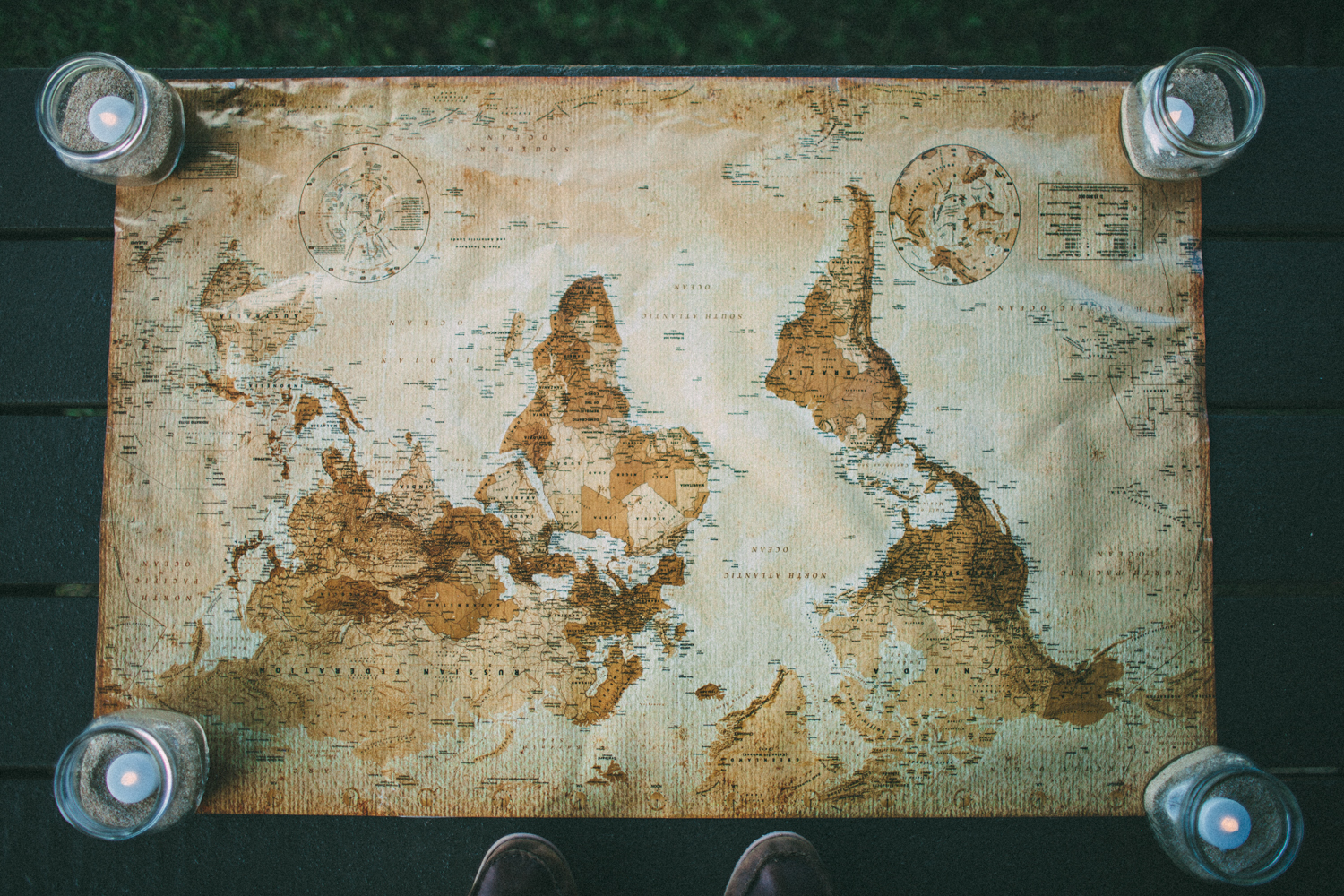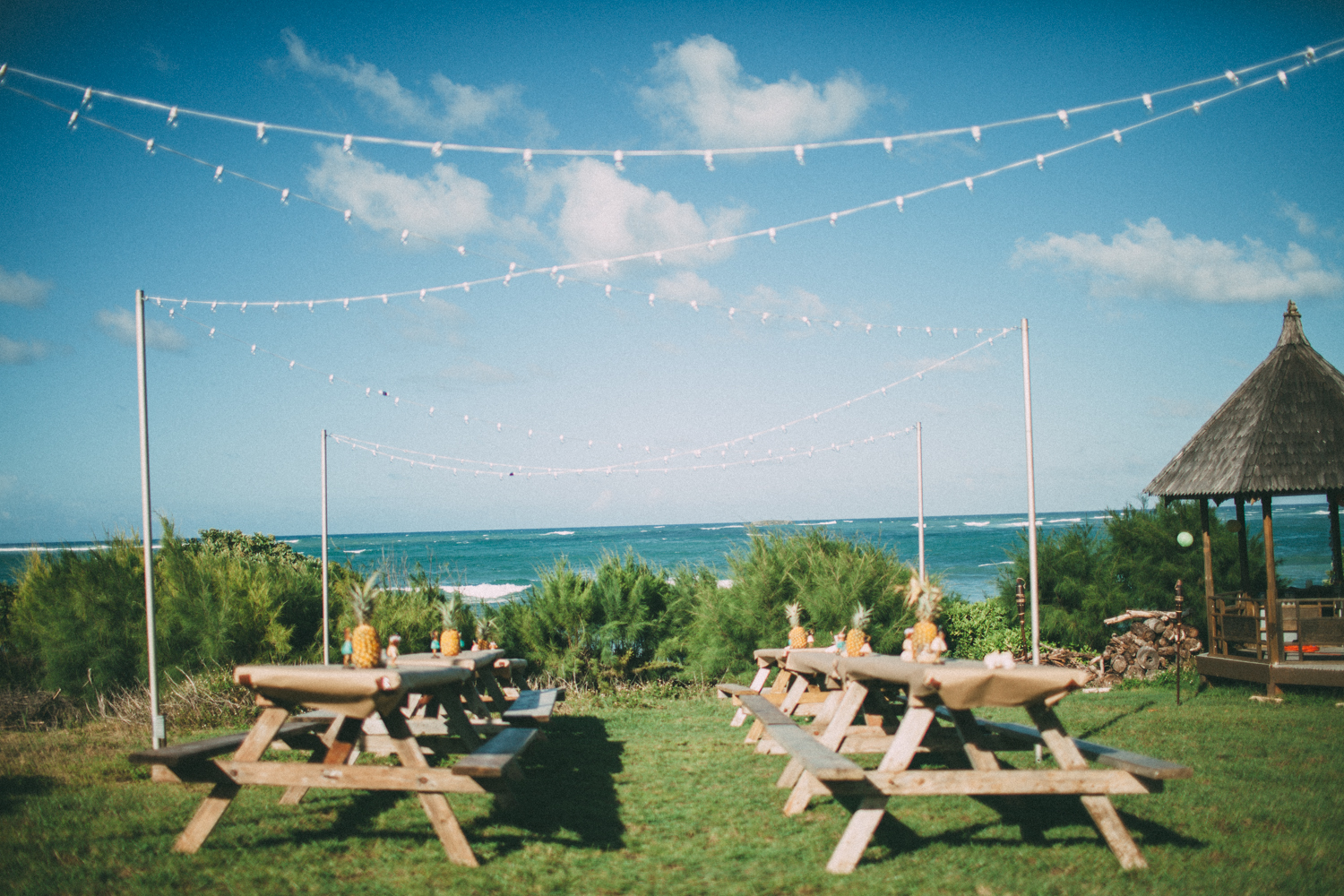 "We absolutely wanted everything outdoor and all in one place: a sunset beach ceremony and a backyard reception next to the same beach. We knew we wanted naked light bulbs, lanterns (think a Hawaiian version of the movie, Picnic!), and most importantly, a vegetarian taco truck (thanks to the delicious Camille's on Wheels). Plus hula dancers, ukulele players, a fire-knife show courtesy of Hawaii Hula Company, and karaoke at the end of the night thanks to Hoku Entertainment."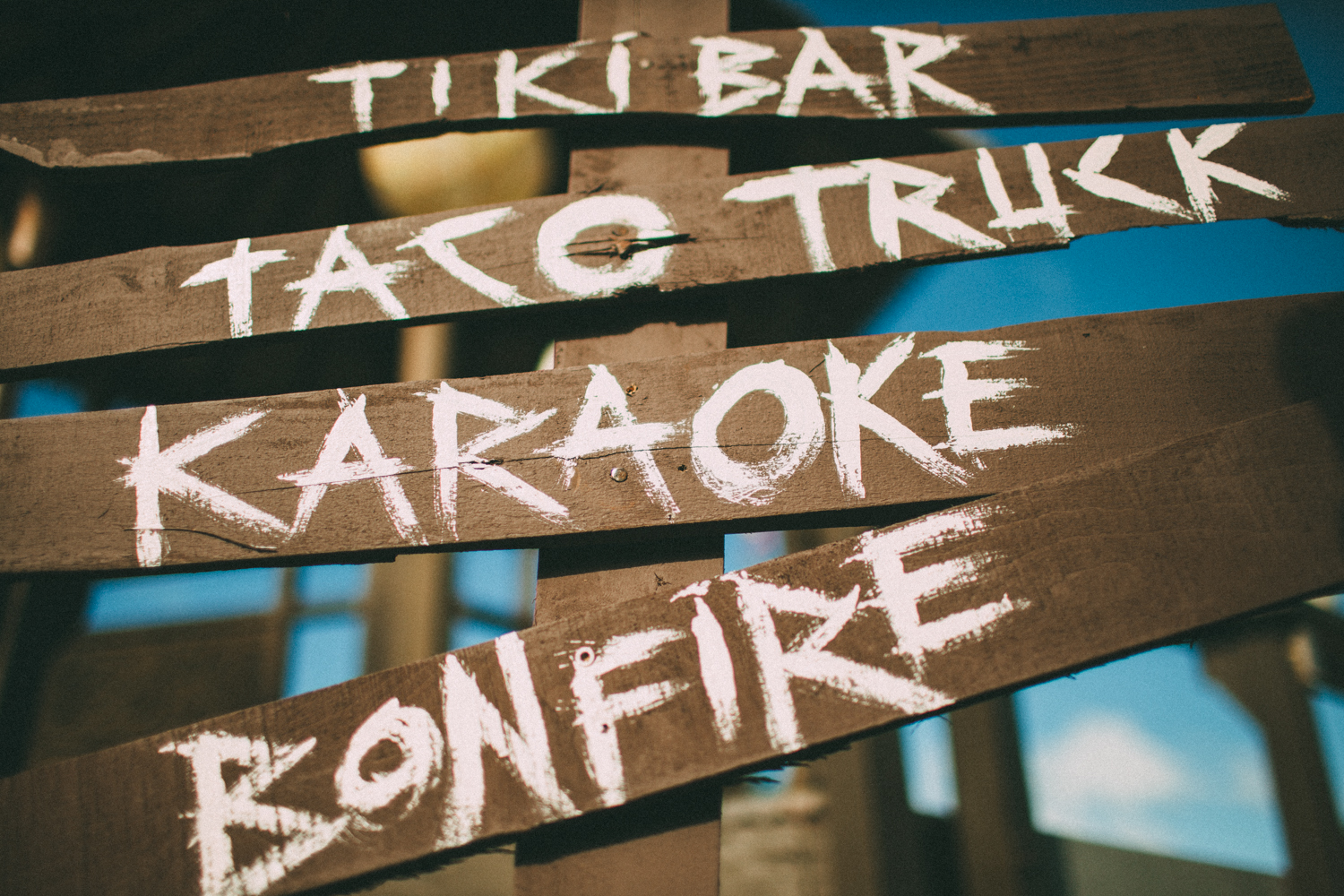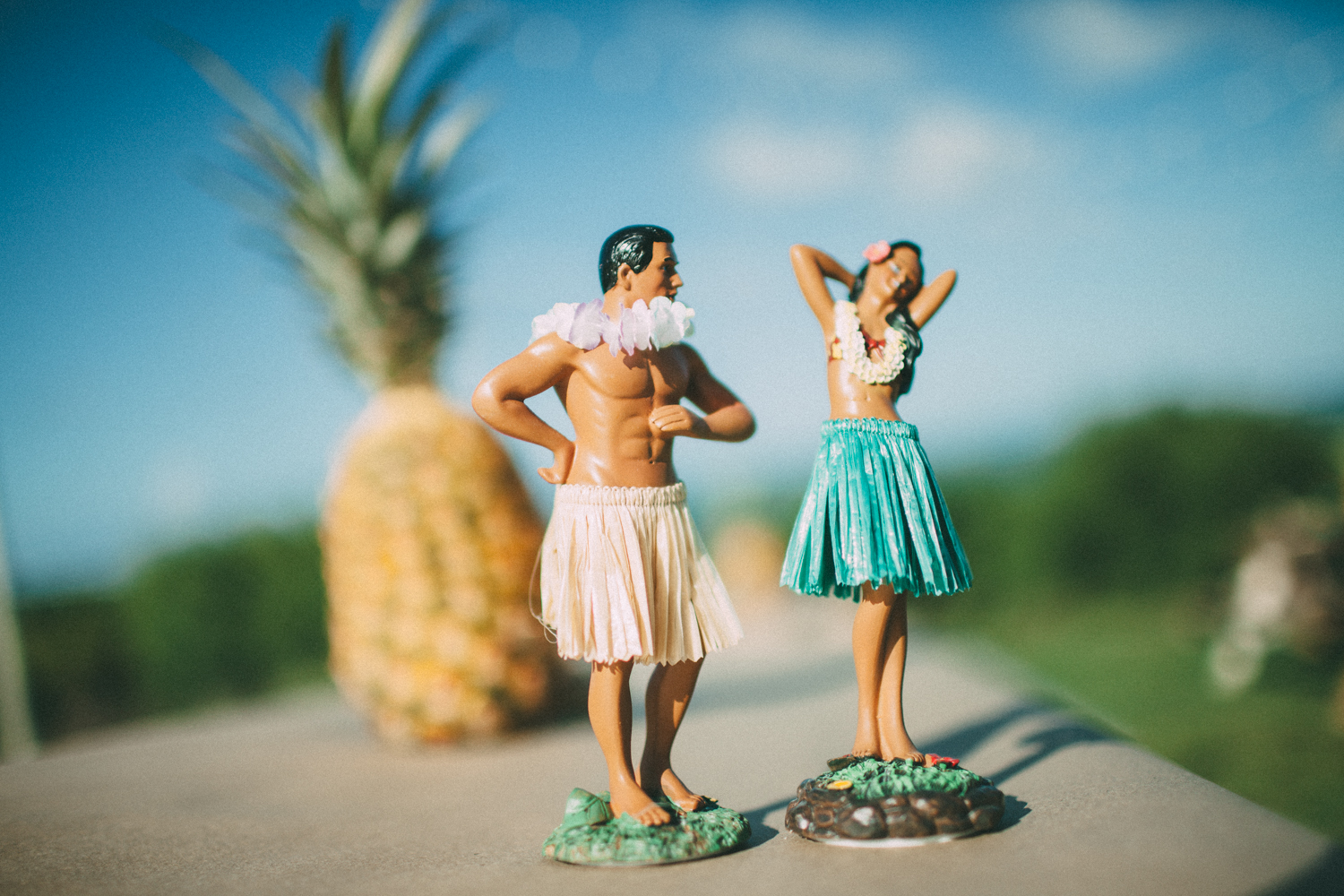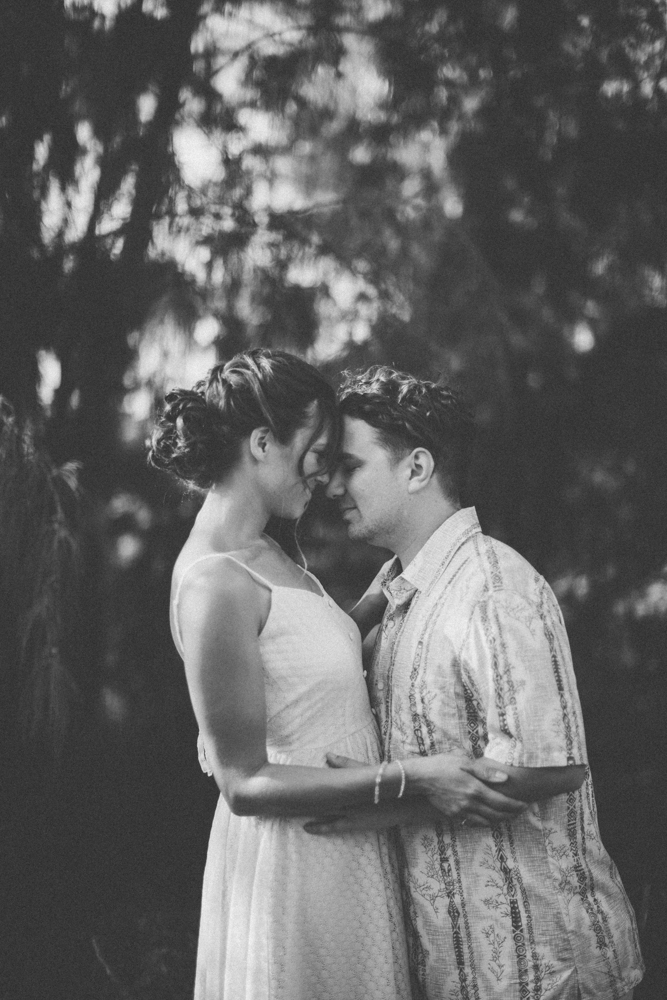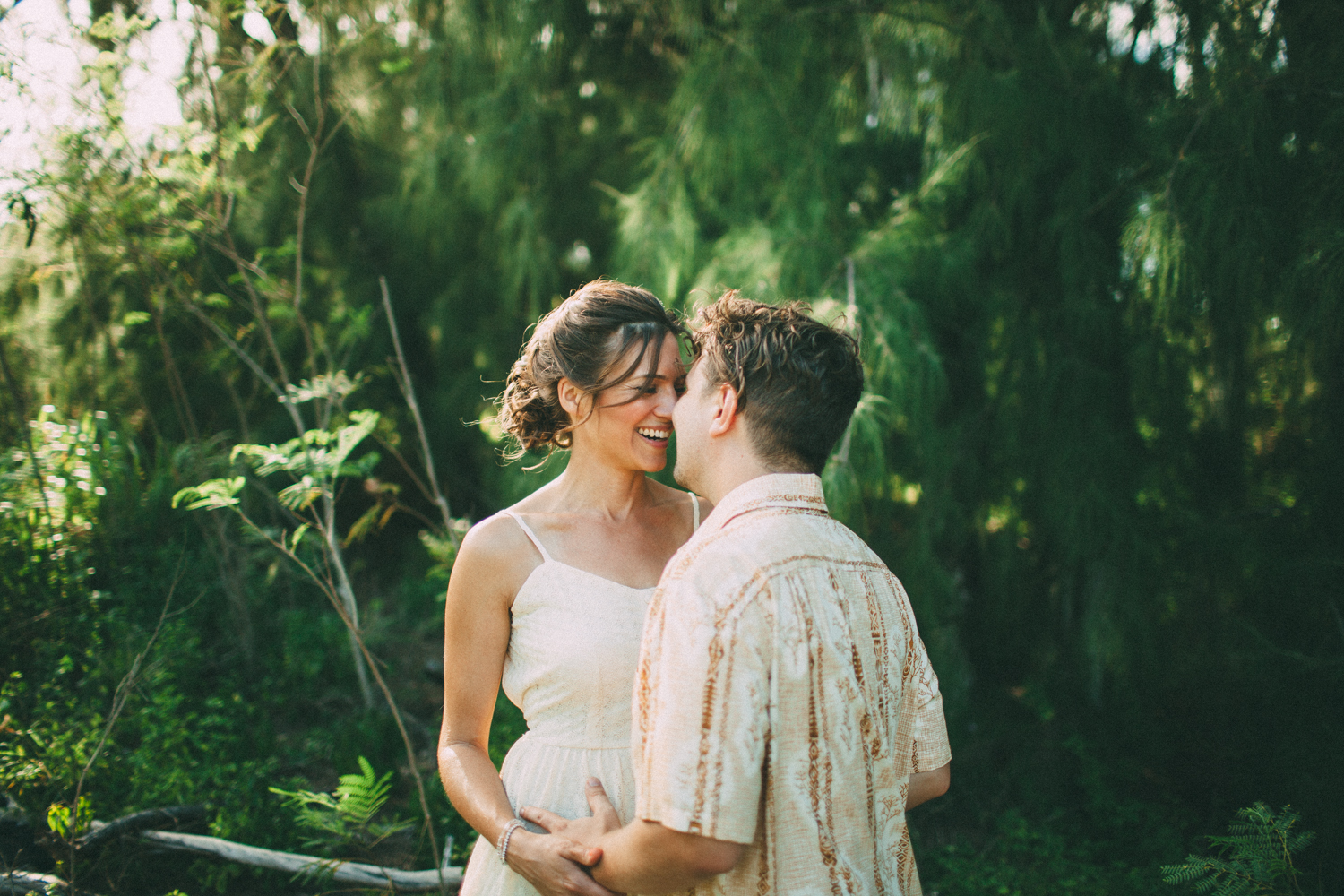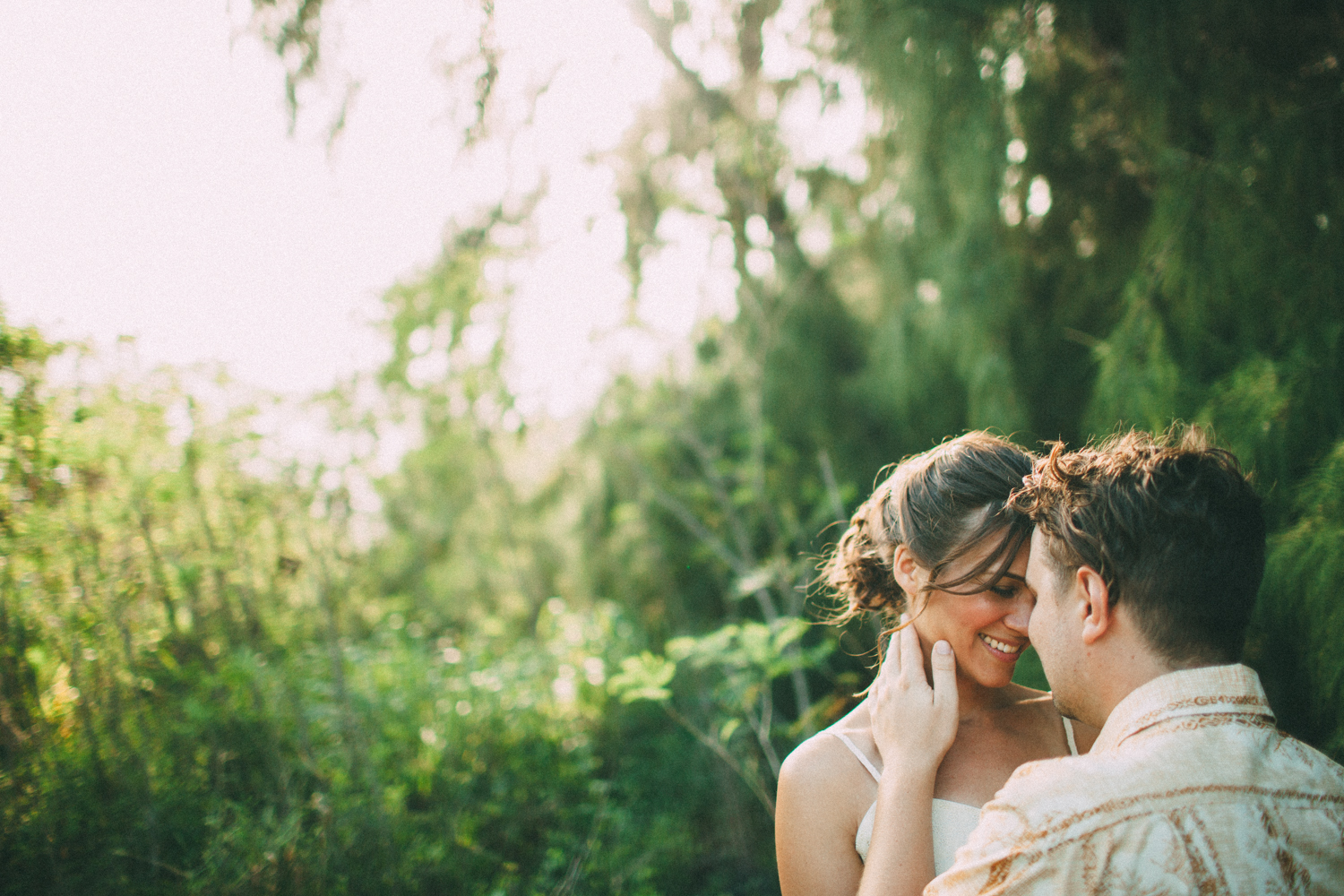 "I found my dress at a sample sale in LA for $75! It was not intended to be a wedding dress until Tyler said, "What is that, a wedding dress?" I was so mortified and it sat in my closet until he proposed (over a year later), and then we knew its purpose," she says.
"We selected the groom's Aloha shirt to match the creamy warm tones of my dress. His whole outfit from Tori Richard was nearly three times the cost of mine! The "bridesmaids" were technically lei-bearers, who chose their own sun dresses. We told our family to wear whatever they wanted, preferably beach attire. My best friend, my two sister-in-laws, and both mother-in-laws all had their hair done by Beach Bride Hawaii. Chloe created floral hair pieces inspired by our tropical sunset color palette (golds, browns, oranges, and creams) and she ended up incorporating a romantic creamsicle-colored rose into all our hairstyles (including mine). The makeup shades were also in shades of the sunset." ​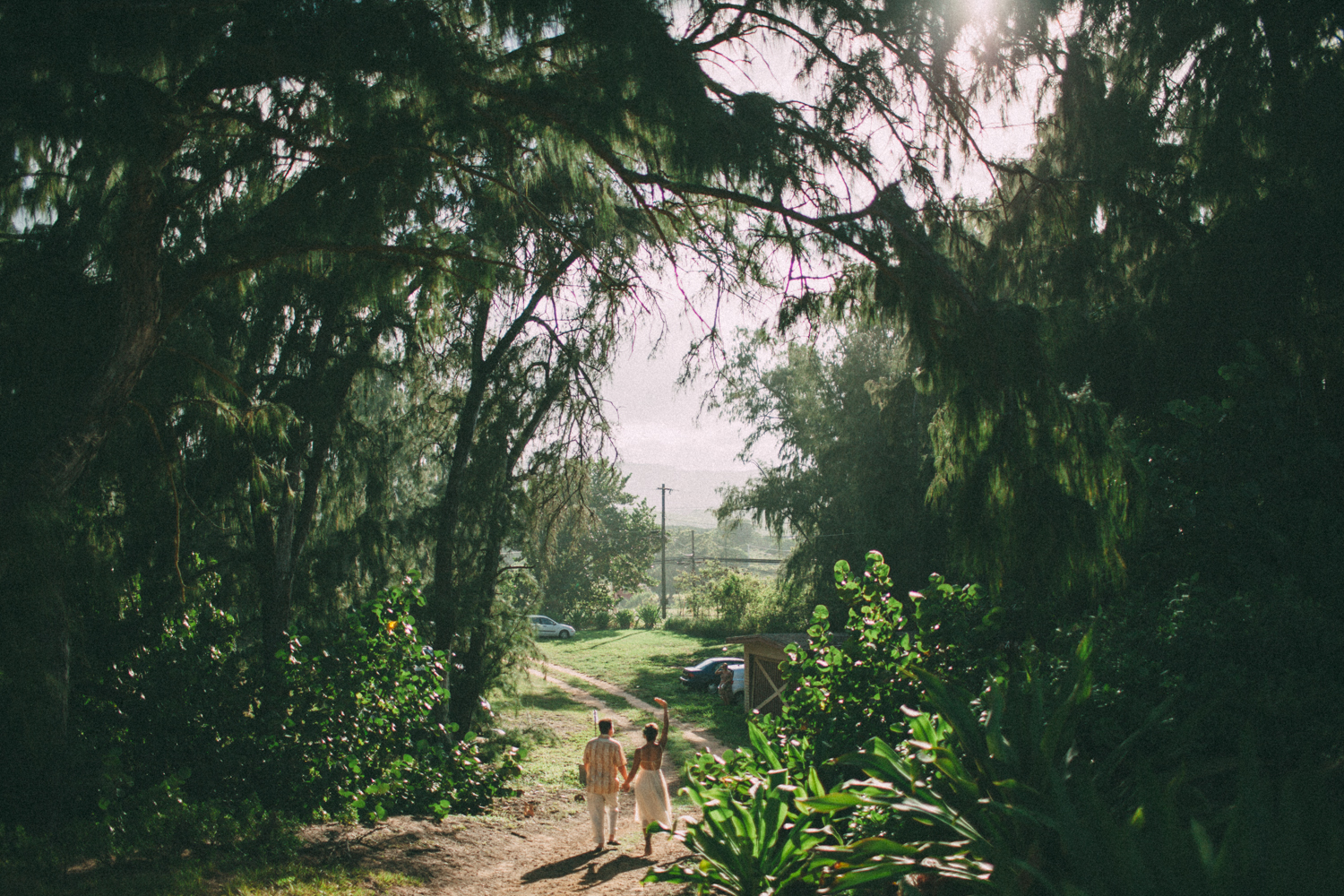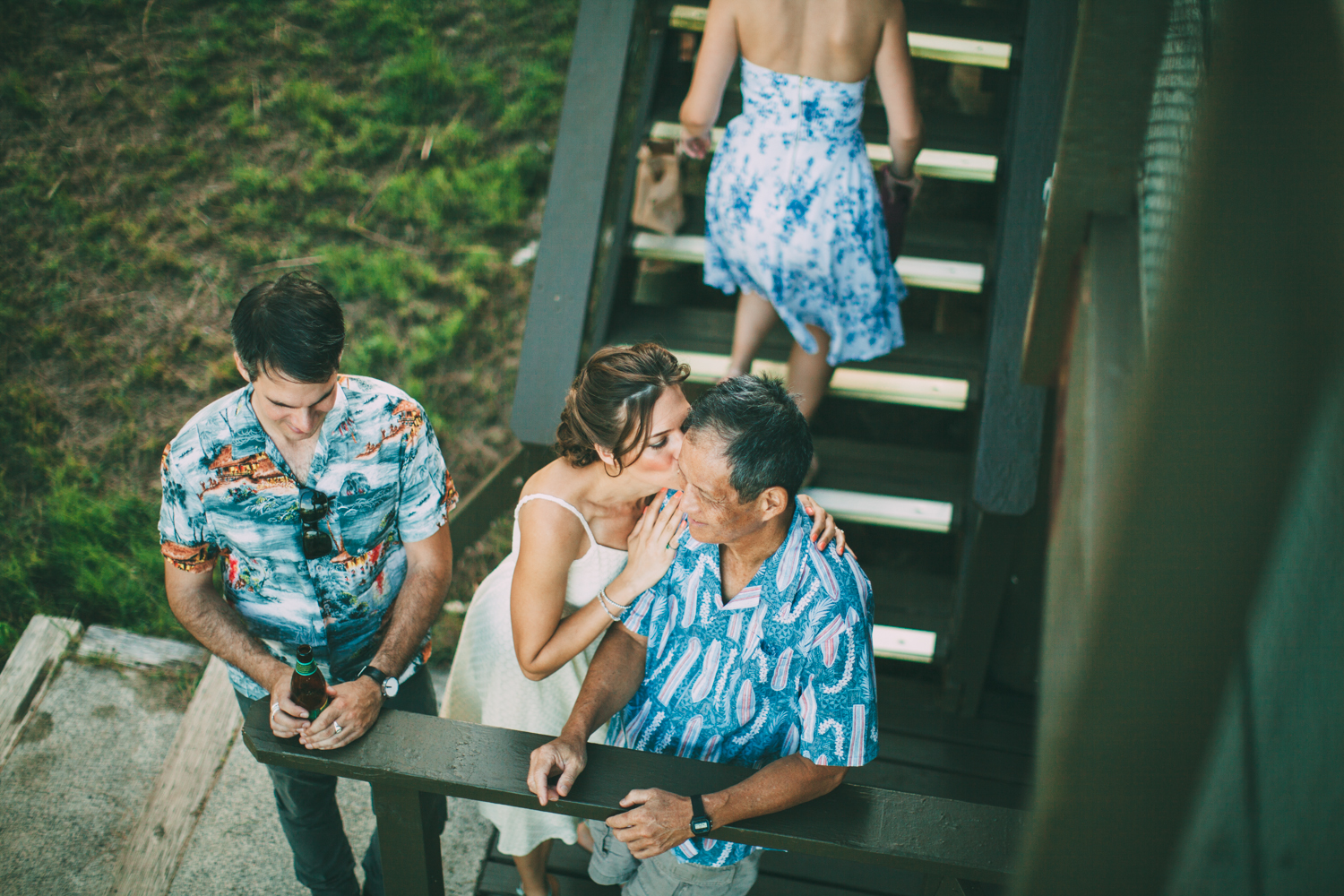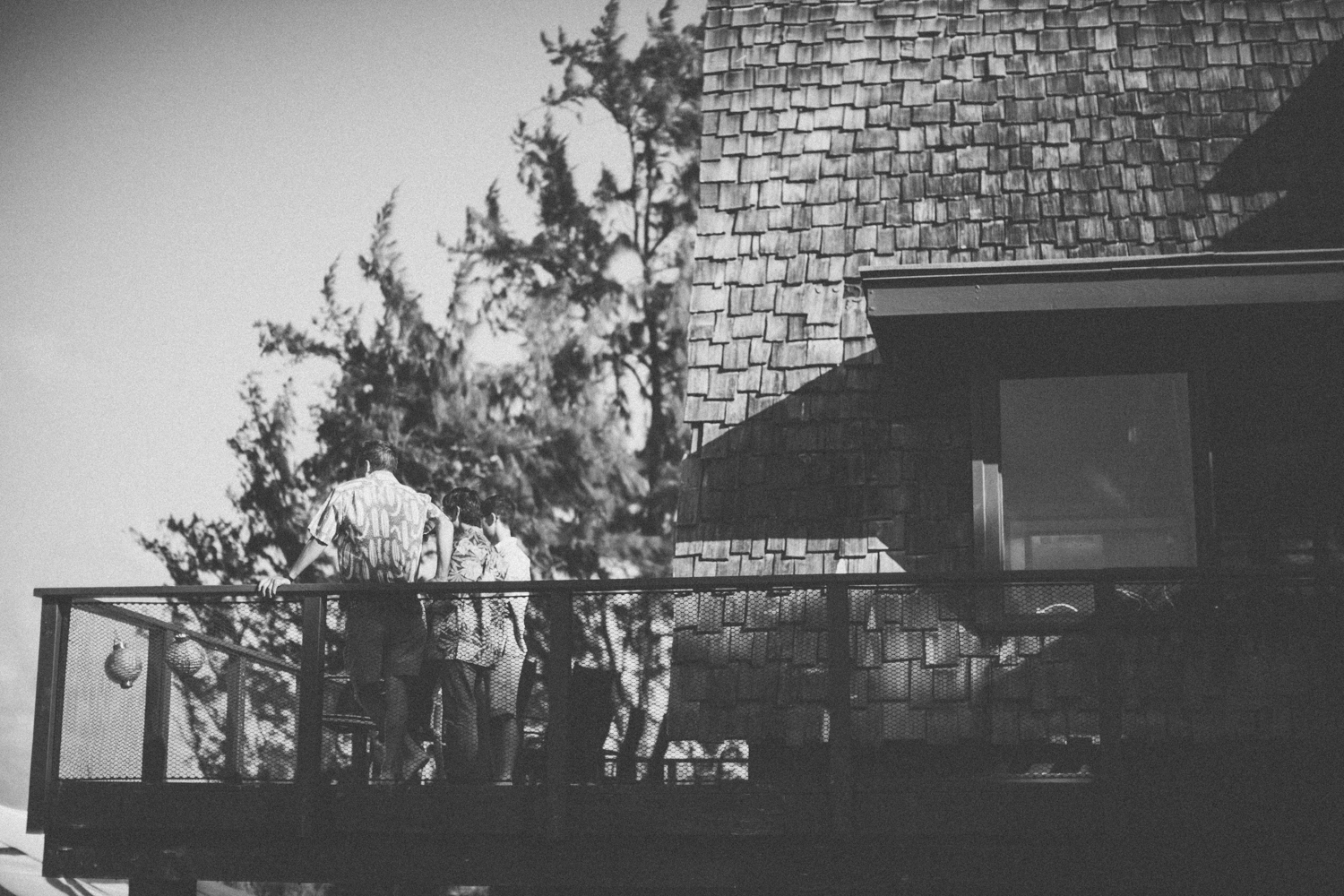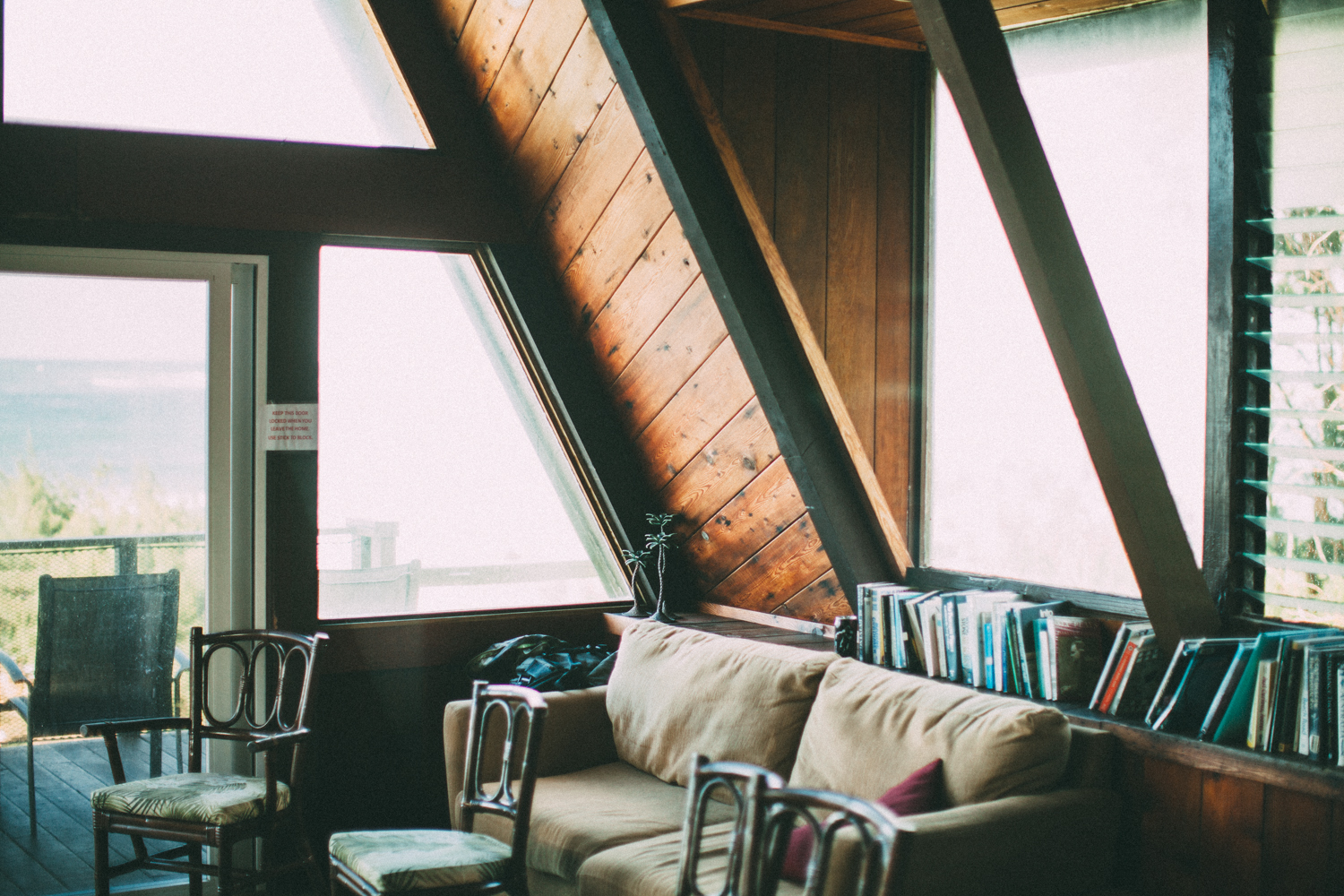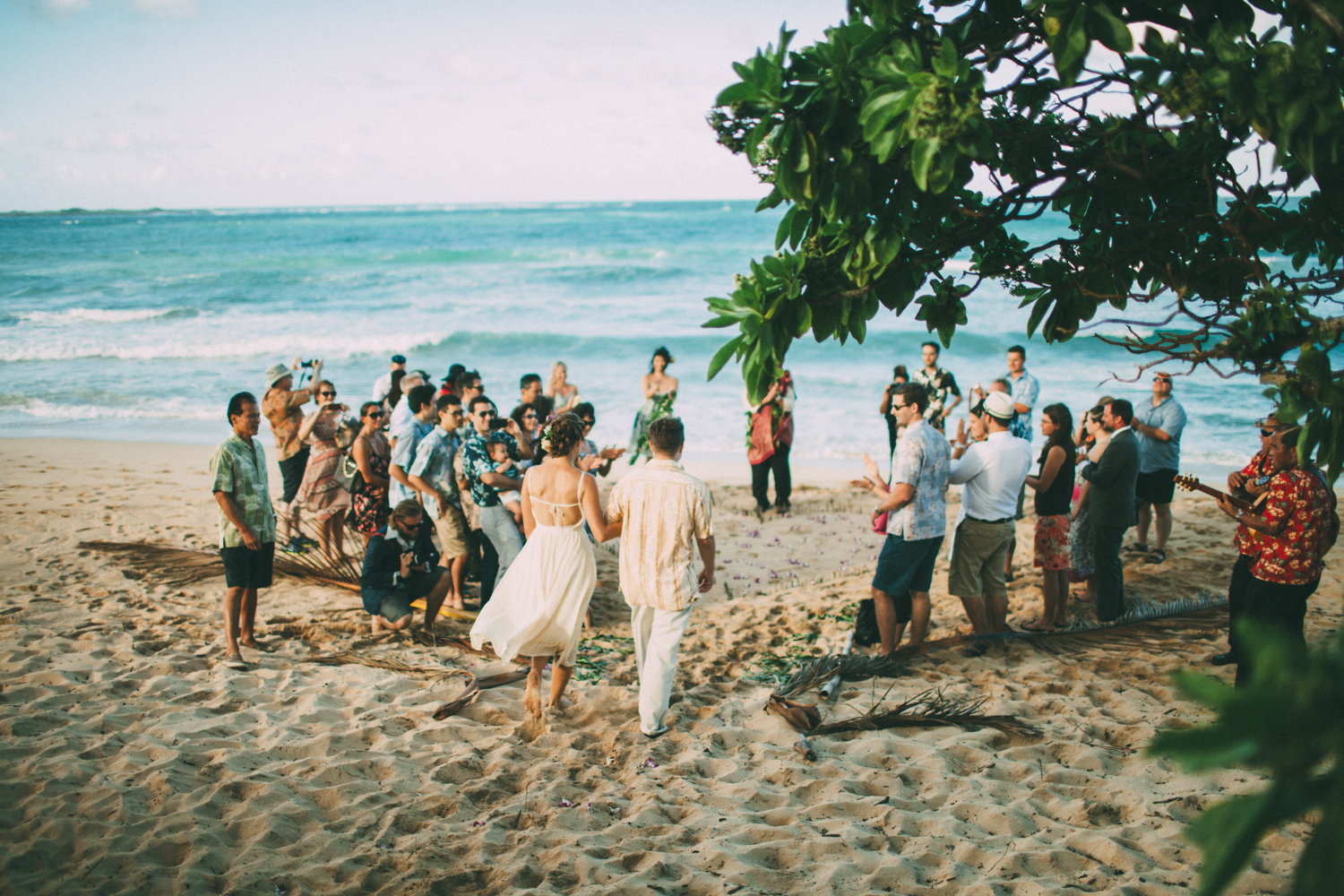 "We wanted our flowers to be worn by all our guests rather than arranged, so each guest wore a fragrant Hawaiian lei (thank you, Arthur's Lei Stand for a great deal), which the groom and I presented to each of our guests after the ceremony. At the ceremony, we too exchanged special lei in lieu of rings and honored our parents with special lei too."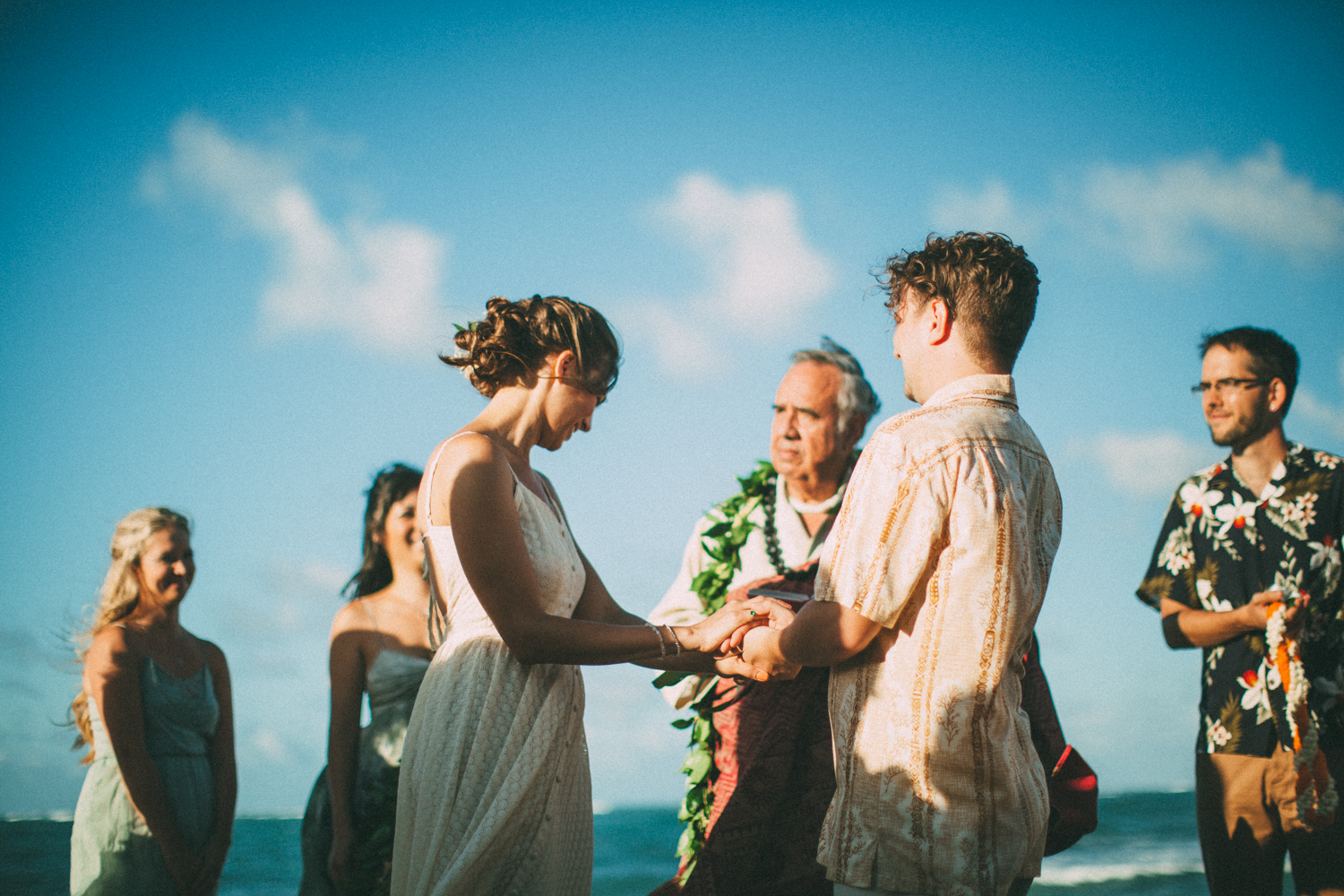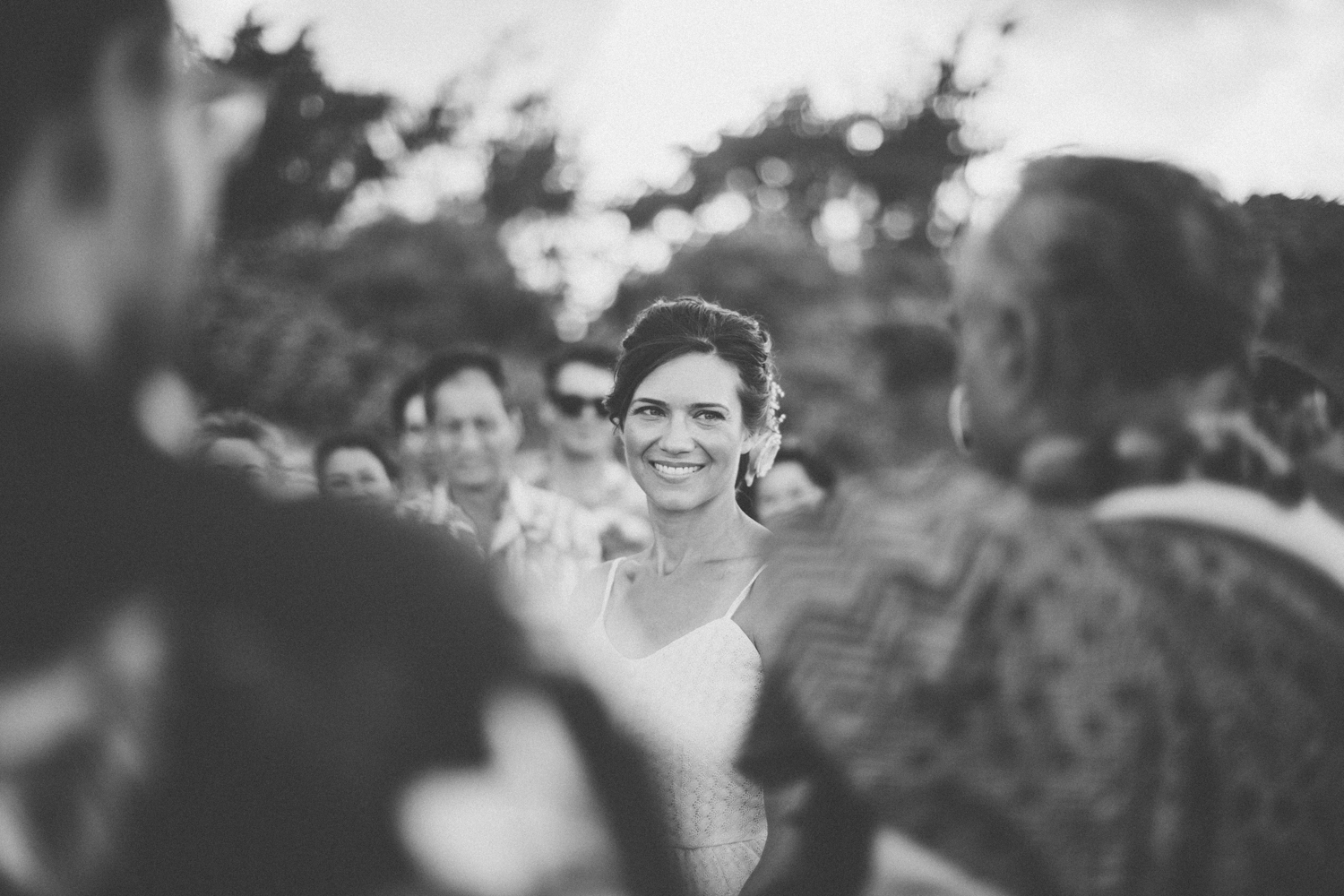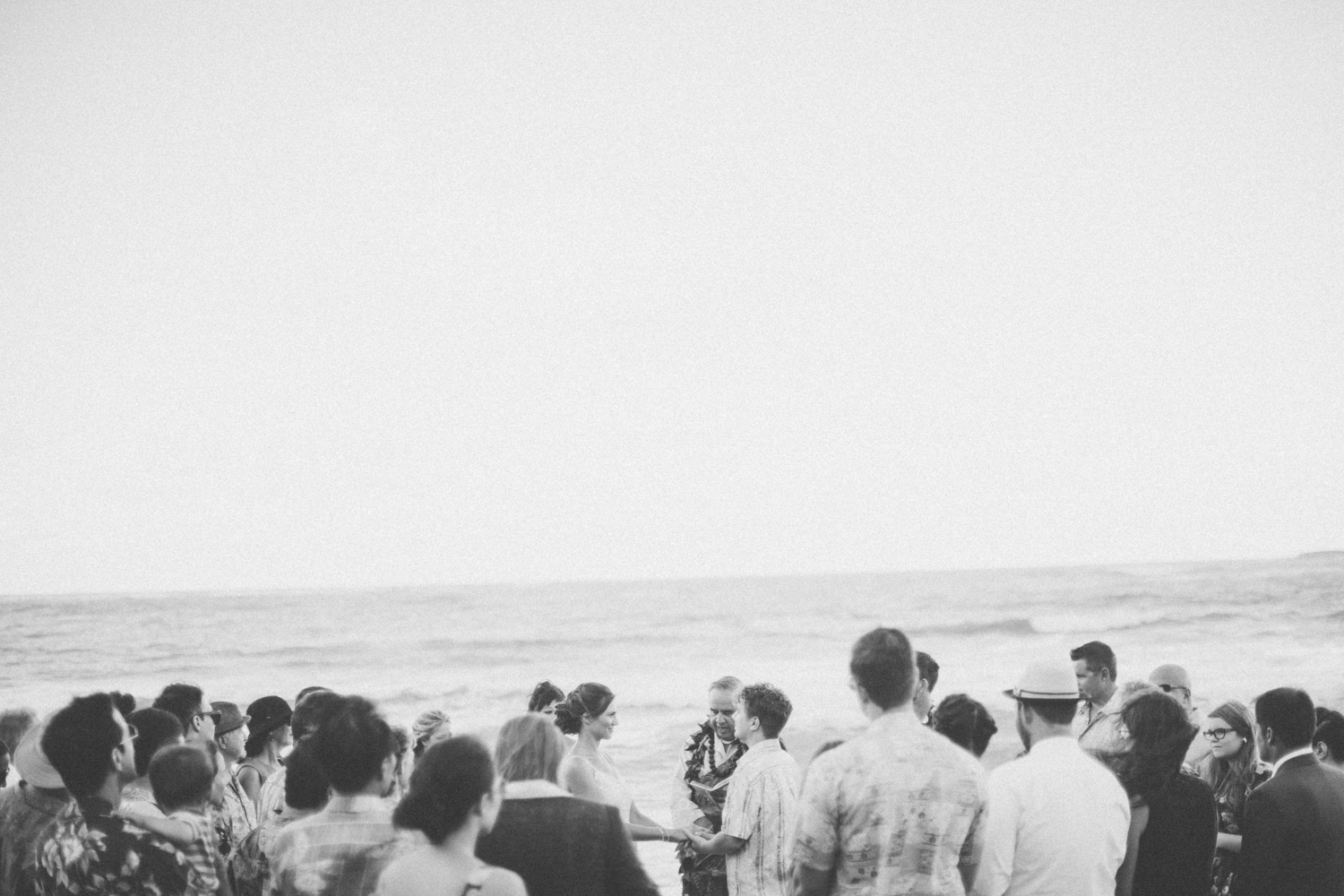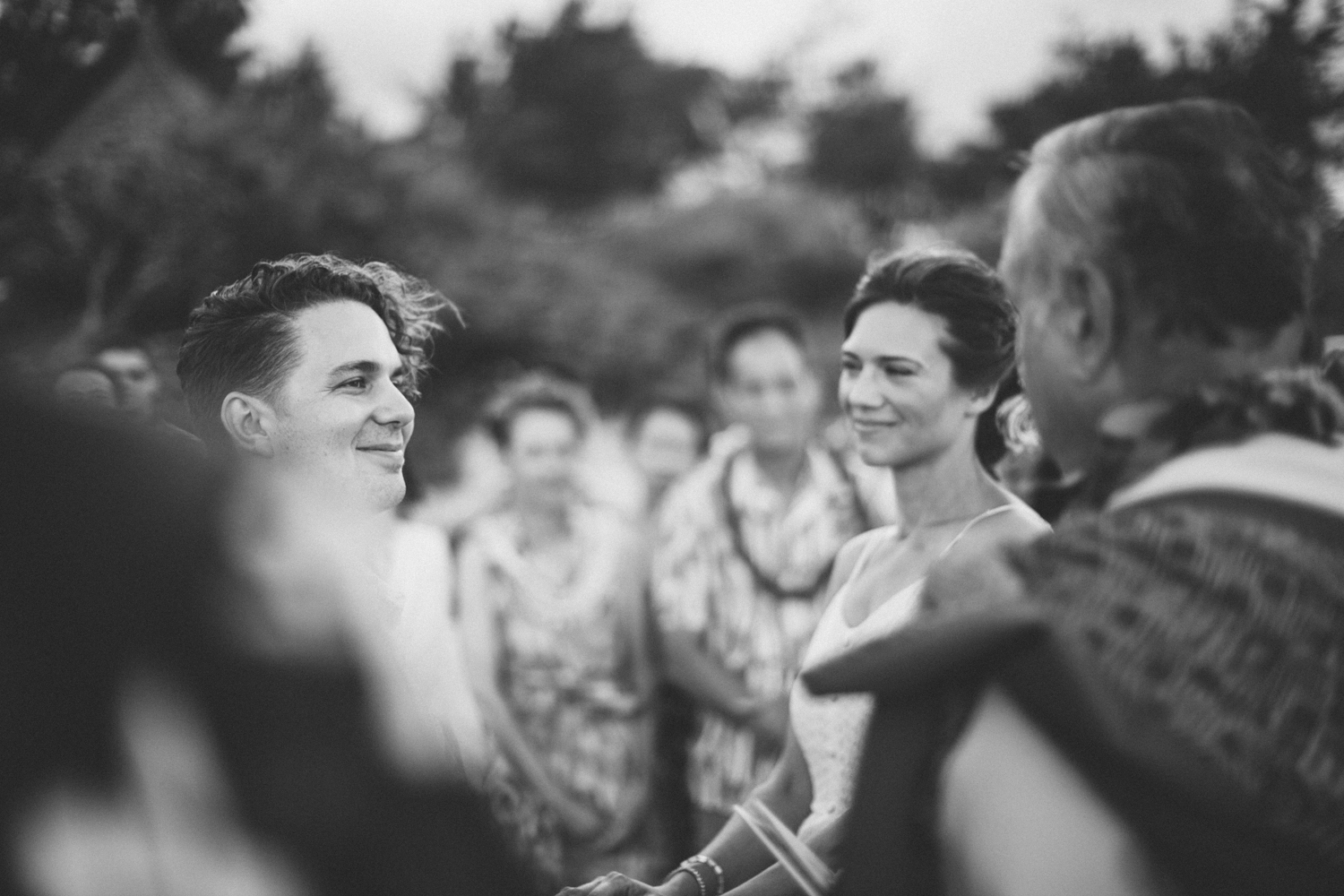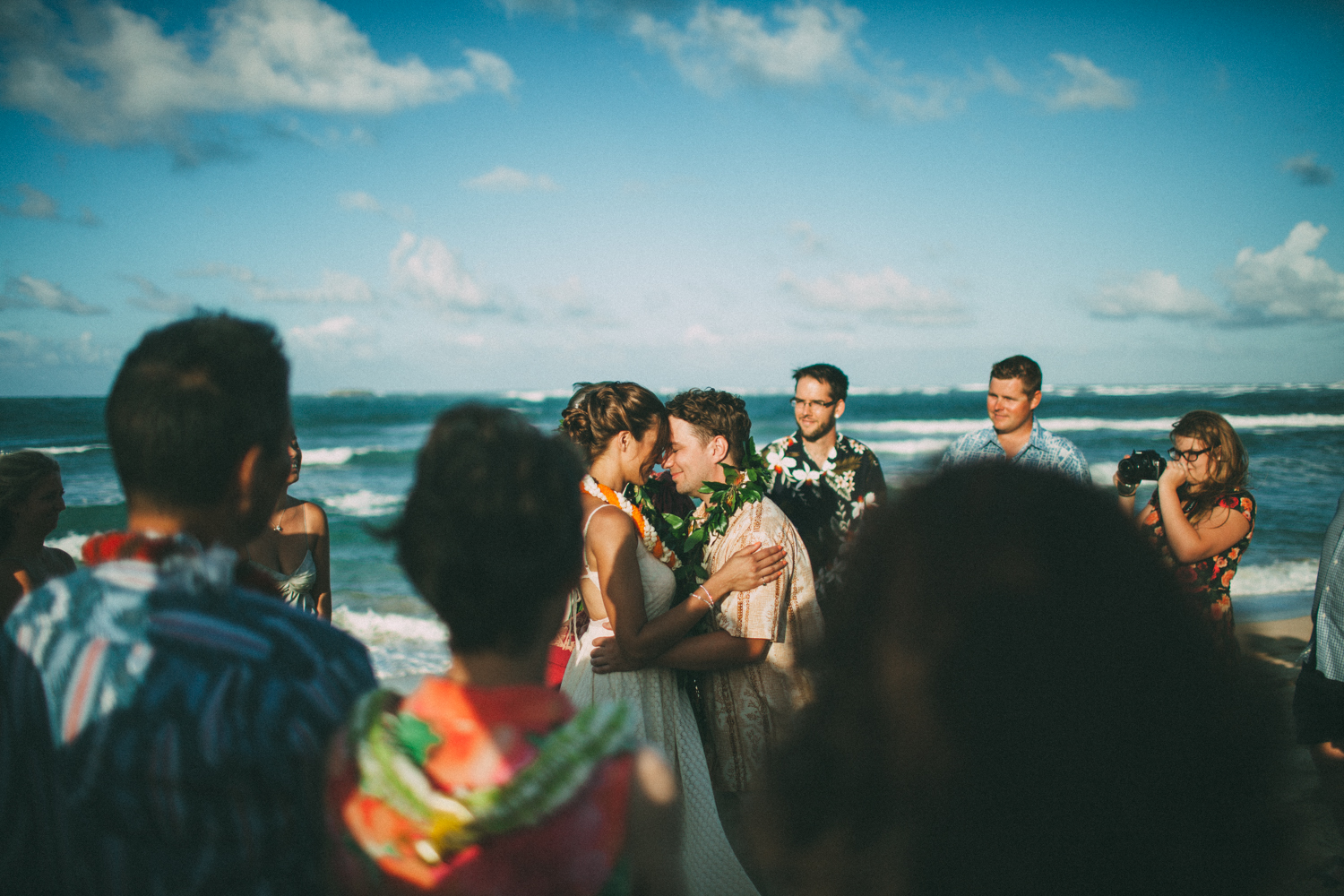 "Kahu Silva was so special, as well. He honored our day with a secular Hawaiian blessing, musing on the true meaning of Aloha, teaching everyone there is so much about the islands, as we renewed our vows."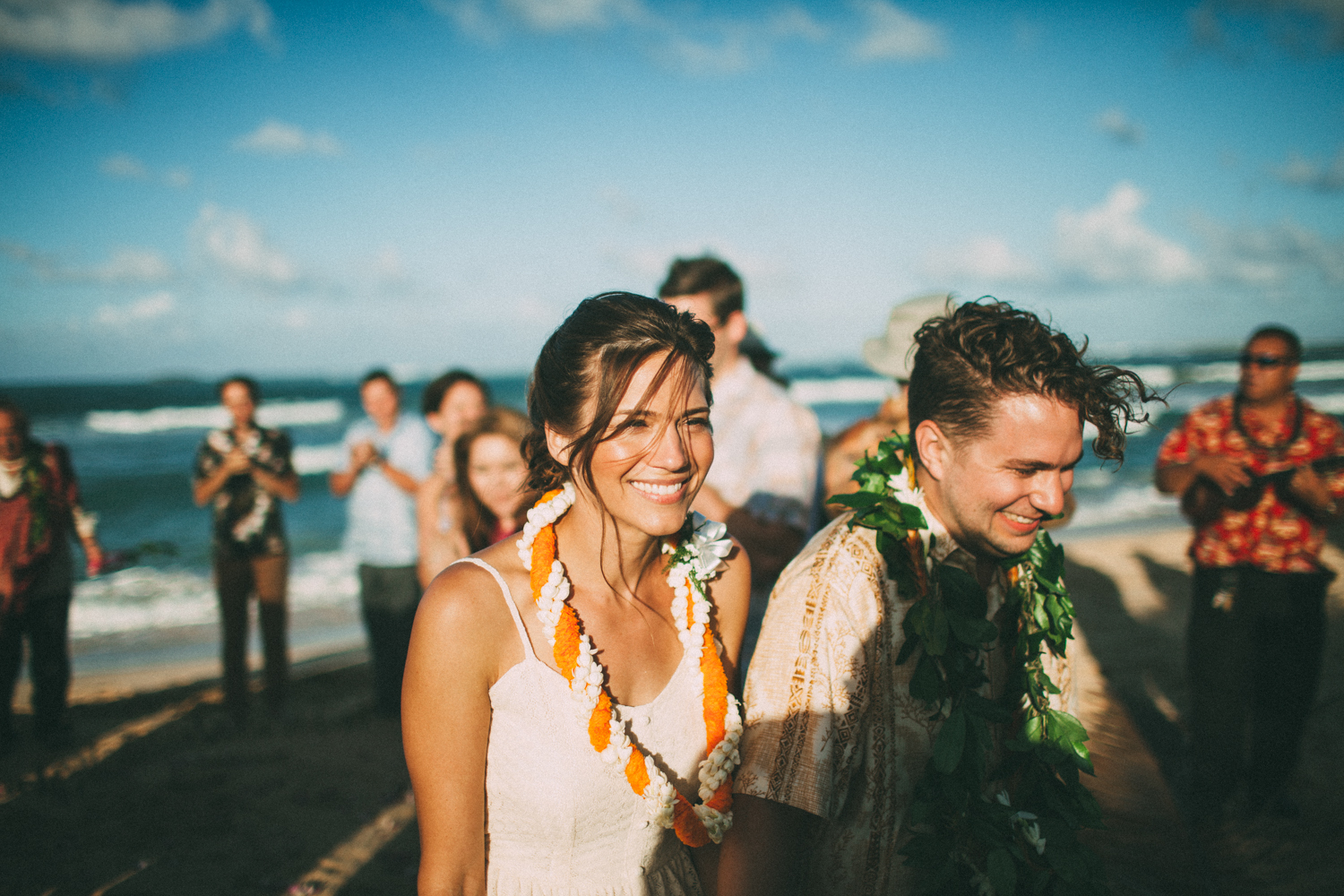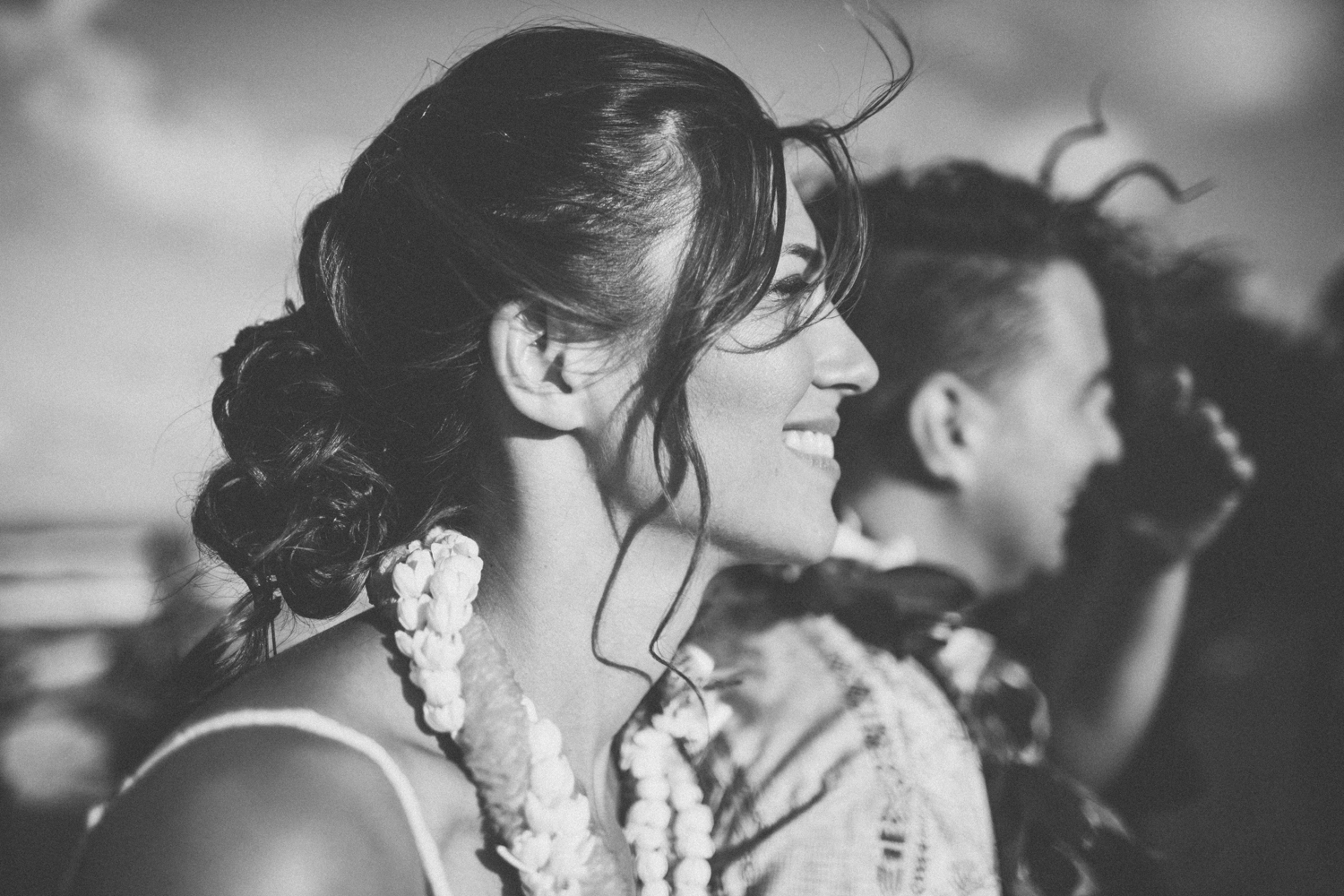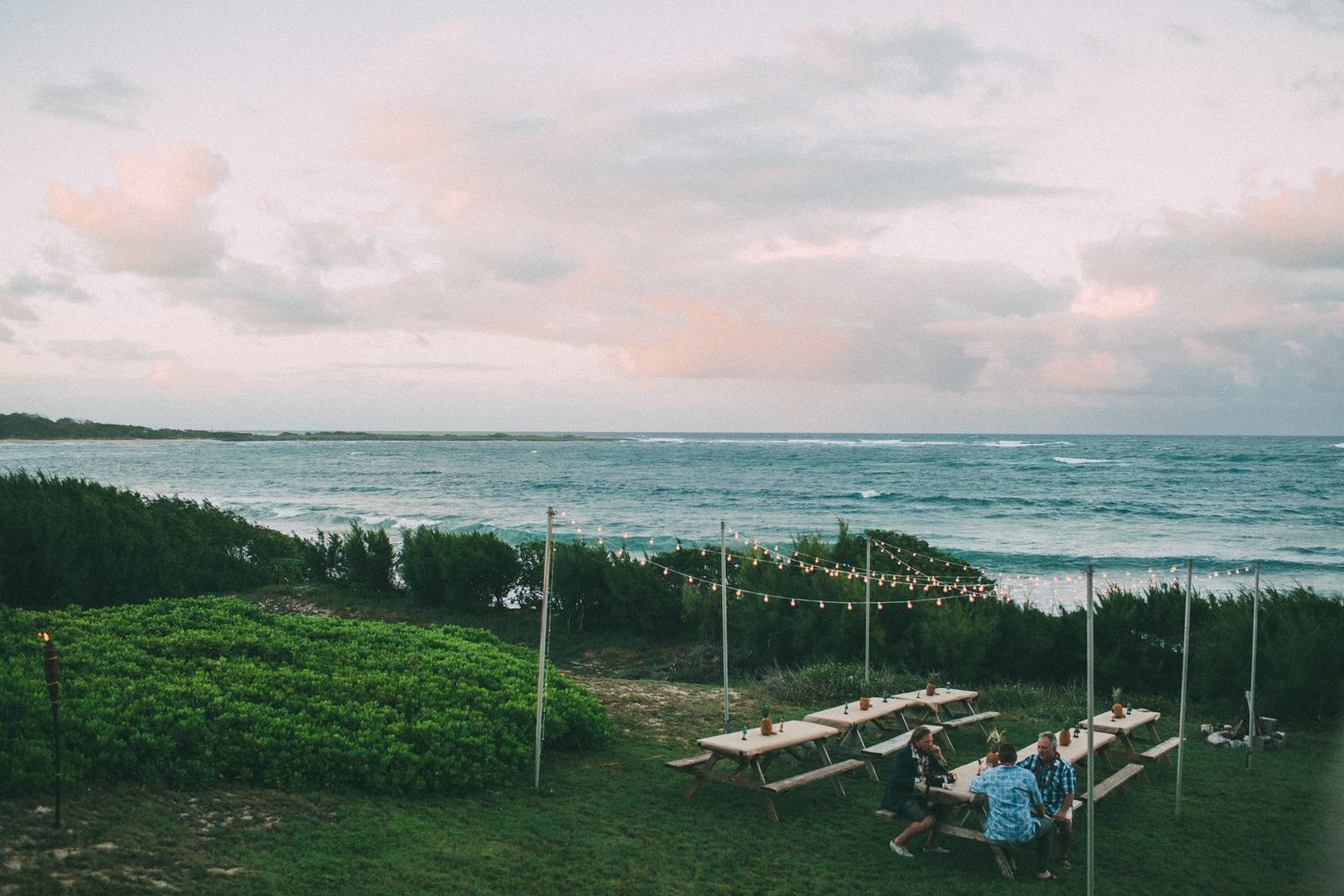 "We wanted it to be kitschy and chill (and as waste-free as possible). Centerpieces were whole pineapples or dashboard hula dolls, which we gave away. Bamboo boats and forks were compostable. For fun, we created a kitschy tiki bar with Mai Tais and Blue Hawaiis in coconut cups! The seating was designed to surround an open, grassy dance floor and stage, like theatre in the round, which we hoped would allow our guests to move around and cozy up (or take the spotlight!). The tent, seating, and lighting were provided by Royal Party Rentals and Event Essentials. We designed the tiki bar, d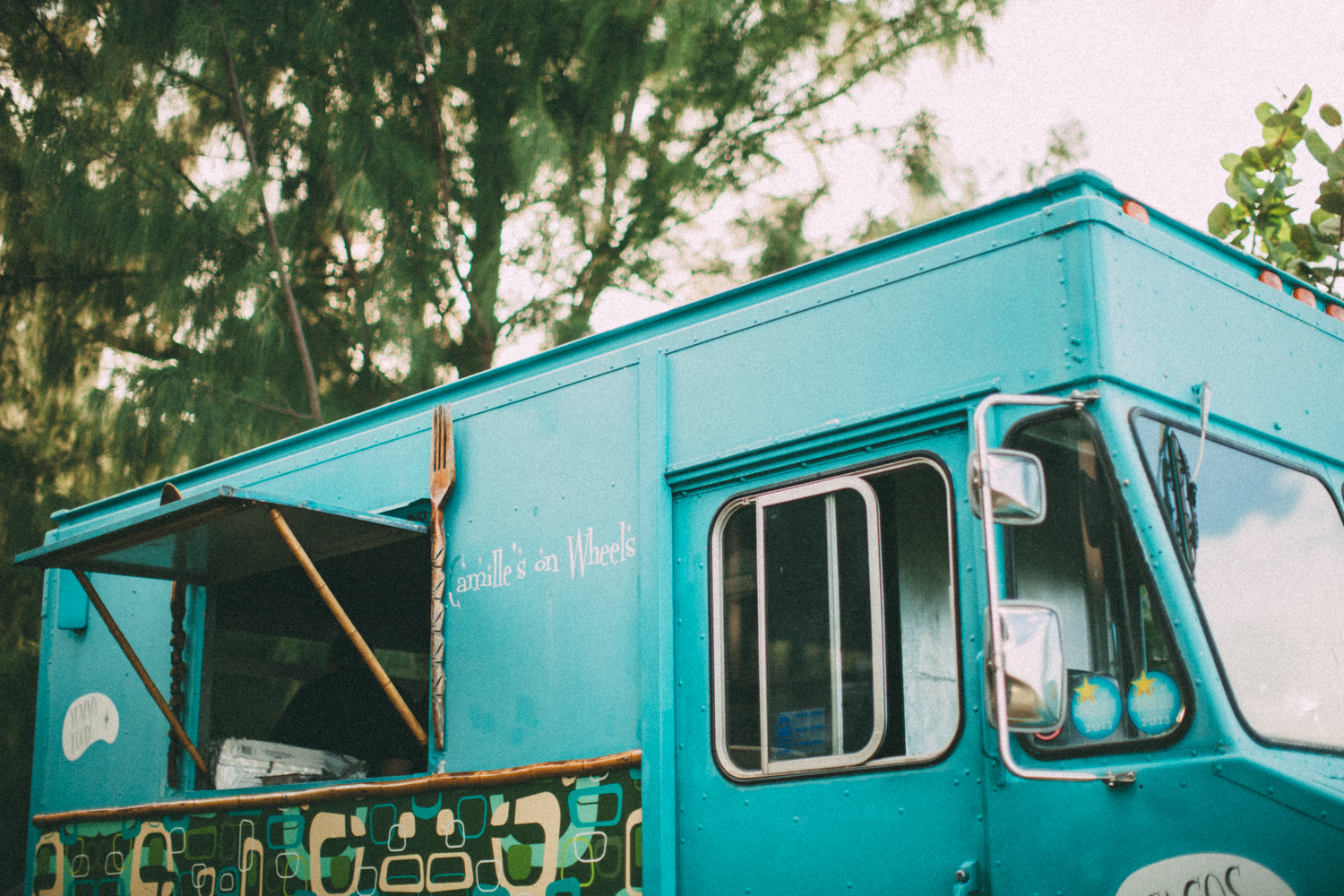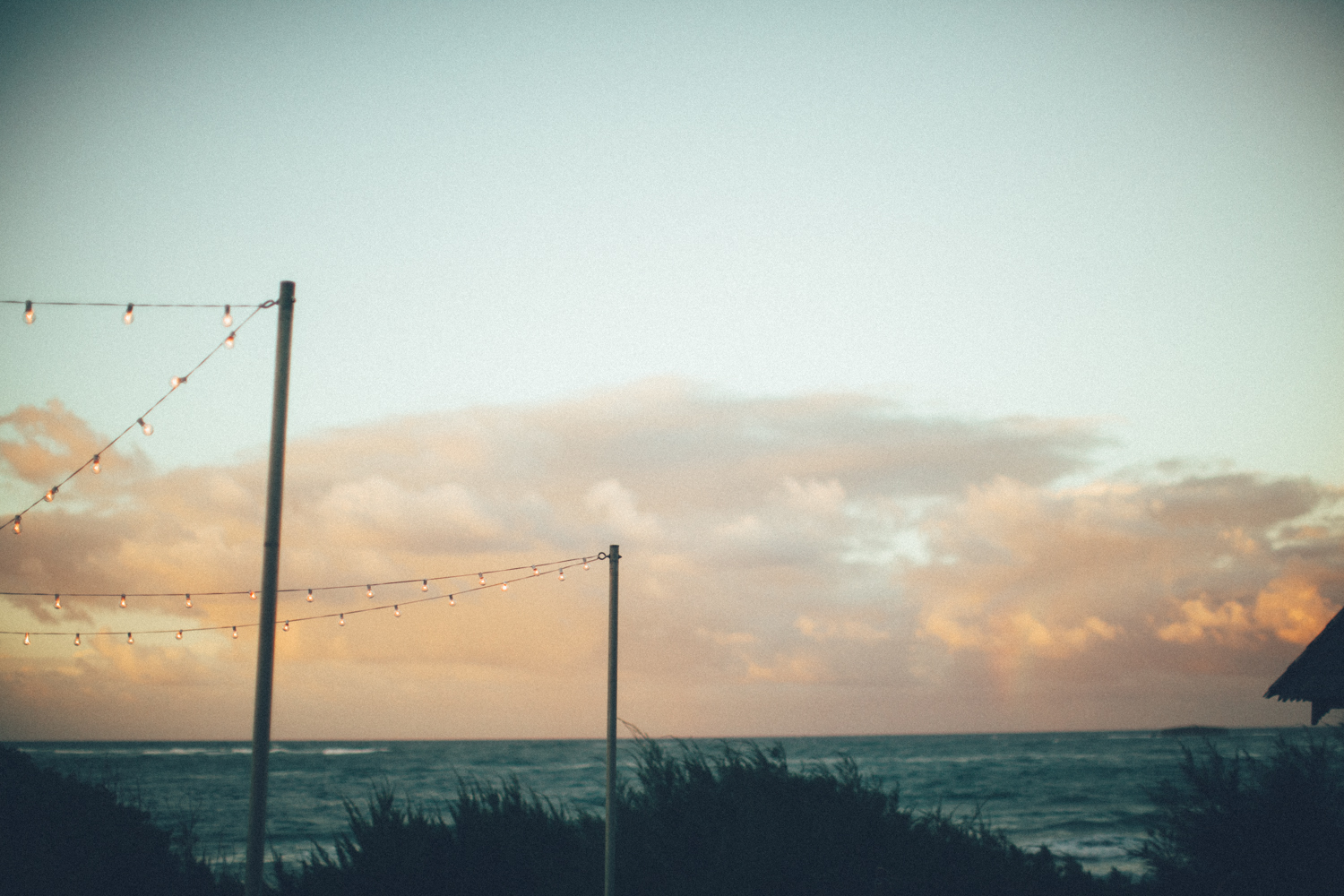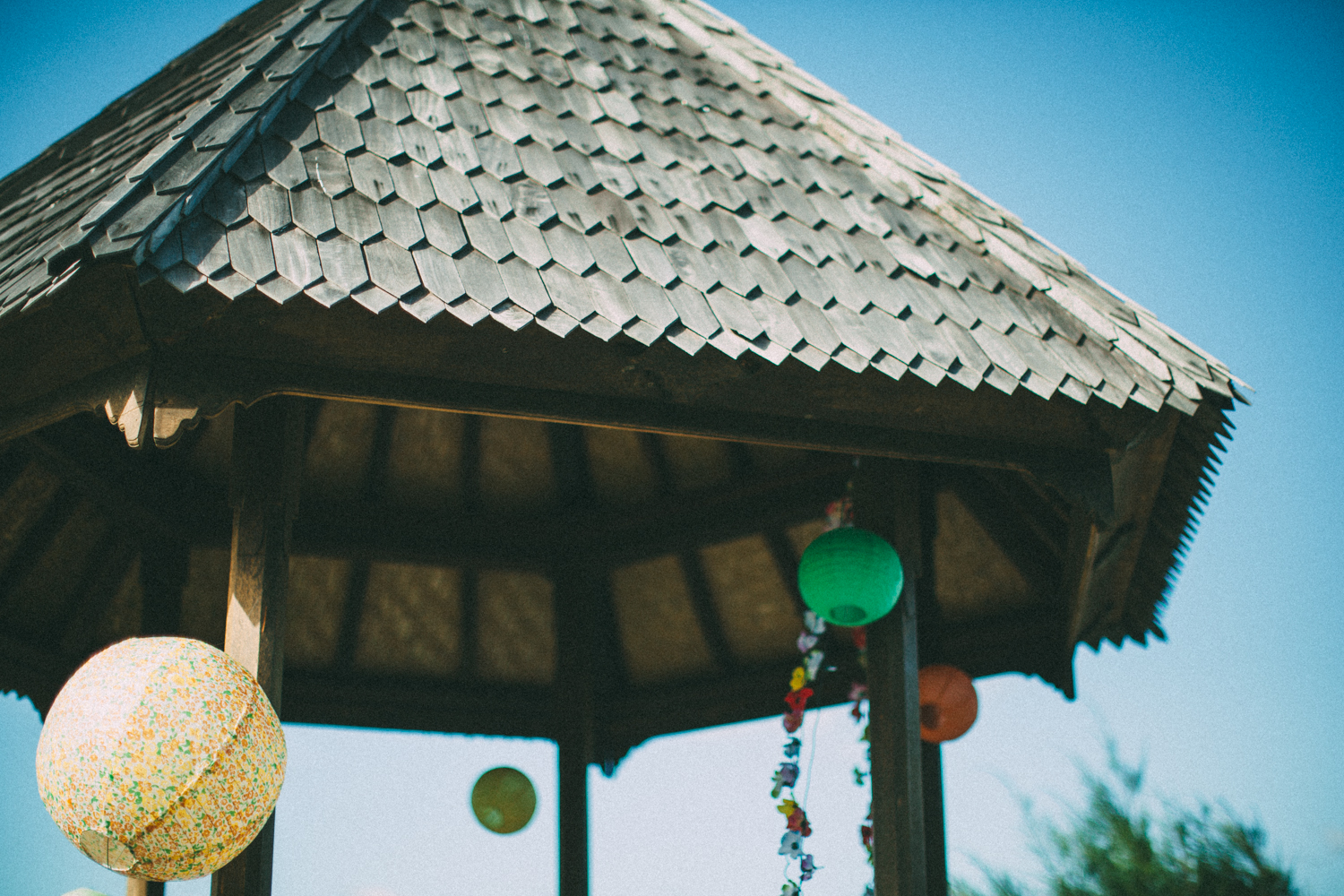 "I must say that Tupou Photography was the best decision we made. If they had not understood or appreciated our unique, offbeat, and fun choices, we would only have our memories of that day. Instead, they captured no only our special moments, but our mood and spirit the way we remember living it."