Nothing can compare to a diamond ring. It is elegant, radiant, and timeless. Its value grows over time, as does its sentiment. Most women have a special memory of celebration attached to each diamond that they own, and this, of course, is even truer when it comes to engagement and wedding rings.
While the traditional sourcing of diamonds is associated with many ethical downfalls, there now are a few ways to make sure that your diamonds are conflict-free. You can buy vintage, only shop with guaranteed ethically-sourced jewelers, or explore the option of lab-grown diamonds.
Purchasing lab-grown diamonds is definitely a new trend. Similar to the process that takes place in the earth to create a natural diamond, laboratories can create a high pressure and temperature environment to conduct diamond growth. The result is a pure carbon diamond that has the same physical and chemical properties as a mined natural diamond. The only real difference between the two is where they are "grown". Lab-grown diamonds are even certified and graded using the same exact process as natural diamonds. And trust us, picking out the perfect lab-grown diamond is just as exciting as choosing a natural one!
Here are a few of the reasons a lab-grown diamond might be right for you:
Ethical responsibility:
Each diamond is guaranteed to be 100% conflict-free. All in all, mined diamonds result in 1 injury for every 1,000 workers annually, while lab-grown diamonds result in zero.

Eco-friendly practices:
For every carat of diamond that is mined, nearly 100 sq ft of land is disturbed and almost 6000 lbs of mineral waste is created.

Competitively Priced:
Due to the shorter supply chain, lab-grown diamonds can be anywhere from 20-30% less expensive than mined diamonds.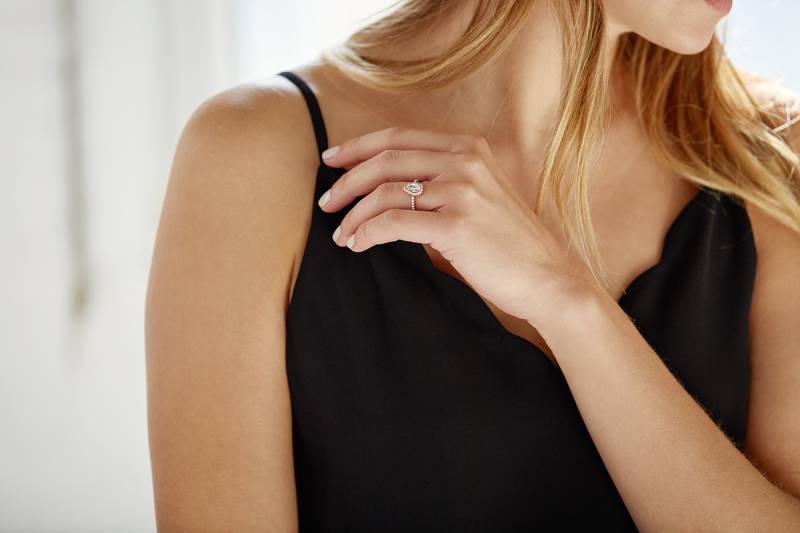 We're eager to share our tips to purchasing an ethically-sourced, lab-grown diamond ring.
First, choose a jeweler that you trust. We love Clean Origin's lab-created diamonds. The company was founded by a third-generation jeweler who believes in only selling exceptional caliber jewelry. Quality is never compromised, and they are dedicated to getting each aspect of your dream ring just right. They even have a 100-day money-back guarantee to prove it. The company also offers white glove customer service support, free shipping, free resizing, and a lifetime manufacturer's warranty.
Second, pick your diamond. Selecting the right diamond can be overwhelming when you first start looking. Clean Origin offers a wonderful guided selection process on their website that really eliminates any uncertainty for first-time buyers. There are a few main categories to help you sort through their many options: shape, price, and the 4 C's.
Whether you are searching for a classic round diamond, princess cut, extravagant emerald, or popular oval-- there is no doubt that you can find the exact shape you are looking for. Once the shape and price range is decided, it is time to go through the 4 C's: carat, cut, color, and clarity. Clean Origin uses the easiest, most efficient process to help you narrow down the appropriate qualities for your taste by just using their online selection system!
And lastly, after finding the perfect diamond, you choose your setting. Once you select the diamond you'd like to use, the website will populate a number of settings that can be paired with that specific diamond. You can even see which settings are most popular with your particular diamond shape and size. Choose between delicate halos, tapered solitaires, embellished designs, and full stacking sets.
After choosing the diamond and setting, you are finished! It will be shipped straight to your door. And our favorite thing about Clean Origin is their 100-day, no questions asked, free return policy. Their goal is to help you feel 100% confident in your purchase, and they want you to be completely satisfied with your ring. Through phone, chat, and email support, they will help you through every step of the process to make sure you get the ring of your dreams.
For more information or to get started with Clean Origin, visit their website at cleanorigin.com