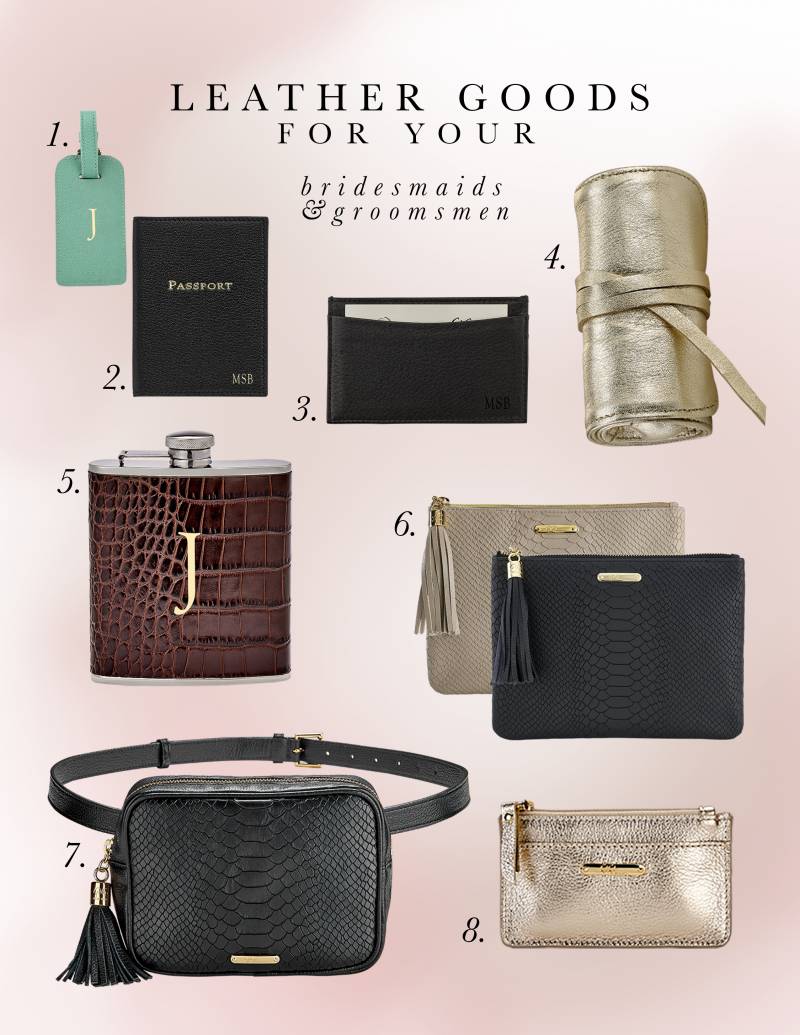 If you have been wondering what to gift your bridesmaids and groomsmen, we have the answer. Leather makes the perfect gift for everyone! Whether it's in the form of a cute clutch or monogrammed flask, GiGi New York has a great selection of gifts. And the best part? Every single one of their items can be personalized. Here are a few of our top picks:
1. Luggage Tags: These work well for men or women, especially for a destination wedding that involves travel!
2. Passport Case: Getting married abroad? We love the idea of a monogrammed leather passport case.
3. Slim Card Case: Your groomsmen will definitely appreciate this sleek, sophisticated card case.
4. Jewelry Roll: These little jewelry rolls are so handy for stashing in your purse or carry-on luggage. For an extra surprise, include a piece of jewelry for each of your girls to wear down the aisle on your big day!
5. 6oz Flask: These make great little props for getting ready photos with your groomsmen, too.
6. All In One Bag: A nude clutch is a gift your bridesmaids will use all the time- plus it will match their bridesmaid dress perfectly.
7. Kylie Belt Bag: An updated, luxe belt bag might be a great option for the bachelorette party!
8. Mini Zip Card Case: A feminine version of the classic Slim Card Case for your girls.
Head to www.giginewyork.com for more great bridesmaid and groomsmen presents.