Lauren Mills and Ian Whittemore were in love. With each other, to be sure, but also with Old Hawaii. Their September wedding was a ceremony steeped in the authentic island experience; a celebration of love and tradition nestled within the walls of a picturesque villa on the slopes of Oahu's famed Diamond Head. Though immersed in an ocean-centered island lifestyle, the couple declined the popular beach wedding and opted for an intimate estate affair.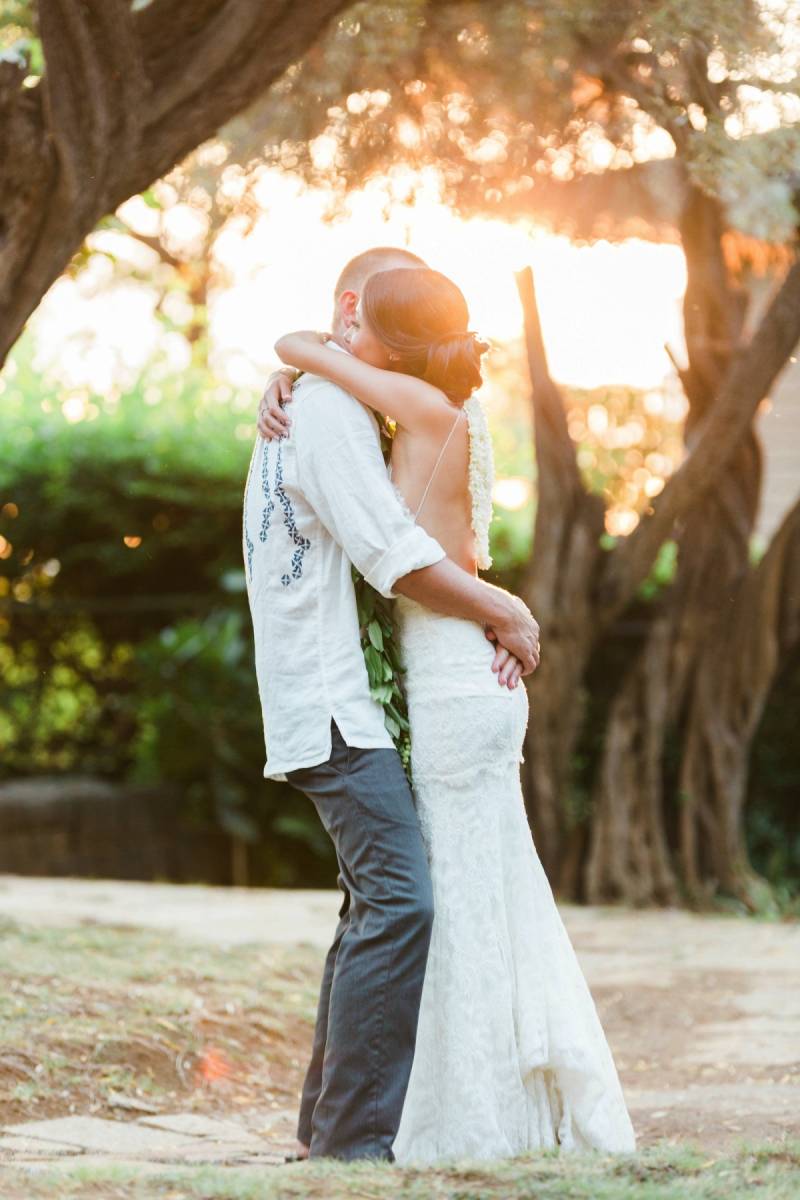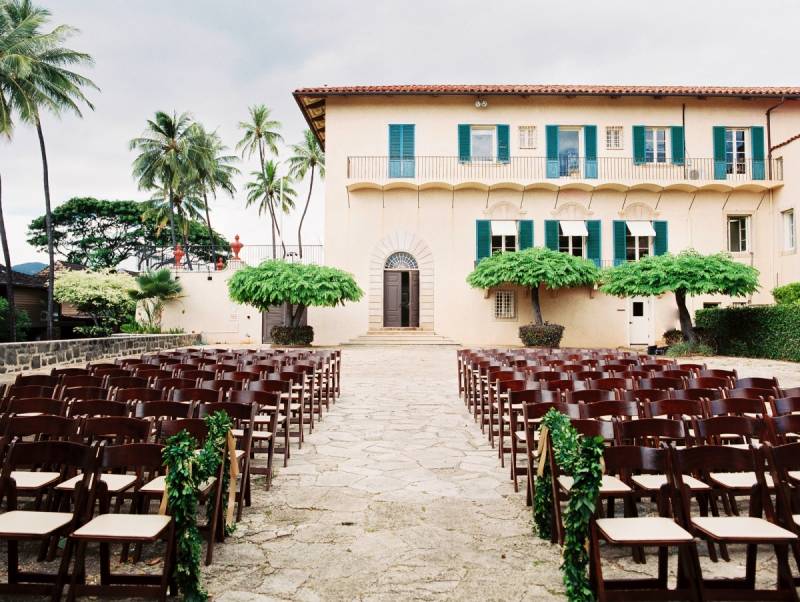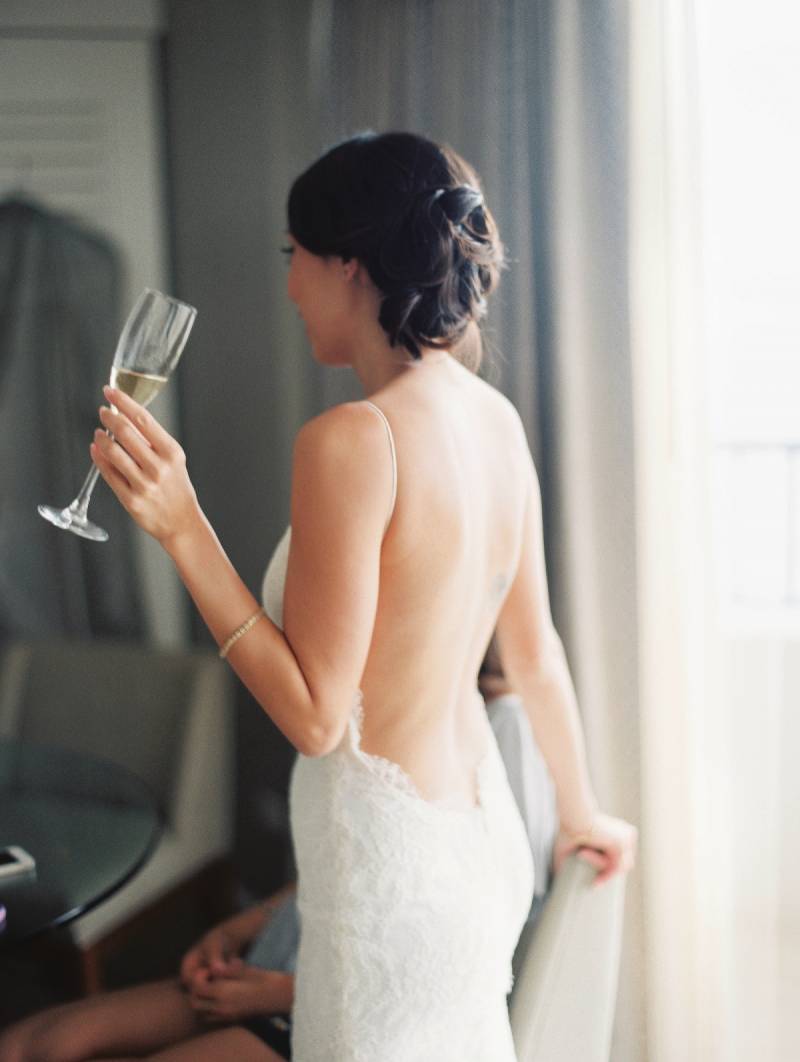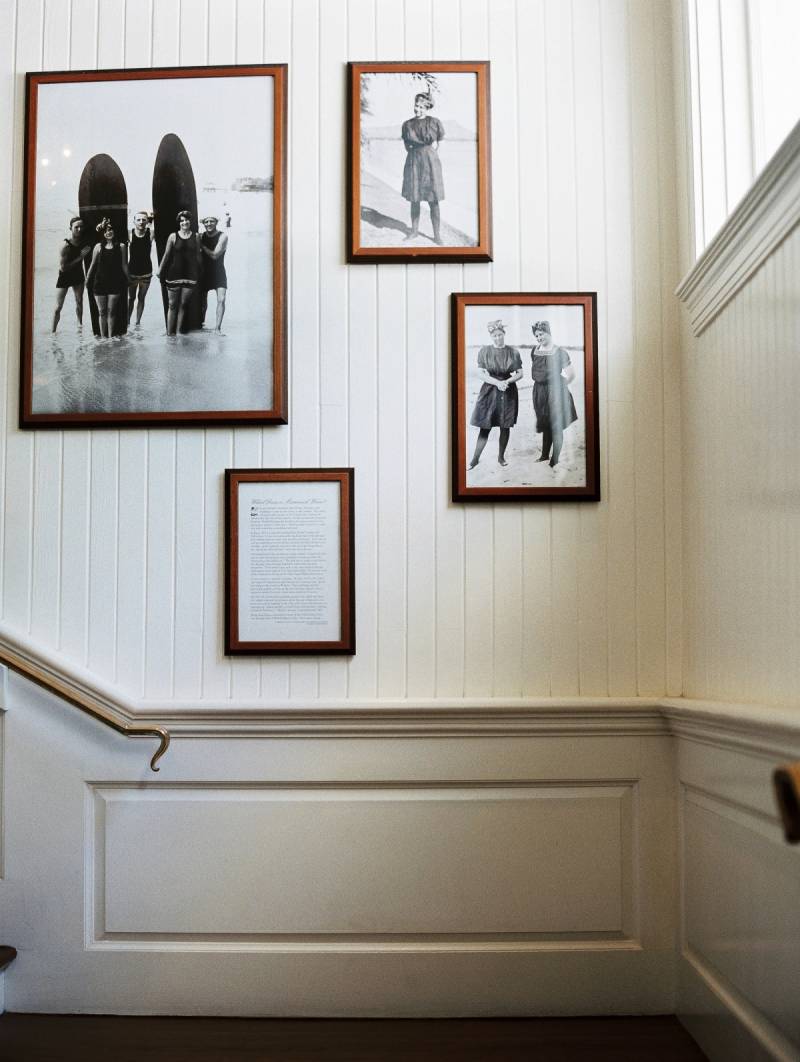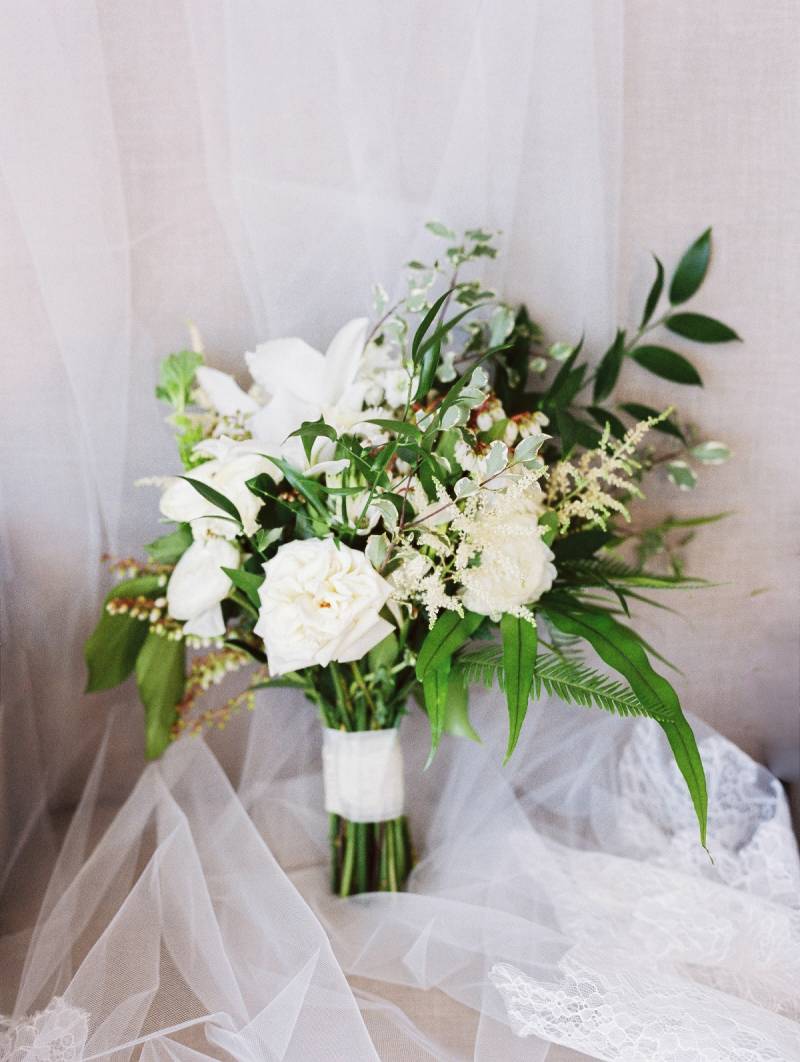 La Pietra, currently a preparatory school for girls, was constructed after a Tuscan villa and translates to 'The Gem.' Built in 1910 by Walter Dillingham for his sweetheart, Louise Gaylord, the home is a vision of tall, white pillars, a lily-pad dappled fountain and a beautiful lawn sprawled under the gaze of tall trees and painted shutters. "La Pietra has a natural beauty," Lauren says fondly, "We love the 'Old Hawaii' feel it retains, and its ability to feel like an intimate space even with 200 guests. Stylistically, we really loved having separate spaces for our ceremony, cocktail hour, and reception...the layout could not have been better. Each event moved up the campus a little further, building excitement and anticipation."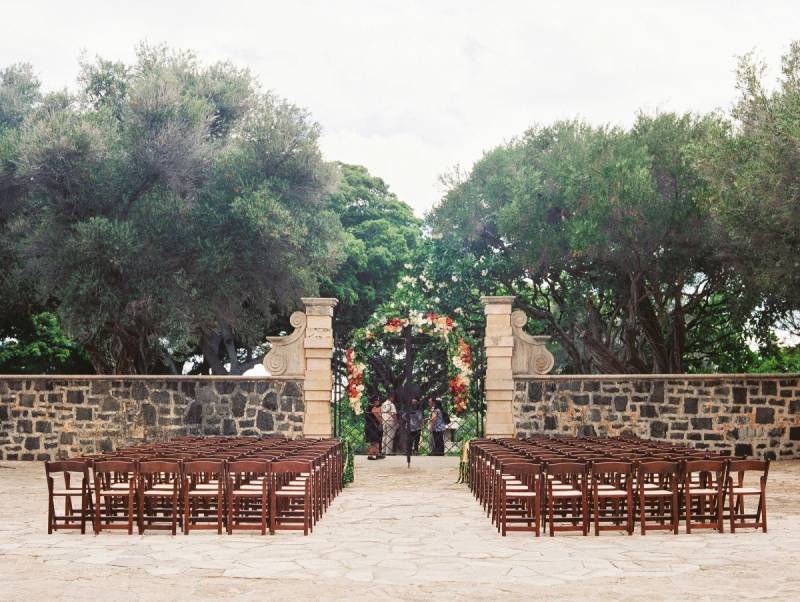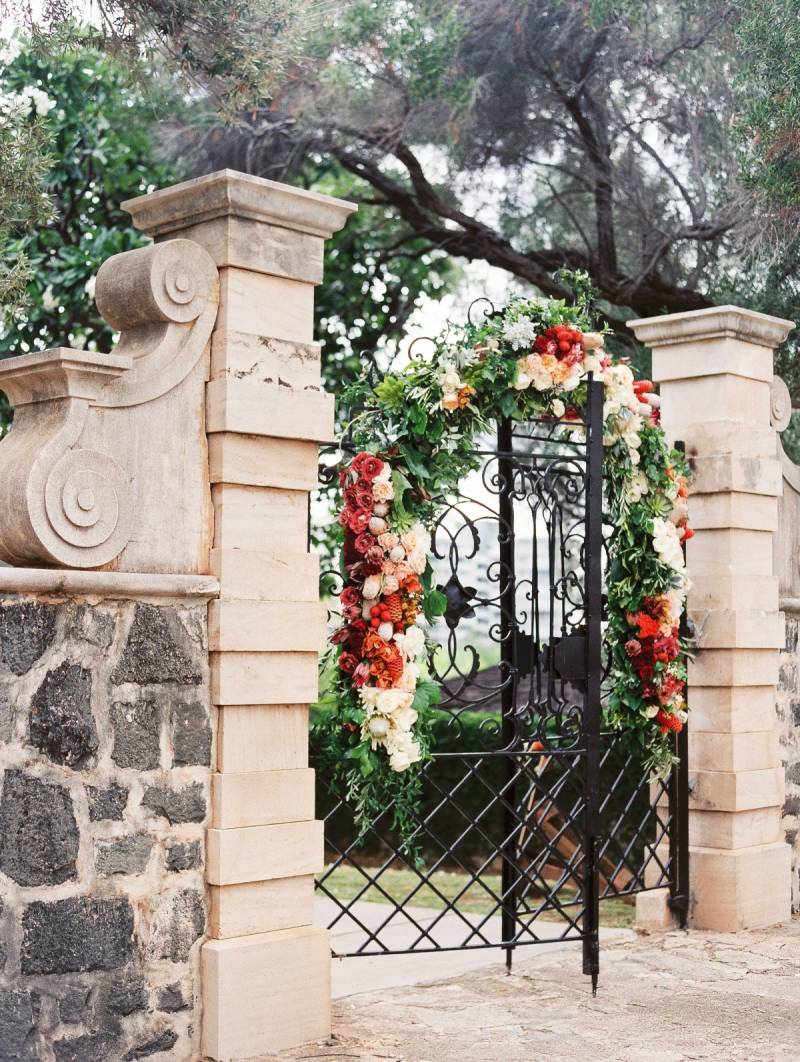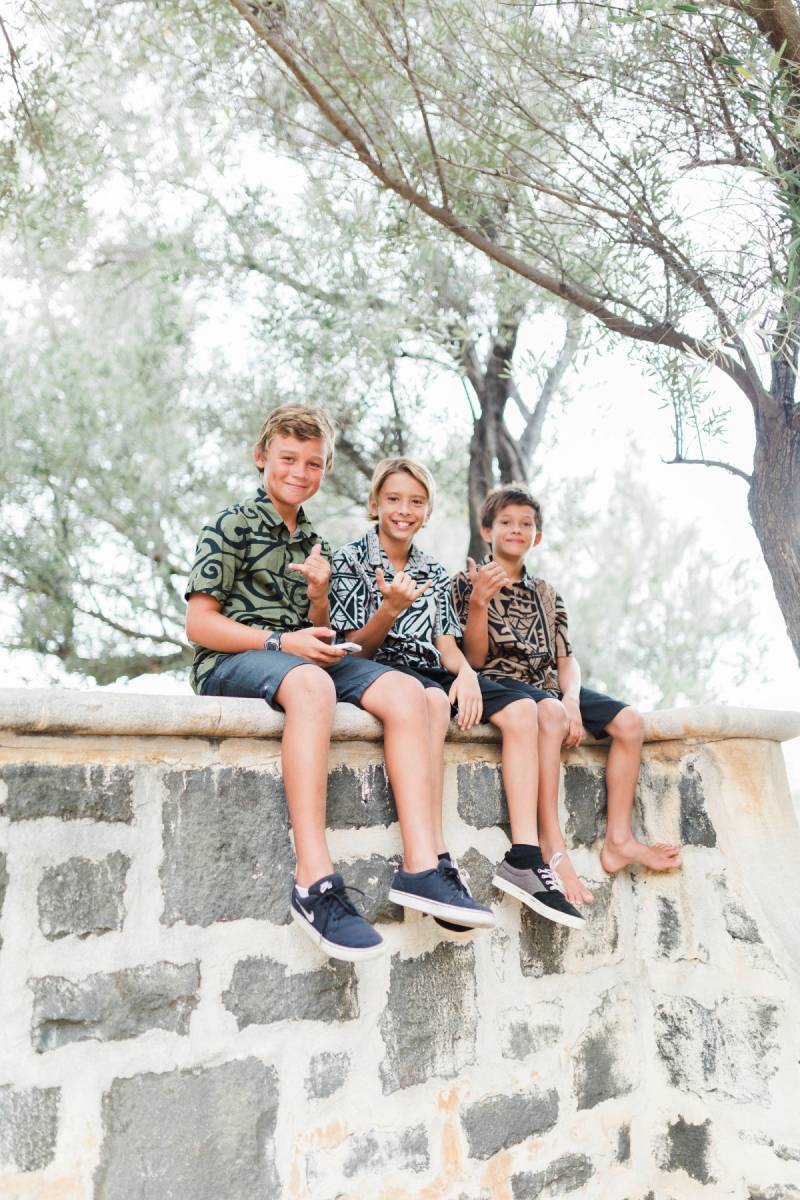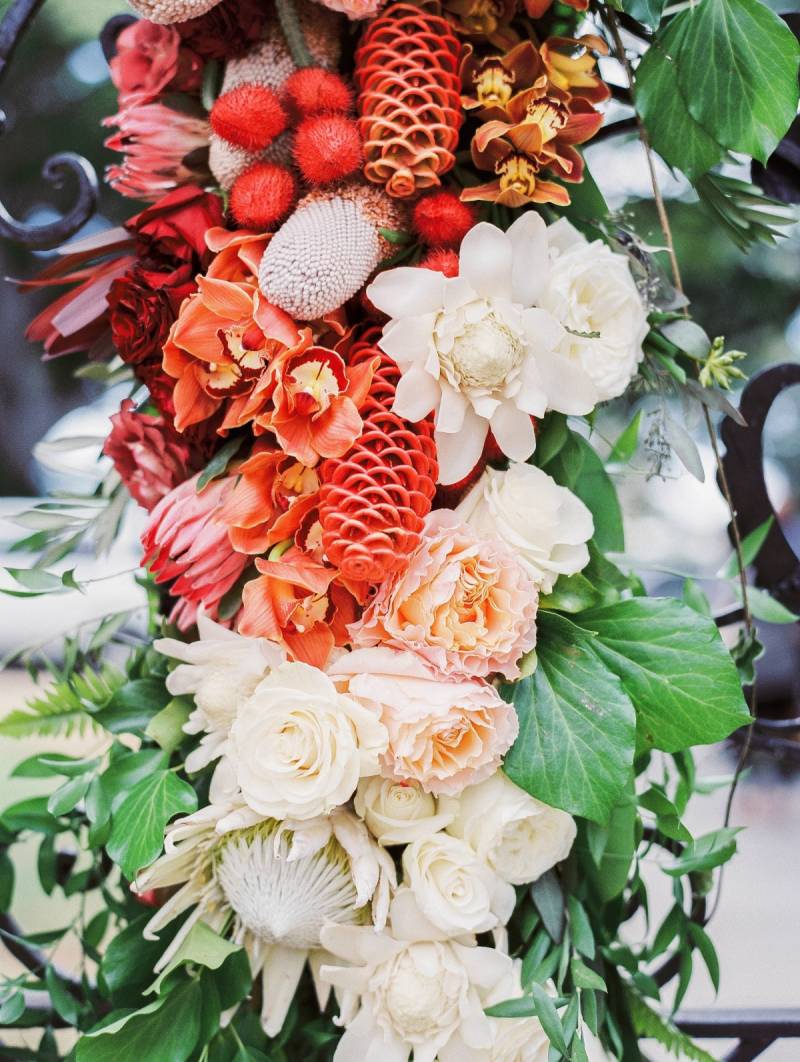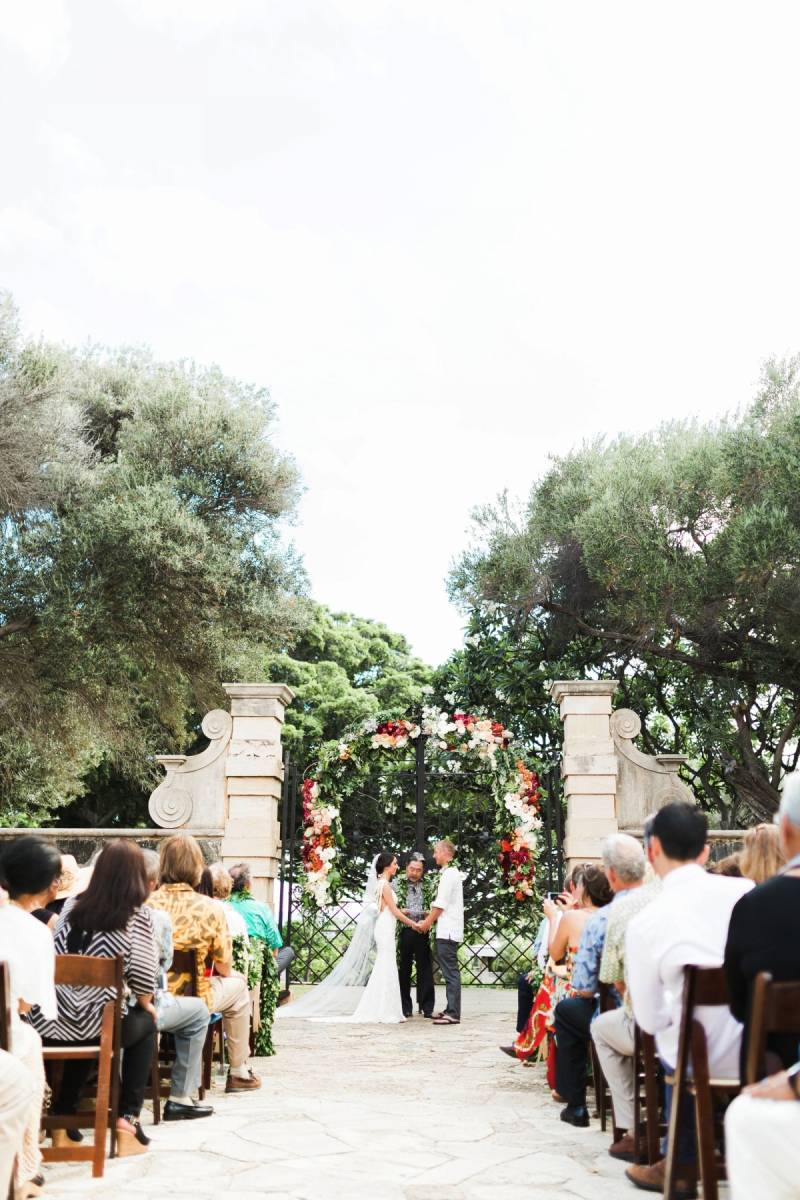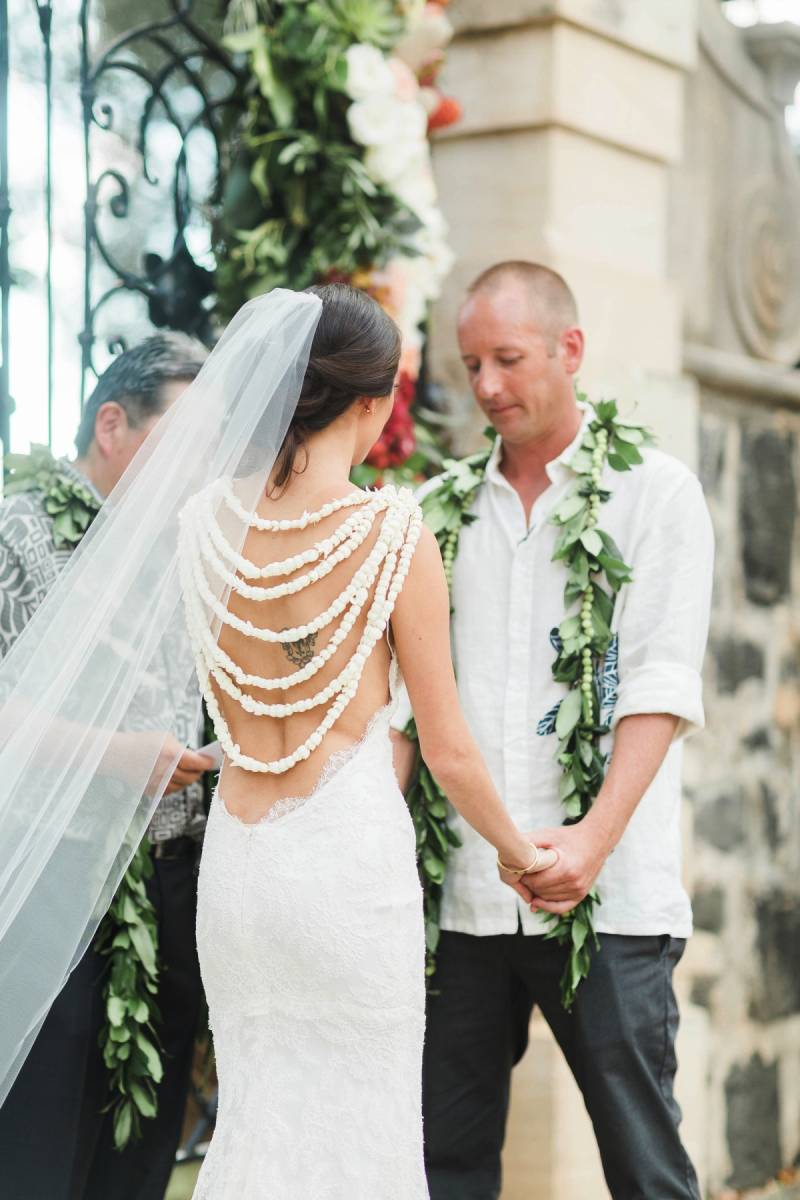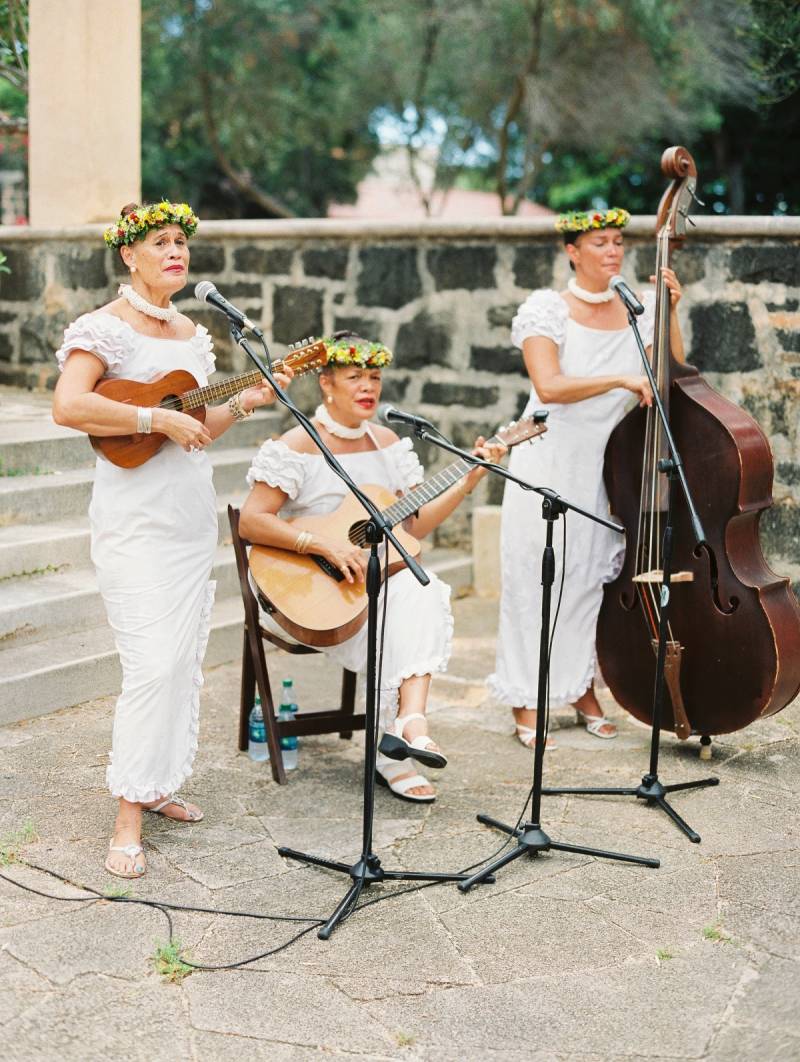 Meaningful touches of Old Hawaii echoed throughout the affair. During cocktail hour, a classic Hawaiian trio, Puamana, captivated the guests, and a beautiful Hawaiian chant welcomed the couple and marked the beginning of the festivities in earnest. Two men pounded poi on a traditional poi board, a staple of the original Hawaiian diet and an essential piece of island tradition. The bride donned strands of pikake lei, the quintessential floral piece of the Hawaii bride, strung from shoulder to shoulder in a cascade of fragrant blooms. But perhaps most exquisite was the bride's surprise hula for her beloved groom.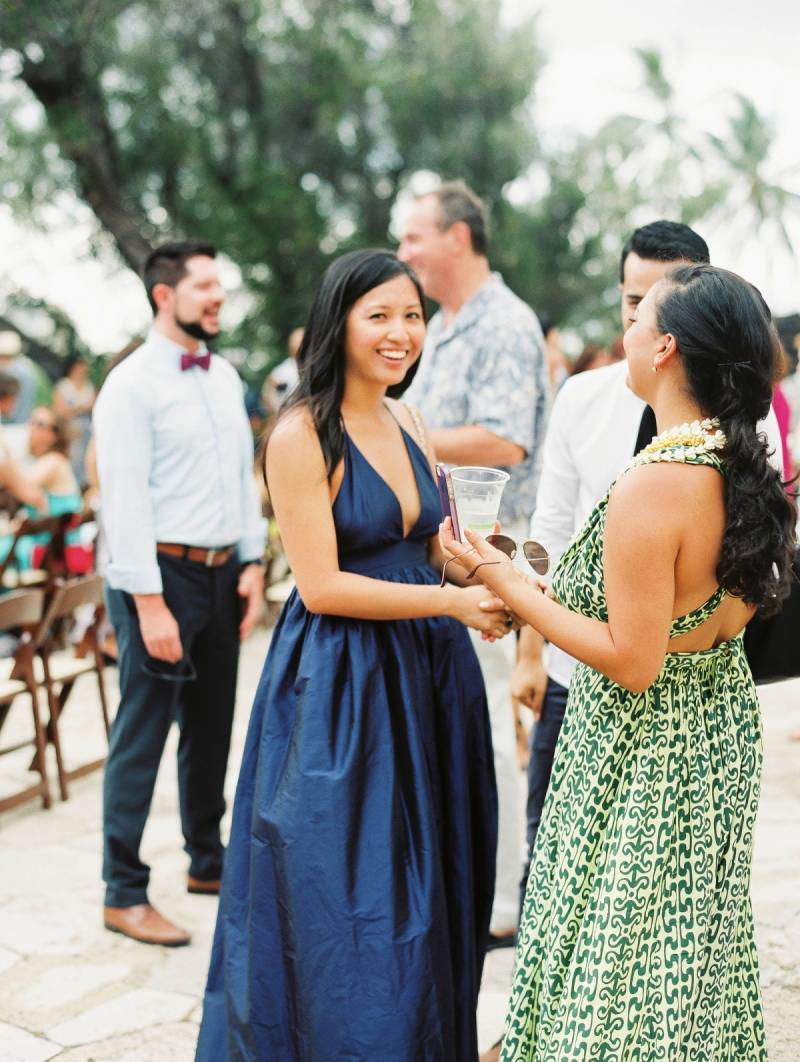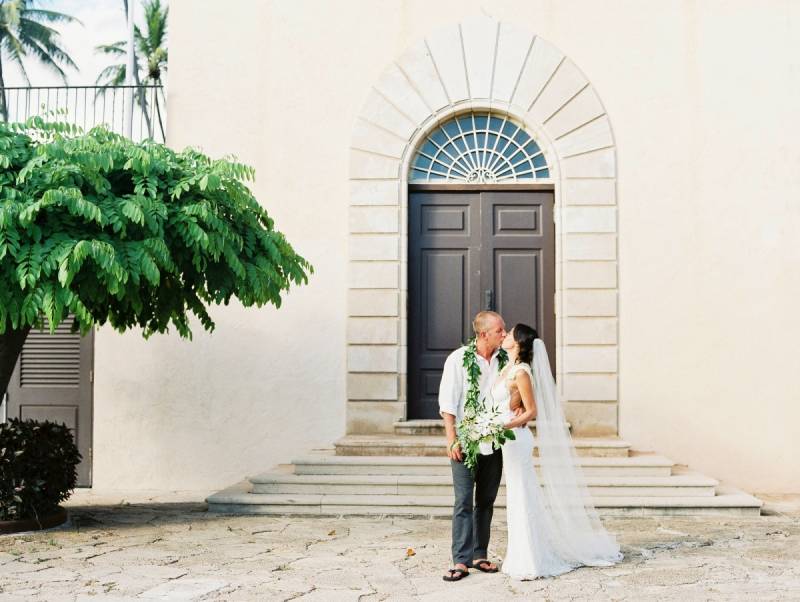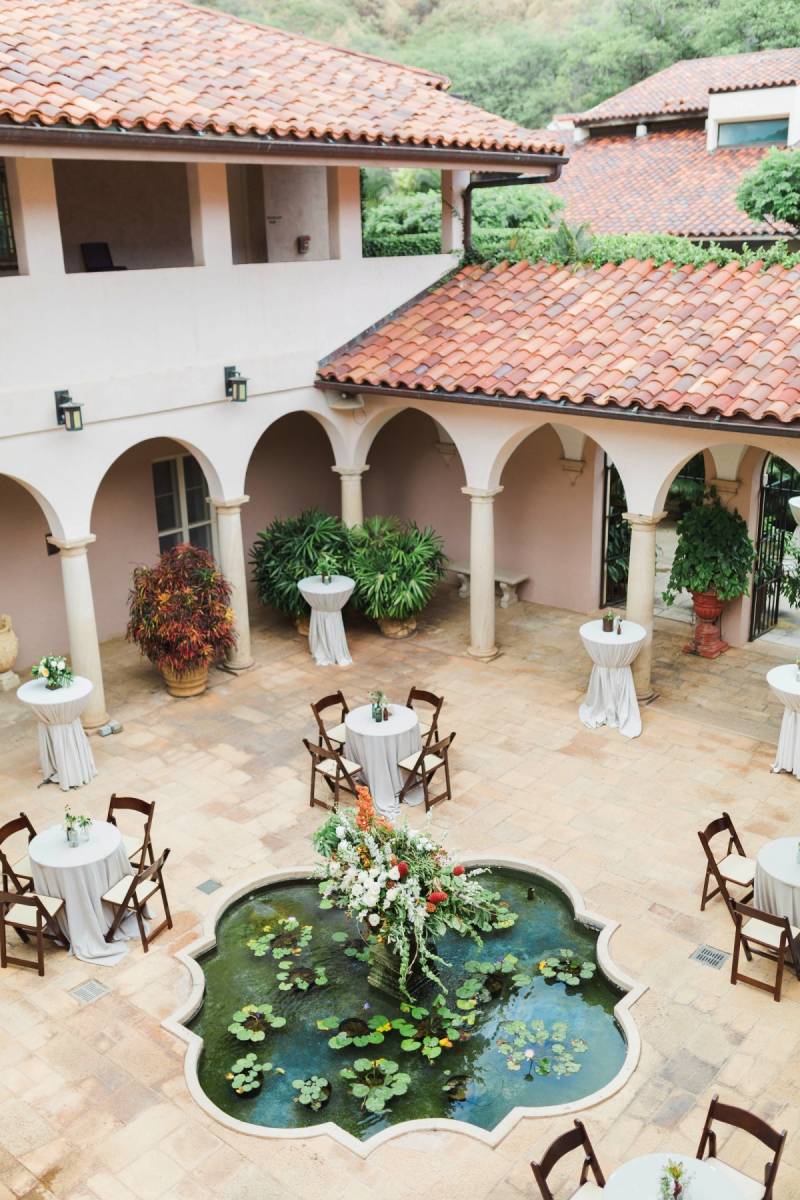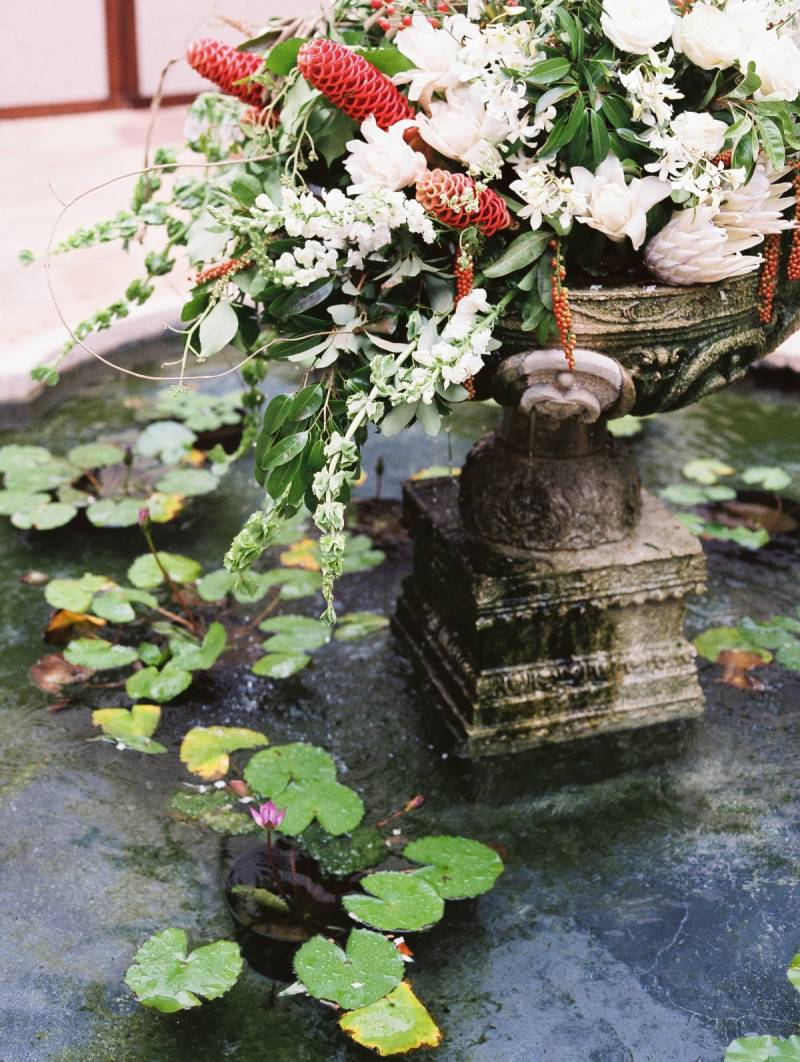 Befitting the day's strong Hawaiian presence, leaves and blooms from the natural world played a key role in defining the wedding's overall look. After some simple direction and an initial meeting with their florist, Avery at Green Honolulu, the couple left the floral direction in her hands. "Beyond telling Avery what we did and did not like, we left the design to her," Lauren remembers. "We didn't choose a single thing. When we showed up to the ceremony and took everything in, it was like a wild dream. It was beyond anything I could have imagined on my own." Colorful flowers and verdant leaves in warm tones adorned the entire occasion, from the gates framing the ceremony to an overflowing urn ensconced in a lily-pad filled fountain at the center of the courtyard.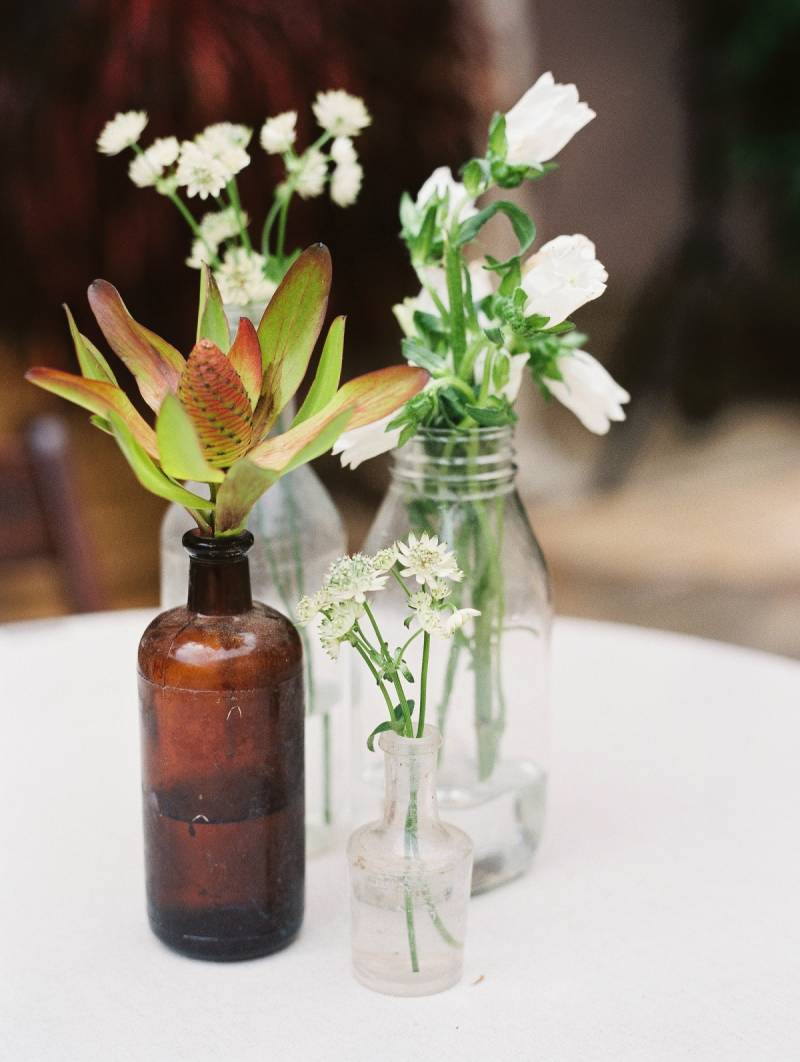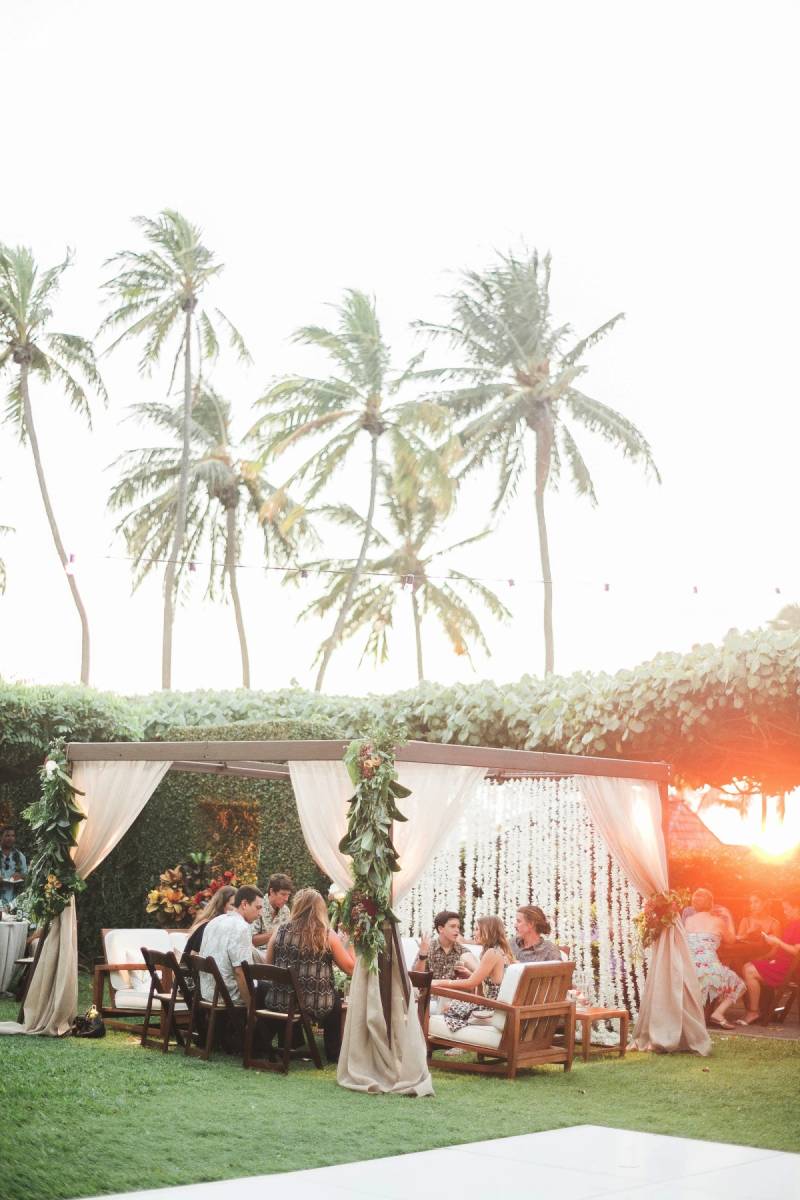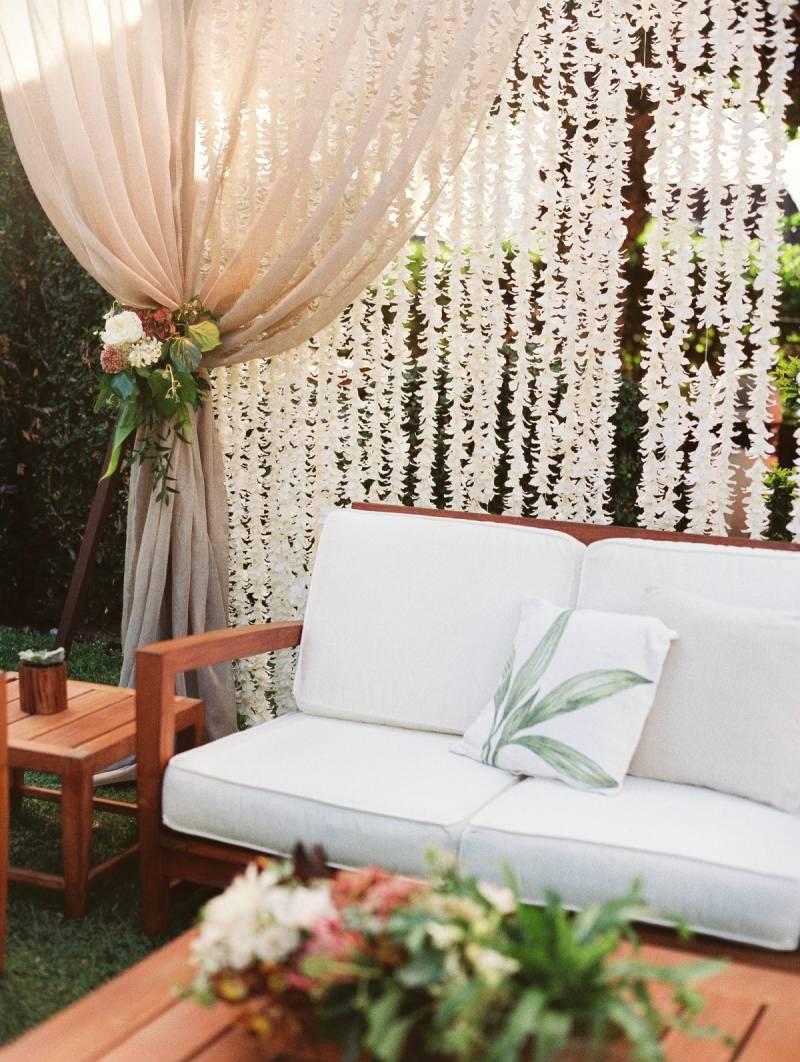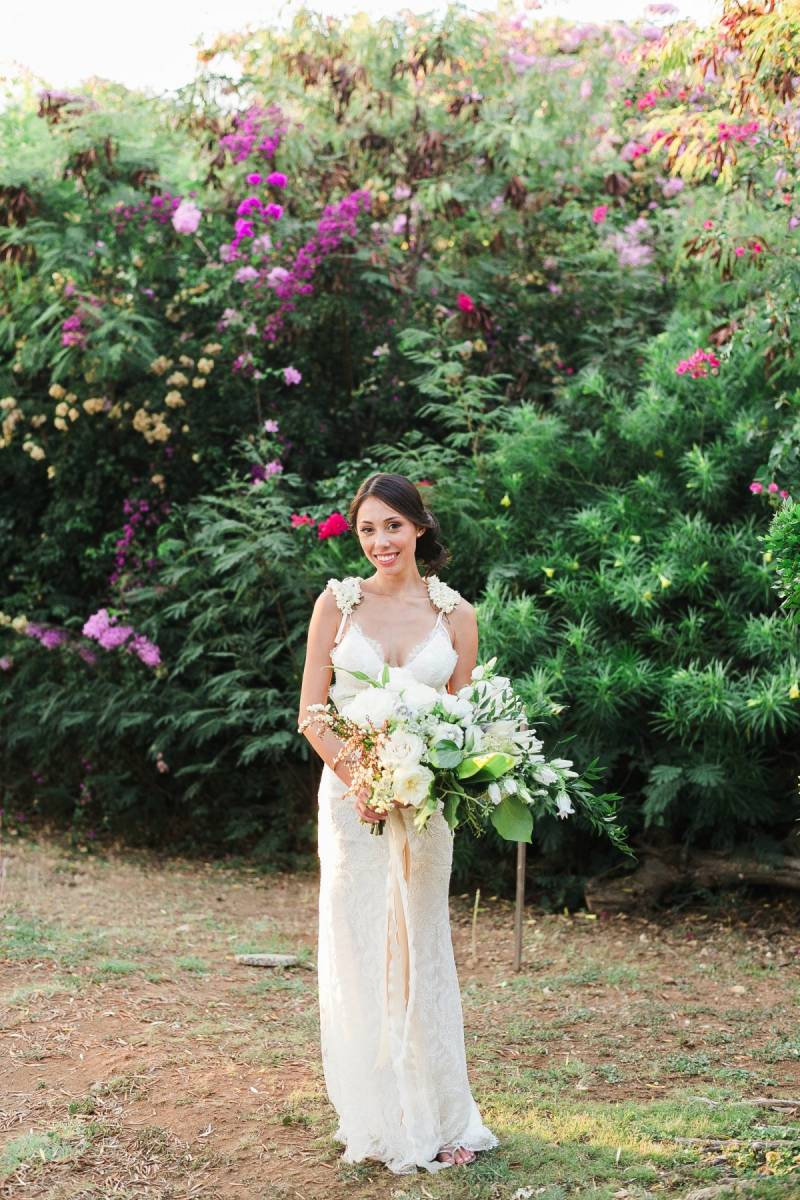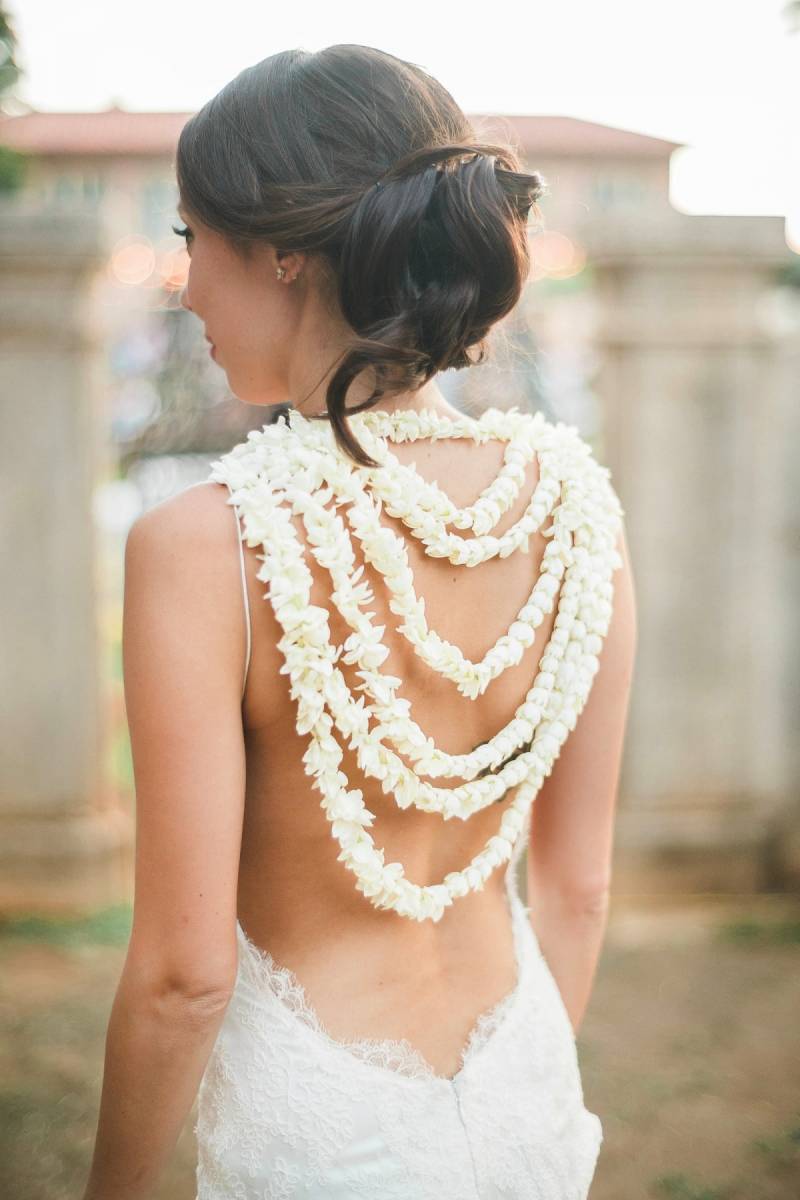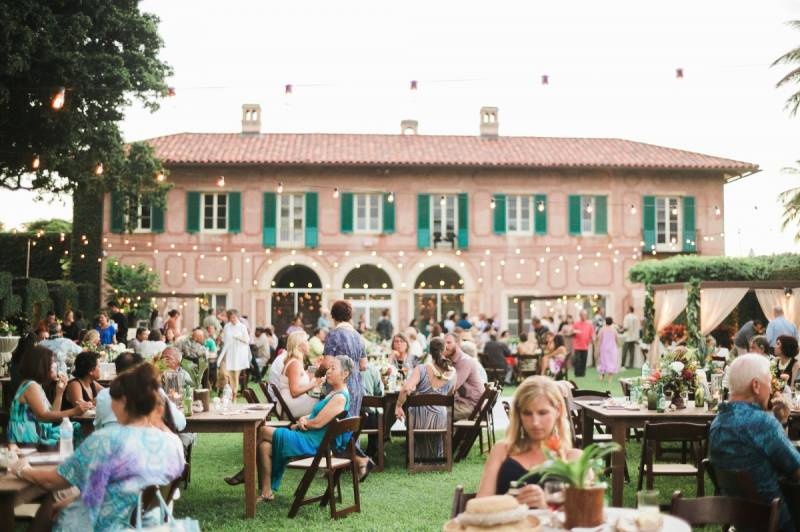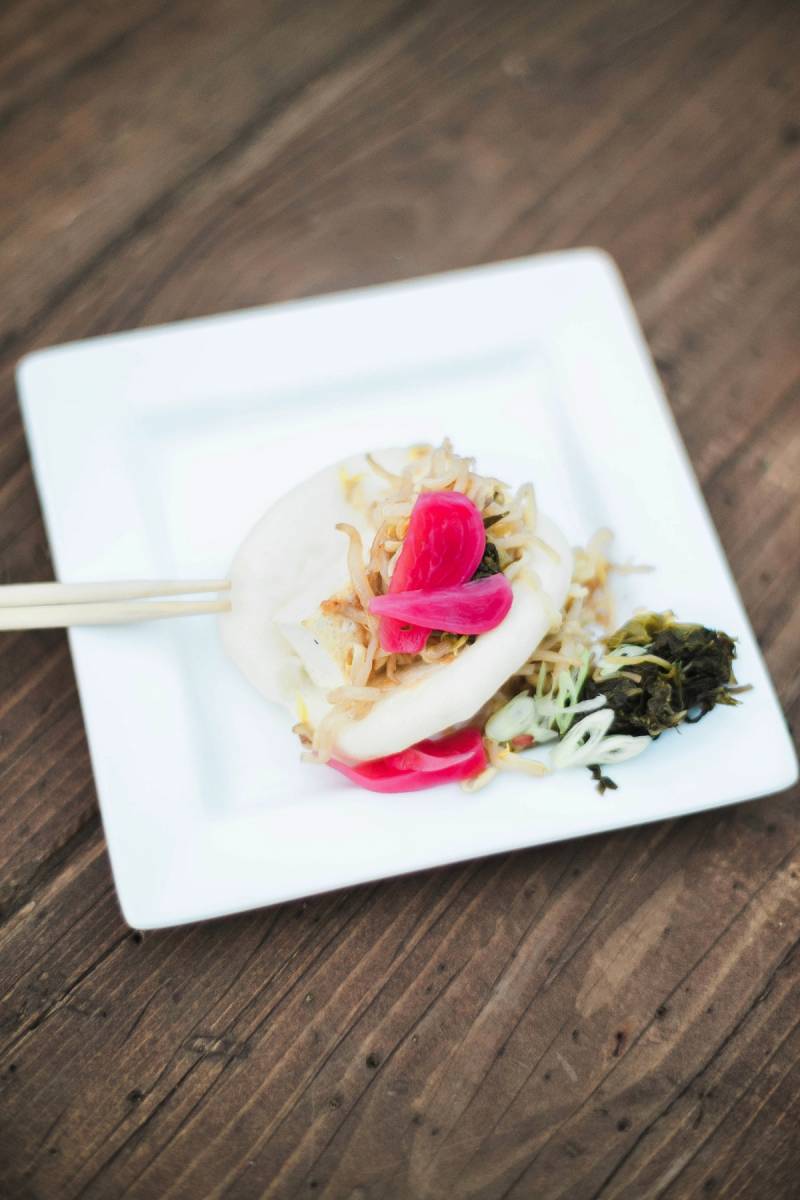 Lauren and Ian mirrored the understated approach to their decor in every aspect of their nuptials. When asked how she imagined the wedding during the planning stages, the bride replies, "We just wanted it to be simple and laid-back. No stuffy seating plan, no bridesmaids or groomsmen, no long speeches or cheesy slideshows. We weren't even planning on cutting the cake until the videographer tapped us on the shoulder and asked if we wanted to before he left for the night!" The cake, a tower of naked chocolate cake layered with luscious cream frosting, was part of the wedding's truly culinary legacy. Ian, himself a chef, brought on acclaimed local chef Mark Noguchi to do fresh food with local ingredients, as well as a whole roast pig, a nod to Lauren's Filipino heritage. Hawaiian poi, pounded to the perfect consistency at the cocktail hour, was featured in delectable appetizers. Cooking made its appearance in the vows as well; Lauren promising to attempt it on occasion and Ian with an oath to never let his bride go hungry.